Arihant First Patrol: Dawn of new era or Nothing New but a Hyped Political Statement
Few days ago on the successful completion of the first deterrence patrol of Arihant, which is SSBN (ship submersible ballistic missile nuclear powered) Indian Prime Minister Narendra Modi gave statement that now India possesses "credible nuclear deterrence". There is no doubt that with INS Arihant, India now possess a capability to fire nuclear ballistic missile from sea but so far it has only been able to fire smaller range K-15 successfully from Arihant, which is only of 750 km range. Furthermore, India still needs to test its longer range missiles of K-series from Arihant.
This deterrent patrol got all hyped because of the statement from Indian prime minister who believes that now India possesses "credible nuclear deterrence", however question arises here is against whom? In a complex security environment of South Asia it is always propagated by India that it is facing two tier threats from China and Pakistan. However, Arihant with its K-15 small range ballistic missiles lack the capability to target China. Thus, India is acquiring credibility against only Pakistan.
The phrase "credible nuclear deterrence" used by Indian PM is significant because it reinforces the general believe that India is moving away from the strategy of credible minimum deterrence towards credible deterrence. One essential component which should not be missed here is that BJP government had hinted towards changing the nuclear doctrine of India before coming to power. So, this time when election in around the corner, statements which reflects the drift from strategy of credible minimum deterrence are coming again by none other than the PM himself.
Arihant successful deterrent patrol cannot be considered as the dawn of the era in technology or the end of de-mated nuclear weapons in South Asia because these technological developments were under pipeline for quite some time now. However, concerning issue in this regard is that who will be controlling these weapons in sea. So far, civilian leadership had the control of nuclear weapons in India, but with nuclear submarine sole control of civilian leadership is not feasible. Communication on submarines is only possible on very low frequency of extremely low frequency and nuclear submarines also cut-off their communications while in enemy areas for its safety. Thus, in such circumstances civilian control of nuclear submarine is nearly impossible. But, what is alarming in this situation is that control of India's nuclear arsenal by its military which is naïve and ambitious enough to believe that Pakistan's strategic capability is just a bluff and they can call it whenever they want.
Analysis of Indian prime minister's statement shows that it was nothing but a much hyped political statement. But, concerning matter in this regard is Indian political leadership's disappointing attitude, where they deliberately ignite sentiments of general population to gain votes. Later on, because they come in power on war mongering views they take measures which are more offensive and far from nuclear confidence building measures. This trend in Indian political stage is alarming in the context of offensive civilian leadership's control of nuclear weapons as well.
There is no denying the fact that rapid nuclearization and militarization of Indian Ocean by India is alarming for Pakistan because it challenges the fragile state of strategic stability in the region. To counter India in Indian Ocean Pakistan under the policy of full spectrum deterrence has developed Babur-3 cruise missile to achieve second strike capability. However, so far, Pakistan is also far from achieving credible second strike capability because of the lack of nuclear powered submarines. But, future of South Asian nuclear stage depicts that both of the states will be competing each other in Indian Ocean as well.
Lastly, with arms race taking the pace in the region it is essential to understand the difference between political statements and emerging new technologies with capability to tilt the strategic pendulum in one's favor. One cannot categorize every development as game changer, other factors must be taken into account as well.
China's Effect: A Global NATO
A shift is taking place in global military thinking. NATO, arguably the most successful military alliance in history, is slowly but steadily edging toward casting China as an outright military competitor. Previously, the collective West avoided involving NATO in the context of the rising China.
Much changed with the advent of Donald Trump. NATO has been undergoing a profound evolution in which it is recalibrating its priorities. We are gradually moving toward a more global NATO with interests that spread beyond its classical zone—Europe—and into the Indo-Pacific region.
Many would argue that the foundation for a global NATO was established long ago. Indeed, for more than a decade, the alliance has been operating in Afghanistan, where it led the International Security Assistance Force (ISAF). NATO naval forces were among the first to fight off pirates via the OCEAN SHIELD operation along the east African coast in 2008.
Military training missions have been a common element of NATO involvement in the Middle East. The alliance also responds to terrorism, cyber-threats, and disinformation. Moreover, it enjoys special partnerships (consultative in nature) with Australia, New Zealand, South Korea, Japan, and Mongolia.
However, China's military and economic rise, ambitious Belt and Road Initiative (BRI), and growing appetite in the Indian and Pacific Oceans in the last decade have brought it into sharp opposition with the US. The latter now sees NATO playing a bigger role in Eurasian affairs, which means taking a tougher stance toward Beijing through the development of a new vision for its outdated Euro-Atlantic-centric model.
This evolution in thinking is reflected in statements by NATO officials. Last December, at the NATO summit, China was declared a concern in a document that said: "[W]e [NATO] recognize that China's growing influence and international policies present both opportunities and challenges that we need to address together as an Alliance."
The reasons for this shift are fundamental in nature. It has been argued that China's official $260 billion defense budget could mask far greater purchasing power, potentially reaching up to 70% of the US defense budget. China's military cooperation with Russia continues to grow and now covers Central Asia, the Mediterranean, the Persian Gulf, and even the Baltic Sea. Moreover, Beijing's expanding supply of nuclear weapons can now reach Europe, which, in NATO's thinking, requires a rethinking of its approach to the Asian giant.
More painful for the alliance is the realization that China has made significant inroads into the European defense market. Recently, Serbian President Aleksandar Vucic announced his country's purchase of six Chinese-built CH-92A combat drones (UCAVs). This will make the Serbian army the first European military to use Chinese combat drones. Economically, too, China's rise in Europe is visible in its BRI-related cooperation with Italy, purchase of ports in Greece, extensive relations with Turkey, and establishment of the 17+1 mechanism, which involves Central and Eastern European states.
It can be argued that it is China that came to NATO and not the other way around. China could, indeed, serve as a driver for cohesion within the alliance, which over the past few years has seen internal strife among its member states. NATO was created to counter the Soviet Union on the European mainland, but it must now rise to the new "China reality." It will have to change its geographical scope and methods of activities.
Though that shift in thinking is taking place within NATO, the alliance remains attached to its vision and wishes to avoid casting China as an outright military enemy. It leaves open the possibility for cooperation, as statements by NATO General Secretary Jens Stoltenberg attest. In recent interviews, Stoltenberg said, "[NATO] does not see China as the new enemy," "This is not about moving NATO into the South China Sea," and "It's about taking into account that China is coming closer to us—in the Arctic, in Africa, investing heavily in our infrastructure in Europe, in cyberspace."
China does not pose a direct military threat right now, and that is unlikely to change any time soon. But there is an inescapable geopolitical dimension in which China becomes more active in the Arctic, the African continent, and the Indo-Pacific region. In addition, Beijing is negotiating a mammoth trade and economic cooperation treaty with Tehran that will give China the ability to position itself in the Persian Gulf and the Arabian Sea—a major artery for its oil supplies. All of this will require greater coordination and cohesion within NATO.
Critical changes to elements of NATO's vision could be forthcoming. As China's power grows, there will be a greater need for the establishment of a NATO-China Council, similar to what the alliance has had with Russia since 1997.
Perhaps deeper engagement with its Pacific partners—Australia, New Zealand, the Republic of Korea, Japan, and Mongolia—will become a necessity. Even a permanent military presence could be negotiated.
Some elements of this future strategy are already here. Stoltenberg raised the need for the alliance to take on a greater political role in world affairs and even to help nations of the Indo-Pacific compete with China's rise. "As we look to 2030, we need to work even more closely with like-minded countries like Australia, Japan, New Zealand, and [South] Korea to defend the global rules and institutions that have kept us safe for decades, to set norms and standards in space and cyberspace, on new technologies and global arms control," Stoltenberg said.
We are witnessing a trend toward a more global NATO in which the alliance's security agenda is no longer Europe- and North America-centric. This will take at least a decade. A shift in NATO's vision will also mean that Moscow and its activities in Eurasia will be deemed to be at a lower level of threat.
NATO will have to move eastward. This does not necessarily mean stationing permanent military installations or personnel across Asia, but the alliance will have to pay more attention to Chinese activities. Doing so will draw it closer to Asia and the Indo-Pacific in particular.
Author's note: first published at BESA Center
Asia's Increasing Security Concerns: Special Focus on India-China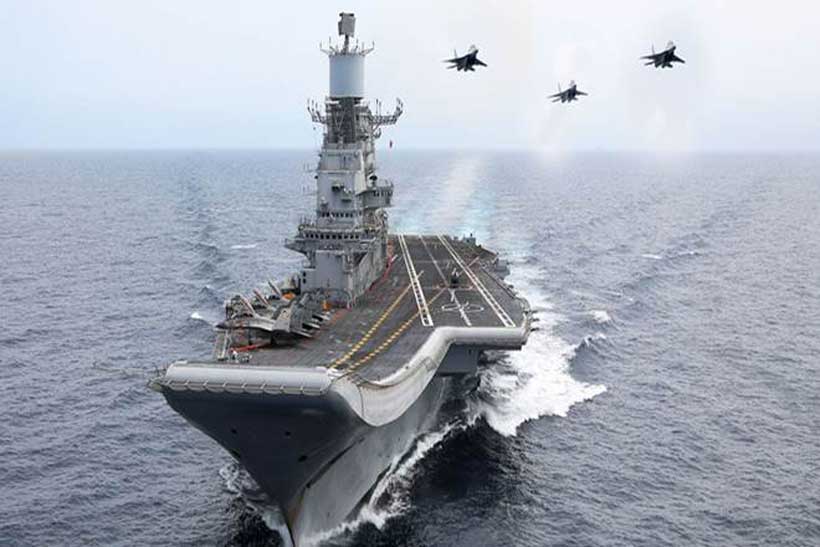 In a globalized world system like never before the rising powers like India and China has in the recent times more and more focuses on the maritime security in the Indian Ocean and Pacific Ocean region. As the thrust of power shifted from the West to the Asian countries there has been greater competitive focuses between India and China. The best way which the emerged power tries is to strike a conflict between the emerging powers and rightly so whereby both these emerging economies of Asia have been trying to prove its influence in the Indo-Pacific region. United States have been backing India because of the assertive nature of China. The Asian security to a great deal depends on the security cooperation between India and China along with United States the world hegemonic power which has been influencing the Asian region to a great deal.
The major security challenges according to China in Asia have been its positioning in the South China Sea, the Korean Peninsula and also the nuclear issues of Iran. The Korean Peninsula is the only area where the Cols War situation still persists. Adding to these North Korea being equipped with missile power and nuclear power may add to the challenges to Asia's peace and order. China has always been apprehensive that a third country such as the USA may use Korea which is a neighbor of China to challenge its security in the present times. China has also been facing various conflicts in the South China Sea with various Southeast Asian countries and also Russia, and India. It has been in confrontation with Philippines over the nine dash lines involving the Scarborough Shoal and the huge involvement of the UNCLOS to rule out China having conquered most of the territory. China having been an emerging power is trying to acquire its energy security in the South China Region which has been the evidence of its possible increasing assertiveness and influence in the South China Sea region. China wants to prevent Iran from showcasing the nuclear arms which may result in the increase in the price of oils in the world market and would be a major challenge to the Asian security and peace.
India has been infested with the security challenges which are no different from other Asian countries like that of South Korea, Japan, China, Vietnam and so on. Major points of concern for India has been its unresolved territorial disputes, terrorism, maintaining economic prosperity, procuring energy needs, and so on, sovereignty issues. Indian has till date various sovereignty issues which had its roots from the times of the British colonization. Having to deal with versatile ethnicity, language, culture and religious preferences India is infested with various conflicts and issues internally which puts a challenge to its security needs. Moreover, it has serious territorial confrontations with Pakistan and China whereby Kashmir, Aksai Chin and so on form a major area of concerns. India has also been infested with "cross border terrorism" whereby Pakistan has been blamed by India several times. India had accused Pakistan's Inter-Services Intelligence Agencies for training, guiding and aiding for terrorist attacks in the Indian territories. Moreover, India had also internal terrorist and anti-national groups such as Maoists and ULFA which continuously puts a threat to the internal security dynamic of Indian system. Another very critical concern for India is its economic development which is essential to reduce poverty in the country and to provide with their basic needs. Also, technological advancement is required for the infrastructural development of the country. India is also in the dire need of preventing its climate change strategies along with the Global Commons and also to have greater access to energy pipelines to fulfil its energy needs. Such examples have been the TAPI pipelines. Also, to India China has been a major security threat because of the possible emerging power and its assertive nature in the Asian region. Both these countries have overlooked its areas of common interests to build in a competitive and conflicting relation between each other which may be prove to be a complete destroyer to the Asian peace and security relations. China has been continuously increasing its naval capabilities in the Indian Ocean Region and both these countries have been at standoffs at various situations to avoid only an armed attack several times.
In the present scenario of Covid-19 outbreak there have been greater suspicions and a chance of complete reconsiderations of foreign policies of various countries with that of China. Adding to these the China-India standoff which happened in the Galwan valley has also added to the security challenges and threat to the Asian region altogether. The situations have been complicated as the thrust and responsibility of spreading the epidemic have been completely pointed towards China as it was the emerging country for the viral disease. Along with India, United States have also been in a state of serious doubting towards the intentions of China in this pandemic situation which has put the whole world order in a serious turmoil. On the other hand, taking lead to the situations of Covid-19 China has started increasing is naval power and forces in the Indian Ocean region which have proved to be a major security concern for India.
India-China relations is a major yardstick to count on the security issues of various other Asian countries which have both traditional and non-traditional challenges to maintain stability, peace and security in the Asian region. The Asian countries have been suffering from challenges of ethnic conflicts, territorial integrity, climate change issues and also human rights and concerns of environmental protection. Adding to these economic development and energy needs have always been the rising concerns in the Asian region. Asian region has been characterized by multifaceted security challenges and needs which have remained unsolved at various instances. An all-inclusive peace, stability and strategic approach is the need of the hour to resolve the security needs of the Asian region. Being the emerging powers of Asia, China and India should focus on the common interest areas and bring about a climate of cooperation and peace rather than that of conflict and competition and prevent the apprehensions of a possible armed conflict in this region.
Maintaining Command of the Sea: Maritime Doctrines of Pakistan and India
Maritime and naval component is an important part of political, economic and military domain of a maritime nation. This component enhances a states role in foreign policy, diplomacy, economy and especially in military domain to further its national interests. Pakistan and India apart from being a hostile neighbors with over 3,323 km of international land border also share maritime space in Indian Ocean Region. To ensure robust presence and control of the maritime frontiers it's the responsibility of the navy and its maritime forces to establish the writ of the state in alignment of national interests. For this purpose to understand and devise the role and duties of the navy a doctrine is established which acts as a anchor to establish the norms of the naval and maritime components and develop understanding among tri services (Army and Air-Force) and also of one state's national maritime objectives with other states. Thus, for this purpose the establishment of a naval doctrine is necessary for a maritime nation. Pakistan being a responsible maritime state has published its own maritime doctrine termed as "Preserving Freedom of Seas" in December 2018.India on the other hand enjoys largest coastline of 7,516 km among any other maritime state with its blue water navy ambitions. The Indian Maritime Doctrine which was published in 2009 highlights the naval ambitions of yet a developing state which causes grave concerns and challenges to Pakistan's maritime interests in the Indian Ocean Region. Thus, a comparative analysis of both these doctrines underlines the aims and objectives of how both these states perceives the space of Indian Ocean Region.
Indian Ocean Region
Indian Ocean Region is the worlds third largest water body which comprises an area of 65.556 million sq km and have a coastline of 66,526 km. The IOR lies in one of the worlds most contested region which is rich in natural resources including fossil fuels, oil and gas, fisheries and untampered ores and minerals. The IOR has four most crucial access points or choke points namely water ways of Suez Canal (in Egypt), Strait of Hormuz (between Iran and Oman), Strait of Malacca (located between Malaysia and Indonesia) and Bab-al-Mandeb (located near Djibouti and Yemen). The area is currently facing various turmoil's and challenges including civil unrest, state conflicts and is in the lime-light of the major power politics and strategic interests. The northern part of Indian ocean region ferries 70% of sea borne oil trade and about 50% of sea borne trade.[1]
Pakistan and India both share a significant importance in the international politics due to their geographical positioning and relevancy to major land and maritime routes. Pakistan enjoys an area of 350 nautical miles of Exclusive Economic Zone in Indian Ocean Region, while, India maintains a significant larger jurisdiction over 2.8 million sq km of space in Indian Ocean.[2] With over two naval engagements of 1965-1971 and disputed territories in the region including Sir Creek dispute, both of these South Asian states hold Indian Ocean as a vital component of their strategic apparatus in political, diplomatic and military domains. The economic importance attached to the mercantile component of the Indian Ocean Region thrives the economy of not only Pakistan and India but also the world at large with the onslaught of advance sea borne container freights and other vessels.
Pakistan's Maritime Doctrine 2018
The Maritime Doctrine of Pakistan Navy was published in December 2018 during Maritime Security Workshop which was held at Karachi.[3] This doctrine was published after a research of seven years by the academicians of Naval War College. The doctrine is a comprehensive document on issues pertaining to the maritime affairs and role of Pakistan Navy in mitigating them in the light of national interests. The main role as highlighted by the document is to protect the vital maritime interests, ensure national security and mitigate threats posed by any sea based source, economic viability and implement vital foreign policy tools and diplomacy through the naval component. Other major factors highlighted by the doctrine highlights the commitments of Pakistan at the international level and the responsible role played by Pakistan to fulfill its role to ensure peace and stability in the Indian Ocean Region under its Area of Responsibility (AoR).
According to the document, the role of the doctrine is to establish particular set of principles which are advocated by major policy narratives acquired through experience and provide guidance pertaining to certain issues. The purpose of the doctrine should be to highlight the important factors, give accurate and authentic information, while, remaining flexible with continuous change. The doctrine helps in analyzing and managing change, the shared principles and practices, and is the force behind the institutional development which pursue fundamental national objectives. The interplay between the policy, strategy and doctrine is based upon the national interests and objectives enunciated in the constitutional directives issued by political leadership.[4]
The Naval and Maritime Strategy
According to the document the naval strategy deals with the aspect of employment and deployment of the naval forces in time of war and peace. While, the maritime strategy comprises of a broader domain encompassing the issues pertaining to maritime ecosystem, economy, trade, security and safety, threats and opportunities emanating from the maritime domain. The economic component include the sea borne trade, fishery and marine resources, natural resources, while, the threats include sea borne human, drug trafficking, gun-running, piracy and poaching.
Maritime Force
The naval component of the strategy comprise upon the employment and deployment of naval fire power against surface, sub-surface, air and ashore based threats. The domain of the naval strategy also comprises of the electromagnetic and cyber domain also which are neutralized by various hardware assets and human capital having technological edge over the adversary. This technological edge is ensured by maintaining advanced cruisers, destroyers, frigates, submarines, amphibious assault ships and other fleet auxiliaries.
Foreign Policy Tool
The maritime forces maintained by a state should be flexible, versatile, and sustainable giving them mobility and readiness to operate when and where needed as the need arises, thus, ensuring the naval supremacy of a maritime power nation. Moreover, navy is an important component of the foreign policy ensuring the pursue of entailed objectives such as freedom of navigation, extension of alliances through friendly port visits, aiding in humanitarian and disaster relief operations among others.
International Maritime Regimes
The interaction of states on the high seas is regulated and controlled by various international regimes mainly United Nations Convention Laws of Seas (UNCLOS-1982). The role of the international maritime regimes is crucial to regulating the sea space between the states. Pakistan being a responsible member of the international community is a member of various cooperative, economic and security regimes. Regimes such as Indian Ocean Maritime Affairs Cooperation which was ratified in June 1983 focuses upon ocean governance and management. The Indian Ocean Rim Association which was signed in Mauritius in 1997 focuses upon regional technological and economic cooperation in maritime domain among member states. The International Maritime Conference such as AMAN are held biennially from 2007 by Pakistan to promote cooperation among regional naval forces and share same sense of security towards the maritime threats and challenges. Western Pacific Naval Symposium emphasizes upon pragmatic cooperation between the major states and has developed code of unplanned encounters in sea among the member states which ensures safety and develop bilateral relations.
Maritime Security Initiatives
The maritime security initiatives were readily taken in the aftermath of the 9/11 incident in order to curb the proliferation of weapons of mass destruction through the international water ways. These initiatives ensure that the sea is safe from all threats and challenges. These initiatives comprises of issues relating to conventional maritime security issues, state sovereignty, non-traditional maritime security problems, terrorism, territorial disputes and human and drug trafficking issues. The initiatives comprises of International Ship Port Facility Security Code ISPS, which was launched in December 2002, focuses on security issues pertaining to port facilities and maintaining good order at sea. Other initiatives such as Automatic Identification System AIS is similar to Identification of Friend or Foe IFF but on sea regulating the movement of sea vessels and personnel onboard. Other multifaceted maritime security initiatives include Secure Freight Initiatives SFI, Proliferation Security Initiative PSI and Container Security Initiative CSI. These initiatives monitor sea based cargo and personnel movement through various checks and balances using non-intrusive equipment and optical character recognition instruments.
Maritime Environment
The progressive rise in the economic power centers especially in Asia-Pacific from trans-Atlantic has raised the stakes for the maritime component of trade, geo-politics and strategic dominance in the region. The threats in the region include jeopardizing the maritime trade due to political purposes, sea lanes of communications, combat restricted exclusive economic zones. The increasing maritime threats include smuggling, human and drug trafficking, gun-running. Moreover, the initiation of China-Pakistan Economic Corridor CPEC is the pilot project to enhance the economic importance of the Gwadar port and Pakistan in the region.
Climate Change and Sea Level Rise
Climate change is a considerable threat which is dramatically impacting the coastal domain, increasing the sea level, changing the wave patterns, soil sedimentation and unpredictable storm events. These alterations impact the biodiversity of the marine ecosystem and also threatens the coastal regions.
Collaborative Maritime Security
The collaborative maritime security initiatives include Pakistan's active participation in the Combined Task Force 150 and 151 which has been regularly commanded by Pakistan Navy. These task force ensures that the water ways in the Northern, Western and Central Indian Ocean are kept free from piracy and trafficking, ensuring a safe environment to the economic trade and free movement of sea freight.
Command Of The Sea
The command of the sea is projected through maritime power which enables a nation to control the sea through various spectrums of threats including surface, air, electromagnetic and cyber domains. The naval strategies are adopted by various sea based platforms which perform naval blockade, Force benign role such as ensuring balancing and avoiding head on collision with a greater enemy, naval diplomacy, coercion, gun-boat diplomacy and deterrence at conventional, sub-conventional and nuclear level among many others.
Maritime Command and Control
Maritime command and control is ensured by having a situational domain awareness across the sea based on technological advanced intelligence, surveillance, reconnaissance and target acquisition ISRTA systems. Thus, the domain awareness helps in establishing a more robust and flexible strike element according to changing threat environment. The contemporary increase in sub-conventional maritime threats has forced navy to converge its focus upon threats generating from non-state actors either at land or sea.
The nuclearization of the Indian Ocean by the adversary has raised the stakes in the region, while, the adversary is still instigating in sub-conventional warfare under the cover of nuclear umbrella. Thus, the deliberate desire of the enemy to keep the conventional theater alive calls upon changing the apprehensions regarding the conventional threat. The Pakistan Navy considers that the prevalence of deterrence across all the spectrums must be ensured and upon the failure of the deterrence the protection of maritime interests must be ensured at all costs. For this purpose Pakistan Navy has adopted the approach of provocative, and flexible mobility using the sea space, regulating attrition from multi-dimension cause dilution of enemy forces. Lastly the approaches include hit first with maximum effects and minimum application of force. The nature of naval warfare in coming era will require a robust and flexible force posture ensuring stealthy capabilities. The high-tempo and high-intensity diversion and disruption of sea lanes of communications of the enemy using submarine component of the force to dominate the war theater are among the major priorities of the navy.
The future warfare environment would be in a network centric environment which would be prone to cyber threats upon the major critical infrastructure. Navy is working on ensuring that the force is ready to overcome the future challenges in coming years ranging from information wars to cyber threats and ensuring interoperability of land and air-forces in synchronization with navy thus ensuring accomplishment of goals as desired by political leadership.
The Comparative Analysis of Pakistan's Maritime Doctrine with Indian Maritime Doctrine
The maritime doctrine of India was published in 2009, which propagated the increasing role of Indian Navy in the Indian Ocean Region highlighting the Blue Water Navy ambitions of India. The doctrine of Pakistan Navy contrasts and contradicts the Indian Naval apprehensions at various points. While, both of the doctrines ensure to maintain the conventional and nuclear deterrence and ensure capability enhancement to overcome the upcoming information and cyber warfare domains. The Indian Naval doctrine undermines the chances of any Force-Benign and force balancing posture and subsequently highlights the of the role of maintaining a strategic superiority in the region. While, the maritime doctrine of Pakistan ensures that it is a responsible state by complying to international commitments pertaining to maritime domain. Indian Navy on the other hand does not highlight and discuss the importance of the maritime security initiatives altogether. Thus, this aspect highlights the Indian Naval ambitions to acquire superiority in the region.The contrasts in the doctrines of India and Pakistan are there to persist, but there are various similarities along various points relating to the command of sea and on war. The highlighted points include the realization of prevalence of sub-conventional warfare and the rapid change in the battle field and role of the navy in terms of combating various threats. The role of the navy has enhanced from maintaining control of the sea at non-conventional low intensity conflicts to conventional and all out nuclear conflicts including the total-war scenarios.[5]
Recommendations
To maintain strategic stability and effective control over the maritime domain it is recommended that Pakistan should engage in effective diplomatic relations with states in Indian Ocean Region especially Maldives, Sri Lanka, Bangladesh and Myanmar and engage in enhancing the naval capabilities of these states, lease naval assets and deploy listening posts in the region to maintain surveillance over Indian naval movements. This ambit could be further expanded to Strait of Malacca especially Malaysia, Indonesia and in Strait of Hormuz due to its economic and strategic importance as more than 80% of energy resources for Pakistan flow through the Persian Gulf. Pakistan should diplomatically engage Gulf States especially Oman which hosts Indian Naval listening post in Ras al Hadd to monitor the potential hostile naval activates of India Navy in specific which has enhanced its patrolling in the Persian Gulf and Gulf of Oman.[6] For maintaining an effective maritime domain awareness in the region it is recommended that Pakistan Navy should develop an Information Fusion Center (IFC) in the region including allies states which would enable to maintain a joint maritime domain awareness, further enhance the ambit of its Regional Maritime Security Patrol (RMSP) and Amman Naval Exercises.[7] This would enable the navy to develop a comprehensive network centric capability which would act as force multiplier and enabler for the navy to obtain its objectives as described in the maritime doctrine effectively. The strategic competition in the region and the changing strategic and military alliances following formulation of US Indo-Pacific Command following multiple strategic agreements between India and USA following 2+2 Dialogue, Communications Compatibility and Security Agreement (COMCASA),[8]India US Logistical Exchange Memorandum of Agreement (LEMOSA), Basic Exchange Agreement for Geo-Spatial Cooperation (BECA) and Quadrilateral Security Dialogue[9] would enhance Indian naval capabilities to project its blue water ambitions not only in the Indian Ocean Region alone but beyond that especially in South China Sea and Persian Gulf.[10]Indian also have developed its Information Fusion Center for Indian Ocean region to enhance its maritime domain awareness with collaboration with regional and international partners including US and Australia in December 2018.[11] Thus, following materialization of these agreements especially COMCASA would enable India to use not only US and NATO maritime domain awareness assets but also the real time and exclusive intelligence, surveillance and reconnaissance in potential areas of interest in Indian Ocean Region and South China Sea vis-à-vis Pakistan and China's naval capabilities. Thus, the emerging strategic picture following contemporary shifts in the region especially in maritime domain would pose a considerable threat to viability of maintaining command of the sea for Pakistan in its area of interest. For this reason Pakistan should develop and enhance considerable force structure, establish and deepen its strategic relations with the regional allies mainly China for enhancing its naval capabilities and maintain command of the sea according to its national interests and to counter the threats posed from Indian Blue Water ambitions.
Conclusion
The Indian Ocean Region is a shared space between not only the two South Asian neighbors but also by the whole world which is connected by the intricate web of land, sea, air and cyber links. The role of doctrines is to ensure stability and maintain rationality among the state actors in their dealings at various levels of analysis. The maritime doctrines of both Pakistan and India ensure that while they both long for peace and stability in the region they will not undermine their national security at any cost. To ensure peace and stability in the region, Pakistan has showcased its commitments to international community ensuring that it's a responsible nation. While, the Indian on the other hand with their aspirations of becoming sole regional power are undermining their commitment to peace and security in the region. While, the trade and economics are a crucial part of the maritime domain Pakistan is working on readily to reinvigorate its economic resources to pursue its national interests accordingly. It is advised that India with its power ambitions may act a regional destabilizer that would enforce Pakistan to take provocative steps to maintain strategic balance.
---
[1] "Indian Ocean Region," US Naval War College, https://usnwc.libguides.com/IndianOcean, Accessed on December 19, 2019.
[2] "The Exclusive Economic Zone of the Seas around India," Geography and You, January 24, 2018, https://www.geographyandyou.com/exclusive-economic-zone-seas-around-india/, Accessed on December 19, 2019.
[3]"President launches first Maritime Doctrine of Pakistan," Pakistan Today, December 21, 2018, https://www.pakistantoday.com.pk/2018/12/21/president-launches-first-maritime-doctrine-of-pakistan/ (Accessed on December 19, 2019).
[4] Naval Headquarters, Islamabad, "Maritime Doctrine of Pakistan Preserving Freedom of Seas," 2018.
[5] Integrated Headquarters, Ministry of Defense (Navy), "Indian Maritime Doctrine," 2009.
[6] "Indian Listening Station In Oman Monitoring Pakistan's Naval Communications,"Aamen, February 27, 2013, https://www.aame.in/2013/02/indian-listening-station-in-oman.html
[7]SOHAIL A. AZMIE,"Regional maritime security patrols: Pak Navy's initiative for preserving freedom of the seas," The Nation, June 2, 2019, https://nation.com.pk/02-Jun-2019/regional-maritime-security-patrols-pak-navy-s-initiative-for-preserving-freedom-of-the-seas
[8] Ankit Panda,"What the Recently Concluded US-India COMCASA Means," The Diplomat, September 09, 2018, https://thediplomat.com/2018/09/what-the-recently-concluded-us-india-comcasa-means/
[9]Patrick M. Cronin, "US Asia Strategy: Beyond the Quad," The Diplomat, March 09, 2019, https://thediplomat.com/2019/03/us-asia-strategy-beyond-the-quad/
[10]Dinakar Peri, What is LEMOA?,The Hindu, August 30, 2016,https://www.thehindu.com/news/national/What-is-LEMOA/article15604647.ecein
[11] Pradip R Sagar, "Indian Navy launches Information Fusion Centre to boost maritime security," The Week, December 22, 2018, https://www.theweek.in/news/india/2018/12/22/Indian-Navy-launches-Information-Fusion-Centre-to-boost-maritime-security.html.