Jordan and Palestine: Shaping a New Energy Path for Economic Development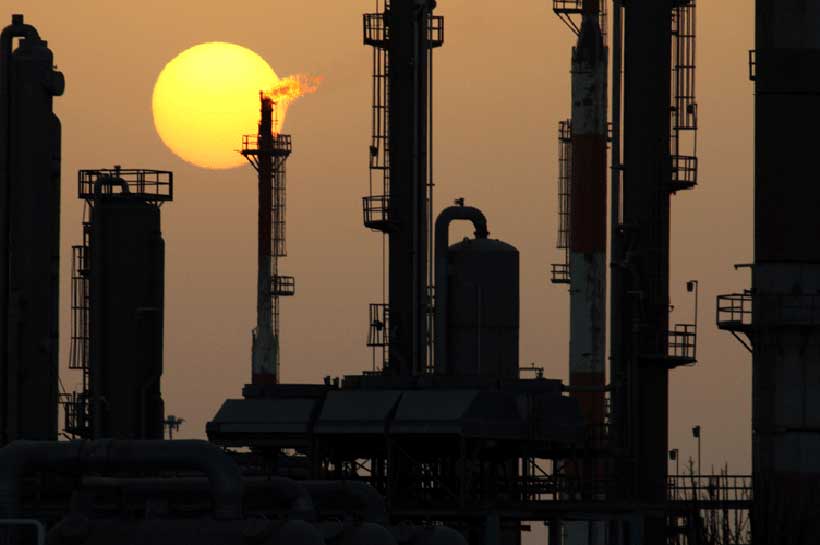 Energy resources can deliver financial benefits, and present new prospects for the economic development of Palestine and Jordan.
The potential for meaningful Palestinian gas resources is valid provided that exploration and development proceeds with the Gaza marine gas field. The Gaza marine field's development plans forsee the construction of well-heads on the sea-bed, and a sub-sea pipeline from the field to the shore, making landfall at the coastal Israeli city of Ashkelon. The construction of a receiving terminal in Ashkelon is expected to facilitate the transfer of Palestinian gas into Israel's natural gas main network across the country.
Notably, the Gaza marine field is shallower than both the Israeli Tamar and Leviathan gas fields and closer to the coast making extraction logistically easier. But this project has not moved forward due to political tensions between Israel, the Palestinian Authority (PA), and Hamas prompting British Gas (BG) to concede its 55 percent stake in the field to Royal Dutch Shell. Royal Dutch Shell relinquished its rights in the Gaza marine field in early 2018 after failing to find a buyer suggesting that the project is not politically viable in the short-term.
It is deemed that Gaza Marine's future depends on Israeli permission to the field's development especially now that the Palestine Investment Fund (PIF) is looking for an operator and buyer for a 45 percent stake. Currently, Energean Oil and Gas, a Greek medium-sized energy company that operates other Israeli gas fields, is in discussions with the Palestinians to acquire and operate the Gaza marine field. The Gaza marine gas field is estimated to contain approximately 1 trillion cubic feet (tcf) of gas that is sufficient to satisfy the electricity needs of the Palestinian market and some gas can be sold to Jordan that has already signed a preliminary agreement for the import of gas from the field via a pipeline across Israel.
Palestinians could turn their natural gas holdings into a solution to the ongoing electricity crisis in Gaza, despite the internal divisions between the PA and Hamas and political disputes between Israel and the PA that have been major impediments to exploiting the wealth of resources. The Palestinian electricity crisis can be evidenced in that fuel supply to the Gaza power plant is intermittent and expensive. Also, Egypt's transmission lines that connect to Gaza have become non-operational, cutting electricity supply from Egypt to zero. As a result, the Strip depends on the 120 megawatts (MW) per day imported from Israel.
Egyptian mediation is important to reconcile disputes between Hamas and the PA so that the latter can reassume its governing role in Gaza and electricity supply can be normalized. The so-far unexploited Gaza Marine gas field could remedy to a certain degree the Strip's energy problems. For this reason, talks between the Israeli government and the PA need to advance to make headway on Gaza marine gas field's exploration as part of a larger effort to develop the Palestinian economy. The exploitation of the Gaza Marine gas field should be incentivized as its benefits include a reduced need for Israel to consume its own natural gas to generate electricity for the Palestinian territories and a more stable power supply for that area. On a general note, international donors like the World Bank and other international financial institutions could fill funding gaps for energy infrastructure projects in Palestine.
Coming to neighboring Jordan, natural gas from Israeli offshore fields in the Mediterranean Sea is a reliable source of energy for the kingdom despite popular opposition to reliance on Israel. The export of gas from Tamar field has started smoothly to Jordan's Arab Potash and Jordan Bromine companies that are connected to Israel's national pipeline network in line with a 15-year, 500 million dollars contract. Additionally, the agreement signed between the Jordanian National Electric Power Company (NEPCO) and Leviathan gas field's partners Noble Energy and Delek is considered economically feasible. The price of gas is competitive when compared against the price of gas under Jordan's previous contract with Egypt. The reason lies in that NEPCO has a take-or-pay commitment for a minimum annual volume of gas according to the signed export agreement, and price of gas is not only linked to Brent oil prices, but also includes a floor price. With the prospect of regional instability, it is estimated that reliable Israeli gas imports could strengthen Jordan's energy security.
Currently, there are two major pipeline projects underway in Jordan: first, construction of a new gas pipeline by 2019 that will connect the Israel Natural Gas Lines (INGL) transmission system to the Jordanian border. The second project is the construction of a pipeline at the Israel-Jordan border to be connected to the existing pan-Arab pipeline across Jordan. The capacity of the pan-Arab pipeline can annually supply up to 10 billion cubic meters of Israeli gas via Jordan to Egypt. It is noteworthy that the kingdom is expected to gain revenues in the form of royalties paid by oil companies.
The pipeline project crossing the Israeli and Jordanian borders to connect to Egypt is viewed not only as a milestone in regional gas cooperation, but also supports real Jordan-Israel-Egypt normalization. But for the Jordanian people to realize the dividends of peace, cooperation should expand to desalination, energy and agriculture projects. Also, European and international banking and financial institutions like the World Bank and US development agencies like USAID should provide loans or grants to foster Jordan's turn to renewable energy. This way, Jordan that imports 98 percent of its energy needs will be supported to meet national plans that foresee a 20 percent production of energy from renewable projects till 2020.
Evidently, a unique opportunity for regional energy security and cooperation has surfaced enabling the emergence of peace dividends due to business commitments and active political will. What has become crystal clear over the last decade is that through energy cooperation, peace dividends tend not to be a myth but a reality.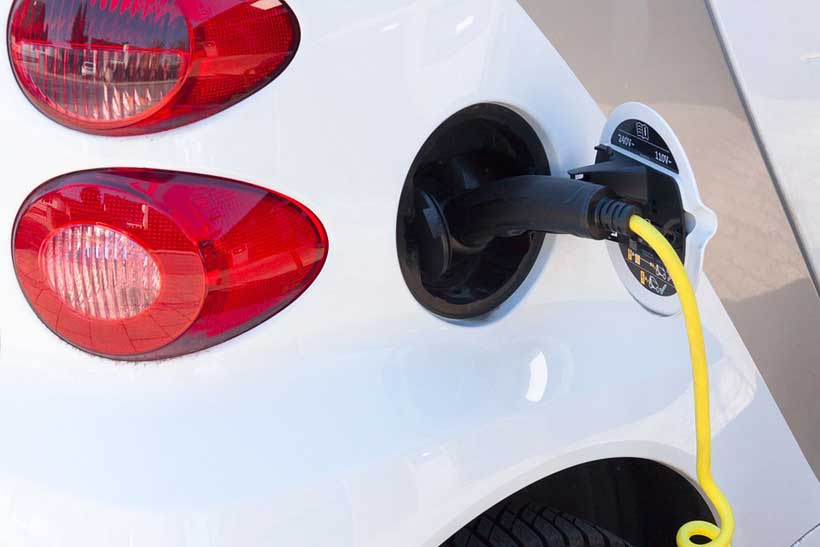 Today the average car runs on fossil fuels, but growing pressure for climate action, falling battery costs, and concerns about air pollution in cities, has given life to the once "over-priced" and neglected electric vehicle.
With many new electric vehicles (EV) now out-performing their fossil-powered counterparts' capabilities on the road, energy planners are looking to bring innovation to the garage — 95% of a car's time is spent parked. The result is that with careful planning and the right infrastructure in place, parked and plugged-in EVs could be the battery banks of the future, stabilising electric grids powered by wind and solar energy.
Today the average car runs on fossil fuels, but growing pressure for climate action, falling battery costs, and concerns about air pollution in cities, has given life to the once "over-priced" and neglected electric vehicle.
With many new electric vehicles (EV) now out-performing their fossil-powered counterparts' capabilities on the road, energy planners are looking to bring innovation to the garage — 95% of a car's time is spent parked. The result is that with careful planning and the right infrastructure in place, parked and plugged-in EVs could be the battery banks of the future, stabilising electric grids powered by wind and solar energy.
Advanced forms of smart charging
An advanced smart charging approach, called Vehicle-to-Grid (V2G), allows EVs not to just withdraw electricity from the grid, but to also inject electricity back to the grid. V2G technology may create a business case for car owners, via aggregators (PDF), to provide ancillary services to the grid. However, to be attractive for car owners, smart charging must satisfy the mobility needs, meaning cars should be charged when needed, at the lowest cost, and owners should possibly be remunerated for providing services to the grid. Policy instruments, such as rebates for the installation of smart charging points as well as time-of-use tariffs (PDF), may incentivise a wide deployment of smart charging.
"We've seen this tested in the UK, Netherlands and Denmark," Boshell says. "For example, since 2016, Nissan, Enel and Nuvve have partnered and worked on an energy management solution that allows vehicle owners and energy users to operate as individual energy hubs. Their two pilot projects in Denmark and the UK have allowed owners of Nissan EVs to earn money by sending power to the grid through Enel's bidirectional chargers."
Perfect solution?
While EVs have a lot to offer towards accelerating variable renewable energy deployment, their uptake also brings technical challenges that need to be overcome.
IRENA analysis suggests uncontrolled and simultaneous charging of EVs could significantly increase congestion in power systems and peak load. Resulting in limitations to increase the share of solar PV and wind in power systems, and the need for additional investment costs in electrical infrastructure in form of replacing and additional cables, transformers, switchgears, etc., respectively.
An increase in autonomous and 'mobility-as-a-service' driving — i.e. innovations for car-sharing or those that would allow your car to taxi strangers when you are not using it — could disrupt the potential availability of grid-stabilising plugged-in EVs, as batteries will be connected and available to the grid less often.
Impact of charging according to type
It has also become clear that fast and ultra-fast charging are a priority for the mobility sector, however, slow charging is actually better suited for smart charging, as batteries are connected and available to the grid longer. For slow charging, locating charging infrastructure at home and at the workplace is critical, an aspect to be considered during infrastructure planning. Fast and ultra-fast charging may increase the peak demand stress on local grids. Solutions such as battery swapping, charging stations with buffer storage, and night EV fleet charging, might become necessary, in combination with fast and ultra-fast charging, to avoid high infrastructure investments.
To learn more about smart charging, read IRENA's Innovation Outlook: smart charging for electric vehicles. The report explores the degree of complementarity potential between variable renewable energy sources and EVs, and considers how this potential could be tapped through smart charging between now and mid-century, and the possible impact of the expected mobility disruptions in the coming two to three decades.
What may cause Oil prices to fall?
Oil prices have rallied a whopping 30 percent this year. Among other factors, OPEC's commitment to reduce output, geopolitical flash-points like the brewing war in Libya, slowdown in shale production and optimism in U.S. and China trade war have all added to the increase. The recent rally being sparked by cancellation of waivers granted to countries importing oil form Iran has taken prices to new highs.
However, one might question the sustainability of this rally by pointing out few bearish factors that might cause a correction, or possibly, a fall in oil prices. The recent sharp slide shows the presence of tail-risks!
Libya produces just over 1 percent of world oil output at 1.1 million barrels, which is indeed not of such a magnitude as to dramatically affect global oil supplies. What is important is the market reaction to every geopolitical event that occurs in the Middle East given the intricate alliances and therefore the increasing chances of other countries jumping in with a national event climaxing into a regional affair.
Matters in Libya got serious as an airstrike was carried out on the only functioning airport in the country a few days ago. Khalifa Haftar who heads Libyan National Army has assumed responsibility for the strike. However, UN and G7 have urged to restore peace in Tripoli. Russia has categorically said to use "all available means" while U.S.' Pompeo called for "an immediate halt" of atrocities in Libya.
The fighting has been far from locations that hold oil but the overall sentiment is that of fear which is understandable as this happens in parallel to a steep decline in Venezuelan production, touching multi-year low of 740,000 bpd. However, as international forces play their part we might expect a de-escalation in the Libyan war — as it has happened before.
Besides the chances of an alleviation of hostilities in Libya, concerns pertaining to global economic growth, and thereof demand for oil, have still not disappeared. The U.S. treasury yield, one of the best measures to predict a future slowdown (recession), inverted last month; first time since 2007. If this does not raise doubts over the global economic health then the very recent announcement by International Monetary Fund (IMF) who has slashed its outlook for world economic growth to its lowest since the last financial crisis. According to the Fund the global economy will grow 3.3 percent this year down from 3.5 percent that predicted three months ago.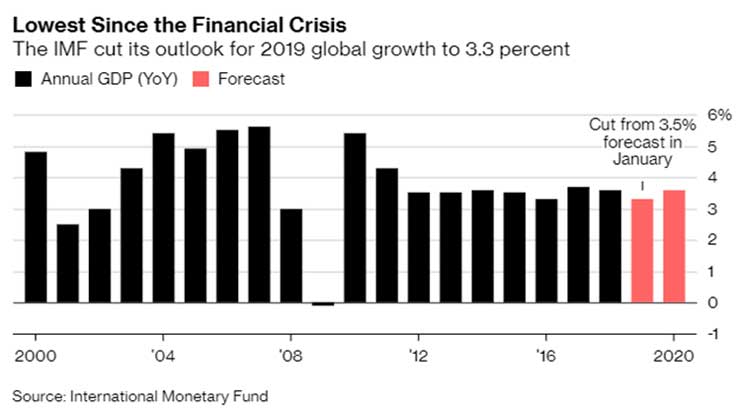 Then there is Trump, whose declaration of Iran's IRGC as a terrorist organization might increase the likelihoods of yet another spate of heated rhetoric between the arch-rivals. But if he is genuinely irked by higher oil prices as his tweets at times show and if he thinks that higher gasoline prices can hurt his political capital then this will certainly have a bearish effect on the markets as observers take a sigh regarding the mounting, yet unsubstantiated, concern over supply.
One of the factors that contributed most to the recent rally was OPEC's unwavering commitment to its production cuts. The organization's output fell to its lowest in a year at 30.23 million barrels per day in February 2019, its lowest in four years. But the question remains for how long can these cuts go on? Last month it was reported the Kingdom of Saudi Arabia had admitted that they need oil at $70 for a balanced budget while estimates from IMF claims that the level for a budget break-even are even higher: $80-$85. We should not forget Trump and his tweets in this regard as well. Whenever prices have inched up from a certain threshold POTUS' tweet forced the market to correct themselves (save the last time). One of the key Russian officials who made the deal with OPEC possible recently signaled that Russia may urge others to increase production as they meet in the last week of June this year. While this is not a confirmation that others will agree but it certainly shows that one of the three largest oil producers in the world does feel that markets are now almost balanced and the cuts are not needed further.
Now with the recent cancellation of waivers we should expect U.S. to press KSA to increase production to offset the lost barrels and stabilize the prices.
Finally stoking fears of an impending supply crunch (a bullish factor) is the supposed slowdown in U.S. Shale production. But the facts might be a tad different. Few weeks ago U.S. added 15 oil rigs in one day, a very strong number indeed-this comes after a decline of streak of six consecutive weeks. According to different estimates the shale producers are fine with prices anywhere between $48 to $54 and the recent rise in prices has certainly helped. Well Fargo Investment Institute Laforge said that higher prices will result in "extra U.S. oil production in coming months". Albeit, U.S.' average daily production has decreased a bit but it doesn't mean that the shale producers cannot bring back production online again. Prices are very conducive for it.
So if you think that prices will continue to head higher, think again. Following graph shows that oil had entered the overbought territory few days back–hence the recent slide.
Therefore, If the war in Libya settles down (and there is a strong possibility that it will); rumors of a production increase making its way into investors' and traders' mind (as it already have) and global economy continue to struggle in order to gain a strong footing — the chances are oil will fall again. The current rally might last for some-time but, like always, beware not to buy too high.
No One Understands the Weaponization of Energy better than Russia and Iran
One of the most important lessons from World War II (WWII) is this: integrated economic growth is always better than a global war that engulfed all seven continents and killed over 100 million people. Since oil, natural gas and coal is now intertwined with geopolitics, international relations, foreign policy, realist balancing that pits nation against nation, and macroeconomic monetary policy; energy and electricity are now coupled with national security. Russia and Iran use fossil fuel, nuclear power plants and renewable energy as weapons – hence the term – the weaponization of energy.
Confronting both countries using alliances like NATO to hem Russia and Iran into their respective regions of influence while also using soft power to coax them into using their energy resources in a positive direction is where the world is now and into the future. What's disconcerting about the weaponization of energy is how Russia and Iran use energy as a foreign policy and national security weapon. The same way a nuclear arsenal is exploited to deter enemies and project national power and pride.
The largest problem with Russia are both state-run and influenced energy firms – Rosneft and Gazprom – seemingly are beyond balancing, containing or deterring since they are incredibly profitable. Alexei Bolshakov, general director of Citigroup Global Markets stated in late November 2018:
"They [Russian oil and gas companies] are having an absolutely fabulous year (2018 into 2019). They earn more per barrel than they did even during $100 barrel oil prices."
Another Russian senior analyst echoed the same sentiments: "Russian oil and gas companies are flooded with cash, they don't know what to do with it."This allows Vladimir Putin the ability to engage in geopolitical adventures in Syria, Ukraine, Crimea, the United States, Europe, the Arctic Circle and his own country. Oil and natural gas profits from each firm is a never-ending source of money and financial power that translate into hard, military resources used for projecting Russian power. It's like the Cold War never ended.
To the Obama administration's credit they attempted exhaustive diplomacy with Iran, but it failed. The counter to diplomacy and a helping hand in energy and nuclear weaponry is that under former President Obama:
"Iran was closer than ever to nuclear weapons, received hundreds of billions of dollars in sanctions relief, and had billions in cash flown over to them in jets (illegally)."
Whichever perspective is correct, and history will be the judge, nothing was deterred from the Iranian or Middle East's perspective. Iran and there use of energy for their military, paramilitary organizations and Hezbollah is more powerful than ever before. Iran is now entrenched in Iraq, Syria, Yemen, and Lebanon and has created an arc of influence from their homeland over multiple countries to the Mediterranean Sea. It can be argued the Iranian regime is in the best position to counter the US-led global order and can use energy with Islamic terrorism to remake the liberal world order in place for over seventy years.
While western countries and environmentalists such as Al Gore, well-known Hollywood actors, and overly environmental sensitive political parties (the Greens in Germany or the US Democratic Party)tout their green virtue, Iran on the other hand is going against the US-negotiated Iran nuclear agreement and is building two new nuclear plants There isn't a solid reason behind building nuclear power plants when Iran is blessed with one of the largest supplies of natural gas, oil, and petroleum plays in the world. Iran is moving forward with nuclear plants under the guise of energy to electricity, because they are still trying to build or acquire nuclear weapons to use against Israel, the EU, the US, and Sunni Muslim nations like Saudi Arabia, Egypt, Jordan the United Arab Emirates and Bahrain.
Iran building two new nuclear reactors has elicited outrage in Washington and the Trump administration. This a major cause – the Iran problem – why Trump has allowed and encouraged US oil and gas exploration and production (E&P) firms to "drill baby drill" without pause. According to Rystad Energy, they believe:
"The United States will surpass Saudi Arabia later this year (2019) in exports of oil, natural gas liquids and petroleum products like gasoline."
This exploding E&P has caused a complete overhaul in rising US natural gas consumption and the all-time highs keep breaking records. The only thing stopping the US from drilling and using oil, natural gas, coal and nuclear as natural security buffers against Russia and Iran are legislative fiats coming from federal benches that have zero basis in judicial accountability. But the world has to begin "getting real about Iran," its murderous intentions, brutality against women, gays, Christians and anyone not fully supporting the revolutionary Iranian regime and government.
Since Iran is a leading member of OPEC, and has massive reserves of oil and natural gas, Iran like Russia uses their deep earth minerals and energy deposits as weapons the way NATO uses their military divisions to deter Russia. Energy is the soft economic power weapon of choice for Russia and Iran. Unless each is confronted, deterred, destroyed or regime change occurs these problems will only fester and grow worse. Then the continued weaponization of energy will become a regional, international or global war with oil, petroleum, aviation fuel, nuclear energy and natural gas being at the forefront of who wins and who loses once shots are fired and bombs are dropped.