Credibility of Nuclear Suppliers Group
India conducted its first nuclear test in May, 1974 and prompted the seven powerful nations of the world i.e. US, UK, Germany, France, Canada, Japan and Soviet Union to regulate the export of nuclear material meant for peaceful purposes. It is pertinent to mention here that plutonium used in the said nuclear test was produced by India in a reactor that was supplied by US and Canada on the assumption that it would be used only for civilian purposes. Although, India termed the said nuclear test as Peaceful One, but for the first time it was suspected that India was maintaining a nuclear weapon program.
It was in the wake of the above said incident that constitution of such a group was felt necessary that could control the export of such material and technology that could be used in building of nuclear weapons; therefore, Nuclear Supplier Group (NSG) the then London Group was formed. The members of NSG aim to facilitate only export of such nuclear material and technology that is intended for peaceful purposes. It is worth mentioning that NSG's export control regime is not based on any treaty rather it is politically binding. Its activities mainly revolve around coordination of national export controls based on appropriate guidelines. Member states of NSG also exchange information related to enforcement of export controls.
Nuclear Non-Proliferation Treaty (NPT) is also point of reference for NSG's work, which on one hand permits the peaceful use of nuclear energy, but on the other hand restricts and prohibits such support to non-nuclear weapon states that could help them in building the nuclear weapon. Member states of NSG consider NPT as its strength. Member states of NSG are also endeavouring to expand its membership. It has been seen that India is trying its best to join the group despite the fact that it is not a signatory. If India is granted entry to join the group, it would definitely change the nature of NSG membership. It is for this reason that membership of India is being considered as test case for the members of NSG, and would settle a question that whether NSG would remain an international group that is committed to adhere to the goals of NSG or it is a mere group of states that are engaged in the export of nuclear materials.
Entry of a country into NSG depends upon the following five factors, i.e., capability of a country to supply the goods enumerated in the guidelines of NSG, demonstration of willingness of a country to apply guidelines of NSG, existence and proper implementation of legally binding national export control regime in line with the rules of NSG, membership of NPT or comparable regional treaty & adherence to its rules and manifestation of willingness to support international efforts of non-proliferation of WMDs. Apart from the factors as afore-referred, certain other elements such as best practices in the field of  nuclear safety and security  also play a critical role in consideration for the membership.
There are a lot of questions regarding membership of India in group. It is believed that granting entry to India would tantamount to separating NPT from NSG, and if India is granted entry into NSG despite the fact that it is a nuclear armed state and is not a signatory of NPT, it would create more resentment among states that consider NSG an illegal instrument of the developed and industrialized countries, and an attempt on their part to refuse less developed countries the significant technologies. The said argument advanced by these countries seems reasonable as, statements have been repeatedly given on behalf of NSG that NPT is the point of reference for the export control activities of the group. Extending membership to India would, therefore, definitely lose the credibility of the group, because it would contradict the consistent stance maintained by the group since its creation.
There are also a number of factors that are likely to reduce the credibility of group, if India is granted entry into it. For example, India is continuously producing (and would continue to produce) fissile material unlike US, UK, France and Russia as it has not yet signed (and does not seem willing to sign) Comprehensive Test Ban Treaty (CTBT). Further, it also appears that India would not contribute to strengthen the export control guidelines, if granted entry into the group. From the above, it can be concluded that the credibility acquired by the group for past few decades would be lost, if India is given a chance to enter into the group in violation of criteria so established by the group. Therefore, members of the group should stick firmly to the criteria of NPT while considering entry of India into NSG, and the question of membership must be based on consistent criteria to maintain the credibility of the group.
China's Diplomatic Tightrope Amidst Rising Indo-Pak Tensions
Since the dramatic rise in Indo-Pak tensions earlier this month, the entire South Asian region has once again been propelled on to the international forefront amidst fears of all-out nuclear war. Even though these tensions have receded significantly over the last couple of weeks, they had earlier reached near an unprecedented tipping point with both countries prepped to launch a series of ballistic missiles at each other following one of the modern age's first aerial dogfights. As the specter for further military engagements is replaced by concerted efforts at diplomacy, the ongoing situation offers a unique look at the varying roles being played by one of the region's primary stakeholders, namely China.
This is evident from recent reports that have revealed the important role that was played by diplomats from China, Saudi Arabia and the US in bringing both India and Pakistan back from the brink of all-out war. China's role however demands closer inspection especially considering how it is widely expected to take on a more prominent leadership role based in part on the US withdrawal from global affairs, as well as in part on its own rise as a major power.
Despite China's clear and long-standing history of close cooperation with Pakistan, China has repeatedly avowed playing a more neutral role amidst the rising tensions between both India and Pakistan. In official statements given by Foreign Minister Wang YI, as well as Foreign Office Spokesman Lu Kang both during and after the recent crisis, China repeatedly called for restraint and dialogue presenting itself as a willing and able mediator. It showed itself as willing to play a more stabilizing role in the region through a more normative approach to conflict resolution. This stands in contrast to a perhaps more unilateral approach steeped in (super) power politics that would otherwise aim to redraw the region's strategic fault lines.
Even with regard to the divisive issue of Kashmir, the Chinese Ministry of Foreign Affairs has espoused a more conciliatory approach emphasizing the need for economic development and poverty alleviation as issues that should be addressed collectively. This is especially evident in the case of the China Pakistan Economic Corridor (CPEC) and its overarching Belt and Road Initiative (BRI) where Beijing has repeatedly emphasized the inclusivity of this initiative. Citing how the BRI can serve as a platform for enhancing Indo-Pak Cooperation, China's offered solution has been directed towards meeting the infrastructure requirements of both countries at a broader regional level.
However, China's so called neutrality has been vociferously brought into question by India especially as a result of China's most recent diplomatic maneuvers at the UN. This is because China has for the third time blocked a UNSC resolution aimed at blacklisting JeM leader Masood Azhar under the 1267 sanctions committee. Accused by India as being the mastermind behind the Pulwama attacks, India along with France, the UK and the US have repeatedly pushed for blacklisting Azhar subjecting him to a travel ban, arms embargo and asset freeze.
In contrast, China's position on the issue has been to implement a technical hold on the decision calling for a more responsible solution to the issue based on greater dialogue and consultations. This has been widely perceived in India as not only favoring Pakistan at India's expense, but also as an implicit justification of Pakistan's support of cross-border terrorism within Indian occupied Kashmir.
Despite China's claims to the contrary, these actions have led China to face growing diplomatic pressure as it finds itself increasingly unable to justify its position; especially in light of its own internal concerns with regard to terrorism such as in the Xinjiang Autonomous Region. Furthermore, Chinese policy towards India is still built on close trade ties, with China still being India's second largest trade partner. Recent calls within India to ban Chinese goods bears witness to this fact which China is well cognizant of.
Hence, with regard to China's self-avowed desire to remain neutral amidst the Indo-Pak rivalry, the onus does perhaps lie on China to reduce its inclinations towards Pakistan to some degree in favor India. However, considering India's own ambiguity and uncertainty with regard to its role as an emerging power, India has itself offered little room or incentive by way of addressing the rise of China. India's obsession and deep seeded insecurity with respect to Pakistan has instead greatly limited its ability to form a clear and forward-looking policy for the wider region. As evident in the recent rise in tensions following Pulwama, the Indian approach can only be characterized as being more reactive than proactive in nature, lacking any hint of direction or vision it might have for the South Asian region.
Therefore, the fact remains that even though China has been looking to adopt a more neutral position between India and Pakistan, India's own uncertainty, lack of political will, and its incessant obsession with Pakistan has done little with regard to its attempt of serving as an emerging power within the region. Hence, while China may be unwilling to alter the regional status-quo based on its actions and policy towards South Asia, it is the uncertainty and lack of a clear direction from India that has allowed bilateral ties between Pakistan and China to have a profound regional impact even beyond South Asia.
Countering Terrorism and the dawn of CPEC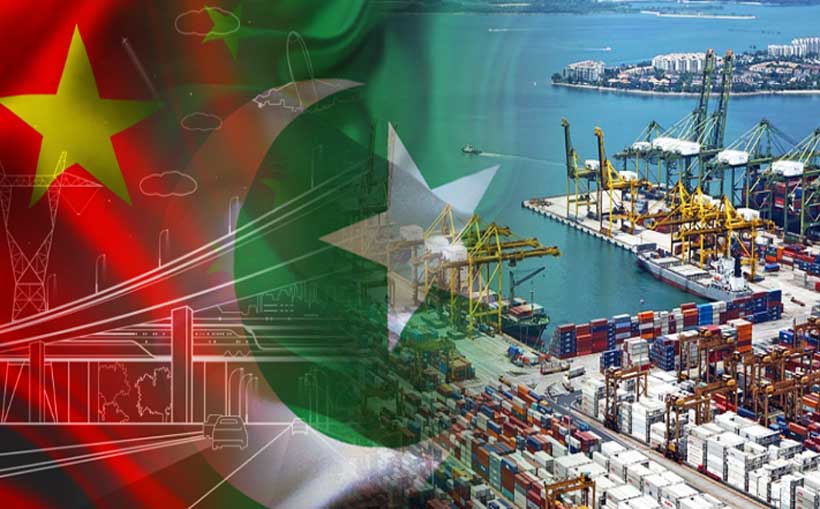 China-Pakistan Economic Corridor (CPEC) is much more than just a development deal between two states; it is to a large extent a mega-project which encompasses many foyers of economy, trade and politics as well as strategy between two highly important states within Asia. It incorporates developing a network of roads, pipelines, and railways which connects Balochistan province in Pakistan with Xinjiang in China. It has heralded a cross country exchange of nationals who are working day and night to make this mega-project a successful one. At present, there is an estimate of around 20,000 Chinese nationals working across Pakistan, and this means that around 70,000 short-term visit visas are being issued each year.
But with all this being said, it needs to be understood that the current state of terrorism is threatening to the entire Endeavour and this needs to be catered to. There are countless foreign forces which are at work to derail this mega-project and Pakistan is understandably doing its part, but it also opens susceptibility for China. There is also a propaganda being floated around by some hostile forces which are against CPEC and this revolves around the perspicacity of China being a so called "future colonizing power" as well as the issue of Uyghur Muslims in Xinjiang. This can add to some inside forces operational in making CPEC more vulnerable and sensitive. Furthermore, there is a threat of terrorism which is being emanated within the Baloch Insurgents as well as the added foreign pressure of other Islamist terrorist groups particularly the Islamic State's (ISIS) local affiliates in the country. The terror attacks which rocked Balochistan in December 2018 and January 2019 are testimonies of this.
To begin with it must be cleared that currently the Baloch insurgent groups have exhibited signs of antagonism toward the Chinese presence in Pakistan. This province has a dire sense of dearth paralleled with other provinces and because of this under-development and political instability there is a lack of trust within Baloch people towards the Federal governments. Adding the Chinese presence in this atmosphere has only proven to further this lack of trust and probable resentment. The idea of exploitation of local resources by the Chinese is a coming propaganda which has already surfaced and will be pushed by some entities which do not wish for CPEC to succeed. A total of six Baloch separatist groups have publicised displeasure toward the Chinese presence, which is impaired by the government's inability to address Baloch grievances. In the year 2018, Allah Nazar Baloch who is the commander of the Baloch Liberation Front (BLF) addressed a letter to the Chinese ambassador to Pakistan, stating that Chinese nationals, including fishermen, laborers, and tourists, are legitimate targets for attacks. Furthermore, in 2018 the BLA (Baloch Liberation Army) targeted a bus transporting Chinese engineers in the Dalbandin district in a suicide bombing.
Moreover the Islamic State's (IS) local branch for the Afghanistan-Pakistan region, Islamic State Khorasan Province (ISKP), has also targeted Chinese presence in Pakistan. The IS has labelled China an "oppressor of Muslims similar to Israel, India, and the U.S." in the past. The increasing Chinese presence in Pakistani provinces gives these networks an opening to gain conspicuousness and coverage by targeting foreign nationals and business professionals which adds to their importance as well. With the Islamic State's territorial defeat in Iraq and Syria, a possible shift toward Afghanistan and Pakistan as a safe-haven for operations, and portrayal of itself as a group that is as strong now as it was back in 2014.
China has strategic geostrategic interests in Pakistan which will be indomitable to avert CPEC from failing or its interests being targeted by terrorist and separatist groups. China has no doubt become more inclined to strengthen its counterterrorism cooperation with Pakistan since 2015, the most recent example of which is the joint training exercise conducted in Punjab province in December 2018. Previously China has patented the TTP as a serious and well-engineered menace to peace and stability within Pakistan which adversely impacts the Chinese position in the state after the group threatened to cut off access to the Karakoram Highway.
The combativeness in Balochistan province is largely advocated to be a product of the proxy war between India and Pakistan. Pakistan has by and again claimed that Indian intelligence is tangled in Balochistan and has been capitalising on the militancy in the province. These proclamations were broadened in 2016, when an Indian national Kulbhushan Jadhav, was arrested and indicted by Pakistan of being a spy.
These loopholes present in security can add up to the overall stagnation and possible blacking out of the $62 billion dollar deal between two prominent states. If this deal goes through, Balochistan will be resuscitated and has the potential to turn into a developing province for the future. Of course Pakistan and its policy makers are not completely phased out as there is an active unit of forces which are taking care of the impeding issue at hand. The collaboration between Pakistan and China has enhanced and this vulnerability does not need to be worried about much in the context of the larger strategic cooperation. CPEC is prone to terrorism but it is also prone to safeguarding the project, the intensity of which far exceeds the threats. Furthermore, the Pakistan-China cooperative partnership to counter-terrorism is need of time, especially when the BRI is transforming the world from geo-political to geo-economic phase. Mutual trust, joint efforts, and regional cooperation is the key to completely eliminate the scourge of terrorism from the face of earth.
Masood Azhar is not guilty nor involved in any crime
China is a responsible state and understands its international obligations. China has become the second largest economy as well as geopolitical power of the emerging world. China's wise decision to block Security Council's resolution to declare Masood Azhar as terrorist is highly appreciated.
He was born at Bhawalpur on July 10, 1968. His father worked as the headmaster of the government school in Bhawalpur and very well respected in the society. He has five brothers and six sisters. He was educated at the JamiaIslamia and passed the almia (Islamic) examination in 1989.
He was blamed on several occasions by India and trialed in Pakistan. But found not guilty and released by courts. Courts in Pakistan are independent and well-known for delivering justice. The degree of freedom of Pakistani courts can be witnessed by their bold decisions against the two of sitting Prime Ministers of Pakistan. World has appreciated the justice system of Pakistan.
In fact, India is I habit of blaming Pakistan for its internal issues. On the one hand, India is using excessive force against its minorities and pushing them to the extreme corner, where they have left no option except taking arms. On the other hands, promoting and facilitating its extremist groups. India is a country, which officially promote intolerance, extremism, and spreading hate. Extremists in India has hijacked the Government and penetrated into all segments of the society. Especially in educational institutions and media. Their role is endangering not only the whole region, but the whole world.
India's human rights violation records has exceeded the whole world. Its atrocities in Kashmir, Naga Land, Khalistan, Bihar, Assam, Tamil and Moa-ists, has been noticed by the International Amnesty and European Union and International Community.
Whenever, India bash Pakistan, we always asked them to provide evidence, which they do not have and cannot provide. Pakistan is a moderate, rational and responsible nation. We have offered India for providing reliable evidence so that we can take appropriate actions. In the latest, incident which happened on 14 February 2019 in Pulwama, which was 100% India's domestic issue. Indian forces has tortured an innocent Kashmiri several time during the last few years. He was in the custody of Indian forces since 2017. But, habitually India blamed Pakistan. Without having any investigations, within hours India started bashing Pakistan and threatened for war. Prime Minister of Pakistan requested India to provide evidences or actionable intelligence, so that we can take any action. He offered a dialogue to settle all pending issues diplomatically. Instead of providing evidence and cooperation for dialogue, India has attacked Pakistan on 26 February 2019. Which is against all the norms of civilized world and UN charter. But Pakistan observed patience and restrained to avert escalation of full-scale war.
In fact, Masood Azhar is seriously ill for last several years and on bed. He cannot even move easily. Blaming him for any act of terrorism is injustice against humanity. India has tried to blame him several times in past. It is fourth attempt, where India has faced humiliated defeat. Hope, India may not have courage to put false allegations on any one else or use others as scapegoat in future.
France has presented a resolution to black list Masood Azhar, which was backed by UK and US. But the resolution was supported with evidences. In fact, the resolution may not be presented by France without having enough investigation and supported by solid evidences. UK and US has backed France only based on political reasons. This has damaged the reputation of Security Council too. It has been witnessed that UN has become tool for twisting other nations which do not fit-in Western Template. It is very unfortunate and alarming situation. However, China is a very mature and sensible nation, China has been coerced and victimized in past and can understand the responsibility of judging the truth. Chinese approach is appreciated and a ray of hope for all small countries and the whole developing world. It is appealed to international community and all peace loving nations as well as individuals to condemn coercing any individual or a country.