Twitter CEO Trolled: Hate Speech or Anti Oppression?
Jack Dorsey, CEO of Twitter, recently received a lot of hate on the same platform after his visit to India. On his visit, he formally met Prime Minister Modi and Bollywood superstar Shah Rukh Khan. He also participated in an unofficial meeting with Indian women journalists and activists to discuss about the safety issues for women Twitter users. It is known that Indian Twitter can be very disrespectful towards outspoken and vocal women who use the platform to speak about issues including prominent personalities like Barkha Dutt, Rana Ayyub, Richa Chadha, and Swara Bhaskar among others.
Jack faced severe backlash at the hands of right wingers because a photograph released after the event showed him holding a poster that read Smash Brahminical Patriarchy. Most people were showering phrases on him claiming the banner to be casteist, to mongering hate, and promoting hate speech targeted at a particular group.
To put things into context, brahminical patriarchy can be understood as the Indian equivalent of white supremacy, but racism replaced with casteism. The term is popular among feminists who interlink two very important oppressive hierarchies, that of caste and gender. Caste in India (and other Hindu countries) has its own dynamics which form the functioning base of societies. Brahmins in India are positioned at the top tier of the caste hierarchy, followed by Kshatriyas, Vaishyas, and Shudras. This caste hegemony has historically oppressed 'lower caste' groups who face atrocities perpetrated on them by the 'upper castes'. Essentially, brahminical patriarchy refers to the casteist activities that are inherently inbuilt in Indian societies as Brahmin males continue to be at the topmost tier of the social dynamics. However, this does not include patriarchy present in brahminical societies.
Following these attacks, a top Twitter official Vijaya Gadde, who was also present at the said meeting apologized for the photograph saying that the social networking site aims to be impartial and apolitical in its functioning. She also mentioned that the poster was given to Jack as a gift by one of the attendees of the meeting.
In due course of time Vijaya's statement garnered enough attention. Herapology was then deconstructed by the women present in the meeting who accused her for misrepresenting the facts suiting the conditions. Sanghapali Aruna, who gifted the poster to Jack, later clarified on a public platform that the poster was given to him only to attempt to "challenge the dominance and sense of superiority that finds its origins in the caste system" by "questioning the hegemony and concentration of power in the hands of one community."
Interestingly, Vijayahad no answers to why Twitter did not have features that enabled to report caste based hate. According to Barkha Dutt who was also present in the meeting, when Aruna mentioned in the meeting that Twitter was exceptionally hostile to women belonging to lower castes, Vijaya reportedly burst into tears.
Vijaya's apology is "disappointing to those dealing with abuse, harassment and legal threats". In a strive to represent Twitter as impartial, the company has failed to acknowledge India's very pressing brahminical patriarchy which makes difficult for every woman, man, and non-binary to express freely. Twitter has failed to stand up for marginalized communities while also proving at the same time that it has very less knowledge about the Indian social and cultural dynamics.
It would be prudent to acknowledge that nationalism is rising in Asia. Insult of Chinese culture in an advertisement video resulted in a heavy cost for Italian luxury brand Dolce and Gabbana as all their products were taken off markets. Western companies have huge stakes in both India and China and any wrong step will lead to devastating results. Keeping this in mind, people and corporations are being exceptionally sensitive towards issues of inclusion and against conditioned hatred and bigotry.
Twitter roughly has about 30.4 million users in India. In fact, Me Too movement in India gained momentum in September 2018 on Twitter and women still continue to use the platform to open up about sexual misconducts against them. Twitter has also been actively supportive of causes that are of essence to minority groups all over the world including #BlackLivesMatter #TimesUp #BelieveSurvivors and many more. Yet Twitter has failed to stand up for users and consumers who face hate on the very platform.
The only positive outcome of this is that Jack saw firsthand how people are attacked in packs by extremists waiting their chance to pounce upon anybody threatening their dominance in the society. As of this day, Twitter has remained deaf to a large number of harassment complaints made by users who feel violated and threatened. A right-wing activist in the USA has been banned for citing hateful conduct against Muslim lawmaker immediately following the Indian incident. Why does Twitter refuse to acknowledge the same in India? It is easily understood Jack alone cannot smash the brahminical patriarchy but why does Twitter have to apologize for a slogan that aims to end oppression?
Migration through the Prism of Feminist International Relations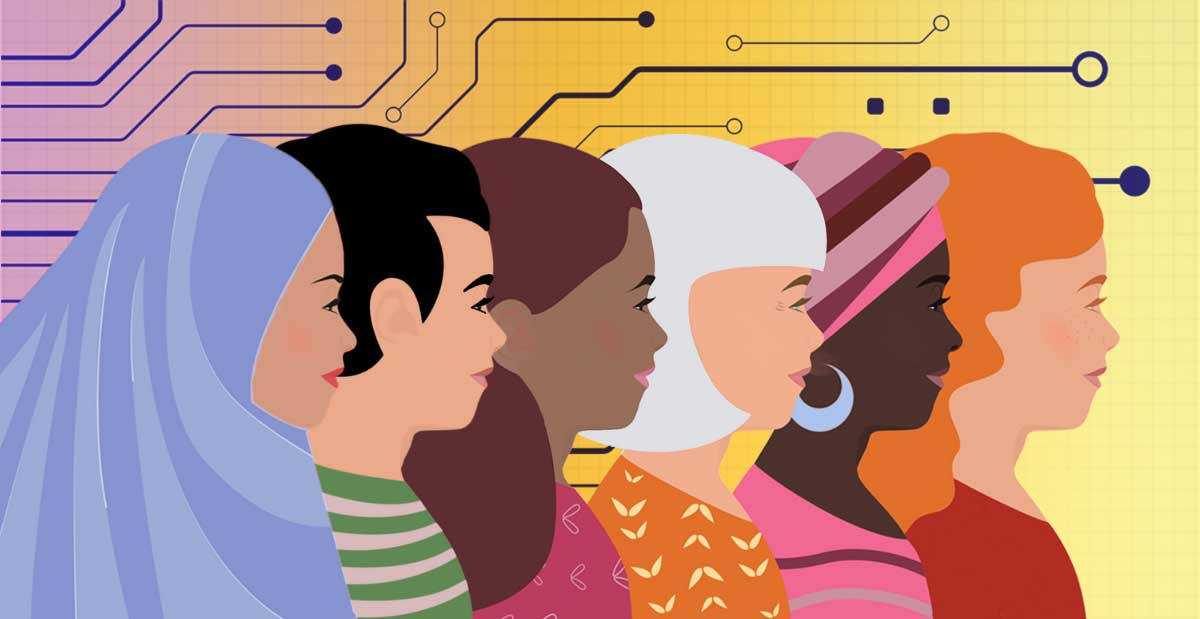 In an increasingly globalized world, more people are travelling across the globe, for better life opportunities than ever before. This increase in number is due to the greater aspirations of migrant folk in the spheres of  jobs, heathcare or education, in hopes of creating better lives for themselves.Female migrants comprise less than half- 135 million or 48.1 per cent- of the global migration stock according to the United Nations. However, this number mostly accounts only for those immigrants who have legally migrated to a foreign country- with the right documentation.The number of illegal migrants spread across the globe are far harder to track, as their travel  hardly leave any legal paper trail and if detected by the authorities of their destination, they are either prosecuted, imprisoned or deported.
The earliest notions of migration and the discourse on migrant studies, especially in the 60's and 70's was constructed  around the notion of "men and their families". In such situations, the agency of women was not of much consequence,and they had to move with their husband/father/brother across international borders.The male head of the family would be the breadwinner and would decide when, where and the mode of migration and women and children were expected to abide by their decisions. This perspective not only underestimated and undervalued the autonomy of women, treating them as  invisible, it was also a considerable factor in why many immigrant women did not participate in the host country's work force. Eventually, with the call for gendered data in 1995 at the World Conference on Women at Beijing, research on migration studies expanded its horizons. The vast amount of research since then has discovered the deep links between gender and migration. Gender and class of the migrant influences the reasons and destination for a migrant. It also influences the mode used for migration, and the network of migrants they are exposed to. This has an impact on the livelihood opportunities available to them at their destination. Different genders experience the process of migration differently.
Today, migration is looked at as the decision of an individual. More and more and female migrants are joining the international labour force,migrating either as individuals or as the breadwinners of their families. About 63.5 % of all migrant females actively participate in the workforce, as opposed to 48% of non-migrant women. Migration provides women with ways to assert their autonomy, earn better wages, elevate their social status by possibly availing job and educational opportunities that were probably not available to them in their home countries.
While recognising that not all migration is voluntary, I would like to clarify that the migrants discussed in this article are not refugees, though they might have travelled to another country for a better life. The process of migration too, might not be easy for most women. According to a report by the United Nations Office on drug and crime, 71% of all human trafficking victims are females. Women are often subject to double discrimination at work– because of both their identities as migrants and women. A study by the International Labour Organization stated that women with a stronger educational background (a trend which has been swinging upwards since the start of this millennium) who migrate to higher income countries are more likely to face difficulties in finding employment as compared to their male counterparts, with the difference in their average population to employment ratio being at least 10% apart (75 and 85%, respectfully). The same study also states that there is a disparity of almost 20% in wages between male and female migrants.
Additionally, immigration policies of most countries hold sway over the migration patterns, quite often assuming the 'dependent' status of women, while assigning an 'independent' tag on men. In labour importing countries such as Azarbaijan, Egypt and Moldova among many others, this may mean that the female migrants are more likely to be employed in the unorganised sector, often in illegal trade.The perception of the host country regarding the "traditional roles of women" may influence the sectors where they are recruited to. As a result of this, females are more likely to be employed in healthcare, garment making,childcare, hospitality or other "soft, feminine professions".
These were just some of the many difficulties faced by women migrating in hopes of better lives. One of the biggest shortfalls of international policy regarding women, as defined by Anker and Lufkin is that conventional definitions of the term "refugee" defines their circumstances of fleeing as dire, as they escape persecution on the basis of several social identities such as religion, race, etc. This definition leaves out the dimension of escaping from gender-based violence , which is still designated to the private space.
Addressing issues of different lived experiences of migrants based on gender would lead to better pay and recruitment opportunities for female migrants, shifting a good proportion of them from the unorganised to the organised sector.Policies strengthening international cooperation against human trafficking would make a great change in the lives of these migrants. This should be high on the list of priorities of a country like India, which has the largest diaspora in the world, with 17.9 million Indian-born people living abroad and 13.1 million people of Indian descent, and a significant number of migrants, legal and illegal, residing in its domestic territory. The bottom line is that unless one considers the gendered differences in migration, one will not fully come to fully bring to life the potential of an economy.
Equality Not Yet Seen: North-South in Security and Women's Discourses
The Emergence of the North-South Human Security Dialectic
The concept of human security that is agreed upon today is not taken for granted, there was a prevalent understanding of North-South negotiations in the early days of human security discourse. Acharya (2001) observes the debate between these two poles as a process that has reflected the expansion of the idea of military security into 'comprehensive security'. The idea of human security originated from the North's criticism of India and Pakistan, which were perceived to have spent too much on the military sector at the expense of human development. By the South, the notion of human security was suspected of being an attempt by the North to impose its liberal values and political institutions on the South. While Western penetration is evidently for human development reasons, some Asian countries argue that the promotion of human rights cannot be equated with Western methods. Asian states must take into account cultural contexts and historical experiences, including respect for the communitarianism of their societies. This typology is likely the reason why human rights have emerged in Southeast Asia lately.
To mediate the North-South prejudice, Mahbub Ulhaq, a former Finance Minister of Pakistan, initiated the human security clause to be documented in the United Nations Development Program Report (1994). Despite various criticisms and inputs -for example by Japan and Canada- because the definition of human security was considered too broad, it should be recognised that this document became a reference point where the idea of human security finally occupied an important position in international relations. UNDP recognises seven aspects of human security focusing on economic, food, health, environmental, personal, community, and political security.
Following the publication of the UNDP report, the North-South debate on what constitutes "human security" continues. The controversy continues to be that the North dominates perceptions of human security and tends to reflect a liberal individualistic ethos, which is at odds with Asian approaches that develop the concept of cultural relativism.
In short, human security demands a shift in the conceptualisation of security from the domain of the state to the individual or community. As such, human security protects all social groups, including children, minorities, women, and ethnic minorities -which is not at all counterproductive to Asia's communitarian spirit. The spectrum of issues accommodated is broad, including both traditional and non-traditional aspects. It is at this point that the North-South debate can be reconciled.
Considering the Position of Women in Security Discourse
Taking these dynamics into account, I argue that traditional security and human development cannot be separated from each other, especially in the context of the South, which remains an arena of conflict to this day. The North's push for the South to pay attention to human development is right, but given the fragile stability of many Southern countries, it is important to make efforts to prevent armed conflict simultaneously. As Afghanistan has shown in the last four decades, Russia's conflict with Ukraine, and civil conflicts and ethnocentrism concentrated in some parts of the South. These conflicts develop under the influence of interrelated forces between internal and external conflicts. Not only do they threaten global peace and security, but they also produce or exacerbate injustice, especially against women as vulnerable groups in the South.
The nature of warfare today has changed, and it is no longer soldiers -who are often associated with men- who are the most victims, but also women. The social, economic and political access injustices that women experience in their daily lives exacerbate ongoing conflicts and ultimately hinder the long-term process of human development.
In conflicts worldwide, violence against women can not only be seen as an everyday form of oppression but has also been used as a weapon of war. Not only to hurt women, but also to humiliate men on the other side, and erode the social and moral fabric of entire societies for generations (Enloe, 1983). Sexual violence has been used as a war strategy in conflicts ranging from the partition of India to the wars in Rwanda, Bosnia, Sierra Leone, and the Middle East and Ukraine nowadays. This rationale places women as the most vulnerable group in times of conflict.
Way Forward
However, not only during the conflict, it is important to understand the conditions and difficulties of women's lives after the war. Heyzer (2005) argues that three dimensions need to be considered. First, the specific impact of war on women's lives, including various forms of violence and the erosion of society's economic and social fabric. Violence has hurt women's self-esteem, and in the aftermath, they still have to accept negative stigmatisation from society for the actions committed by militaries.
Second, the importance of women's participation in the peace process. The Helsinki Agreement, touted as one of the most successful peace agreements, still raises a series of problems because it did not involve women at the negotiating table at all. The involvement of women in the peace process must be done from the beginning. Third, the role of women in shaping the post-conflict reconstruction process to ensure that their societies are built on a foundation of justice, inclusion, and a commitment to the dignity and development of all its members. This stage is the process of building human security for the long term. To be successful, these three dimensions need to ensure a deeper and broader inclusion of human security elements.
This is evidence of the importance of paying attention to the non-military aspects that create injustice without forgetting the impact of war at the same time. Women's relationship to conflict has rarely been an important discourse in human security studies between the North and South. Although human security discourse, in general, has involved important North-South conversations, whether we want to admit it or not, women from the South still need to be discovered in the dynamics of human security conceptualisation. The North-South relationship in human security discourse is still limited to the 'dominating North' and the 'subordinated South', without looking further into the multiple subordinations that Southern women experience, especially in times of conflict.
To borrow Acharya's concept of comprehensive security, injustices that are sidelined and unaddressed will thwart the achievement of the grand vision of human security.
Social Matters: Valuing Employee Well-being
Authors: Birger Kydland, Ynna Abigail Olvida, Yuanda Pangi Harahap*
Highlighting the "social" aspect of ESG
As the world becomes more aware of the need for sustainable and responsible business practices, the Environment, Social, and Governance (ESG) framework has gained significant traction in recent years. While the importance of environmental sustainability and good governance is widely acknowledged, the "S" is often overlooked or underestimated. Based on Sustainable Development Goal (SDG) 3, it talks about promoting well-being for all at all ages while SDG 8 aims to promote the protection of labor rights and promote safe and secure working environments for all workers.
So, in this article, we will focus on the social aspect of ESG, specifically on employee well-being in the workplace. We will explore its importance and the strategies that companies can adopt to promote employee well-being. We aim to raise awareness about the importance of social matters at the corporate level and encourage companies to prioritize employee well-being in their sustainability agendas as well.
Importance of well-being in the workplace
Studies reveal that employee well-being has a significant impact on productivity, engagement, and overall success. By promoting employee well-being, businesses can create a positive and supportive work environment that fosters employee satisfaction and ultimately leads to a more engaged and productive workforce. It helps reduce workplace stress and mitigate the negative impacts of mental health issues on employees, resulting in reduced absenteeism and healthcare costs for employers.
Main indicators related to employee well-being
The Chartered Institute of Personnel and Development (CIPD) identifies several main indicators of well-being in the workplace, including physical, psychological, social, and financial well-being. Physical well-being involves creating a safe and healthy work environment, offering healthy food options, promoting physical activity, and providing ergonomic designs. Psychological well-being includes mental and emotional states such as stress, anxiety, and depression. Employers can support psychological well-being by creating a positive work culture that values open communication, offering resources and support for mental health issues, such as counseling services, and promoting a healthy work-life balance. Social well-being is another main indicator of well-being in the workplace, which includes factors such as relationships with colleagues and social support networks. Lastly, financial well-being as financial stress can have a significant negative impact on employees' well-being, leading to increased anxiety, poor physical health, and reduced productivity. Employers can support employees' financial well-being by offering competitive salaries, bonuses, and benefits packages, as well as providing financial education and resources for personal finance management.
By addressing physical, psychological, social and financial well-being in the workplace, employers can help improve employee well-being, leading to better job performance and increased productivity.
Increased well-being to improve mental health in the workplace
The World Health Organization (WHO) notes that creating a supportive work environment that prioritizes employee well-being can help reduce work-related stress and improve mental health. By promoting employee well-being and providing resources for mental health support, employers can reduce the negative impacts of mental health issues in the workplace and improve employees' overall well-being.
The importance of well-being in improving mental health is supported by Champion Health's research. Their report found that employees who rated their well-being as high reported significantly lower levels of stress and anxiety, indicating a correlation between well-being and mental health. Furthermore, organizations that prioritize employee well-being have a 63% lower rate of workplace stress, indicating the positive impact of well-being initiatives on employees' mental health. By providing resources such as mental health support programs, flexible work arrangements, and training on stress management, employers can help reduce workplace stress and promote employees' mental health, leading to a more engaged and productive workforce.
Effective strategies for promoting employee well-being in the workplace
Fortunately, there are several strategies that can be used to prevent, protect, and support well-being in the workplace. Prevention is a crucial strategy for promoting well-being in the workplace. Employers can take steps to prevent workplace hazards and risk factors that may impact employee well-being. This can include providing training on how to recognize and manage stress, reducing workloads and managing deadlines, ensuring adequate rest and recovery time, and creating a safe, open, and supportive work environment. For example, employers can offer flexible work arrangements, such as telecommuting, to help employees manage their work-life balance.
Protection is another key strategy for promoting well-being in the workplace. Employers can take steps to protect employees both physically and mentally. This can include providing personal protective equipment (PPE) and ensuring that work equipment is safe and well-maintained for workplace hazards that cannot be eliminated entirely. Employers can also provide resources for employees to help them manage their mental and emotional well-being, such as employee assistance programs (EAPs) and access to counseling services.
Finally, support is critical for promoting employee well-being and it goes both ways. On one end, employees can take steps to support their own well-being by practicing self-care, such as getting sufficient sleep, eating a healthy diet, and engaging in physical activities. They can take an active role in advocating for workplace policies that promote well-being. This includes advocating for fair wages, flexible work arrangements, and adequate rest periods. They can also work with management to implement policies and programs that prioritize their well-being. Employers can also offer support to their employees by creating a culture of openness and support, providing opportunities for feedback and input, and fostering a sense of community and belongingness in the workplace. By taking a proactive approach to well-being, employers and employees can create a healthier, happier, and more productive workplace.
Employee well-being for organizational success
This article highlights the importance of employee well-being in the workplace as a key social aspect of ESG, which can have a direct impact on the success and sustainability of an organization. The focus on employee well-being is becoming increasingly crucial as it can boost productivity and increase employee satisfaction and retention. The article explores the main indicators of employee well-being, which include physical, psychological, social, and financial well-being, and offers strategies for promoting well-being in the workplace, including prevention, protection, and support. Ultimately, prioritizing employee well-being is not only the right thing to do from an ethical perspective, but it is also an essential aspect of a company's long-term success.
*Yuanda Pangi Harahap from Indonesia, Birger Kydland from Norway, Ynna Abigail Olvida from the Philippines are studying for the ASEAN Master in Sustainability Management, a dual degree program from Universitas Gadjah Mada, Indonesia and the University of Agder, Norway.