Twitter CEO Trolled: Hate Speech or Anti Oppression?
Jack Dorsey, CEO of Twitter, recently received a lot of hate on the same platform after his visit to India. On his visit, he formally met Prime Minister Modi and Bollywood superstar Shah Rukh Khan. He also participated in an unofficial meeting with Indian women journalists and activists to discuss about the safety issues for women Twitter users. It is known that Indian Twitter can be very disrespectful towards outspoken and vocal women who use the platform to speak about issues including prominent personalities like Barkha Dutt, Rana Ayyub, Richa Chadha, and Swara Bhaskar among others.
Jack faced severe backlash at the hands of right wingers because a photograph released after the event showed him holding a poster that read Smash Brahminical Patriarchy. Most people were showering phrases on him claiming the banner to be casteist, to mongering hate, and promoting hate speech targeted at a particular group.
To put things into context, brahminical patriarchy can be understood as the Indian equivalent of white supremacy, but racism replaced with casteism. The term is popular among feminists who interlink two very important oppressive hierarchies, that of caste and gender. Caste in India (and other Hindu countries) has its own dynamics which form the functioning base of societies. Brahmins in India are positioned at the top tier of the caste hierarchy, followed by Kshatriyas, Vaishyas, and Shudras. This caste hegemony has historically oppressed 'lower caste' groups who face atrocities perpetrated on them by the 'upper castes'. Essentially, brahminical patriarchy refers to the casteist activities that are inherently inbuilt in Indian societies as Brahmin males continue to be at the topmost tier of the social dynamics. However, this does not include patriarchy present in brahminical societies.
Following these attacks, a top Twitter official Vijaya Gadde, who was also present at the said meeting apologized for the photograph saying that the social networking site aims to be impartial and apolitical in its functioning. She also mentioned that the poster was given to Jack as a gift by one of the attendees of the meeting.
In due course of time Vijaya's statement garnered enough attention. Herapology was then deconstructed by the women present in the meeting who accused her for misrepresenting the facts suiting the conditions. Sanghapali Aruna, who gifted the poster to Jack, later clarified on a public platform that the poster was given to him only to attempt to "challenge the dominance and sense of superiority that finds its origins in the caste system" by "questioning the hegemony and concentration of power in the hands of one community."
Interestingly, Vijayahad no answers to why Twitter did not have features that enabled to report caste based hate. According to Barkha Dutt who was also present in the meeting, when Aruna mentioned in the meeting that Twitter was exceptionally hostile to women belonging to lower castes, Vijaya reportedly burst into tears.
Vijaya's apology is "disappointing to those dealing with abuse, harassment and legal threats". In a strive to represent Twitter as impartial, the company has failed to acknowledge India's very pressing brahminical patriarchy which makes difficult for every woman, man, and non-binary to express freely. Twitter has failed to stand up for marginalized communities while also proving at the same time that it has very less knowledge about the Indian social and cultural dynamics.
It would be prudent to acknowledge that nationalism is rising in Asia. Insult of Chinese culture in an advertisement video resulted in a heavy cost for Italian luxury brand Dolce and Gabbana as all their products were taken off markets. Western companies have huge stakes in both India and China and any wrong step will lead to devastating results. Keeping this in mind, people and corporations are being exceptionally sensitive towards issues of inclusion and against conditioned hatred and bigotry.
Twitter roughly has about 30.4 million users in India. In fact, Me Too movement in India gained momentum in September 2018 on Twitter and women still continue to use the platform to open up about sexual misconducts against them. Twitter has also been actively supportive of causes that are of essence to minority groups all over the world including #BlackLivesMatter #TimesUp #BelieveSurvivors and many more. Yet Twitter has failed to stand up for users and consumers who face hate on the very platform.
The only positive outcome of this is that Jack saw firsthand how people are attacked in packs by extremists waiting their chance to pounce upon anybody threatening their dominance in the society. As of this day, Twitter has remained deaf to a large number of harassment complaints made by users who feel violated and threatened. A right-wing activist in the USA has been banned for citing hateful conduct against Muslim lawmaker immediately following the Indian incident. Why does Twitter refuse to acknowledge the same in India? It is easily understood Jack alone cannot smash the brahminical patriarchy but why does Twitter have to apologize for a slogan that aims to end oppression?
Finally diagnosed with Bipolar and understanding God's purpose for my life
I've outlasted a lot of things. I'm over 35. I am nearing 40 years of age. I've made mistakes and lived with regret but I don't anymore. And I'm finally able to make peace with the mistakes I've made in my past.
I can forgive someone who brought me pain. The suicidal thoughts that I've manages to overcome. I think of our happy my parents were in my childhood. I think of every childhood experience as happy except the memories brought back to me of apartheid. I don't have to tell myself anymore, you can make it. By the grace and mercy of God, I've survived. And it is God that has outlasted my storms.
So for the millions of people out there who have been diagnosed with a mental illness or have a loved one living with a mental illness, be brave. You are going to get through this storm. You're a fighter.
You're going to make it and when you come out on the other side, talk about it, or write about your survival, tell someone about it, become a storyteller, or give your testimony. You might save a life in the same way yours was saved.
As I write this I think of Robert Lowell, Anne Sexton, Sylvia Plath and being fake-happy. Pretending to love being alone and not being the proper example of a good daughter. You want someone to love you until the end of time. I want someone to love until the end of time. I want people to love me. To remember me. In some way I want to belong to the world. I grew up with a narcissistic mother who passed this trait to her only son and middle daughter. That and beauty. That and arrogance.
But beauty fades like fast cars. It's just tears I tell myself.
Tomorrow I'd have forgotten about them. Anticipating waves or the vibrations of depression does nothing for the way you look on the outside. It is all for you. I do it, I write it for you. I don't know who you are. I just know that you accept me for who I am. I'm growing older and in the blue-dark I can't see that I am growing older. All I do, the poetry, the writing is for you. I'm selfish that way, I guess.
I don't want happiness. I just want a brave personality. That and the writing is what gets me through the hours, the day, the night. And sometimes I try very hard through the tears not to even think of going there. Of letting go. Sometimes I think I love this world too much. I love you, the Reader. I do love you. Perhaps in the end you're the only thing that's keeping the chemicals from balancing me the right way up. It's all for you the Reader. Everything that I've ever written. You're the assignment. Perhaps you're the mission.
I was finally diagnosed with bipolar mood disorder after Tara. I spent
6 months in a mental institution in Johannesburg. Mental illness stamped on my forehead for all to see, alongside a stigma, a family (and paternal and maternal family) that saw to it that I quickly became an outcast, felt like an interloper when spoken to. I was ignored, and sat quietly by myself at family functions. It was as if I was in high school again. I never cried about it, but I don't think that made me brave.
I was half-mute like Princess Diana, and Maya Angelou as a child.
Something had happened to me. Somehow I had been transformed intrinsically in childhood (it was because of my mother's mental, verbal, and emotional abuse), but was it the environment that changed, no, no. It was human nature. All the humans around me. Bright children, no matter how bright they might seem even if adult words come out of their mouths, all children are still innocent. And all children want is the mother-love, and I felt the lack of mother-love acutely with an acumen and focus beyond my years.
I was called insubordinate by a male teacher once. Years later when we met at a prayer meeting, he spontaneously embraced me. In that moment, I forgave him. For the corporal punishment he had meted out to me for letting someone else, a popular girl, copy out my answers in a test. I thought I would be liked. But I wasn't. I was still a goody two shoes.
I still sometimes would spend break in a bathroom stall.
As a moony-moody teenager I would read. I was mostly withdrawn, serious, never smiling (I never smiled once at Collegiate, it hurt too much to smile, my mother would go on rampages then, hurling mental abuse at me in the morning for breakfast, afternoon tea, and supper which my sister made for us. My mother was depressed too in a sinister and deceptive way). Now let me get back to never smiling, and never playing team sports.
Let me talk about the (good) old days. Collegiate High School for Girls in Port Elizabeth (a Model C school). That year, 1995, I was of course a perfectionist. A bipolar perfectionist who only ever understood the world of achievement, achievement. It had nothing and everything to do with having a Khoi-ego, Khoi-identity, Khoi-personality. But I would only understand the knowledge of Khoi-anything later on.
In those days I relaxed my hair. My hair was so straight it made no curls or waves, and I wore it in a ballerina bun. I was skinny, not voluptuous or buxom like the other girls. Late to bloom, as the saying goes. At 17 years old, or 16, I forget, all I could think of was my shame. My shame that I was not White. The shame of not having straight hair. The mortifying shame of not being athletic, not being able to play sports, not being able to be singled out first for a game during P.E. period I did not play hockey, or tennis (my mother got her Transvaal colours for tennis in high school).
I did not have blonde hair, and freckles on my face, forehead, knees, and the rest of my body. I did not have freckles in secret places.
But I learned quick, and I also learned very slowly that people don't easily forgive, and forget if you live with a mental illness. This made me withdraw even more into my mute-self. For most of my life I lived like this with a mute voice inside of me until one day I began to write. I was 8 years old.
In later years cousins on both sides of the family despised me (because I was mentally ill). I could see it there in there eyes, as they did not meet my gaze whenever I spoke. Family despised me (because I was mentally ill). I was not invited to weddings, or kitchen teas. Women-fold women-folk kind of things. They despise you (this I told myself) because society despises lunatics, and for a long time I was happy encompassing whatever this word meant. Lunatic. It was me who was more in touch with reality than the ones who thought I was mad, I have come to accept this now. I have other much more important, and significant things on my mind, and I am about to begin to write my first novel. This is what moves me to write this for other people suffering in silence, people who are being told to pull their socks up (or that they 're beginning to be too big for their britches). Don't live a half-life. Don't live a half-lie.
Thoughts after reading Kiran Desai's "The Inheritance of Loss"
You will experience happiness, I was the one who told myself this. No one else. The museum has invited me again to one of their lectures, but I never go. They will stop inviting, like they my father, one of these fine days, and then where will that leave me, and the fine museum built with my father's hands. The South End Museum in Port Elizabeth, at the cusp of the Eastern Cape where in 1820 the English arrived. Sir Rufane Donkin who was to be the governor of the Cape (did he plunder, steal, rape, colonialise I thought to myself or was it kismet, fate, destiny written in the stars. Sir Donkin came with a mad wife in tow. Was she a Mrs Rochester, like me, like me, like me.
Bipolar, mosaic, atlas that it is, well for me it did the impossible with its overpowering (aplomb), uplifting gift that it gave me.
Sometimes the day itself is perfumed with good thoughts of T.S. Eliot, Hemingway, Fitzgerald, Pound, Nabokov, the Russian writers, the Russian poets, the Russian masters, Isobel Dixon, Ingrid Jonker, Plath and Sexton. To me the women had superpowers, and the men, intelligence seeping through their every pore, I wanted them to talk to me, pull me into their arms and hug all my sadness, grief, loss, loneliness, frustration away from the secret chasms of my heart. I wanted them to lull and pull the self-pity that looped itself like cobwebs about my self-worth. Beautiful people, the beautiful women, that beautiful lady that was my mother that smelled just like Yves Saint Laurent's Algeria, the beautiful men, seemed on the surface tension of things to get everything. They were rewarded. I was not.
I have this imperfect list of thoughts when I was reading Kiran Desai.
Oh, how I hope to be a respected and wonderful writer as she and Anuradha Roy is. Arundhati Roy, the writer of "The God of Small Things". Sometimes I feel like a guardian, or rather a guardian angel when I write. I am hidden subtly, but also at the same time beyond opinion, and I also find that I am beyond caring for the approval of others. And by that of course I mean my sly and beautiful mother. Hair attractive as it falls about her face, hairpins/hair scarf/hair band loosened by her movements during the day and I try not to think of her telling me to make up my bed, or how they laugh at me, and look at me with this infuriating smile on their faces as if they know better.
Sometimes I think to myself who is the enemy now. Is it me, is it me who has to every year be put away for a week for my own good, to recover from ill health
I was sixteen years old when my mother dragged me to the Indian-looking psychiatrist who had studied in Vienna. And as I think back to that year I think of my identity coined now. That "term" on the inhale, and exhale of every breath that I take. That of a Khoi-female identity. Khoi-writer of prose, and poetry.
Young women learn government fundamentals in nationwide leadership program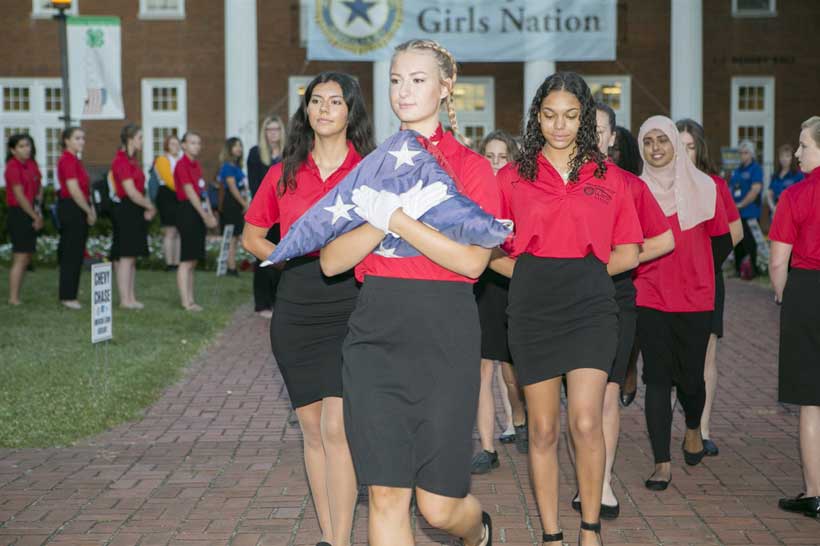 This July, two teenage girls from every state in the country met in Washington, D.C., for the 73rd annual American Legion Auxiliary Girls Nation. This one-week government-in-action leadership development program is designed to educate future leaders on U.S. government fundamentals and the rights, privileges and responsibilities of citizens.
The girls selected to go to ALA Girls Nation are chosen from week-long ALA Girls State programs in each state. The young women become "senators" for a week and participate in mock political campaigns and debates, visit historical sites, and meet their real-life counterparts on Capitol Hill. For a number of the participants, the program's impact extends beyond the weeklong event: Many go on to serve in the military and credit ALA Girls Nation as their source of inspiration.
New ALA member and U.S. Army Capt. Virginia Clark, stationed at Fort Benning in Georgia, is an ALA Girls Nation alumna. Though she says she has always been patriotic, her experiences at ALA Girls State and ALA Girls Nation helped her realize she wanted to serve her country. "Being around really motivated people made me realize I wanted to be around people who were spending their time doing things rather than looking for the next great party," Clark said.
Reflecting on where she has been and where she is going, Clark says she owes it all to the American Legion Auxiliary. "I wouldn't have gotten into West Point without ALA Girls State and ALA Girls Nation … I 100 percent owe, I think, my current life and my career — I met my husband at West Point — to the fact that I went to ALA Girls State and ALA Girls Nation."
For some girls, the Washington, D.C., leadership program is their first opportunity to connect with peers with common interests. For others, it is the first time they encounter students whose perspective differs from their own. For all, it is a moment in time where similarities and differences come together to symbolize strength, democracy and freedom.
Former ALA Girls State and ALA Girls Nation attendee Allyson Snelling, who is attending the U.S. Military Academy at West Point, chose a career in the military because she "loves everything it represents." She adds, "The values and lessons I've learned during my short time at West Point have made me a better person and leader." Snelling said the program taught her the power of one voice and the importance of communicating with others. "Being able to communicate with someone you may completely disagree with is becoming a lost art," she said. "ALA Girls Nation taught me that it doesn't matter if you agree; it matters that you understand."
ALA Girls Nation alumnae have gone on to hold leadership roles in industries spanning government, media, education and law, and many have become high-ranking members of the military.
Notable alumnae include Jane Pauley, national media personality; Susan Bysiewicz, lieutenant governor of Connecticut; retired Lt. Gen. Michelle D. Johnson, former superintendent of the U.S. Air Force Academy and former Air Force aide to the President; Ann Richards, former governor of Texas; and Susan Porter-Rose, former chief of staff to First Lady Barbara Bush, among many others. ALA Girls Nation is proud to be a foundation of support to the future strong women of this great nation.
The American Legion Auxiliary (ALA) is a nonpartisan organization committed to advocating for veterans' issues, mentoring America's youth and promoting patriotism. They advance the mission of The American Legion, incorporated by Congress in 1919 as a patriotic veterans organization founded on four pillars: Veterans Affairs & Rehabilitation, National Security, Americanism and Children & Youth.