Russia, Africa and Trade Statistics
On Nov 19, when officials from the State Duma, Russia's lower house of legislators, interacted with African diplomats during a preparatory meeting towards holding Russia-Africa Interparliamentary Conference in 2019, Viacheslav Volodin, Chairman of the State Duma, assertively pointed to the growing business aspects of Russia's relations with African countries.
While expressing satisfaction, he particularly underscored the fact that trade turnover increased by more than a quarter compared to 2016 and amounted to about 26.1% or US$17.4 billion.
In July, while attending the BRICS summit in Johannesburg, President Vladimir Putin held a special meeting with participating delegations invited from African states. Among important economic issues, he acknowledged Africa as one of the world's most rapidly developing regions. The domestic African market and consumer demand are expanding, he noted.
Putin explicitly pointed to Russia's trade with African states that grew by more than 25 percent in 2017. Food supplies increased by 38 percent, metals – by 30, machinery and equipment – by 24 percent, and added that Russian businesses are interested in working with African partners in a variety of areas including industry, agriculture, healthcare, communications, geology and mining.
Efforts are continuously taken to improve trade globally, and that includes Africa.
On Nov 16, Foreign Affairs Minister Sergey Lavrov chaired the MFA's Business Council.
"We must certainly continue our energetic efforts to further build on the geographical diversification of Russia's foreign economic relations, primarily through the deepening of cooperation with other Asian countries and Africa," according to Lavrov.
"It is important to work creatively and take the initiative to concentrate resources in breakthrough projects and, importantly, to increase information support for our activities."
While Russians keep in mind that competition in foreign markets continues increasing, they have acknowledged that Russian manufactured products are highly valued in Africa and Asia. There is a growing demand for Russian engineering products abroad, according to the Business Council.
The MFA Business Council dreams of ensuring effective political and diplomatic support for Russian companies abroad and bolstering Russian business positions in foreign markets.
In an interview with the Hommes d'Afrique magazine on March 5, 2018, Sergey Lavrov admitted that Russia's economic cooperation is not as far advanced as political ties. He also indicated that "equally important is African businesspeople who are looking to work on the Russian market."
Particularly interesting when he said: "our African friends note the need for Russia's active presence in the region, and more frequently express their interest in holding a Russia-Africa summit."
He further informed that Russia's trade with Africa has improved over the past few years. "Our trade with Sub-Saharan countries amounted to US$3.6 billion in 2017, compared to US$3.3 billion in 2016 and US$2.2 billion in 2015," Lavrov told Hommes d'Afrique.
Research sources give different statistics. Over the past decade, Russian trade with sub-Saharan Africa has increased fast, albeit from a low base. From 2010-2017, total trade rose to US$4.2 billion a year from US$1.6 billion, according to the Center for Strategic & International Studies.
Sharing the same sentiments about trade, Maxim Chereshnev, the Chairman of the Board of the Council for the Development of Foreign Trade and International Economic Relations also noted that Russia and African states have a long story of relations. But, what is very important today is the fact that new opportunities are arising for medium size enterprises for collaboration in Russia and Africa.
According to Chereshnev, nowadays perspectives of business contacts between Russian and African business are actually underestimated, however, there are a huge number of opportunities. For instance, in agriculture, high-tech, medicine, energy-saving technologies, logistics and infrastructure projects are really perspectives for raising trade levels and strengthening overall economic cooperation between Russia and Africa.
Last but not the least, Professors Aleksey Vasiliev and Evgeny Korendyasov, both from the Institute of African Studies (IAS) under the Russian Academy of Sciences, believe that the situation in Russia-African foreign trade will considerably change for the better if Russian industry undergoes technological modernization, the state provides Russian businessmen systematic and meaningful support, small and medium businesses receive wider access to foreign economic cooperation with Africa.
Amid Ukraine Crisis, Russia Deepens Strategic Cooperation With China
Russian President Vladimir Putin and Chinese President Xi Jinping have concluded their three-day diplomatic deliberations, most importantly questions focused on raising economic cooperation and finding strategic peaceful solutions to the Ukraine crisis which started since February 2022, amid the geo-political tensions and re-configuration of the world.
While aspects of the Putin-Jinping diplomatic talks and results were awash in the local and foreign media, the academic researchers' community and policy experts were upbeat with divergent views, detailed analysis and interpretations, and future political predictions. In the present circumstances, any forecast or outlook made previously, may have changed largely due to the developments emerging from Putin-Jinping meetings.
But our monitoring shows that Putin and Jinping, their large delegations from both sides, discussed a wide range of issues on the modern world agenda, with a particular emphasis on the prospects for cooperation. At the far end, Putin and Xi signed a lengthy statement on deepening their nine-point comprehensive partnership, as well as a separate statement on an economic cooperation plan through 2030.
The parties signed two documents – the Joint Statement on Deepening the Russian-Chinese Comprehensive Partnership and Strategic Cooperation for a New Era, as well as the Joint Statement by the President of Russia and the President of China on the Plan to Promote the Key Elements of Russian-Chinese Economic Cooperation until 2030.
The latter consists of eight major areas, including increasing the scale of trade, developing the logistics system, increasing the level of financial cooperation and agricultural cooperation, partnership in the energy sector, as well as promoting exchanges and qualitatively expanding cooperation in the fields of technology and innovation.
The leaders revealed the details of the talks to the media – Putin noted that Russia and China's positions on most international issues are similar or heavily coincide. According to Xi Jinping, the parties will uphold the fundamental norms of international relations. He believes that the sphere of cooperation between Russia and China, as well as political mutual trust, is constantly expanding.
In terms of the economic agenda, trade turnover is expected to surpass the $200 billon target. The parties also discussed their intensive energy cooperation and agreed on the main parameters of the construction of the Power of Siberia-2 gas pipeline. Meanwhile, the total volume of gas supplies by 2030 will be at least 98 bln cubic meters and 100 mln tons of LNG, the Russian leader specified.
In-person meetings may continue in the near future. Chinese President stated that he invited Vladimir Putin to visit China during an informal conversation. Russia's Prime Minister Mikhail Mishustin is also expected to pay a reciprocal working visit to China. Beijing, in particular, is eager to resume regular meetings between the two countries' heads of government.
Reading through the local media, Financial and Business Vedomosti reported that Russia was ready to take Chinese peace plan for Ukraine, not for resolution of the ongoing crisis, but as a basis for future work on Ukraine. Russia has carefully reviewed China's plan for a peaceful settlement in Ukraine and believes it can be used for future talks, Russian President Vladimir Putin said after talks with Chinese President Xi Jinping on March 21. Russia, however, sees no readiness for peace talks from the West or Kiev, according to Putin.
Experts interviewed by Vedomosti believe that China's initiative could be used as a basis for talks, but any progress would require long and difficult negotiations. For his part, Xi Jinping said that China supports a conflict resolution based on the UN Charter, encourages reconciliation and the resumption of negotiations, and is always committed to peace and dialogue.
China's 12-point plan for resolving the Ukrainian crisis includes respecting the sovereignty and territorial integrity of all countries as well as the norms of international law; abandoning the Cold War mentality; initiating peace talks; resolving the humanitarian crisis; protecting civilians and prisoners of war; supporting the safety of nuclear power plants; reducing strategic risks; and preventing the use of nuclear weapons.
The document described the talks as "the only way to resolve the crisis in Ukraine" and called on all sides to support Moscow and Kiev in "moving toward each other" and promptly resuming a direct dialogue. It urged the global community to create conditions and provide a platform for the resumption of talks.
Experts, however, said that China's initiative could benefit Russia because it involves a ceasefire and the lifting of sanctions, followed by negotiations to reach a political agreement. At the same time, such negotiations will have no chance of success unless Ukraine accepts and recognizes Russian control over the new regions and Crimea, as required by the Russian Constitution.
At the same time, there is noticeable distinction between the Russian-Chinese position and that of Western countries and their allies. Meanwhile, United States, the West and Ukraine have openly rejected China's position that there needed to be a ceasefire.
Before Xi Jinping landed in Moscow, the Chinese Foreign Ministry in February published a document laying out its position on a political settlement of the crisis in Ukraine. On March 20, Jinping held a one-on-one meeting with Putin that lasted about 4 1/2 hours, according to reports from the Kremlin. On March 22, he spent about six hours at talks in the Kremlin in various formats. The parties signed two statements outlining what was accomplished during the visit and called it successful. Chinese President Xi Jinping was on a three-day working visit, March 20-22 in Moscow, Russian Federation.
The Political and Diplomatic Implications of the ICC's Arrest Warrant for Vladimir Putin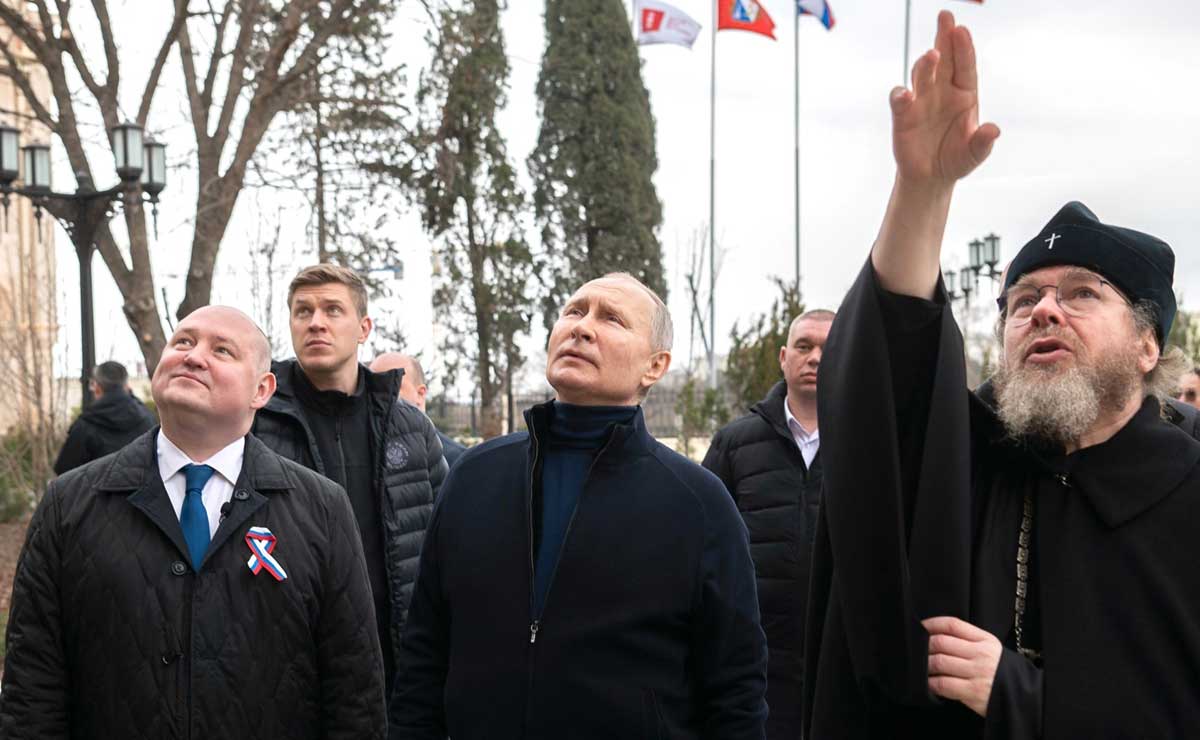 On March 17, 2023, the International Criminal Court (ICC) issued an arrest warrant for Russian President Vladimir Putin for alleged war crimes involving abductions of children from Ukraine. The charges stipulate that thousands of Ukrainian children were kidnapped and transported into Russia.
The warrant marks the first time that the ICC has issued an arrest warrant against a sitting head of state. It is worth noting, however, that Russia has not ratified the statute the ICC was founded on, and therefore does not recognize its jurisdiction. It remains to be seen whether Putin will actually be arrested or ever face trial at the ICC. Kremlin spokesman Dmitry Peskov dismissed the charges outright and called them outrageous and unacceptable. Nevertheless, the ICC's investigation and potential indictment could have political and diplomatic ramifications for Russia and Putin, as they could further isolate Russia from the international community and potentially lead to economic sanctions.
The Rome Statute, which created the ICC, was ratified on July 17, 1998, and came into force on July 1, 2002. It is a court of last resort, meaning that it can only exercise its jurisdiction if a state is unwilling or unable to prosecute the individual responsible for the crimes. Its mandate is to prosecute individuals who have committed serious international crimes, including genocide, crimes against humanity, and war crimes. By highlighting the criminal responsibility of individuals rather than states, the ICC prioritizes individual culpability and criminal prosecution of political leaders. The ICC is an independent international organization and not part of the United Nations judicial system.
The ICC's record: Successful prosecutions but also charges of bias
The history of ICC warrants against high-level politicians is mixed. One notable success was the conviction of former Congolese Vice President Jean-Pierre Bemba in 2016 for war crimes and crimes against humanity committed in the Central African Republic. Bemba was arrested in 2008 following an ICC warrant and was tried and convicted by the court in 2016. Another notable success was the surrender and prosecution of former Ivory Coast President Laurent Gbagbo, who was arrested in 2011 following an ICC warrant and was tried and acquitted in 2019.
However, the ICC has also faced criticism and challenges over the years. Some countries, including the United States, Russia, China, and India, have not signed on to the ICC, citing concerns about the court's jurisdiction and potential impact on national sovereignty. The ICC has faced accusations of bias against certain countries or groups of countries, politicization, and inefficiency, and has struggled with issues related to witness protection, cooperation from states, and the execution of arrest warrants. Critics argue that the court is dominated by Western countries, and that it has unfairly targeted leaders from Africa while ignoring atrocities committed by leaders from other parts of the world.
The ICC's focus on prosecuting individuals for crimes against humanity and war crimes could undermine peace negotiations and reconciliation efforts, some argue, noting that immunity for leaders is necessary for peace and stability in some situations.
The U.S., for example, has distanced itself from the court, i passing legislation to prohibit cooperation with the ICC and imposing sanctions on ICC officials. The U.S. has further claimed that the ICC poses a threat to its sovereignty, and that it unfairly targets U.S. officials and military personnel. China has also been critical of the court's actions, including its investigations into alleged crimes committed in Myanmar. China has argued that the ICC is politicized and interferes in the internal affairs of other countries. India maintains that the court's jurisdiction is limited to crimes committed in states that have ratified the Rome Statute, and that its own legal system is capable of handling cases of war crimes, genocide, and crimes against humanity.
The court's dilemma: prosecutors without enforcement
Signatory countries are obligated to cooperate with the ICC, which includes arresting and surrendering individuals who have been indicted by the court. Since the ICC does not have its own enforcement mechanism, it relies heavily on the cooperation of states to execute its arrest warrants. If a political leader who has a pending arrest warrant were to visit a signatory country to the ICC, that country would be obligated to arrest and surrender that individual to the court. In such cases, the likelihood of a successful arrest warrant is higher. In practice, however, many countries do not have the political will or capacity to carry out such an arrest. Moreover, some countries may choose not to cooperate with the ICC or might have their own political or strategic reasons for not arresting individuals who have been indicted by the court.
The actual likelihood of a political leader such as Putin being arrested and surrendered to the ICC is difficult to predict and will depend on a range of political, legal, and practical factors.
An inquiry into geopolitical logic of China and Russia relations
Chinese President Xi Jinping's state visit to Russia during March 20-23 is hailed as "vigorous, mature and stable". During his stay in Moscow, Xi reiterated that China and Russia are each other's biggest neighbor and both are the major world powers. China has observed this geostrategic choice in consistent with historical logic. It will not be changed by any turn of events. This article tries to analyze what historical logic means in terms of realpolitik.
In foreign affairs where sovereign states react each other in a geographical limit, it requires policy-making elites to deal with national interest based on calculations of power to achieve it properly. Yet, it is extremely fatal for a state to act in the total want of consideration of what others will naturally hope or fear. As Hans Morgenthau argued decades ago, geography is the most obvious and stable factor upon which the power of a nation depends. For example, Eurasia which refers to the "Heartland" of the world stretches from the Volga to the Yangtze, and from the Himalayas to the Arctic Ocean. However, it is under the jurisdiction of Russia and China. [Morgenthau, 1985]
Equally, in geopolitics, the Anglo-American naval axis has seen Eurasia as the key to its global strategy. During the 1990s in the wake of the collapse of the former Soviet Union, American geostrategic elites like Kissinger, Brzezinski and other likes argued that "no matter which power, either of Europe or Asia, dominates Eurasia, that danger would lead to the U.S. to see it as a de facto structural threat to its primacy in the world." [Kissinger 1997 & Brzezinski, 1997] It is noteworthy that the United States has boasted of no peer in military affairs so as to act the savior of the world now and in the future. [Esper, 2020] As a result, the U.S. has not taken into consideration the security concerns of the countries in Eurasia including Russia and China.
China and Russia are each other's largest neighbor while both are the major world powers in terms of the permanent members of the UNSC and nuclear capability. Since 2014, China has acted in line with "standing back-to-back" strategy with Russia to address common risks and challenges in the regions and the world at large. As China stated in Moscow that consolidating and developing long-term good-neighborly ties with Russia is consistent with historical logic and a strategic choice of China. No matter how the international landscape may change, it stays committed to advancing China-Russia comprehensive strategic partnership of coordination for the new era.
Then we come to other key elements of national power along with geography as stated above: food and raw materials (e.g. energy nowadays). Once again, Morgenthau opined that a deficiency in home-grown food has truly been a permanent source of weakness, like Germany and Japan. Or put it clearly, permanent scarcity of food is a source of permanent weakness in international politics. What holds true of food is also true of those natural resources (energy) that are vital for industrial productions and more particularly for the waging of war. Since the WWII, oil as a key energy has become more and more important for industry and war. As French statesman Clemenceau used to say "One drop of oil is worth one drop of blood of the soldiers during the war."
Now China is not only the most populous country but also the largest factory of the world, it needs a staple of food and all kinds of raw materials including energy from all over the world but Russia is most convenient and friendly neighbor. It is also worth noting that Russia is one of the strongest military powers of the world and its industrial potentials and military capacities should never be overlooked by its foes and friends as well. This is one of the fundament reasons why China has argued that it needs to get steady flows of Russia's resources to meet its huge demands of economic and military advancements. Otherwise, without a strategic partner like Russia, it is only a matter of time that the U.S. and its allies will take on China without hesitation.
Xi knows so well the statecraft in terms of realpolitik when he talked to his Russian counterpart that as permanent members of the UN Security Council and major countries in the world, China and Russia have natural responsibilities to make joint efforts to steer and promote global governance in a direction that meets the expectations of the international community and promote the building of a community with a shared future for mankind. To that end, the two countries need to support each other on issues concerning respective core interests, and jointly resist the interference in internal affairs by external forces. In addition, China and Russia have worked steadily to enhance strategic coordination on international issues, especially in the UN, the SCO, BRICS and other multilateral frameworks.
There is no question that the Anglo-American naval axis plus Japan and AUKUS are deeply concerned with the growing solidarity between the two leading powers in Eurasia where they have increased the geopolitical leverages in the regions and beyond. The U.S.-led allies have outrageously accused China and Russia of chafing against the so-called international rules-based order that the United States and its allies and parties have built up. As a matter of fact, both China and Russia have reiterated their firm support to the Yalta order as it was established in 1945, and particularly their joint defense of the central role of the UN authority in the world politics.
To make a sum of China and Russia relations in retrospective, it is self-evident that China and Russia have cemented political mutual trust, which derives from both countries' commitments to no-alliance, no-confrontation and not targeting any third party in developing their ties. It argues that China-Russia relations are not the kind of military-political alliance during the Cold War, but transcend such a model of state-to-state relations. What China and Russia have meant is the shared vision of lasting friendship and practical cooperation and firmly support of each other to follow the sound development path in terms of their national needs.
Accordingly, no external forces are allowed to affect, dictate or coerce the nature and trajectory of China and Russia relations.