Japan faces titanic struggle to balance Chinese dominance in Africa
Earlier this month it emerged that Japanese officials are planning to upgrade the country's only foreign military base, in Djibouti. The news might come as a surprise, given that the scourge of piracy in the Horn of Africa, which prompted the base's construction, has been almost completely eradicated. In 2011, when the facility opened, there were 237 incidents involving suspected pirates operating from neighboring Somalia. Last year, the figure was nine.
If the battle against piracy has been a near-total victory, why is Japan looking to redouble its offensive? The question is particularly puzzling given that government debt now stands at 200% of GDP, and the country's aging population has prompted fears of a social security crisis. Surely the Japanese government has more important things to spend its money on.
But observers on the ground in Djibouti will understand. The tiny country is a powder keg of competing global interests, none more prominent than China, which opened its own monolithic military camp there last year. Japan's political relationship with its perennial Asian rival may have thawed in recent years, yet the two countries remain locked in a fierce economic struggle that now centers on Africa, whose untapped economic potential makes it the ideal proxy battleground.
Officials in Tokyo are open about the reasons for their interest in Djibouti. When plans to expand the Japanese base were announced last year – a precursor to the latest upgrade – government sources admitted they were responding to the new Chinese hub. Now analysts suggest Djibouti's president Ismail Guelleh will gift the country's monolithic Doraleh Container Terminal to China, after ejecting Dubai's state-owned operator DP World. The Emirati company has even sued China over the dispute, claiming the state-owned China Merchants induced Djibouti to break contract.
Japan is not the only country to raise concerns. In the US, a pair of senators recently wrote to the Trump administration expressing their alarm over Beijing's rumored Doraleh deal. Yet Tokyo's priorities are very different from Washington's; while the US relies on its own Djibouti base, Camp Lemonnier, as a jump-off point for military action in nearby Somalia and Yemen, Japan has maintained a strict policy of non-intervention in foreign conflicts since 1945. Until 2015, the policy was enshrined in law, and even today the Japanese army is known as the Self-Defense Forces. With the piracy threat all but extinguished, the primary purpose of the Djibouti base is to provide logistical support for Japan's peacekeeping work with the UN.
In economic terms, however, Djibouti – and China's stake in it – matters a great deal to Japan. Because, just like China, Japan sees huge potential in Africa, and has readily copied Beijing's playbook in its attempt to capitalize. Aping China's 'One Belt, One Road' investment strategy, the Japanese government has pledged billions of dollars to Africa and encouraged the private sector to follow suit. Like China, Japan has funded several major projects, from a port expansion in Mombasa to a digital broadcasting system in Botswana. And just like Chinese Premier Xi Jinping, Japan's Prime Minister Shinzo Abe has invited Africa's leaders to glitzy summits in Tokyo, his officials talking warmly of their commitment to the continent's prosperity.
Age-old rivalry
This commitment is nothing new. Japanese companies have been investing in Africa since the early post-war period and the first edition of the Tokyo International Conference on African Development was held as far back as 1993. But the value of this relationship has been magnified by a string of factors, including rising commodities prices, Japan's chronic mineral deficit, and an energy crisis precipitated by the Fukushima nuclear disaster.
Above all, though, Japan wants to prevent China from surging too far ahead economically. Tokyo powered away from its vast neighbor after 1945, its economic miracle leaving China's clunky bureaucracy sputtering in its vapor trail. But since the mid-1980s, when China's planners mapped out their game-changing mixed economy, the balance of power has shifted. China's economy overtook Japan's in 2011. Now, it's nearly three times as big. Japan has launched a fierce counter-attack, forging its own economic corridor with India to rival Belt and Road and attempting to woo the ASEAN region, which has fallen under Beijing's sway in recent years.
In this context, it's easy to see why Africa is so attractive. The continent is a huge part of Beijing's growth strategy; what's more, China's involvement is increasingly unpopular with the African people. The hordes of Chinese companies parachuted in to deliver Beijing-backed infrastructure projects have been widely accused of racism and mistreatment of domestic workers, and there are fears that China's financial generosity is nothing more than a giant debt trap, which will soon snap shut to claim Africa's most prized possessions. Japan has played on these fears, lamenting Africa's vast debts while stressing that, unlike certain other foreign powers, they want the African people to share in the benefits of their investment.
Yet, for all Japan's optimism about claiming a major slice of Africa for itself, the reality is that China enjoys a huge head-start. For one thing, Xi's government has far more money at its disposal; Japan pledged $30 billion to Africa in 2016, so China responded by promising $60 billion earlier this year. Furthermore, China's willingness to offer loans with no strings attached appeals to some of Africa's less scrupulous rulers. Finally, China's economic model allows the state to blur the lines between international aid and investment – and means funding can be signed far more quickly than in rivals such as Japan.
If you want an example of the dominance China already enjoys in Africa, just go back to Djibouti. Guelleh's government, blighted by allegations of corruption and despotism, has amassed a debt pile approaching $2 billion and nearly 90% is owed to China. For all Tokyo presents itself as a fairer, more enlightened partner, Beijing already has Africa firmly in its grip. It's hard to see how Japan – or the region's debt-riddled constituents – can loosen it.
Future Trends of China's Diplomacy
This year 2019 marked the 70th anniversary of the founding of the People's Republic of China (PRC), and China's diplomacy has also gone through a journey of 70 years. The 70-year history of the PRC can be divided into the first 30 years after its founding and the second 40 years since opening and reform were initiated in 1978. The characteristic of china diplomacy is a responsible nation, rational behavior and the confidence of great power.
China had a clear break with the old diplomacy of humiliation; established a new kind of diplomatic relations with other countries on the basis of equality and mutual benefit; secured an equal position and dignity on the global stage; gained diplomatic independence by safeguarding and strengthening national independence, and protecting national security and territorial integrity; settled the border disputes left over from history with most neighbors by peaceful means, creating a stable neighborhood in general; established strong friendships with the vast majority of developing countries through mutual support; and set up a new diplomatic contingent for seeking the diplomacy of independence. The following are the future expectations of China diplomacy:
Firstly, Deng Xiaoping's directive, "Don't seek for leadership," stays powerful in China's new diplomacy, so China's future diplomacy will keep on emphasizing on the management of the crisis, economic diplomacy, multilateral diplomacy, cultural diplomacy, cooperation, and accommodation while protecting the main national interest. Solving problems and managing crises will stay an important characteristic of China's diplomacy, particularly in its ties with other major powers. Meanwhile, in cooperation with other major powers, China will appear to be more active in managing fundamental global issues at the strategic level.
Secondly, The Chinese government has repeatedly said that China does not have a plan of challenging the international system and has focused on the importance of being a "responsible member" of the universal society. As of late, China has developed new concepts for its foreign policy orientation, just as (1) "new security" emphasizing shared and cooperative security, (2) "peaceful development" focusing on non-violence commitment, (3) "win-win" cooperation denying a zero-sum comprehension of international affairs, and (4) building a "harmonious world" that promoting harmony with diversity, solving conflict through dialogue, and democratization of world governmental issues.
As these concepts demonstrate, China has no desire of being revolutionary in the international system, rather, it intends to be a responsible member of world affairs. Economic diplomacy will remain to be emphasized by china. While trade will keep on being a fundamental diplomatic focus, energy security and energy diplomacy will be given additional accentuation. Energy supply, energy shipment, and energy-saving cooperation will be fields where the diplomacy of china will move forward.
Lastly, Multilateral diplomacy will take on an even greater role in the future diplomacy of China. China will become more involved at the global level and in regional affairs at the United Nations. As the identity of China is more globally and regionally established, the current concept of multilateralism in the overall diplomatic strategy of china can be re-defined to realize national interests, address thorny issues, and provide governance in a complex world. More attempts will be created to improve regional integration between the SCO and East Asian. Finally, various needed diplomatic attempts may need to be further reinforced. China will keep on being cooperative, however, it will likewise be more active. All things considered; cultural diplomacy will be a new attribute of China's diplomacy. Confucianism, an extremely cosmopolitan doctrine that promotes harmony and peace through human relations, will be an important component of cultural diplomacy, both to strengthen China's soft power and to reduce the negative result of the China threat theory.
China has accumulated a wealth of experience over the past 70 years, understanding that China cannot develop without the world and that without China the world cannot prosper. China's future and fate have been closely linked to the rest of the world. What is certain is that China will adhere to the path of peaceful development and that the people of China will join the people from all other countries in working to realize the lofty dream of a harmonious world.
The Strategic Stopover: President Xi's state visit to Nepal
For starters, a Nepali styled dumpling, "momo" might have reminded President Xi, a cuisine closer to his taste buds than what Prime Minister Modi offered him a night before in southern India. Nobody would know if a "spiced extract tomato" served feelings like any kind of dumpling would excite a visiting Chinese head of state. There was a contrasting atmosphere in Kathmandu; President Xi proudly stated how Nepal-China friendship was extremely unique, one that has been positive since time. It was a deliberate statement to the Indians; friendship for China did not mean carrot and sticks. President Xi's visit to Kathmandu, a major state tour by any Chinese president for twenty-six years does not need to be analysed from an Indian standpoint. Fortunately, for Nepal, it shall now.
Game point for the visiting Chinese president. Every word he spoke was cunningly tailored to ward off accusations regarding how the Indians would analyse his visit. The Indian government has had open insecurities about Chinese interests in Nepal. President Xi was not in any mood of justifications, rather he was questioning India's approach towards Nepal, a self-declared natural ally of India. While the president was making his remarks in a cosy dinner affair, the Nepali authorities made sure of the fact that the Tibetans would not create any nuisance. Conversely, in India, they did.
President Xi's visit to Nepal was built on a rather strong foundation of trust between the two nations. Nepal had openly snubbed the Indo-Pacific union; a US led strategic alliance that is trying to keep Chinese ambitions at check. Even if Xi had any reservations, Nepal's bold move to approach China for the construction of railway lines until the Indian border is a testimony to Nepal's unhindered foreign policy. As the dinner progressed, President Xi increasingly inflicted wound on Indian attitude towards Nepali sentiments. China wished for a "land linked" Nepal, a rhetorical change from how Nepal has a trying landlocked geography. A reminder to the Indians of how they had inflicted a land blockade on Nepal. The nature of script effected by both Nepal and China has an air of easiness about transforming bilateral ties in the coming future. The Chinese president brought more to the table than what the Nepali delegations were expecting to. His take away phrase, "we will do what we claim to" is proving to be music to ears in Nepal. Diplomatically, it also means that China will not do what it does not claim to. Another reminder of how India conducts its business.
The dragon is looking for a trusted ally in the region and Nepal has managed to tick all the boxes. Prime Minister Oli of Nepal will be all smiles after achieving a significant power capital to challenge the language with Modi's unreliability. The state visit has also cut across deep lying misconceptions about Nepal's relationship with China. Factually, it is different from China's other interests elsewhere. Relations between Nepal and China are and have been significant than what Indians have perceived it to be like. After all, as President Xi mentioned, pre-historic relationship between China and Nepal would not remain unscathed in the absence of mutual respect and an attitude of friendliness. Both Nepal and China have realistically come to terms with their modern state of friendship. Suddenly, China has not only asserted its leverage in Sino-Nepal ties but it has come at a time of unwavering clarity for the Nepali government. Over the past years, Nepal's foreign affairs has witnessed deceit, revelations and a need to transform its understanding of international relations. Prior to his state visit, President Xi JingPing did the unconventional. He wrote an editorial on how he felt about his long awaited state visit to Nepal. Game point for the Chinese President.
Trade War: An Infinitesimal View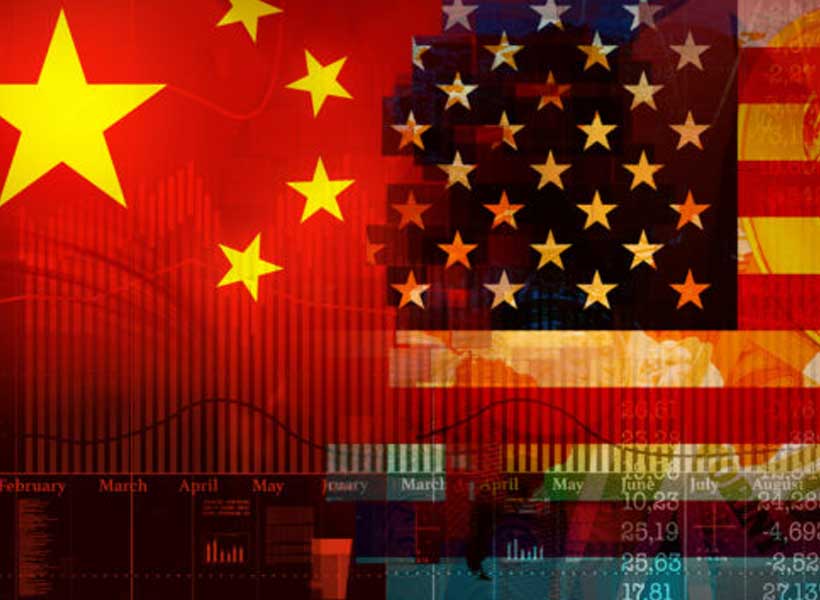 In the post Cold War era, the US changed its policies, shifted its priorities and viewing China's economic emergence as a great threat to its interests in coming decades. With a rapid economic growth, technological advancement and development of its armed forces, China became a future competitor of the US. Due to Chinese rapid economic growth, modernization of its armed forces as well as mounting position in Asian region and sea lanes of transportation, many American analysts take China as its future contestant. As a result, China remained a factor in the US all grand strategies. The 'China versus the US' indicate that Washington is taking potent steps against its threat (China). China perceives these steps as a part of the US policy of "hedge" to contain "the mighty China". This writing tries to examine the ongoing trade war between the US and China in miniature view and suggest the options for China.
Trade wars have finally begun between the US and the China. Before little explanation of this Trade war, let's discuss the concepts. A trade war is when a nation imposes tariffs on imports and foreign countries retaliate with similar forms of trade protectionism. It is side effect of protectionism that occurs when one country (country A) raises tariffs on another country's (country B) imports in retaliation for country B raising tariffs on country's A imports. Besides this, a tariff is a tax imposed on imported goods and services. Trade wars also commence if one country perceives another country's trading practices to be unfair. Trade wars are also a result of a misunderstanding of the widespread benefits of free trade. In addition, a tariff is a tax or duty that the government places on a class of imported goods (tariffs on exports are very rare). In theory, this makes the foreign products more expensive and therefore less desirable to consumers-boosting domestic makers of the product, which don't have to pay the tax. The tariff is collected by customs officials and goes to the government. In addition, Protectionism refers to government actions and policies that restricts or restrain international trade, often with the intent of protecting local businesses and jobs from foreign competition.
The United States and China have imposed a tariff of 25% on imports worth $34 billion after exchanging several threats over the last few months. This marks the official beginning of what China dubs as "the biggest trade war in economic history". While this trade war is far from the biggest the world has seen, it has the potential to cause some significant damage to the world economy. US President Donald Trump, who began the year by imposing tariffs on imported solar panels and washing machines, has vowed to possibly tax all Chinese imports into the US, which last year added up to a little over $500 billion. President Trump's tariffs against China will likely resonate with voters who believe in his "America First" campaign and perceive the trade deficit with China as a loss to the US economy. China, not surprisingly, has responded by targeting American exports like soybean and automobiles, a move that could cause job losses in American states that accommodate Trump's voter base. Other major US trading partners such as the European Union, Mexico and Canada have also slapped retaliatory tariffs on various US goods. On July 06, 2018 the Chinese products $34 billion worth, including goods, flat-screen televisions, aircraft parts and medical devices have faced tariff imposed by Trump administration. .The goods marked for tariffs will now face a punishing 25 percent border tax when they are imported into the US. The Trump administration initiated these tariffs after concluding an investigation into some of China's 'controversial trade practices'. The main motto behind the new trade barriers is to penalize China for doing things like forcing foreign businesses to hand over their most-prized technology to Chinese companies – many of which are state-owned – in exchange for access to their market. China immediately accused the US of starting "the largest trade war in economic history to date" and responded by imposing 25 percent tariffs on $34 billion worth of US goods, including soybeans, automobiles and lobsters. According to a spokesperson for China's ministry of commerce, after Minutes the US tariffs went into effect,
"China promised not to fire the first shot, but in order to safeguard the country's core national interests as well as those of the people, it is forced to fight back … the US will be opening fire on the whole world and also opening fire on itself."
Additionally, the state-run Global Times wrote,
"If what the US wants is to escalate a trade war with China, then so be it. A little fighting may be the only way the Trump administration clears its mind and allows everyone to sober up."
The aggregate amount of trade affected is moderate relative to the US and Chinese economies, but for the US, this is the most extensive import protection since the disastrous Smoot-Hawley tariffs in the 1930s. President Trump has threatened a 10 percent tax on a further $200 billion of imports from China.
In the context of feasible effects on global economy, the trade war between the US and the China could push the world economy towards a decline and it could lead to a collapse of comprehensive as well as global trade. The deteriorate investment, disturb financial markets and sluggish global economy are the major negative outputs of this trade war. This trade warfare between the US and China could extend to worldwide in trade arena and to areas beyond trade. According to economical analysts, the trade conflict among one superpower and other rising power can create disturbance of global supply chains. In addition, the US products which are assembled in third world countries can also be affected. Without a doubt, due to the disturb supply chain, the US consumer could well end up paying higher costs for products. At the end but not least, this trade confrontation between two rivalries of 21st century could affect the world trade system and it could be trade cold war between both countries be like the cold war between USA and the USSR in 20th Century. A thoroughgoing trade war could lead to a collapse of global trade.
Additionally, this trade war could also effects Chinese economy, With the Dawn of 21st century, People's Republic of China is in a very fair position in the context of Economy to face any economic tornado because in general, its economy is less dependent on exports, and exports to the US in particular. The value added in its exports to the US is less than 3 percent of its economy. In addition, China is at the end of many global value chains, which include inputs from the US, Japan, South Korea and Taiwan. The Shanghai stock market is in main territory, down 23 percent from a high in January 2018. Still, the trade war comes at a bad moment in China's cycle. The establishment have been tightening financial conditions and trying to restraint in financial risks, so that the economy is slowing, even before it takes a hit from trade. The Chinese currency has depreciated round about 4.3 percent against the dollar for the last past few months.
This is a natural market reaction to the US protectionism. Over the same period, the dollar has appreciated about 5 percent against a basket of major currencies. This is one of the ironies of the US which is trying to use trade taxes. They create uncertainty in the world and one result is that capital flows out of other economies to the US. In the short run, this raises the value of the dollar and largely undoes the protection. Historically, when the US introduces protection, it has typically not led to an improvement in the trade balance, rather the opposite. In the case of US-China trade, 25 percent tax means that about $50 billion of imports will be more expensive, and the US is likely to import less. But the other $500 billion that the US imports will be modestly cheaper because of depreciation and the US will import more. History suggests that the net effect on the trade balance will be minor. This is one reason that the direct effect on the Chinese economy is likely to be minor.
In addition, the effect of this trade war could be on the US economy. The US economy is humming along because of fiscal stimulus from tax cuts plus expenditure increases. Net job gains in June, 2018 were above 200,000, the pattern of recent months. In general, the trade war will destroy some jobs in export sectors and create some jobs in import-competing ones. This is a bad tradeoff because export jobs are generally of higher productivity and pay. The job churning is also disruptive — the lost jobs are likely to be in agricultural states and southern states with auto plants, whereas job gains are probably elsewhere. The Trump White House is betting that, given the overall strength of the economy, some localized pain will be tolerable and the get-tough policy toward China will be a political winner for the midterms. Economically, both the United States and China would lose from a trade war. Punitive tariffs would push up import prices, dent exports, cost jobs and crimp economic growth, so both sides would do best to avoid an outbreak of hostilities.
Here some options for China to retaliate this trade war. In this trade war with China, President Donald Trump wields one seeming advantage: the US could ultimately slap tariffs on more than $500 billion in imported Chinese goods. Beijing has much less to tax: It imported just $130 billion in US goods last year. Yet that hardly means China would be powerless to fight back once it ran out of US goods to penalize. It possesses a range of other weapons with which to inflict pain on the US economy. Here is a look at some of the options China has in this war:
The Chinese government should do trade in local currency. The visit of Pakistan's Prime Minister Mr. Imran khan Niazi to China give very valuable and authentic suggestion to Chinese government to do trade with Pakistan in Yuan rather than the US dollar $. It will be a direct and indirect hit to the US, her fellows and dollar $ currency. After the successful agreement with Pakistan, China could do trade with other countries in Yuan. Be remembered that China is a chief exporter country of the world with 2263 trillion dollar $. In addition, recently China gives defeat to the US in the context of purchasing oil and makes herself as chief and main oil importer and customer of the world. China could do trade with KSA, KUWAIT, IRAQ, IRAN, QATAR and other oil producing countries in Yuan but the US don't want this. If the China would successful to do trade with oil producing countries in Yuan than the dollar will decrease its worth and market value at least. The US impose sanctions on European companies to do trade with Iran and other oil producing countries but reciprocally the European countries give intimidation to boycott the US dollar. In addition, Russia would play vital role as recreationist and would give Red carpet to all. This downfall of dollar will make crash in World Bank and IMF also. Chinese government this step would create a greatest tension for the US and dollar.
China should do check and balance regarding the US companies in China. China's state-dominated and heavily regulated authorities could disrupt the US companies by withholding licenses or launching tax, anti-monopoly or other investigations. Chinese controlled media should play vital role. The state-controlled media have encouraged consumer boycotts against Japanese, South Korean and other international products Last year, Beijing destroyed Korean retailer Lotte's business in China after the company sold land in South Korea to the Seoul government for an anti-missile system opposed by Chinese leaders. Beijing closed most of Lotte's 99 supermarkets and other outlets in China. Seoul and Beijing later mended their relations but Lotte gave up and sold its China operations.
To counter Trump's "America First" approach, Beijing can appeal for support to US allies and other countries. Trump's unilateral actions have allowed China to position itself as a defender of free trade despite its status as the most-closed major economy. That could help Beijing win over governments that have criticized Trump for acting outside the World Trade Organization. Chinese leaders have tried – so far without a major success – to recruit European and other governments as allies. More broadly, Chinese commentators have suggested Beijing also could disrupt diplomatic work over North Korea's nuclear and missile programmes or other initiatives. But political analysts say that would risk setting back work Chinese leaders see as a priority.
In concluding remarks, No country can hope to impose tariffs without affecting its own trade and industry as well as economic interests in this contemporary world. Apart from disadvantage, countries that rely on foreign imports can be disturbed due to higher prices for goods, tariffs and supply chain of producers. So both the competitors of this globalized world, the US and China, are doing no good to their own economic fortunes by engaging in this tit-for-tat tariff battle after blamed each other for the ongoing trade warfare. According to the US Federal Reserve meeting the economic uncertainty, decline of private investment and delay of investment plans have been happened due to this trade war. Besides this, the economic giant China will also be equally affected. This current trade confrontation between the US and China also threatens the rules-based global trade order. It could also isolate the US, which has refused to settle differences through serious mediations, negotiations. If global trade tensions continue to simmer, it may not be too long before countries resort to other destructive measures such as devaluing their currencies to support domestic exporters. The world economy, which is on a slow path to recovery, can do without such unnecessary shocks.