Ebbing Liberal World Order
The twentieth century witnessed unusual happenings across the globe. Its first half had to encounter with the two most deadly conflicts (2 World-Wars) which claimed millions of lives. The technological sophistication of weapons and the beginning of the Nuclear Age were responsible elements that made the both World-Wars bloody conflicts.
Fearing such happenings, the Allied powers in the aftermath of the World-War-II bent on establishing such order that could avert misfortunes, which the world had plagued. Thus, the liberal world order came into existence that endorsed mutual collaboration among the countries, the formation of multilateral institutes, and the upkeep of democracy. The liberal world order cherished; globalization, human rights protection, freedom of speech, and trade expanse among the countries. The organizations were formed to strengthen the liberal world order in the form of cooperation among the countries. In earnest to foster peace, the formation of the United Nations (UN) took place. For the purpose of economic advancement, the World Bank came into existence. To get the countries out of economic turmoil, the International Monetary Fund (IMF) formed. For the international trade objectives, General Agreement on Tariffs and Trade (GATT) formed, which years succeeding converted into the World Trade Organization. The democratic countries began to adopt the liberal world order aiming to respect the sovereignty and territorial integrity of the countries. The liberal order further entrenched its roots after the fall of the Soviet Union, as it intended to deter the aggression and prevented the invasion of countries on the other. The ideology of globalization by the exchange of products, ideas and communication among the countries, is the testimony to the services of the liberal world order.
One must realize that the foundation of liberal world order rests upon two pillars: one is the freedom of individual and the second is the growth of social and economic norms. The liberals applied the blend of freedom and growth in the years following the World-War-II. Since then the allied powers endeavored to restore the war-ravaged world, and consequently, the liberal order garnered much progress.
However, in the existing era, its existence is jeopardized since most of the countries have set their journey on the ways, which are deviating from the liberal world order. The world in the past few years has experienced the rise in populism (an antidote to the liberal world order), which has begun to eclipse the liberal world order.
The recent victory of the far-right candidate Jair Bolsonaro in the Brazilian presidential elections, in October 2018, has heralded the perversion of liberal world order. His victory has followed the onslaughts on LGBT people, women and any individual who opposed right-wing candidates. Bolsonaro enjoys the backing of conservatives and most reactionary sect of Brazil like pro-weapon lobby, industrialists, army and police force. Recently, Cuba has withdrawn thousands of doctors from Brazil after his criticism on the communist-run island's More program, which sends Cuban doctors in destitute areas of Brazil. He said his government would bring changes in this program. His belief in men's superiority over women hate towards indigenous, black, and LGBT community is a definite threat to the liberal order.
The world since Trump's assuming the power of the US has seen the surge in the populism. He pushed the US into the trade-war against the other countries. He also repudiated the ideology of globalization while taking the podium of the UNGA in September 2018. Donald Trump prefers; transaction over the alliance, unpredictability over consistency, and bilateralism over multilateralism, which endangers the liberal world order. Trump adopted the idea of protectionism by uttering that "it will lead to greater prosperity and strength".
The liberal world order's countenance is defaced in other countries as well. The rise of AfD (far-right group) in Germany is yet another threat to the liberal world order. The AfD criticizes the immigration of trapped refugees to Germany. The group aspires changes in the constitution of Germany to get rid of the right of an individual hearing in asylum cases and opposes ruling "grand coalition" of Angela Merkel with social democrats. In September elections, the AfD became the first far-right group to conquer seats in the Bundestag in a half-century.
In the Netherlands, France, and Hungary, the far-right parties have tried to capitalize on the influx of Muslim refugees to woo Jews. The populist movements have won the plebiscites in Britain, Hungry and Poland. Britain's decision to abandon the European Union in the form of Brexit is yet another instance of crippling liberal world order. The recent electoral triumph of left-wing populist parties such as Podemos in Spain and Syriza in Greece has given an impetus to the debate on the rise of populism in Europe. At times the populist possesses notion that rampant commercialization and globalization have rendered masses unemployed.
Now, the question emerges that why the liberal order has to face such ruin, and what are the driving factors behind it?
Patrick J. Deenen in his book "Why liberalism failed" pointed out that humans are independent entities and distinct from nature and this principle keeps our hearts at war with nature. Modern science, as posited by René Descartes and Francis Bacon, was the locomotive that would make us masters and possessors of nature. But, this attitude almost certainly made for unprecedented success and prosperity to a liberal society, it is also responsible for today's global ecological crisis which has no parallel in human history.
Another driving factor that fades the liberal order is the nationalism, which is a kind of loyalty of one towards its country; irrespective of what is right or wrong. Thus, the leaders in a bid to bolster their domain of influence and authority harness the tool of nationalism amidst the worst economic conditions. The same is the case with Donald Trump when he found a little debacle in the U.S' economy, he bent on scrutinizing liberalism and adopted protectionism.
The man has always craved for the power, as his innate nature urges him to do so. Machiavelli in his famous work "The Prince" has portrayed man's nature as rogue, pirate and greedy. The arms race, aspiration of countries for assuming the world's hegemonic saddle, confiscating feeble country's resources and dominating political influence are the foremost goals that major powers are aspiring for. The pursuance of these goals has led the human far away from the policies and rules of the liberal world order. The Yemen crisis, the Palestine issue, turmoil in Syria, Kashmir issue, and Rohingya crisis are the epitomes of the interests of the global powers, which are exploiting these lands and their people for just the sake of interest in these regions; thus undermining the course of the liberal order. The global institutions like the United Nations, the World Trade Organization and the World Bank seem tether to address the turmoil and issues among the countries.
In a nutshell, illiberal norms in the world are posing threats to its stability. These norms are going to cripple communication and trade among the countries. Along with it, these trends are likely to replete the world with skirmishes, and conflicts among the nations. Consequently, leaving the world into turmoil, adversity, poverty, and wars.
A Threat Assessment of South China Sea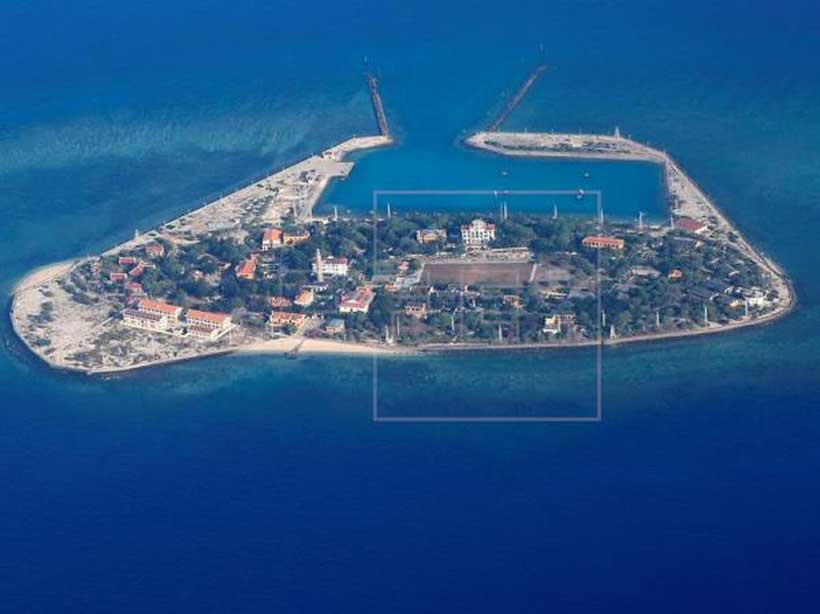 Authors: Areeja Syed and Muhammad Rizwan*
In the international arena, rapidly evolving economic power, China has emerged as a colossal threat to the U.S and her hegemonic powers. 21st century is witnessing both U.S and Asia to bridge their gulfs and draw closer to each other. During the cold wartimes, the United States was more inclined to decrease the power and its influence of Soviet Union in Asia but with the massive alteration in the international political and economic scenario, upsurge of china and its regional dominion has become the main trepidation for the U.S. Many tactics have been adopted by U.S to contain china but many tensions keep arising between these states, like trade war, south china conflict, Taiwan issue.
It's a well-established fact that The Pacific Ocean is one of the major and important Oceans in the world. The word pacific means peace and serenity. It was named Pacific in 1520 by a voyager Ferdinand Magellan when he sailed through it. The Pacific Ocean stretches from California to china covering 60 million square miles and spreads tens of thousands of feet under the outward of the ocean in many regions. Contrary to its name, The Pacific is, a violent and humongous water body. Most of its part is still unexplored and undiscovered yet this half-discovered ocean is contributing considerably in changing humans' lifestyle through deep-sea excavating, industrialized harpooning and fossil-fuel fiery. This extensive ocean is replete with plenty of earth's most idiosyncratic kinds of life. South China Sea is a part of Pacific Ocean and is a bone of contention between ASEAN states and China. The United States of America while having cordial relation with ASEAN state is trying act as balance in South China Sea. While running his presidential campaign, in 2018,Donald Trump viciously badgered Barack Obama for being bungling of averting China from escalating its influence in the South China Sea. Trump blamed Chinese Navy for being aggressive to the US in the undecided sea area. China has clashes with the US owing to the regional incongruities in the South China Sea. Also, China has disagreements with Japan in the East China Sea. Both the disputed regions are probable to be rich in oil reserves and several other natural resources and can enhance the international trade. China retains its claim, claiming almost the entire South China Sea.
It is a row over land and veracity over ocean areas, and the two island chains Parcels and the Spartlys, demanded by an assortment of nations in whole or in share. These chains include hundreds of sharp cliffs, minor islands, shorelines, and aquatic life, like the Scarborough lagoon, adjacent to one another. The ocean itself is a chief trading path and abode to fisheries on which the people living alongside the region depend for their wellbeing. China has always made extensive claims in South China Sea that whole sea belongs to it. It specifies the two clusters of islands sliding inside their limits entirely. Philippines is the other noteworthy plaintiff in the region and as a part of grouping considers its physical nearness to the spratly island as the foundation and primer. The other island chain, Scarborough Shoal well-known as Hengyang island in China was claimed by both the Philippines and China just over 100 miles (160km) from the Philippines and 500 miles from Chinese territory. Other states like Malaysia and Brunei also approve their avowal to region in the South China as declared in The United Nations convention on the Maritime law, as described by UNCLOS. Burnei does not hold any of the disputed islands, but Malaysia has control over a quite minuscule number of Spratly islands.
The US navy claims that it is safeguarding and watching the South China Sea to guarantee the freedom of navigation in that region predominantly where China has seized many islands and reefs into its control. This disputed region is the route of trillions of dollars of trade travels annually which is at stake due to the conflict and belligerence in the South China Sea can also threaten and berate the safety of a region. This region cannot afford any armed skirmish that would have possibly far-ranging and callous repercussions. This war is the exact portrayal of China-U.S supremacy scuffle. The problem is for influence and military dominance in the region between China and US. It is becoming a same cold war like situation in which both countries are trying their best to dominate a particular region. But the problem is, during the course of these events even a miscalculation or small incident can escalate in to full fledge which will be very difficult to control even for belligerent parties.
*Muhammad Rizwan is pursuing M.phil in International Relations from COMSATS University Islamabad.
National Interest surpassing human rights: Case study of Kashmir
Authors: Rizwan Malik and Areeja Syed
The Indian government revoked the exceptional status accorded to Indian-occupied Kashmir in Indian constitution. This sudden development is the most sweeping political move on the disputed region in seventy years. A presidential pronouncement issued on August 5 revoked Article 370 of Indian constitution that ascertained the special rights to the Muslim-majority state of Kashmir, including the rights to have her own constitution and autonomy to make laws on all affairs apart from communication, defence, and foreign policies. This shocking move literally shook Kashmir and Pakistan at their cores. Now It has been more than one month now since Indian forces started a lock down in Indian administered Kashmir. Due to continuous threat of mass protests against this illegal action, additional troops were deployed in already heavy militarized valley. Crippling curfew was imposed and Internet services were suspended. Indian security forces have also arrested all the political leadership of the valley. Different International media outlets have published news regarding the brutal suppression of local Kashmiri people by Indian forces.
With the evolution of United Nation and other international institutions, rights violation and other disputed issue that could undermine peace and stability are paid umpteen attentions by the international community. Time to time we have witnessed intervention on humanitarian bases by International Community .Even force was used in many states to stop oppressive regimes from committing atrocities.
India claims herself to be the largest democracy in the world and champion of human rights protection. But this is absolutely contrary and devious to the ground realities. Especially since BJP came into power in 2014 with an expansionist agenda, it is actively involved in different crimes and often violated the sovereignty of many states. BJP government has conducted military operation in Myanmar in 2015 without taking into confidence the local government. Later, Pakistan was targeted in February 2019 though it resulted in shooting down of one of Indian fighter jets. This shift has deteriorated the already-heightened tensions with neighboring Pakistan, which relegated its diplomatic relations with India.
Kashmir has been a bone of contention and a disputed region between Indian and Pakistan since 1947. Pakistan and India claim Kashmir in full but rule it partially. The nuclear-armed neighbors remain at daggers drawn over this issue and have fought three wars over this territory but Kashmir issue is still unresolved. A rebellion in Indian-administered Kashmir has been continuing for past 30 years. United Nations General Assembly passed resolutions on Kashmir and has given Kashmir citizens the right of self-determination .UN instructed both India and Pakistan to withdraw their troops from disputed region and to organize plebiscite there. Though India did not agree to these demands and never held a plebiscite but a special status was granted to Indian occupied Kashmir which made it a semi-autonomous region. Different round of talks were arranged between India and Pakistan to solve this dispute which means that India recognized Kashmir as international dispute.
But on August 05, 2015 BJPs government removed this special status of Kashmir and directly imposed the rule of central India.BJP has established a stance that Kashmir is integral part of India and vowed to attack even Pakistani administered Kashmir.
This illegal move of Indian authorities is accompanied by the brutal use of force in the valley. International community which asserts it as the protector of International law and human rights round the globe has basically done nothing against this inhuman/illegal occupation of Kashmir. Reason is that international community is following real politik .According to realist school of thought , International relations states only protect their own national interests. They do not have much appetite for human rights and International Law. This is best depicted in response of international community on Indian moves in Kashmir. If we analyze the international reactions to this recent development one by one we can see that these great powers have their own vested interest in India that is why they are not willing to take any concrete step. For example due to changing geopolitical situation in Asia-Pacific region United States considers India as its strategic ally against the regional power of China. According to US, Indian will contain expanding Chinese influence in south Asia and will act as balancing forces. Moreover Indian with its huge population and large economy is very good trading partner of United States .That is why US will not take any concrete steps against Indian aggression. Countries like France and Russia are huge arms exporters to India so they will not try to lose a client by taking any concrete steps against India. States like Saudi Arabia and UAE which have influence on India because to their oil exports and other trade relation will not take any action .Reason they have very strong trade ties which they do not want to threaten .Secondly they themselves are oppressing regimes so promoting human right in any other region will jeopardize their own position as international actor.
With this realpolitik prevailing at international politics Pakistan is left with pauce options. Pakistan has very strong religious and cultural bonding with Kashmir people and she considers it her legal and moral responsibility to help Kashmir people who are facing wrath of Indian forces. it is the responsibility of the International community to speak for the human rights violations in Kashmir instead on just focusing on their own vast national interests.
A bird's eye view of Asia: A continental landscape of minorities in peril
Many in Asia look at the Middle East with a mixture of expectation of stable energy supplies, hope for economic opportunity and concern about a potential fallout of the region's multiple violent conflicts that are often cloaked in ethnic, religious and sectarian terms.
Yet, a host of Asian nations led by men and women, who redefine identity as concepts of exclusionary civilization, ethnicity, and religious primacy rather than inclusive pluralism and multiculturalism, risk sowing the seeds of radicalization rooted in the despair of population groups that are increasingly persecuted, disenfranchised and marginalized.
Leaders like China's Xi Jingping, India's Narendra Modi, and Myanmar's Win Myint and Aung San Suu Kyi, alongside nationalist and supremacist religious figures ignore the fact that crisis in the Middle East is rooted in autocratic and authoritarian survival strategies that rely on debilitating manipulation of national identity on the basis of sectarianism, ethnicity and faith-based nationalism.
A bird's eye view of Asia produces a picture of a continental landscape strewn with minorities on the defensive whose positioning as full-fledged members of society with equal rights and opportunities is either being eroded or severely curtailed.
It also highlights a pattern of responses by governments and regional associations that opt for a focus on pre-emptive security, kicking the can down the road and/or silent acquiescence rather than addressing a wound head-on that can only fester, making cures ever more difficult.
To be sure, multiple Asian states, including Malaysia, Indonesia, Thailand, the Philippines, Pakistan, Bangladesh and India have at various times opened their doors to refugees.
Similarly, the Association of Southeast Asian Nations' (ASEAN) disaster management unit has focused on facilitating and streamlining repatriation of Rohingya refugees in Bangladesh.
But a leaked report by the unit, AHA Centre, in advance of last June's ASEAN summit was criticized for evading a discussion on creating an environment in which Rohingya would be willing to return.
The criticism went to the core of the problem: Civilizationalist policies, including cultural genocide, isolating communities from the outside world, and discrimination will at best produce simmering anger, frustration and despair and at worst mass migration, militancy and/or political violence.
A Uyghur member of the Communist Party for 30 years who did not practice his religion, Ainiwa Niyazi, would seem to be the picture-perfect model of a Chinese citizen hailing from the north-western province of Xinjiang.
Yet, Mr Niyazi was targeted in April of last year for re-education, one of at least a million Turkic Muslims interned in detention facilities where they are forced to internalize Xi Jinping thought and repudiate religious norms and practices in what constitutes the most frontal assault on a faith in recent history.
If past efforts, including an attempt to turn Kurds into Turks by banning use of Kurdish as a language that sparked a still ongoing low level insurgency, is anything to go by, China's ability to achieve a similar goal with greater brutality is questionable.
"Most Uyghur young men my age are psychologically damaged. When I was in elementary school surrounded by other Uyghurs, I was very outgoing and active. Now I feel like I have been broken… Quality of life is now about feeling safe," said Alim, a young Uyghur, describing to Adam Hunerven, a writer who focuses on the Uyghurs, arrests of his friends and people trekking south to evade the repression in Xinjiang cities.
Travelling in the region in 2014, an era in which China was cracking down on Uyghurs but that predated the institutionalization of the re-education camps, Mr. Hunerven saw that "the trauma people experienced in the rural Uyghur homeland was acute. It followed them into the city, hung over their heads and affected the comportment of their bodies. It made people tentative, looking over their shoulders, keeping their heads down. It made them tremble and cry."
There is little reason to assume that anything has since changed for the better. On the contrary, not only has the crackdown intensified, fear and uncertainty has spread to those lucky enough to live beyond the borders of China. Increasingly, they risk being targeted by the long arm of the Chinese state that has pressured their host countries to repatriate them.
Born and raised in a Rohingya refugee camp in Bangladesh, Rahima Akter, one of the few women to get an education among the hundreds of thousands who fled what the United Nations described as ethnic cleansing in Myanmar, saw her dreams and potential as a role model smashed when she was this month expelled from university after recounting her story publicly.
Ms. Akter gained admission to Cox's Bazar International University (CBIU) on the strength of graduating from a Bangladeshi high school, a feat she could only achieve by sneaking past the camp's checkpoints, hiding her Rohingya identity, speaking only Bengali, dressing like a Bangladeshi, and bribing Bangladeshi public school officials for a placement.
Ms Akter was determined to escape the dire warnings of UNICEF, the United Nations' children agency, that Rohingya refugee children risked becoming "a lost generation."
Ms. Akter's case is not an isolated incident but part of a refugee policy in an environment of mounting anti-refugee sentiment that threatens to deprive Rohingya refugees who refuse to return to Myanmar unless they are guaranteed full citizenship of any prospects.
In a move that is likely to deepen a widespread sense of abandonment and despair, Bangladeshi authorities, citing security reasons, this month ordered the shutting down of mobile services and a halt to the sale of SIM cards in Rohingya refugee camps and restricted Internet access. The measures significantly add to the isolation of a population that is barred from travelling outside the camps.
Not without reason, Bangladeshi foreign minister Abul Kalam Abdul Momen, has blamed the international community for not putting enough pressure on Myanmar to take the Rohingyas back.
The UN "should go to Myanmar, especially to Rakhine state, to create conditions that could help these refugees to go back to their country. The UN is not doing the job that we expect them to do," Mr. Abdul Momen said.
The harsh measures are unlikely to quell increased violence in the camps and continuous attempts by refugees to flee in search of better pastures.
Suspected Rohingya gunmen last month killed a youth wing official of Bangladesh's ruling Awami League party. Two refugees were killed in a subsequent shootout with police.
The plight of the Uyghurs and the Rohingya repeats itself in countries like India with its stepped up number of mob killings that particularly target Muslims, threatened stripping of citizenship of close to two million people in the state of Assam, and unilateral cancellation of self-rule in Kashmir.
Shiite Muslims bear the brunt of violent sectarian attacks in Afghanistan and Pakistan. In Malaysia, Shiites, who are a miniscule minority, face continued religious discrimination.
The Islamic Religious Department in Selangor, Malaysia's richest state, this week issued a sermon that amounts to a mandatory guideline for sermons in mosques warning against "the spread of Shia deviant teachings in this nation… The Muslim ummah (community of the faithful) must become the eyes and the ears for the religious authorities when stumbling upon activities that are suspicious, disguising under the pretext of Islam," the sermon said.
Malaysia, one state where discriminatory policies are unlikely to spark turmoil and political violence, may be the exception that confirms the rule.
Ethnic and religious supremacism in major Asian states threatens to create breeding grounds for violence and extremism. The absence of effective attempts to lessen victims' suffering by ensuring that they can rebuild their lives and safeguard their identities in a safe and secure environment, allows wounds to fester.
Permitting Ms. Akter, the Rohingya university student, to pursue her dream, would have been a low-cost, low risk way of offering Rohingya youth an alternative prospect and at the very least a reason to look for constructive ways of reversing what is a future with little hope.
Bangladeshi efforts to cut off opportunities in the hope that Rohingya will opt for repatriation have so far backfired. And repatriation under circumstances that do not safeguard their rights is little else than kicking the can down the road.
Said human rights advocate Ewelina U. Ochab: "It is easy to turn a blind eye when the atrocities do not happen under our nose. However, we cannot forget that religious persecution anywhere in the world is a security threat to everyone, everywhere."