Brexit: Passions Heating Up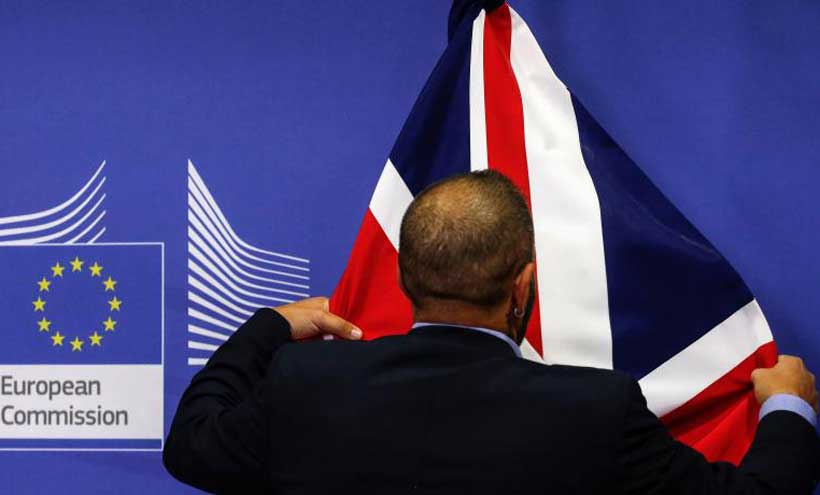 With the negotiations on the terms of the United Kingdom's withdrawal from the EU on the home run now, a legally-bound Brexit is slated for March 29, 2019. By this date, a pertinent agreement must have been ratified by both the British parliament and those of all 27 EU countries. Thus, it should be agreed at the November or, at most, the December EU summit (December 17-18).
During the EU summit in October, its participants felt that not enough progress had been made in the talks even to discuss the final agreement in November. If no deal has been agreed by December, Britain will leave the EU without an agreement and  will have to switch to WTO rules, it has problems to adjust to.
British Prime Minster Theresa May expects to wrap up the talks by the November summit, but her government needs an agreement that could win parliamentary approval. Meanwhile, tensions between "Bremainers" (supporters of the UK's continued stay in the EU, or at least of a "soft" Brexit) and Brexiteers (including proponents of a "hard" Brexit) are heating up. The latter fear that the Chequers plan, hatched up by Theresa May, a compromise EU withdrawal roadmap, would emasculate the very meaning of the UK's divorce with the EU and become a Brexit in name only.
One lingering problem that remains unresolved is the status of the Irish border.  Theresa May heads a minority government, which depends on the support of a faction of 10 MPs from the Democratic Unionist Party of Northern Ireland (DUP), who represent the interests of the local Protestant community and demand that all of the country's regions enjoy the same status. Therefore, London can't concede to Brussels' requirement for Northern Ireland to remain in the customs union and the single EU market (by having the customs border running across the Irish Sea). However, in the event of a "hard" Brexit where the entire territory of the United Kingdom is outside the EU and the Irish border is essentially closed, this would be detrimental to business and, most importantly, would rekindle unrest and terrorist activity in the United Kingdom. This would effectively unravel the 1998 Belfast Agreement, which established an open border between Ireland and Northern Ireland thus ensuring a fragile peace between the region's Catholics and  Protestants.
Even though in 1912 the Tories adopted the official name of the Conservative and Unionist Party, it looks like the Brexiteers are ready to sacrifice unionism by insisting on walking out from the EU customs union and the single market. It also seems that they could agree to the border running across the Irish Sea (while the DUP  fears a "creeping annexation" of Northern Ireland by the Republic of Ireland) or to a "hard" border between them in violation of the Belfast Agreement, which is something the European Union will not go for. The Brexiteers insist on restoring Britain's full parliamentary sovereignty and withdrawing from the jurisdiction of the EU Court of Justice with the possibility of signing trade agreements with third countries.
The Bremainers are equally unhappy with Theresa May's Chequers plan. They believe that Britain will have to comply with all EU regulations without having a voice in collective decision-making, let alone other problems, such as freedom of movement of people, etc. Hence their demand for a second referendum on a deal with the EU, including the issue of Britain's membership in the bloc, in a bid to reverse the results of the 2016 Brexit vote. Former Prime Minister Tony Blair, who sallied his reputation during the war in Iraq, has reasonably noted that holding the 2016 referendum before determining the exit conditions was illogical, and called for a revote. His opinion is shared by ex-Premier John Major (Conservative) and  Deputy Prime Ministers Michael Heseltine (Conservative) and Nicholas Clegg (Liberal Democrat). They are joined by some members of Britain's business community in their demand for a second referendum on the final deal with the EU ("Popular Vote," People's Vote).
An estimated 700 million people from across the UK rallied in London on October 20 calling for a second Brexit referendum in a major demonstration with the cost of their transportation to the capital paid for by many celebrities from the world of politics, business, sports and the arts.
Meanwhile, the idea of a revote is facing strong opposition from Prime Minister Theresa May who has to maneuver her way both at home and abroad in an effort to hold on to her job. Tory Brexiteers planned to hold a vote of no confidence in May as party leader and prime minister, but eventually backed off for fear of failing to get the support of a majority of Conservative MPs in parliament. Realizing this, they chose a tactic of obstructing her moves on the parliamentary floor.
Government-proposed bills relating to Brexit were tabled ahead of the summer recession with a margin of only a handful of votes (including by some Labour MPs). Teresa May still managed to hold on to her post of party leader and prime minister by clinching a compromise deal with the Bremainers and making concessions to the Brexiteers, warning both that her resignation would bring to power Labour leader Jeremy Corbyn and pave the way for early parliamentary elections.
On November 8, DUP leader Arlene Foster warned that her party would not support a deal with the EU if it meant a special status for Northern Ireland , disguised as the EU customs union covering Northern Ireland, while the rest of the UK would end up in a kind of a customs union. Foster was responding to a letter she had received from Theresa May, which contained a hint of such a proposal, if no deal on the Irish border is reached during the transitional period until December 20, 2020. However, this interpretation was flatly refuted by Downing Street 10.
On November 9, Deputy Transport Minister Jo Johnson, the brother of Boris Johnson, and, unlike him, a Bremainer, became to 18th member of Theresa May's Cabinet to resign over his opposition to the prime minister's Chequers plan, which he called a "travesty" of Brexit. In a highly-charged resignation statement, he called for a second referendum.
"Putting the nation before a choice between two deeply unpleasant exits — vassal dependence or chaos — is a failure of British government, unprecedented in scale since the times of the Suez crisis," Johnson said.
On November 10, media reported a meeting between the opposition leader Jeremy Corbyn and MI6 head Alex Younger at the intelligence agency' Vauxhall headquarters, where Corbyn was briefed on threats to national security. Observers view the meeting as a sign of impending early elections.
During the Labor Party's annual conference in September, Jeremy Corbyn said that no option should be ruled out. However, on November 9, he rejected the possibility of a second referendum insisting that the government return to the negotiating table or resign – a clear pitch for snap elections.
On November 11, it became known that Brussels rejected May's key proposal for an  "independent mechanism" for Britain's withdrawal from the temporary customs agreement with the EU in the event of a negotiations failure during the transition period (in fact, on the issue of the Irish border). London's proposal was aimed at preventing Britain from remaining in the customs union for an indefinite period and withdrawing from it only in agreement with the European Union: that is, "always obey the rules of Brussels", with no right to any role in EU decision-making. Brussels, meanwhile, insists on the jurisdiction of the EU Court.
Moreover, the EU countries earlier said they wanted to examine the final version of the agreement prior to its publication and ahead of the EU summit. They fear that Britain could gain a competitive advantage if the European Commission caves in to London on the issue of a customs union to cover the entire territory of the country without any British commitment to comply with EU standards for labor, environmental and social relations and an obligation to open its seas to EU fishing fleets.
However, with the main sticking point hardly possible to resolve, both sides are preparing for a no-deal Brexit. Any version of the agreement will hardly sit well with Britain though. As evident from the high-profile resignations of the Johnson brothers, who hold opposite views on Brexit, the prime minister's compromise plan does not suit either party. Further ministerial resignations are not excluded, fraught with a government crisis and the agreement's failure to gain parliamentary support.
According to the newspaper Observer, there is one thing Britons all agree on: Theresa May's plan is at stake. The negotiations are in their final stage now and the deadline is near.
First published in our partner International Affairs
China, Central and Eastern Europe in 2021: BRI and the 17+1 Initiative during vaccine times
When the worldwide outbreak of COVID-19 spread in March 2020, China played a crucial role in the global supply of critical medical goods such as face masks and disinfectants as their main exporter. According to UN Comtrade (2020) data, 44% of the world's exports of face masks originated from China in 2018, whereas the next largest exporters such as Germany (7%) and the US (6%), play a comparatively minor role. Due to China´s a track record of using trade to pursue its foreign-policy goals, Beijing´s donation of medical equipment to other countries has been called as a mask diplomacy as the officials and politicians in many Western European countries as well as the European Union have viewed it as a Chinese influence-buying campaign that seeks to divide the EU.
Similar scenario is nowadays taking place under new magical keyword – a vaccine. Hungary was the only European Union member state to decide not to wait for the European Medicines Agency to approve the vaccines and began negotiating supplies of COVID vaccines from China and Russia. This so called Chinese vaccine diplomacy is no surprise. Last May, President Xi Jinping indicated that China would want to use vaccines to strengthen its position in the world. The "Health Silk Road" is together with winning the COVID-19 vaccine race one of the Beijing´s top priorities in 2021. President Xi Jinping is also expected to offer a Chinese vaccine to participants in the online 17+1 Central and Eastern European Summit on February 9.
The ninth 17+1 Central and Eastern European Summit is being postponed since the first half of 2020 where was supposed to take place before the hit of pandemic. Already before the COVID-19 outbreak, the Central and Eastern European countries have been increasingly dissatisfied with the outcome of their economic engagement with China and thus the upgrade of the economic cooperation and shaping the relations is in long-term plan. Moreover, when the U.S.-China confrontation has turned the Central and Eastern Europe into a new ground of great power competition for influence. This summit would break a deadlock over holding a meeting and show new signs in relations between China and Europe.
The transregional cooperation between China and Eastern Europe, the so-called "17+1" initiative, began in April 2012 in Poland where Chinese premier, Wen Jiabao, and representatives of 16 CEE countries, including 11 EU members, hold a meeting. Wen promised investments and infrastructure development to boost the regional economies. China puts an emphasis on its connectivity with Europe and regards railways, ports and FDI as the foundation for achieving balanced development and social cohesion in Europe. For China, the region promised cheap access to European markets. The initiative was quickly co-opted into China's wider Belt and Road Initiative, which launched the following year. When Greece joined as the 17th member in 2019, it elevated the political significance of the now 17+1 alliance even further. Before the onset of 17+1 cooperation, Chinese investment and trade were spatially unbalanced, and concentrated in north-western Europe. Because of the weak condition of transport infrastructure, the trade between China and Central and Eastern European countries heavily relied on the infrastructure networks of Germany, the Netherlands and France.
Despite voices about the decreasing power of the 17+1 Initiative, the COVID-19 pandemic does not bring an era of active Chinese engagement in the European region to the end. It contrary shows Beijing´s flexibility and adaptation to the world circumstances, including the competition imposed by U.S. interests in bilateral cooperation with the Central and Eastern European countries that could contribute to regional development as well.
References
UN Comtrade (2020), "UN Comtrade Database. Export data at country level"
EU playing a zero-sum game in Kosovo
When it comes to Kosovo settlement, the European Union is clearly trying to regain the initiative. It was with poorly concealed jealousy and irritation that Brussels watched the delegations of Belgrade and Pristina sign an agreement to normalize their bilateral trade and economic relations in early September in Washington, and with the current change of guard in the US, is now trying to get back its levers of influence. Therefore, Brussels wants to organize a new high-level meeting between Serbia and Kosovo.
Miroslav Lajcak, the European Union's Special Representative (EUSR) for the Belgrade-Pristina Dialogue, made this intention clear on December 2, when speaking at the European Parliament event marking the 25th anniversary of the Dayton Peace Agreement on Bosnia and Herzegovina. According to him, preparations are now underway for a new high-level meeting to be held as part of the dialogue between Pristina and Belgrade.
Tellingly, according to a report by the Albanian news agency Telegrafi, citing sources in Brussels, the upcoming talks are expected to focus on resolving property rights in Kosovo. This means that Brussels is looking for an agenda that the sides can agree on and one that would differ from what they discussed in Washington. This is all the more important now that the negotiating process has virtually ground to a halt since September. According to Serbian President Aleksandar Vucic, Belgrade will not agree to have a new summit unless the Kosovar authorities are prepared to create an Association of Serbian Municipalities on the territory of their province (primarily in the north). This provision is part of the accords signed by Belgrade and Pristina in Brussels under the auspices of the EU, but since then the Kosovo authorities have actually blocked its implementation. However, because the European Union hasn't got any really ambitious initiatives to come up with, the planned parley (if it takes place any time soon) looks bound to be less effective than the September talks in Washington. This, in turn, will deal a new blow to Brussels' ambitions in the Balkans.
Realizing this, the EU leadership has been ramping up its criticism of the United States, essentially accusing Washington of trying to phase Brussels out of the Kosovo negotiation process. Josep Borrell, the EU's High Representative for Foreign and Security Policy, recently said it loud and clear that the solution of problems in the Western Balkans is entirely the EU's patch, and that the bloc's global role depends on the success of its policy in this region.
"If we are unable to solve the problems in the Balkans, then we can't be a significant global player," Borrell said.
Russia insists that the problems of Kosovo and other Balkan disputes can only be solved on the basis of international law through talks to achieve mutually-acceptable compromises. During a December 14 visit to Bosnia and Herzegovina, Russia's Foreign Minister Sergei Lavrov reiterated that there is no alternative to ensuring peace and stability through political dialogue and respect for national interests, based on international law and pertinent UN Security Council resolutions.
"It is principally important to help the countries of this region settle their problems via national dialogue and avoid attempts to drag any of these countries into serving somebody else's unilateral geopolitical interests," Lavrov emphasized.
Interaction between Russia and Serbia is all the more important amid the ongoing negotiations between Belgrade and Pristina, as it serves as a political and diplomatic counterbalance to the Pristina- Brussels-Washington "axis." Serbian President Aleksandar Vucic confirmed the invariable nature and timeliness of such interaction during a December 14 joint news conference in Belgrade with Russia's visiting Foreign Minister Sergei Lavrov. Vucic also underscored his country's desire to expand friendly and partnership relations with Russia.
When speaking about the possible outcome of the negotiations between Belgrade and Pristina, one should also keep in mind Turkey's growing interest in this issue. Ankara is trying to play an increasingly active role in the Balkans and the Eastern Mediterranean region. As the Serbian daily newspaper Informer rightly noted, "One thing the Turkish president can't be denied is the consistency and frankness with which he is implementing a strategy to bring back a big and mighty Turkey on the territories once occupied by the Ottoman Empire."
In this situation, it is in Russia's best interests to expand its partnership with Serbia, while simultaneously working with other key international players to ensure stability and security in the Balkans and counter the nationalist and destructive forces that can still be found in the Balkan capitals.
From our partner International Affairs
Talking Turkey With Greece: Turkey and Israel's Marriage of Convenience
On January 25, Graeco-Turkish talks begin, at which Turkish claims to Greek island territories will be high on the agenda. Before we briefly consider the Israeli position, herewith a spot of recent history.
Scorned countries sometimes seek out other scorned countries, for reasons of self-interest. Thus Germany, humiliated after the First World War, co-operated with the Soviet Union, first with secret military agreements, and then more openly after the Treaty of Rapallo in 1922; both countries also had problems with the same country, Poland. Both were considered international pariahs at the time, whether rightly or wrongly.
Israel co-operated closely with South Africa when the latter, under its apartheid regime, was internationally blackballed, with most of the balls being black. The co-operation was largely military, overt and covert. Links between the countries' external security services, Boss and Mossad, were close. Both countries ignored numerous UN resolutions.
The most recent example of the scorned seeking the scorned is, or course, that of Israel and Turkey, who revived a military co-operation agreement in 1996, that goes back to the late Fifties. Again, both states are hardly a paragon of international virtue, supported only consistently by the USA and its strategic acolyte, Britain, but also by Germany, for atavistic business reasons in the case of Turkey, and a contrived feeling of guilt in the case of Israel.
Both Israel and Turkey ignore numerous UN resolutions; both fear Russia; their respective security services exchange information on Syria; and both have a common enemy, also Syria. Both countries occupy parts of other countries, illegally, Cyprus and Palestine, and Syria's Golan Heights. An interesting quirk is that Syria has territorial claims on its former coloniser, Turkey: with the connivance of France, Hatay (Alexandretta) was stealthily 'acquired' by Turkey in 1939, despite the fact that Syrians were in a majority.
The question is whether this is just another ephemeral unholy alliance, an alliance of pure self-interest, that works in spite of deep-seated historico-cultural differences, or something more significant. The evidence suggests that it is more than a simple marriage of convenience. Anyone who knows about the plethora of secret meetings between the two states, that has gone on for years, of the deep-seated mutual disdain between much of the Arab world and its former coloniser, Turkey, will realise that the military co-operation agreement is but the tip of an iceberg, an iceberg being pushed by hoards of American frogmen, with the avowed objective of achieving firm control over the Middle East and eastern Mediterranean. In this way, Russian influence in the Mediterranean and the Middle East can be contained, á la Kennan, and Israel can be subtly inserted into the de facto NATO fold, with Jordan perhaps being brought into the equation for good measure, while the Turkish mercenaries continue to kill Kurds and Israel conveniently buries the Oslo accords, continuing its ethnic cleansing and illegal settlements.
The U.S. Embassy in Athens has justified Israeli-Turkish co-operation with the following words: 'US military co-operation with Turkey and Israel is a matter of long-standing policy and practice. As a NATO ally and friend with Turkey and as a special ally with Israel, both democracies and key regional players, the United States shares core values and mutual security and political objectives in the Eastern Mediterranean. Israel and Turkey have likewise found that they share common objectives, in part from confronting the same set of neighbours which have pursued weapons of mass destruction programmes, have been sponsors and supporters of terrorism, and which have been inimical to democracy, the rule of law and regional stability.'
These neighbours are not actually named, but are obviously Iran and Syria, not to mention some others. There is no mention of Israeli terrorism at home and abroad (vis. Vanunu) or of the treatment of innocent and unarmed Kurdish villagers, no mention of Israel's nuclear arsenal and chemical and biological weapons programmes, nor of its disregard for international law. Above all, the core values and common objectives shared by the USA, Turkey and Israel are difficult to locate, unless it is to help the U.S. contain Russia.
A few years ago the essentially pro-American Economist wrote that Syria's concerns about Turkish-Israeli military co-operation were 'fairly well grounded.' The article undoubtedly embarrassed the Pentagon and angered the Turkish and Israeli governments. It represented one of those very occasional but authoritative Economist warnings that things had gone too far. The last time the Economist had said anything so risqué was just after the abortive American attempt to rescue the American hostages at the U.S. Embassy in Tehran, by printing a front-page cartoon of President Carter dressed as a cowboy, with his six-guns at the ready. Cruel stuff, and exaggerated criticism, maybe unjustified, even, yet nevertheless telling.
Turkey has in the past threatened to attack Syria. Today it occupies part of it, claiming that Syria supports the Kurds in Turkey. Israel also bombs Syria periodically. In 2008, published Israeli-Turkish military co-operation involved a 1998 $ 700 million contract for Israel to upgrade 54 Turkish F4's, a $70 million one to upgrade 48 F5's, and joint manufacture of 1000 tanks and 'some helicopters.' Israel also hoped to sell Turkey an early warning system, and also used Turkish territory for low-flying exercises.
Then came a sudden deterioration in Turkey-Israel relations, with Israeli commandos killing of nine Turks on a vessel trying to break the Gaza blockade. Military co-operation between Israel and Turkey was suspended. Backstage American pressure on its two key allies, however, along with an American sponsored joint military love-in between Greece and Israel is leading to new Turkish diplomatic pirouetting: relations between Israel and Turkey could be improving. Bilateral talks are in the offing, and full diplomatic relations could be restored by March, meaning re-activating Turkish-Israeli diplomatic and military relations.
For Greece, the unholy alliance could become more than an irritant, because of Cyprus. However far-fetched it may sound, Turkey could easily encourage the Israeli air force and navy to train in occupied Cyprus, with the Pentagon publicly tut-tutting, but privately sniggering. It could even offer a home in northern Cyprus to would-be Jewish immigrants, as it did in the sixteenth century. There is even a small minority of extreme Zionists in Israel that claims Cypriot territory as part of the Jewish heritage. Thus, an already overcrowded Israel could find more Lebensraum. When one looks at the extremist elements in Turkey and Israel, such plans are not beyond the bounds of possibility.
Greece is now part and parcel of the "new" Cold War, co-operating with Israel and the U.S. militarily more than ever before, in the naïve hope that Turkey will drop its claims on Greek territory. But despite irritation with recent Turkish behaviour, the U.S. and Israel are unlikely to be of much help when it comes down to diplomatic detail: in 2003, the U.S. Embassy wrote the following to me: 'We recognize Greece's border with Turkey, but not all the territorial waters implications which Greece asserts. We have not taken a position on sovereignty over Imia/Kardak, in part because of the lack of an agreed maritime boundary.'
When I asked about Greece's twelve mile nautical and ten-mile airspace limits, the reply was: 'We recognize the six [!]-mile territorial sea claim and a claim to the superjacent air space. We do not recognize Greece's claim to territorial air space seaward of the outer limit of its territorial sea.' I doubt that their position has changed. Similarly, the Israel Embassy refused to answer my question about Greece's air and sea limits.
Clever Turkish diplomacy currently involves balancing itself between the U.S. and Russia, in the knowledge that neither the U.S. nor Israel will do more than protest diplomatically – á la Cyprus invasion – if Turkey snatches a small Greek island. The U.S.'s main aim is to keep Greece in the anti-Russian camp by not agreeing with Greece's position on its Aegean borders. For if the U.S. – and Israel – came out in support of Greece's position, this would push Ankara more towards Moscow.
From our partner RIAC