America's Mood Swing Diplomacy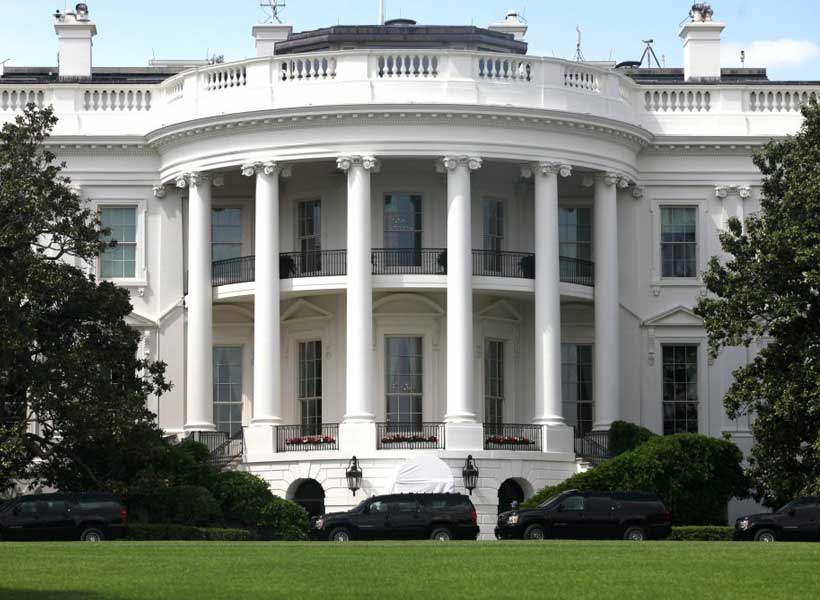 Much has been written, both within and outside the US, on the extremely polarizing and divisive nature of Mr. Donald Trump's presidency. Controversial, sensational and often the center of headlines himself, President Trump has left in his wake a plethora of shattered norms and conventions that have otherwise long been associated with the US presidency. Of all these shattered conventions however, none are more apparent than his purportedly unique take on US Foreign Policy characterized by his mantra, 'America First.'
Be it the United States' long-standing allies as part of NATO, neighboring trading partners such as Canada and Mexico, or even its more complex web of relations with countries in key regions such as the Middle East and South Asia; President Trump's 'America First' policy has led to a radical revaluation of the way the US is pursuing its overseas interests with widespread repercussions.
This radical shift is perhaps most apparent in President Trump's own statements and comments on countries as diverse as France, Mexico, Saudi Arabia and Pakistan where leaders have been often left flabbergasted by the unpredictability, obtuseness, and grave implications of a sitting US president's sudden barbs against their countries. These include rancorous statements on for instance, France's contributions to NATO, illegal immigrants from Mexico, Saudi Arabia's importance as an arms importer (despite their deteriorating human rights records), and the most recent insinuations on how Pakistan 'hasn't done a  damned thing for the US.'
These statements have been made amidst a series of off the cuff interviews and out of perhaps Mr. Trump's own compulsion to tweet official US policy stances from his personal twitter account. Specifically with regard to Pakistan, these include the President's tweets from earlier this year in January where he accused Pakistan of providing safe havens to terrorists, and giving the US nothing but lies and deceit in return for billions of dollars of US aid.
Despite the tenuous nature of Pak-US relations over the last few years, President Trump's statements while characteristic of his over the top nature, mark a fresh departure from the fine line that had previously characterized US diplomacy towards Pakistan. The US's previous overtures of asking Pakistan to 'do more' via a measured carrot and stick approach seems to have been wholly done away with, replaced by public outrage and vitriol by none other than the president himself.
However, apart from the President's statements the US has still shown a willingness to engage and move forward as apparent by Secretary of State Mike Pompeo's visit to Islamabad earlier in September, followed by his meeting with Foreign Minister Shah Mehmood Qureshi at the sidelines of the UN summit in New York. These were followed by another recent visit by a mid-level US delegation to Islamabad earlier this month. These meetings still underscore the key role Pakistan is expected to play in the Afghanistan peace process, as well as in a number of key security issues that remain at the center of US interests across the wider region.
Hence, while the US President appears to have taken an overtly hard-line against Pakistan, other key officials and spokespersons have continued to employ a more measured tone that while setting clear expectations from the Pakistani government, still nevertheless acknowledge Pakistan as a key partner with an important role to play in the region.
This discrepancy between the President's apparent hard-line stance versus the State department's 'business as usual' tone towards Pakistan, does make one wonder then the extent to which the President's statements are in fact representative of actual US foreign policy. While many observers, even in his own government, have accused him of continuously pandering to his constituents even in the face of key issues pertaining to US National Security and Foreign Policy, there is consequently a definite lack of structure and cohesiveness that has so far differentiated other arms of the US government from the White House during this Presidency. Not to mention the unending intrigue currently plaguing the White House; the revolving door that has seen a number key staffers and officials being fired and replaced and the President's own increasingly fragile hold over power in the face of an ongoing Federal investigation, that carries with it the threat of impeachment. US Foreign Policy under Donald Trump has thus so far veered from routine practicability to outright nonsensicality, all with major repercussions for the entire world.
Based on these observations, one can imagine how difficult it must be for the numerous government officials, specialists and advisers pervading throughout the US bureaucracy to be continuously managing the international fallout from the President's numerous gaffes and impulsive statements. After all, there have been numerous reports of divisiveness and major disagreements within the White House and key departments within the US government. Instead it seems that the few lobbyists and close advisers that have the President's ear these days are the ones who are using his persona as a loose cannon and propensity to deliver over the top statements to their advantage; helping push their own agendas at the expense of wider US interests. For a US president that lacks objectivity and is so easily swayed, it has become increasingly difficult for countries such as Pakistan that have earned his ire, to meaningfully engage with him on any level directly.
Coronavirus is Trump's most important electoral rival
The Earth is intertwined with space in various group, ethnic, religious, national, and other forms. National spaces within countries are the most important phenomena shaping the geographic space of the Earth. These spaces have been divided into more than 200 countries in the form of different democratic and non-democratic political systems as dominant spaces in different forms. Citizens in each of these countries, especially in democratic countries, are struggling to elect people to serve as political directors of the President and Prime Minister and representatives of the political space in order to organize the best program for ordering the country. Although sometimes in the specific geographical environment and the shortcomings of how people vote, they have a profound effect on the way of some candidates vote, but with the transition to calm and a return to calm, the geography and timing of citizens' responsibilities and duties expects the President-elect, Prime Minister, etc, not only to work well in that constituency-based environment, such as economic problems, but also in all areas able to manage and advance geographic space as an active and powerful actor. As a matter of fact, any lack of planning in various areas, especially in security issues, would be a disadvantage not only for citizens but also as an impediment to sending political leaders to space.
In the meantime, the current conditions on the global space caused by the coronavirus in various ways have targeted the security of geographical spaces and citizens. Citizens expect their managers to have the best strategy and plan to control and cope with the crisis. There are two types of clashes between politicians. There are a group of real politicians who, with their systematic and scientific minds, understand the situation and try to enter the country with the least challenge and cross the geographical space of their country with the least difficulty, the least social and cultural harm. Among them is the German Prime Minister Angela Merkel, who, as a real politician based on understanding the situation, responded quickly, removing the country's geographical space from a passive confrontation with coronavirus and preventing strategy, to a large extent control these issues and problems within the country.
On the other hand, some politicians who are not real and have been able to enter into the political management of space in various forms of bargaining, surfing, etc. in the face of coronavirus, have taken the most passive plan and strategy in the form of denial, failure and seriousness. And so they have taken their geographic space to crisis. In the meantime, it is worth mentioning the US president Trump who dealt with cronavirus unintentionally and led the country into a crisis. With this kind of confrontation with Trump, coronavirus (of course, among other things) no longer seems to have any hope of an upcoming election.
Overall, we hope that citizens in different countries will opt for real politicians, because the wrong choices based on looks, decorations, fleeting needs, etc. will not only regulate the geographical space of their lives, but also will cause widespread mismanagement and even shaping, it will provide them with a life of insecurity. In today's complex global conditions we need real politicians not politician players in the local, national, regional and even global arena. In this way, this vast interconnected can be organized and provided security and peace for its citizens.
Covid-19: Why the US is hit so hard?
Negative approach, delayed actions, and wrong policies resulted in making the US the most hard-hit country in the world. With confirmed cases 104,256, the US has surpassed the rest of the world. The second highest cases were reported 86,498 in Italy and third 81,394 in China. Italy is a country with the highest number of deaths 9,134, Spain5, 138, and China 3,295.
Globally, the confirmed Coronavirus cases have reached 597,501, and deaths 27,371. The figure kept on increasing rapidly over time. This figure is not close to facts, as the number of tests conducted are very much limited. Even it is beyond the capacity of the Developed World to test each suspect individually, no way to talk about the developing world and underdeveloped countries. It has already entered into a horrible threat to humankind.
Although the Trump Administration has taken good initiative now, but the delay has caused enormous damage already. In time decisions and right policies might have saved a lot. 2 Trillion Dollars package is a very positive step, and other measures are Encouraging. The US is one of the largest economies, the wealthiest nation, and most developed and advanced in Science & Technology. The US can overcome the epidemic. Just have to bear a high cost only.
The Chinese government and Chinese people have been brave as they took on this formidable task. Since the beginning, they fought against the outbreak, put people's life and health first. They acted according to the overall principle of shoring up confidence, strengthening unity, ensuring science-based control and treatment, and imposed targeted measures. China mobilized the whole nation, set up collective control and treatment mechanisms, and acted with openness and transparency. China has put up a strenuous struggle and made tremendous sacrifices. Now the situation in China is moving steadily in a positive direction with very few new cases and deaths.
Last two months, China was struggling to overcome epidemic and focused only on its goal to save human lives and eliminate the virus. China ignore all criticism, pressures, and bashing from the outside world and concentrated all energies to fight against Covid-19. China mobilized all national resources, supported by the public, and finally won over the epidemic.
When China was over-engaged in its war against Coronavirus, the US administration was engaged, blaming China, bashing China, criticizing China, and trying to undermine China. Using the derogatory remarks and media was publishing anti-China sentiments in the form of articles or cartoons. Humiliating Chinese nationals in the western world were witnessed. But could not harm China at all. President US administration wasted time unintentionally.
The Trump Administration also failed to help out its allies at the most challenging moment, when Italy, France, UK, Spain were at a very initial stage. If, since the beginning, the US has helped its allies, it might not spread so widely and may not reach the US.
It is true, no single country was prepared for such an awkward situation, and no single country trounce the outbreak. But collectively, it should have been suppressed in Wuhan only. There is a shortage of Masks, Testing Kits, Ventilators, and Sanitizers, etc. If the whole world pooled all possible resources and helped China, the situation must be different today. I think the evacuation of foreigners from China has caused a lot of damage too. The hostility, selfishness, and casual attitude toward China proved wrong.
China is helping many countries, especially the hard-hit countries like Italy, Spain, Iran, etc. China is donating medical supplies, and dispatching medical teams to support the respective government to fight against the epidemic. Chinese proved-experience can be used as guidelines. China is sharing its experience publically with everyone.
Virus is not bias, do not recognize boundaries, race, religion, or ethnicity. Why we discriminate against each other, I believe it is time to think seriously and unite to defeat any epidemic.
I believe, if the US administration keeps politics aside, and think for humanity, realign its approach and correct its policies, still can recover. Late, but better than never.
The recommendations put forward by the virtual G-20 Summit held on 26 March 2020, are pertinent and can be implemented immediately. I am sure the US congress is full of wise people, either from the opposition or ruling side, may ensure the right steps toward defeating the epidemic globally.
Covid-19 Exposes the Good and the Indifferent
The coronavirus crisis has brought out the worst … and the best in people. Hoarding, panic buying is one result — but who can blame anyone in a country where the president awash in platitudes, has essentially left people to fend for themselves.
There is now a fairer $2 trillion package, with help for individuals and not mostly for businesses, that required the hand of Congress. With people forced to sit at home, many are not getting paid and need the help.
Amid the chaos and insensitivity of billionaire presidents, there is hope in man's natural inclination for sacrifice in extremis. Father Giuseppe Berardelli, 72, died in Lovere, Bergamo, (in the epicenter of the epidemic) early this month. His parishioners had bought a respirator for him when he was afflicted by the virus, but Father Berardelli, instead of using is for himself, instructed the hospital staff to give it to a younger person. He was the main priest in the nearby town of Casnigo, where his parishioners applauded from balconies and windows as his coffin was taken for burial.
Italy is now the worst affected country in the world. As of Thursday night, it has had 80,589 cases and 8215 deaths, the latter more than double anywhere else — China, where the epidemic began, has reported 81,782 cases but far fewer deaths. Measures taken to stop the spread including gradually strung out lockdown measures taken from February 23 on have not been as effective as hoped. If the virus is that infectious, is the answer complete lockdown with police patrols to ensure it?
At the other end of the scale from Father Berardelli is the supposed 'leader of the free world'. It would have to be a most irresponsible, reprehensible, shamelessly disgraceful and indifferent plutocrat who did not educate himself on an affliction endangering his people.
At his press conferences we see a host of officials huddled close to him, not just to dilute his responsibility, but also violating the social distancing precept being advocated.
Since the early days, Donald Trump has called the virus first a "hoax", then in control, the epidemic itself "pretty much shut down", and always adding the platitudinous "it's going to be fine".
He has said the cases were "going substantially down," and then that the virus "would disappear". When the virus had spread widely enough to be named a pandemic by the World Health Organization, he claimed he had "always known" about the severity of the threat. He now says it will be over by Easter.
In times of crisis, the American people rally behind their president. For example, after the 9/11 attack, President George W. Bush's ratings were hitting the high 80s to over 90 percent, as the country awaited a response to overcome the crisis. Yet even then the country did not come to a standstill as it is in many parts at present. Trump's approval ratings are at his highs — 49 percent (Gallup), 46 percent (Monmouth University) the best in three years.
The stunning information on coronavirus infections from the John Hopkins University dashboard shows the US now leading the world with more than 86,000 cases. Then there is Donald Trump. We cannot go on like this, he said, "We've got to open up," so the economy can get back on track … meaning business wins hands down over people's lives in his calculus.