The World Order that's Now Emerging
The Post-World-War-II world order was dominated by the one WW II major combatant that had only 0.32% of its population (the lowest percentage) killed by the war: the United States. The Soviet Union's comparable number killed by the war was the highest — it was 13.7% — 42 .8.times higher than America's. The U.S. was the main force that defeated Japan and so won WW II in Asia. The U.S.S.R., however, was the main force that defeated Germany and so won WW II in Europe. The U.S.S.R. suffered vastly more than did the U.S. to achieve its victory. In addition to suffering 42.8 times the number of war-deaths than did U.S., the U.S.S.R.'s financial expenditures invested in the conflict, as calculated by Jan Ludvik, were 4.8 times higher than were America's financial expenditures on the war.
Thus, at the war's end, the Soviet Union was exhausted and in a much weaker condition than it had been before the war. By contrast, the U.S., having had none of the war's battles occurring on its territory, was (by comparison) barely even scratched by the war, and it was thus clearly and overwhelmingly the new and dominant world-power emerging from the war.
That was the actual situation in 1945.
The U.S. Government did not sit on its haunches with its enormous post-war advantage, but invested wisely in order to expand it. One of the first investments the U.S. made after the war was the Marshall Plan to rebuild the European countries that had now become the U.S. aristocracy's vassal-states. The heavily damaged U.S.S.R. possessed no such extra cash to invest in (rebuilding) its vassals. Furthermore, the U.S.S.R.'s communist regime was additionally hobbled by Karl Marx's labor theory of value, which produced prices that contained no useful information about demand and thus no constructive information for planners. (Planning is essential regardless whether an enterprise is private or public.) Thus, the U.S.S.R. was doomed to lose in its economic competition with The West, so that the Cold War was actually a losing proposition for them, from the very start of the post-war era. America's post-WW-II dominance, combined with Marx's crippling economic theory, and produced the exodus of East Europeans to The West.
America's aristocracy thus increasingly rose on top internationally. Like any aristocracy, the American aristocracy's main concerns were foreign trade, and so U.S. international corporations increasingly expanded even at the expense of the corporations owned by its competing, now-vassal, aristocracies, and the U.S. aristocracy's corporations and brands thus came to dominate the entire capitalist sphere. The growth-bug, if it becomes an addiction, is itself a disease. Out of control, it is a cancer, which can destroy the organism. This is what happened in America. Conquering also the communist sphere was the U.S. aristocracy's long-term goal, so that they would ultimately dominate every nation, the entire world. By the time of 1980, the U.S. aristocracy's top goal (world domination) became also the U.S. Government's top goal. The cancer had spread to the culture's brain. Growth, backed by "Greed is good" economics, became practically the American religion, viewed as patriotic, and not merely as the nation's economic model (which was bad enough, with its increasingly imperialistic thrust — such as 2003 Iraq, 2011 Libya, 2012- Syria, 2014 Ukraine, 2016- Yemen, and maybe now Iran).
America's unchallengeable dominance lasted from then till now, but clearly has now reached near its end. The United States is trying to restore its post-Soviet (post-1991) global supremacy, by intensifying the U.S. regime's secret war against Russia and its allies, which started on the night of 24 February 1990 and which could reach a crescendo soon in WW III unless something will be done by America's allies to force the by-now wildly flailing U.S. aristocracy to accept peacefully the end of the American aristocracy's hegemony — the termination of their, until recently, unchallengeable control over the world. By now, with the Soviet Union and its communism and its Warsaw Pact mirror of America's NATO military alliance gone since 1991 and yet no peace-dividend but only ever-increasing wealth-concentration into the tiny number of billionaires who benefit from war weaponry-sales and conquests, America needs to abandon its addiction to growth, or else it will proceed forward on its current path, to WW III. That's its current path.
According to Josh Rogin in the Washington Post on November 14th, U.S. Vice President Mike Pence had just said, as Rogin phrased it, that "the United States has no intention of ceding influence or control over the [Pacific] region to Beijing" and that if China won't do everything that the U.S. demands, then the U.S. is fully prepared to force China to obey. The same newspaper had earlier presented Robert D. Kaplan, on October 9th, saying, "The United States must face up to an important fact: the western Pacific is no longer a unipolar American naval lake, as it was for decades after World War II. The return of China to the status of great power ensures a more complicated multipolar situation. The United States must make at least some room for Chinese air and naval power in the Indo-Pacific region." But the U.S. regime is now making clear that it won't do that.
The U.S. regime appears to be determined to coerce both Russia and China to comply with all American demands. With both of those countries, as with Iran, the U.S. regime is now threatening hot war. Trump, as the "deal-maker," is offering no concessions, but only demands, which must be complied with, or else. The United States is threatening WW III. But what nations will be America's allies, this time around? If many European nations abandon the U.S., then what?
Key for the U.S. regime is keeping the U.S. dollar as the world's reserve currency.
Rockefeller Capital Management, Global Foresight, Third Quarter 2018  presents Jimmy Chang, Chief Investment Strategist, headlining "Nothing Trumps the Dollar, Yet". He writes: "The reserve currency status gives the U.S. a significant advantage in handling its finances. American economist Barry Eichengreen observed that it cost only a few cents for the U.S. to print a $100 bill, but other countries would need to produce $100 of actual goods or services to obtain that $100 bill. The world's need for the greenback allows the U.S. to issue debt in its own currency at very low interest rates. French Finance Minister Valéry Giscard d'Estaing, who later became the president, coined [in 1965] the term 'exorbitant privilege' to describe America's advantage" of the U.S. dollar over any other nation's currency. That "exorbitant advantage" never went away. Chang concludes: "As for the King Dollar, its short-term outlook appears robust." However, few other observers now share that view. Increasing numbers of countries are pricing goods in other currencies, and China's yuan and the EU's euro are especially significant contenders to end dollar-dominance and to end the advantages that U.S.-based international corporations enjoy from dollar-dominance.
Other than dollar-dominance, the key barrier to world peace is NATO, the military alliance of the northern aggressor-nations. Proposals have been put forth for the EU to have its own army, which initially would be allied with NATO (i.e., with the U.S. regime). On November 17th, Russian Television bannered "EU army: Will it be easy for Europe to get rid of American political diktat?" and pointed to the U.S. vassal-nations that would be especially likely to stay in NATO: UK, Poland, Netherlands, Latvia, Lithuania, and Estonia. Perhaps the other EU nations and Russia could form their own military alliance, which will formally be committed to the independence of those U.S. vassal-nations, and which will welcome individual peace-treaties with each of them, so as to indicate that aggression is only the U.S. regime's way, and thus to lay the groundwork for peace instead of war, going forward. Clearly, the people who control the U.S. are addicted to invasions and coups ("regime-change"s), instead of to respecting the sovereignty of each nation and the right of self-determination of people everywhere. America's conquest-addiction threatens, actually, every other nation.
Perhaps a reformed and truly independent EU can provide the new reserve currency, and also in other ways the foundation for global peace between nations. NATO will be irrevocably opposed to this, but it could happen. And if and when it does, it might tame the aristocratic beast that rides the American warfare state, but this isn't likely to happen anytime soon. A step forward toward it is the courageous statement by "The Saker" at the American news-commentary site, Unz dot com, on November 15th, "Thanking Vets for Their 'Service' – Why?" He boldly notes that after World War II, all U.S. invasions have been criminal, and that it's a remarkably long string of evil — and this doesn't even include the many coups, which have likewise destroyed some nations.
Nationalism is just as evil in today's America as it was in Hitler's Germany. It is hostile to people in any other nation. It demands conquest. And wherever nationalism rules, patriotism dies and is replaced by nationalism.
Only by restoring patriotism and eliminating nationalism can WW III be avoided. Ending dollar-dominance is part of the path toward an internationally peaceful world that focuses more on serving the public's needs and less on serving the aristocrats' cravings. But ending NATO is also necessary.
Either these things will be done, or there will be WW III.
Author's note: This piece first posted at strategic-culture.org
Iran crisis test drives fundaments of Trump's foreign policy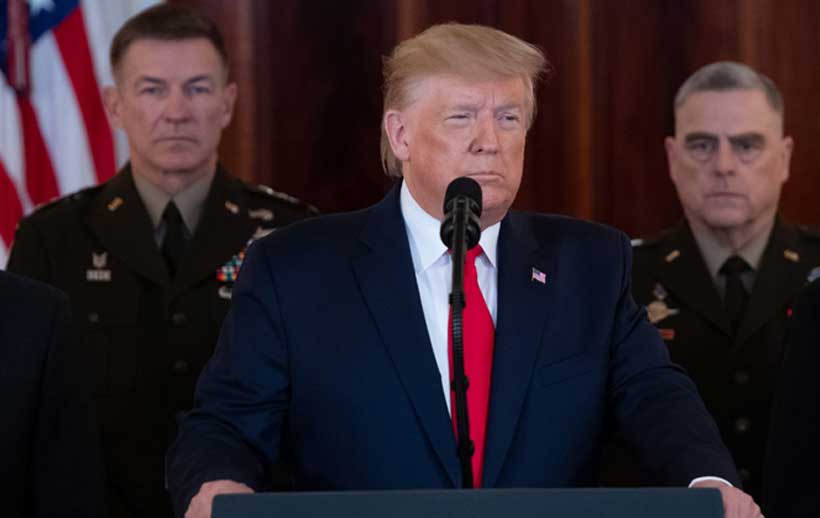 At the core of US president Donald J. Trump's maximum pressure campaign against Iran lies the belief that Iran can be forced to negotiate terms for the lifting of harsh US economic sanctions even if it has no confidence in US intentions and adherence to agreements.
The Trump administration's belief, despite the conviction of much of the international community that maximum pressure has failed and risks provoking a devastating all-out war in the Middle East, says much about the president's transactional approach towards foreign policy that rests on the assumption that bluster, intimidation and the brute wielding of power can protect US interests and impose US will.
Richard Goldberg, an Iran-hawk who this month resigned as the official on the president's national security council responsible for countering Iranian weapons of mass destruction, signalled in an op-ed in The New York Times, entitled "Trump Has an Iran Strategy. This Is It," that Mr. Trump attributes no importance to deep-seated Iranian concerns that he is gunning for regime change in Tehran and that building trust is not needed to resolve the Iran crisis.
"The Iranian regime doesn't need to trust America or Mr. Trump to strike a deal; it just needs to act as a rational actor to avoid collapse," said Mr. Goldberg, who backed by former national security advisor John Bolton, served for a year in the White House.
Mr. Goldberg appeared to ignore the fact that the US withdrawal 20 months ago from a 2015 international agreement that curbed Iran's nuclear program sparked doubts not only in Iran but across the globe about the value of a US signature on any agreement.
He also appeared oblivious to the fact that Iranian suspicions were reinforced by alllegations that his salary, while at the White House, was paid by the Foundation for the Defense of Democracies, a hardline Washington-based think tanks that is believed to have close ties to Israel and the United Arab Emirates. So did anecdotes about how his hardline views provoked clashes with other administration officials.
In his op-ed, Mr. Goldberg suggested that any new agreement with Iran could be ratified by the US Senate.
The Trump administration and Mr. Goldberg's misreading of what it would take to steer the United States and Iran off a road of more than 40 years of deep-seated mutual distrust and animosity and towards the turning of a new page in their relationship was evident in indirect responses to the former national security council official's assertions.
"Even if one day we negotiate with the US, the talks will not be with Trump, won't be strategic (no normalization of ties) and will be done only by conservatives not reformists. We need to see changes in the (US) Congress; whether Democrats will pursue a fair policy by which Iran is not under pressure over its missile program," said a regime insider.
The Trump administration has demanded among other things that Iran curb its ballistic missile program, a core element of the Islamic republic's defense strategy given that its armed forces lack a credible air force and navy.
Hardliners, who rather than moderates have proven in other Middle Eastern conflicts like the Israeli-Palestinian dispute to be the ones capable of cutting deals, are expected to win next month's parliamentary elections in Iran. The likelihood of hardline advances was enhanced by the fact that scores of moderates have been barred from running for office.
Iranian reformists argue that the accidental downing of a Ukrainian airliner Iran's Revolutionary Guards Corps demonstrates the risk of an Iranian strategy that is pre-empted on eternal hostility towards the United States.
Mr. Goldberg offered a rare indication that the Trump administration recognizes Iran's strategy of gradual escalation that, based on the assumption that neither the United States nor Iran wants an all-out war, aims to bring the two countries to the brink of an armed conflict in the belief that this would break the logjam and force a return to the negotiating table on terms acceptable to Iran.
Noting that Mr. Trump had failed in the past nine months to respond to multiple Iranian provocations, including the downing of a US drone and attacks on tankers off the coast of the United Arab Emirates and on key Saudi oil facilities, Mr. Goldberg asserted that Mr. Trump "recognized those traps for what they were and exercised strategic patience."
Mr. Trump's patience ended in December when he responded to the death of an American contractor in an attack by Iranian-backed Iraqi militias and the militias' siege of the US embassy in Baghdad by first authorizing air strikes against militias bases in Iraq and Syria and then the killing of Iranian general Qassim Soleimani.
Mr. Goldberg would likely describe the president's decision not to respond to a subsequent Iranian retaliatory attack on housing facilities for US military personnel in Iraq as a renewed act of strategic patience.
Mr. Trump's strategic patience is bolstered by his retention of options to further increase maximum pressure on Iran. "Many wrongly believe the United States has already reached full 'maximum pressure on Iran," Mr. Goldberg said.
Mr. Goldberg pointed to sanctions targeting Iranian state shipping lines that are set to take effect in June, the administration's recent identification of Iran's financial sector as a "primary jurisdiction of money-laundering concern," this month's imposition of sanctions on its construction, mining and manufacturing sectors, and Europe's triggering of the nuclear accord's dispute mechanism that could lead to the return of United Nations-mandated sanctions.
Mr. Goldberg and Mr. Trump's belief that imminent economic collapse and international political isolation could prompt Iranian leaders to suddenly place a call to the White House turns Mr. Trump's handling of the Iran crisis into a litmus test of the president's approach to foreign relations.
There is little in the torturous history of relations between the United States and the Islamic republic that suggests that pressure will persuade Iran, convinced that Washington is gunning for the fall of the regime, to gamble on an unconditional return to the negotiating table.
Nor does North Korea's failure to succumb to US pressure even if Mr. Trump, in contrast to his remarks about Iranian spiritual leader Ali Khamenei, professed his love for Kim Jong-un.
Mr. Trump's policy towards Iran, rather than reinforcing Gulf confidence in the United States' reliability as a guarantor of regional security, has sparked a wait-and-see attitude and nagging doubts about US reliability.
If anything, risky US and Iranian strategies are likely to prove that the crisis can only be defused if both sides garner an understanding of the others' objectives and some degree of confidence that both parties would remain committed to any agreement they conclude.
So far, US and Iranian policies amount to a dialogue of the deaf that is likely to perpetuate the risk of hostility getting out of hand and incentivize regional players to think about alternative arrangements that ultimately could weaken US influence and reduce tensions with Iran by including it, despite US policy, in a more multilateral security architecture.
The power of symbolism: Mexico's Foreign Policy
A few weeks ago, the president of Mexico, Andrés Manuel López Obrador (AMLO) took the decision to grant asylum to Evo Morales after he fled the country amidst allegations of vote tampering and electoral fraud. The decision of Morales to flee Bolivia clashed with several internal crisis in other Latin American countries. This has made the region highly unstable and harder to predict: Argentina is struggling with a power transition; massive demonstrations that have led to widespread violence in Chile, Colombia and Ecuador; the unlikely possibility to restore democracy in Venezuela; and an early rift between the Argentinean and Brazilian presidents that may deteriorate soon. Polarisation seems to be taking its toll on the region.
AMLO's decision should not come as a surprise. Mexico has a long tradition of providing asylum to leftist leaders that can be traced back to the 1930s: Leon Trotsky, José Martí, Fidel Castro, Spanish refugees fleeing the 1936-1939 civil war; Mohammed Reza, Rigoberta Menchu, among others. So, what made the situation of Evo Morales different?
Mexico's asylum tradition goes hand in hand with a doctrine of non-intervention: The Estrada Doctrine that means that Mexico should take no position on another's government legitimacy. AMLO violated this precept by being vocal about his support to Evo Morales and his regime in Bolivia. Secondly, while in Mexico, Morales, far from keeping quiet on politics, he simply felt at home and openly urged his supporters to boycott the new administration of Jeanine Añez.
What happened in Bolivia and the subsequent diplomatic conflict between Mexico and the new interim administration only served to further divide an already highly fragmented Latin America: There are two sides on the same matter: Uruguay, Nicaragua, Mexico and Venezuela have backed up the idea of a coup d'état; while Perú, Brazil, Colombia and the United States have endorsed the idea that it was an electoral fraud. The decision of the current administration to go to such lengths for Evo Morales contrasts sharply with the questionable treatment migrants have received in the southern and northern border of the country. Morales was soon to abandon Mexico: After just a few days in Mexico, he left for Argentina, a move that should not be taken as a surprise: Argentina is swerving away from the foreign policy the former president Mauricio Macri endorsed. This change is thought to be product of the influence of Cristina Fernández de Kirchner, vice-president of Alberto Fernández, the current president. Fernández de Kirchner was known for having a close relationship with Evo Morales. His sudden departure could also be the result of a subtle order from the United States.
The way Mexico dealt with the Morales issue highlights an important change in Mexican foreign policy if compared to the one followed by previous administrations. While AMLO has taken a decidedly non-interventionist stance towards Nicaragua, Venezuela and more recently he declined to comment on the American attack on Iran, he was very eager to make his stance clear in the Bolivian crisis.
AMLO is a president that has relied on symbolic acts to keep his electoral base satisfied. Starting from his presidential campaign, he repeatedly stated that the best foreign policy is domestic policy, and he has, since the start of his administration, stuck to this principle. AMLO has focused on numerous domestic trips that aimed at strengthening his fourth transformation project. Domestically, he has sold his presidency as transformative, however, when it comes to his stance on foreign policy, he is stuck on al old fashioned 1930s principle: The Estrada Doctrine.
If we went by what he promised during his electoral campaign, one would expect a much more aggressive foreign policy towards the United States, and specifically towards Trump. He is, however, focused on symbolic issues which will not translate unto economic or safety improvements to keep his high approval ratings. Apart from the very specific case of Bolivia, AMLO's foreign policy has remained muted and isolated. We should not confuse his sudden support for Morales as AMLO embracing a leftist foreign policy. He has never had such an inclination. By offering asylum to Morales, he tried to give the impression that Mexico was an inclusive and supportive state that has open doors. Nonetheless, with the US next door, Mexico cannot really remain completely sovereign. This asylum process was more a symbolic action than a real shift in foreign policy.
Just last week, AMLO also declared that he has reoriented his foreign policy towards gender equality. Again, another power of symbolism if one looks at Mexico's feminicide and gender-violence statistics, they are shaming. Such a foreign policy would prioritise gender equality, protect human rights of women and marginalised groups along with equal pay, and gender parity. Domestic policies again fail to provide such a framework for Mexican women. It's hardly likely this will go beyond what it is: another symbolic promise that aims to appease those critical of his administration.
George Washington's Advice to Us Now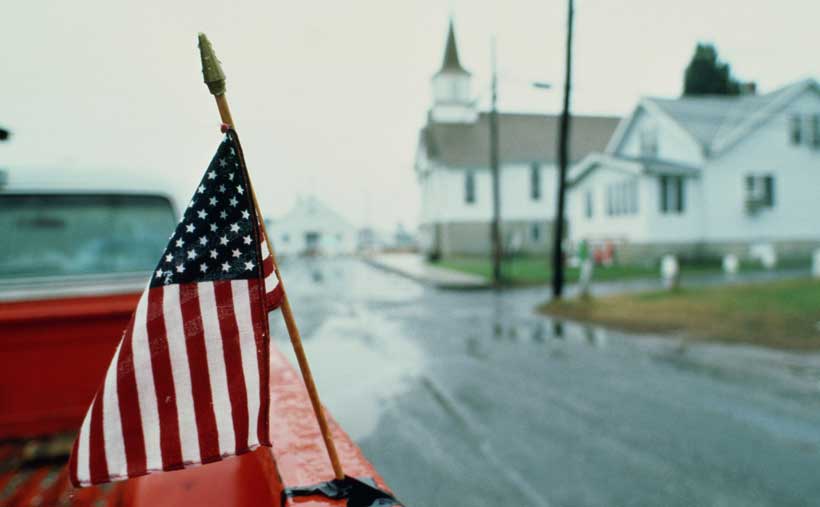 U.S. President George Washington's final words to his fellow Americans, upon leaving office, are now even more timely than when he spoke them, but have been ignored in practise for many decades; and the most recently published popular book about that speech ignores the most enduringly important part, so this part of Washington's Farewell Address will be quoted from here, and will be placed into its historical context, so as to make clear what the central meaning in that speech is for our times, and for all times.
John Avlon (former speechwriter for Rudolf Giuliani, and before that, schooled at Milton Academy and then Yale) was recently the Editor-in-Chief of the rabidly anti-Russian — or "neoconservative" — 'news' (or propaganda) site "The Daily Beast." He issued on 10 January 2017, right before the neoconservative Donald Trump became President, Washington's Farewell: The Founding Father's Warning to Future Generations, which book is an extended essay on President George Washington's famous Farewell Address. That work wins 4.5 out of 5 stars at Amazon, but I am not linking to it, because that book ignores what will be discussed in this brief article, which is the core of the speech that Avlon devotes 368 pages to butchering.
Here, then, is the key passage from Washington's Farewell Address, in which our first (and — along with Lincoln and FDR, one of our three greatest) President actually had warned us against the neoconservative path, which our nation has been on ever since 24 February 1990 and the end of the USSR and its communism and its Warsaw Pact military alliance. That's the path of wars (such as in Iraq, Libya, Syria, and Ukraine) (which some wags call "perpetual war for perpetual peace") to conquer, first, all of Russia's allies, and then finally (once Russia is thus thoroughly isolated), to conquer Russia itself — in other words, George Washington, when retiring from public life, warned us against Mr. Avlon's own neoconservative foreign-affairs obsession: eternal enmity against Russia (President Washington warned us, instead, to avoid eternal enmity against any nation, including Russia, as is indicated in this passage, which Avlon's trashy book ignores):
Nothing is more essential than that permanent, inveterate antipathies against particular nations, and passionate attachments for others, should be excluded; and that, in place of them, just and amicable feelings towards all should be cultivated. The nation which indulges towards another a habitual hatred or a habitual fondness is in some degree a slave. It is a slave to its animosity or to its affection, either of which is sufficient to lead it astray from its duty and its interest. Antipathy in one nation against another disposes each more readily to offer insult and injury, to lay hold of slight causes of umbrage, and to be haughty and intractable, when accidental or trifling occasions of dispute occur. Hence, frequent collisions, obstinate, envenomed, and bloody contests. The nation, prompted by ill-will and resentment, sometimes impels to war the government, contrary to the best calculations of policy. The government sometimes participates in the national propensity, and adopts through passion what reason would reject; at other times it makes the animosity of the nation subservient to projects of hostility instigated by pride, ambition, and other sinister and pernicious motives. The peace often, sometimes perhaps the liberty, of nations, has been the victim.
So likewise, a passionate attachment of one nation for another produces a variety of evils. Sympathy for the favorite nation, facilitating the illusion of an imaginary common interest in cases where no real common interest exists, and infusing into one the enmities of the other, betrays the former into a participation in the quarrels and wars of the latter without adequate inducement or justification. It leads also to concessions to the favorite nation of privileges denied to others which is apt doubly to injure the nation making the concessions; by unnecessarily parting with what ought to have been retained, and by exciting jealousy, ill-will, and a disposition to retaliate, in the parties from whom equal privileges are withheld. And it gives to ambitious, corrupted, or deluded citizens (who devote themselves to the favorite nation), facility to betray or sacrifice the interests of their own country, without odium, sometimes even with popularity; gilding, with the appearances of a virtuous sense of obligation, a commendable deference for public opinion, or a laudable zeal for public good, the base or foolish compliances of ambition, corruption, or infatuation.
As avenues to foreign influence in innumerable ways, such attachments are particularly alarming to the truly enlightened and independent patriot. How many opportunities do they afford to tamper with domestic factions, to practice the arts of seduction, to mislead public opinion, to influence or awe the public councils. Such an attachment of a small or weak towards a great and powerful nation dooms the former to be the satellite of the latter.
Against the insidious wiles of foreign influence (I conjure you to believe me, fellow-citizens) the jealousy of a free people ought to be constantly awake, since history and experience prove that foreign influence is one of the most baneful foes of republican government. But that jealousy to be useful must be impartial; else it becomes the instrument of the very influence to be avoided, instead of a defense against it. Excessive partiality for one foreign nation and excessive dislike of another cause those whom they actuate to see danger only on one side, and serve to veil and even second the arts of influence on the other. Real patriots who may resist the intrigues of the favorite are liable to become suspected and odious, while its tools and dupes usurp the applause and confidence of the people, to surrender their interests.
The great rule of conduct for us in regard to foreign nations is in extending our commercial relations, to have with them as little political connection as possible. So far as we have already formed engagements, let them be fulfilled with perfect good faith. Here let us stop. Europe has a set of primary interests which to us have none; or a very remote relation. Hence she must be engaged in frequent controversies, the causes of which are essentially foreign to our concerns. Hence, therefore, it must be unwise in us to implicate ourselves by artificial ties in the ordinary vicissitudes of her politics, or the ordinary combinations and collisions of her friendships or enmities.
Our detached and distant situation invites and enables us to pursue a different course. If we remain one people under an efficient government. the period is not far off when we may defy material injury from external annoyance; when we may take such an attitude as will cause the neutrality we may at any time resolve upon to be scrupulously respected; when belligerent nations, under the impossibility of making acquisitions upon us, will not lightly hazard the giving us provocation; when we may choose peace or war, as our interest, guided by justice, shall counsel.
Why forego the advantages of so peculiar a situation? Why quit our own to stand upon foreign ground? Why, by interweaving our destiny with that of any part of Europe, entangle our peace and prosperity in the toils of European ambition, rivalship, interest, humor or caprice?
It is our true policy to steer clear of permanent alliances with any portion of the foreign world; so far, I mean, as we are now at liberty to do it; for let me not be understood as capable of patronizing infidelity to existing engagements. I hold the maxim no less applicable to public than to private affairs, that honesty is always the best policy. I repeat it, therefore, let those engagements be observed in their genuine sense. But, in my opinion, it is unnecessary and would be unwise to extend them.
Taking care always to keep ourselves by suitable establishments on a respectable defensive posture, we may safely trust to temporary alliances for extraordinary emergencies.
Such "temporary alliances for extraordinary emergencies" includes The Allies (England, Soviet Union and U.S.) during World War II, but certainly nothing after the Soviet Union and its communism and Warsaw Pact ended in 1991. The entire 'Western Alliance' — basically NATO plus Japan — is anti-American policies by the American aristocracy (controlling the U.S. Government) after 1991, and should therefore promptly terminate, and U.S. armed forces be withdrawn from all foreign countries, in accord with the will and intention of America's democratic Founders including President Washington. Using the U.S. Defense Department, and the U.S. Treasury Department, as (which neoconservatives do) a vast welfare program for the super-wealthy owners of U.S. weapons-manufacturers and for U.S. and other mercenaries, is unauthorized by America's Founders, and was explicitly condemned by George Washington.
If any U.S.-based international corporations need those foreign U.S. military bases, then they should pick up all of the government's tab to pay for them, because that kind of 'capitalism' is mere imperialism, which is nothing that any of our Founding Fathers advocated — it's un-American, in terms of the U.S. Constitution, and the men who wrote it.
AsAlexander Hamilton wrote on 9 January 1796, in defending the new Constitution, and especially its Treaty Clause: "I aver, that it was understood by all to be the intent of the provision [the Treaty Clause] to give to that power the most ample latitude to render it competent to all the stipulations, which the exigencies of National Affairs might require—competent to the making of Treaties of Alliance, Treaties of Commerce, Treaties of Peace and every other species of Convention usual among nations and competent in the course of its exercise to controul & bind the legislative power of Congress. And it was emphatically for this reason that it was so carefully guarded; the cooperation of two thirds of the Senate with the President being required to make a Treaty. I appeal for this with confidence."
He went further: "It will not be disputed that the words 'Treaties and alliances' are of equivalent import and of no greater force than the single word Treaties. An alliance is only a species of Treaty, a particular of a general. And the power of 'entering into Treaties,' which terms confer the authority under which the former Government acted, will not be pretended to be stronger than the power 'to make Treaties,' which are the terms constituting the authority under which the present Government acts." So: there can be no doubt that the term "treaty" refers to any and all types of international agreements. This was the Founders' clear and unequivocal intent. No court under this Constitution possesses any power to change that, because they can't change history.
Furthermore, the third President Thomas Jefferson said in his likewise-famous Inaugural Address, that there should be "Peace, commerce, and honest friendship with all nations — entangling alliances with none." Jefferson's comment there was also a succinct tip-of-the-hat to yet another major concern that the Founders had regarding treaties — that by discriminating in favor of the treaty-partners, they also discriminate against non-partner nations, and so endanger "peace, commerce, and honest friendship with all nations," which was the Founders' chief goal in their foreign policies. But, the Founders' chief concern was the mere recognition that treaties tend to be far more "permanent" and "entangling" than any purely national laws. This was the main reason why treaties need to be made much more difficult to become laws, and so the two-thirds-of-Senate requirement for passing-into-law any treaty was instituted as the Treaty-Clause, Article 2, Section 2, Clause 2.
Though this thinking — avoidance of favoritism in America's foreign policies — was pervasive amongst the creators of America's democracy (or people's republic), America's newly developed aristocracy subsequently in the 20th Century targeted elimination of the two-thirds-of-Senate requirement, because it's an impediment toward their re-establishing the aristocracy that the American Revolution itself had overthrown and replaced by this people's republic. And, the big chance for the aristocracy to restore its position via an imperial President, and so to extend their empire beyond our own shores, came almost two hundred years after America's founding; it came in 1974, which was when a law finally became passed by Congress allowing some treaties to emerge as U.S. law with only the normal 50%+1 majority in the Senate (unConstitutional though that is). Without that Nixonian law, George Herbert Walker Bush's NAFTA wouldn't have been able to become law under Bill Clinton in 1993, and Barack Obama's TPP with Asia and TTIP with Europe wouldn't have stood even a chance of becoming law in 2016. Both of Obama's proposed mega-treaties were designed to isolate and weaken both Russia and China in international trade, but all that Obama ended up with, before his leaving office, was economic sanctions against Russia for its having accepted the desire of the vast majority of Crimeans to rejoin with Russia after Obama's Ukrainian coup overthrew the democratically elected President of next-door Ukraine, who had received 75% of the vote within Crimea.
Avlon's website, as a mainstream neoconservative 'news' site, opposed Donald Trump as being insufficiently against Russia. They actually urged punishing Russia for Trump's election! What would George Washington think about having a person (Avlon) so partisan against George Washington's vision for our country as that, becoming the popular modern 'interpreter' of his famous Farewell Address? Would he like that? What would George Washington, and America's other early Presidents, think of a country which advances such a person as that, to be a commentator and host at CNN, Editor-in-Chief at The Daily Beast, and a favorably received 'historian' of the United States?
This is certainly not the nation that they founded. This ship — now become the wrecker of nations and aspiring global dictator — abandoned its home port in 1945, and hasn't returned ever since.