The failure of the Palermo Conference on Libya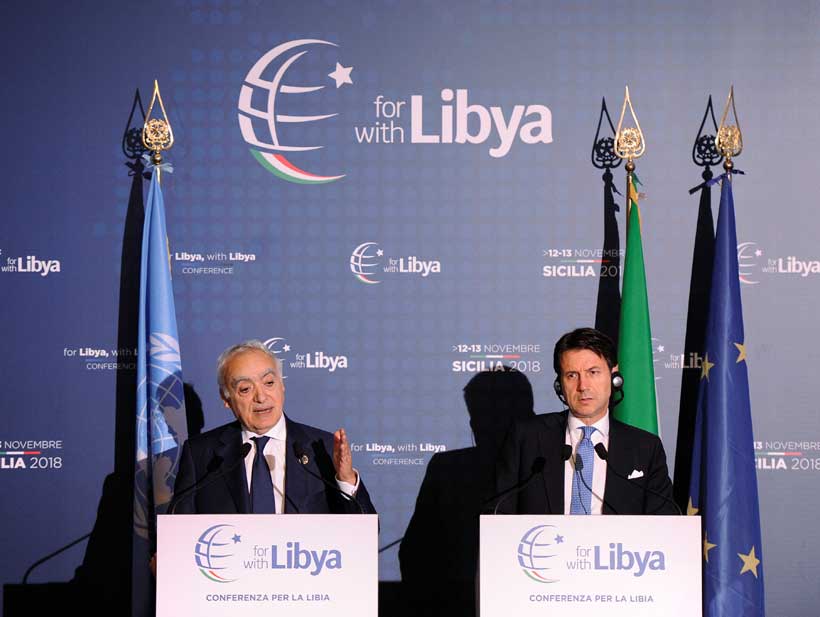 Why did the Conference on Libya organized by Prime Minister Conte's government at Villa Igiea in Palermo fail?
Firstly, it was a chaotic and hastily organized Conference, with evident signs of oversimplification, which became evident both in the logistics and in the policy line.
At the time of Presidents Moro, Cossiga and Craxi, the Conference would have certainly been a real success. Why? Because, at that time, Italy still counted much in the Mediterranean region and was taken very seriously by everyone. Italy knew what its interests were, not the usual "seductive attractions" of peace, development, etc. -just to put it in Benedetto Croce's words.
It would not have been possible for France and Great Britain  to pressurize and blackmail Italy to bomb a country, namely Gaddafi's Libya, which was our always open merchant  bank. It was also our strategic partner in the Maghreb region and our military guarantee against the so-called Françafrique and the defender of the equilibria with Egypt and Algeria, as well as the protection of ENI wells from many dangers.
The current Italian government has reduced the Libyan issue to a problem of mere reunification between the two parts, namely Cyrenaica's area and Tripoli's area, which is much loved by the United Nations, but no one knows why.
What is missing is the whole Fezzan region, an area of autonomous tribes in which interests intersect with illicit trafficking and with migrant flows. The Fezzan region was controlled by Gaddafi with a very effective system of stick (much) and carrot (sometimes).
It is fully inconceivable to think that all this can disappear thanks to the mere good will and good heart of al-Sarraj in Tripoli or of General Haftar in Benghazi.
Furthermore, a great and so sensitive foreign policy operation is never arranged for the migrant issue alone.
Migrants are above all the result of Great Britain's and France's extreme idiocy on Libya and of their desire to oust a "tyrant" (it is their eighteenth-century political rhetoric) that was instead a wonderful asset for the hated Italy.
Certainly, General Haftar could not even accept that Italy was the sole sponsor and funder of the Tripoli Coast Guard, which coordinated the "Operation Nauras" to stop the migrants' ships and the NGOs that protected them.
One cannot fund either contenders and think that the other is happy with it.
Migrants, however, are a social, political and economic emergency that cannot be the only matter for a peace Conference on Libya.
In fact, for too long in Italy foreign policy has been confused with domestic policy, however without ever getting a grip on either of them.
We should not even forget the fully offensive action on European defence organized on November 12, by President Macron with Presidents Trump and Putin and Chancellor  Merkel.
The "European defence" is a huge nonsense invented by the childish President, Emmanuel Macron, who even wanted to merge the French and German armies at the beginning of his term of office.
Some of Cambronne's words of the other French high military ranks have so far stopped this process, thus preventing the French Armed Forces from merging with the current chronic disaster of the Bundeswehr.
Nevertheless, at the Palermo Conference, Russia was represented by an influential deputy-Minister, Bogdanov.
What did Russia want from the Conference held in Sicily? Obviously a recognition of his new role in the Eastern Mediterranean region.
Russia no longer thinks about the Mediterranean as in the Cold War phase -i.e. to divide it into two areas – but imagines it as a united region and probably under its sole  hegemony.
Russia has excellent relations with most African countries, strengthened by economic treaties, whereas this is certainly not the case with the European Union, while the rebellion against the CFA franc on the part of the 14 countries that are forced to adopt it is mounting ever more.
The fact of not having invited China to the Palermo Conference makes us smile.
This oversight is strange. China is the largest trading partner of African countries, with the exception of Swaziland.
A donor country, an investor and a lender.
With a mass of investment throughout Africa, which this year has reached 600 million dollars, in addition to a traditional presence in the infrastructure of Nigeria and Angola which is currently unparalleled.
They are the countries that, together with others, generate the flow of migrants reaching the Libyan coasts. Therefore, the fact of not having invited China is self-destructive.
It would also be interesting to know who is behind the many recruiters of men who can be seen in African squares. Certainly, many Western "operators" and some gangmasters of local leaders, who want to get rid of former convicts and "dangerous masses".
Hence why China was not invited? For parochialism. Because we cannot imagine how such a huge country can be interested in peace in Africa, and probably we do not know what it wants. Simply China wants the absolute stability of the whole African continent.
But can we ensure it to Africa? No, we cannot. France still has its Operation Barkhane in place between Chad and Mauritania, which serves above all to let migrants move to Libya. Furthermore the North American troops of AFRICOM are everywhere on the Dark Continent with a view to opposing China.
Let us consider also the case of Djibouti, where a new Chinese base was built very close to the US one.
After the phase of economic investment, there will certainly also be the phase of Chinese military positions and I am not so sure that a Chinese base will not come out on the shores of the Maghreb region. Moreover, it should not be forgotten that China is a friend of Israel.
In short, it was real madness to do without the clout and influence of the People's Republic of China in the Palermo Conference.
Why? Is it because we do not want to annoy America? Needless. Is it because it is too big and hence could say quia sum Leo? The Chinese diplomacy is so subtle that it does not permit such deductions.
As already mentioned, I think that ignorance is at the basis of China's exclusion from the Conference. In fact, our diplomats come from years of "reforms" that have turned them into mere sales representatives.
They are all obsessed with an economy they do not know – hence they are probably not familiar with the evolution of Chinese business in Africa.
As for France and Great Britain, they came to use the Conference for their own purposes.
The French Foreign Minister, Jean Yves Le Drian, is a widely experienced old Mitterandian Breton.
The organization of the Conference based on bilateral meetings – as established by the regulation – favoured confidential agreements and "covert" meetings. For someone like Le Drian, who is a member of the Grand Orient of France, a covert approach is easy to take. France's primary interest is to limit ENI's presence as much as possible and exclude Italy from the African games.
Furthermore, Great Britain has the same style as the United States: they bring democracy somewhere and then, immediately after, they forget about it.
Therefore, bilateral relations were favoured, instead of a general and overall picture, which would have been in Italy's interest.
It would have been very useful to have a Summit involving all parties, so as to break any stalemate and overcome rejections.
However, the Italian government's approach was not a foreign policy approach, but a domestic policy one, i.e. to stop the migrant flows.
Hence no other idea for Libya, if not "dialogue" or the usual "peace".
Platitudes for newspapers. In fact, how is it possible to put together al-Sarraj and General Haftar, who want dominance over coastal and productive Libya implying the usual principle of King Francis I and Emperor Charles V, epitomized by the statement "my brother and I want the same thing". It was the Duchy of Milan.
Why should al-Sarraj commit suicide-probably only at political level – for General Haftar? Obviously, General Haftar pays heed only to the Russian and French intelligence services, which support him in his actions.
Furthermore, why should we try to achieve the goal of a "United Libya", when currently no faction has difficulty in just seeing the other?
Let us face reality and state it clearly: the only way to unify Libya is to give a real Rais back to it.
Only those who credibly threaten to have maximum strength and power can stop the smaller forces of insurgency.
Perhaps it would be better if we read Machiavelli's books more often, instead of those of the heart-rending political scientists.
In short, the Palermo Conference was a good idea – in principle – but organized by a country that was previously a second-class power and, currently, not even that.
Decades of destruction of Italy's foreign policy, in the period from the end of the so-called "First Republic" to present times, have left their mark. Politicians are now reduced to vociferous tenants or to shortsighted semi literates who are unable to contemplate anything beyond their own national navel.
No peace for Kurds: Rojava still under attack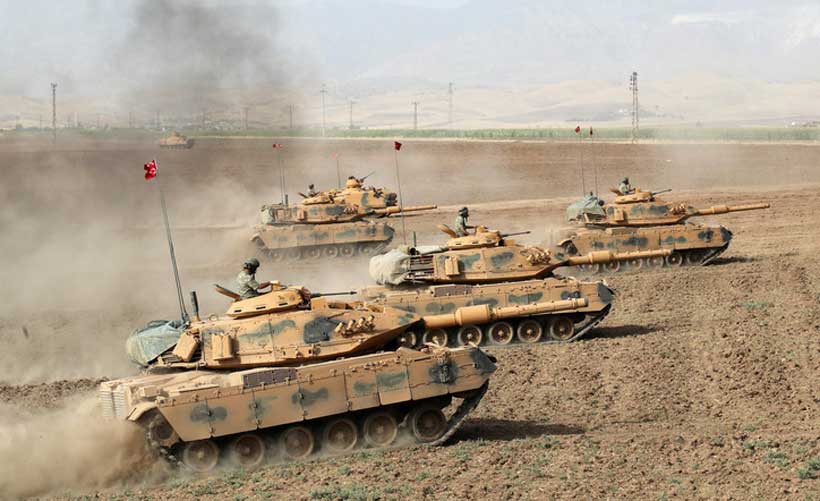 The Amazon is still on fire. The "lungs of the Earth" are hardly breathing while the flames are threatening people and nature reserves. As long as we do not see with our own eyes the burnt trees, the endangered species and the indigenous tribes fighting to save their dying forest, we seem incapable to understand the actual consequences.
Thousands of miles away from this environmental catastrophe, a different kind of tragedy is waiting to happen. Rojava-Northern Syria Federation — the self-declared autonomous region that Kurdish people managed to carve out in northeastern Syria during the Civil war — is burning again.
On September 24, Turkish president Recep Tayyip Erdoğan made a controversial speech to the United Nations General Assembly and proposed to create a "safe zone" in the north of Syria, in order to resettle up to 2 million Syrian refugees. He is hoping to establish a peace corridor with a depth of 32 kilometers and a length of 480 kilometers, which would easily turn the area into the world's largest refugee camp. Despite the seemingly humanitarian purposes, this might represent the umpteenth attempt to destroy the Kurdish dream of an independent democratic enclave.
It is undeniably clear, in fact, how Turkey could take advantage of the situation: Erdoğan's spokesman Ibrahim Kalin has already claimed that Ankara's aim is also to clear the borders from "terrorist elements."
The People's Protection Units and the Women's Protection Units (YPG/YPJ), which — along with the Syrian Democratic Forces (SDF) — played a key role in the fought against the Islamic State of Iraq and the Levant (ISIL), are the official army of Rojava but currently designated as terrorist organizations. These armed groups, in fact, are considered as an extension of the Kurdistan Workers' Party (PKK), the far-left militant and political organization founded in 1978 by Abdullah Öcalan and often involved in armed clashes with Turkish security forces.
Kurdish people are about to be left alone once again and the recent decisions of the White House trigger alarm in the whole Middle East.
On October 7, president Donald Trump announced that the United States — so far the main financer, trainer and supporter of Kurds — would start pulling troops out of those territories, although it would not constitute a full withdrawal.
Pentagon spokesman Jonathan Hoffman said that "The Department of Defense made clear to Turkey — as did the president — that we do not endorse a Turkish operation in Northern Syria," and that "The US Armed Forces will not support, or be involved in any such operation."
Mazlum Kobanê, the commander in chief of the SDF, announced that they will protect Syrian's borders and fight back against Ankara's army. Since the majority of Kurdish cities are located in this area, it is not difficult to understand how potentially devasting this ongoing operation could be.
Turkish assault is going to begin from the city of Gire Spi/Tell Abyad, once controlled by the so-called Caliphate and captured in 2015 by the YPG during the Tell Abyad offensive. The cities of Qamishli, Derek/Al Malikiya, Tell Tamer and Kobanê/Ayn al Arab are next to become target of air strikes and artillery fire as well.
It is no coincidence that shortly after the siege of Kobanê, Kurdish forces directed their efforts towards Tell Abyad, being such a strategic site for ISIL militias. The city, in fact, was better known in the West as the "Jihadi Highway", a de-facto corridor for foreign fighters. In the chaos caused by the fighting, jihadists would surely try to regain strength and Turkish move is serving the cause.
At the Al-Hol camp — a huge detention female camp near Al-Hasakah — numerous riots have occurred in the past few weeks, and the managers of the structure believe that the women held in the prison — former jihadi brides — might be the vehicle for renewed forms of radicalization.
In view of the fact that US officials confirmed that they will not intervene nor will they seize control of those prisons, Kurdish forces called Washington's move "a stab in the back". Meanwhile in Raqqa, ISIL militants are still carrying out suicide bombing attacks against SDF positions.
Shervan Derwish, official spokesman of the Mambij Military Council, has expressed his concern with a very touching message on Twitter.
The YPG and YPJhave fought in many historical battles and their solitary resistance during the last Turkish Afrin offensive in January 2018 became a symbol of their resilience.
On the other hand, Turkey's army will be backed by their well-known rebel allies: "The Turkish military, together with the Free Syrian Army (FSA), will cross the Turkish-Syrian border shortly, "wrote Fahrettin Altun — Turkey's communications director — in a Washington Post column. Numerous military groups are active in the region and, although their nature is still debated, there are evidence of many connections with jihadi-inspired organizations.
Working in cooperation with the SDF, Rojava's cantons are ready to resist and defend their independence, but Trump's decision sounds like a betrayal.
If forests are burning, so will be democracy in Syria. The Rojava project is in imminent danger, and this time there will be no mountains for the Kurds to seek refuge in. Here in the West we are blessed not to directly witness the destruction of both tragedies, but it is still up to us whether to look those flames in the eye or remember them as the unique environments they actually were.
In loving memory of Mehmet Aksoy, who dedicated his life to the Kurdish cause.
Revisiting Saudi-Iranian Rivalry: From A Cold War Perspective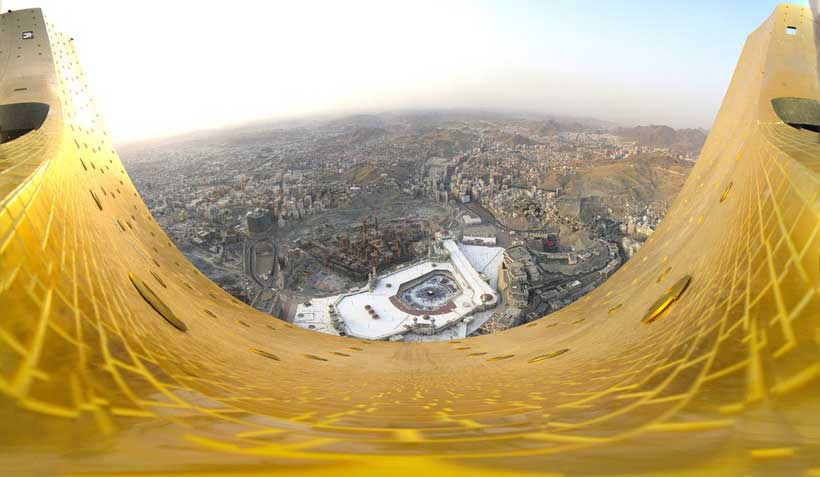 Middle East considered the "bridge between the East and West" has long grabbed attention of great power policy makers due to its geostrategic and geopolitical significance. After the discovery of oil in the early part of 20th Century, Iran and Saudi Arabia had gained a prominent position at the global international arena. The defining moment in their relation was the year 1968, when the British government announced its withdrawal from the "Persian Gulf," threatening thereby the balance brought to an equilibrium by more than 150 years of English security guarantees to the sheikdoms. The international community largely sees the conflict in terms of sectarian and on religious grounds which is an inadequate approach and one that rules out other detrimental factor. There have been little analysis and studies undertaken on the conflict from a "Cold war" perspective, which can significantly help other states in maintaining a viable balance between Saudi Arabia and Iran.
The conflict dubbed as the "New Middle East Cold War" or "Saudi-Iranian Cold War" is not the first event termed as "Cold war" in the Middle Eastern history. Malcolm Kerr writing in his acclaimed book Arab Cold War 1958-67 termed the growing rivalry and quest for leadership in the Middle East at the aftermath of British and French withdrawal between Republican Egypt and conservative Arab monarchies as a regional equivalent of Cold war. The present relations of Saudi Arabia and Iran are short of war, a condition where although the contenders do not engage in open battlefields face to face, it is a 'battle' nevertheless fought on different fronts including the media. Daniel Serwer of John Hopkins writes that Saudi-Iran conflict is regional equivalent of20th century US-Soviet Cold war.
Characteristics of Cold War
The term 'cold war' had been in use before 1945 to describe period of extreme tensions between states that were just short of war. In the year 1893, German socialist Eduard Bernstein described the arms race between Germany and its neighbors as a kind of 'cold war' where "there is no shooting but bleeding." The term rapidly came back into use when United States and Union of Soviet Socialist Republic (USSR) faced each other eyeball to eyeball. British writer George Orwell remarked on the significance of the moment foreseeing "a peace that is no peace" where the two mighty powers were to be "unconquerable and in a permanent state of cold war."Anders Stephanson has defined the essence of a Cold War as consisting of characteristics whereby both sides deny each other the legitimacy as a regime, attempting to attack each other by all means short of war. This is in the view of the author, followed by an intense military buildup with a prolonged arms race.
Cold War since then has exclusively referred to as the 'sustained state of political and military tensions' between the 20th century superpowers. Although the rivalry had ceased with the disintegration of the Soviet Union, the term and subject-matter has remained ever relevant to an extent that the study of grand strategy and security is considered incomplete without the former's inclusion. Saudi Arabia and Iran, in order to contain conflict and to ensure; that it ends up being short and as shallow as possible, need to revitalize the lessons of the 'original Cold War.' United States and Soviet Union despite their sustained rivalry developed a variety of mechanism for escalation and risk management. This was undertaken without foregoing their core national interests and ideologies. The leadership understood that there was 'wisdom in engaging' rather than isolating the other. The approach is more relevant today in the era of globalization than it was in those years. "Geo-economics must replace geopolitics" as the focal Saudi-Iranian approach in order to reach a 'non-zero sum situation.'
Religious and political ideology plays an important role in the foreign policy between Riyadh and Tehran. The two offer competing ideologies and political model with a strong desire for strategic and geopolitical supremacy. The standoff, experts believe is also the result of the desire and aspirations of the two, for political leadership in the Islamic world. The conflict is not the result of alleged schism between Shia and Sunni school of Islam, but is rather a byproduct of centuries' political and religious contestation that existed between empires and is now manifested into politics of these modern states.
Diplomacy is integral to the Middle East cold war. Since establishing relations in 1929, the two have had their ups and downs. In the years of the Shah, relations began to take the turn for worse when Shah's 'hegemonic desires' and Saudi Arabia's desire not to accept Iran predominant role in the Gulf and beyond. Nevertheless, relations remained intact at least diplomatically despite severity of incidents such as Gunboat coercion and the oil wars.
Conclusion
Wars have recognizable beginnings and they comprise of direct fighting between the adversaries with armistices and peace treaties as their conclusive ends. However, a Cold war has none of these characteristics, in words of Walter Lippman, "it brings neither peace nor honour to those who wage it." The conflict between Iran and Saudi Arabia has "spillover effects" and repercussions beyond the region. States such as those in the West, and Pakistan in particular close in proximity to the two have had a tough time "balancing" their relations. A careful, delicate and pragmatic approach needs to be adopted on part of statesmen, taking into account the opportunities and challenges arising from a "Cold War" need to be taken into account. Media on both sides has an important role to play in patching up the hostilities by upholding ethical standards and avoiding propagandist contest to avoid further aggravation of the conflict.
Learning lessons: Protesters stay one step ahead of rulers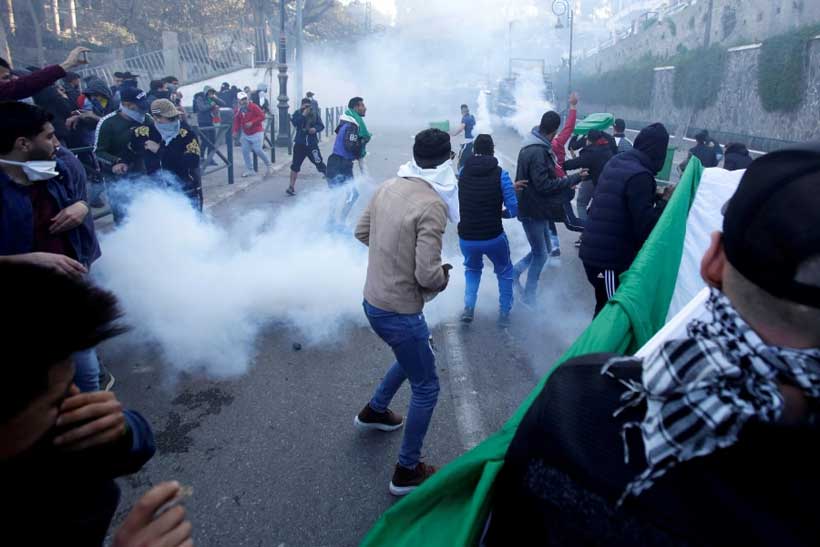 There's a déjà vu feeling to this year's wave of protests across the Arab world.
It's not that this year saw the toppling of the leaders of Algeria and Sudan as a result of popular revolts, a harking back to the 2011 protests that overthrew the leaders of Tunisia, Egypt, Libya and Yemen.
It's that it's the protesters in Iraq, Lebanon, Jordan, Egypt, and Morocco rather than illiberal or autocratic regimes that have learnt the lessons of 2011.
Had illiberal and autocratic leaders learnt the lessons, they would not have been taken again by surprise by mass protests, often sparked by a black swan.
Lessons learnt would have meant putting their ear to the ground, hearing the groundswell of anger and frustration boiling at the surface over lack of economic opportunity and basic services, widespread corruption that benefits the few and complicates life for the many, and a clamouring for the ability to vent those grievances.
Lessons learnt would have meant addressing those concerns before its too late and spill into the streets in massive votes of no-confidence in the political and economic system and its leaders.
It's a lesson that is valid beyond the Arab world with similar protests, like in 2011, erupting across the globe in countries such as Hong Kong, Russia, Peru, Haiti, Ecuador, Indonesia, and world-wide climate change-related demonstrations.
For their part, demonstrators in Algeria and Sudan concluded from the 2011 protests that toppling a leader was the beginning not the end of the process.
In Algeria, protesters remain in the streets six months after President Abdelaziz Bouteflika stepped down, battling the army for a political process that will guarantee structural change rather than enable an electoral process that ensures that the military and its aligned business interests remain the power behind the throne.
Sudanese demonstrators surrendered the street only after agreement had been reached with the military on a three-year-long transition towards civilian rule.
The Sudanese and Algerian experiences, like the lessons to be learnt from the 2011 revolts, suggest that the playing field in the wake of the fall of an autocrat is striking a balance between protesters' demands for fundamental change and the determination of elites and the military to preserve their economic interests, some degree of control of security and safeguards against being held accountable for past abuse.
What demonstrators have going for them, beyond the power of the street, is the fact that popular discontent is not the only thing that mitigates against maintenance of the pre-protest status quo.
Countries across the Middle East and North Africa, characterized by youth bulges, can no longer evade economic reform that addresses widespread youth unemployment, the need to create large numbers of jobs, and inevitable diversification and streamlining of bloated government bureaucracies.
Algeria is a case in point. Foreign exchange reserves have dropped from US$193.6 billion in 2014 to US$72 billion in 2019. Reserves cover 13 months of imports at best in a country that imports 70 percent of what it consumes,
"If the state can no longer deliver goods and services, socio-economic discontent will rise further…. In order to avoid such a situation… the state and its citizens will have to renegotiate their relationship. In the past the state provided, and Algerians abided. This is no longer economically feasible today, nor is it what Algerians appear to want as they seek more transparency, less corruption, and better governance of Algeria's resources," said Algeria scholar Dalia Ghanem.
Attention in the past years since the 2011 popular Arab revolts has focussed on the consequences of the Saudi-UAE led counterrevolution that brutally rolled back protesters achievements in Egypt and contributed to the Iranian-backed military campaign of Houthi rebels in Yemen and the devastating subsequent military intervention in that country as well as civil wars in Syria and Libya.
Yet, the past eight years have also been characterized by issues-oriented protests that often involved new, creative forms of expression of discontent.
Iraq, Algeria and Sudan rather than Egypt contain lessons for the future.
Egypt's field marshal-turned-president Abdel Fatah al-Sisi may have squashed recent protests with mass arrests and security force violence, but his conspiratorial depictions of a plot engineered by the repressed and weakened Muslim Brotherhood are unlikely to dampen widespread discontent with his failed economic policies that have benefited the elite and impoverished many.
Mr. Al-Sisi may have ended the protests for now, but continued refusal to address grievances makes Egypt an accident waiting to happen.
The demography of protesters in Iraq proves the point. The protests could have been avoided had the Iraqi government focused on tackling corruption, ensuring the delivery of basic services, and creating jobs for university graduates and opportunities for those who returned from defeating the Islamic State to find that they were deprived of opportunities.
One lesson of the protests in Iraq and Hong Kong is the fact that repressive government responses, the killing of more than 100 demonstrators in Iraq or the banning of face masks in Hong Kong, fuel rather than calm public anger.
Said Hong Kong pro-democracy law maker Fernando Cheung: "This is adding fuel to the fire. This will mark the beginning of riots in Hong Kong."