Explaining the European Union's partnership with India
What are the main objectives of the Joint Communication?
The Joint Communication will strengthen the EU-India Strategic Partnership by focusing on sustainable modernisation and on common responses to global and regional issues. It is meant to serve for the next decade as a coherent platform to advance key EU interests, improving the way the EU approaches India. The Joint Communication seeks to maximise the opportunities in terms of trade, investment, people-to-people exchanges, foreign policy and security, and global governance, particularly through synergies and coherence in actions by the EU and its Member States.
Seize the full potential of the EU-India strategic partnership.
Build a strong partnership for sustainable modernisation, to benefit both sides.
Join forces with India to consolidate the rules-based global order, based on multilateralism with the UN and the WTO at its core.
Develop a shared approach at the multilateral level to address global challenges and increase coordination.
Seek common responses to security threats and regional issues.
Why is this Joint Communication coming now?
The long-standing EU-India relationship is based on a 1994 Cooperation Agreement. The last Commission Communication on India dates from 2004, when the Strategic Partnership was established. The partnership has evolved and has seen enhanced commitment from both sides over the last two years. An ambitious Agenda for Action 2020 was adopted jointly at the 2016 EU-India Summit, while at the October 2017 EU-India Summit, the two sides recognised agreed a common vision of global governance, shared values and principles. There is, therefore, a positive momentum for the EU to restate its engagement towards India.
What is the EU's ambition in developing foreign policy cooperation with India?
Among the EU's many partners, India already plays an important role, particularly in consolidating EU's engagement in and with Asia. India's international reach and relevance will continue to grow, and therefore its importance to the EU, in line with the development of its economy and its diplomatic and defence capabilities. Although EU-India political consultations have broadened and deepened considerably in the last few years, more could be done together to ensure regional stability and global crisis management.
On many global, international and regional issues, there is clear convergence between the EU's and India's views and objectives. For example, both the EU and India remain committed to the continued full and effective implementation of the Iran nuclear deal and we collaborate closely to help bring peace and development to Afghanistan, as we have also done in addressing the recent crisis in the Maldives. The EU wants to expand this positive engagement and to strengthen cooperation on other issues in Africa and the Middle East, based on shared interests, principles and values. The EU will seek to develop more structured and regular consultations in multilateral fora and exchanges on emerging regional structures in Asia.
How will the EU enhance security cooperation with India?
EU-India cooperation in the field of security is directed at enhancing the security and wellbeing of our citizens. Terrorist attacks on EU and Indian soil should not shake our commitment to tolerance and diversity. On the contrary, in order to address this growing threat, the EU and India are currently looking at establishing effective counter radicalisation programmes, removing terrorist and extremist content available online, deepen cooperation on terrorist designations and to increase the effectiveness of sanctions, and putting an end to terrorism financing.
With the expansion of IT to all spheres of life, cybersecurity is quickly becoming one of the most important threats to national and global security, and in the short-to-medium term this threat is only expected to grow. The EU and India have a lot to learn from each other regarding protecting critical infrastructure and defining international rules that can apply to the cyberspace. In addition, our law enforcement agencies have to start collaborating more closely to confront the activities of cybercriminals that operate in the EU and India at the same time.
Both India and the EU are firm believers that non-proliferation and disarmament are necessary to maintain world security and are promoting international regimes to control missile technology and the spread of weapons of mass destruction.
Another area of mutual interest is maritime security. The scope for cooperation, especially in the Indian Ocean, is very large. The EU and India have cooperated in anti-piracy efforts in the Indian Ocean and the EU would like to see India joining on efforts to escort World Food Programme shipments off the coast of Somalia. The EU and India should join forces to promote the UN Convention on the Law of the Sea, as the basis of ocean governance and work more closely in the field of maritime surveillance.
Given the important steps the EU has taken recently to improve its action capability as a security actor, the EU aims to enhance overall cooperation with Asian partners, and with India in particular. To this end, the EU will seek to establish military-to-military contacts with Indian counterparts in order to explore concrete opportunities for cooperation.
How developed is the trade and investment relationship between the EU-India?
India is an important trade partner for the EU and an emerging global economic power. India is the fastest growing large economy, with growth rates of about 7%. In 2017, the EU was India's first trading partner, while India was the EU's ninth largest trading partner, amounting to a total of €86 billion trade in goods and €29 billion trade in services.
The EU is one of the largest investors in India, with an overall stock of more than €72 billion in investments. India too is emerging as a proactive investor in the EU, with €4.9 billion in 2016.
Close to 6,000 EU companies are present in India collectively providing direct employment to 1.2 million workers and indirect employment to 5 million.
However, the potential of the EU-India trade and investment relationship is far from being reached. From this perspective, the EU aims to achieve comprehensive and balanced agreements on trade and investment with India, as well as to support trade liberalisation and to ensure fair market access and predictable investment conditions.
Why does the EU want to increase investment in India's sustainable modernisation?
The EU offers important opportunities in terms of technology-sharing and know-how, providing high-level synergies in sectors where EU companies are world leaders: this includes infrastructure, transport, telecoms and basic industry. This wealth of experience and knowledge means that the EU has much to offer India in its quest to grow and modernise, and it helps, in turn, create new business opportunities.
Furthermore, cooperation on climate change, the environment, green energy, and urbanisation helps the EU and India to meet internal objectives as well as international commitments. The EU also wants to work more with India to build inclusiveness and equality, for example via digitalisation.
The EU promotes a growing role of the European Investment Bank (EIB) in financing India's sustainable modernisation initiatives. The EIB has so far invested €2.5 billion in India in infrastructure, renewable energy and climate projects.
Why is the Joint Communication calling for a partnership on connectivity with India?
The EU has launched in October 2018 its Strategy on Connecting Europea and Asia. The Strategy calls for more engagement with partners – in Europe's neighbourhood, in Asia and beyond – on enhancing connectivity and finding complementary and common solutions. The EU approach to connectivity is clearly set: connectivity must be fiscally, environmentally, socially and economically sustainable; comprehensive across sectors and financial frameworks; and rules-based.
The EU and India have agreed at the 2017 Summit on a common view towards connectivity, acknowledging "that connectivity initiatives must be based on universally recognised international norms, good governance, rule of law, openness, transparency and equality and must follow principles of financial responsibility, accountable debt financing practices, balanced ecological and environmental protection, preservation standards and social sustainability."
Given the commonality of views, India is a priority country for the establishment of a connectivity partnership.
Why is India an important partner on research and innovation?
Both the EU and India have similar views on the role of research and innovation: supporting economic development, creating jobs and strengthening the capacity to address global societal challenges, notably ICT, health, climate change and energy, food security or smart cities.
India has important centres of excellence and a considerable talent pool, with a high potential to jointly contribute with the EU to address global challenges. The EU cooperates with India through the Horizon 2020 Framework Programme for Research & Innovation. Indian researchers receive grants from the European Research Council or Marie Skłodowska-Curie fellowship. A co-funding mechanism was established to fund successful Indian participants in Horizon 2020 projects.
Joint initiatives aim to foster the development of concrete solutions to common societal challenges. An example of joint cooperation is a successful flagship initiative in the area of water of €30 million.
India also has impressive start-up ecosystems. The EU promotes networking between innovators, start-ups, incubators, including via joint on line and off line platforms.
How is the EU working with India on clean energy and climate change?
Both the EU and India ratified the Paris Agreement and are committed to its implementation. Against the backdrop of a changing international landscape, India and EU have the ability to lead and uphold their Paris pledges.
The EU and India have established in 2016 a Clean Energy and Climate Partnership to work on a clean energy future for India and to implement the Paris Climate Change agreement. The Partnership delivers concrete activities on the ground among others in renewable energy, energy efficiency and smart grids. For example: technical assistance is provided to the Indian Government to develop the first off-shore wind plant in India and to implement the Solar Parks Programme. The EU also finances technical assistance to implement the Energy Conservation Building Codes.
The EU promotes green investments through blended financing. Projects funded under the Asia Investment Facility support sustainable urban housing and mobility. The Electrification Financing Initiative boosts private sector investments in sustainable energy through de-risking and reimbursable schemes.
How will the EU work with India at the multilateral level?
The EU and India are both strong supporters of the rules-based global order, based on multilateralism, with the UN and the WTO at its core. In the current international environment, the EU will build on this important common ground it shares with India to develop coordination at multilateral level, particularly at the UN, G20 and WTO. The main aim is to build multilateral solutions and address challenges to international security, global economic stability and growth.
What does the EU want to achieve regarding data protection cooperation?
Increased convergence between our systems could bring very significant benefits to our economies. This would, in particular, facilitate trade flows which increasingly rely on personal data transfers, while ensuring a high level of protection of the data exchanged between India and the EU.
The EU supports the progress of data protection reform in India, which will also cover foreign operators. With a new law in place, India would be joining the growing trend of global convergence in this area. As a leading world economy and the world's largest democracy, India's endorsement of a high level of data protection would constitute a critical example at a moment where there is an increasing demand for international standards on privacy.
Importantly, if adopted, the law would certainly contribute to facilitating data flows between the EU and India, and could open the way for a possible adequacy dialogue.
Europe tells Biden "no way" to Cold War with China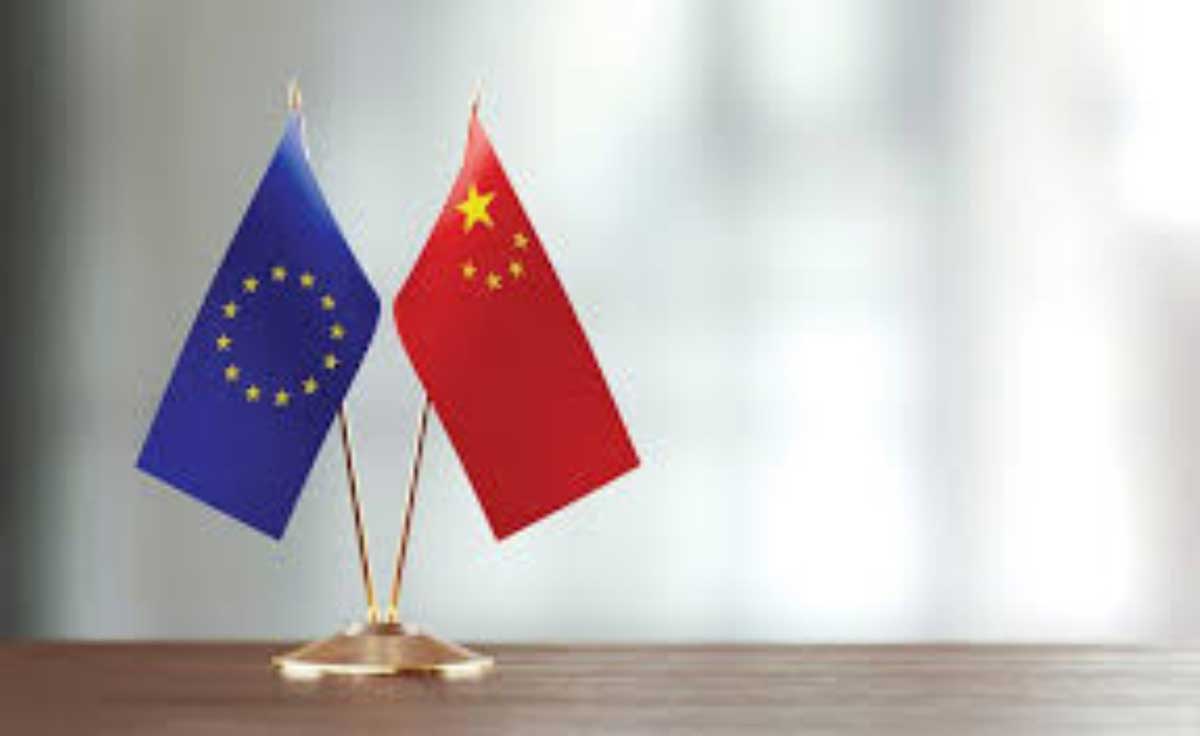 Amidst the first big transatlantic tensions for the Biden Administration, a new poll shows that the majority of Europeans see a new Cold War happening between the United States and China, but they don't see themselves as a part of it.
Overwhelmingly, 62% of Europeans believe that the US is engaged in a new Cold War against China, a new poll just released by the European Council on Foreign Relations found. Just yesterday US President Joe Biden claimed before the UN General Assembly that there is no such thing and the US is not engaging in a new Cold War. So, Europeans see Biden's bluff and call him on it.
The study was released on Wednesday by Mark Leonard and Ivan Krastev at the European Council on Foreign Relations and found that Europeans don't see themselves as direct participants in the US-China Cold War. This viewpoint is most pronounced in Bulgaria, Hungary, Austria, Portugal and Italy, according to the study. The prevailing view, in each of the 12 surveyed EU member states, is one of irrelevance – with respondents in Hungary (91%), Bulgaria (80%), Portugal (79%), and Austria (78%) saying that their country is not in a conflict with Beijing.
Only 15% of Europeans believe that the EU is engaged in a Cold War against China. The percentage is so low that one wonders if there should even be such a question. It is not only not a priority, it is not even a question on the agenda for Europeans. Even at the highest point of EU "hawkishness", only 33% of Swedes hold the view that their country is currently in a Cold War with China. Leonard and Krastev warn that if Washington and Brussels are preparing for an all-in generational struggle against China, this runs against the grain of opinion in Europe, and leaders in Washington and Brussels will quickly discover that they "do not have a societal consensus behind them".
"The European public thinks there is a new cold war – but they don't want to have anything to do with it. Our polling reveals that a "cold war" framing risks alienating European voters", Mark Leonard said.
The EU doesn't have the backing of its citizens to follow the US in its new Cold War pursuit. But unlike the views of the authors of the study, my view is that this is not a transatlantic rift that we actually have to be trying to fix. Biden's China policy won't be Europe's China policy, and that's that, despite US efforts to persuade Europe to follow, as I've argued months ago for the Brussels Report and in Modern Diplomacy.
In March this year, Gallup released a poll that showed that 45% of Americans see China as the greatest US enemy. The poll did not frame the question as Cold War but it can be argued that Joe Biden has some mandate derived from the opinion of American people. That is not the case for Europe at all, to the extent that most of us don't see "China as an enemy" even as a relevant question.
The US's China pursuit is already giving horrible for the US results in Europe, as French President Macron withdrew the French Ambassador to the US. The US made a deal already in June, as a part of the trilateral partnership with the UK and Australia, and stabbed France in the back months ago to Macron's last-minute surprise last week. Max Boot at the Council on Foreign Relations argues that it is Macron that is actually arrogant to expect that commitments and deals should mean something: "Back in February, Macron rejected the idea of a U.S.-E.U. common front against China. Now he complains when America pursues its own strategy against China. What's French for chutzpah?" What Boot does get right is that indeed, there won't be a joint US-EU front on China, and European citizens also don't want this, as the recent poll has made clear.
The US saying Europe should follow the US into a Cold War with China over human rights is the same thing as China saying that Europe should start a Cold War with the US over the bad US human rights record. It's not going to happen. You have to understand that this is how ridiculous the proposition sounds to us, Europeans. Leonard and Krastev urge the EU leadership to "make the case for more assertive policies" towards China around European and national interests rather than a Cold War logic, so that they can sell a strong, united, and compelling case for the future of the Atlantic alliance to European citizens.
I am not sure that I agree, as "more assertive policies" and "cold war" is probably the same thing in the mind of most Europeans and I don't think that the nuance helps here or matters at all. Leaders like Biden argue anyway that the US is not really pursuing a Cold War. The authors caution EU leaders against adopting a "cold war" framing. You say "framing", I say "spin". Should we be in engaging in spins at all to sell unnecessary conflict to EU citizens only to please the US?
"Unlike during the first cold war, [Europeans] do not see an immediate, existential threat", Leonard clarified. European politicians can no longer rely on tensions with China to convince the electorate of the value of transatlantic relations. "Instead, they need to make the case from European interests, showing how a rebalanced alliance can empower and restore sovereignty to European citizens in a dangerous world", Mark Leonard added. The study shows that there is a growing "disconnect" between the policy ambitions of those in Brussels and how Europeans think. EU citizens should stick to their sentiments and not be convinced to look for conflict where it doesn't exist, or change what they see and hear with their own eyes and ears in favor of elusive things like the transatlantic partnership, which the US itself doesn't believe in anyways. And the last thing that should be done is to scare Europeans by convincing them they live in a "dangerous world" and China is the biggest threat or concern.
What the study makes clear is that a Cold War framing against China is likely to repel more EU voters than it attracts, and if there is one thing that politicians know it is that you have to listen to the polls in what your people are telling you instead of engaging in spins. Those that don't listen in advance get the signs eventually. At the end of the day it's not important what Biden wants.
Germany and its Neo-imperial quest
In January 2021, eight months ago, when rumours about the possibility of appointment of Christian Schmidt as the High Representative in Bosnia occurred for the first time, I published the text under the title 'Has Germany Lost Its NATO Compass?'. In this text I announced that Schmidt was appointed to help Dragan Čović, the leader of the Croatian HDZ party, to disrupt the constitutional structure of Bosnia-Herzegovina and create precoditions for secession of the Serb- and Croatian-held territories in Bosnia and the country's final dissolution. I can hardly add anything new to it, except for the fact that Schmidt's recent statements at the conference of Deutsche Atlantische Gesellschaft have fully confirmed my claims that his role in Bosnia is to act as Čović's ally in the latter's attempts to carve up the Bosnian Constitution.
Schmidt is a person with a heavy burden, the burden of a man who has continuously been promoting Croatian interests, for which the Croatian state decorated him with the medal of "Ante Starčević", which, in his own words, he "proudly wears" and shares with several Croatian convicted war criminals who participated in the 1992-1995 aggression on Bosnia, whom Schmidt obviously perceives as his ideological brethren. The question is, then, why Germany appointed him as the High Representative in Bosnia?
Germany's policy towards Bosnia, exercised mostly through the institutions of the European Union, has continuously been based on the concept of Bosnia's ethnic partition. The phrases that we can occassionaly hear from the EU, on inviolability of state boundaries in the Balkans, is just a rhetoric adapted to the demands by the United States to keep these boundaries intact. So far, these boundaries have remained intact mainly due to the US efforts to preserve them. However, from the notorious Lisbon Conference in February 1992 to the present day, the European Union has always officially stood behind the idea that Bosnia-Herzegovina should be partitioned along ethnic lines. At the Lisbon Conference, Lord Carrington and Jose Cutileiro, the official representatives of the then European Community, which has in the meantime been rebranded as the European Union, drew the maps with lines of ethnic partition of Bosnia-Herzegovina, along which the ethnic cleansing was committed, with 100.000 killed and 1,000.000 expelled, so as to make its territory compatible with their maps. Neither Germany nor the European Union have ever distanced themselves from the idea they promoted and imposed at the Lisbon Conference as 'the only possible solution' for Bosnia, despite the grave consequences that followed. Nor has this idea ever stopped being a must within their foreign policy circles, as it has recently been demonstrated by the so-called Janša Non-Paper, launched a couple of months ago, which also advocates the final partition and dissolution of Bosnia-Herzegovina. Such a plan is probably a product of the powerful right-wing circles in the European institutions, such as Schmidt's CSU, rather than a homework of Janez Janša, the current Prime Minister of Slovenia, whose party is a part of these circles, albeit a minor one. To be sure, Germany is not the original author of the idea of Bosnia's partition, this author is Great Britain, which launched it directly through Lord Carrington at the Lisbon Conference. Yet, Germany has never shown a will to distance itself from this idea, nor has it done the European Union. Moreover, the appointment of Schmidt, as a member of those political circles which promote ethnic partition as the only solution for multiethnic countries, testifies to the fact that Germany has decided to fully apply this idea and act as its chief promoter.
In this process, the neighbouring countries, Serbia and Croatia, with their extreme nationalist policies, can only act as the EU's proxies, in charge for the physical implemenation of Bosnia's pre-meditated disappearance. All the crimes that Serbia and Croatia committed on the Bosnian soil – from the military aggression, over war crimes, ethnic cleansing and genocide, up to the 30 year-long efforts to undermine Bosnia's sovereignty and territorial integrity – have always had a direct approval and absolute support of the leading EU countries. During the war and in its aftermath, Great Britain and France were the leaders of the initiatives to impose ethnic partition on the citizens of Bosnia-Herzegovina, and now Germany has taken up their role. In such a context, the increasing aggressiveness of Serbia and Croatia can only be interpreted as a consequence of the EU's intention to finish with Bosnia for good, and Schmidt has arrived to Bosnia to facilitate that process. Therefore, it is high time for the citizens of Bosnia-Herzegovina to abandon any ilussions about the true intentions of the European Union and reject its Trojan Horse in the form of the current High Representative.
Should there be an age limit to be President?
The presidential elections in Bulgaria are nearing in November 2021 and I would like to run for President of Bulgaria, but the issue is the age limit.
To run for President in Bulgaria a candidate needs to be at least 40 years old and I am 37. I am not the first to raise the question: should there be an age limit to run for President, and generally for office, and isn't an age limit actually age discrimination?
Under the international human rights law standard, putting an age limit is allowed in the context of political participation under the right to vote and the right to run to be elected. Human Rights Committee General Comment No.25 interpreting the International Covenant on Civil and Political Rights states that an age limit has to be based on objective and reasonable criteria, adding that it is reasonable to have a higher age requirement for certain offices. As it stands, the law says that having an age limit for president is not age discrimination, but is 40 actually a reasonable cut-off? National legislations can change. We need to lower the age limit and rethink what's a reasonable age for President, and not do away with all age limits.
We have seen strong leaders emerge as heads of state and government who are below 40 years of age. Sanna Marin, Prime Minister of Finland, became Prime Minister at 34. Sebastrian Kurz, the Prime Minister of Austria, was elected at 31. Jacinda Ardern, Prime Minister of New Zealand, assumed her position at 37. So perhaps it is time to rethink age limits for the highest offices.
The US has plenty of examples where elected Senators and Congressmen actually beat the age limit and made it despite the convention. The age limit for Senator in the US is 30 years old. Rush Holt was elected to the US Senate at 29. In South Carolina, two State Senators were elected at 24 years old and they were seated anyways. The age limit for US president is 35 years old.
In Argentina, the age cut-off is 30. In India, it is 35. In Pakistan, it is 45 years old. In Turkey, it is 40 years old. Iceland says 35 years old. In France, it is 18.
Generally, democracies set lower age limits. More conservative countries set the age limit higher in line with stereotypes rather than any real world evidence that a 45 year-old or 55 year-old person would be more effective and better suited to the job. Liberal countries tend to set lower age limits.
40 years old to be a President of Bulgaria seems to be an arbitrary line drawn. And while it is legal to have some age limits, 40 years old seems to be last century. Changing the age limit for president of Bulgaria could be a task for the next Bulgarian Parliament for which Bulgarians will also vote on the same date as they vote for President.