Trump Quietly Orders Elimination of Assange
On June 28th, the Washington Examiner headlined "Pence pressed Ecuadorian president on country's protection of Julian Assange" and reported that "Vice President Mike Pence discussed the asylum status of Julian Assange during a meeting with Ecuador's leader on Thursday, following pressure from Senate Democrats who have voiced concerns over the country's protection of the WikiLeaks founder." Pence had been given this assignment by U.S. President Donald Trump. The following day, the Examiner bannered "Mike Pence raises Julian Assange case with Ecuadorean president, White House confirms" and reported that the White House had told the newspaper, "They agreed to remain in close coordination on potential next steps going forward."
On August 24th, a court-filing by Kellen S. Dwyer, Assistant U.S. Attorney for the Alexandria Division of the Eastern District of Virginia, stated: "Due to the sophistication of the defendant and the publicity surrounding the case, no other procedure [than sealing the case, hiding it from the public] is likely to keep confidential the fact that Assange has been charged. … This motion and the proposed order would need to remain sealed until Assange is arrested in connection with the charges in the criminal complaint and can therefore no longer evade or avoid arrest and extradition in this matter." That filing was discovered by Seamus Hughes, a terrorism expert at the Program on Extremism at George Washington University. On November 15th, he posted an excerpt of it on Twitter, just hours after the Wall Street Journal had reported on the same day that the Justice Department was preparing to prosecute Assange. However, now that we know "the fact that Assange has been charged" and that the U.S. Government is simply waiting "until Assange is arrested in connection with the charges in the criminal complaint and can therefore no longer evade or avoid arrest and extradition in this matter," it is clear and public that the arrangements which were secretly made between Trump's agent Pence and the current President of Ecuador are expected to deliver Assange into U.S. custody for criminal prosecution, if Assange doesn't die at the Ecuadorean Embassy first.
On November 3rd (which, of course, preceded the disclosures on November 15th), Julian Assange's mother, Christine Ann Hawkins, described in detail what has happened to her son since the time of Pence's meeting with Ecuador's President. She said: "He is, right now, alone, sick, in pain, silenced in solitary confinement, cut off from all contact, and being tortured in the heart of London. … He has been detained nearly eight years, without trial, without charge. For the past six years, the UK Government has refused his requests to exit for basic health needs, … [even for] vitamin D. … As a result, his health has seriously deteriorated. … A slow and cruel assassination is taking place before our very eyes. … They will stop at nothing. … When U.S. Vice President Mike Pence recently visited Ecuador, a deal was done to hand Julian over to the U.S. He said that because the political cost of expelling Julian from the Embassy was too high, the plan was to break him down mentally…   to such a point that he will break and be forced to leave. … The extradition warrant is held in secret, four prosecutors but no defense, and no judge, … without a prima-facie case. [Under the U.S. system, the result nonetheless can be] indefinite detention without trial. Julian could be held in Guantanamo Bay and tortured, sentenced to 45 years in a maximum security prison, or face the death penalty," for "espionage," in such secret proceedings.
Her phrase, "because the political cost of expelling Julian from the Embassy was too high" refers to the worry that this new President of Ecuador has, of his cooperating with the U.S. regime's demands and thereby basically ceding sovereignty to those foreigners (the rulers of the U.S.), regarding the Ecuadorian citizen, Assange.
This conservative new President of Ecuador, who has replaced the progressive President who had granted Assange protection, is obviously doing all that he can to comply with U.S. President Trump and the U.S. Congress's demand for Assange either to die soon inside the Embassy or else be transferred to the U.S. and basically just disappear, at Guantanamo or elsewhere. Ecuador's President wants to do this in such a way that Ecuador's voters won't blame him for it, and that he'll thus be able to be re-elected. This is the type of deal he apparently has reached with Trump's agent, Pence. It's all secret, but the evidence on this much of what was secretly agreed-to seems clear. There are likely other details of the agreement that cannot, as yet, be conclusively inferred from the subsequent events, but this much can.
Basically, Trump has arranged for Assange to be eliminated either by illness that's imposed by his Ecuadorean agent, or else by Assange's own suicide resulting from that "torture," or else by America's own criminal-justice system. If this elimination happens inside the Ecuadorean Embassy in London, then that would be optimal for America's President and Congress; but, if it instead happens on U.S. soil, then that would be optimal for Ecuador's President. Apparently, America's President thinks that his subjects, the American people, will become sufficiently hostile toward Assange so that even if Assange disappears or is executed inside the United States, this President will be able to retain his supporters. Trump, of course, needs his supporters, but this is a gamble that he has now clearly taken. This much is clear, even though the rest of the secret agreement that was reached between Pence and Ecuador's President is not.
Scooter Libby, who had arranged for the smearing of Valerie Plame who had tried to prevent the illegal and deceit-based 2003 invasion of Iraq, was sentenced to 30 months but never spent even a day in prison, and U.S. President Trump finally went so far as to grant him a complete pardon, on 13 April 2018. (The carefully researched docudrama "Fair Game" covered well the Plame-incident.) Libby had overseen the career-destruction of a courageous CIA agent, Plame, who had done the right thing and gotten fired for it; and Trump pardoned Libby, thus retroactively endorsing the lie-based invasion of Iraq in 2003. By contrast, Trump is determined to get Julian Assange killed or otherwise eliminated, and even Democrats in Congress are pushing for him to get that done. The new President of Ecuador is doing their bidding. Without pressure from the U.S. Government, Assange would already be a free man. Thus, either Assange will die (be murdered) soon inside the Embassy, or else he will disappear and be smeared in the press under U.S. control. And, of course, this is being done in such a way that no one will be prosecuted for the murder or false-imprisonment. Trump had promised to "clean the swamp," but as soon as he was elected, he abandoned that pretense; and, as President, he has been bipartisan on that matter, to hide the crimes of the bipartisan U.S. Government, and he is remarkably similar in policy to his immediate predecessors, whom he had severely criticized while he was running for the Presidency.
In any event, the destruction of Assange has clearly been arranged for, at the highest levels of the U.S. Government, just as the destruction of Jamal Khashoggi was by Saudi Arabia's Government; and, just like in Khashoggi's case, the nation's ruler controls the prosecutors and can therefore do whatever he chooses to do that the rest of the nation's aristocracy consider to be acceptable.
The assault against truth isn't only against Assange, but it is instead also closing down many of the best, most courageous, independent news sites, such as washingtonsblog. However, in Assange's case, the penalty for having a firm commitment to truth has been especially excruciating and will almost certainly end in his premature death. This is simply the reality. Because of the system under which we live, a 100% commitment to truth is now a clear pathway to oblivion. Assange is experiencing this reality to the fullest. That's what's happening here.
Leftists make a comeback in Latin America
In Argentina and Uruguay, leftist candidates won the elections and Evo Morales could maintain his position as the president of Bolivia, but in Chile, people have protested against the U.S.-backed president.
The failure of the U.S.-backed candidate in the Argentinean election in recent days was a sign of the U.S. failure in Latin America. Leftist Alberto Fernandez, an opponent of U.S. interventionist policies, won about 48 percent of the vote in general election and was announced as the new president in the first round.
This is while countries such as Venezuela and Cuba have maintained their anti-U.S. sentiment. Although the U.S. has made an unceasing effort in the last two years to overthrow the current regime in Venezuela, it has not succeeded.
The New Left movement in Latin America, which was formed by the late Venezuelan president Hugo Chaves, has put Venezuela in many troubles but reduced U.S. influence in the region to the point that even experts suggested that Washington has lost its backyard.
The New Leftist governments emerged in Latin America in the late 20th century. Leftist leaders have distanced from some of traditional principles, but maintained the fight against American hegemony, just like their predecessors. Latin America, with rich sources of oil, gas, and uranium, as well as great opportunity for investment, has been of particular importance from a geopolitical, geostrategic and geo-economic perspective. The U.S. has put control over Latin America on its agenda since 1823 when then president James Monroe offered his plan known as the "Monroe Doctrine".
The Monroe Doctrine emphasized that as long as the U.S. had not achieved real power and growth, it cannot be considered as an active element and main actor in world politics, thus it should obtain necessary economic growth in Western Hemisphere. The doctrine also stated that South America and Caribbean are areas with high security priority whose fate is tied to the U.S. fate, and the U.S. must have a strong influence in the region to provide its own growth and development.
In the late 20th and early present century, Latin America has witnessed new developments, including the New Left movement. The New Left in Latin America was founded and developed as leaders such as Chavez in Venezuela, Luiz Inacio Lula da Silva in Brazil, Evo Morales in Bolivia, Rafael Correa in Ecuador, and Daniel Ortega in Nicaragua came to power.
Opportunities and threats
The U.S. is concerned about the presence of its rivals, especially Russia and China, in Latin America and the cooperation of these two countries with leftist states in the region. To counter China and Russia's influence, the U.S. has launched various plans to undermine leftist governments through economic crises and put its allied right-wing figures into power.
Washington's comprehensive effort to topple the Maduro administration in Venezuela is an example. On the other hand, China and Russia's approach to Latin America and the tendency of New Left countries to ally with Beijing and Moscow can be a major deterrent to the implementation of the U.S. plan in the region.
This is while the Trump administration is trying to redefine U.S. role and position in Latin America. From Trump's point of view, the wrong policies of previous governments and developments have caused the U.S. to lose its control over Latin America and the Caribbean, and instead increased the influence of U.S. rivals, including China, in the region.
In an interview with Foreign Policy, following his recent visit to Colombia, Air Force Chief of Staff General David Goldfein said that the Trump administration is making a push to strengthen alliances across Latin America as part of an effort to counter rising Chinese and Russian influence in the United States' backyard.
Goldfein said Colombia and other Latin American countries risked being locked out of U.S. and allied operations if they stopped buying military hardware from the United States and turned to other markets instead.
China has invested heavily in the region to reach Latin America's oil reserves. Beijing has now become the largest trading partner of some Latin American countries, including Brazil, Chile, Cuba and Uruguay.
Russia also continues to sell billions of dollars in arms to Latin American countries. Unlike China, which seeks to use Latin American natural resources for its economic growth, Russia's interests in this region are more strategic.
From our partner Tehran Times
Democrats take a gamble on Trump's impeachment
Despite all ups and downs, Democrats finally brought impeachment inquiry into President Donald Trump to the House of Representatives, a move which made Trump's prediction come true.
The House of Representatives passed a resolution on Thursday to launch an impeachment inquiry into Trump, thereby making formal investigations against him possible. The resolution was approved by a vote of 232 to 196.
Accordingly, the House of Intelligence Committee carries out the investigations into the impeachment and reports its findings to the Judiciary Committee that comments on the process of impeachment.
Trump has said that the House will get enough votes to impeach him, but he is certain that the Senate will acquit him of charges.
Investigations into Trump's impeachment began on September 24 following the official order of Speaker of U.S. House of Representatives Nancy Pelosi.
The order came after reports about Trump's telephone call with Ukrainian president for investigation into his possible rival Joe Biden.
During the conversation Trump asked his Ukrainian counterpart Volodymyr Zelensky for a "favor". He pressured Zelensky to investigate Joe Biden, his possible Democratic rival for the 2020 presidential election, and his son Hunter Biden who was on the board of a Ukrainian oil and gas factory. At the time, Trump had suspended $400 million military aid to Ukraine as a quid pro quo.
Why Nancy Pelosi risks?
It should be noted that some Democrats have called for Trump's impeachment since his first months of his presidency. The impeachment inquiry was popular among Democratic voters, with a recent poll showing that %73 of them favoring the impeachment.
But Republicans are strongly opposed to impeachment, and the country generally relies on Republicans. That is why Nancy Pelosi and other leading Democrats were first reluctant to officially begin an impeachment. Their calculations have so far revealed that impeachment against Trump will not have much effect on the opinion of Republicans and his supporters, a situation which will make it more difficult to remove him from the 2020 election.
Trump has described the impeachment as "fake". Pelosi said that Trump has affirmed that he had asked the Ukrainian president to take actions in favor of his political position, claiming the measures of Trump's administration were undermining U.S. national security.
"The release of the notes of the call by the White House confirms that the president engaged in behavior that undermines the integrity of our elections, the dignity of the office he holds and our national security," Pelosi said in a statement.
House Intelligence Committee Chairman Adam Schiff also said that the president should prioritize national interests rather than his personal interests. Schiff added that they will study whether Trump has exploited military aid to Ukraine to meet his demands.
Consequences of Trump's impeachment
Experts argue that Trump's impeachment and lack of a decisive leader will make the U.S. more vulnerable to other countries' plots. As Robert W. Merry recently said in The National Interest magazine, "When the president is weakened at home, then America is weakened abroad."
However, Washington's friends and enemies consider U.S. foreign policy insignificant due to political infighting at home. Instead, the great power players are seeking to limit the influence of the country rather than cooperating with it.
The recent accusations against Trump can be easily stated as a national security issue, which needs to be reformed immediately. Theoretically, military aid will be provided only if U.S. officials become convinced that they can achieve main security objectives of Washington. Therefore refusing to provide aid because of political reasons is a serious wrongdoing, showing that the personal interests of the president is superior to U.S. national interests.
Will the impeachment inquiry get the necessary vote?
Now that the House has launched an impeachment inquiry into the president, the Senate will play an important role in the process. In this case, the Senate will act as a court that decides on Trump's dismissal or survival.
To oust Trump, the votes of 67 members of the Senate is needed, which would be two-thirds of their population. Currently, there are 53 Republicans and 47 Democrats in the Senate. Therefore, Democrats need the support of 20 Republican senators.
Since the Republicans have not supported Trump's impeachment, it is highly unlikely that Trump's impeachment leads to his dismissal.
Impact of the impeachment on the 2020 presidential election
The impact of Trump's impeachment on the presidential election depends on his defense and the credibility of accusations against him. Democrats are well aware that accusing Trump of corruption and incompetence will not affect American voters. Democrats probably knew that those allegations were not strong enough to undermine Trump, but on the contrary they would undermine their positions.
By stating an issue related to U.S. national security, Democrats took the risk of impeachment. To make the impeachment strategy successful, Democrats should prove that the president has endangered U.S. national security and he may do the same in future. This claim can go beyond party politics and put unbearable pressure on Trump, Republicans and uncertain voters.
From our partner Tehran Times
Russian Involvement in Venezuela is Troublesome for Western Hemisphere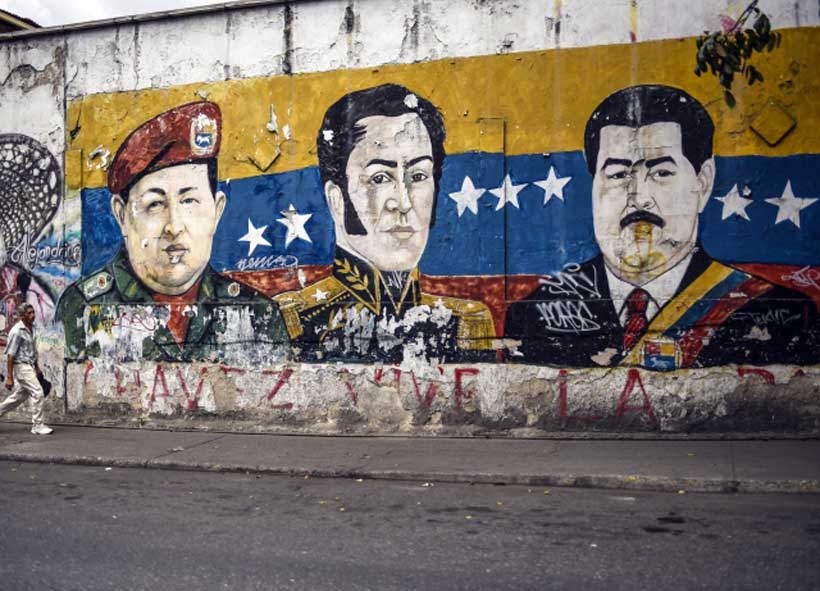 The U.S. Energy Information Administration (EIA) "projects that natural gas consumption in Asia will continue to outpace supply." With the future growth of natural gas consumption concentrated in Asia the EIA "expects 'non-OECD Asia' to consumer 120 billion cubic feet per day (Bcf/d) by 2050, outpacing regional production by 50 Bcf/d." China's natural gas consumption will "triple between 2018-2050." Most long-term natural gas infrastructure, global liquid natural gas (LNG) terminal(s) import and export, and demand projections are based on Asian growth.
Late October reporting in Russian media confirmed Russian energy conglomerate, Rosneft had plans to consolidate Venezuela's National Oil Company PDVSA (Petroleos de Venezuela) under Rosneft's corporate structure in exchange for debt relief. This counters U.S., Canadian and Mexican oil and natural gas firms from satisfying natural gas demand from non-OECD Asia. Additionally, it allows Moscow to use Rosneft acquiring Venezuelan natural gas as a geopolitical, soft power coercion tool by acquiring some of the largest recoverable oil and natural gas reserves in the world.
Venezuelan government sources, Rosneft and the Kremlin all denythe potential for a takeover of PDVSA energy assets to satisfy Russian bank loan requirements to the Madero regime. Russian energy experts have visited PDVSA to analyze the possibility of merging with Rosneft. The Russian energy giant buying out Venezuela's best source of hard currency and domestic economic driver illustrate the "hard-hitting impact of U.S. sanctions." The Venezuela regime-based economy predicated on oil and natural gas production is on the verge of collapsing.
Rosneft's offer is the best way outside of western help for Venezuela to mitigate damaging sanctions, and "debt relief for a country that owes over $156 billion to external parties – and Venezuela's debt is 740% higher than the value of its exports." This is four times more than what is typical in emerging markets and economies according to The World Bank.
U.S. Special Envoy for Venezuela Elliot Abrams has pointed to Rosneft having joint projects with PDVSA where it took leading minority stakes, and how these ventures do not "breach" U.S. sanctions. This is positive news for average Venezuelan citizens suffering under economic malaise. Caracas' debt to Moscow seemingly is being forgiven under the auspices of U.S. blessing. However, the Trump administration has been clear in its maximum pressure "sanctions policy towards Venezuela" that mirrors the sanctions-strategy towards Tehran. Retaliation from the U.S. could be the future of Washington-Moscow-Caracas tri-lateral relations if Rosneft tries to liquidate PDVSA assets, and release thousands of employees to skirt U.S.-led western sanctions.
The Maduro regime will also need to navigate the "$20-$60 billion in debt owed" to China. Will the Chinese have a stake in PDVSA? If so, how does that play into the current U.S.-China trade negotiations? What these geopolitical decisions points towards is a Rosneft-PDVSA merge bringing up more questions than answers.
It makes sense for Russia to be the power broker in Venezuela. This is similar to how Russia is the safe diplomatic choice in the Middle, post-Syrian civil war. According to Foreign Affairs, Russia is now "the Indispensible Nation in the Middle East." Military troops and hardware were used to save the Assad regime, and now in Venezuela it will be oil, natural gas and petrochemicals that gives Russia a solid foothold in the western hemisphere. PDVSA is one of the "world's most prolific oil companies" with the largest extractable oil and gas reserves in the world – estimated at 300 billion barrels and PDVSA's estimated worth is "approximately $186 billion."
Putting this energy portfolio under Kremlin influence gives Rosneft and other energy firms aligned with Moscow solid footing to control price and supply for global oil and petrochemical markets. The Maduro government wants to stay with previous joint venture contracts between PDVSA and Rosneft, and if the merger takes place, wants to "hand control over to Rosneft without having to go through privatization." Financial questions arise from this arrangement; who is responsible for terms of debt, how is China able to value the deal, and would equity be defined as a public, private or some form of public-private entity? These are some of the larger issues that would need to be resolved.
Maduro can possibly work around these issues when he took over Venezuela's Supreme Tribunal of Justice. This allows Maduro to ignore the democratically elected Legislature, the opposition-controlled National Assembly, and its leader, Juan Guaido. Mr. Guaido claims he is the legitimate leader of Venezuela, but likely Rosneft with Moscow's backing will only negotiate with the Maduro government. The Supreme Tribunal of Justice can overrule the Assembly to assist the merger towards completion. Debt repayment is important to the Maduro regime, and return to financial health.
Citgo, a U.S. based company that is a valued asset for PDVSA is another area of concern for the proposed merger in tandem with U.S. sanctions.
American officials have implemented a freeze on all Venezuelan assets based in the U.S. Washington implemented an executive order coinciding with sanctions protecting "bondholders and other parties" mulling asset sales and seizures for unpaid debts. The international desire among government and financial officials is this move by the Americans facilitate diplomatic solutions over asset seizure. The downside is it strengthens Maduro over the elected Venezuelan legislature and Assembly leader Guaido.
Debt holders who own Citgo then have to negotiate with Venezuela and Rosneft. This will be tough for bondholders to receive repayment, or will it, as this could mean tougher going for international credit markets to lend money for future Rosneft/PDVSA projects. A Moscow-Caracas alliance is something Washington could believe will increase geopolitical tension between all three countries. Debt relief for Caracas, and control over the world's largest oil reserves are likely to be the final push for Rosneft to acquire PDVSA over escalating tensions between Moscow and Washington with Caracas stuck in the middle.