Why This Planet Is Becoming Uninhabitable
There are now overt indications that this planet is becoming uninhabitable. Not only are increasing numbers of humans migrating from near the Equator, northward toward nations that have more temperate climates, but also there are stronger and more frequent hurricanes and longer droughts and spreading desertification and larger and more frequent forest fires, all of which are lowering agricultural productivity in the global-overheating areas from which these migrants are coming. This is forcing billions of people to relocate from rural farming southern regions into big cities, and ultimately toward the cooler climates of the more-polar regions, as the large central Equatorial belt of our increasingly hot planet becomes less and less inhabitable for more and more of the people who are so unfortunate as to be still living there. Thus, instead of food being grown in that broad Equatorial belt where the Earth is fat and large, it's increasingly being grown near the narrow, tiny, polar region. Agriculture is moving northward, and, as it does so, it will be occupying a band too small to feed the world. Agriculture is thus being severely threatened worldwide by global heating. Starvation will consequently soar, as this planet increasingly burns.
The inhabitable portion of this planet is shrinking, decade-by-decade, and especially century-by-century. A reasonable expectation would be that the grandchildren of today's generation will routinely fight each other for food.
The Trump Administration finally now publicly accepts that all these things will happen, and sooner than scientists had been predicting even as recently as only a decade ago. But this Presidential Administration is determined to do nothing about it.
Here is the summary statement of the Trump Administration's rationale for abolishing the Obama Administration's anti-global-warming fuel-economy standards, as the Trump Administration has stated it, on page 107 of their finalized document. (The original document, which was their "Draft Environmental Impact Statement" on this matter, had been dated July 2018.) This final document was issued by the National Highway Traffic Safety Administration on 16 October 2018. The public-comment period on that document closed ten days later, on 26 October 2018, and the document says:
[page 107:]NHTSA's Environmental Impact Statement performed for this rulemaking shows that the preferred alternative [abolishing the Obama Administration's fuel-economy standard] would result in 3/1,000ths of a degree Celsius increase in global average temperatures by 2100, relative to the standards finalized in 2012 [which Trump is abolishing]. On a net CO2 basis, the results are similarly minor. The following graph compares the estimated atmospheric CO2 concentration (789.76 ppm) in 2100 under the proposed standards to the estimated level (789.11 ppm) under the standards [being abolished] set forth in 2012 — or [only] an 8/100ths of a percentage increase [as compared to the Obama-standards]:
Figure 2-4 – Estimated Atmospheric CO2 Concentration in 2100
Net Benefits from Preferred Alternative
Maintaining the MY 2020 curves for MYs 2021-2026 will save American consumers, the auto industry, and the public in general a considerable amount of money as compared to if EPA retained the previously-set CO2 standards and NHTSA finalized the augural [original] standards. This was identified as the preferred alternative, in part, because it maximizes net benefits compared to the other alternatives analyzed. Comment is sought on whether this is an appropriate basis for selection. [But that comment-period has already ended.]
A 789 ppm (parts per-million) CO2 (carbon dioxide) level compares against today's 407 ppm, and that 382 ppm increase will, according to their "Draft Environmental Impact Statement", raise global atmospheric temperatures by an estimated "3.48°C (6.27°F)" between now and the end of this century. That document's summary asserts:
"Global mean surface temperature is projected to increase by approximately 3.48°C (6.27°F)."
"Projected sea-level rise in 2100 ranges from a low of 76.28 centimeters (30.03 inches) … to a high of 76.34 centimeters (30.06 inches) [depending upon which policy-option they adopt]."
With ocean-levels being raised around a yard by this century's end, and hurricane-intensities being substantially increased, many coastal areas will have to become abandoned. Their plunged property-values haven't even begun to be priced in to their inevitable downward spiral toward zero usability and thus economic worthlessness, as the coasts move inland. Since the self-reinforcing effects of higher ppm causing higher temperatures causing even higher ppm, temperatures have become clearly a vicious circle that's beyond control, so that a yard higher by 2010 could become ten yards higher, much faster than the Paris Climate Accord was assuming would be the case if the world makes no policy changes at all — which is what Trump wants: no policy-changes. The shoddy Paris Agreement benchmark was to avoid exceeding 1.5 degree Centigrade or around 2.7 degree Fahrenheit temperature-rise by 2100, but that now clearly cannot be achieved, and so Trump and other recent global-warming deniers are 'vindicating' themselves by saying that the failure to do something when something could have been done is 'confirmation' that they were right, after all. They were 'right' to say "Don't feed the horse," because now the horse can no longer even be salvaged.
Furthermore:
5.3.4 Tipping Points and Abrupt Climate Change 
The term tipping point is most typically used, in the context of climate change, to describe situations in which the climate system (the atmosphere, hydrosphere, land, cryosphere, and biosphere) reaches a point at which a disproportionally large or singular response in a climate‐affected system occurs as a result of a moderate additional change in the inputs to that system (such as an increase in the CO2 concentration). … [It] could result in abrupt changes in the climate or any part of the climate system. Abrupt climate changes could occur so quickly and unexpectedly that human systems would have difficulty adapting to them.
They are asserting what the scientific consensus has been asserting for the past fifty years, and with ever-increasing confidence: that the graph of future temperatures is now like a hockey-stick, and we've reached the suddenly and increasingly upward far-right side of it, where there's runaway global heating and will soon (perhaps within even 200 years) be global burnout — an unlivable planet.
Basically, the Trump Administration is saying that by the present century's end, this planet will be hellish, and that it will become unlivable soon thereafter, and that nothing can be done now to prevent any of this, because it's too late to start and runaway global heating has already begun and it can't be stopped.
The Trump Administration is therefore saying to its Republican base, that they had been suckers to believe them when they were asserting that global warming is a hoax (and had even been making fun of the people who were taking seriously the global-warming threat), or that it's not Man-made; Trump is now publicly saying that it is Man-made, and that Man has, in fact, done it, and it's now too late to stop or even to slow significantly; so, we should just forget about it. Their changed message now is: Buy your gas-guzzlers, because life's going to be hell for your grandchildren and for virtually everyone anyway, so don't worry about it.
Rex Tillerson, before he became Trump's Secretary of State, was the CEO of ExxonMobil; and on 29 May 2013 he addressed his stockholders likewise that the reason not to worry about global warming is that it can't be stopped. Here is the opening of one news-report about that, at the time:
Exxon Mobil CEO: We're Going In, Can't Pull Up, Brace For Impact
2 June 2013. Julian Cox
May 29th in what is set to become a defining moment in the history of capitalism; Rex Tillerson, the CEO of the world's most valuable company, Exxon Mobil (XOM), in an address to shareholders redefined the meaning of rational self interest for the markets everywhere in a short series of astonishing quotes:
"What good is it to save the planet if humanity suffers?" "We do not see a viable pathway with any known technology today to achieve the 350 [ppm] outcome that is not devastating to economies, societies and peoples' health and well-being around the world,"
"So the real question is, do you want to keep arguing about that and pursuing something that cannot be achieved at costs that will be detrimental? Or do you want to talk about what's the path we should be on and how do we mitigate and prepare for the consequences as they present themselves?"
The most interesting things about these statements:
No more denial of scientific evidence.
No more diversion about whether human activity or something else is to blame.
No more disingenuous claims that NG or Hydrogen are clean fuels.
Just an honest and straightforward macroeconomic outlook: We are on a collision course with the consequences of rising CO2 levels, we cannot afford to stop it, and so there is nothing Exxon can offer but a warning to prepare for the worst. …
Here's one of the numerous studies that have been done showing how the free-market approach has produced this coming hell-on-earth. To summarize its proven-true message: Making suckers of people is extremely profitable, and the richest people are the ones who are the most adept at doing it. They've won. Pity our grandchildren.
Some American teens (who definitely aren't suckers) are suing the U.S. Government for violating the U.S. Constitution's requirement to "promote the general welfare, and secure the blessings of liberty to ourselves and our posterity" by the Government's having refused to do what it must do against climate-change. The Trump Administration (on behalf of investors in America's coal, oil, and gas corporations) unsuccessfully tried to block the suit.
Tillerson, to his stockholders, and now Trump, to his voters, say: Just have fun. Don't worry about any grandchildren, and not even about your own children. This is the message, both to psychopathic stockholders, and to stupid voters. It's obviously a winning message. It has already won. It's the way any aristocracy wins: by lies, plus their societal system in which no accountability exists for the kingpins at the top of even the biggest crime that has ever been perpetrated, this world-ending crime. It is dictatorship by the aristocracy. That's what we've had. And that's the reason why this planet is becoming uninhabitable and why the process is now unstoppable — runaway global burning, soon to become hell-on-Earth. No religious "Apocalypse." Just the result of billionaire psychopaths, and their fools.
Back in 2017, when the Paris Climate Agreement goal was "to keep global temperature rise well below 2° Celsius" and the realistic expectation was "that temperatures will rise between 2C and 4.9C by 2100", there were no official predictions, anywhere, of a "3.48°C (6.27°F)" rise by 2100. In 2017, the fear was that the migrant-crisis might be "One Billion by 2050", and "Up To 2 Billion Refugees By 2100", and clearly the Trump Administration now accepts it. Trump's response to this catastrophe is urgently to send the military and razor-wire to our southern border in order to block those people from getting out of their increasing hell. What these emigrants experience now is what all Americans will be experiencing in coming decades, but today's refugees from the south are already experiencing it, and trying to escape it. They are trying to escape a global problem that the U.S. did more than any other country to cause.
By far, the one nation that (especially on a per-capita basis) has produced the largest percentage of CO2 in the global atmosphere is the U.S. — the very same nation that has now abandoned the Paris Climate Agreement because that Agreement doesn't 'sufficiently' place the burden of clean-up from this catastrophic mess upon other nations, such as India and other near-Equatorial lands which are mainly in the near-Equatorial areas that will be suffering the most from the overheating that the U.S. has done more than any other nation to cause. For some reason, these victim-countries are not economically sanctioning and boycotting the products and services from their chief victimizer, their chief bringer-of-doom. Either the victim-countries will retaliate until the victimizer-country is forced to agree to take the exceptional steps that it would now need to take in order to reverse the global process that is unfolding, or else the victim-countries will let the U.S. continue to rape the planet. For the United States, the requirements should be and must be required to be far more stringent than are applied to the developing countries especially. If the U.S. will take that conscientious and intelligent path, then perhaps the U.S. will even lead the world to the technological breakthroughs that will now be needed in order to be able to reverse global warming. The U.S. would also benefit from doing that. Global burnout will otherwise destroy every nation. But if the victim-countries avoid forcing the U.S. to do what it must, the victim-countries will be raped even harder. Clearly, now, the United States won't do what it needs to do, unless it's forced to. The U.S. must be forced to become a decent member of the global community of nations. Or else, the world is doomed.
India advances ground-breaking plan to keep planet and people cool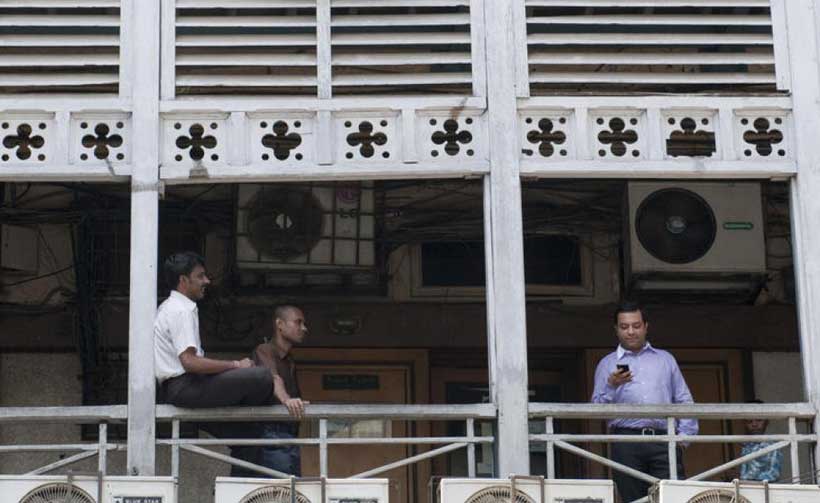 India's new comprehensive Cooling Action Plan targets an increase in sustainable cooling for the good of its population, while helping to fight climate change
Four years after temperatures hit the high forties in India, claiming over 2,000 lives, parts of the country are again baking in intense, and deadly, heatwaves. Throughout April and into May, the states of Madhya Pradesh, Maharashtra and Rajasthan have seen daily highs of 42°C.
As climate change increases, such temperatures are becoming the new normal. Combined with economic growth and urbanization, this brings a huge growth in cooling demand. The number of air conditioners in India is expected to rise from 15 million in 2011 to 240 million in 2030.
Cooling isn't just about protecting against extreme temperatures. A recent study from the UN's Sustainable Energy for All initiative puts India in the top nine countries at greatest risk from lack of access to cooling technology that also keeps food fresh, vaccines stable and children in education.
To give just a few examples, a quarter of vaccines in India arrive damaged because of broken or inefficient cold chains, while only four per cent of fresh produce is transported in refrigerated vehicles, leading to economic losses of US$4.5 billion annually.
Aware of these worrying statistics, the government launched earlier this year the India Cooling Action Plan, the first such holistic plan from any national government.
"Cooling is a developmental need, yet India has one of the lowest levels of access in the world," says CK Mishra, Secretary at the Ministry for Environment, Forest and Climate Change. "To support economic growth and improve resilience, it is inevitable that India will embrace cooling.
"By accelerating and integrating policies, regulations, workforce training and research and development, this plan mobilizes government, industry and society to ensure thermal comfort for all while keeping to our international environmental commitments and not burdening ourselves with inefficient, expensive infrastructure and an overstretched power grid.
"The plan recognizes the significant role of accelerated action on building and appliance efficiency, and the economic and environmental benefits of new technologies such as thermal storage and district cooling."
Energy efficiency a key approach
By 2038, the plan aims to reduce cooling demand by up to 25 per cent, refrigerant demand by 25–30 per cent and cooling energy requirements by up to 40 per cent. It aims to double farmers' incomes by improving the cold chain and so wasting less food.
These are big goals, but experts believe India's plan is sensible and achievable.
"Living in India you quickly understand the importance of keeping cool for your health and day-to-day functioning," says Benjamin Hickman, a UN Environment technical advisor based in India. "This plan acknowledges head-on that Indian cooling demand will grow eightfold in 20 years and recommends a myriad of cross-cutting solutions that urgently need to be implemented and scaled up."
Crucially, the plan also aligns India's cooling growth with the Kigali Amendment to the Montreal Protocol. This international agreement obliges nations to phase down the use of hydrofluorocarbons (HFCs)—refrigerants that are thousands of times more potent greenhouse gases than carbon dioxide.
Globally, the agreement can deliver up to 0.4°C of avoided warming by the end of this century just by phasing out hydrofluorocarbons. Simultaneously improving the energy efficiency of cooling equipment could double the benefits. According to a study by the Lawrence Berkley National Laboratory, such energy efficiency improvements can benefit India. If the average room air conditioner efficiency improves by six per cent per year, more than 64 TWh per year of energy could be saved by 2030. This would cut greenhouse gas emissions, protect cities' power infrastructure from overload, and bring cumulative consumer benefits of up to US$25 billion.
Prioritizing new cooling solutions
The plan doesn't just look at efficiency. It prioritizes other solutions, such as passive cooling, building design, fans and coolers, new technologies and behavioural change. Among the new technologies is district cooling—the distribution of cooling energy from a central plant to multiple buildings.
The Ministry of Environment, Forests and Climate Change is co-chair of the UN Environment-led District Energy in Cities Initiative, which is working with three pilot cities—Amaravati, Rajkot and Thane – in India to demonstrate these technologies. Three quarters of the buildings required for 2030 have yet to be built, so there is a huge opportunity for new urban developments to use district cooling, which can be up to 50 per cent more efficient than stand-alone solutions.
"UN Environment praises India's leadership in being the first country to adopt a comprehensive plan for the cooling sector," says Atul Bagai, Head of UN Environment's India Country Office. "Singling cooling out is vital to scaling up and targeting action on what has for years been a silently growing environmental catastrophe, and India's Cooling Action Plan should set the benchmark for other countries to follow. UN Environment stands ready to support India to achieve and surpass its targets."
Last month, UN Environment, the Climate and Clean Air Coalition, the Kigali Cooling Efficiency Program, and Sustainable Energy for All launched the Cool Coalition. The coalition is a unified front that links action across the Kigali Amendment, Paris Agreement and Sustainable Development Goals. It will inspire ambition, identify solutions and mobilize action to accelerate progress towards clean and efficient cooling.
These kinds of actions provide hope that we can help keep everyone, and the planet, cool.
Just One-Third of the World's Longest Rivers Remain Free-Flowing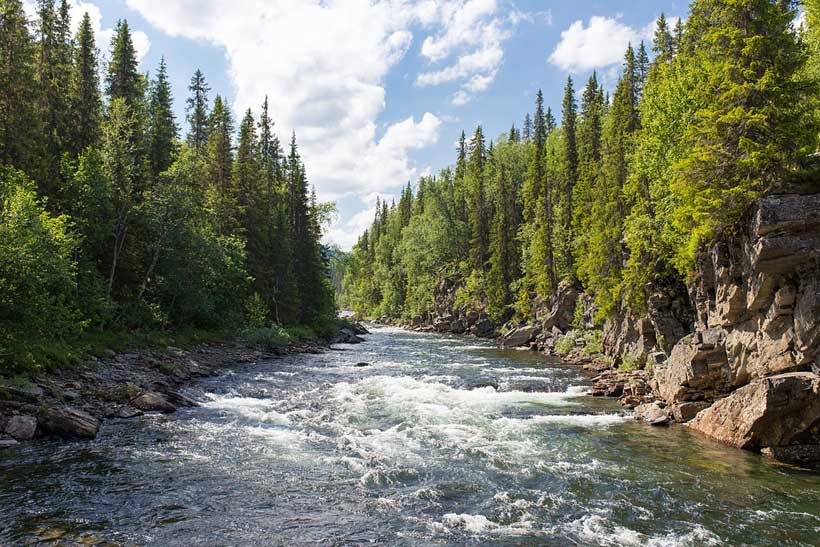 Just over one-third (37%) of the world's 246 longest rivers remain free-flowing, according to a new study published in the scientific journal Nature. Dams and reservoirs are drastically reducing the diverse benefits that healthy rivers provide to people and nature across the globe.
A team of 34 international researchers from McGill University, World Wildlife Fund (WWF), and other institutions [1] assessed the connectivity status of 12 million kilometers (~7.5 million miles) of rivers worldwide, providing the first ever global assessment of the location and extent of the planet's remaining free-flowing rivers. [2]
Among other findings, the researchers determined only 21 of the world's 91 rivers longer than 1,000 km (~600 miles) that originally flowed to the ocean still retain a direct connection from source to sea. The planet's remaining free-flowing rivers are largely restricted to remote regions of the Arctic, the Amazon Basin, and the Congo Basin.
"The world's rivers form an intricate network with vital links to land, groundwater, and the atmosphere,'' said lead author Günther Grill of McGill's Department of Geography. ''Free-flowing rivers are important for humans and the environment alike, yet economic development around the world is making them increasingly rare. Using satellite imagery and other data, our study examines the extent of these rivers in more detail than ever before."
Dams and reservoirs are the leading contributors to connectivity loss in global rivers. The study estimates there are around 60,000 large dams worldwide, and more than 3,700 hydropower dams are currently planned or under construction. They are often planned and built at the individual project level, making it difficult to assess their real impacts across an entire basin or region.
"Rivers are the lifeblood of our planet," said Michele Thieme, lead freshwater scientist at WWF and global leader of WWF's free-flowing rivers initiative. "They provide diverse benefits that are often overlooked and undervalued. This first-ever map of the world's remaining free-flowing rivers will help decision makers prioritize and protect the full value rivers give to people and nature."
Healthy rivers support freshwater fish stocks that improve food security for hundreds of millions of people, deliver sediment that keeps deltas above rising seas, mitigate the impact of extreme floods and droughts, prevent loss of infrastructure and fields to erosion, and support a wealth of biodiversity. Disrupting rivers' connectivity often diminishes or even eliminates these critical ecosystem services.
Protecting remaining free-flowing rivers is also crucial to saving biodiversity in freshwater systems. Recent analysis of 16,704 populations of wildlife globally showed that populations of freshwater species experienced the most pronounced decline of all vertebrates over the past half-century, falling on average 83 percent since 1970.
The study also notes that climate change will further threaten the health of rivers worldwide. Rising temperatures are already impacting flow patterns, water quality, and biodiversity. Meanwhile, as countries around the world shift to low-carbon economies, hydropower planning and development is accelerating, adding urgency to the need to develop energy systems that minimize overall environmental and social impact.
"Renewable energy is like a recipe – you have to find the right mix of ingredients to have both a sustainable energy grid and a thriving natural world," said Thieme. "While hydropower inevitably has a role to play in the renewable energy landscape, well-planned wind and solar energy can be more viable options for rivers and the communities, cities, and biodiversity that rely on them."
The international community is committed to protect and restore rivers under Agenda 2030 for Sustainable Development, which requires countries to track the extent and condition of water-related ecosystems. This study delivers methods and data necessary for countries to maintain and restore free-flowing rivers around the world.
Visit freeflowingrivers.org for more information on free-flowing rivers and an interactive map of the world's rivers.
[1] Contributing Institutions:
McGill University, WWF-US, WWF-NL, WWF-UK, WWF-Mediterranean, WWF-India, University of Basel, Joint Research Centre (JRC), WWF-China, WWF-Canada, WWF-Zambia, WWF Greater Mekong Programme, The Nature Conservancy, University of Nevada, WWF-Malaysia, IHE Delft, WWF- Germany and HTWG Konstanz, King's College London, Umeå University, Swedish University of Agricultural Sciences, University of Washington, Harvard University, University of Wisconsin-Madison, Conservation International , WWF-Mexico, WWF International, Stanford University, Leibniz-Institute of Freshwater Ecology and Inland Fisheries (IGB), Freie Universität Berlin, WWF-Brazil, Eberhard Karls University of Tübingen.
[2] First ever science-based definition of a free-flowing river:
Rivers where ecosystem functions and services are largely unaffected by changes to fluvial connectivity allowing an unobstructed exchange of water, material, species, and energy within the river system and with surrounding landscapes.
5 things you need to know about forests and the UN
Forests are vitally important for sustaining life on Earth, and play a major role in the fight against climate change. With the 2019 session of the United Nations Forum on Forests wrapping up on Friday in New York, we delve deeper into the subject, and find out what the UN is doing to safeguard and protect them.
Forests are the most cost-effective way to fight climate change
Arguably, protection and enhancing the world's forests is one of the most cost-effective forms of climate action: forests act as carbon sinks, absorbing roughly 2 billion tonnes of carbon dioxide each year. Sustainable forest management can build resilience and help mitigate and adapt to climate change.
Speaking at the 2018 UN climate conference (COP24) in Katowice, Poland, Liu Zhemin, head of the UN's Department of Economic and Social Affairs (DESA), said that "forests are central in developing solutions both to mitigate and adapt to climate change, adding that "these terrestrial ecosystems have already removed nearly one third of human-produced carbon dioxide emissions from the atmosphere. Through sustainable forest management, they could remove much more."
At this week's meeting session of the UNFF, it was noted that forest-based climate change mitigation and adaptation actions, if fully implemented, could reduce greenhouse gas emissions by around 15 gigatonnes of CO2 a year by 2050, which could potentially be enough to limit warming to well below 2°C (the target set by the international community in 2015). Today, fossil fuels emit 36 gigatonnes every year.
In addition, as renewable sources increasingly replace fossil fuels, forests will become more and more important as sources of energy: already, forests supply about 40 per cent of global renewable energy in the form of wood fuel – as much as solar, hydroelectric and wind power combined.
The goal of zero deforestation is close to being reached
Significant progress has been made in international forest protection over the past 25 years. The rate of net global deforestation has slowed by more than 50 per cent, a credit to global efforts to sustainably manage existing forests, while at the same time engaging in ambitious measures to restore degraded forests and land, and to plant more trees to meet the demand for forest products and services.
The goal of zero net global deforestation is close to being reached, bringing the world one step closer to the UN Strategic Plan for Forest's target to expand global forest area by 3 per cent by 2030, an area of 120 million hectares, about the size of South Africa.
The biggest threat to forests is…agriculture
Many people will be aware of the devastating effects that illegal and unsustainable logging has on forests, but the biggest global driver of deforestation is actually agriculture, because of the extent to which forests are converted to farmland and livestock grazing land: a key challenge is how to manage the ongoing increase in agricultural production, and improve food security, without reducing overall forest areas.
A major UN report on biodiversity, released in May, made headlines around the world with its headline figure of one million species at risk of extinction, warned against the destruction of forests, noting that this "will likely have negative impacts on biodiversity and can threaten food and water security as well as local livelihoods, including by intensifying social conflict."
The UN's growing role in forest protection
The first time forests came to the forefront of the international agenda was at the 1992 Earth Summit in Rio, widely regarded as one of the landmark UN conferences. The Summit led to the adoption of Agenda 21, the first significant international action plan for achieving sustainable development, which noted the "major weaknesses in the policies, methods and mechanisms adopted to support and develop the multiple ecological, economic, social and cultural roles of trees, forests and forest lands."
The Earth Summit also saw the adoption of the Forest Principles which, although non-legally binding, was the first global consensus reached on the sustainable management of forests. The Principles called for all countries to make efforts towards reforestation and forest conservation; enshrined the right of nations to develop forests in keeping with national sustainable development policies; and called for financial resources to be provided for targeted economic policies.
To better co-ordinate international efforts to put the principles into practice, an inter-governmental panel and forum were set up in the 1990s, to be replaced in 2000 by the UN Forum on Forests (UNFF), which meets every year at UN Headquarters in New York to monitor progress on the implementation of the six Global Forest Goals.
The Goals set targets for the sustainable management of forests, and reduction of deforestation and forest degradation, and were developed as part the forest community's response to the 2030 agenda for Sustainable Development, the UN's overall blueprint for economic progress that protects the environment and humanity.
This year's top priorities: climate change and the real cost of deforestation
One of the key take-aways from the 2019 session of the UN Forest Forum was that, too often, forests are under-valued, because it's hard to put a clear monetary value on all of the positive contributions they make to the world.
As a result, the true cost of deforestation and forest degradation is not taken into account when policy decisions are made on land use, such as decisions to clear forest land to use for commercial agriculture.
The importance of financing was another important element of the session: sufficient funding is an essential element in ensuring effective action to halt deforestation and forest degradation, promote greater sustainable forest management and increase the world's forest area: despite the central role forests play in protecting the environment, only 2 per cent of funds available for climate change mitigation are available for efforts to reduce deforestation.