Letter to heaven: An eulogy to Luang Poo Boonyarith Bundito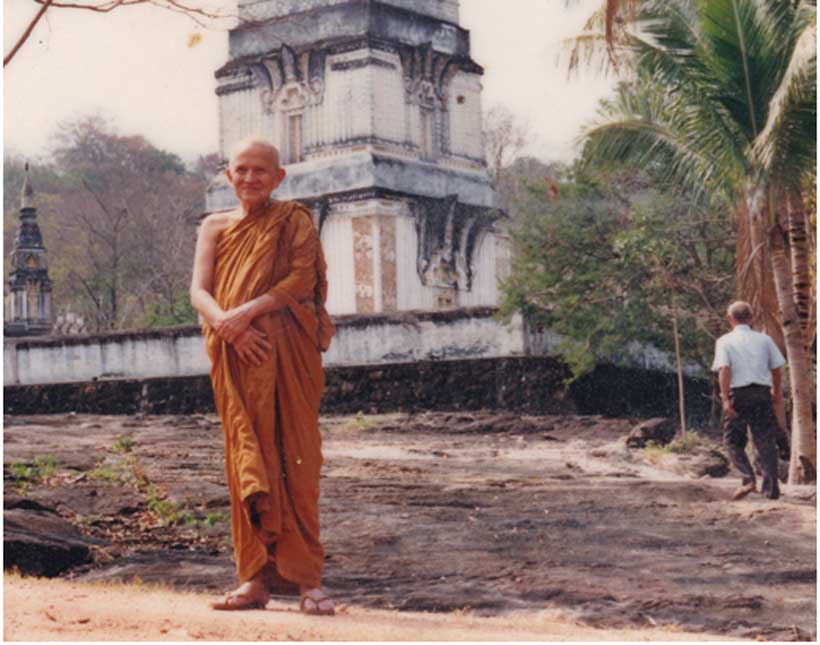 Everyone knows him as a great monk who was an exceptional teacher of meditation. From the royal family to a layman, Luangpoo Boonyarith Bundito was well loved and respected.
Luang Poo Boonyarith was a forest monk who ordained since the age of 31. Like forest monks before him from Luang Poo Mann Puritat to Luang Poo Chob Thannasamo, he followed a strict tradition of solitude. For decades, he traveled to the furthest parts of Thailand and remained there on his own. For at least 9 years, he lived by himself in the peak of a Karen Mountain in the Northern Part of Thailand.
"The karen has an innocent mind" he said in his meditation preaching.
In 1974, he was sent by Wat Bawornnivetviharn on a diplomatic mission to preach Buddhism in Australia. During more than 30 years of his tenure there, he built, strengthened and taught the beauty of mediation to foreigners and Thai alike.
An epitome of what a modern diplomacy is.
With his compassion and open-mindedness, he welcomed Christian, Jewish and Muslim into his temples to learn how to meditate, even though they were clear not to be Buddhist.
He was equally straightforward to them. "Meditation and Buddhism is intertwined and Buddhism is a religion, not a philosophy nor a lifestyle".
Something that would kill the New Age followers.
I had the privilege of knowing him since I was nearly four years old, where he would stay at our house during his trips and sabbatical to Bangkok. Sometimes he stayed for a couple weeks, sometimes that would last for a couple months. At least for 20 summers, we were lucky enough to host him.
While his disciples came to our house to seek truth and find peace, for a 4 years old me, Luang Poo was my English tutor. Having been fluent in French, German and English, Luang poo was a great linguist who paid attention to details of grammatic rules and depth of meaning and complexity of the vocabulary.
He is an avid reader – with extensive collection of books on philosophy, history, maps, arts and great classics. His gifts for me involved pens and notebooks, collection of postcards from foreign lands I never been or books I had never heard of.
At the age of 16, he gave me Brave New World by Aldous Huxley. With the density of idea and complexity of vocabulary, I quickly returned it to him.
He insisted: "keep it, when the time comes, you will get it."
I did. When I joined Thammasat as an undergraduate student, Brave New World became my favourite, inspiring reference to make a difference in a toxic society.
As I became more interested in graduate schools and had my eyes on the most prestigious scholarship in Thailand, the Anandamahidol scholarship under the royal patronage the late king Bhumibol of Thailand, our conversation became more intense, focused and intellectual.
We debated ideas. With his wealth of knowledge on world history, we would always talk current affairs and politics. Theories and concepts.
Who would have thought a forest monk would be on point on world political affairs?
Luang Poo continued to guide me through the hardship of graduate schools. We would talk on the phone on the books I read, the papers I wrote and the difficulty things were for me to conceptualise.
"Sati, Ninja, Sati." Conscious that meant. He said, "one word at a time. Never skim".
He loves dictionary so he taught and trained me to open up every word I don't understand.
If you open his books, you will find scribbles on the sideline on the explanation of words he did not know or his interpretation of them.
As studying theories became more complex, that kind of attention to detail allowed me to be on point, concise and succinct.
He said however that a Buddhist is not a theorist. A Buddhist is a doer. Test the theories, he meant.
When I consulted him with the idea of creating UNITE Thailand, he was on board and gave me the most life changing advice to an idealistic me with heavily foreign influences.
"Forget the theories, forget democracy, forget Buddhism, make kids happy, as many as possible."
We did.
Before the tragic day of the 14th of November 2018 where he parted this world for heaven, he has suffered severe health issues and complication for 7 years that he could not talk, move or eat by himself.
He was the educator who loved Thailand so much. The last sentence he ever said to me was "a great person is one with gratitude. We are indebted to this land, be good. Be kind. Be nice. Be helpful."
Thailand loses a great monk who taught them Dhamma. I lost a grandfather who helped me through the intensity of life, who taught me to read, write and question, who taught me the beauty of life, the necessity to serve our society.
Enjoy heaven, Luang Poo.
I will always remember you.
Ninja.
Reflection of Indonesia's National Farmer's Day
September has been a memorable and recorded month in the nation's development process. One important event that should not be underestimated, that is the momentum of National Farmers Day. Indonesia's fertile country has become both a flattering and a slap in the face to the current state of national agriculture. Various problems unravel clearly and painfully if we match the title of agrarian country in Indonesia
Referencing data from The Economist Intelligence Unit, from year to year Indonesia's position has never shifted far from positions 4 and 5 in ASEAN sphere in terms of food security. While in the world, in the Global Food Security Index (GFSI) Indonesia ranks 61st out of a total of 113 countries. This shows how weak Indonesia's bargaining position is in terms of agricultural management that leads to food security.
If you take the example of the above data, it can be seen clearly that over the past few years until now there has been a stagnation in terms of agriculture in Indonesia. Political economist Ichsanudin Noorsy in some of his discussions said that Indonesia never really thought of building social relations in structurally dismantling the agricultural and livestock problems that have occurred so far, ranging from upstream to downstream. All flows from resources, production, distribution to retribution and regulation.
As a result of the unpacking of social relations structurally, many farmers are even dependent on the third person, although actually there is now Internet Communication and Technology (ICT). That means Indonesian farmers do not have a good life expectancy in that case, this is similar to Clifford Geertz's thesis that says society cannot rely on the agricultural sector due to poor food security problems. If looking back at resources and production sectors that are inputs from agriculture is problematic, that means food security or automatic food security will also be problematic.
The Food and Agriculture Organization (FAO) itself says there are 4 indicators that affect food security, namely food availability adequacy, food availability stability, accessibility and quality/food safety. Of these four factors, it can be compared that Indonesia now faces problems ranging from the conversion of agricultural land, irrigation, the availability of seeds/seeds and fertilizers, as well as guaranteed life expectancy in farmers. On land issues, Indonesia is still not able to equally national agricultural development to the regions.
It is difficult to talk about land problems, meaning there must be an even distribution of the population to spread a more adequate map of farmland in each area. In the field of irrigation, there are still many agricultural waterways in remote areas that are inadequate. While subsudi seeds, seeds and fertilizers are even stripped one by one, not even a few are manipulated procurement. This led to the absence of guarantees and life expectancy in the majority of smallholders, so the agricultural sector tended to be controlled by large companies.
If we haven't spread the population evenly, it means that we're still failing to see the resources that indicate that we're still failing in production (input). It was this failure in the production sector that led to Indonesia still relying heavily on foreign parties. This dependency interferes with the available aspects or availability of domestic food which also results in our country needing dollars (world currency) in holding imports, this is what ultimately affects the growth of further inflation.
The problems that the authors describe indicate that Indonesia is currently facing "Structural Problematic" syndrome in the national agricultural sector. In the past Suharto once said that "a strong economy is supported by strong industry and agriculture". But when viewed again, the agricultural sector is even left behind, and besides that the manufacturing sector is also falling apart. Whereas during this time the government has always been a fanfare saying agriculture is soko guruh national development, but the reality is even inversely proportional. This is what the author refers to as a kind of ambitious attitude in the author's writing entitled ambitiousness in state governance.
Sukarno used to be fiery in his oration and gave up a spirit that mentioned "do not let us become a nation of kuli or kuli among other nations". The simple logic that will be created if Indonesia continues to depend on foreign investment is a sign that Indonesia is also ready to become a kuli because it reduces production factors or upstream from food security itself. How can Indonesia talk about food sovereignty if food is just a matter of position.
Especially in the days of the Covid-19 pandemic now that has a huge impact on national food security such as the disruption of production factors due to restrictions on the movement of labor, distribution that has also been hampered some time ago, as well as the purchasing power of the people that is decreasing. Looking back from data from the Central Bureau of Statistics (BPS) which released the national economic growth position in the second quarter of 2020 decreased to 4.19%, while agricultural GDP grew 16.24% and became the highest contributor to national economic growth. This data shows how important the agricultural sector is as the key to increasing the weighting of national economic growth.
Referring to systematic problems in the agricultural sector in Indonesia should make us all have to be careful, because it becomes possible if not immediately addressed, it could be that for many years the agricultural sector in Indonesia can no longer meet the food needs for all Indonesians that will cause a prolonged food crisis. This bad shadow will certainly make Indonesia more dependent on foreign imports. In the absence of systemic fix on agriculture, then the success as an agrarian state that was once often hailed only as a name.
Let us reflect again on the momentum of September 24 as the anniversary of this national farmer's day. The extent to which we contribute and position ourselves as indonesians, whether we will truly optimize the role according to our respective professions in improving the agricultural sector or simply hide behind dependency and become a nation that is always dictated by big global players. The determination of national farming day based on President Sukarno's decision on August 26, 1963 No.169/1963 signifies the importance of the role and position of farmers as a nation entity that must be maintained and expanded.
Let's celebrate the agrarian day of the Indonesian nation by showing the best ideas for the future of national agriculture, thinking critically and building and taking a position as an agent of change of every problem that is gnawing at agriculture today. Reinvent agriculture that is dischared over resources from upstream to distribution as a downstream of food security factors. Avoid bad stereotypes of farmers, because in Europe and America though, farmers are very sovereign and even have important positions in their professions. Special for young Indonesians, let's reclaim the long-awaited agricultural success of the nation, once again happy national farmer's day.
Being an idiot student is an option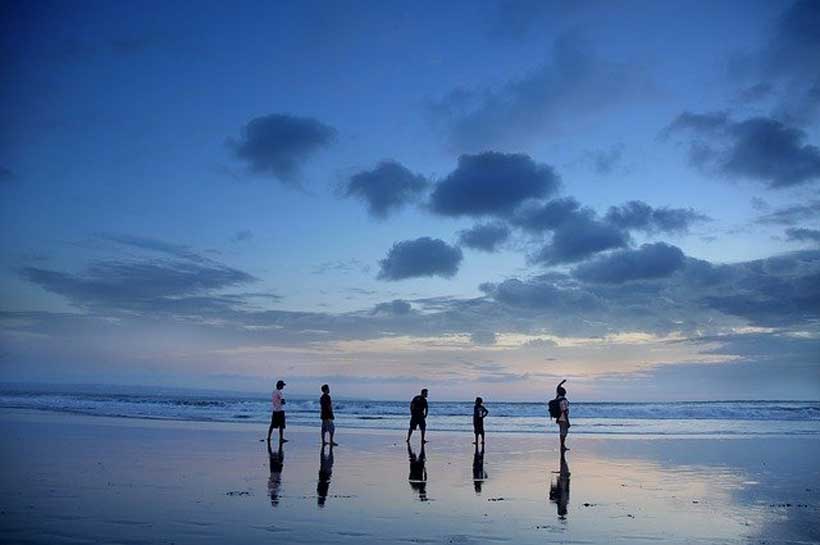 "Long live student!" The loud shouts that we always hear when students give speeches in order to convey the aspirations they have accommodated. Students are very synonymous with the terms agent of change, social control, iron stock, moral force or other audible terms intelligent other. Even long before Indonesia's independence and when Indonesia was still struggling to fight for independence, students were already seen intelligent be it in discussion, mindset, politics, dynamics and so on.
Students also got cooler to hear when the 1998 reforms flared up, one by one the figures or more warmly known as "activists 98" got a proper place in government or in other warm places after entering the reform era. Previously, these 98 activists became heroes in order to uphold justice and voice the real aspirations of the people so that some of them became anti-heroes who broke justice itself after occupying and enjoying the warm seat of government.
Ideally, the role of students is to become a liaison between the community and the government, help translate every government policy to the community, accommodate people's aspirations to be conveyed to the government, decide untrue news circulating in the community, and help maintain social stability in society. When the role of a student is carried out properly, today's students can become intelligent.
Know that now students are not all intelligent, even stupid students are born and just die. Even in some big universities, the domination of stupid students is now getting crazy. Students who are not aware of its function, students who are not aware of what it is students and students who only dream of having a GPA that can be sold in the industrial market so they can live safely are symptoms of an idiot student.
These stupid students are not born just like that, some of them even wish they could become good students intelligent but when they saw the situation and condition of the campus that were not like they imagined a feeling of disappointment was born. This disappointment will have an impact on the loss of enthusiasm to become a student intelligent. So that sooner or later they will become completely stupid students.
Everything needs a process
Everything has a process, even instant noodles need to be heated in boiling water and then poured in new spices to be enjoyed. When we don't see the situation we hope for, please be disappointed, don't break up there then think about it and start creating the situation we hope for itself. Don't just be disappointed and keep silent, or waste time waiting for the situation we hope for, because life is also an allowance, don't waste time, don't be silent when you lose and don't be careless when you win, keep going because life needs a continuous process.
Students who took to the streets and gave speeches shouting loudly "Long live students!" It can also be stupid when they go down the road just to be seen, students who are active in organizations can also become stupid when the academic organization on campus is unbalanced. Students who have extraordinary ideas can also become dumb when they are quiet. On the other hand, students can become intelligent when not littering, students can become intelligent when deciding on hoaxes in circulation, students can become intelligent when the organization and campus academic life can run in balance.
The activists nowadays who are busy in politics are already visible intelligent it can also be very silly when people's interests, justice and truth which have always been upheld are replaced by self-interest and a thirst for power. These are the vices of Satan that we have adopted, namely greed, greed, ungratefulness and treachery. Even though there are still good qualities of Satan that we can imitate, namely the unyielding nature (Satan is known to not give up tempting Adam's grandchildren to the end of the world) and persistence (Satan is also known to be steadfast in his stance and does not want to submit to Prophet Adam).
To be intelligent doesn't have to be in politics
The definition is too narrow intelligent if we only link students and politics, students can too intelligent by working according to their respective interests, for example, Turah Parthayana, a student from Bali who is now studying in Russia, has successfully become a YouTuber with content exposing his life as an Indonesian citizen living in Russia, there is also a YouTuber with the same content from Gita Savitri Devi who lives in Germany. , and also with Raditya Dika who exposes life as a student in Australia into novels with comedy spices even though he is no longer a student and focuses on YouTube content with ghost coins in his house, and there are many other examples both as YouTubers, artists, programmers, gamers and so on.
To become a student intelligent it is not difficult nor does it need to start from big things, start from small things that are also able to have an impact and change even though indirectly, start to respect differences, start to be sensitive to social issues and not be very ignorant, start working, start to rise from disappointment and most importantly, never be afraid to start it all, if we don't dare to start then we will never know how it will turn out.
Return the trust and hope of society to students, return to our functions and roles as students, let's work and innovate according to our respective interests, be proud of Indonesia in the way we like, don't waste the sacrifices of fighters who have given up wealth and even family to seize the freedom that we feel today, submit to the truth and fight all injustices in this country. Prove that students are still there, not just a political tool tricked by certain elites. Long live student! Long live Indonesian democracy! Long live the Indonesian people! Long live Indonesian women !.
France, Germany and the UK note verbale to the UN on the SCS issue
Following the enlistment of Chinese companies under sanctions by the US for involvement in SCS for reclamation of islands, there has been increasing pressure on Chinese establishment for course correction. In total, about twenty-four Chinese companies, and their management individuals have been listed under the US sanctions. These 24 companies have been placed in the sanctions list, and the US companies are barred from entering into any trade or investment dealings until unless they have specific permission from the US government. This effectively means that any transfer of technology, software, and associated agreements will be presumed as denied from the US government.
One of the critical companies which will be majorly affected and has been engaged in infrastructure projects such as ports development and highway construction would be China Communications Construction Company(CCCC) which has been involved in more than 80 projects across the world. These sanctions have been complimented with visa denial and restrictions on Chinese individuals who are responsible and are directly involved in the large-scale reclamation, construction, or incremental militarization in the disputed seas. The visa restrictions have been comprehensive, and includes individuals and their immediate families.
Following this US response to the Chinese island reclamation activities, NATO countries such as France and Germany have already outlined their Indo Pacific strategy and have try to take cognizance of the fact that island reclamation and militarization in the South China Sea would be detrimental to their interests in the region. The US sanctions on the Chinese companies would have comprehensive impact as many other nations which would be doing business with this companies would be apprehensive of collateral impact from US, in case they engage these companies in the long term projects in their countries.
Closely following the NATO partner Germany, the UK and France have also made a representation to the UN in the form of a note verbale submitted to the UN on 16th September on the developments in South China Sea. This buttresses the Malaysian representation made to the UN in December 2019 related to the commission on the limits of the continental shelf. This note verbal also reposes faith in the United Nations Convention on the Law of the Seas (UNCLOS) as the framework under which the activities related to the oceans and the seas must be addressed.
The provisions of UNCLOS resonated under the PCA ruling on the issue of Philippines and China dispute related to contested islands in South China Sea. The PCA ruling had adjudicated that the UNCLOS should be the reference for resolving disputes related to maritime zones, territorial seas, and defining the Exclusive Economic Zones (EEZ)of the islands which are uninhabitable. Given the fact that France and the UK are the permanent members of the UN Security Council while Germany is a UNSCaspirant, this note verbalegains significance in the current context. This also reinforces the fact that Indo-pacific would be the epicenter of development in the region and in order to safeguard their interests the European countries cannot ignore intimidating tactics adopted by the China at the sea.
While it is understandable that France has a number of territories in the Indo-Pacific region which comprise more than 80 per cent of its total EEZ but Germany taking an anti-China stance shows shifting priorities. Germany foreign minister during press briefing has expressed that Germany would like to work together with the countries in the Indo Pacific region and would be a participant in the rules based order. The three countries -the UK, France, and Germany are critical in pressurizing China to adapt to the international regulations related to the law of the seas and must acknowledge that freedom of navigation, overflight, and the right of innocent passage are the legitimate rights of the littoral countries as well as extra regional powers which have trade and commercial interests in the region. The US has not acceded to the UNCLOS but the three countries have acceded to it. It is also seen as the fact that the US is trying to galvanize NATO countries in support of its initiatives and military deployments in the South China Sea. The three countries also have extensive business and trade interest in the region, and have trade relations with Korea, Japan and Taiwan. Therefore, increasing tensions in the South China Sea would increase their freight costs as well as insurance costs. This would make their exports expensive and would affect the market dynamics.
The increasing resistance to Chinese assertive activities started in in December 2019 when Malaysia made a representation to the UN about the extended continental shelf. This has been supported by identical representations and statements made by littoral countries of South China Sea which included Vietnam, the Philippines, Indonesia and even a public statement by Brunei. The US also made a strong rejoinder to the case and extended support on major issues that have been highlighted by the various countries include the issue of baselines, the low tide elevations of the rocks, islets and uninhabitable islands, and the issue of Chinese concocted history which is in contravention to the established international order.
In response to these submissions made by the three European countries, China has stated that it treats the UNCLOS as an established order but abhors its use as a political tool. Citing reservations to the UNCLOS, it has stated that it does not cover everything related to the maritime order. Citing paragraph 8 of the UNCLOS it has stated that "matters not regulated by this convention continue to be governed by the rules and principles of general international law". This clearly means that China wants to derive new meaning which suits its own interests and reclamation activities in the South China Sea. The UNCLOS has made it very categorical that parties which have acceded to UNCLOS must comprehensively and correctly interpret the rule of the law of the seas. In its representation China has stressed that it has a long history, and the Chinese governments under different leaders have expressed their sovereign rights on the islands in the South China Sea. In the submission China has completely castigated the PCA ruling of July 2016, and stated that the sovereign rights of China on those disputed islands cannot be prejudiced by the illegal awards made under any arbitration or ruling .The biggest irony in the statement is the fact that it believes that UNCLOS is not effective neither implementable in the context of South China Sea but China claims that territorial baselines related to the islands and rocks are in conformity to the provisions of UNCLOS; clearly showing the dichotomy between conditional acceptance and comprehensive selective utility.
The long response that China has made with regard to submission by the three European countries clearly highlights the fact that China is under pressure to accept legal provisions and maintain law and order at the sea. In the letter in response to these representations, China has made it very clear that it is making sincere efforts through friendly consultations with the ASEAN countries. The representation made by UK, Germany and France has brought about an international dimension to the whole issue. In total the number of countries which have raised objections to China's reclamation activities have increased to more than 10 countries which have been seen as regional powers and have clout in the UN.
This also empowers Vietnam which is the current chair of ASEAN to undertake wide-ranging discussions on the topic during the summit meetings and in a way coerce China to undertake effective course correction measures. The hyperactivity which China has shown with regard to Taiwan, and military exercises in the South China Sea, have brought about international attention and raised serious concerns with regard to the developments in the region. The US exercises has been matched by China with undertaking surveillance sorties, scrambling of advanced fighter jets and infringing on EEZ of littoral countries. Therefore, it requires effective countermeasures as well as international condemnation of the Chinese activities. One can very well understand the fact that with China being at the receiving end of the international criticism in the wake of the coronavirus and subsequent domestic dissent shows that China would try to rake up hyper nationalism so as to protect President Xi from stigma. However, with majority of UNSC members expressing dissent the pathways for China are going to get tough in future.