Decoding The MoU Between India And Brunei For Space Research
Brunei Darussalam or Brunei is one of the oldest continuing monarchies in the world. The ancient name "Negara Brunei Darussalam" means "State of Brunei- Abode of Peace". Its earliest documented history dates back to 6th century when Brunei was apparently called "Puni" a possible distortion of the Sanskrit word "Baruni". Brunei was then a Hindu-Buddhist kingdom which had linkages with the famed Sri Vijaya and Majapahit empires of the region, as well as with China.  It was in the late 14th century, Brunei converted into an Islamic Sultanate when its ruler, Awang AlakBetatar, married a Muslim Johore princess from Malacca and embraced Islam to become Brunei's first Sultan – Mohammed Shah.  Bilateral diplomatic relations between India and Brunei were cemented in May 1984. India and Brunei by virtue being developing countries with strong traditional and cultural ties, enjoy a fair degree of commonality in their perceptions of major international issues. Brunei is a constant partner of India's 'Act East' policy and expansion and deepening of cooperation with the Association of Southeast Asian Nations (ASEAN). Diplomatically, Brunei supports India's claim for permanent membership in an expanded United Nations Security Council (UNSC) and also supported India for its candidature for a Non-Permanent Seat of the UNSC in 2012.
India's export trade with Brunei in 2013 valued USD 32 million while imports mainly crude oil from Brunei were valued at USD 763 million. According to trade stats, India is the third-largest importer of crude oil for Brunei. The two important reasons enabling a positive bilateral trade have been relatively flexible shipping costs and Brunei's small population base. Indians constitute around 2.3 per cent of Brunei's total population. Indian migration to Brunei started since 1929 when oil was discovered in the country. Presently, the majority of the doctors in Brunei are from India and other professionals include engineers, IT professionals, bankers, teachers etc. Indian businessmen have managed to maintain a clear monopoly in the textile industry. According to the Census, there are approximately 10,000 Indian nationals living and working in Brunei.  Bilateral trade between India and Brunei stood at over $504 million in FY 2016-17, according to figures published by Brunei's Department of Economic Planning and Development. The southeast Asian nation is critical for India's Look East Policy and geopolitical expansion for strengthening of cooperation with the 10-nation regional bloc (ASEAN). Brunei also has served India's country coordinator and political facilitator with the ASEAN for three years from 2012.
"When India celebrates the 75th year of Independence in 2022, and if possible, even before, an Indian son or daughter will undertake a manned space mission on board 'Gaganyaan' carrying the national flag," Prime Minister Narendra Modi announced in his 2018 Independence Day Speech. This milestone will make India the fourth nation to send a human in space after the United States, Russia and China. Future plans include the development of Unified Launch Vehicle (ULV), Small Satellite Launch Vehicle (SSLV), development of a reusable launch vehicle, human spaceflight, controlled soft lunar landing, interplanetary probes, and a solar spacecraft mission. The Department of Space was allocated Rs 8,936.97 crore in the 2018 Budget for various space-related projects. The total allocation for the Department of Space for the second fiscal was around Rs 10,783 crore a leap from Rs 9,155.52 crore allocated for the FY 2017-18 net of recoveries and receipts. 'Space economics' suggests that spending on science and technology leads to all-round social development. The Government is also planning on investing extensively in research, training and skill development in robotics, AI, digital manufacturing, Big Data intelligence and Quantum communications, among others. Space Research has been one of the most important areas of interest of the present government.  In the current era of outer space research and development, India is heavily banking on bi-lateral and multi-lateral tie-ups to delve into this area.
The Union Cabinet chaired by the Hon'ble Prime Minister Narendra Modi has approved the Memorandum of Understanding (MoU) between India and Negara Brunei Darussalam on coordination in the operation of Telemetry tracking and Telecommand station for satellite and launch vehicles, and for collaboration in the field of Space Research, Science and Applications. The MoU authorises India to continue to operate, maintain and augment its ground station meant for supporting India's launch vehicle and satellite missions. This will also enable India to share its experience and expertise in space activities through training of officials and students from Brunei Darussalam on Space Technology applications. Cooperation with Brunei Darussalam through this MoU would facilitate operation, maintenance and augmentation of Indian Ground Station to support India's launch vehicle and satellite missions. The MoU will provide momentum to explore contemporary research activities in ground station operations and training on space technology applications. The MoU was signed in New Delhi, India on 19th July 2018. India also signed an MoU with South Africa on 26th July 2018, which shall enable both the nations to coordinate on the potential areas of cooperation such as space science, technology and applications including remote sensing of the earth, satellite communication and satellite-based navigation, space science and planetary exploration, utilise spacecraft and space systems and ground systems and application of space technology.
India has also signed similar MoUs with Russia, Oman and Japan for expansion of cooperation in the field of exploration and use of outer space for peaceful purposes. Joint projects, sharing of expertise and resources, development of space systems and components, scientist training and exchange of vital information are the central components of these agreements. India is marching towards economic prosperity and being labeled as the fastest growing economy in the world, it is geopolitically and strategically crucial for India to have a powerful outer space technology and to have a strong space relationship with other countries.
Lessons from Cambodia and the way ahead- quest for peace and reconciliation
Victims are Cambodians, the criminals are Cambodians, and the crimes were committed on Cambodian soil!
This was the justification given by the Cambodian Government under Hun Sen to establish the Cambodian Khmer Rouge Tribunal (KRT) formally known as the Extraordinary Chambers in the Courts of Cambodia (ECCC) – a hybrid Cambodian-International Court in conjunction with the International Community in 2006 under the Cambodian law to try leaders most responsible for perpetrating gross violations of human rights during the Pol Pot and Khmer Rouge period from 1975 to 1978. However, even before the establishment of the Tribunal, the members of the International Community in the panel was reduced in compliance with the request made by Cambodia at the UN General Assembly moreover with its implementation the Tribunal witnessed an increased political interference diluting the whole process. Thus the success of any such program will depend on the commitments and cooperation from the Government
Compromise made over justice for Peace and Reconciliation and its worth
With its 16 years of work in the country, the court is now coming to close with sentencing just three of the perpetrators for life imprisonment – despite the heavy investments made by external actors and of the struggles and the criticisms faced, as a result of adhering to the Cambodian Government's request pointing to a renewed civil war within the country- destabilizing peace, economic growth, social order, and political stability, if the court moved ahead with its trials.
Thus, there was a dilemma on how to balance the prospective and retrospective justice, most importantly the Tribunal has been a setback to scholars of Transitional Justice, who believed to achieve through the TJ mechanism, a strengthened rule of law, democratic transition, and fair and transparent political institutions that victims can trust, instead, the court helped in legitimizing the authoritarian regime. The failure was more associated with the political compromise allowed to be made respecting the sovereignty, thereby allowing the government to choose how to deal with its violent past, while the critics point out "whether there had been a better option".
However citing the Cambodian case study, questions have been raised against the scholars who preferred the 'maximalist approach' emphasizing the justice, on whether it had been possible and was practical to carry out the trials for all perpetrators or for the criminals who conducted the gravest crime, to stop the elite from securing impunity, strengthen the democracy or to serve as a model contributing to a strong independent judicial system. Critics also pointed out the heavy expenditure incurred, pointless testimonies and documentaries submitted as evidence, against victim's testimony censorship, and on the accessibility of the court system to the poor. Debates also brought in the need to consider the time factor for retributive justice, pointing the consequences associated with the delay made in taking action (by the time court decided to sentence criminals for life long sentences, they were suffering from old age diseases, and even some of the victims were suffering from amnesia).
Cambodian Dilemma and questions raised against Transitional Justice
The Cambodian case brought in new dilemmas for retributive justice supporters with the 'Karmic justice' belief by the victims, pointing out how cultural barriers can affect the Westernized Transitional Justice mechanisms and asking to what extent does Transitional Justice appear as 'savior' for the victims of Khmer regime and against the TJ's employing of particular tool-kit without understanding society and of expecting the local populations to fit into their prescribed template and finally against the voices that speak for or represent the victim's demands. The whole idea of the hybrid court thus gets questioned with Cambodians different understanding of justice. This understanding has also questioned whether the justice had contributed to reconciliation (which some scholars consider as complementary strands of peace-building), through the reparations, forgiveness, and apologies for historical injustices made to repair the relationships between victims and perpetrators.
Different voices have been raised- some claiming reconciliation remains elusive with many of the members involved in the violence still serving in the Government, thus questioning the Government's legitimacy and on the interest of the International actors to entrust them to carry out the TJ mechanism, and against the resistance of some International actors and the Government to dig into the past and on fixing the time frame for transitional justice actors to look into, critics also points out the emotionless and insincere apology made by the perpetrators which revictimized the victims and on giving amnesty to perpetrators purely on regimes interest and finally on classifying the perpetrators as poor thus not allowing the victims to claim reparation.
Way Ahead
However, on a positive note, this partial retributive justice, empowered the victims after receiving acknowledgment from the Government, besides it paved the way for the current Cambodian generation to understand their past and gave voice to the victims by allowing them to share their stories. Above all, it helped construct history about the forgotten and erased atrocities done by the Khmer regime from school curriculums and minds of the larger public and finally contributed to the rise of civil society organizations, and helped preserve the crime sites, pressured authorities to construct the museums and library, and in fixing a national commemoration day. All these efforts have helped prevent relapsing into violence to date, thus behind the criticisms, this genuine accomplishment shouldn't be ignored. It is now important to not let all these efforts go in vain, to not be a passive observer for the marginalization and disempowerment of victims to take place, to not let the society have a faded or distorted version of history. The Memories must be kept alive through all generations, the sites, rituals, ceremonies, must be preserved. Most of all, the victims must be provided with platforms to express their traumatic experience and it must be ensured that the regime doesn't engage in acts that hurt the sentiments of the victims and the dead must be honored. Thus a culture that respects human rights can help in achieving sustainable peace and reconciliation and gradually reduce the mistrust between the State and the victims and help in healing the past trauma and restore the dignity of the victims.
Moreover, it must be made clear to the regime that this retributive justice is the only first step to achieve reconciliation. Through the civil society the local reconciliation, documentation of victim's concerns, and peace-building efforts must be supported. At the same time, it should also be ensured that these efforts get acknowledged at the national level. Further, the underlying causes of the conflict must be studied in detail, and failures from Cambodia should be taken as a reference by Transitional Justice scholars. Most importantly the concentration must shift to root causes through critical ethnographic studies, understanding how the cultural barriers can affect the Transitional justice mechanism and by taking note of the immediate needs of the victims ( the economic, social, and cultural rights), thus gradually helping the victims to integrate into the mainstream society. Failure to do so can make society relapse into violence moreover criticisms will arise against the external actor's intervention and interest to create a stable market society.
Yoshihide Suga's Official Trip: What Does He Expect from Vietnam and Indonesia?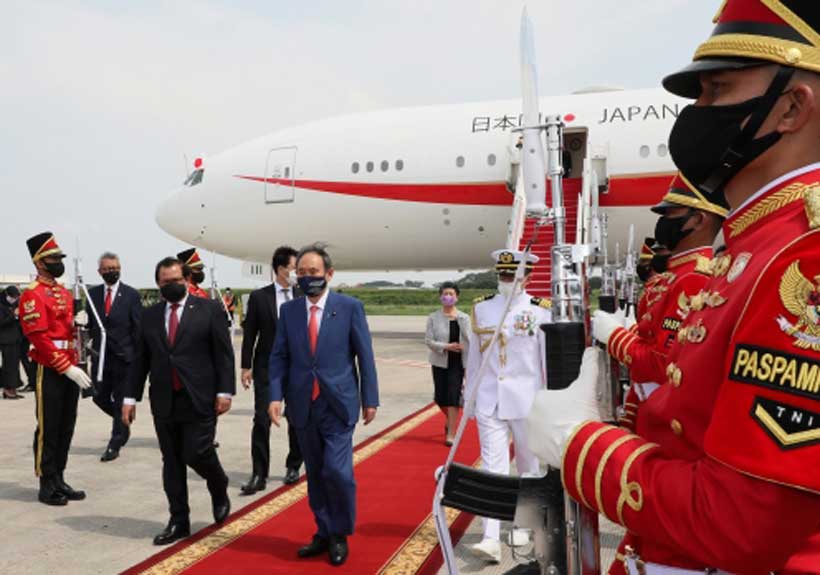 Prime Minister Yoshihide Suga's certainly understands the political importance of continuity, especially in Southeast Asia. Suga making a first stop in Hanoi, Vietnam and his second visit in Jakarta, Indonesia. Southeast Asian countries as key to pursuing Japan's "free and open Indo-Pacific," strategy. There must be other reasons for Suga to visit these two countries, Vietnam is current ASEAN chair, while Indonesia as the only member of the Group of 20 major economies from Southeast Asia. Both of them have important roles to share historical, economic cooperation, and political ties. Are those the only reasons?
Katsunobu Kato, a cabinet secretary Japan, states that Indonesia and Vietnam as the partners to exchange opinions over how to handle the regional and global impeding agendas such cooperation for realizing a fee and open Indo-Pacific strategy, address South China Sea issues and North Korean Situations. hence, there are three keys Suga's first foreign visit as Japan PM amid Chinese Aggression in South China Sea, Indo-Pacific Partnership and North Korea situation.
As one of the key strategic Japanese objective to expand Indo-Pacific Partnership by implementing an internal balancing that involves efforts to enhance the state's power by increasing one's economic resources and military strength in order to be able to rely on independent capabilities in response to a potential hegemon, in this case China, and be able to compete more effectively in the international system. Promoting coordination between partners like Indonesia and Vietnam and helping both countries to strengthen their economic and maritime capabilities to build up resilience in front of Chinese aggression and its influence.
During the pandemic, Japan economy has been hit harder by the crisis than the US or EU that 3.4% fall in growth domestic product (GDP) for the first three months of 2020. Since the Tokyo 2020 Olympic Games will be postponed until next year, due to the COVID-19 pandemic. As a result of this, Japan is set to suffer severe economic blows. Vietnam's growth potential and low-cost labor supply continue to curry favor among Japanese companies, making Vietnam has been selected by Japanese firms as the most promising place in Asia to invest in 2020with 42.1 percent of the 820 valid responses. Previously, Japan has given ¥200 million in aid to help Vietnam fight the COVID-19 pandemic. On the other hands, Suga pledged low-interest loans of 50 billion yen ($473 million) to Indonesiato overcome with the economic fallout from the coronavirus pandemic. As the symbols of strong friendship ties between Indonesia and Japan, which support each other's.
Japan also seek stronger security, Vietnam is critical to the balance of power in Asia and Indonesia faced off against China in the Natuna Sea. In order to response the Chinese Aggression in South China Sea, Japan seeks to strengthen ties with countries in the region amid growing tensions between its main security ally the United States and its biggest trading partner China, over trade, security. Japan hailed an agreement in principle to supply Vietnam and Indonesia with military gear and technology to response the China's assertiveness in the region. China claims some part of Vietnam's exclusive economic zone as well as the Paracel and Spratly Islands while Indonesia has been angered by Chinese coast guard intrusions into Natuna Islands. In this regard, Suga expect that both of Indonesia and Vietnam will agree to work together over a range of regional issues, including China's growing maritime presence in South China Sea. Japan wanted to emphasize that the existence of Indonesia and Vietnam was very important in the eyes of Japan. In this context, Indonesia and Vietnam is expected not to rely only on one country, which is China, with its economic and technological strength. Meanwhile, Japan also wants to invite Indonesia and Vietnam to continue developing growth in the Indo Pacific region. Since Indonesia is currently pursuing stronger relations with countries in Africa through the Indonesia-Africa Infrastructure Dialogue. On the other hand, Vietnam has been making great strides in projecting itself as an effective leader, particularly with its proactive governance in handling the COVID-19 pandemic, climate change policy, and for its political stability.
Balancing encompasses the actions that a particular state or group of states take in order to equalize the odds against more powerful states. Prime Minister Yoshihide Suga is thus seeking to build a network and partners in the Indo-Pacific, both to strengthen the current alliance system but also to proactive in defending its own interests. Vietnam and Indonesia were key to pursuing multilateral economic and security cooperation to counter China's growing power and protect sea lanes in disputed areas of the South China Sea.
India-ASEAN relations under Vietnam Chairmanship of ASEAN
India has very recently come out with India-ASEAN Action Plan 2021-2025 alluding to the objectives for furthering its relationship with the ASEAN nations. In the plan it is clearly envisaged that there will be cooperation in the area such as trade, investment, counterterrorism and in developing the edifice related to maritime security. It has been found that under the Vietnam chairmanship there is a need for addressing challenges emerging in the field of pandemics and medical research, so as to protect lives of many individuals across southern Asia. Further, in terms of increasing connectivity between the two sides and reviewing the achievements of the India ASEAN strategic partnership there has been positive movement from both sides.
With the forthcoming India ASEAN summit to be held in near future, it is going to address issues such as maritime corporation, sustainable development, developing marine resources, connectivity in both physical and digital domains, and increasing people to people contact through initiatives such as health, education and tourism. An important aspect of this new action plan is to enhance defence exercises, coordinated patrols, and effective logistics support mechanisms during humanitarian assistance and natural disasters. In fact, one of the major milestones between India and ASEAN strategic partnership has been in the field of humanitarian assistance and disaster relief. In the last few years there has been increasing synergy in the areas such as counterterrorism, cyber security and medical tourism. ASEAN has undertaken new initiatives related to the fourth industrial revolution, and also been looking into developing better cooperation with other countries in areas such as artificial intelligence, machine learning and robotics.
India has been conducting multiple joint exercises, and entered into logistics agreement with countries such as France, Australia, the US, Singapore and Japan. Increasing need has been felt in terms of developing freedom of navigation and commerce in the critical sea lanes of communication as well as promoting no use of force and resolution of long impending maritime disputes through the UNCLOS, and develop mechanisms to address concerns related to ASEAN countries.
It has been acknowledged that India-ASEAN free trade agreement has benefitted economies but there is a need for a review so that new sectors and also free movement of the skilled labour could be promoted. During the review of India-ASEAN relations particularly in the field of trade and strategic partnership, it was found that in terms of meeting of connectivity objectives there has been laggardness in the approach. However, there is a lot of potential with regard to developing ties in digital economy, education, vocational training of labour, and also capacity building in areas such as Small and Medium Enterprises (SMEs).
India's subscription to the concept of Indo-Pacific and its meetings with the quad members have highlighted the possibility of a superstructure which can be created which will be able to address core concerns with regard to regional security, maritime code of conduct and undertaking concerted efforts so as to bring up accountability and compliance for better peace and development in the region. One of the areas which has been and listed in the India ASEAN action plan is to look for complementarities in areas such as artificial intelligence, machine learning and sharing best practices with regard to the Industrial Revolution 4.0. One of the consultative process which has lost steam over a period of time is the Delhi Dialogue which have become more repetitive in terms of agenda and ideas, and there is scarcity of ideas. However, this regular dialogue process has brought about Track I and Track II consultations involving academics, experts and foreign officials as well as leaders.
With increasing attention of the European Union to this region, and the major European powers have outlined their Indo-Pacific strategy; Southeast Asia, by default, has become epicentre for launching these initiatives. It has become pertinent that India should also explore possibilities of building up resilient supply chains and help in development of the areas along with infrastructure development so that investment and development spin-offs in the region can also benefit India in the long run. It has been found that processes such as ADMM plus which have been discussing the areas of maritime security, counterterrorism has found resonance within India. In the areas such as mine countermeasures and developing humanitarian action plan for the demining there are complementarities which are existent in the relationship.
ASEAN outlook towards Indo Pacific is one of areas which is unexplored, and needs further focus with Asian centrality being the primary goal. ASEAN nations have been working with regard to comprehensive action plan related to counterterrorism and therefore much more focus is required under Vietnam chairmanship to build consensus and institute necessary structures so that the cooperation at the official level can continue in the long run.
India has not developed its counter radicalisation strategy and therefore it is important that ASEAN should share best practices with India. One of the focus areas which has been enlisted in the action plan is related to financial architecture and the cooperation which is required for the development of the capital markets and developing new ways for financial transactions through secure means.
Energy cooperation has been one of the areas which is of importance for both ASEAN nations as well as India but for that to fructify it is important that the both sides should look forward for research in energy efficiency, fuel cell technology and developing electric vehicles so as to curb pollution and reduce dependence on fossil fuels.
Under Vietnam chairmanship sectors such as agriculture, sericulture, floriculture and development of new techniques for enhancing yield have been supported. This also requires a boost to the India-ASEAN science and technology fund which has been created between the two sides. Many of the Southeast Asian countries have been dependent on fisheries and developing aquaculture.
In the areas such as blue economy there is a vast potential and also both sides are keen to explore possibilities. Under the stewardship of Vietnam, it is important that new projects and also ministry level dialogues should be undertaken. India is a developing country and has been taking giant leaps in areas such as strategic technologies, new defence innovations and advanced satellite communications. In the areas of space and cyber the two sides can look forward for developing software and other mobile apps which can reduce dependence on Chinese apps.
India and ASEAN can work jointly in developing the tourism sector particularly identifying the tourist circuits which can boost the economy as well as the hospitality industry. In the post-COVID-19 phase it is important that tourism should be promoted while undertaking safety precautions so that this sector can see a quantum jump. In terms of areas such as climate change and biodiversity, Vietnam can suggest ways to secure carbon sinks and also undertake networking among the institutions which are working in the field of climate change and mitigation.
The India–ASEAN ties need further impetus through better managing of the Green Fund and develop action plan with marine debris and developing biodegradable products. The COVID-19 has opened a new sector of public health and developing generic medicines. While much has work has been done between India and the ASEAN nations but there is need for developing vaccines and creating logistic supply chain so that these vaccines can reach a larger population while transporting them under sub-zero temperatures.
It has been seen that Vietnam has been taking a number of measures related to these aspects even in the very adversarial conditions such as COVID-19 and the agenda and the outcomes have been clearly demarcated in each of the meetings. There is need for addressing these issues during the ASEAN summit meetings with India and also acknowledging the fact that the interest of the two sides have diversified and have huge potential in coming years.