Why Education? How education changed my life
I have a story to tell the world about the importance of education. I was born in a remote village in Madhupurupazilla, under Tangail district, Bangladesh. My parents were illiterate. Unfortunately due to some maternal related complexities, my mother died in 1988 when I was one and half or two hears old. I don't know exactly. Even, I don't know my actual birth of date and year. And that's a common picture for us who born in an illiterate family. Since my mother died at an early age, I had to see the pains of hunger, poverty, malnutrition, health challenges and so forth. I still remember that almost every night, I had to sleep without any food. Sometimes, whole day, I had no food. I still remember that, one day, I and my sister were begging for some food to eat in 1993 or 94. So, that was my life story.
I had no shelter to go except my grandmother's house. And they were also poor. So, it was really a tragic life for me. I never thought that I will ever have the privilege to have access to education. Who even do not know about from where his next meal will come, where he will go for shelter, access to education is really a dream to him. So, education was a luxury to me. After moving here and there for food and shelter almost five or six years, at last, my grandmother's house became my shelter. I started to going to school. My life started changing because of the touch of education. I started to teach when I was in Grade five student. My first salary was BDT 20. I continued teaching as house tutor till 2012.
In October 2000, another tragic incident happened in my life. My father committed suicide. I became a full orphan. I was in Grade IX then, was studying in science group at Pakutia Public High School, Ghatail. My father's suicide shocked me very much. I did not continue study that year. Then, I dropped one year. Next year, in 2001, I changed my school, and got admitted in Class Nine at Madhupur Shahid Smrity High School to have better education. Since the school was far away from my grandmother's house, I had to shift to Madhupur. But where will I go? Fortunately, I got a lodging opportunity there. I had to teach two children of my lodging master, I had to go for bazar regularly, and to do other household chores on a regular basis. In return, they provided me a room to stay and three time meals. In addition, to pay my tuition fees, I had to go for other tuitions. Life goes on.
In fact, at any cost, I wanted to continue study. But, I don't know, why? Indeed, I had no guardian who can realize me the importance of education. From my inner side, education touched me and I wanted to study at anyhow. Sometimes, I worked as a day labourer to continue my studies. Even, I remember, in 2004, after appearing my S.S.C. exam, I went to pull rickshaw in Dhaka city because I had extreme zeal to continue my education. And for the grace of Almighty ALLAH, I continued my studies.
In 2006, after appearing HSC exam, I came Dhaka with BDT 1000. When, I was not able to pay my food charge at mess, I decided to sell one of my kidneys. Then, I found tuition at Shahbagh. I was residing in Dhaka Sukrabad. Very often, I went for tuition by walking since I had no bus fare. I still remember those days.
Then, for the grace of ALLAH, I got admitted in Dhaka University in International Relations Department in 2006-2007 academic sessions. Since it's a public university, I had to pay very poor fees to continue my studies at University. I passed honour's in 2011 and Masters in 2012 in International Relations from the University of Dhaka. I am sincerely grateful to the people of my country who bearded my all educational expenses. I am deeply thankful to all of my teachers who taught me to shape myself. Especially, I am sincerely grateful to Professor Dr.Delwar Hossain at the Department of International Relations at Dhaka University who extended his generous hand during my difficulties, who showed me new ways to life, facilitated to increase my thirst for knowledge through showing the path of knowledge.
After appearing my Masters exam, I secured the first position from Bangladesh in the MA admission entrance test examination of South Asian University, New Delhi in 2012. Then, I moved to Delhi in 14 August in 2012 to pursue my second Master's in International Relations at South Asian University. I continued my search for knowledge. The SAARC-India Silver Jubilee Scholarship was imperative to continue my education at SAU. My teachers at SAU helped me to create a new horizon of knowledge. After successfully completing second Masters in 2014, I joined at the University of Rajshahi in 30 November, 2014 as a founder lecturer in International Relations. That opened a new chapter in my life. I learned lots of things from the founder chairman of the Department, Professor Dr. Md. Abul Kashem and from my colleagues and students.
During teaching at Rajshahi University, I was selected as one of the 18 scholars around the world at Study of the US Institute for Scholars on US Foreign Policy Program, funded by the US State Department, hosted by the Bard College, New York for 44 days. It was a great learning opportunity for me. It provided me an international exposure and opened my eyes for the vast world of knowledge.
I continued to read, teach, and write. I even taught 8 courses at undergraduate level in 2017. Then, I moved to Delhi again at SAU, my intellectual home to pursue PhD in International Relations in July 2018. Since my childhood, I just wanted to study irrespective of challenges, and my ALLAH has fulfilled my dream. Now, I am a doctoral student. Sometimes, I even, cannot believe myself that I am a PhD scholar today.
Why am I telling all of these? The point is that it's all about education. Education changed my life. But still coming in this 21st century, tens of thousands are out of access to education. It is quite ironic that the states of the world spend billions of dollars or armaments than education. This world politics do not work for the tens of thousands voiceless, marginal people in the world. Thus, it's time to change the world politics for the benefits of people in the world than the state.
In fact, to change the world, we need education. To interpret the world, we need education. So, access to education is a basic human right which needs to be ensured. In this case, only our state cannot do that. Today, non-state actors' play important role in every dimension in our society from politics to economics. Thus, alongside the government, individuals, groups, academics, scholars, writers, organizations, all need to come forward to ensure access to quality education to everyone to make a better, peaceful world. Can't we make it?
Why People Run: Motivation Theory Applied to Diverse Migration
According to a United Nations report, 3.2% of world population or 258 million people, live in a country other than their country of birth. Between 1990 and 2017,the number of international immigrants increased by 69% or 105 million, with the majority of immigration taking place between 2005 to 2017. The phenomenon of cross-border immigration is an important aspect of international relations and modern life. People migrate from their country of origin for a variety of reasons: to avoid conflicts or violence, or distressed environmental challenges; to escape poverty, to provide better opportunities for their children, to reunite with families, to obtain a better education and to find employment. They face tough and challenging decisions and take life-threating risks to make a move domestically or across the borders.
Why do people migrate from their home country and what are the motivational factors that lead to such an unforeseeable journey? How do they choose their destination? This paper applies motivational theory to this migration. I investigate the personal, social, economic, and cultural variables that are the critical basis of these motivations. Europe, with 78 million immigrants, holds the 2nd place in the world, and Germany, with the most immigrants, holds the 1st place among European countries. More than 1.6 million new immigrants arrived in Germany in 2014 .I have employed motivation theory to immigrants in Germany in order to determine why people emigrate to other countries.
Motivation Theory
Abraham Maslow believes that a person's needs are the primary motivators for migration and categorized the need into the following five levels—physiological needs, safety needs, social needs, esteem needs, and self-actualization needs. I have used the typology of motivational theory developed by Tartakovsky and Schwarts, who validated their theory by applying it to a sample of 158 potential Jewish emigrants from Russia to Israel .They investigated three different theoretical motivations:"preservation (physical, social, and psychological security), self-development (personal growth in abilities, knowledge, and skills), and materialism (financial wellbeing, wealth)"2 to validate the theory.
They described preservation as the physical, social, and psychological security for them and their family. The psychological aspect of this theory is the motivation to protect the social identity of the self or family in the face of a threat. Preservation motivation expresses that when people fear that they no longer have appropriate security to protect their social identity in their home country, they are motivated to move somewhere else. Self-development motivation refers to the stimulation of personal growth, learning new skills, and acquiring new knowledge. The authors described "Self-development motivation to emigrate as the higher-order openness to change value type that emphasizes self-direction, creativity, challenge, and adventure in all aspects of life"(Tartakovsky and Schwartz. 2001). When people are faced with economic hardship, eager to advance their career or learn new skills, or want to obtain a higher level of education, they get motivated to move elsewhere to achieve their goals. Materialism motivation theory of emigration deals with financial wellbeing, wealth, and control over material resources. This motivation stimulates one's self-desire to enhance the economic and/or job situation. The authors stated that "Materialism motivation expresses the higher-order self-enhancement value type in the context of emigration. This value type emphasizes the pursuit of self-interest through attaining socially approved status, achievement, and control over resources.
People give great importance to more than one of the higher-order values expressed by motivation and may get induced by one of these motivations to emigrate. Additionally, millions of immigrants have arrived in Germany in search of a better life and to escape instability, insecurity, terrorism, poverty, and climate change in other European countries, Africa, Asia, and the Middle East. They risked their lives, and many spent their savings to reach the borders in Europe and then made their way to Germany.I have utilized motivational theory to determine the needs that drive people to migrate.
Application of Motivational Theory of Preservation
According to a report by the BBC, more than a million emigrants and refugees have crossed European borders either by sea or by land in the last decade from different parts of the world. Conflict and wars were the main drivers of a huge wave into Europe from Syria, Afghanistan, Iraq, Kosovo, Albania, Pakistan, Eritrea, Nigeria, Iran, and Ukraine (BBC, 2016).I have collected data from immigrants from Syria and Afghanistan to test the theory.
Yazgan, Utku, and Sirkeci in their article "Syrian Crisis and Migration "defined conflict as " a very broad sense which includes latent tensions and disagreements on the one end and goes to armed and violent clashes (e.g., wars) on the other"(Yazgan, Utku, and Sirkeci 2015). Their view is that migration takes place when there are discomforts, difficulties, restrictions, clashes, and, finally, violence and wars in the home country. In addition, when people face a threat or an environment of insecurity, they decide to move elsewhere.
More than 400,000 people have died from the conflict in Syria According to an article in The Washington Post, the Syrian government has launched numerous chemical weapon attacks against its citizens (Loveluck 2019). The security condition remains fragilein Deir ez-Zor region held by the Islamic State in Iraq and the Levant in Syria, and the lack of basic human needs has motivated people to flee. Similarly, the conflict in Afghanistan has cost the lives of more than 32,000 people since 2008 according to the United Nations. Furthermore, 2018 was the deadliest year with 3804 civilians killed in suicide bombings, targeted killings, and other operations. In addition, a weak central government, corrupt police and army, and increased crime rate are responsible for many un-recorded civilian casualties ("Civilian Deaths from Afghan Conflict in 2018 at Highest Recorded Level – UN Report" 2019). The situation in Afghanistan mostly impacts young educated adults, who are unemployed and don't feel safe in Afghanistan and, thus, are motivated to emigrate abroad.
I have collected data from several interviews with Afghan and Syrian refugees to validate the motivation for leaving their home countries. Of the refugees we spoke to, eight out of 10 fled Syria following an incident that made them fear for their safety. Many described arbitrary arrests by Syrian forces, the death of family or friends and the deteriorating security conditions in their neighborhoods.
•Tareq, a young refugee from Homs, told us he had no trust in the idea that Syria is safe to return to and spoke of his fears about the actions of Syrian military officers.
"I used to work as an undertaker in Syria. My job was to bury the martyrs," he said."When I saw what they had done to them, how they were cut up with knives—no way, there is no trust. Even if they secure everything we need, there is no trust," he added(Yahya 2018).
•Sana and her sisters were forced to live in one room for two weeks, as their home was destroyed around them. She says,"We left Syria one week ago. There were so many explosions…so we had to leave Syria. What do I remember of Syria? I remember two things—our house being bombed and not having any bread. Most of the houses were being hit. We had to stay in one room, all of us. The other rooms were being hit—(…). The bombs were hitting constantly, I was very scared."
•Yasmine talks of her fear:"I felt so afraid; I knew we could not move from that one room. There were 13 of us in total. We did not leave that room for two weeks. It was always so loud."All the sisters were gathered at home one day and they witnessed their father's killing. "My father left the room. I watched as my father was shot outside our home. I started to cry; I was so sad. We were living a normal life. We had enough food, now we depend on others. Everything changed for me that day," she says., ("Stories of Syrian Refugees" n.d.).
•Farah and Adnan led a comfortable, successful life in Syria. They had a large house overlooking the city, where they lived with their two children, Fathi, 3, and Zeinah, 1. Farah was hoping to return to school to continue her education, which she had put on hold after having her first child, and Adnan, an Arabic teacher, was pursuing a law degree. Their large, tight-knit family—Adnan has 8 sisters and 5 brothers and Farah has a large family as well—all lived nearby.Then, their house was seized by fighters because of its location. Soon after,it was destroyed. They were homeless, and the nearby cities were under attack as well. Before the bombings could start in their city, Farah and Adnan made the choice to leave their home in order to keep their children safe."My children were born in the city, and my whole family lived there, but we had to flee to Turkey during one of the outbreaks of fighting," said Farah. "If we hadn't left when we did, we would have been killed along with so many other people."
Farah, Adnan, and their children stayed in Turkey for one year before making the short but treacherous journey to Kos, Greece. Farah thought they would die on the boat crossing, and in Greece, hotels mistreated them, and they had to keep moving around. Farah estimates that they spent almost $1,400 on hotel rooms their first week in Kos. However, spending money on hotels is not their only worry. Both their children desperately needed to see a doctor. Save the Children is giving Fathi and Zeinah the emotional and psychical support they need, but their journey is far from over. Farah and Adnan are soon leaving Greece to make their way to Germany, a nearly 2,000 mile trek. Farah craves a place to call home."I want to believe we can have a secure and peaceful life again," she says.
The conditions in Syria and Afghanistan and the data collected from the interviews validate motivation theory of preservation, which expresses that when individuals fear that they no longer can protect themselves, their families, and their social identity in their home country, they are motivated to move to find security for their families.
Application of Motivational Theory of Self-development
Germany introduced a new immigration bill in 2001 with attractive economic elements when other European countries were contemplating to further restrict their immigration policies in the face of increased terrorism. After four years of intense negotiation between the different political parties in Germany, a law was passed that allows legal immigration of exceptionally skilled workers and self-employed people. In addition to attractive economic elements, the law would empower responsible officials to deport hate preachers and terror suspects. The law was mainly focused on addressing the shortage of highly skilled labor requested by many employers in Germany. This opportunity attracted hundreds of thousands of people from countries where economic opportunities were scarce and unemployment rates were high.
As many as 1.2 million people immigrated to Germany in 2013,with 755,000 or 62% of the total immigrants coming from the European Union (EU) itself to find better jobs, master their skills, or get higher education. Most of the 62% of immigrants were from Poland, where safety was not an issue. Poland had an unemployment rate of over 14% between 2010 and 2015, and the Polish considered Germany's new immigration law as an excellent opportunity to improve their economic situation.
Another immigration trend is the immigration of job seekers coming to Germany from the south of Europe. Due to high unemployment, especially amongst younger people, more and more qualified professionals are entering Germany. The number of Greek, Spanish, and Portuguese immigrants rose, with most having at least a college degree. The security situation in both East and South Europe is stable, and there is no evidence that people are leaving due to security issues. Data collected from the European immigrants in Germany shows that the motivation behind their decision was personal growth, knowledge, and higher skills. The motivation of the immigrants from Poland, Greece, Spain, and Portugal validates motivation theory of self-development. The theory states that self-development motivation to emigrate expresses the higher-order openness to change the value type that emphasizes self-direction, creativity, challenge, and adventure.
Motivation Theory of Materialism
Many European countries have created a special visa for those who would invest a significant amount in the country's economy. Germany's investor visa program provides incentives to encourage foreign investors to either start up a new business or invest in established businesses. Their reward would be citizenship as well as a passport that would allow them to travel, work, or live anywhere in Europe. Concerning Chinese investors emigrating to Europe, Wong and Primecz wrote, "We argue that these 'new migrants' are active entrepreneurs seeking new market opportunities, and many have served local market needs. It explores the development and nature of newly created Chinese enterprises by examining the opportunities arising from 'structural holes' in the economy."Additionally, they drew on the concept of mixed embeddedness as the crucial connection between social, economic, and cultural contexts, from which migrant enterprises emerge and into which they are embedded(Wong and Primecz 2011).
An estimated 200,000 Chinese immigrants live in Germany. While most of them came to Germany with labor visas, a large number of them are business owners who emigrated to Germany to expand their local businesses based in China. "The small but growing crop of newcomers is nothing like the immigrants who worked in restaurants in the 1980s and 1990s. They wear fine leather shoes, banter in German, shuttle between Europe and China, and hold MBAs and accounting and legal qualifications, said Rainer Gehnen, executive director of the German-Chinese Business Association." Numerous investments have been coming from China to Germany, and they need locally experienced legal, tax and management consultants and advisers. "Many service providers in Germany hire Chinese professionals to facilitate efficient communication with their Chinese business partners" ("Chinese Professionals Make Their Mark in Germany" 2013).The immigration of Chinese investors in Europe, in particular, Germany, validates the motivational theory of materialism, which deals with financial wellbeing, wealth, and control over material resources.
Conclusion
Data from Syrian, Afghans, Polish, and Chinese immigrants in Germany were critical to the investigation of general motivational theories of migration. I have applied three different theoretical motivations—motivational theory of preservation, motivational theory of self-development, and motivational theory of materialism—to the data and have confirmed the validity of all three theories. It means, moving forward, that ever more attention needs to be paid to motivation theory, across many other cases and diverse global regions, as it seems to have that magical intellectual quality of being both flexible and accurate.
Captain Jasmin: Charting a sea change in a man's world
I never knew anything about life at sea before I started my training. Certainly, where I come from – the Philippines – and also in other countries, being a seafarer is not seen as a job for a woman. In fact, the sea is seen as a man's world. It's their space, it's their history. There is never a 'herstory.
I decided to go down this path for financial reasons. I knew it wasn't the norm but I wanted to be able to get a job at the end of my studies. I could have opted to stay in a very safe place but instead I put myself in a difficult situation and pushed myself to the limits. When I was training there were only four women. There was really no-one to guide me so it was trial and error.
When I began working on ships I would encounter negativity. The thought in people's minds is 'you can't do the job'. They say it's too physical, that women can't do it, but I've seen men who aren't strong and there are some tasks that men can't do. But they only have to see your name and the thought is always there, that you can't do the job. So you have to work ten times harder than the men. Even when you are land-based you find the same attitudes and discrimination.
There have been many times when I have been the only woman on board. One time, I remember, I was working on a ship for a seven-month stretch, the only woman among 20 men. Working in this kind of environment can be stressful psychologically so you have to stay strong, alert and protect yourself. It's 2019 and I'm still having to share toilets with men but for me these inconveniences are very small things. I don't actually notice them. What's more important to me is to work and stay determined to do what I have to do.
Despite these challenges I would encourage women to go into seafaring because it's a great opportunity for professional growth. Besides, we are squandering 50 per cent of our resources if seafaring is restricted to men. People may think it's a man's world but it's everybody's world.
I've been all around the world – Africa, China, Japan, Korea, Sweden, South America, Thailand – so many places. At the moment I'm working in the North Sea on a ship with a crew of more than 100, laying oil and gas pipelines. I'm second-in-command so I'm on the Bridge, driving the vessel. I've really had to work hard to work my way up. They say there's diversity but there's still a glass ceiling. Yet we're getting there.
There'll always be pressures and problems but the key is to be yourself in difficult situations and stay determined. You just have to have the right attitude and habits and encourage people to embrace difference.
It's still not the norm that women work at sea but I am hopeful that there is a future for women in seafaring. I have a responsibility to make sure that happens.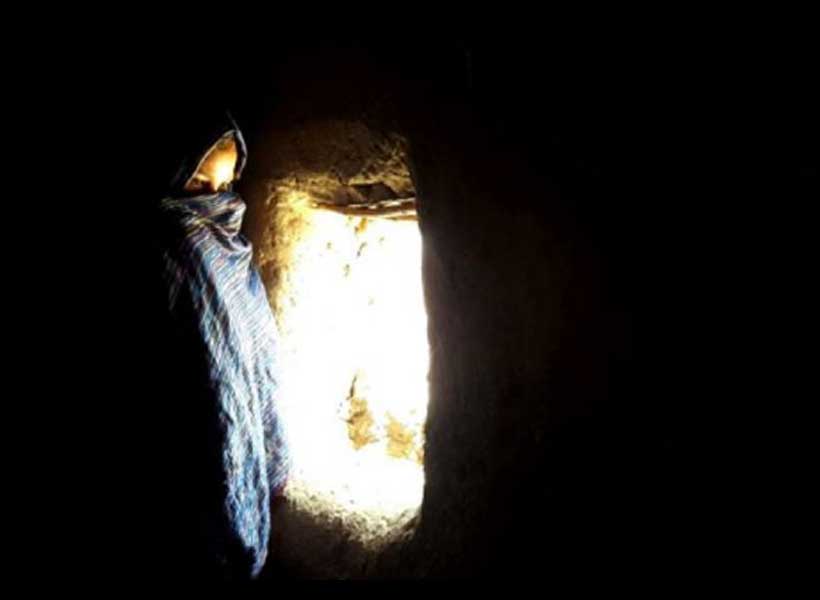 The olive eyes of Shaista peep between the bandages covering her burnt body, for she, like so many other Afghan women from the city of Herat, decided to escape her life by way of fire.
Shaista arrived at the hospital burning between wisps of hair and fabric, and her 19-year-old body is now a landscape of lava.
Tears seep between the gauze and the passageways of her blistered skin. Compassion is the closest thing to love that she will experience, and the hands of the man who changed her bandages are amongst the few that didn't strike her.
She set herself on fire for a crime she didn't commit, one that doesn't exist, or one that everyone else appears to see except her. Her crime was being born a woman.
According to Oxfam, 8 out of every 10 Afghan women suffer either physical, sexual or psychological violence.
In 2015, the Independent Afghan Commission for Human Rights registered 5,132 gender crimes and between April and June 2016 the Ministry of Women's Affairs reported 600, but many go unreported.
The women who go to the police are at risk of being raped before being returned to their families. Those who escape for more than 48 hours face accusations of adultery, the punishment for which is either facial mutilation or death. Passed between relatives, offered to others to pay debts or settle disputes, raped and subjected to acid attacks in the streets; these women lose their mental stability and take their own lives in the most brutal way.
They usually come from lower social groups and as they don't have access to guns or money to buy barbiturates, they drink rat poison, hang themselves, jump into rivers or set themselves on fire.
Although the families declare a 'domestic accident', it is easy to identify a suicide, as the majority are aged between 14-21 years old and are soaked in kerosene, when in fact most people use firewood or gas to do the cooking at home.
85% of Afghan women are unable to read or write and thus out of ignorance believe that they will die quickly. But instead they suffer for days before dying. Many pour boiling oil over themselves or drizzle it over their abdomen in order to raise attention to their plight, but sometimes the flames envelop them.
One of the most influential thinkers and leading Afghan practitioners in the field, Dr. Djawed Sangdel says: "Education is a key. This country needs a thorough horizontalisation of education for all."
80% of those who arrive in hospital perish because of a lack of means to treat them, and if they do survive, they suffer lifelong consequences, for it is difficult to follow a course of treatment whilst carrying water and looking after numerous children.
Almost 40 years of war brought with it misery, poor health and lack of governance, under which the patriarchal system flourished; a system which made Afghanistan an open-air prison for women, causing them irreparable psychological damage.
The country's laws tolerate tribal codes and 60% of girls under the age of 15 are forced to marry men double their age, according to the Revolutionary Association of Women in Afghanistan.
Studies from the UN Fund for the Development of Women reveal that the majority of widows sell their bodies or turn to begging in order to survive, and 65% of them see suicide as the only solution to their misery.
Herat, once known as the Pearl of Khorasan, is today a ghost town, with a horizon dotted with adobe houses, obsolete war munitions and faces hidden from the world behind the grille of a burka.
After a week in hospital, Shaista's mother-in-law escaped with her to hide her at home, as her son simply didn't deserve the shame of a suicidal wife.
Almost a month after the fire, she returned with wounds all over her body and without any feeling in her arms due to large necrotic areas. She did, however, survive – one of life's cruel jokes.
Now with the same fears as before, scars from the fire on her skin and with only one arm to carry her daughter, Shaista is back in the place that she so wanted to flee.