Digital Technology Will Help Djibouti Leap into the Future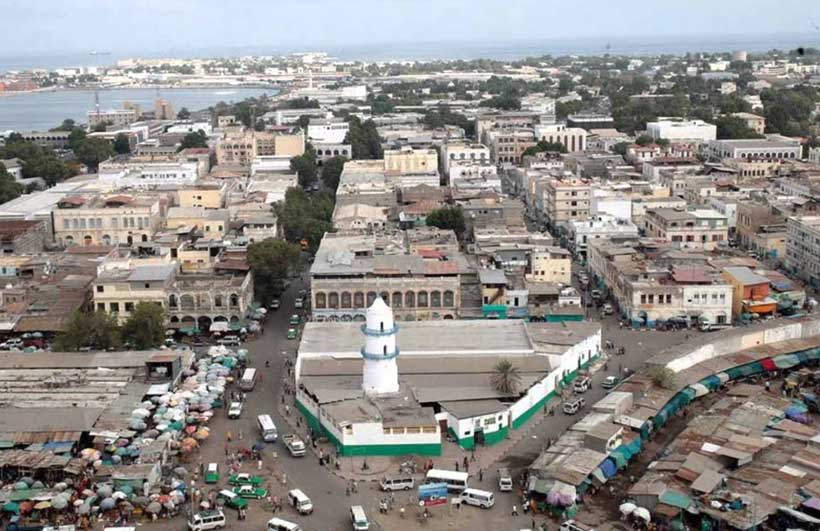 Digital technology will have a critical part to play in boosting Djibouti's socio-economic development and meeting the ambitious goals set out in its national strategy, Vision Djibouti 2035. As a key step toward building a strong, inclusive digital economy, the Government of Djibouti and the World Bank are co-hosting a high-level event that will explore the potential benefits of digital development and propose a concrete roadmap of action.
"Disruptive technologies are creating new business models, opening up new markets, and giving consumers access to more products and services than ever before. It is hard to overstate the economic potential of these transformations," said Ilyas Moussa Dawaleh, Djibouti's Ministry of Economy and Finance. "In a country like ours, developing a high-performing digital ecosystem will provide a unique chance to stimulate the economy and create jobs. The Digital Economy conference starting today will bring us one step closer to this vision."
"The digital sector will be key to improving the lives of Djiboutian people, expanding our economy, and strengthening our position as a logistics and commercial hub. With eight submarine cable landing on our shores, there is no doubt Djibouti has what it takes to become a digital leader in the region," noted Abdi Youssouf Sougueh, Minister of Communications. "We are keen to bring in development partners like the World Bank to leverage this infrastructure to the fullest and reinforce all the other fundamentals that are necessary to nurture a vibrant digital economy."
The conference will bring together a wide range of government representatives, technology pioneers, and development partners. Building on this uniquely diverse combination of knowledge and global perspectives, participants will assess Djibouti's digital landscape, share international best practices, discuss how technology can help modernize all sectors of the economy, and outline a clear strategy and action plan for digital development in the country.
"Countries around the world are leveraging digital innovation to accelerate economic growth and build a better future for people, and Djibouti is very well positioned to gain from that approach," said Boutheina Guermazi, World Bank Director for Digital Development. "I am confident this event will pave the way for close collaboration on digital development between the Word Bank, Djibouti, and countries across the Middle East and Africa."
In addition to discussing Djibouti's opportunities and challenges, the event will also highlight the need for bolder action on digital development engagement across the region.
Sessions will cover all key dimensions of digital development, with a focus on how to strengthen the five pillars of the digital economy: digital infrastructure; innovation and entrepreneurship; digital financial services and identification; digital platforms; and digital literacy and skills.
"Technological innovation holds great promise for Djibouti. By harnessing the full power of the digital economy, the country could see significant GDP growth, create a future-proof labor market, and raise living standards for all segments of the population. We stand ready to work hand in hand with Djibouti on this journey, to help create the right conditions for a thriving digital sector," said Atou Seck, World Bank Resident Representative in Djibouti.
EU plans to invest €9.2 billion in key digital technologies
The Digital Europe Programme is a new €9.2 billion funding programme whose goal is to ensure that all Europeans have the skills and the infrastructure needed to meet a full range of digital challenges.
It is part of a strategy to further develop the digital single market, which could help to create four million jobs and boost the EU's economy with €415 billion every year while increasing the EU's international competitiveness.
"For too many years, Europe's tech sector has lagged behind third countries such as the US and China. We need a coherent Union-wide approach and an ambitious investment to secure a solution to the chronic mismatch between the growing demand for the latest technology and the available supply in Europe," said Austrian ALDE member Angelika Mlinar, one of the MEPs repsonsible for steering the plans through Parliament.
A part of the budget would be allocated to encourage small and medium-sized enterprises and public administrations to use technology more often and better, while other parts will cover strategically important fields such as supercomputers, artificial intelligence and cybersecurity.
"We can count on European excellence when it comes to research and innovation, but our businesses, especially SMEs, still found it difficult to access and take advantage of new solutions," said Milnar. "This programme has been crucially designed to tackle the low take-up of existing testing technologies. We are on track to deliver one of the most promising and necessary funds for Europe's future."
UNIDO and Iran to develop ICT value chain
The Director General of the United Nations Industrial Development Organization (UNIDO), LI Yong, today met with Javad Azari Jahromi, Minister of Information and Communication Technologies (ICT) of the Islamic Republic of Iran, who announced a self-funded project to be implemented by UNIDO within the framework of its 2017-2021 Country Programme.
The US$1 million project will seek to boost the Iranian ICT value chain with the aim of creating local employment opportunities as well as to promote the regional economic integration of Iranian start-ups and SMEs. The project was designed to support the country's sixth 5-year development programme that places a strategic focus on ICT.
"The partnership between Iran and UNIDO builds on the Organization's track record in boosting the performance of private sector producers through the promotion of industrial linkages and diversification, including by creating a favourable investment climate and a conducive environment for start-ups and fast-growing organizations," said Director General LI Yong.
Minister Azari Jahromi added: "Taking into account the rapid progress achieved by the Islamic Republic of Iran in different aspects of ICT during the recent years as well as swelling number of very talented and well-educated specialized Iranian young generation in this field, it is due time to boost our regional cooperation with neighbouring countries. To that end, we intend to develop an effective partnership with UNIDO as the UN agency with the primary mandate to enhance industrial development. I trust that UNIDO's vast technical expertise and capacities and policy advisory services will ensure the effectiveness and sustainability of the aforementioned programme, which at the end will be beneficial for our whole region."
The current UNIDO-Iran Country Programme covers a range of cooperation areas to promote inclusive and sustainable industrial development in the country, including business development and sustainable job creation, the integration of local industries in global production networks and investment promotion, the development of agricultural and industrial value chains and support to meeting commitments under the Montreal Protocol as well as other international agreements for safeguarding the environment.
Harnessing the potential of Industry 4.0 tech to improve e-commerce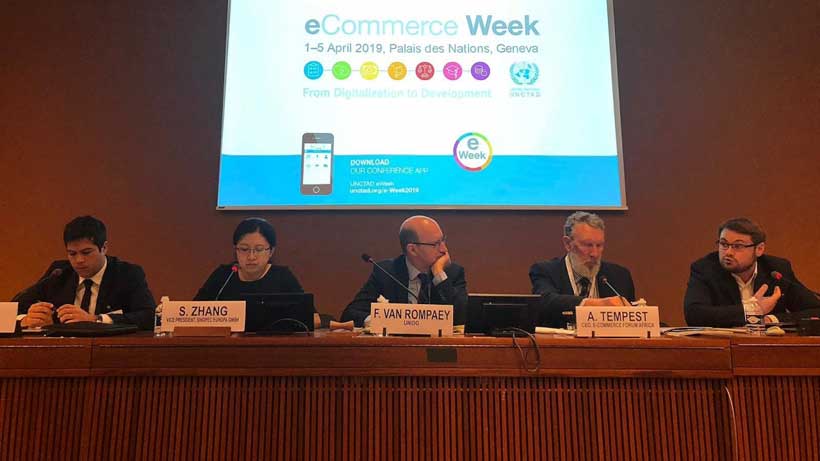 "Cutting-edge technologies and institutions can empower manufacturers to customize their products and services to their customers' needs; as 'smart' ecosystems are being established, e-commerce connects smart factories with smart societies," said Frank van Rompaey, Representative of the United Nations Industrial Development Organization (UNIDO) in Geneva, at a thematic session on "Industry 4.0 and E-commerce" held during UNCTAD's eCommerce Week 2019.
Organized by UNIDO, the thematic session explored how Industry 4.0 can enhance e-commerce services and benefits. The panelists touched upon the potential economic and social transformations arising from the Fourth Industrial Revolution; identified applications of Industry 4.0 technologies in e-commerce; and shared best practices, experiences and solutions to enhance consumer experience when engaging with e-commerce.
"E-commerce will be a key driver for both the Fourth Industrial Revolution and seizing the opportunities of the African Free Trade Area," said Alastair Tempest, CEO at Ecommerce Forum Africa. "The union of e-commerce with Industry 4.0 technologies can address the logistical flow of goods in Africa, promote financial technology solutions, enhance customer service and facilitate the growth of digital businesses."
Taking the example of Brazil, the CEO of ENEXT Gabriel Lima, said: "Only 2 per cent of Brazil's industrial sector is prepared for Industry 4.0, but this sector is gaining traction," pointing to the application of Artificial Intelligence (AI) on the iFood platform to provide customers with customized restaurant recommendations and increase the efficiency of order approvals. "E-commerce is asset light and cheap, and therefore a very good starting point to drive Industry 4.0 development in Brazil as well as globally," added Lima.
Speaking from a consumer's perspective, Julien Grollier from CUTS International discussed the risks brought by the Internet of Things for consumers related to personal data protection, digital rights management, competition effects, and liability and responsibility chains. "Consumers must play an active role in policy dialogue formulation, increase awareness of their rights; improve their digital literacy," said Grollier.
Experiences and lessons learned from the private sector relevant to standardization, digital manufacturing, transparent logistics and information interconnection were also discussed during the session.
The Vice President of Sinopec Europa GmbH, Suoyu Zhang, presented the example of China: "Early adoption of e-commerce has now resulted in inclusive development in most sectors within the country. E-commerce has supported the digitization of enterprises and consumers and led to the implementation of efficient and effective digital supply chains."
Under the theme "From Digitalization to Development", UNCTAD's eCommerce Week emphasized the necessity to break down silos among institutions, government representatives and policy makers for an effective contribution of e-commerce towards sustainable development.