Paiqham-e-Pakistan Curbs Sectarian Narratives and Violence
Muharram is the first month of Islamic calendar and the holiest in four sacred months, in which fighting is prohibited. The conflicts, conspiracies and crises created by sectarian and religious extremist outfits and the violence associated with this month have impeded peace in the Muslim world. The menace of sectarianism is widely attributed to be a result of regional rivalry among Muslim states, including proxies in Pakistan for influence and hostile countries sponsorship of terrorism. Reportedly, millions of dollars of funding to fundamentalist networks come from abroad and evil minded selfish people act abhorrently for their-vested interests and play with lives of many innocent Pakistanis.
Sporadic sectarian unrest in Pakistan is part of anti-Pakistan designs of inimical secret agencies like RAW and its international partners. These hostile elements manipulated sectarian differences between Riyadh and Tehran and exploited them for destabilizing Pakistan. Nevertheless, whoever is behind this, they are trying to destabilize Pakistan by dividing its people, in different groups, manipulating the mind of several with lavish offers and implanting prejudicial opinions about various religious and sectarian communities. Unfortunate is the fact that most of the sectarian violence/ hatred is carried out in the name of Islam.
Although terror-related sectarian incidents, have already minimized in Pakistan in the past few years, but the historic national consensus in the form of Paigham-e-Pakistan (PeP) has significantly eliminated the shadows of sectarian violence during Muharram. Pakistan's government had launched PeP, the national narrative on extremism, sectarianism and terrorism on January 16, 2018, comprised of 22points Fatwa (religious decree). Heads of Itte had Tanzeem-ul-Madaris and leading Muftis from all sects had prepared the fatwa and issued a unanimous declaration in order to strengthen the ties among different sects and agreed on addressing the sectarian conflict and grievances. The historic Fatwa was endorsed by more than 6000, religious scholars of all schools of thought from across the country, including renowned international scholars like Imam-e-Kaaba, Grand Mufti of Egypt and Grand Mufti Thailand. The collective Fatwa clearly stated that "sectarian, hatred, armed sectarian conflict and imposing one's ideology on others by force is clear violation of the injunctions of the Shariah and tended to create disorder on earth".
A major boost to the efforts of inter-sect harmony came when leading scholars from all sects unified for PeP to show sectarian harmony which had been unseen in the past. This initiative is the best tool to deal with extremism, sectarianism and intolerance in the society and a way forward for the country to march on the path of peace and prosperity as it is a methodology to unite all religious institutions and scholars. PeP initiative is in fact a true representation of the Holy Quran, Sunnah and social principles of Islamic Shariah, which can guarantee a safe and peaceful future for our next generations by ridding the society out of hatred and prejudices. Promotion of this initiative is the national and religious obligation of the Ulema and every individual regardless of association to sects and religious groups. Being Muslims, it is our national and religious responsibility to strive for setting up a peaceful and exemplary society which is free of extremism, sectarianism and terrorism. Religious scholars and Ulema from all schools of thought should play active role to mark this holy month of Muharram peacefully and in a befitting manner for spreading the message of Ahl-e-Bait (RA) as this message promotes peace and harmony among humanity.
In term of religious belief and practice; there are more similarities than difference among all sects and this reality, rationally demands from the proponents of all sect to prefer commonalities by ignoring minute differences. Those who ignore this reality must know that sectarian sensitivities will not be allowed to create ferocity, unrest and disorder in the country. This entails application of stringent measures and full control over sectarian groups to avoid conflicts and spread of religious hatred. It is of particular attention that Islam stresses upon forgiveness, kindness and sanctity of human life above all. Muslims must .know about the conspiracies being hatched by their enemy to divide them into sects and they have to remain vigilant to foil these nefarious designs. The Muslim Ummah particularly Pakistanis must stand united and shun their sectarian differences for the glory of Islam curbing the menace of anti-Islam and anti-Pakistan conspiracies.
The holy month of Muharram teaches the whole humanity religious harmony and peace, so following the proverb "don't quit your faith and don't interfere in others faith", we must mark this holy month peacefully, respectfully and with befitting manners. During Muharram-ul-Haram, every Muslim regardless of sect and creed regards and pays tribute to the martyrs of Karbala. Moreover, people also arrange eateries for the procession which truly depicts brotherhood that Islam preaches. Most importantly, afterthe launch of PeP, the religious leaders and members of peace committees are actively involved in promoting religious/ sectarian harmony and utilize all their capabilities for maintaining the environment of brotherhood, accommodation .and tolerance. Different projects are under way including training programs-to help eradicate the extremism and sectarian violence at national level. Determinant efforts have been made to familiarize the students studying at Universities and Madaris with the philosophy of PeP initiative by disseminating the message of peace and sectarian harmony. Awareness among people has been nurtured through Seminars and Conferences across country to create sense of social responsibility and encourage them to keep a watchful eye on sectarian and anti-social elements. We need to understand the conspiracy against our country and try our best to be united for making the country a haven of peace.
Islam is the religion of peace as it teaches unity, harmony, brotherhood and tolerance in the society and tells its followers to respect the rights of not only Muslims but Non-Muslims as well. The right hour has come that religious clerics, political and religious parties including media persons and the intellectuals should play an effective role in creating religious tolerance and enlightenment amongst all religious factions particularly those of Sunnis and Shias, convincing them to live in harmony and peace adopting the principle of mutual co-existence. Every person of the society should come forward to play a pivotal role to save the country from the flames of sectarian violence by promoting religious and sectarian harmony. Ulema must, exercise tolerance and forge harmony by desisting from delivering controversial and provocative speeches to help maintain peace during Muharram-ul-Haram. The delicate-peace is crucial for the country and we should rise above all sorts of personal interests fulfilling our responsibilities towards our country and refrain from issuing 'Fatwas' on the basis of difference of opinion.
Will Pakistan go to IMF finally?
International Monetary Fund (IMF) was created just after World War II (WWII) in 1945. It was the time of re-organization of the world order after massive destruction of WWII. UN and its organizations were establishing and whole world was passing through reforms. The IMF is an organization of 189 countries, working to foster global monetary cooperation, secure financial stability, facilitate international trade, promote high employment and sustainable economic growth, and reduce poverty around the world.
The beneficiary of WWII was US, and emerged as leader of World. IMF and World Bank like other UN and International organizations were depending on US funding to some extend and US has been utilizing in expand its economic, political and military influence around the world, frequently. US was involved in appointing head of such organizations directly or indirectly.  I leave it to my readers to judge that if IMF and other organizations have achieved its objectives or not?
Pakistan have been knocking doors of IMF since 1958, and it has been 21 agreement with IMF. Generally, IMF provides loans at very low interest rates, and provides programmes of better governance and monitoring too. But for last 6 decades, Pakistan has suffered a lot, in term of good governance. Especially last 2 decades, corruption, nepotism, poor planning, bribery, weakening of institution, de-moralization of society, etc were witnessed. We may not blame IMF for all such evils, but must complain that IMF failed to deliver, what was expected. Of course, it is our country, we are responsible for all evils, and wrong doings happened to us. We have to act smartly and should have made right decision and on right times.
In fact, beneficiary of corruption, is west, and in some of the cases, west has inspired or protected the corrupt politicians and bureaucrats in the developing nation and Pakistan is no exception to it. At least, IMF failed to monitor the utilization of funds provided.
IMF also dictates its terms and condition or programmes like: devaluation of local currencies, which causes inflation and hike in prices, cut or draw-back of subsidies on basic utilities like fuel, gas, electricity etc, which causes cost of life rather higher for local people, cut on development expenditures like education, health, infrastructure, and social development etc, which pushes the country backward.
Pakistan was no exception to it in the history of our relations with IMF. Last couple of decades, we could not develop our infrastructure, as a result we are back ward and could not take off economically, could not built Dams and suffering from Power shortage and water crisis, Education, health and social sector was ignored and pushed us rather backward.
In past, whenever we approached IMF, US administration was favoring us, but this time, it was witnessed that US may create hurdles or resistance in the form of additional conditions etc.
Based on experience of 6 decades, Government of Pakistan (GoP) have to make decision, weather to go to IMF or not? It is very serious issue and very sensitive decision. GoP is very serious and in close consultations with various experts from within the government and out side the government. There is a group in Pakistan, lobbying for IMF, as it is cheapest and more structured. Pro-IMF lobbies are more close to PM Imran Khan. While, there are experts who are against IMF and feels in past, if IMF was not helpful for Pakistan, then why to go again for the same tested organization. It is worth mentioning that, Pakistan is a diversified nation, and freedom of expression is ensured by constitution of Pakistan, so many controversial opinions are expected – we enjoy the highest degree of freedom. .
In past, politicians were rather easy to coerce and IMF was successful in their missions. But, today, Pakistan is in safe hands and current leadership is honest, loyal and sincere with Pakistan. The PM Imran Khan is a strong man and will take decision based on principles in the best interest of nation.  Sources close to him, feels that till date he is not convince yet, but will take a firm decision soon. His decision will be based on expert advice, national interest and purely merit-based.
However, all other option may be explored and taped, like friendly nations have already extended a hand of financial assistance. Like Saudi Arabia, Arab Emirates, Qatar, Turkey, Malaysia and China. Which has lessen the need of going to IMF to a great extent. It will provide an edge to Pakistan, while negotiating with IMF.
Whatever will be his decision, people of Pakistan trust him and will stand behind him. His decision will be considered the decision of 220 million of Pakistan. Pakistan has a history of "No Default" in last 7 decades to any one of our international obligation or agreement. Pakistan is a civilized, disciplined and matured & resilient nation. We have passed many harsh tests, in last 4 decades and learnt many lessons.
Pakistan Securing Its Maritime Interest and CPEC
The IOR is a major sea route that unites the Middle East, Africa, and East Asia with Europe and America. The excessive economic growth of littoral states of Indian Ocean obliges them to protect their energy needs and interests in order to endure their purchasing power. This has great security implications for the sea line of communication of the littoral states of IOR like Pakistan.
Continuing to Pakistan's interests in IOR the China-Pakistan Economic Corridor has great potential to transmute Pakistan into a central trade platform, which would undeniably gushed the enemies, particularly India, to halt it. The development of Gwadar sea-ports as part of BRI in general  and that of CPEC in particular has amplified India's concerns' and aimed for more sophisticated and advanced naval build-up. Furthermore, India perceives the Gawadar port (that is considered as crown jewel of CPEC) as a hazard to its contesting interests in Central Asia countries.  The reason being, India can access Afghanistan, Iran and Central Asian Republics (CARs) only through Cahabahar by passing Pakistan and Gawadar  a deep water sea port that is easily accessible to these land locked states then Chahabahr. A couple of days back on 24th December 2018 India has formally over taken the operational control of Iran's Cahabahar port – only (0 Km away from Gawadar port. India's aspirations to become blue water navy in the IOR raise serious concerns among Pakistan's maritime security. CPEC would lead toward increased maritime politics and contestations not only between Pakistan and India but would also involve China and US.
In such turbulent circumstances Pakistan is required to prepare its sea based defense to secure its sea lines.   Islamabad needs to carefully evaluate its options and develop its strategic response accordingly, involving but not limited to continuous development of its naval capability and an even closer maritime cooperation with China. In view of the prevailing power dynamics in Indian Ocean Pakistan Navyin order to secure its interest in IOR inked a contract with China's State Shipbuilding Corporation (CSSC)in June 2018 for two, Type 054AP frigates. The agreement is an extension of a previously signed agreement in 2017. Recently on December 19, 2018 steel-cutting ceremony for the second Type 054A frigate for the Pakistan Navy was held at the Hudong-Zhonghua shipyard in Shanghai. The type 054 AP warship frigates will be equipped with modern detection-state of art sensor and Guided Missiles weapon systems; capable of anti-ship, anti-submarine and air-defense operations. According to the report of China Daily report added that the "Type 054A is the best frigate in service with the PLAN".
It is pertinent to mention here that maritime security is linked with the Economic security and vice versa. Gawader port is one of the most important projects of the CPEC where Pakistan and China are very hopeful that in future this shipping port will generate the revenue for Pakistan's economy.  There is a big chunk of fishery industry through which Pakistan can earn a lot. It will stimulate business and trade activities at state level and across the region.  The 054 AP frigates ""Will be one of the largest and most technologically advanced platforms of the Pakistani Navy and strengthen the country's capability to respond to future challenges, maintain peace and stability and the balance of power in the Indian Ocean region" a report on 2nd January 2019 released by  Chinese state owned media said.
In some, to deal with all these existing defies Pakistan Navy (PN) has espoused to a multi divided line of action for safeguarding the port in more effective manners. It conducts security patrolling h and coastal exercises from time to time. Furthermore, previously in 2013 it has inaugurated its Joint Maritime Information Coordination Center (JMICC) in Karachi to provide with an effective mechanism of Maritime Domain Awareness (MDA).  After receiving these 054 AP frigates warship Pakistan will definitely in far more better position to counter India's vested interests in Indian Ocean region. It will also help secure the Gwadar port which is the chief component of Pakistan maritime trade activities. China has always been an al weather strategic partner of Pakistan. Although India always tries to propagate that CPEC is military agreement instead of an economic one however, securing the economic interests with an advanced mechanism does not mean at all that it's planning something militarily. Pakistan has always adopted a defensive policy and it is the right of every sovereign state to secure its interests even if they are economic as there is no morality in international politics, still CPEC is an economic project which welcomes every state of the region for economic cooperation  even if it is India as well.
2018 was the deadliest year in the history of Kashmir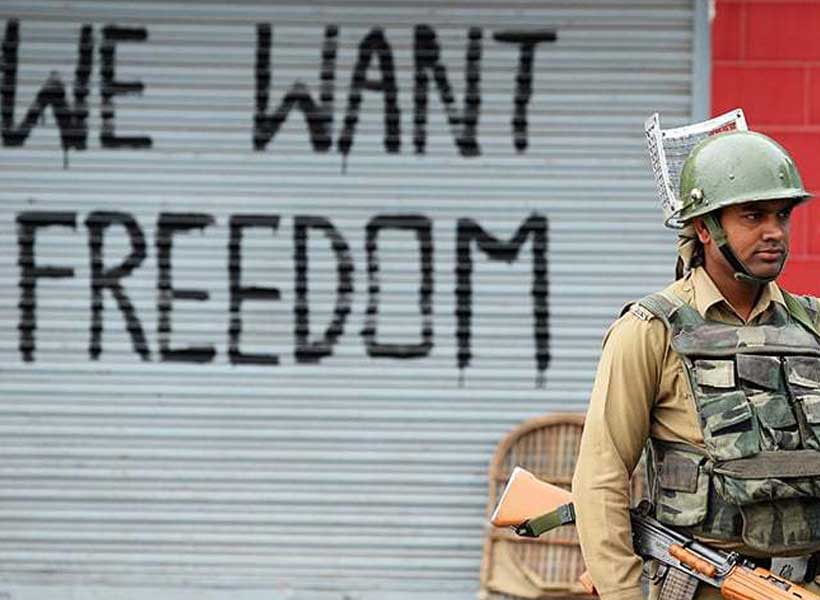 Kashmir is natural paradise and gorgeous valley located between Pakistan, India, Afghanistan, China and with a small strip of 27 miles with Tajikistan and Kyrgyzstan. But it is still a disputed region since partition of United India into India and Pakistan (also Bangladesh in 1971) in 1947.
The history of the freedom of Kashmir dates to 1931 when the people, both Hindus and Muslims, initiated a freedom movement against the then Maharaja (ruler) to have their own indigenous rule. The resentment of the people led to the 'Quit Kashmir' campaign against the Maharaja in 1946. Faced with the insurgency of his people, the Maharaja fled the capital, Srinagar, on October 25, 1947 and arranged that India send its army to help him crush the rebellion. India, coveting the territory, set the condition that Maharaja must sign an 'Instrument of Accession' to India. At the same time, India had to attach another condition that accession was made subject to 'reference to the people.' On India's showing, therefore, the accession has a provisional character.
Then India brought the dispute to the United Nations where the Security Council discussed the question exhaustively from January to April 1948. Then both India and Pakistan and approved by the international community that the dispute over the status of Jammu and Kashmir can be settled only in accordance with the will of the people which can be ascertained through the democratic method of a free and impartial Kashmiri citizens vote.
The people of Kashmir, despite of being injured since long could not lost their hope. They believe in United Nation(UN), assuming it will advocate choice of freedom for them. During the July-August 2018, people from entire Srinagar and other towns, were protesting government of India's violation of Article 35-A of Indian's constitution. 35-A, assure special rights to the state of Jammu and Kashmir.
Whenever, there is peaceful demonstration from them, then they must suffer basic human rights violation, fear and state of starvation as response of Indian government. In 2018, 111 civilians are killed which is double to the previous year recorded 40 killing by the Indian forces. India has some 500,000 troops deployed in Kashmir. Popular unrest has been rising since 2016 when a charismatic young Kashmiri leader, Burhan Wani, was shot dead by Indian forces.
Pakistan always has been bolstering the way of peaceful talk with India over the issue. Last year, in October, Prime Minister Imran Khan, repeated Pakistan's stance that the solution to the region's dispute laid in dialogue. He said,"It is time India realised that it must move to resolve the Kashmir dispute through dialogue in accordance with the UN SC resolutions and the wishes of the Kashmiri people".
Kashmiri leader Mirwaiz Umar Farooq, in response to PM Khan said we welcomed "Pakistan's concern" but called for Pakistan to "do much more" to "put an end to the appalling grind of repression and human rights abuse that Kashmiris are suffering at the hands of Indian state.
Happily, UN has issued human right report on Kashmir in June 2018. The report of 49 pages strongly emphasis on human right violation and abuses and delivering justice for all Kashmiris. UN High Commissioner for Human Rights Zeid Ra'ad Al Hussein remarked "The political dimensions of the dispute between India and Pakistan have long been centre-stage, but this is not a conflict frozen in time. It is a conflict that has robbed millions of their basic human rights and continues to this day to inflict untold suffering. Therefore, any resolution of the political situation in Kashmir must entail a commitment to end the cycles of violence and ensure accountability for past and current violations and abuses by all parties and provide redress for victims".
2018 was the deadliest year in the history of Kashmir. Hope so, Pakistan and India sandwiched by UN would resolve the issue based on Kashmir people's choice of freedom so that human violation could be ceased.