Taliban talks: Dialogue and violence can't go together
Dialogue and violence cannot go hand in hand. The first cardinal principle of 'peace negotiations' is an unconditional ceasefire. That is how the two warring parties build trust, bury the hatchet and make peace with each other. You cannot extend an olive branch and point the barrel of gun at the same time. That renders the whole exercise futile.
Over the past few weeks, Afghan Taliban has been actively involved in so-called 'peace talks' with the US government, even though the group has intransigently refused to engage with the Ashraf Ghani government in Kabul, calling it a "puppet government". What makes the US government a credible 'stakeholder' in this whole peace exercise is something only the Taliban leadership can explain.
US government recently appointed seasoned diplomat Zalmay Khalilzad as its 'peace emissary' to facilitate talks with the insurgent group. According to reports, he held first round of talks with the group, which however did not yield anything except a few handshakes. Before Khalilzad, a few senior Trump administration officials had held secret parleys with representatives from Taliban's political office in Doha, during which Taliban were reportedly offered a role in Kabul government too, much to the chagrin of anti-Taliban political stalwarts in Afghanistan.
Not to be left behind, America's traditional rival Russia has also jumped the bandwagon, offering to facilitate 'peace talks' between the Taliban and Afghan government. Pertinently, the present day Taliban leaders, backed by the US, had once fought against Russians in Afghanistan. How the political dynamics change is evident from the manner in which both the US and Russia are now playing 'mediators' between the Afghan government and the Taliban.
On Friday, Moscow hosted a landmark 'peace' conference on Afghanistan, which saw the participation of representatives from the Taliban, Afghan government and many regional countries. The 'talks' aimed at reviving the 'peace dialogue' after 17 years of mindless war is the first time Moscow has invited the Afghan Taliban to the table. The talks were scheduled to be held earlier but were postponed after the Afghan government refused to take part, saying the talks should be Afghan-led only.
The US government, which has been holding 'peace talks' with the insurgent group separately, is not in favor of Russia leading the initiative. That obviously hurts the ego of Uncle Sam. It is a different matter that the US government has already admitted defeat in the war-ravaged country after 18 years of wasted effort. And it is still a mystery whether the US is fighting the Taliban or fighting alongside the Taliban against the people of Afghanistan.
The US invasion of Afghanistan has not only destroyed the country but led to thousands of civilian casualties and incalculable collateral damage. The men they have been claiming to fight are now sitting across the table with them, while the poor and hapless people of Afghanistan continue to pay the heavy price of the war they didn't ask for. It's a dirty war and America's biggest shame.
While the US and Russia hold 'peace talks' with the Taliban, the insurgent group continues to launch attacks on civilian population across the country. In the last few weeks, the group has again chosen the soft target – Hazara Shias – in multiple provinces. There has been a spate of attacks on Hazara Shias in Urzugan and Ghazni provinces, resulting in casualties and displacement of people.
In Ghazni, the twin districts of Jaghori and Malistan came under attack last week, and local inhabitants had to come out themselves to repel the attack in the absence of Afghan security forces. Afghan government has come under blistering criticism for failing to send reinforcements in time to thwart the Taliban offensive. Rohullah Yakobi, a researcher with Human Security Centre, who belongs to Jaghori, said hours after the multi-pronged attack on Jaghori, people were "resisting on their own" against a "well-armed terrorist group" and there was "no sign of support" from the Kabul government.
Till Sunday, all roads leading to Jaghori remained closed as the fighting raged on. People, according to a source, have taken shelter in mosques and makeshift tents far away from Hotqol – where around a dozen security personnel were killed couple of days ago.  Reports said that insurgents have ransacked and burned private properties in the area.
So, under these circumstances, it makes no sense why 'peace talks' with the Taliban should continue while they commit horrendous war crimes in Afghanistan? Why not call for a ceasefire before resuming talks? Why allow the insurgent group to negotiate from a position of strength? Do Afghan lives matter?
It appears, for the US government, Afghan lives don't matter. As per latest reports, a notorious Taliban leader has been released by Pakistan at the request of the US apparently to give push to 'peace efforts', thereby putting Afghan lives at more risk.
It is just another political maneuver on part of the US to keep the pot boiling and to strengthen the invasion. That is precisely why these 'peace talks' are an exercise in futility and why they would produce no desirable results. Peaceful Afghanistan, it goes without saying, is not in America's interest.
First published in our partner MNA
Pakistan Facing New Type of Hybrid War
Since the Pak-US relations faced tough time almost a decade ago, not only the US has written off Pakistan, but also launched a Hybrid War. Media campaign launched to defame Pakistan, International Financial Institutions like World Bank, IMF, ADB, FATF, etc., were used as a tool to coerce Pakistan. On every platform, Pakistan was countered or pressurized. Fake News, misinformation spread about Pakistan. Not only influenced its Western Allies against Pakistan but also influence close allies of Pakistan in the Muslim World to create and keep distances. India was supported out of the way, "Major Defense Partner" agreement was signed with India, Civil Nuclear deal was signed, Transfer of technology, especially high-tech and sensitive technologies were transferred to India. Illogical Political support was extended to India, like membership efforts in UNSC as a permanent member, NSG, etc. Modern, advanced, and lethal weapons were supplied to India. Military cooperation deepened with India. All of this huge generosity was extended to counter Pakistan and China.
It is worth mentioning that Pakistan was a close ally with the US for 7 decades and ensured that the US achieve its strategic goals in this part of the world. Pakistan is a comparatively small and rather economically poor state. But its strategic location makes its role as pivotal in the geopolitics. Pakistan connects Middle-East, Eurasia, China, Central Asia, Africa, and Europe. Pakistan's potential is well understood and acknowledged among the power circles in the US.
The worrisome is that the US wanted to use Pakistan to counter Russia and contain China. Which is not possible. This was very much visible during the recent visit of Alice Wells to Pakistan on 19-22 January 2020. She was on her South Asian trip and visited Sri Lanka and India before reaching Pakistan. Shed repeated her old criticism on CPEC and lobbied for her views. She has served in Pakistan as head of Political Section the US Embassy Islamabad. She has many good friends and deep penetration into Pakistani society. She utilized her old contacts in Pakistan and tried to promote her anti-China, Anti-CPEC sentiments.
Another dangerous aspect of Anti-China efforts in Pakistan is in the form of a pro-US Diplomatic community in Islamabad. Many pro-American countries have posted Chinese speaking diplomats to Pakistan – strange! If they depute Urdu (National Language of Pakistan), speaking diplomats, it might make sense but an increasing number of Chinese speaking diplomats in Pakistan smell some fishy fishy.
Another strange phenomenon is also point of concern that Chinese Origin, America or European Scholars are visiting Pakistani Universities, Think Tanks, Intellectuals and youths and interacting with masses. They are promoting Western points of view and ideology in Pakistan. China-Pakistan's friendship is ideal and the Chinese enjoy a lot of respect in Pakistani Society. That is why the US and Europe are sending Chinese origin scholars and experts to Pakistan to make their job more easy and effective.
The friendship bond between China and Pakistan is deep-rooted and we understand each other very well. We are time-tested, All-weather and all dimension friends. Our friendship is higher than the Himalayas, Deeper than Ocean, Sweeter than Honey and stronger than Steel. I am sure no one will succeed in creating any misunderstanding or confusion between the two "Iron Brothers" – A unique term used only for Pakistan-China friendship.
CPEC was signed under the circumstance when the Western world has totally ignored Pakistan -no investment, no transfer of technology, no military assistance, no favorite trade opportunities, even irrational sanctions imposed on Pakistan – almost West has written-off Pakistan totally. CPEC is our mutual initiative based on mutual consultation and understanding. It is the need of our nation and as important as our nuclear program. It is oxygen to our ailing economy. It guarantees the economic take-off of Pakistan. It is the decision of 220 Million people of Pakistan, whichever political party comes to power, irrespective of their leadership, CPEC will remain unchanged and will execute smoothly. CPEC is backed by Pakistan's brave Army and all security and enabling environments are provided by Pakistan Army.
Prime Minister of Pakistan has expressed his vision that Pakistan loves peace and wanted to be a partner in Peace only. Pakistan has suffered a lot during the Afghan War, we cannot afford any other like-wise situation. Pakistan is willing to play any role to diffuse tension and avert conflict.
Pakistan warmly welcomes the US and wanted to collaborate on our common agenda of Peace in Afghanistan, and region. President Trump has repeatedly offered to mediate on the Kashmir issue between India and Pakistan, it is time for actions, and verbal statements may not resolve the issues in the actual life. Pakistan helped the US in the peace process in Afghanistan unconditionally. Pakistan expects reciprocity too. Alice Walls's visit was awaited anxiously for good news, she might have brought from New Delhi, but she focused on Anti-China and Anti-CPEC. Disappointed! Her sentiments have hurt many patriot Pakistanis.
We wanted to restore our traditional friendship with the US bilaterally, while keeping out national inters at prime and strategic interests with Russia and China. CPEC is the lifeline for Pakistan.
Bangladesh's Fantasy of a Developing Country Status in Perplexity
Shaikh Hasina, the premier of Bangladesh, has long been accused of sacrificing her country's interests and selling out to India by her political critics. This narrative intensified when the videos of Abrar Farhad, a student at the elite Bangladesh University of Engineering and Technology, went viral which showed how Farhad was tortured and finally killed by student wing of the ruling party after he wrote a Facebook post questioning the deals with India in October 2019.
Though most Bangladeshis love the Bollywood and like to travel to India for different purposes but somehow an anti-India sentiments run deep within a sizeable portion of the country's population. And Farhad's death, which triggered countrywide protests by students, academics and ordinary people alike, has intensified these sentiments and fuelled questions about Hasina's alliance with India.
The matter has gotten worse for Hasina now after Citizenship Amendment Act (CAA) has been espoused by India. There is considerable discord across the country over whether Hasina got well along CAA. The political leadership is now concerned that India may push Muslim immigrants deemed illegal under CAA across the border inside Bangladesh. The Bangladesh government had been worried of such nuisance since the National Register of Citizens (NRC) exercise was carried out in Assam (India).
At that time also, the Bangladeshi government made a demand to its Indian counterpart to give surety that NRC will not in any away push Muslim migrants into Bangladesh. At that moment, India had given a verbal assurance. However, it had refused to give it in writing, stating that the exercise was carried out as per directions of the Supreme Court. The Indian side referred to NRC exercise in Assam as an 'internal' matter saying the government was not in a position to give a formal assurance of anything. Just a day after, the Border Security Force pushed back at least 32 'Bangladeshis' into no man's land in Jessore, which the Karnataka police had nabbed a month earlier.
It was just 4 years back when on 6 June 2015, Bangladesh and India agreed for the historic swapping of enclaves between the two nations. Prime Minister Modi ratified the agreement during his visit to the Bangladesh capital Dhaka. In the presence of Modi and Bangladeshi Prime Minister, the foreign secretaries of the two countries signed the instruments of the exchange of enclaves and land parcels in adverse possession thus resolving the decades old border issues. The enclaves were exchanged at midnight on 31 July 2015 and the boundary demarcation was completed by 30 June 2016 by Survey Departments of the respective countries.
At the end of the exercise it was concluded that around14,215 people (mostly Muslims) living in 51 Bangladeshi enclaves in India will become Indians. Similarly, some 37,334 people living in 111 Indian enclaves in Bangladesh will become citizens of that nation. Now some really intriguing questions arise after the CAA. India has already given a good share of people (37,334 to be exact) to Bangladesh already in the swap. Now after CAA what will be the fate of Muslims who were handed over to India as new entrants among those 14,215 people?
In India people fear that CAA will be used in conjunction with the NRC to deem minorities as "illegal immigrants". Especially after many top BJP leaders including Home Minister Amit Shah have proposed that the NRC should be implemented across India after a successful pilot test in Assam where over 1.9 million applicants failed to make it to the NRC list. The NRC very clearly states that people, to remain an Indian citizen, have to produce a documentary proof that their ancestors were residing in India before March 24, 1971 – like the 1951 NRC or electoral rolls up to March 24, 1971.The next step is to produce documents for oneself to establish relationship with those ancestors. That is a tough ask in a country with a poor documentation culture and millions of people with meagre financial resources. And finally the left outs from the final NRC list will approach the Foreigners' Tribunals and deemed as illegal immigrants will be ultimately send to detention camps or beyond borders as a worst case.
These enclave dwellers who have been living there for decades had one recurrent problem: that of identity crisis, says Brendan R. Whyte in his detail research on the issue. This, in turn, resulted in illegal migration where the dearth of reliable data has added to the complexity of the problem. Since Census had never been conducted in these areas, many created fake voter ID cards to work and more to avoid becoming an illegal migrant. This is all a result of India's inability to implement the 1958 treaty with Pakistan, and her continued delay in ratifying a subsequent 1974 treaty with Bangladesh to exchange the enclaves. That the delays have been rooted in Indian internal politics is demonstrated, he underscores.
Bygone the past, now this non-seriousness on India's part has become a matter of serious concern for Bangladesh. With a population of above 163 million (eighth most populous country in the world), Bangladesh has achieved 7-8 percent growth in recent times(partly thanks to the dire business conditions in Pakistan which led industrialist to shift their industries to Bangladesh). If remained as envisioned, the country will also be eligible to graduate to developing status from its Least Developed Country status by 2024.Amidst all going well, a wave of people being sent back from across the border after being branded 'illegal migrants' would be Bangladesh's worst nightmare. That too at a time when Wajid has been compelled to accept nearly one million Rohingyas migrants from Myanmar.
Though Bangladesh has played well so far by balancing Chinese interests to progress and India's desire to protect its influence in the region, but the uncertainty about the consequence of NRC in Assam and fear of forced pushbacks of Muslim migrants can harm Indo-Bangla ties irreparably. In Bangladesh concerns have grown in recent times over Modi policies in India, many of which not only destabilized the internal situation at home but also give rise to multiple regional problems and crisis. Sheikh Hasina is all troubled by having to explain to her people what Bangladesh has gained for the long list of favours she has done to India. Adding salt to the injuries is the no Indian support on the Rohingya issue, persecution of Muslims in India and oppression of Kashmiri Muslims at the hands of Hindu Rulers.
Regardless of its phenomenal economic growth, Bangladesh is an overpopulated country. If India continues with its NRC-linked pushbacks, it would certainly affect New Delhi's bilateral ties with Dhaka. Worse, it would weaken Wajid's grip on the country while spurring anti-India sentiments among its residents. Also, China might take advantage of this situation. And this certainly does not augur well for India at a time when other neighbours are already turning towards China.
Genocide: Terrible and scaring ground situation in India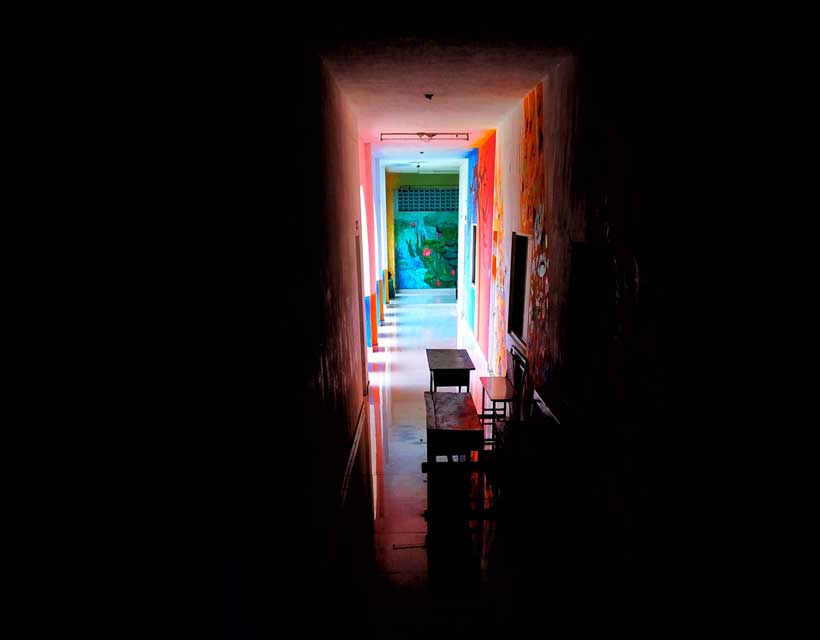 Washington D.C: Dr. Gregory Stanton, founder of Genocide Watch, addressed an audience of Congressional and Government officials at a briefing titled Ground Reports on Kashmir and NRC in Washington D.C on December 12 where he said, "Preparation for a genocide is definitely under way in India." He said that persecution of Muslims in Assam and Kashmir "is the stage just before genocide, "adding, "The next stage is extermination — that's what we call a genocide.""
The ground reports from India are terrible and it is heading toward genocide. The international community's attention is withdrawn for immediate steps to be taken to avert any big disaster.
Dr. Stanton created the world-famous "Ten Stages of Genocide" as a presentation to the U.S. Department of State when he worked there in 1996. According to Dr. Stanton, the ten stages of genocide are as follows:
•The first stage was "classification" of "us versus them".
RSS is an extremist organization, established in 1920, under the influence of Hitler with the same ideology of Nazism. But since they came into power and formed their Government in India in April 2019. They have created hate and classified "us" and "them".
•The second stage, "symbolization", named the victims as "foreigner".
With the legislation under Citizenship Act 2019, India has proved that Muslim Minorities as "Foreigners".
•The third stage, "discrimination", "classified [the victims] out of the group accepted for citizenship" so that they had no "human rights or civil rights of citizens" and were "discriminated against legally".
India has already established this stage under the amended law.
•The fourth stage, dehumanization, "is when the genocidal spiral begins to go downwards. You classify the others as somehow worse than you. You give them names like 'terrorists', or even names of animals, start referring to them as cancer in the body politic, you talk about them as a disease that must be somehow dealt with."
According to RSS ideology, all non-Hindus are not Indian and they must go back to Europe if they are Christians and go back to Middle-East if they are Muslims. Muslims are labeled as "Terrorists".
•The fifth stage was creating an "organization" to commit the genocide: the role played by the "Indian army in Kashmir and the census takers in Assam".
RSS is a well-organized, well-equipped and well-trained, well-funded organization, with the full backing by state. RSS is empowered to execute the genocide of Muslims.
•The sixth stage was "polarization", which is achieved by propaganda.
Unholy media, controlled by Government, is playing its dirty role to polarize the society.
•The seventh stage was "preparation"
India has established concentration camps and all imposed curfew in Kashmir. Kashmir is completely cut-off from the rest of the world. Mobile and Internet Services have been suspended. No journalist can travel to Kashmir without Government permission. Freedom of Speech or expression is halted. No foreigner is allowed to travel to Kashmir. 900,000 troops have been deployed already. Similarly, In Assam and another part of India is also isolated and cut-off internet and mobile services. The Media has been limited to report the ground realities and facts. India has almost completed all preparations for the execution stage.
•The eighth "persecution", where Assam and Kashmir currently were.
India is almost ready for execution and can move forward at any moment.
•The ninth stage is "extermination" and;
Almost entered into this stage
•The tenth stage is "denial".
As usual, India kept on denying all its acts in this direction and still denying as nothing happened.
Dr. Stanton also drafted UN Security Council resolutions that created the International Criminal Tribunal on Rwanda and the Burundi Commission of Inquiry, two places where genocides had occurred. A former President of the International Association of Genocide Scholars, his research on genocides in Cambodia and Rwanda, and of the Rohingyas, is recognized worldwide.
It is appealed to the International community to break silence and helplessness. Under the UN charter, peacekeeping force may be deployed in India to avert the expected disaster. UN Charter must be respected and implemented. This appeal is to everyone nation and individual who believes in "humanity".