Putting the brakes on fast fashion
Fashion revolves around the latest trends but is the industry behind the curve on the only trend that ultimately matters – the need to radically alter our patterns of consumption to ensure the survival of the planet.
The fashion industry produces 20 per cent of global wastewater and 10 per cent of global carbon emissions – more than all international flights and maritime shipping. Textile dyeing is the second largest polluter of water globally and it takes around 2,000 gallons of water to make a typical pair of jeans.
Every second, the equivalent of one garbage truck of textiles is landfilled or burned. If nothing changes, by 2050 the fashion industry will use up a quarter of the world's carbon budget. Washing clothes also releases half a million tonnes of microfibres into the ocean every year.
Then there is the human cost: textile workers are often paid derisory wages and forced to work long hours in appalling conditions. But with consumers increasingly demanding change, the fashion world is finally responding with A-listers, like Duchess Meghan Markle, leading the way with their clothing choices and designers looking to break the take-make-waste model.
"Most fashion retailers now are doing something about sustainability and have some initiatives focused on reducing fashion's negative impact on the environment," says Patsy Perry, senior lecturer in fashion marketing at the University of Manchester. For example, last year, Britain's Stella McCartney teamed up with the Ellen MacArthur Foundation to launch a report on redesigning fashion's future.
"However, there is still a fundamental problem with the fast fashion business model where revenues are based on selling more products, and therefore retailers must constantly offer new collections. It would be unrealistic to expect consumers to stop shopping on a large scale, so going forward, I would expect to see more development and wider adoption of more sustainable production methods such as waterless dyeing, using waste as a raw material, and development of innovative solutions to the textile waste problem," she says.
Pioneering solutions to address environmental challenges will be at the heart of the fourth UN Environment Assembly next March. The meeting's motto is to think beyond prevailing patterns and live within sustainable limits—a message that will resonate with fashion designers and retailers seeking to reform their industry.
At the March meeting, UN Environment will formally launch the UN Alliance on Sustainable Fashion to encourage the private sector, governments and non-governmental organizations to create an industry-wide push for action to reduce fashion's negative social, economic and environmental impact and turn it into a driver for the implementation of the Sustainable Development Goals.
Across the United Nations, agencies are working to make fashion more sustainable, from the Food and Agricultural Organization protecting arable land, to the Ethical Fashion Initiative set up by the International Trade Centre to the work of UN Environment in fostering sustainable manufacturing practices.
And some entrepreneurs are already designing the fashion of the future:
Spain's Ecoalf creates shoes from algae and recycled plastic as part of its Upcycling the Oceans collection. Founded by Javier Goyeneche in 2012, Ecoalf collects ocean plastics from 33 ports and turns the trash into shoes, clothing and bags.
In Amsterdam, GumDrop collects gum and turns it into a new kind of rubber, Gum-tec, which is then used to make shoes in collaboration with marketing group I Amsterdam and fashion company Explicit. GumDrop says around 3.3 million pounds of gum end up on Amsterdam's paths every year, costing millions of dollars to clean. It takes around 2.2 pounds of gum to make four pairs of sneakers.
Outdoor gear retailer Patagonia, based in California, has been producing fleece jackets using polyester from recycled bottles since 1993, working with Polartec, a Massachusetts-based textile designer. Patagonia also encourages shoppers to buy only what they need, and mends and recycles older items.
Gothenburg-based Nudie Jeans uses organic cotton for its jeans and offers free repairs for life. Customers also get a discount if they hand in their old jeans.
Cambodia-based Tonlé uses surplus fabric from mass clothing manufacturers to create zero-waste fashion collections. It uses more than 97 per cent of the material it receives and turns the rest into paper.
In the Netherlands, Wintervacht turns blankets and curtains into coats and jackets. Designers Yoni van Oorsouw and Manon van Hoeckel find their raw materials in secondhand shops and sorting facilities where donations are processed. San Francisco- and Bali-based Indosole turns discarded tyres in Indonesia into shoes, sandals and flip-flops, while Swiss firm Freitag upcycles tarpaulins, seat belts and bicycle inner tubes to make their bags and backpacks.
In New York, Queen of Raw connects designers, architects and textile firms with dead stock of sustainable fabrics from factories, brands and retailers. Queen of Raw says more than US$120 billion worth of unused fabric sits in warehouses, waiting to be burned or buried.
Novel Supply, based in Canada, makes clothes from natural and organic fabrics and is developing a take-back programme to find alternative ways to use garments at the end of their life. For founder Kaya Dorey, winner of UN Environment's Young Champion of the Earth award in 2017, the aim is to create a zero-waste, closed-loop fashion model.
Retailer H&M has a successful garment collection scheme and in October, lifestyle brand and jeans manufacturer Guess said it was teaming up with i:Collect, which collects, sorts and recycles clothes and footwear worldwide, to launch a wardrobe recycling programme in the US. Customers who bring in five or more items of clothing or shoes, will receive discounts. Wearable items will be recycled as secondhand goods, while unwearable items will be turned into new products like cleaning cloths or made into fibres for products like insulation.
Some argue that recycling is itself energy intensive and does not address our throwaway culture—the number of times a garment is worn has declined by 36 per cent in 15 years. An alternative might be found in a viable rental market for clothes. Pioneers in this field include Dutch firm Mud Jeans, which leases organic jeans that can be kept, swapped or returned, Rent the Runway, Girl Meets Dress and YCloset in China.
"The rental model is clearly a winner for the higher end of the market where consumers may have no intention of wearing an occasion dress more than once… but at the lower end, it's all too easy to go online and be able to buy outright any trend or item," says Perry. "For rental to be a success at this market level, companies need to offer sufficient choice of brands and styles that would engage consumers and tempt them away from outright purchase, and the rental service needs to be smooth and faultless."
Her best fashion advice? Less is always more.
"Keep your clothing in use for longer to reduce its environmental footprint, as well as reducing the amount of new stuff you need to buy and the consequent use of resources. This also reduces the impact of the disposal of perfectly good but unwanted clothes."
Air pollution and climate change: Two sides of the same coin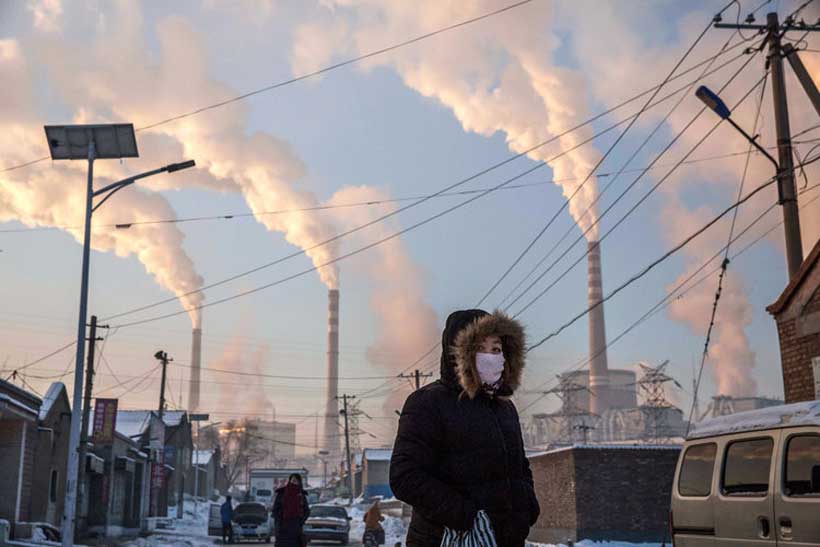 Erupting volcanoes, earthquakes, dust storms and meteorites smashing into the Earth's crust are natural phenomena that can cause climate change and air pollution: dinosaurs may have met their end after a giant meteorite kicked up so much dust that it blocked out the sun for decades, reducing photosynthesis and preventing the growth of plants.
Adding to these potential threats, we have also been contributing to air pollution and global warming through our resource-intensive lifestyles. We're producing and consuming more than ever before, and we're generating more greenhouse gases as a result, as well as air pollutants in the form of chemicals and particulate matter, including "black carbon".
Although they may seem to be two very different issues, climate change and air pollution are closely interlinked, so by reducing air pollution we also protect the climate. Air pollutants include more than just greenhouse gases—principally carbon dioxide but also methane, nitrous oxide and others—but there's a big overlap: the two often interact with each other.
For instance, air pollution in the form of particulate matter from diesel engines is circulated around the globe, ending up in the most remote places, including the polar regions. When it lands on ice and snow it darkens them slightly, leading to less sunlight being reflected back into space, and contributing to global warming. The slightly warmer temperatures encourage plants in the sub-Artic region to grow a tiny bit bigger, and as they grow through the snow they cast a shadow, which, when multiplied over millions of small plants, also has the effect of darkening the Earth's surface, leading to further warming.
The good news is that immediate changes to air pollution levels also have immediate effects. Quick action on reducing highly potent, short-lived climate pollutants—methane, tropospheric ozone, hydrofluorocarbons and black carbon—can significantly decrease the chances of triggering dangerous climate tipping points, like the irreversible release of carbon dioxide and methane from thawing Arctic permafrost.
Meanwhile, we should continue cutting down on the release of long-lived greenhouse gases like carbon dioxide.
A recent concern is trichlorofluoromethane, or CFC-11, which is to be phased out worldwide under the Montreal Protocol, the global agreement to protect the ozone layer. The industrial gas, used illegally, for example, in insulation material, also contributes to global warming.
Aerosols, the atmospheric pollutant with an effect on the climate
The October 2018 report by the Inter-governmental Panel on Climate Change (IPCC) highlights the importance of keeping global temperature rises to 1.5˚C below pre-industrial era levels. Urgent action is need over the next 12 years if there is to be any chance of achieving this target.
Aerosols may be of either natural or anthropogenic origin and can influence climate in several ways: "through both interactions that scatter and/or absorb radiation and through interactions with cloud microphysics and other cloud properties, or upon deposition on snow- or ice-covered surfaces thereby altering their albedo and contributing to climate feedback," says the Panel's report.
It defines aerosols as "a suspension of airborne solid or liquid particles, with a typical size between a few nanometres and 10 μm that reside in the atmosphere for at least several hours."
The report defines air pollution as "degradation of air quality with negative effects on human health or the natural or built environment due to the introduction, by natural processes or human activity, into the atmosphere of substances (gases, aerosols) which have a direct (primary pollutants) or indirect (secondary pollutants) harmful effect."
Air pollution is the theme for World Environment Day on 5 June 2019. The quality of the air we breathe depends on the lifestyle choices we make every day. Learn more about how air pollution affects you, and what is being done to clean the air. What are you doing to reduce your emissions footprint and #BeatAirPollution?
The 2019 World Environment Day is hosted by China.
Do The Harmless Pangolins Have To Become Extinct?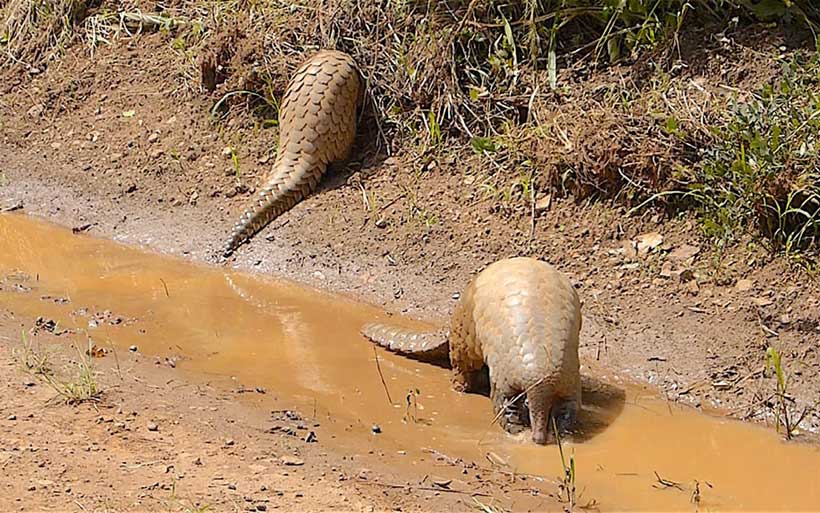 The pangolin is a timid little creature going about its nocturnal ways, slurping up ants and termites with a tongue longer than its body. It has no teeth. Its defense when threatened is to roll up into a ball shielded by its scales — an armor plating that is the cause of its woes.
Ranging in size from 3 to 73 pounds, there are eight distinct species of pangolin — their name originates in the Malay word 'penggulung' meaning the one that rolls up. In 2014, the International Union for Conservation of Nature redlisted all pangolins, classifying the four Asian species 'endangered' — of these, the Chinese and the Malay (Sunda) are critically so. Similarly threatened by decreasing numbers, the four African species were listed 'vulnerable'.
The principal reason for their plight is their defense mechanism, the scales, which in some cultures are claimed to hold magical properties. Thus in parts of Africa, a woman interested in a particular man is believed to be able to control him by burying a pangolin scale outside his front door. In China and East Asia, the scales are considered to have medicinal benefits.
The meat is also considered a delicacy. They have long been hunted in Central Africa for bushmeat but the numbers lost are not easy to calculate. In 2018, an estimate of 400,000 to 2.7 million killed for food was reported by researchers using three different methods — hence the wide range. The lead author of the study, Daniel Ingram of University College London, expressed greater confidence in the lower number.
The third Saturday in February, which fell on the 16th this year, is World Pangolin Day. Unfortunately, there was little cause for celebration as the following customs seizures from just the previous two months manifest.
On December 6, 2018 Malaysian customs officials had to incinerate 2.8 tons of pangolin scales of Cameroon and Ghanaian origin. In January, Ugandan authorities confiscated a large store of scales along with ivory of Congolese origin. Also in January on the 16th, 8.3 tons of pangolin scales were seized in Hong Kong from Nigerian cargo bound for Vietnam. A raid on a warehouse in Koto Kinabalu, Malaysia, by customs officers on February 7 yielded 30 tons of frozen pangolins and pangolin parts.
Adding to all of this is the largest haul globally in five years as reported by Singapore authorities on April 5th. They discovered 12.9 tonnes of pangolin scales from an estimated 17,000 animals along with 390 lb of ivory in a shipping container destined for Vietnam. Sadly, these efforts by authorities also attest to the ineffectiveness of the ban on all international trade in pangolins two years ago (2017) by the Convention in International Trade in Endangered Species (CITES).
Making matters worse, the pangolins are mammals and (unlike rabbits!) happen to be slow breeding. The gestation period is 5 months and mothers seldom give birth to more than one pangopup a year. Pink and soft, the newborn pups are just 6 inches long, weighing about 12 ounces. Their scales begin to harden the next day. The baby is suckled for three months but insects supplement its diet after about a month. It then takes two years to reach sexual maturity, all of which accounts for the slow replacement rate.
Their defense to roll up into a ball helps them very little for the poachers simply bag them. Moreover, biologists know little about their physiology and behavior, knowledge that might help to protect them. Being nocturnal and very shy, they are difficult to track in the wild. And adding to the challenges of research, they unhappily stress easily and usually die in captivity.
Poaching is almost impossible to stop unless the profit incentive stemming from the dubious medicinal benefits of the scales is removed — the April 5th seizure was worth $38 million. The scales are the principal source of demand and as they are made merely of keratin, the same as in human fingernails and hair, it then becomes a matter of education to curb demand.
For the gastronomic aspects, one example to follow could be shark fin soup. It is a delicacy in China and so was expected at official banquets, until banned in July 2012 following pressure from environmental groups. Sales have since plummeted.
Do pangolins have a chance? Let's hope so, or the little fellows will go the way of the African Northern White rhinoceros before we even get to know them. Sudan the last white rhino male died on March 19, 2018. As is often the case, it will take a sustained effort by environmental groups to persuade the Chinese, Vietnamese and other East Asian governments to act.
Author's Note: This article first appeared on Counterpunch.org
Dangerous Plastics Are a Threat to Us and Future Generations
Every day people make decisions about what to eat, sometimes opting for colorful fruits and veggies, sometimes finding the smell of bacon irresistible. At the end of the day people are controlling their own health. What is remarkable though, is the possibility that something one swallows today could have a lasting effect on future offspring – children, grandchildren, great grandchildren. New research is finding a generational impact of certain chemicals. This time it's not the bacon we're worried about – but plastics and the toxins within them.
Twenty years ago, researchers at Washington State University discovered accidentally that the now-infamous bisphenol A (BPA) was leaching out of plastic cages, harming the mice within. The contamination caused abnormalities in mice eggs and fertility. Numerous subsequent studies found BPA exposure affects adult fertility and health across species, including monkeys, fish, and humans. Known to decrease sperm count in rats and to cause breast cancer in women, BPA was banned in 2012 by the FDA from being used in baby bottles and sippy cups. Yet BPA is still used in many products, including epoxy resins used to coat canned foods. A 2004 study of 2,517 people found that 93% had detectable quantities of BPA's by-product in their urine.
Since the toxic effects of BPA came to light, several replacement bisphenols were quickly brought to market by chemical companies and are now in widespread use. Twenty years after the BPA toxicity discovery, by remarkable chance, the same Washington State University lab recently noticed again that something was amiss with their mice. This time the mice were housed in cages comprised of replacement bisphenols, largely believed to be safer than BPA. The researchers subsequently performed controlled studies with several of the replacement bisphenols including BPS, a widely used replacement.
Results demonstrated that the new bisphenols behaved similarly to BPA, causing health problems including detrimental effects on fertility in both males and females, reported in Cell Biology in September 2018. Scientist Sarah Hunt explained, "This paper reports a strange déjà vu experience in our laboratory." What the lab discovered once with BPA, it was seeing again with the replacements. Perhaps most troubling were the long-lasting effects of the toxins. Even if all bisphenols could be magically eliminated today, the toxic effects would still last about three generations through the germline of people already exposed. This means bisphenols ingested today could affect the fertility of one's great grandchildren.
The bisphenol case demonstrates that FDA bans do not necessarily solve the root problem. Chemical companies tend to roll out similar chemicals to those that have been banned, because this is the easiest way to bring something to market quickly. But more testing is needed before chemicals are released into the environment. Long term problems such as generational infertility and cancer risk often cannot easily be examined in clinical trials, and environmental effects are not rigorously analyzed prior to release.
The Washington State University study also proved that damaged and heated plastics are particularly deadly, as the damaged cages leached more toxins. This should serve as a warning for those who microwave food in plastic containers for their families. And it should remind us that discarded plastic bottles degrading in oceans and rivers are releasing toxins that cause irreversible infertility.
The current estimate of plastics in our oceans is approximately 150 million metric tons. By 2050, the amount is expected to 'outweigh the fish,' according to Jim Leape, co-director of the Stanford Center for Ocean Solutions. A recent study has determined microplastics (small plastic particles) are present in every river and lake in Britain. And they have been found in tap water, everywhere from the Environmental Protection Agency in Washington, DC to the Trump Grill in New York. A study of 159 drinking water samples on five continents found that 83% of those samples were contaminated. Plastics are everywhere, from the highest mountains to the deepest parts of the ocean and Arctic. Nanoplastics less than 50 nanometers long have even been found in plankton, which is ingested by fish that humans eat.
Scientists are finding that plastics are disrupting marine mammals' ability to reproduce. Many forms of plastic including polychlorinated biphenyls (PCBs) and Bisphenol A are endocrine disruptors, meaning they affect the hormonal systems of animals. An orca of adult age called Lulu, researchers recently found, was barren as if she was a juvenile. Analysis revealed very high levels of PCBs in her lipid tissues. One orca pod off the coast of Scotland has not produced a calf in 25 years. Despite bans on PCBs 30 years ago, toxins remain in orca mothers' milk, and are passed from mother to baby. A recent study published in the journal Science predicts that half the world's population of orcas will be extinct in just a few decades due to PCB poisoning. Researchers have also found that despite the PCB ban in Europe, levels of PCBs have not decreased, indicated that they may be leaching out of landfills. Hormone disruptors have also been found to impair male frogs' fertility, and to cause tadpoles to more frequently develop ovaries rather than testicles, thus skewing the proportion of males to females. Similar problems have been found in fish. Reproductive risks associated with endocrine disrupting chemicals span species.
Bisphenol A is known to decrease sperm count and to cause cancer in many species. Its counterpart replacement plastics (BPS, BPF, BPAF, BPZ, BPP, BHPF… to name just a few), researchers have recently discovered, are no better. Whether these pollutants have already affected humans is anyone's guess, but it would be wise to view statistics during the time period since plastics became popular, starting in the 1960s, and to see if there is a significant trend over time.
It appears there is. Notably, a 2017 study found that sperm counts per milliliter declined by more than 50% from 1973 to 2011, with total sperm counts down almost 60%. Two other recent studies have demonstrated that over the past few decades in the U.S. and Europe, both sperm count and motility have decreased.
The United Nations Environment Assembly (UNEA) recently debated a proposed legally binding treaty to address plastic pollution. One objective of the proposed treaty was to phase out single use plastics by 2025. Norway also suggested a global agreement for handling ocean plastic pollution. Sadly, the U.S. was the largest voice against the proposed treaty and the proposed global waste disposal plan.
Eventually a non-legally-binding agreement was reached in which the U.S. watered down the language to "significantly reduce" plastics by 2030, eleven years from now. One UN delegate described the Trump representatives as "trying to remove all targets and timelines."
Meanwhile, the U.S. has been exporting large quantities of plastics overseas for years, historically mostly to China. In the previous year, 70% was exported to China and Hong Kong. But in 2018, China banned imports of plastic waste. Since the ban the U.S. has looked to poorer nations for its overseas garbage dump. Unearthed, Greenpeace's research group, has found that in the first six months of 2018, almost half of U.S. plastic waste was sent to developing countries: Thailand, Malaysia, and Vietnam. U.S. plastic waste exports to Thailand went up by nearly 2,000% this year.
Most developing nations do not have sufficient recycling infrastructure to properly handle plastic waste. On Earth Day 2018, the top producers of mismanaged ocean plastic waste were ranked by tons of waste. The top five after China were Indonesia, the Philippines, Vietnam, Sri Lanka, and Thailand. In some cases as in parts of the Philippines, recycling is done laboriously by hand, picking bottles out of large dumps. As this is very difficult and time consuming, large quantities find their way into oceans and rivers. Sadly and not surprisingly, the Pasig River in the Philippines transports approximately 72,000 tons of plastic downstream, and has been declared "biologically dead" since 1990. Instead of helping these countries to develop recycling infrastructure, we are sending them more toxic waste.
We might think we are kicking the can down the road by sending plastics overseas but they will wash right back up on the Hawaiian and California coast. Beachgoers might witness solid litter washing ashore, or unearthed from the stomachs of dead whales. Or they might not notice the pollution — instead unknowingly consuming microplastics in their next Ahi Tuna sandwich. On the East Coast, one might encounter them in a glass of water at the Trump Grill in New York. There is only one world sink after all. Tossing poison to the other end of the tub only works for so long – it will inevitably, over time, mix and wash back to your side of the water. And when one of us is diagnosed with cancer, do we really know the cause?
It is instructive to remember the orca Lulu, a mammal like us, who no longer produces eggs. And to remember that if sperm counts continue to decline at the present rate, they will soon reach levels where it becomes difficult to have children. By then, the world's water supply may be irreversibly contaminated and an enforceable treaty will be too late.
Postponing a legally binding treaty may put us on the path of our fellow mammals the orcas, half of which already face inevitable extinction worldwide. And we can not forget the tragedy of the orca Tahlequah, who last summer carried her dead calf for a record 17 days and 1,000 miles in mourning.
Eleven years may be too late.
Author's note: this piece first appeared in CommonDreams.org