From unemployment to growing cyber-risk: Business executives have different worries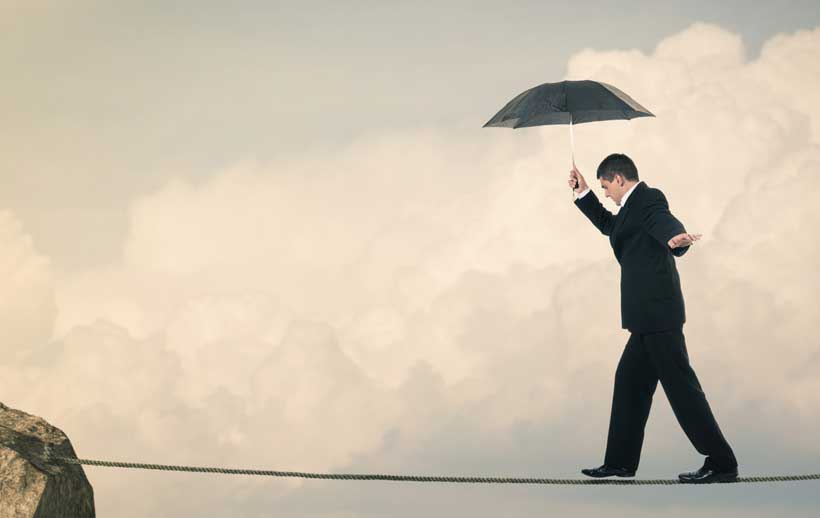 There are significant differences in risk perceptions across the eight regions covered in the World Economic Forum's Regional Risks for Doing Business report. Over 12,000 executives highlighted concerns ranging from economic to political, societal and technological. Unemployment, failure of national governance and energy price shocks were among the top worries of executives across various regions.
Cyber-attacks are the number one risk in Europe, East Asia and the Pacific and North America. This points to growing concerns about technological risks – cyber-attacks were the top risk in two regions, according to the 2017 survey (East Asia and the Pacific and North America), and only one region in 2016 (North America).
Failure of national governance ranked number one in Latin America and South Asia, highlighting the costs of political strains that have been evident in much of the world in recent years. In the energy-rich regions of Eurasia and Middle East and North Africa, energy price shocks were ranked as the top risk to doing business. Unemployment was perceived as the top risk for doing business in sub-Saharan Africa, representing mostly the absence of demand in the region.
"Given the current geopolitical uncertainty globally, cooperation within and among regions is of critical importance. Understanding the evolving risks in different regions is therefore top of mind for business leaders," said Mirek Dusek, Deputy Head of Geopolitical and Regional Agendas and Member of the Executive Committee at the World Economic Forum.
"By drilling down to regional and country-level data, this new Regional Risks for Doing Business report allows us to gauge how risk sentiment is evolving around the world. Cyber-attacks are increasing in prominence, but it is striking how many business leaders point to unemployment and national governance as the most pressing risks for doing business in their countries," said Aengus Collins, Head of Global Risks and the Geopolitical Agenda at the World Economic Forum.
"Cyber-attacks are seen as the number one risk for doing business in markets that account for 50% of global GDP. This strongly suggests that governments and businesses need to strengthen cyber security and resilience in order to maintain confidence in a highly connected digital economy," said Lori Bailey, Global Head of Cyber Risk, Zurich Insurance Group, and Member of the Forum's Global Future Council on Cybersecurity.
"While large cyber-attacks are the number one concern of executives in advanced economies there is growing apprehension about the potential for national governance failures in emerging markets," said John Drzik, President of Global Risk and Digital at Marsh. "Across the globe, businesses are also concerned with rising geopolitical friction that has already resulted in rising tariffs and sanctions and which could further fuel the growing threat of expropriation or political violence."
Top five risks of doing business by region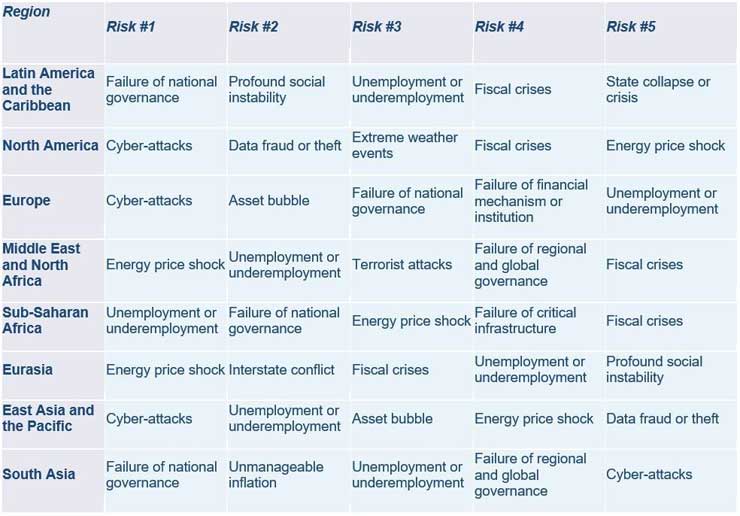 Methodology
The findings of the Regional Risks for Doing Business report are based on 12,548 responses from executives in 140 economies. Respondents were asked to select "the five global risks that you believe to be of most concern for doing business in your country within the next 10 years". This question is included in the annual Executive Opinion Survey, which is a part of the World Economic Forum's Global Competitiveness Report. The latest edition of the survey was carried out from January to June 2018. Business leaders were asked to choose up to five risks from a list of 30, including terrorist attacks, extreme weather events and state collapse or crisis.
Consumers moving away from traditional forms of entertainment and media consumption
Consumers are increasingly using digital technology for more than just shopping. There is a revolution occurring in how consumers access entertainment and media, for example. Thirty-eight percent of global consumers stream entertainment at least daily, and among Gen Z consumers, cord-cutting for entertainment is at more than 50%.
The findings are published today in PwC's Global Consumer Insights Survey, which assesses the behaviour, habits and expectations of over 21,000 online consumers in 27 territories. PwC's research reveals rapidly changing consumer behaviour in a host of areas other than entertainment and media.
When it comes to news, 25% of consumers now go to social media first to hear about current events. Given how pervasive social media is today, this likely doesn't come as a surprise. Social media-placed ads that allow consumers to interact with a brand is now ranked as the third most effective form of advertising, and among millennials, this is the most popular form of advertising – beating out traditional television ads.
The easier and better the experience, the more consumers will spend
The study finds that consumers — bombarded with a multitude of choices — are constantly seeking tools to help simplify their purchasing decisions. In addition to using digital technology, they are looking to their trusted communities and other experts:
According to those surveyed, the top three attributes that can improve an in-store shopping experience are easy store navigation, knowledgeable sales associates and easy payment options.

61% of consumers are influenced by social media for their purchases, either as inspiration or following positive reviews. Conversely, less than 20% of consumers say they're likely to buy a product because of a celebrity or influencer.

Almost 50% of those surveyed let family and friends' opinions guide their choice of a vacation travel provider.
John Maxwell, Global Consumer Markets Leader, PwC comments, "The key to a great end-to-end customer experience isn't just about the shopping and retail experience – it spans across industries. Consumers are looking for a seamless and easy purchasing journey, and companies can achieve this by using a blend of both physical and digital approaches. The result is a greater return on experience with the customer and more lasting results for businesses."
Two-thirds of consumers are now more willing to access non-traditional health services online. Nearly 75% own health-related apps, with exercise/health-monitoring being the most popular. More than half (51%) of consumers surveyed used a smartphone to pay bills and invoices online, and the same percentage transferred money online. For the first time in the 10 years that PwC has conducted this survey, consumers surveyed are using smartphones over other mobile devices to shop online, with 24% of consumers using a smartphone to shop online weekly.
In emerging countries, mobile payments in stores are increasing, with Vietnam seeing the biggest increase to 61% in a period of one year, followed by the Middle East (45%). Globally, there was an overall increase of 24% over the past year. In general, Asian countries are more likely to adopt this behaviour more quickly than Western countries.
People Can Prosper and Thrive If Pakistan Reforms Faster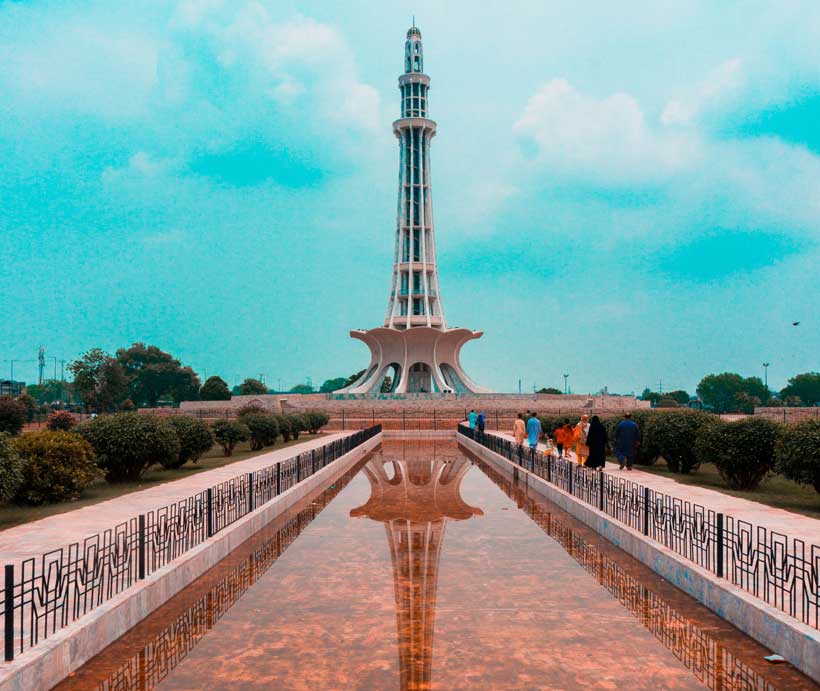 Pakistan urgently needs to invest more and better in its people if they are to be richer, better educated, and healthier when the country turns 100 years old in 2047, says a new report by the World Bank.
Launched today at the Human Capital Summit, the report, Pakistan@100: Shaping the Future, urges Pakistan to overcome its boom-bust cycles through a deep-rooted economic transformation. It recommends the essential reforms Pakistan needs now to accelerate and sustain growth. This means increasing and improving human capital investment, boosting productivity, promoting social and environmental sustainability, ensuring good governance, and leveraging its location to connect more with neighbors and the world beyond says the report.
"There are steps Pakistan can take today to boost its economic performance and thereby ensure a better future for its people," says Hartwig Schafer, World Bank Vice President for South Asia. "These steps are ones that other countries have taken to open up their business sectors to competition and innovation and laying the foundations for growth, investment, and good jobs."
The forward-looking report argues that Pakistan's greatest asset is its people – a young population of 208 million. This large population can transform into a demographic dividend that drives economic growth. To achieve that, Pakistan must act fast and strategically to: i) manage population growth and improve maternal health, ii) improve early childhood development, focusing on nutrition and health, and iii) boost spending on education and skills for all, according to the report.
"Because the next generation is meeting only 40 percent of its potential it means that Pakistan is foregoing much of its economic growth, but this can change if women's potential is unlocked," says Annette Dixon, World Bank Vice President for Human Development. "When women and girls are empowered to make their own decisions, they stay in school longer, they start families a little later, have fewer children, contribute more to the economy, and invest more in their children. It's a virtuous circle that's good for families and good for the whole country."
In addition to human capital, Pakistan@100: Shaping the Future calls for reforms in other key areas.
To increase investment levels, the report recommends ways to make it easier to do business in Pakistan, as well as reforms to tax policy and administration to increase fiscal space and public investment in the country's top priorities. Strong governance will be crucial to implement a difficult set of reforms. The report discusses the key elements of a strong governance environment, including the need for a stronger civil service.
"Accelerating and sustaining Pakistan's growth over a 30-year period is ambitious, but possible," says Illango Patchamuthu, World Bank Country Director for Pakistan. "Many other countries have achieved economic transformations within a generation with the right set of policies. The World Bank is committed to working with the government of Pakistan and other stakeholders in the country to advance the necessary reforms, so that Pakistan can significantly increase growth and sustain it, so it is an upper middle-income country by the time it celebrates its centenary."
Pakistan@100: Shaping the Future has also benefited from funding by the UK Department for International Development and Australian Department for Foreign Affairs and Trade.
Trade in fake goods is now 3.3% of world trade and rising
Trade in counterfeit and pirated goods has risen steadily in the last few years – even as overall trade volumes stagnated – and now stands at 3.3% of global trade, according to a new report by the OECD and the EU's Intellectual Property Office.
Trends in Trade in Counterfeit and Pirated Goods puts the value of imported fake goods worldwide based on 2016 customs seizure data at USD 509 billion, up from USD 461 billion in 2013 (2.5% of world trade). For the European Union, counterfeit trade represented 6.8% of imports from non-EU countries, up from 5% in 2013. These figures do not include domestically produced and consumed fake goods, or pirated products being distributed via the Internet.
Trade in fake goods, which infringe on trademarks and copyright, creates profits for organised crime gangs at the expense of companies and governments. Fakes of items like medical supplies, car parts, toys, food and cosmetics brands and electrical goods carry a range of health and safety risks. Examples include ineffective prescription drugs, unsafe dental filling materials, fire hazards from poorly wired electronic goods and sub-standard chemicals in lipsticks and baby formula.
"Counterfeit trade takes away revenues from firms and governments and feed other criminal activities. It can also jeopardise consumers' health and safety," said OECD Public Governance Director Marcos Bonturi, launching the report with the Director of the EU Observatory on IPR infringements at the EUIPO, Paul Maier, and the EU Ambassador to the OECD Rupert Schlegelmilch. "Counterfeiters thrive where there is poor governance. It is vital that we do more to protect intellectual property and address corruption."
The goods making up the biggest share of 2016 seizures in dollar terms were footwear, clothing, leather goods, electrical equipment, watches, medical equipment, perfumes, toys, jewellery and pharmaceuticals. Customs officials also noted an increase in counterfeits of goods less commonly seen in the past such as branded guitars and construction materials.
The majority of fake goods picked up in customs checks originate in mainland China and Hong Kong. Other major points of origin include the United Arab Emirates, Turkey, Singapore, Thailand and India.
The countries most affected by counterfeiting in 2016 were the United States, whose brands or patents were concerned by 24% of the fake products seized, followed by France at 17%, Italy (15%), Switzerland (11%) and Germany (9%). A growing number of businesses in Singapore, Hong Kong and emerging economies like Brazil and China are also becoming targets.
Small parcels sent by post or express courier are a prime and growing conduit for counterfeit goods. Small parcels accounted for 69% of total customs seizures by volume over 2014-2016 (57% via post and 12% via courier), up from 63% over the 2011-2013 period.
Along with insufficient screening of small parcels, other areas where policy gaps are facilitating counterfeit trade are inconsistent penalties on traffickers and the special rules governing free trade zones. Past OECD-EUIPO analysis has shown that free trade zones – where economic activity is driven by reduced taxes, customs controls and lighter regulation – can unintentionally facilitate counterfeit trade. The OECD is working with its member countries on formal guidelines to help authorities stem the problem.
Trends in Trade in Counterfeit and Pirated Goods covers all physical fake goods which infringe trademarks, design rights or patents, and tangible pirated products, which breach copyright. It does not include online piracy, which is a further drain on economies.