Dr. Lotay Tshering Premiership: A new beginning for India – Bhutan foreign relations
Authors: Srimal Fernando and Siksha Singh*
Bhutan is the only democratic constitutional monarchy in South Asian region holding tremendous Geopolitical importance for Asian giants, India and China. Recently the Himalayan nation held its third Parliamentary election. In Previous elections like of 2008, Jigme Thinley of Druk Phuensum Tshogpa (DPT) party won and in 2013 Tshering Togbay's People's Democratic Party (PDP) formed the government. The 2018 election results unseated Prime Minister Tshering Togbay and installed Dr. Lotay Tshering of Druk Nyamrup Tshogpa (DNT) by winning 30 seats in the National assembly out of the 47-seat elected lower house of Bhutan's Partliament.
The National council of Bhutan on the other hand has 20 seats out of which 5 seats are nominated by the King.  High youth unemployment, debt to the tune of 108.6% (World Bank), 114,000 postal votes and an extensive social media campaign were cited as the reasons for this anti-incumbency wave. Nevertheless the economic indicators were promising as the country's GDP grew at a robust rate of 8% in 2017 (World Bank).The sector which contributed to this growth story include Bhutanese Hydro power in which India is a major trading partner. Bhutan also has a distinguished honor of being the world's happiest nation according to Gross Happiness Index (GHI), the term 'gross national happiness' was first coined by the Fourth King Jigme Singye Wangchuck in the year 1972.
Dr. Lotay's party won a historic mandate on the grounds that it would ameliorate the inequality by focusing on regions outside the State Capital Thimphu. To implement these new vision plans, a ten member cabinet was administered the oath by the current Prime Minister.
Bhutan's bilateral relations with its neighboring countries like India have also faced some difficult times during this tenure. One of the key concerns that are challenging the bilateral relations between the two nations are Bhutan's is hydro-electricity sector which the DNT party was campaigning during the 2018 elections. However, under the new Bhutanese government, both countries can work closely in resolving the hydroelectric projects as it contributes a substantial proportion to government's revenues. A couple of months back, Bhutan also drew international media's attention concerning Doklam, a disputed territory between China and Bhutan, which also holds strategic significance for both India and China due to its proximity to India's borders. Bhutan got embroiled into this diplomatic crisis and subsequently the issue got resolved through diplomatic channels. India's neighborhood first foreign policy is the key to keeping this bilateral engagement on the right track.
The foreign policy of India should look beyond the existing neighborhood foreign policy paradigm. Firstly it should look into the geographic locality of Bhutan to be a buffer country. Secondly the economic and hydroelectricity deals should be in favor of both Bhutan's current government and people's aspirations. Thirdly the bilateral trade volume has to be doubled in the coming years and the foremost priority for policy makers should be to solidify this relation with further economic engagements like the hydro-power projects which will benefit both nations especially Bhutan.
*Siksha Singh, scholar of Masters in Diplomacy, Law, International Business at Jindal School of International Affairs, India
Rashmi Mishra on the UK- India relationship and the role women are playing to strengthen international ties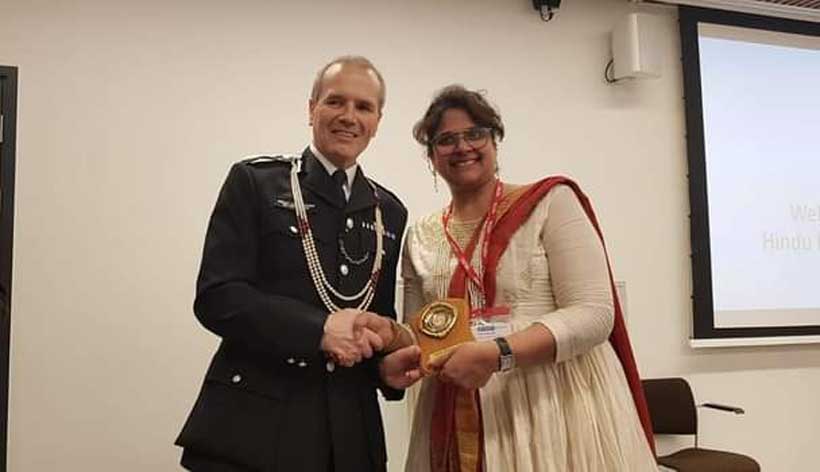 Rashmi Mishra is the founder of Inspiring Indian Women, an NGO focusing on women empowerment globally. She has won several awards including Indian Achievers Award, HERA Goodwill Award, Global Goodwill Ambassadors, National Diversity Awards United Kingdom, FOX story India and various others. In this article, we have a conversation with Rashmi Mishra to understand more about the non-profit sector, women empowerment and the UK-India relationship.
What inspired you to start Inspiring Indian Women (IIW)?
IIW initially started as a platform to connect women, inspire, and support each other. The difficulties of finding a job according to qualifications and the impracticality of having domestic help at home make life in London frustrating and sometimes affect mental well-being. We thought that women needed to explore various possibilities and outlets to look for other options to satisfy their artistic or professional desires and break free from the monotony of life. The long and depressing winters add to their woes.
How can Indian women play a role in strengthening the UK-India relationship?
Indian women today are more career-conscious than ever before. As I write this, several Indian women have already made their mark in strengthening the Indo-UK relationship. Prominent among them are Smt. Nirmala Sitharaman, former Indian High Commissioners Smt. Ruchi Ghanshyam, Smt. Gaitrii Issar, and Smt. Poonam Gupta, the founder of PG Paper Company, whom I personally met at Pravasi Bharatiya Sammelan Indore. CA Bina Mehta, a partner at KPMG, Smt. Vishakha Mulye, ED ICICI Bank, Neelima Jain, CEO of EESL EnergyPro Assets Limited (EPAL), Energy Efficiency Service Limited's (EESL) UK-based subsidiary. She is the force behind establishing EESL's UK operations from the ground up and led the first-ever acquisition of an overseas company, Edina, by a state entity administered under the Indian government's Ministry of Power. Nidhi Dua from Marks and Spencer is a committee member of the British Business Group and Confederation of British Industry. Laxmi Kaul, former head of CII UK, Ms. Nina Amin MBE, bringing investments into startups in both India and the UK, Mrs. Mira Misra Kaushik OBE by strengthening cultural ties, Ms. Prerna Bhardwaj, with experience in media, connecting the dots between both countries… The list is endless.
Your NGO deals with many women who have rebuilt themselves after their husbands' deaths. What have you learned about resilience? How can the world be more resilient in the current Russia-Ukraine situation?
It requires great strength to be resilient. Easier said than done. I know just one thing: life doesn't come to a standstill with a tragedy. Picking up the thread and walking on with the head held high is life. Struggles will be there, but 'giving up' is cowardice. Just look for that small twig to sail back. No looking back is the key. Visiting the past never helps. In the current Russia-Ukraine situation, the world must start reframing the education system by incorporating more life skills and life lessons of empathy, equality, togetherness, and brotherhood. The youth today are becoming more mechanical and money-minded. They are more focused on reaching their targets through shortcuts. The emphasis on human values in the education system has been lost.
What are some ways in which women can be empowered globally? Specifically when it comes to representation on international platforms like global parliaments or the UN?
Equal pay is first and foremost. Gender equality is a human right. More and more women must join politics as they need to be in policy making positions. The theme for International Women's Day 2023 said it all very aptly – "DigitAll Innovation and Technology for Gender by embracing equity." So much needs to be done, and at least society has started saying that only equal opportunities are not enough. A change in attitude at the workplace is pertinent. Unpaid caregiving jobs are not normal – women work all the time, but only some are salaried, sadly. Domestic abuse has risen since the pandemic; it is time to stand up for oneself. The silent revolution has begun.
How is IIW inspiring Indian women on a global scale?
There's a lot to be done. A beginning has been made. We have already been connecting women from different countries. We need to organize events in collaboration with international organizations. We are in touch. Social media has shrunk the world, but we need to go beyond with exchange programs and international exhibitions and conferences.
How can India be more empowering towards women in the country?
By bringing up both sons and daughters in the same way. When parents start saving for both their son and daughter's education and not just for the daughter's marriage and the son's education. Sons too need to learn cooking and cleaning the house, just as daughters are encouraged to learn. The notion of "papa going to the office and mama cooking" needs to be eradicated from young minds.
Your organization is also recognizing trans women and awarding them for their work. What can India do for trans rights to make the country more gender equal?
Firstly, they need to be considered equal. The law needs to include them in society. Awareness is the key; schools must include the third gender in books. As most have to drop out of education in the early days of growing up due to the stigma attached, they end up in low-class jobs, begging, and being looked down upon.
Any plans for IIW's expansion?
Definitely, we have already started IIW Sweden. We have IIW Netherlands, though it is a little dormant at the moment. Suggestions are coming to start IIW Poland. IIW intends to do lots of groundwork in India and hence is registered under a section 8 company in India. We already have different chapters in India: IIW Delhi, IIW Chennai, IIW Mumbai, IIW Bihar, and IIW Guwahati. We aim to connect women globally and support them in whatever way possible. We have also started an e-commerce platform, Eutsav.org, to strengthen women entrepreneurs and help them reach a bigger clientele. The purpose is to make more and more women, especially from rural India, self-reliant.
The Need for the Next SAARC Summit
Authors: Harsh Mahaseth and Sanjana Chib*
The South Asian Association for Regional Cooperation (SAARC) came into existence on the 8th of December, 1985, with eight member states namely, Bangladesh, Bhutan India, Maldives, Nepal, Pakistan, Sri Lanka, and Afghanistan, (which became a member-state in the year 2007) Considering the approach followed by other bodies such as that of ASEAN, which might soon start addressing their differences in an "ASEAN way" i.e. resolving their internal matters amicably instead of approaching the courts, SAARC also follows an institutional framework that regularly holds summits to discuss the various alternatives regarding dispute settlement and cooperation amongst its members.
The meetings of the Heads of the States or Governments of the Member States known as the Summit is the highest decision-making forum of SAARC. Generally, SAARC organizes Summits biennially through its Member States in an alphabetical order, and the hosting country of the Summit assumes the Chair of the Association and its importance can be acknowledged by the key outcome of its summit, which takes place in the form of a Declaration and includes decisions/ directives of the leaders to strengthen and consolidate regional cooperation in different areas being pursued under the patronage of SAARC. Moreover, the Summit also considers and approves reports of the Ministerial Meetings.
The 18th SAARC Summit was held in Kathmandu, Nepal and its theme was "Deeper Integration for Peace and Prosperity." Ever since then there has been no successful attempt to schedule the next summit, mainly due to lack of consensus between the member-states. As far as India is concerned, the major reason behind its non-participation is the Uri- Terrorist Attack, which was alleged to have Pakistani involvement, and that is the reason why it turned down Pakistan's proposal to attend the 19th SAARC Summit virtually if it does not want to be physically present in Islamabad.
SAARC has held only 18 Summits since its inception, which is a violation of Article 3 of the SAARC Charter itself. The prevailing political problems and bilateral disputes of respective member-states mainly caused delays. As of now, SAARC has conducted 18 Summits, ten in the first 15 years of its existence (1986 – 2000) and eight in next 15 years (2001 – 2016) which highlight that frequent cancellations have occurred over the last 15 years.
The experience of last 35 years suggests that, SAARC as an institution cannot be a tool for "regional integration" due to Indo-Pak Rivalry as their rivalry is so profound that it cannot be addressed in terms of a regional solution, which happens to be the major reason for not conducting the summit. However, some of other the reasons for not holding the SAARC Summit are also inter-state problems and bilateral tensions.
In the year 2020, Mr. Nilambar Acharya, Nepal's envoy to India made a statement that "SAARC is alive and there will be a summit in future", which came as a ray of hope soon after PM Narendra Modi tweeted the leaders about creating a strategy to deal with the situation of covid-19. Later, the organization was all set to conduct a summit in New York next year, which was later cancelled due to the objections of certain member states regarding the participation of Taliban as the government of Afghanistan.
A successful SAARC Summit can be conducted in future if its member states work towards resolving their bilateral disputes and other internal problems such as political instability, general elections, insurgencies, and economic recession, lack of adequate infrastructure and resources on the part of some members to organize the summit, which is why its leaders should consider amending the charter and make it mandatory to hold summits at a permanent venue such as that of the SAARC Secretariat on an annual basis which will make things much convenient for the member states and increase the chances of organizing the summit.
*Sanjana Chib is a Law Student at Guru Gobind Singh Indraprastha University, India.
International Peacekeeping Day: Pakistan's Case
29th May marks the 75th anniversary of International Peacekeeping Day. In conflict studies, Peacekeeping as term defines those activities and actions that tend to keep conflict and conflicting parties under control and involve such activities that serve as pathway to uproot conflict as a whole and reduce battlefield deaths. UNN Peacekeeping Missions recently have undergone several reforms and evolution to better their efficacy, coherence, and responsiveness for which they have been criticized for. While effectiveness of the very purpose of these missions is highly debated, May 29 calls for commemorating and honoring the services of all those countries and people coming together with a vision to ensure peace, stability, and sustainability across the world. Pakistan is no exception.
The image of Pakistan has, in the international politics has highly revolved around security and strategic realms. Considering that image, Peacekeeping Missions are just one of the many features where Pakistan has carved out its identity as a state that is committed to the security of not only its own but the entire world. Since its fist Peacekeeping Mission in Congo in 1960, Pakistani blue helmets have served with honor and valor in 48 United Nations missions in almost all continents of the world.
While endorsing Action for Peace (A4P) and Action for Peace Plus (A4P+) initiatives-that tend to improve efficacy and consolidate security of Peacekeeping Missions-Pakistan, being one of the few states, institutionalized peacekeeping by such structural initiatives as that of Centre for International Peace and Stability (CIPS). To date CIPS has run 175 courses, training 2853 Peacekeepers, including 407 officers from other states. In this way, CIPS stands as an embodiment to Pakistan's efforts of consolidating regionalism and Internationalism and standing as a responsible and capable state thinking for all and common peace and prosperity.
Besides working towards peace and security in war-torn communities, Pakistan has been on the forefront of peacebuilding and humanitarian efforts. Pakistan's Field Hospital established as part of UN Mission Mali, is providing premium healthcare services, including lifesaving surgeries to the dependent clientele of 3500 UN Peacekeepers besides facilitating affected civilians of the warn-ravaged region. In April 2023, services of Pakistan's hospital were appreciated at various levels in mission as well as UN headquarters for its constant quest for excellence and being in line with the needs of mission dynamics.
Through professionalism and dedication, Pakistani Peacekeepers have remained pivotal in UN's efforts to reform and strengthen the Peacekeeping Architecture. Pakistani Engineers are maintaining 1430 kms of main Communication Arteries connecting 45% of the total land territory in the Central African Republic (CAR) and providing assured connectivity to 60% of the population of CAR even during worst climatic conditions.
Pakistan has exercised resolve and manifested resilience and courage in working in some of the most dangerous war-ravaged regions of the world. Not only it has paved the way in ensuring peace and preventing full-fledged war in such regions but its commitments towards humanitarian appeal are no hidden reality. From 2022 South Sudan floods whereby Pakistani engineers constructed for them dyke system to provision of 60 metric tons of various stores in northern part of Abyei to Pakistani doctors and Engagement Teams running awareness and hygiene campaigns to psychological counselling to contributing in education field in various missions, Pakistan has proved resolve and promptness of its security architecture in the region and beyond.
Pakistan also hosts one of the oldest UN Peacekeeping Mission i.e., UN Mission Observer Group for India and Pakistan (UNMOGIP) to monitor the ceasefire violations on Line of Control and has committed to it unlike the other stakeholder in the domain.
This day, hence, is a time to commemorate the services of Pakistan's 225, 000 peacekeepers who have served uptil now, as well as honor the martyrdom of 171 Pakistani peacekeepers in the process.
29 May, on one end, is reminisce of Pakistan's advancing role in UN's agenda of maintaining peace and security around the world and on the other, it is a contemplating point at the structural amendments still needed in the peacekeeping apparatus of the world so that peace and prosperity is ensured for all nations and people of the world, once and for all.