S-400: A Game Changer in South Asia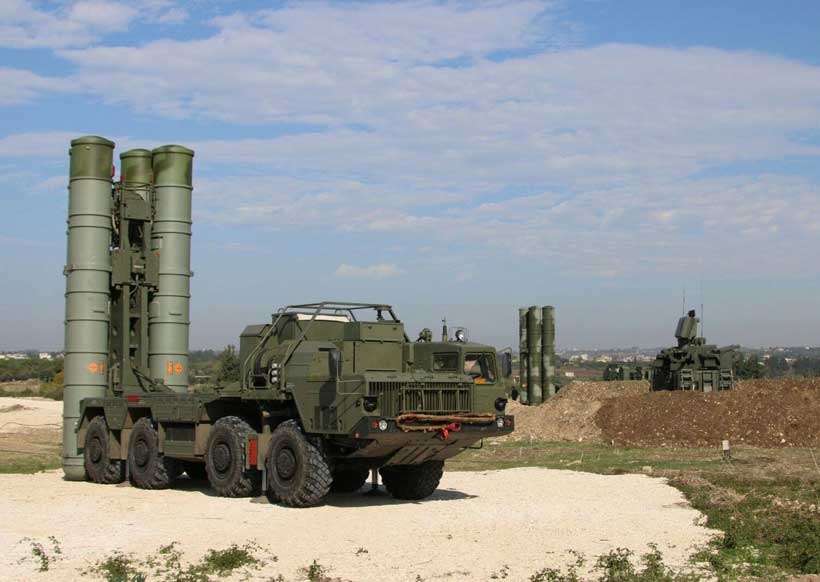 India and Russia have signed a US$5b deal, under which India will receive S-400 air defence missile system – that is poised to be game changer in South Asian strategic environment.
The Russians have definitely made a breakthrough with sales of weapons to some NATO countries with uncertain futures in the bloc (e.g. Greece, Turkey) and strong US client countries such as Saudi Arabia and other Gulf states such as the UAE. India's procurement of five S-400 regiments that is expected to be completed in 2020 is something that is giving a new dynamics to the issue.
The main usage of S-400 long-range missile is against stand-off systems including flying command posts and aircraft such as the E-3 Sentry Airborne Warning and Control System (AWACS). These aircraft, which are used by the US and its NATO allies with a squadron stationed in Japan at Kadena Air Force Base and in the UAE at al-Dhafra, are vulnerable to S-400 interceptors and lose their stand-off range protection.
The S-400 missile system is a state-of-the-art air defence and anti ballistic missile platform with a maximum range of 400km against aircraft while reportedly can engage ballistic missiles at 40km range. It is considered one of the best defense systems in existence. Russian-made Almaz-Antei S-400 Triumf air defense systems (NATO reporting name: SA-21 Growler) are expected to be fully integrated with the Indian Air Force's IACCS (integrated air command and control system). The IACCS is an automated command and control system for air defense, which integrates the service's air and ground-based air sensors and weapons systems.
The S-400 Triumph missile defense system is a significant strategic upgrade in India's military hardware and in its pursuit to become a global power. The development is particularly worrisome for Pakistan.  The system if deployed along Pakistan border will provide India an edge of 600kms radar coverage with option of shooting down incoming aircraft from 400kms from its territory.
However, India's purchase of S-400s and its option to acquire upgraded US Patriot systems remains on the table as well. This extensive arms shopping spree by Indian side includes C-17 Globemaster and C-130J transport aircraft, P-8(I) maritime reconnaissance aircraft, M777 lightweight howitzers, Harpoon missiles, and Apache and Chinook helicopters. The US will likely accept India's request for Sea Guardian drones, and American manufacturers including Lockheed Martin and Boeing are contenders for mega arms deals with India. This (S-400) will further destabilize strategic stability in South Asia, besides leading to a renewed arms race which is disadvantageous for the peace of entire region.
The Countering America's Adversaries through Sanctions Act (CAATSA) law tries to push back against Russia's malign activity around the world.
"We urge all of our allies and partners to forgo transactions with Russia that would trigger sanctions under CAATSA," a State Department Spokesperson said
When asked about India's plan to purchase multi-billion S-400 missile defense system from Russia.
"The Administration has indicated that a focus area for the implementation of CAATSA Section 231 is new or qualitative upgrades in capability – including the S-400 air and missile defense system," the spokesperson said.
Islamabad has from decades faced various stringent sanctions and severe political pressure from Washington. This all is evident from opposition over transfer of any sophisticated arms including the F-16s falcons.
The silence over such issue by Washington seems to be a part of its 'Pivot to Asia' policy, considering China as the next global adversary. Washington is in a difficult position where it is seeking to bolster ties with India to counter China's growing assertiveness while maintaining pressure on Russia. Whereas, China may not fret over the S-400 system deal provided to India but it will have implications for Pakistan's Air Force and missile program both.
Finally, it cannot be underestimated that most of Indian defense system is Pakistan centric. As far conventional weapons are concerned, the balance has always been in India's favor, because of India's better and larger economy. Therefore, Pakistan is concerned about this deal keeping in mind that it disrupts the equation of conventional weapons that exist in this region.
The induction of S-400 might lower the nuclear threshold to a new level that is already precarious with the waivers and blessings by big powers to India. These moves have the capacity to lead the region in a spiraling arms race which can bring about an increase in instability through the escalation of an already dangerous arms buildup in the region.
Israel continues its air strikes against Syria after Biden's inauguration: What's next?
A family of four, including two children, died as a result of an alleged Israeli air strike on Hama in northwestern Syria on Friday, January 22, Syrian media said. In addition, four people were injured and three civilian houses were destroyed.
According to a military source quoted by Syrian outlets, Israel launched an air strike at 4 a.m. on Friday from the direction of Lebanese city of Tripoli against some targets on the outskirts of Hama city.
"Syrian air defense systems confronted an Israeli air aggression and shot down most of the hostile missiles," the source said.
The Israeli newspaper Jerusalem Post reported that there were loud sounds of explosions in the area.
In turn, the Israel Defense Forces declined to comment on alleged strikes resulted in the death of Syrian citizens.
Over the past time, Israel significantly stepped up its aerial bombardment. This incident was the fifth in a series of Israeli air attacks on targets in Syria in the past month and the first after the inauguration of the U.S. President Joe Biden. Foreign analysts and military experts said that Tel Aviv intensified air strikes on Syria, taking advantage of the vacuum of power in the United States on the eve of Biden taking office as president.
While the Donald Trump administration turned a blind eye on such aggression, a change of power in the United States could remarkably limit Israel in conducting of military operations against Syria and Iran-affiliated armed groups located there. As it was stated during his presidential campaign, Joe Biden intends to pursue a more conciliatory foreign policy towards Iran. In particular, he unequivocally advocated the resumption of the nuclear deal with the Islamic republic. In this regard, Tel Aviv's unilateral actions against Iranian interests in Syria could harm Washington's plans to reduce tensions with Tehran.
By continuing air strikes against Iranian targets in Syria, Israel obviously sent a massage to the United States that Tel Aviv will consistently run anti-Iran policy, even if it will be in conflict with the interests of the Joe Biden administration. On the other hand, such Israeli behavior threatens to worsen relations with the United States, its main ally.
In the nearest future, the US reaction on the Israeli belligerent approach toward Iran will likely determine whether the relations between Tehran, Tel Aviv and Washington will get better or the escalation will continue.
India's Sprouting Counterforce Posture
In recent years, the technological advancements by India in the domain of counterforce military capabilities have increased the vulnerability of the South Asian region. While trying to disturb the strategic stability in South Asia, India through its adventuresome counterforce posture against Pakistan is on the verge of becoming a rogue state. Notwithstanding the repercussions, India is voyaging towards destabilization in the South Asian Region.
India's enhanced strategic nuclear capabilities which includes-the development of Multiple Independent Reentry Vehicles (MIRVs), Ballistic Missile Defence System (BMD), Inter-Continental Ballistic Missiles (ICBMs), supersonic and hypersonic cruise missiles, and acquisition of nuclear-capable submarines- indicate that India is moving away from its declared policy of 'No First Use' (NFU) towards a more aggressive, counterforce posture against Pakistan. The BMD and MIRV technology along with the provision of an advanced navigation system under BECA would embolden India to go for the first strike against Pakistan. While having reliance on BMD, as to be sheltered in return. These technological advancements made by India are sprouting a new era of counterforce posture, which would further make the South Asian region volatile and vulnerable to conflicts.
India's urge to acquire counterforce capability is strongly associated with its doctrinal shift. As the stated posture requires flexibility in the use of nuclear weapons, which fortifies the first strike capability, and thus a deviation in India's declared policy of 'No First Use' (NFU) has become more significant, particularly concerning its impact on regional stability. India's declared policy of NFU, set out in Draft Nuclear Doctrine in 1999, followed by its first amendment in January 2003 has since then been into hot debates. Pakistan has long doubted the Indian policy of NFU, as the actions and statements by the officials of the latter have always been aggressive and protruding towards the former. India, now, is drifting away from its policy of NFU with the acquisition of counterforce capabilities, particularly against Pakistan. This is further evident from the statement issued by India's Defense Minister Mr. Rajnath Singh, back in August 2019. It stated "Till today, our nuclear policy is 'no-first-use' (NFU). What happens in the future depends on the circumstances." A change at the doctrinal level is evident in the Indian strategic enclave. Notwithstanding the challenges and repercussions caused by the counterforce strategy and with an attempt to destabilize the nuclear deterrence in the region, India would go unjustifiably low to attain such measures.
In the same vein, India has been enhancing its nuclear capabilities for strategic flexibility against its regional rivals. By the same token, it wants to attain nuclear dominance, which would ultimately result in chaos in the region. The counterforce capability by India would compel its adversaries to heed towards the preemptive strike, in case of a crisis, out of the fear of the use of Nuclear weapons first by the patent enemy. Moreover, the counterforce capability pushes the enemy to put the nuclear weapons on hair-trigger mode, which is directly linked with the crisis escalation. The acquisition of counterforce capability by India would likely provoke a new arms race in the region. This would further destabilize the already volatile South Asian region. The far-reaching destabilization which India is trying to create, just to have an edge on the nuclear adversary, would be back on India's face, faster than she knew it.
On the contrary, Pakistan has been maintaining a posture of Credible Minimum Deterrence (CMD) and does not claim to have a No-First Use (NFU) policy. Moreover, Pakistan's nuclear capability is defensive in principle and a tool for deterrence. Given the Indian evolved notions of counterforce preemption, even now Pakistan would be left with no choice but to leave room for carrying out a 'first strike' as a feasible deterrent against India. Nevertheless, with the advent of technological innovations, its countermeasure arrives soon, too. Presently, there are two aspects that Pakistan should take into consideration; the growing Indo-US nexus and India's concealed innovations in the nuclear posture. Though India is far from achieving counterforce strikes against Pakistan's nuclear targets, concrete steps are required for maintaining future deterrence stability. With that intention, Pakistan might need to look towards its allies for getting hands-on the modern capabilities which includes- advanced communication and navigation systems, sensors, and advancements in artificial intelligence and otherwise, is essential for strengthening its deterrent capability. Pakistan should heed towards the development of absolute second-strike capability; as, what is survivable today, could be vulnerable tomorrow. Therefore, advancements in technology should be made for preserving nuclear deterrence in the future as well.
Summarizing it all, the existence of Pakistan's nuclear deterrence has created a stable environment in the region, by deterring full-scale wars on multiple occasions that might have resulted in a nuclear exchange. With the revolution in nuclear technology, the threat of nuclear war has emerged again. Instead of going towards the attainment of peace and stability in the region, India has been enhancing its counterforce capabilities. This would likely remain a significant threat to the deterrence stability in the region. Moreover, any kind of failure to maintain nuclear deterrence in South Asia could result in an all-out war, without any escalation control. India, in its lust for power and hegemonic designs, has been destabilizing the region. Both the nuclear states in South Asia need to engage in arms restraint and escalation control measures. This seems to be a concrete and more plausible way out; else the new era of destabilization could be more disastrous.
A pig in a poke of Lithuanian Armed Forces
The proverb "a chain is only as strong as its weakest link" perfectly reflects the situation in the Lithuanian armed forces. It is it unclear how the army will carry out its tasks, if everything that happens there runs counter to common sense.
The conscription took place in Lithuania. The recruits once again were revealed by an electronic lottery on January 7, 2021. 3,828 recruits were selected from the list of 38 thousand conscripts aged 18 to 23.
The idea of using electronic lottery in such a serious procedure arises a lot of questions among Lithuanians. Young people are suspicious of this method and fully admit the possibility of corruption. Nobody could check the results and so nobody could be blamed for random selection. The more so, the armed forces could get weaker recruits than in case of using usual ways of choosing among candidates. So, the army buys a pig in a poke.
This approach to recruitment in Lithuania results in presence of those with criminal intents and inclinations. Сases of crimes committed by Lithuanian military personnel have increased. Incidents with the involvement of military regularly occurred in Lithuania in 2020.
Thus, a soldier of the Lithuanian army was detained in Jurbarkas in October. He was driving under the influence of alcohol. A Lithuanian soldier suspected of drunk driving was detained also in Siauliai in December. Panevėžys County Chief Police Commissariat was looking for a soldier who deserted from the Lithuanian Armed Forces and so forth.
Such behaviour poses serious risks to public safety and leads to loss of confidence in the Lithuanian army in society.
Lithuanian military officials have chosen a new way to discourage young people from serving in the army, which is already not popular.
"The road to hell is paved with good intentions." The ministry of defence decided to run a photo contest that would reflect service in the country's armed forces. It is doubtful that such pictures will attract to the army, but the real situation is provided.
Usually, popularization is the act of making something attractive to the general public. This contest served the opposite goal. Look at the pictures and make conclusions.