Feminist Advertising Agency is tackling Gender Stereotypes in France
On 25 October, Ms Christelle Delarue, founder and CEO of Mad&Women advertising company, gave a talk on "Fighting Gender Stereotypes through Innovative Solutions with 'Feminist Advertising'" for Gender Views at UNESCO Headquarters in Paris.
Through the perspective of the private sector, and in particular the advertising industry, Ms Delarue described what it means to work for feminist advertising, and how the advertising industry can become a strong ally to advocate for gender equality through the media.
Ms Delarue explained that although women represent the biggest emerging market in the world – women influence 85% of the global economy – 91% of them still feel that advertisers do not understand them. One of the reasons for this phenomenon is that only 3% of creative directors in the world are women. Mad&Women fights against gender stereotypes to make sure women feel represented, respected and empowered through the media.
In today's media, women have 48% more chance of being represented in their kitchen, while 82% of experts roles in advertising are filled by men, including in some ads that seem to promote gender equality and women's empowerment. To fight against these reductive and belittling stereotypes, Ms Delarue emphasized the need to end misrepresentation of women and to say no to "Femwashing", defined as marketing tools stereotyping women to increase sales.
Ms Delarue noted that her approach can be defined as "Femvertising", which is when advertisements employ pro-female talent, messages and imagery to empower women and girls thus delivering a positive social impact. The "Femvertising" concept has become a business interest for brands that have the courage to commit to real gender equality through their brand communication and within their companies.
Ms Delarue's presentation was followed by a very interactive Q&A session with the audience. The questions touched upon whether Mad&Women can work with masculine industries, how to improve the visibility of this work outside the feminist circles and how education can change gender stereotypes.
For UNESCO's Director for Priority Gender Equality, Ms Saniye Gülser Corat, the advertising industry being at the heart of the private sector, "it is crucial to identify and challenge gender stereotypes in advertising to promote women's empowerment and gender equality".
Egypt: US$ 400 Million Project will Help to Improve and Decarbonize Logistics
World Bank approved a US$400 million development financing agreement to enhance the performance of the logistics and transportation sectors in Egypt and to support the shift towards low-carbon transportation along the Alexandria–the 6th of October–Greater Cairo Area (GCA) railway corridor.
Egypt's rail system is one of the most extensive in Africa, with a generally heavier focus on its passenger services, and three freight trains per direction per day in the GCA with the rest dedicated to passenger trains.
The Cairo Alexandria Trade Logistics Development Project will implement a railway bypass to the congested GCA. The bypass will provide freight trains between the Alexandria Sea Port and the newly constructed 6th of October Dry Port, with an alternative route to the west of Greater Cairo. The operational bypass will also allow 15 container trains per day by 2030, and as demand increases, 50 trains by 2060 to this dry port. Additional freight trains will flow between the Alexandria Port, Upper Egypt, and the Red Sea.
The transportation sector is the second largest contributor to Egypt's greenhouse gas (GHG) emissions after energy—contributing approximately 19 percent. Transporting containers and other freight by train has a lower carbon footprint than by road. The Bank estimates the project will reduce greenhouse gas emissions by 965,000 tons over 30 years.
The project also supports advancing the government's reform effort to improve the railway sector's performance and promote private sector participation by creating Egypt's Infrastructure Access Charging regime. This charging regime is similar to a toll on roads or airport fees. Private investors can operate their trains on the tracks of the Egypt National Railways Authority for a fee, hence boosting this authority's finances.
"The Government of Egypt is committed to SDG 13: Climate Action by designing and implementing mitigation projects that establish an advanced, sustainable and clean transportation network, while also decreasing carbon footprint. Sustainable transport projects, many of which are carried out in cooperation with Egypt's development partners and private sector, carry much significance in terms of driving the country's economic growth and empowering Egyptian citizens across the country, connecting bigger cities and business districts, and providing more job opportunities. The Cairo Alexandria Trade Logistics Development Project will support national efforts to transition to lower carbon transportation and ensure the safe and fast delivery of people and goods; a key element in our growing economy," said Dr. Rania A. Al-Mashat, Egypt's Minister of International Cooperation.
The project will also encourage female labor force participation by supporting the professional development of female employees as well as the availability of childcare.
The project will upgrade the track and signaling on four segments –including a greenfield one– between Alexandria, the 6th of October City, and the GCA to achieve an operational railway bypass to the GCA. This railway bypass will increase capacity particularly for freight trains while decongesting the Greater Cairo Area where demand for passenger trains is high.
"Reforming the transportation and logistics sectors is vital to Egypt's competitiveness and economic development," said Lieutenant General Kamel El Wazir, Egypt's Minister of Transportation. "This new project introduces several improvements in those vital sectors. The improvements are aligned with Egypt's pressing development priorities, which include decarbonization, trade facilitation, private sector participation, and gender balance in the workplace. Increasing the number of containers moved by rail from zero to 184,000 per year is one of the project's key objectives. This flow of containers is primarily between the Alexandria Sea Port and the 6th of October Dry Port, both privately operated and railway oriented."
The project will support Egypt's integration into global value chains and its efforts to become a regional trading hub. This project will significantly contribute to Egypt's 2050 Climate Change plan, given the expected reductions in greenhouse gas emissions.
"This operation is part of a wider set of efforts dedicated to offering timely and comprehensive support to Egypt's economic development and climate change plans," said Marina Wes, World Bank Country Director for Egypt, Yemen, and Djibouti. "We hope that through supporting more job creation, including for women, a cleaner environment, and providing safer mobility, the operation will contribute towards a brighter and more prosperous future for all Egyptians."
Fight against human trafficking must be strengthened in Ethiopia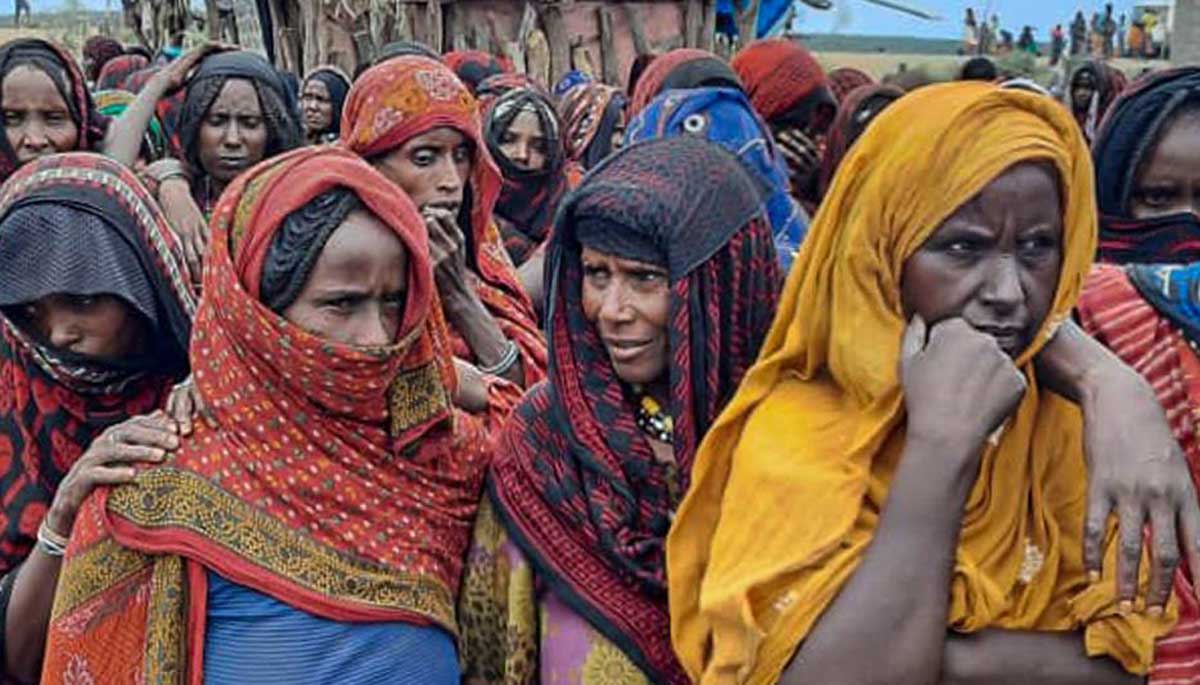 Throughout Ethiopia's Tigray, Afar and Amhar regions, women and girls are becoming increasingly vulnerable to abduction and sex trafficking as they flee ongoing armed conflict, a group of UN-appointed independent human rights experts warned on Monday.
The protracted conflict in the three northern regions have heightened risks of trafficking for sexual exploitation as a form of sexual violence in conflict, the experts said in a statement.
"We are alarmed by reports of refugee and internally displaced women and girls in the Tigray, Afar, and Amhara regions being abducted while attempting to move to safer places," they said.
Tweet URL
"We are concerned at the risks of trafficking, in particular for purposes of sexual exploitation, including sexual slavery."
Women and children in crosshairs
Amidst abductions and displacement, the UN experts raised serious concerns over Eritrean refugee women and children being at particular risk of sex trafficking.
"Urgent action is needed to prevent trafficking, especially for purposes of sexual exploitation, and to ensure assistance and protection of all victims, without discrimination on grounds of race or ethnicity, nationality, disability, age or gender," they said.
Meanwhile, the hundreds of children who have been separated from their families, especially in the Tigray region, are particularly vulnerable, warned the independent experts.
"The continuing lack of humanitarian access to the region is a major concern," the experts continued, urging immediate national, bilateral and multilateral measures to prevent all forms of trafficking of children and to ensure their protection.
Identifying victims
They added that sufficient measures were not being taken to identify victims of trafficking, or support their recovery in ways that fully takes account of the extreme trauma being suffered.
"The failure to provide accountability for these serious human rights violations and grave crimes creates a climate of impunity, allows trafficking in persons to persist and perpetrators to go free," underscored the six UN experts.
They urged all relevant stakeholders to ensure that victims of trafficking can adequately access medical assistance, including sexual and reproductive healthcare services and psychological support.
The experts said they had made their concerns known to both the Governments of Ethiopia and neighbouring Eritrea.
HL7 FHIR, the Future of Health Information Exchange?
Health Level 7 International is an association that calls itself a non profit organization, ANSI-accredited standards developing organization devoted to creating a thorough structure and standards set for the exchange, incorporation, sharing, and retrieval of digital health data that endorses clinical practice and the management, delivery, and evaluation of health services.
A next-generation standards framework developed by HL7, FHIR is described as such on the HL7 website. The best aspects of HL7's v2, v3, and CDA product lines are combined in FHIR, which also makes use of the most recent web standards and places a strong emphasis on implementation.
Do you wonder what's the difference between HL7 and FHIR? The core development technologies are the fundamental distinction between HL7 and FHIR. FHIR depends on open web technologies like JSON and RDF data formats as well as RESTful web services. FHIR reduces the learning curve for developers because they are already familiar with these technologies, allowing them to start working more immediately.
The "Resources" of FHIR and How They Help the Provider
FHIR is essentially an effective mechanism for healthcare professionals to communicate data about patients in a range of settings, including in-patient, ambulatory, acute, long-term, community, allied health, etc. The implementation of FHIR through its Resources is the aspect of it that matters the most to providers. The resources are comparable to "paper 'forms' indicating various types of medical and administrative data that can be gathered and shared," as stated on their website. Each Resource or "form" is assigned a template by FHIR.
Why is FHIR important?
Data was locked in proprietary structures for many years. Providers, payers, and patients frequently had to revert to outdated, time-consuming techniques to transmit information, such as faxing chart notes or physically transferring paper-based records. Or systems had to transmit whole papers to answer a doctor's demand for specific health information. Doctors have to search through entire paperwork to find a single piece of information, which drains them and takes lots of time. Luckily, each Resource can be provided using FHIR without the whole clinical record. This enables a quicker and significantly more effective interchange of health information.
Why is HL7 FHIR the future of health information exchange?
Sharing data is made easier, implementation is greatly simplified, and mobile apps are support FHIR better. Additionally, it provides crucial use cases that are advantageous to patients, payers, and providers.
To expedite decision-making, physicians can exchange patient data more effectively among teams. Medical data can be added to claims data by insurance companies to enhance risk assessment, reduce costs, and enhance outcomes. Additionally, patients can have more influence over their health by getting access to medical data via user-friendly apps that operate on smartphones, tablets, and wearables.
What makes FHIR different from the rest of the previous standards?
Although FHIR differs from earlier standards in numerous ways, there are two fundamental distinctions that make it so remarkable:
Security: TLS/SSL encryption is necessary for any production health data exchanged over FHIR. This makes it significantly safer than earlier HL7 standards.
Resources: FHIR makes use of uniform data components and formats, also referred to as "Resources." The lowest feasible transactional unit in FHIR is a Resource, which provides significant data through a known identity.
FHIR can be used in a wide range of situations, such as mobile apps, cloud communications, data sharing based on electronic health records, server communication in large institutional healthcare providers, and more. Open source, cost-free, scalable, and adaptable summarize FHIR.