World Bank Helps Host Communities, Rohingya in Bangladesh
The government of Bangladesh today signed two financing agreements totaling $200 million with the World Bank to improve the forest cover in the country's coastal, hill and central districts, including Cox's Bazar, and help Bangladesh provide education to Rohingya children and youth who have fled violence in Myanmar.
The $175 million Sustainable Forests & Livelihoods Project will plant trees in about 79,000 hectares of forest through a collaborative forest management system. The proportion to land under forests is only 11 percent in Bangladesh which is significantly lower than the Asian average of 26 percent. By increasing forest cover, the project will help the country become more climate resilient. It will also help about 40,000 poor, local households earn more money through alternative income generation activities.
The sudden influx of over 725,000 Rohingya to Cox's Bazar caused the loss of nearly 13,000 hectares of forest. The project will restore trees in 19,925 hectares of land in Cox's Bazar. It will also help the host communities through income generation activities, improving availability of wood for fuel in a sustainable way and reducing human-wild elephant conflict, which has increased due to loss of habitat.
"Despite its own challenges, Bangladesh generously provided shelter to about a million Rohingya refugees. The local people, many of whom are poor, welcomed the displaced Rohingya and shared food and resources. But the needs of both the Rohingya and the host community are huge," said Qimiao Fan, World Bank Country Director Bangladesh, Bhutan, and Nepal. "This financing will help the government improve resilience and livelihoods of the host community as well as address the learning and psycho-social needs of Rohingya children and adolescents."
The $25 million Additional Financing to the existing Reaching Out of School Children Project II (ROSC II), also signed today, will help about 350,000 Rohingya children and adolescents get basic education in learning centers. The grant will help recruit and train about 2,000 teachers and instructors. More than half of the teachers will be female, who will be trained to help girls manage safety concerns and if needed, guide them to safe locations. The preparation of text books and learning materials will adhere to the government's Learning Competency Framework.
The existing project is also being extended for two years, which will bring poor children from the host community in the area back to school in Cox's Bazar, which has the lowest net education enrollment rate in the country. The project extension will provide training to more than 17,000 local adolescents and help them with job placement. Since January 2018, the project has provided training, employment and enterprise development support to about 8,000 local adolescents who have dropped out from school.
Both agreements were signed by Monowar Ahmed, Secretary, Economic Relations Division, Government of Bangladesh, and Qimiao Fan on behalf of the government and the World Bank, respectively, at the Economic Relations Division.
The credit to the Sustainable Forests & Livelihoods Project from the World Bank's International Development Association has a 30-year term, including a five-year grace period.
Of the $25 million financing to the ROSC II project, the World Bank will provide $21 million as a grant through the IDA18 Regional Sub-window for Refugees and Host Communities and the Government of Canada will provide a $4 million grant.
The World Bank was among the first development partners to support Bangladesh following its independence. The World Bank has since committed more than $30 billion in grants and interest-free credits to the country. Bangladesh currently has the largest IDA program totaling $11.7 billion.
Somalia: Draft law a 'major setback' for victims of sexual violence
The UN official working to end rape during wartime is urging authorities in Somalia to scrap a proposed law that allows for child marriage, among other "very disturbing provisions".
Pramila Patten, the Secretary-General's Special Representative on Sexual Violence in Conflict, wants the Somali Federal Parliament to withdraw the Sexual Intercourse Related Crimes Bill as it breaches international and regional standards relating to rape and other forms of sexual violence.
"If adopted, it would not only represent a major setback for victims of sexual violence in Somalia but would also delay the delisting of any of Somalia's armed forces from the Secretary-General's annual report to the Security Council", she said.
Ms. Patten recalled that Somalia signed a 2013 Joint Communiqué with the UN, pledging to strengthen laws on sexual violence, and the draft law falls short of stated obligations and commitments.
'Serious breaches' – UN rights chief
The UN High Commissioner for human rights, Michelle Bachelet, on Monday called for legislators not to enact the law, saying that provisions in the draft "constitute serious breaches of international human rights norms and standards."
The rights chief said that if passed, it would represent "a serious step backwards for the rights of victims of sexual violence in Somalia, in particular women and girls", as well as sending a worrying signal to other States in the region.
Flaws in Draft Bill
The Sexual Intercourse Related Crimes Bill contains substantive and procedural provisions "which grossly contravene international human rights law and standards to which Somalia is a party, and which would represent a major setback in the fight against sexual violence in Somalia and across the globe", Ms. Patten said in a statement.
They include flawed definitions of offences, a lack of clearly defined terms, as well as inadequate protection of victims, witnesses and accused.
In addition to the provision that allows minors to marry based on reproductive maturity, independent of age, "it also establishes criminal penalties for forced marriage only if a woman is 'strongly' forced into the marriage without the knowledge and consent of her family."
Act on 2018 Bill
Ms. Patten expressed hope that the Somali Government would instead reintroduce another draft law from 2018 that is centred on survivors.
The Sexual Offences Bill was developed following five years of wide-ranging consultations with women, civil society, and the international community, she recalled.
It was unanimously endorsed by the Somali Council of Ministers and sent to Parliament.
"Special Representative Patten deplores that in 2019, in a process that may have deviated from established law and legislative procedures, the Sexual Offences Bill was returned to Cabinet by the Speaker of the House of the People requesting Cabinet to make several substantive amendments," the statement said.
"Although, in response, 15 Members of the House of the People brought a motion requesting the return of the Cabinet-approved Sexual Offences Bill to Parliament for first reading, the motion was not considered."
Ms. Patten has joined others in Somalia and across the globe who are requesting that the Government take immediate action to reintroduce the Bill.
Violence in Sudan's Western Darfur forces 2,500 into Chad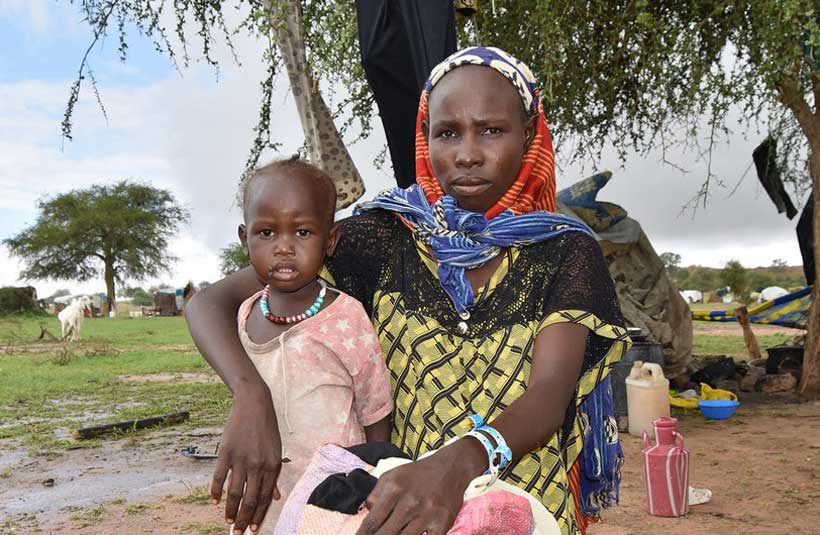 Recent clashes in Sudan's Western Darfur region has driven more than 2,500 people across the border into neighbouring Chad, the UN refugee agency (UNHCR) has reported.
According to UNHCR, more than 80 per cent of those arriving in the Chadian border town of Adré are women, children and elderly – many of whom have witnessed extreme violence.
Attacks, said to have been carried out by armed nomads in the town of Masteri in Western Darfur, killed 61 people from the Masalit ethnic community and injured at least 88 on 25 July. Houses were also reported to have been burned to the ground in the town and the surrounding villages.
"A 25-year-old woman told UNHCR staff that her husband was stabbed to death in front of her eyes and she had to run for her life with her three children, making the journey to Chad riding a donkey for one full day", Babar Baloch, a spokesperson for the agency said at Tuesday's regular media briefing, in Geneva.
About 20,000 affected within Sudan
In addition to those who fled into Chad, an estimated 20,000 people within Western Darfur in Sudan have been affected by the unrest – the majority of whom are women and children.
Mr. Baloch said that the situation has stabilized since the attacks but "remains unpredictable" and those displaced are still hesitant to return home and are demanding better security.
Federal authorities in the Sudanese capital, Khartoum, have reportedly deployed additional forces to control and calm the situation. A delegation from the Masalit community and Arab tribal leaders arrived in El Geneina, the capital of Western Darfur, from Khartoum on 4 August and is conducting peace talks between both sides, added the UNHCR spokesperson.
Response hit by heavy rains
In Chad, UNHCR, in collaboration with the Government and humanitarian partners, is relocating the refugees from the border areas to the Kouchaguine-Moura refugee camp further inland, where they will be provided with food, shelter, water and emergency relief items.
The camp will also provide access to hygiene and health, including isolation units, as part of the response to COVID-19, said Mr. Baloch.
The relocation, however, has been slow due to heavy rains and poor road conditions, with about 443 refugees arriving at the camp last week. The Kouchaguine-Moura camp is already hosting more than 6,000 Sudanese refugees who had arrived in February 2020.
Rains have also hampered efforts to assess the situation and organize a response to assist those affected in Sudan.
Pandemic highlights importance of indigenous self-determination
The COVID-19 pandemic has underscored the need to ensure the world's indigenous people have control over their own communities, the UN High Commissioner for Human Rights has affirmed.
Michelle Bachelet described the pandemic as "a critical threat" to indigenous communities everywhere, at a time when many are also struggling against man-made environmental damage and economic depredation.
"Overall, the pandemic hammers home the importance of ensuring that indigenous peoples can exercise their rights to self-government and self-determination", she said in a message for the International Day of the World's Indigenous Peoples, observed this Sunday.
"This is about saving lives and protecting a precious web of cultures, languages and traditional knowledge, that connect us to the deep roots of humanity."
Among the world's poorest
There are roughly 476 million indigenous people worldwide, according to UN estimates.
Although less than five per cent of the global population, they account for 15 per cent of the poorest people on the planet.
Ms. Bachelet noted that many indigenous communities have "deeply inadequate" access to health care, clean water and sanitation, while their communal way of life can increase the probability of rapid contagion.
Ancestral knowledge lost
COVID-19 cases have surpassed 18 million globally, and the Americas remain the epicenter of the crisis, the World Health Organization (WHO) announced earlier this this week.
The UN rights chief said more than 70,000 indigenous people across the region have been infected to date, including almost 23,000 members of 190 indigenous peoples in the Amazon basin.
"Over 1,000 deaths have been recorded, including several elders with deep knowledge of ancestral traditions", she added. "They include the tragic death in Brazil this week of chief Aritana, of the Yawalapiti people."
Lives under threat
The Amazon spans nine countries and Ms. Bachelet noted that indigenous communities in the vast region live on lands that are increasingly damaged and polluted due to illegal mining, logging and slash-and-burn agriculture.
Despite measures to contain COVID-19 spread, such as movement restrictions, many of these activities have continued, alongside movements by religious missionaries which also expose the indigenous to the risk of infection.
Meanwhile, those indigenous people who live in voluntary isolation from the modern world may have particularly low immunity to viral infection.
Ms. Bachelet said indigenous communities must have a role in pandemic response, stressing that "they must also be consulted, and should be able to participate in the formulation and implementation of public policies affecting them, through their representative entities, leaders and traditional authorities".