We live in an increasingly urbanized world. Every day, hundreds of people move to cities in search of job opportunities, better services, and infrastructure that can withstand natural phenomenon. Latin America and the Caribbean is the second-most urbanized region in the world and, as cities expand, their challenges also increase. Resilience in the face of disasters, better roads and transportation, more inclusion and access to financing are some of these challenges.
This week, more than 30 mayors and city leaders from around the world met in Buenos Aires to talk about the progress they have made and the obstacles they face, and  especially to discuss how cities – where the largest share of global GDP is produced –  can contribute to the global agenda. We spoke with two experts from the World Bank Group, Ede Ijjasz-Vasquez, Senior Director for the World Bank's Social, Urban, Rural and Resilience Global Practice, and Gabriel Goldschmidt, director of the International Finance Corporation (IFC) for Latin America and the Caribbean, to discuss their vision for the future of cities, their main challenges and how to address them.
Question (Q): Ede, urbanistic discussions have recently focused on resilience. Could you define urban resilience and give us some examples?
Ede Ijjasz-Vasquez (EIV): While there is no standard definition for urban resilience, most definitions coincide in that it refers to the capacity to manage a wide range of impacts and stresses that can occur in a city. While resilience has traditionally focused on climate change and its impacts – floods, earthquakes, hurricanes, and volcanic eruptions – it is also the ability of an urban system to prepare and adapt itself to technological and socioeconomic changes.  The former ranges from a breakdown and interruption of the water or energy system of a city, to a gas leak, a water pollution event or an explosion at an industrial plant. Socioeconomic changes refer to economic crises, demographic changes, terrorism events, strikes or social and political conflicts.
Q: In Latin America, eight of every 10 people live in cities, but many of them – the poorest – settle in the outskirts and lack access to basic services. How can we promote social inclusion and improve their quality of life?
EIV: The poor live in both downtown areas and the outskirts. Many of them live near the downtown areas to access jobs, often in informal settlements where the housing is more "accessible," but in precarious conditions. These settlements often lack quality infrastructure and services. For cities to be inclusive, it is necessary to improve these informal settlements. For example, with support from the World Bank and the Inter-American Development Bank (IDB), the government of the City of Buenos Aires is working to improve one of its most vulnerable and emblematic neighborhoods, Barrio 31.  On the outskirts, where most urban growth is occurring, cities must urgently adopt a planning process with a view to the future so that they can provide infrastructure and services along with well-located housing at prices that are accessible to the low-income population.
Q: With respect to employment, how can cities prepare for future labor market challenges?
EIV: Cities in the developing world will have to accommodate a growing youth population that will continue to migrate from the countryside to the city. At the same time, cities in the developed world will have to prepare now for migrations of youth populations from less developed countries, which will accompany the aging of the countries' own inhabitants. Migrations of people in search of opportunities, displacement due to conflict and violence, as well as an increased incidence and intensity of natural disasters associated with climate change, will increase the size of cities.  At the same time, new technologies present challenges and opportunities for employment. While automation will replace many jobs, it will create new opportunities for others. New technologies have the potential to change the way people travel to work and transform complex markets such as that of real estate. Cities should work together with national governments to develop national urban policies that integrate local sector policies, rethink labor market and job training policies, and use those same technologies to manage cities.
Q: What role should development institutions such as the World Bank play, as well as city mayors, who have an increasingly key role in the future of the urban agenda at the global level?
EIV: Mayors are key players in the development of the global agenda. As cities concentrate the majority of inhabitants, and as they produce the largest share of GDP and greenhouse gas emissions, they are centers where the future of the world's sustainability will be played out.  Even though this is obvious, cities have not been considered enough in the process to establish the global agenda. Local leaders and mayors have very interesting experiences to bring to the table; the expert knowledge they have of urban problems and their proximity to the population they represent make them key actors for developing alternative, creative solutions to the most complex global problems. For this reason, the World Bank, together with other multilateral agencies, is committed to helping cities promote the exchange of knowledge among them and with national leaders. Likewise, the World Bank is well-positioned to help municipal governments take measures to promote investment in projects that improve the population's quality of life.
The private sector, a key actor in urban development
Q: Gabriel, transforming cities is expensive. National and local governments have limited resources and high fiscal pressures. How can the private sector be persuaded to help cover the infrastructure deficit in Latin America, which according to some estimates is US$ 180 billion?
Gabriel Goldschmidt (GG): Cities are important centers of investment and economic growth. However, most cities in Latin America and the Caribbean have not grown in a sustainable way in recent decades. In a context of limited public budgets, it is important to consider mechanisms that can  attract private-sector participation while maintaining the objective of improving the quality of life of the population.
City governments cannot do this alone: the needs are simply too great. Innovation and investment of the private sector are crucial for addressing the complex challenges of cities in key areas such as infrastructure, climate change and job creation.  Where private-sector solutions exist, but are limited by weaknesses in the regulatory framework, the public sector and other players that should work together to create policies that enable the development of private-sector proposals. Finally, governments should reserve their limited fiscal budgets to invest in solutions for which there is no private-sector alternative.
For example, for the past 15 years, IFC has invested more than US$ 12 billion in 350 urban projects and advisory services in more than 60 countries, contributing to creating sustainable, competitive cities that attract the necessary private investment for inclusive growth and poverty reduction. Currently,  IFC is working throughout the region with cities as diverse as Buenos Aires, Bogota, Barranquilla, Lima, Tegucigalpa and, soon, San Jose.
Q: How can these ideas of financing and innovation be leveraged to create more inclusive cities?
GG: Well-structured, well-managed private-public partnerships can contribute innovation, efficiency and financing of the private sector in a single package. Bogota has two interesting examples of public-private partnerships. IFC is supporting the city in the development of these partnerships in the health sector for the building of hospitals, something that is highly innovative. The public-private partnership model for educational institutions is also being supported in Medellin and Barranquilla.
Green bonds are another tool that cities can use to attract commercial financing for sustainable projects. Cities are responsible for more than 80% of greenhouse gas emissions in the region. Currently, buildings generate 19% of the greenhouse gases associated with energy and consume 40% of electricity worldwide. Fortunately, many cities are proactively promoting sustainable infrastructure. IFC works with municipalities to implement green building codes. With the banking industry, it facilitates financing of sustainable projects while with real estate developers it supports the adoption of international sustainability certificates for buildings. For example, the EDGE certification, which was created by IFC, requires savings of at least 20% of water and energy and has been implemented in a variety of structures, including accessible housing.
Finally, land value capture is a way for municipalities to recover the value that public infrastructure generates (for example, property taxes, land improvement taxes and others).
Mali: Bamako Needs Urgent Actions to Become an Engine of Growth and Service Delivery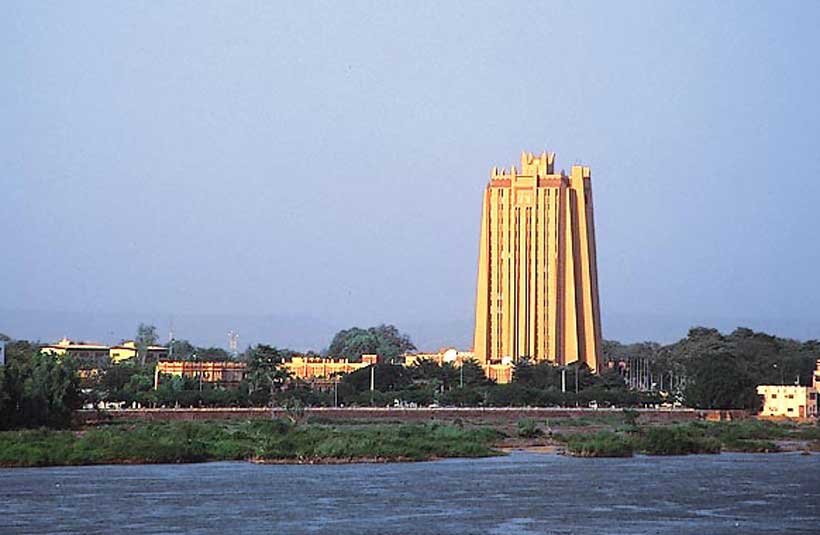 Bamako, Mali's capital city, has an opportunity to promote growth and improve service delivery, however this window of opportunity is narrow, a new World Bank Group report finds.
Launched today, Bamako – An Engine of Growth and Service Delivery analyzes how Bamako can become a city that works, increasing productivity and livability for its residents. According to the report, Bamako dominates Mali's urban landscape, so reforms and investments in the capital would impact the entire country's development.
The report highlights that to unleash Bamako's potential, a balanced approach to reforming institutions, putting the right policies in place and investing in infrastructures and attention to implementation will be needed. This would require coordinated use of land and connective infrastructure, fiscal and technical capabilities to finance and manage better public service delivery, and strengthening of urban institutions.
"Many of Mali's development challenges have a spatial dimension – with Bamako at its core. The economic and social importance of the capital city cannot be understated. Decisions made in Bamako will have long-lasting effects on Mali's development as it is the nerve center of the national economy. Reforms and investments aimed at tackling urban development challenges in the capital will have knock-on effects on national economic development," said Soukeyna Kane, World Bank Country Director for Mali.
The report looks at factors underlying Bamako's current challenges. It finds that inefficiencies in the land market deter productive investments. This, combined with low quality of transport, hampers urban accessibility within the city – keeping people away from jobs and services. And these challenges are further exacerbated by institutional fragmentation and lack of adequate investments.
"Bamako has an opportunity to make early investments in urban infrastructure in close coordination with long-term planning. Moreover, digital and disruptive technologies offer an opportunity for Bamako to tackle major challenges like never before. " said Anna Wellenstein, Director, Social, Urban, Rural, and Resilience Global Practice, World Bank.
Despite Bamako's prominence, its progress on increasing its competitiveness over time and on urban service delivery for its citizens has been falling behind. The report finds that urban development in Bamako has been fragmented – providing an important explanation of the failure to realize the advantages associated with the city's growth.
"The high level of urban fragmentation is fettering both – productivity, by preventing opportunities for matching people and jobs – and livability, by driving up the costs of urban infrastructure and service delivery," said Megha Mukim, Senior Economist and Lead Author of the report.
To become an engine of growth and service delivery, Bamako needs to scale up investments in a bottom-up, innovative ecosystem by developing the right platforms and engaging citizens in finding solutions to transform the city space.
RASAI: The car-sharing tool seeking to breathe life into Pakistan's congested cities
When Hassam Ud-din started studying in Islamabad in Pakistan, he had a three-hour round-trip commute from his home in Rawalpindi. He hated sitting in traffic jams, breathing dirty air and burning up fuel and money. Eventually he moved closer to Islamabad but, not content with solving the problem for himself, he's now come up with a fix to help others.
Ud-din has created an Internet tool that matches drivers with passengers looking for an affordable way to get to work or elsewhere. Called RASAI, the Urdu word for accessibility, the website and app aim to fill spare seats and empty trunks and create a more efficient travel system that offers low-income travellers more opportunities while also tackling pollution.
"I realized that people are limited in the opportunities they have by the radius of where they can go easily and cost-effectively," said Ud-din, who has a passion for maps and route planning and studied transportation engineering.
In Pakistan, it is quite common to see people seeking lifts on the side of the main roads. After conducting a survey that found that more than 60 per cent of vehicles were using only half their capacity, Ud-din realized it would be possible to harness this tradition.
"It was already happening in an informal way so what we did was we gave people an option to digitize their daily route. People can go to our website or app and register their route with us and the timings and we can find them passengers to take on their way," the 26-year-old said, noting that most people tend to use the website to set up monthly rides.
Only 17 per cent of Pakistan's population of around 200 million own cars but the country's cities are still blighted by congestion and foul-smelling fumes. The Health Effects Institute's State of Global Air report last year found that Pakistan, Bangladesh and India had experienced the steepest increases in air pollution levels since 2010.
Authorities are starting to act: for example, in 2020 Karachi will launch a zero-emission Green Bus Rapid Transit network, with 200 buses fuelled by bio-methane, or cow poo. However, the need for affordable transport is still great.
For Ud-din, the answer lies in the vehicles that are already on the roads.
"Our main aim was to create a virtual transit network … where you don't have an infrastructure but the capacity on the roads is optimized for you and you are able to use it quite efficiently," he says.
Around 1,400 vehicles are registered on RASAI's website, with most customers setting up lifts on a month-by-month basis. Passengers who find a lift using RASAI usually pay a nominal amount to help cover fuel costs, but the trips are still more affordable than other methods.
Ud-din had to overcome people's resistance to sharing their cars. Some were concerned about possible security issues or cultural differences. But Ud-din found a way to circumvent that hesitation by linking his service to the existing concept of pick-drop taxis.
"We need to be disruptive in the tech and the value proposition but it's good to be conservative when you pitch it to the customer and try to relate it to something that is already there," he said.
While one of Ud-din's main priorities was to provide affordable transport for people on lower incomes, he also wanted to address traffic pollution.
"(RASAI) helps solve the pollution problem directly and indirectly: if four people go in one car instead of taking their own cars, that reduces emissions. Indirectly, if those cars are not on the road, that reduces both congestion and pollution."
Ud-din's innovation won a grant from UN Environment as part of the Asia-Pacific Low-Carbon Lifestyles Challenge, which supports young people with cutting-edge ideas to foster energy-efficient, low-waste and low-carbon lifestyles.
Ud-din says the grant boosted his team's morale, while the mentoring he received as part of the award allowed him to think more clearly about turning his idea into a viable business model.
"The financial support was crucial to hone the product and cover the expenses required. These kinds of startups require a lot of capital to start because they require a critical mass," he said.
Commenting on the winners of the challenge, UN Environment's Acting Executive
Director Joyce Msuya said the innovations were just the latest examples of a long history of ingenuity in the region.
"The four billion inhabitants of Asia and the Pacific have seen both sides of the development ledger more vividly than most. Standards of living have skyrocketed as traditional consumption and production models have gone into overdrive," she wrote in a recent opinion piece.
"Yet, environmental debt accrued by these global habits is increasingly obvious: climate change, pollution, habitat loss and ecosystem destruction. If we continue to make the same choices, our future looks bleak."
The innovative spirit shown by inventors like Ud-din will take centre-stage at the fourth UN Environment Assembly in March, where the motto will be to think beyond prevailing patterns and live within sustainable limits.
For Ud-din, who spent a year in Silicon Valley as part of the Global Cleantech Innovation programme, technology will play a critical role in finding new solutions to environmental challenges, just as it has enabled on-demand services to facilitate our increasingly digital lives.
"Tech allows us to leverage resources that we might not even have known we have. Take Airbnb: people had spare rooms and the tech allowed them to make them available on a platform, and now it's a valuable company," Ud-din said. "In the same way, we are saying that if you are driving somewhere and you have spare capacity, that's an asset you can leverage."
Interview with Renzo Piano
Renzo Piano, winner of the 1998 Pritzker Prize and the 2002 UIA Gold Medal (among others), is one of the most prolific architects of our time, with an architectural repertoire that numbers over 50 landmark buildings spread right across the world. Today, he is perhaps best known for his iconic designs of the Georges Pompidou Centre (Paris, France) and The Shard (London, United Kingdom).
Born in 1937 to a family of builders in Genoa, Italy, Piano went on to found the Renzo Piano Building Workshop in 1980, which now has offices in Paris, Genoa and Berlin. He also established the Renzo Piano Foundation, a non-profit organisation dedicated to the promotion of the architectural profession through educational programs and activities.
But Piano, it seems, is far from slowing down: he recently volunteered his services to his hometown of Genoa, where he is designing a replacement for the Morandi Bridge, which tragically collapsed in August 2018.
The UIA Secretariat caught up with Mr. Piano just before the New Year to talk about the 1970 UIA-endorsed competition that marked a milestone in his early career: The Georges Pompidou Centre.
What attracted you to the competition for the Georges Pompidou Centre?
There was an idea in the competition brief that Richard [Rogers] and I found particularly interesting: the creation of a "house of culture". André Malraux, culture minister from 1959-1969, came up with the idea of establishing a "house of culture" in every French city; a place where the different disciplines could intertwine, from music to literature to art. We liked that idea.
The other thing about this competition was the chairman of the jury, Jean Prouvé: my idol! Prouvé served as a great example to me, not just because of his talent for designing buildings, but also because of the ethics of his architecture, manifest mostly in his work with Abbé Pierre. He was an icon!
How did you feel when you won the competition?
Imagine: you're 34-years-old, you've done a bit of work, but mostly small contracts, and somebody gives you the opportunity to build the Georges Pompidou Centre: How do you feel? Very surprised! We never expected to win – I mean, there were 681 entries!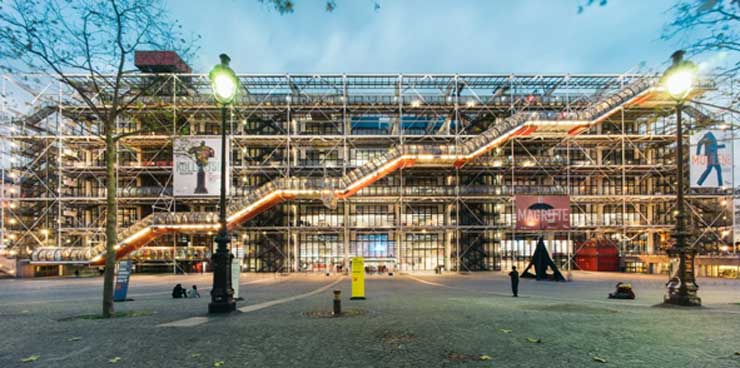 What impact did this competition have on your career?
It had a huge impact: it gave us self-confidence and the courage to fight for our ideas. When we won that competition, we were projected into a new dimension. Up until then, we were small fry! Then suddenly we found ourselves working with big construction companies, and those kinds of companies are always telling you "impossible, Mr. Piano, impossible"! But our experience with the Georges Pompidou Centre taught us how to defend our ideas and not to let them fade away under the pressure of opposition. Though, of course, you have to be careful; you have to be sure the idea you're defending is a good one! Once you're sure of that, you have to be prepared to put all your energy into upholding your idea, day after day.
What advice would you give an architect entering a design competition?
Firstly, I would encourage any young architect to enter competitions. I myself got about 80% of my work through competitions. Even the new Palais de Justice, in Paris, was a competition. Nobody asks you to design buildings like that without a competition process first.
Secondly, forget tactics. One of the reasons why Richard and I won the competition for the Georges Pompidou Centre was because we never thought we could actually win, so we had zero strategy with regards to the jury. We were just focused on finding the right idea for that revolutionary period after May 68. Don't waste your time trying to conform to what you think the jury is looking for, or you'll never find true inspiration. Just concentrate on digging deep inside yourself, brainstorming with your colleagues, and looking for the right idea. Then, only then, you might win!