Persecution of Opposition Parties in Bangladesh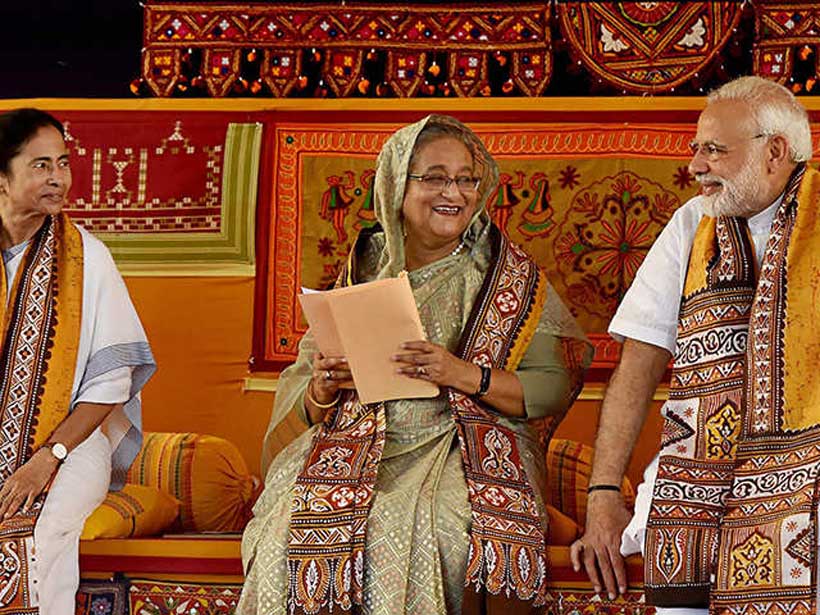 Bangladesh is a parliamentary democracy largely influenced by the British parliamentary system. Executive power is in the hands of the prime minister, who is the head of the cabinet, and who must be a member of the 300-seat Jatiya Sangsad (unicameral parliament). She/he recommends the council of ministers to the president. The president is the constitutional head of state and is elected for a 5-year term by the parliament, but plays a largely ceremonial role. The president can act only on the advice of the prime minister, as the presidential power was significantly reduced in accordance with constitutional changes in 1991. All adult citizens (18 years old and over) are eligible to vote, including women and ethnic minorities. Bangladesh experienced a number of military coups after 1971, and several military governments tried to restrict activities of political parties. However, after the return to civil rule in 1990, all political parties have to function openly in the country. There are a number of political organizations in Bangladesh.
Most prominent of them are: the Awami League (a coalition of 8 parties); the Bangladesh Nationalist Party; the Jatiya Party; and the Jamaat-e-Islami. The Awami League (AL) generally supports more government interventionist policies and has a very cautious attitude towards liberalization or opening of the national economy to international competition; in fact, in the early 1970s the party had strong pro-socialist elements in its economic policy. The Bangladesh Nationalist Party (BNP), which was the ruling party from 1991 until its defeat in the parliamentary election of 1996, is more free-market oriented. The BNP introduced the policy of economic liberalization and privatized some state-owned enterprises. It opened the national economy to international competition in an attempt to attract foreign investors.
For her second tenure, Prime Minister of Bangladesh and leader of the ruling party, Awami League, Sheikh Hasina Wajid won the general elections 2014 in wake of bloodshed due to her dictatorial steps. In this regard, head of the Bangladesh Nationalist Party (BNP), Begum Khaleda Zia who was leading the alliance of the opposition parties protested against the rigging, deliberately practiced by the Awami League, was placed under virtual house arrest during the election-campaign. Earlier, to keep her in power, Prime Minister Hasina Wajid amended the constitution for holding of elections under a non-party set up and the opposition has accused her of manipulating the electoral process to establish one party state. The opposition alliance led by Khaleda Zia did not file nominations for the polls, sticking to their stance of boycotting the elections over the failure of Hasina Wajid to form a neutral interim government. The country's largest religious party, Jamaat-e-Islami (JI) was also banned from taking part in the elections, while to address old grievances of her party, Prime Minister Hasina who was in connivance with the judiciary, hurriedly executed her political opponent, Abdul Qadir Mullah-leader of Jl.
Awami League government under Sheikh Hasina has been squeezing the opposition to new limits. In Jan 2018, "Digital Security Act (DSA)" was approved by the cabinet and after the approval of the President, is likely to be enacted. Proposed DSA is a set of punishment to support ultra Nationalism being pursued by AL. Timing of proposed DSA is crucial as journalists and media persons are demanding repealing controversial Section 57 of Information and Communication Technology Act (ICT) – 2006 termed as draconian section. Notably, more than 700 cases under this controversial Section are under trial. Under growing pressure from the world community and USA,  Sheikh Hasina is reported to have inclined to make certain amendments, however, keeping track record of political affairs, such announcement seems a mere political statement.
The DSA is affecting the people's right to freedom of expression. Moreover, it will impede independent journalism, limit the scope of researchers (particular on the sensitive topic of Liberation War) etc. Sheikh Hasina has been using such draconian and controversial laws against Bangladesh's Jammat e Islami elements extensively and even executed their leaders for siding with Pakistan. On the other hand, Sheikh Hasina has been using every tactic to keep Mrs Khaleda Zia under pressure. As BNP is currently leading an alliance of around 20 smaller parties, Sheikh Hasina government has unleashed squeezing tactics to cause ruptures in the alliance and forcing desertions/defections within BNP and its allied parties.
It is a fact that since Prime Minister Sheikh Hasina came into power, India has been employing various tactics to entrap Bangladesh by exploiting her pro-Indian tilt to fulfill its strategic interests. In this context, Prime Minister Hasina Wajid has continuously been pursuing Indian directions by conducting anti-Pakistan campaign. Therefore, after passing of 42 years to the events of 1971, which resulted into the separation of East Pakistan, Abdul Qadir was hanged because of his loyalty to Pakistan. Nonetheless, Indian media and renowned newspapers reported that during the visit of Prime Minister Sheikh Hasina to New Delhi, India and Bangladesh signed 22 agreements in the fields of defence cooperation, civil nuclear energy, space and cyber security among others, following bilateral talks between Indian Prime Minister Modi and his Bangladeshi counterpart. Both the countries also signed a Memorandum of Understanding (MoU) through which India would extend a line of credit of $500 million to support Bangladesh's defence-related procurements. Bangladeshi newspapers have showed un-easiness among the masses in Bangladesh regarding signing of defense deal between India and Bangladesh. Opposition parties have also criticized the defence deal by saying that Hasina Wajid wants Bangladesh to become a colony of India.
It is mentionable that Bangladesh's ruling party, under Sheikh Hasina Wajid maintains an anti-Pakistan posture with sinister designs of expressing animosity, antagonism and unrestrained emotional flare-up. The aim is to exploit feelings of masses by keeping the "hate Pakistan" agenda alive. This enables Awami League and Hasina Wajid to remain significant in Bangladesh's power politics despite their failure to deliver the goods. It also helps them to appease their mentors in India. Using abusive language against Pakistan and its armed forces makes Hasina Wajid relevant in Indian politics, while she herself prefers those entities which derive sadistic pleasure by depicting Pakistan in bad light. For the purpose, Awami League and its leader, Prime Minister Hasina are propagating against Islamabad through a well thought-out media plan in order to spread venom against Pakistan, its armed forces and all those Bangladeshi nationals who were loyal to the state during 1971 crisis. As already stated, hasty execution of death penalty to Abdul Qadir Mullah, political ban on religious parties and exclusion of BNP (opposition party) from power sharing, on jingoistic claims, clearly point at Indo-Bangladesh-Awami League blueprint which itself speaks of their deep seated animosity against Pakistan and its armed forces. Old carriage of woeful accusations and planned insinuations are re-animated to maintain emotional incrimination and revamp intriguing blame game.
Historically, sinister role of Indian establishment in dismemberment of Pakistan and creation of Bangladesh needed no proof however, Indian PM Modi's admittance during his visit to Bangladesh, has confirmed the mischievous Indian role. AL-India nexus has been recently further exposed by Surendra Kumar Sinha, Ex Bangladesh Chief Justice (seen by many as a key ally of Sheikh Hasina and her regime) through his recent memoir "A Broken Dream: Rule of Law, Human Rights and Democracy". Mr. Sinha candidly admits that India is backing Sheikh Hasina's autocratic government for own interest. His admittance may prove as a whistleblower for many Bangladeshis who have been waiting for gearing up against the draconian government of Sheikh Hasina. Mr. Sinha was put under house arrest and then forced into exile in late 2017.  In his admittance, Mr. Sinha has also revealed that Sheikh Hasina is deliberately supporting/promoting an extremist outfit "Hefazat-e-Islam" led by Moulana Shafito counter Jamaat Islami and other political opponents. "Hefazat-e-Islam" is Bangladesh's ISIS version. Mr. Sinha even alleges that Sheikh Hasina has a coterie of her military advisers – Major General (retired) Tarique Ahmed Siddique (security adviser), Major General Miah Zainul Abed in (military secretary) and the brigadier generals heading different bureaus of the Directorate General of Forces Intelligence (DGFI).
It may be recalled that Bangladesh has been witnessing increasing activities of extremists and the Bangladeshi government usually blamed Pakistan for fanning extremism. Sheikh Hasina's coercive approach to opposition parties is unlikely to be supported by any democracy loving country. As the next parliamentary election in the country are scheduled to be held in Jan 2019, opposition parties and alliances are likely to increase their activities and finding a strangulating atmosphere, the country is expected to witness widespread unrest. It is thus advisable for champions of democracy to play their role in revival of real democracy in Bangladesh and persuade Sheikh Hasina to desist from persecution of opposition parties.  If democracy is to take stronger root, it needs a conducive political environment. The country's institutions must be kept free of political influence.
Pakistan: A Terrorized Rather than Terrorist State
It is not hard to analyze the human audacity in engaging itself towards violence particularly in modern world. The charm of subjugating others through oppression or use of violence is not something new, it had been done in the past but since the inception of the modern world into its true shape, it has shifted its discourse in new and different modes. In the current order, there is a new form of inflicting pain that is through extremism and terrorism.
Pakistan a piece of land with diversity on Indus sands, has long been a victim of this ailment. One key tactic of ensuring the impact of terror or achieving what is desired is to hit the vulnerabilities of the victim. This seems to be true in case of Pakistan which was once vulnerable state for numerous reasons mainly internal, but now it has gotten up from its knees. Where once there were sirens of death and constant trepidation of a terrorist attack, people now believe that dark clouds have dispersed.
Since its independence, Pakistan has seen many blows in its journey but the most severe one was terrorism. In past eighteen years, more than 65,000 Pakistani civilians and armed forces personals had been a victim to or sacrificed their lives against terrorism. One can debate on whether the steps which were taken by the various chief executive of the country through extending hands with the shady ally and stepping into the quagmire, were need of that time or just another fallacy in our history but the fact remains that the nation suffered the impact of the decisions which were taken at that time. The mourning continued for more than 15 years and the despair remained/prevailed among the nation.
It is not to be misunderstood that Pakistan is the only nation who paid the price of fight against terrorism for quite a long period of time in shape of trauma, misery and grief. There's a narrative which is mainly spread by the antagonistic parties to demoralize the efforts of the state and inflict more pain to the suffered minds was that the Pakistan is a promoter and exporter of this franchise of terror. Moreover, that its security forces are involved in exporting and promoting it also, thus ignoring the sacrifices of the country which it had presented while fighting to uproot terrorism. The Pakistani military conducted more than eight full scale military operations to curtail the malady, where numerous lives of soldiers were laid in order to achieve the desired goal. Unfortunately, most of the time international arena had neglected the efforts.
This all has its roots when Uncle-Sam decided to invade Afghanistan in 2001 on the tag of eradicating terrorism. which was threatening the global "peace" order. Washington compelled Islamabad to be its non-NATO ally and so Pakistan became part of this bleakness. The war against terrorism did not bring any fruitful results and it blow backed as the Afghan mess shackled the mighty US. It's been more than 17 years now and Washington still finds itself clung in Afghan terrain. One of the crucial effect of this un-holy alliance of Islamabad with the Oval was that the Pakistan suffered the most at home, especially at the north-western front of its empire.
Pakistan is a save heaven for radicals and terrorists! This seems more like a false accusation rather than honest claim. The infection of terrorist organizations residing in Pakistan is courtesy of an untrusty ally, US. The moment United States started their war against terrorism the remnants flew to bordering Pakistani territories and due to high density of Pashtun Pakistani citizens in those territories it was difficult to operate with full military muscle. When Pakistan started doing it, those citizens turned more radicalized towards the state.
From the beginning till date, Pakistan had been the victim of terrorism rather than exporter of it. Its whole socio-economic segment got wounded by it and still even after efforts for curtailing the malevolence, it is still striving to overcome those effects in order to maintain its stature in the international standing as the Pakistani nation and state pay the excruciating price which was not even due on them. In a nut shell, Pakistan repented for the sins committed by the US. Pakistan's un-accompanied skirmish against terrorism is not over, yet there remains more to achieve, especially rehabilitation, facilitation and mainstreaming of the war torn areas, but foremost is to learn the lessons from the past and refrain to repeat the gaffes which the predecessors did.
Kashmir: Will Modi accept Pakistan's Khan's talks offer?
Once again Pakistan's prime minister has welcomed India to talk about the Kashmir dispute.
He had earlier advocated a Good-Friday (Ireland)-like solution of the dispute. While addressing a gathering at Uri (November 8, 2018), Farooq Abdullah, also, had sounded a clarion call for solving the Kashmir tangle. He advocated an -type settlement model to resolve the Kashmir imbroglio. Northern Ireland's population is approximately 55 per cent Protestant and 45 per cent Catholic, and the two communities placed their emphases on different elements of the problem. The Good Friday Agreement of 1998 had five main constitutional provisions: (a) Northern Ireland's future constitutional status was to be in the hands of its citizens. (b) If the people of Ireland, north and south, wanted a united Ireland, they could have one by voting for it. (c) Northern Ireland's current constitutional position would remain within the United Kingdom. (d) Northern Ireland's citizens would have the right to "identify themselves and be accepted as Irish or British, or both." (e) The Irish state would drop its territorial claim on Northern Ireland and instead define the Irish nation in terms of people, rather than land.
Other solutions
India could discuss other solutions, if allergic to the word `plebiscite', Here is a bird's-eye view: (a) Status quo (division of Kashmir along the present LoC with or without some local adjustments to facilitate the local population, (b) Complete or partial independence (creation of independent Muslim-majority tehsils of Rajauri, Poonch and Uri with Hindu-majority areas merged in India), (c) Plebiscite to be held in 5 to 10 years after putting Kashmir under UN trusteeship (Trieste-like solution), (d), Joint control, (e) Indus-basin-related solution, (f) Andhorra island (g) Aland-island-like solution and (h) 2. South Tyrol model. Under the Paris Agreement of 1946 (also known as the Gruber-Degasperi Agreement) and the South Tyrol Package of 1969, Austria is mandated with exercising a protective function vis-à-vis Italy for the Austrian and Ladin minorities in South Tyrol. The goal is to secure the continued ethnic, cultural, social and economic existence of the German and Ladin-speaking population of South Tyrol. Besides, much importance is attached to the peaceful co-habitation of the different linguistic groups in the province of Bolzano. (i) Ibarretxe Proposal for the Basque conflict in Spain. The Basque agreement is supported by three basic premises: (1) The Basques are a People with their own identity; (2) they have the right to decide their own future; and (3) it is based on a respect for the decisions of the inhabitants of the different legal political spheres in which they are situated. At present, the Basque people are organised in three legal-administrative communities. On the one hand is the Basque Autonomous Community—made up of the provinces of Alava, Bizkaia and Gipuzkoa—and the Province of Navarre, both of which are situated within the Spanish state. On the other are the territories of Iparralde — Lapurdi, Zuberoa and Benafarroa — situated within the French state that do not have their own political administration. (j) Trieste model.
For the Free Territory of Trieste, over which Italy and Yugoslavia shared sovereignty until 1954, the lessons, if any, are negative. AG Noorani has argued that the Trieste formula is nothing but communal partition, with the Treaty of Osimo giving the largely Italian port city of Trieste to Italy and the Croat-Slovene dominated Istrian region to the erstwhile Yugoslavia. (k) Sami model. Another creative example is the Sami Parliamentary Assembly, established in 2000, as a joint forum of the parliaments of the Sami indigenous people who reside in the northern regions of Norway, Sweden and Finland. The Sami have been demanding greater control over the land, water and natural resources of their ancient homeland. They elect representatives to their own regional parliaments but are now trying to develop a pan-Sami political institution to better protect their rights. The three Nordic countries have all been pulled up by the UN for their treatment of the Sami and many issues—such as Norway's decision to allow expanded bombing ranges for NATO warplanes—affect the indigenous population cutting across sovereign state borders.
The Sami example is a case of an attempt by a partitioned people to craft meaningful political institutions from below, often in the face of indifference from above. (l) New Caledonia Model Noumea Agreement.In 1774, the island was discovered by English captain James Cook. In 1853, under Napoleon III, France officially took its possession. The 1999 Noumea agreement on New Caledonia—where the indigenous Kanaks are now outnumbered by the descendants of European settlers and by other non-Melanesians—maintains French nationality over the colonial possession while establishing the idea of New Caledonia citizenship over a 20-year transition period till a referendum on final status. This example is unappealing in the South Asian context because Kashmir is not a colonial possession. Nevertheless, the notion of shared sovereignty is an interesting one. (m) The Chenab formula. Jammu and Kashmir has four distinct parts. The state of Pakistan-administered Kashmir is quasi-dependency of Pakistan. The Northern areas (former Northern Province of J&K) are an affiliated part of Pakistan except Aksai chin, an area under control of Chinese. The rest of the original state of Jammu and Kashmir including the valley is under India, where it has been granted a special status under the Indian constitution.
According to the Chenab Formula, Pakistan may consider Doaba, a narrow strip of land between Chenab and Ravi rivers in the suburbs of Shakargarh stretching up to Chamb, Dhodha and Rajwari districts as international border. "Even the town of Kargil might go to India under this 'give and take' but from Kargil upward, India will have to agree to give territory to Pakistan," say the architects of this formula Most of the districts in Jammu and on the left bank of the Chenab are Hindu majority in the state of Jammu and Kashmir while in most of the districts on the western side of the Chenab, the Muslims are predominant. "Pakistan may also agree to forego its claim over the Buddhist majority Ladakh region, but there will be no compromise on the Valley," Pakistani researchers say.
The Valley will be partially autonomous and there will be major changes on the borderline to adjust tehsils and towns surrounding the Valley between India and Pakistan. In short, the River Chenab will form the separation line between the Pakistan and Indian-held areas. (n) Kashmir Study Group formula.
The US-based Kashmir Study Group commissioned to find solution to Kashmir problem in its latest report recommends that portions of the former princely State of Jammu and Kashmir be reconstituted into self-governing entities enjoying free access to one another and to and from both India and Pakistan.
Each of the new entities would have its own democratic constitution, as well as its own citizenship, flag, and legislature, which would legislate on all matters other than defense and foreign affairs. India and Pakistan would be responsible for the defense of the entities, and the entities would maintain police forces to maintain internal law and order. India and Pakistan would be expected to work out financial arrangements for the entities. (o) An independent or autonomous Kashmir, as a neutral country. (h) Permutations and combinations of the aforementioned options.
Sheikh Abdullah's autonomy proposal
From the early 1950s to the beginning of the crisis in 1989, "Sheikh Abdullah supported 'safeguarding of autonomy' to the fullest possible extent" (Report of the State Autonomy Committee, Jammu, p. 41). Abdullah irked Nehru so much that he had to put Abdullah behind the bars. Bhabani Sen Gupta and Prem Shankar Jha assert that "if New Delhi sincerely wishes to break the deadlock in Kashmir, it has no other alternative except to accept and implement what is being termed as an 'Autonomy Plus, Independence Minus' formula, or to grant autonomy to the state to the point where it is indistinguishable from independence". (Shri Prakash and Ghulam Mohammad Shah (ed.), Towards understanding the Kashmir crisis, p.226).
But, how could a solution evolve? India has avoided a dialogue with Pakistan for about a decade. Sans sincerity, the only Kashmir solution is a nuclear Armageddon. Or, perhaps divine intervention.
Let India begin to talk. True, honesty, not obduracy or legal rigmarole, will solve the Kashmir tangle.
The 'High-Risk Low-Gain' Politics of the Kashmir Issue
Over the last few days, Pakistan's Prime Minister Imran Khan seems to have come under tremendous fire for his recent statements regarding a possible future settlement with India over Kashmir. Speaking to a group of foreign journalists, Mr. Khan had stated that he might have a better chance of reaching an agreement with Mr. Modi if his right-wing Bharatiya Janata Party were voted to power in the ongoing elections in India. This he predicted would be better than dealing with the struggling Congress Party which may lack the political capital to cooperate with Pakistan, out of fear of alienating India's influential far-right.
Considered by many as a blatant endorsement of Mr. Modi and his more oppressive brand of politics, Mr. Khan has since taken considerable flak from his political opponents as well as from some prominent voices within Pakistan's mainstream media. These include former diplomat Senator Sherry Rehman who has vehemently criticized the PM's statement. Her position is that Pakistan instead of appearing to favor certain individuals should focus on dealing with the Indian state as a whole. Particularly with respect to the Kashmir issue, she pointed out that favoring one individual or party over the other not only amounts to interference, but denigrates and shuns other parties from any future diplomatic efforts as well.
The Senator does have a point. Picking favorites and potential negotiation partners before the Indian elections even start does amount to a diplomatic faux pas of sorts. However, if one was to simply consider the PM's statement on its own merits, all he did was state a harsh, albeit long-standing political reality that has persistently characterized both countries' relationship with one another. Particularly with respect to the politics and discourse surrounding the Kashmir issue, this reality has been referred to by renowned South Asian expert Stephen P. Cohen as the 'high risk low gain' nature of cooperation that exists between both countries.
This idea of the high-risk low-gain nature of Pak-India relations is based on the fact that any form of cooperation between both countries has historically remained fraught with risks, particularly within the realm of local politics. This idea that leaders on both sides of the border have often more to lose than to gain politically has been evident throughout both countries' histories; especially when calling for greater cooperation.
For instance, these same risks were evident on both sides during Mr. Modi's impromptu visit to Pakistan in late 2015. Building on the budding bonhomie between himself and former Prime Minister Nawaz Sharif, both leaders had highlighted their growing personal relationship as highly positive for India Pakistan relations. This was despite the criticisms both were facing for appearing too conciliatory and overeager to paper over long standing issues. However, the risk of appearing weak or ceding more than necessary was ultimately greater for an already weakened Nawaz Sharif. Already dogged by the increasingly tenuous relationship between himself and the military establishment, Mr. Sharif instead of gaining any ground towards a workable solution with India, found himself even more politically alienated as a result of his overtures.
The same was the case in the Musharraf era as well. At the height of his power in 2001 and immune to the political risks of civilian leaders, Mr. Musharraf appeared more than willing at the Agra summit to reach a workable solution. His proposed solution however remained untenable for Indian leaders such as L.K Advani, who found the risks of appearing reconciled with the Pakistani General as too great. Six years later, the four point plan which Mr. Musharraf had developed over years of back-channel talks with Mr. Manmohan Singh's government, also fell through as Mr. Musharraf's political troubles at home started to take toll. The growing uncertainty over Mr. Musharraf's political future further compounded the risks being faced by Indian leaders in late 2007, at a time when the Kashmir issue was according to many 'all but resolved'.
Even more ironic perhaps was the lost opportunity for India at Simla in 1972, where Shrimati Indira Gandhi Ji at the height of her power remained a hair short of finalizing the Kashmir issue with a militarily defeated Mr. Bhutto. As the controversial story goes, a verbal agreement between Mr. Bhutto and Mrs. Gandhi just fell short of being written down and signed due to Mr. Bhutto's insistence. He had reportedly asked for more time as the political risks for reaching a final settlement over Kashmir were far too great for him then.
Coming back to Mr. Imran Khan's most recent statement, his prediction of a weakened Congress party being less able to face such risks can be termed as a candid summation of the above historical lessons. Not to mention the risks Mr. Khan himself faces to his own political capital, when calling for cooperation with a jingoistic and war-mongering BJP government. A BJP government, which thus despite its highly questionable sincerity to peace, may still yet offer a more pragmatic chance of cooperation over Kashmir.
Yet, in staying true to the irony that has long plagued India -Pakistan relations, both Mr. Khan and Mr. Modi are neither the first, nor likely the last leaders to face the high risk low-gain implications of calling for peace and reconciliation between Pakistan and India. Unless there is widespread political consensus on an honest and stringent commitment to peace and reconciliation on both sides of the border, that elusive peace sought by a few idealists is likely to remain just that; an elusive ideal.