Persecution of Opposition Parties in Bangladesh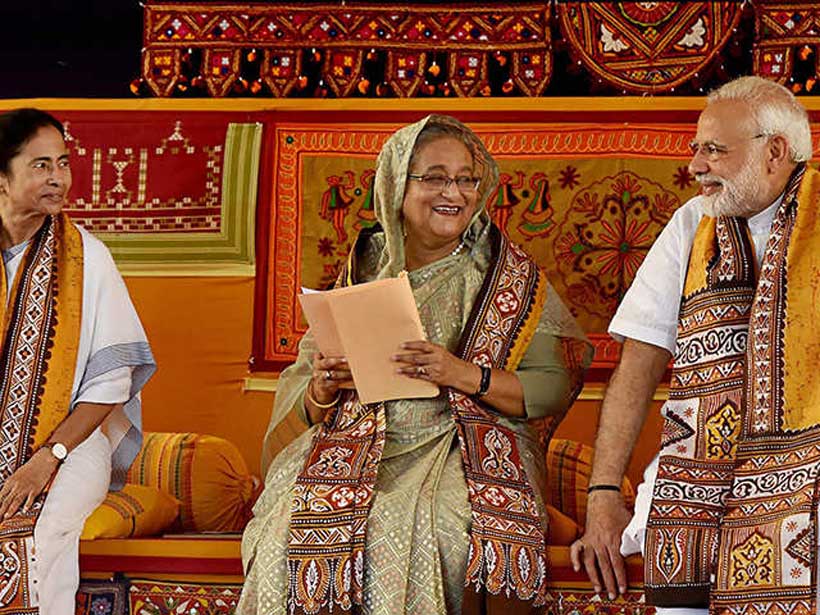 Bangladesh is a parliamentary democracy largely influenced by the British parliamentary system. Executive power is in the hands of the prime minister, who is the head of the cabinet, and who must be a member of the 300-seat Jatiya Sangsad (unicameral parliament). She/he recommends the council of ministers to the president. The president is the constitutional head of state and is elected for a 5-year term by the parliament, but plays a largely ceremonial role. The president can act only on the advice of the prime minister, as the presidential power was significantly reduced in accordance with constitutional changes in 1991. All adult citizens (18 years old and over) are eligible to vote, including women and ethnic minorities. Bangladesh experienced a number of military coups after 1971, and several military governments tried to restrict activities of political parties. However, after the return to civil rule in 1990, all political parties have to function openly in the country. There are a number of political organizations in Bangladesh.
Most prominent of them are: the Awami League (a coalition of 8 parties); the Bangladesh Nationalist Party; the Jatiya Party; and the Jamaat-e-Islami. The Awami League (AL) generally supports more government interventionist policies and has a very cautious attitude towards liberalization or opening of the national economy to international competition; in fact, in the early 1970s the party had strong pro-socialist elements in its economic policy. The Bangladesh Nationalist Party (BNP), which was the ruling party from 1991 until its defeat in the parliamentary election of 1996, is more free-market oriented. The BNP introduced the policy of economic liberalization and privatized some state-owned enterprises. It opened the national economy to international competition in an attempt to attract foreign investors.
For her second tenure, Prime Minister of Bangladesh and leader of the ruling party, Awami League, Sheikh Hasina Wajid won the general elections 2014 in wake of bloodshed due to her dictatorial steps. In this regard, head of the Bangladesh Nationalist Party (BNP), Begum Khaleda Zia who was leading the alliance of the opposition parties protested against the rigging, deliberately practiced by the Awami League, was placed under virtual house arrest during the election-campaign. Earlier, to keep her in power, Prime Minister Hasina Wajid amended the constitution for holding of elections under a non-party set up and the opposition has accused her of manipulating the electoral process to establish one party state. The opposition alliance led by Khaleda Zia did not file nominations for the polls, sticking to their stance of boycotting the elections over the failure of Hasina Wajid to form a neutral interim government. The country's largest religious party, Jamaat-e-Islami (JI) was also banned from taking part in the elections, while to address old grievances of her party, Prime Minister Hasina who was in connivance with the judiciary, hurriedly executed her political opponent, Abdul Qadir Mullah-leader of Jl.
Awami League government under Sheikh Hasina has been squeezing the opposition to new limits. In Jan 2018, "Digital Security Act (DSA)" was approved by the cabinet and after the approval of the President, is likely to be enacted. Proposed DSA is a set of punishment to support ultra Nationalism being pursued by AL. Timing of proposed DSA is crucial as journalists and media persons are demanding repealing controversial Section 57 of Information and Communication Technology Act (ICT) – 2006 termed as draconian section. Notably, more than 700 cases under this controversial Section are under trial. Under growing pressure from the world community and USA,  Sheikh Hasina is reported to have inclined to make certain amendments, however, keeping track record of political affairs, such announcement seems a mere political statement.
The DSA is affecting the people's right to freedom of expression. Moreover, it will impede independent journalism, limit the scope of researchers (particular on the sensitive topic of Liberation War) etc. Sheikh Hasina has been using such draconian and controversial laws against Bangladesh's Jammat e Islami elements extensively and even executed their leaders for siding with Pakistan. On the other hand, Sheikh Hasina has been using every tactic to keep Mrs Khaleda Zia under pressure. As BNP is currently leading an alliance of around 20 smaller parties, Sheikh Hasina government has unleashed squeezing tactics to cause ruptures in the alliance and forcing desertions/defections within BNP and its allied parties.
It is a fact that since Prime Minister Sheikh Hasina came into power, India has been employing various tactics to entrap Bangladesh by exploiting her pro-Indian tilt to fulfill its strategic interests. In this context, Prime Minister Hasina Wajid has continuously been pursuing Indian directions by conducting anti-Pakistan campaign. Therefore, after passing of 42 years to the events of 1971, which resulted into the separation of East Pakistan, Abdul Qadir was hanged because of his loyalty to Pakistan. Nonetheless, Indian media and renowned newspapers reported that during the visit of Prime Minister Sheikh Hasina to New Delhi, India and Bangladesh signed 22 agreements in the fields of defence cooperation, civil nuclear energy, space and cyber security among others, following bilateral talks between Indian Prime Minister Modi and his Bangladeshi counterpart. Both the countries also signed a Memorandum of Understanding (MoU) through which India would extend a line of credit of $500 million to support Bangladesh's defence-related procurements. Bangladeshi newspapers have showed un-easiness among the masses in Bangladesh regarding signing of defense deal between India and Bangladesh. Opposition parties have also criticized the defence deal by saying that Hasina Wajid wants Bangladesh to become a colony of India.
It is mentionable that Bangladesh's ruling party, under Sheikh Hasina Wajid maintains an anti-Pakistan posture with sinister designs of expressing animosity, antagonism and unrestrained emotional flare-up. The aim is to exploit feelings of masses by keeping the "hate Pakistan" agenda alive. This enables Awami League and Hasina Wajid to remain significant in Bangladesh's power politics despite their failure to deliver the goods. It also helps them to appease their mentors in India. Using abusive language against Pakistan and its armed forces makes Hasina Wajid relevant in Indian politics, while she herself prefers those entities which derive sadistic pleasure by depicting Pakistan in bad light. For the purpose, Awami League and its leader, Prime Minister Hasina are propagating against Islamabad through a well thought-out media plan in order to spread venom against Pakistan, its armed forces and all those Bangladeshi nationals who were loyal to the state during 1971 crisis. As already stated, hasty execution of death penalty to Abdul Qadir Mullah, political ban on religious parties and exclusion of BNP (opposition party) from power sharing, on jingoistic claims, clearly point at Indo-Bangladesh-Awami League blueprint which itself speaks of their deep seated animosity against Pakistan and its armed forces. Old carriage of woeful accusations and planned insinuations are re-animated to maintain emotional incrimination and revamp intriguing blame game.
Historically, sinister role of Indian establishment in dismemberment of Pakistan and creation of Bangladesh needed no proof however, Indian PM Modi's admittance during his visit to Bangladesh, has confirmed the mischievous Indian role. AL-India nexus has been recently further exposed by Surendra Kumar Sinha, Ex Bangladesh Chief Justice (seen by many as a key ally of Sheikh Hasina and her regime) through his recent memoir "A Broken Dream: Rule of Law, Human Rights and Democracy". Mr. Sinha candidly admits that India is backing Sheikh Hasina's autocratic government for own interest. His admittance may prove as a whistleblower for many Bangladeshis who have been waiting for gearing up against the draconian government of Sheikh Hasina. Mr. Sinha was put under house arrest and then forced into exile in late 2017.  In his admittance, Mr. Sinha has also revealed that Sheikh Hasina is deliberately supporting/promoting an extremist outfit "Hefazat-e-Islam" led by Moulana Shafito counter Jamaat Islami and other political opponents. "Hefazat-e-Islam" is Bangladesh's ISIS version. Mr. Sinha even alleges that Sheikh Hasina has a coterie of her military advisers – Major General (retired) Tarique Ahmed Siddique (security adviser), Major General Miah Zainul Abed in (military secretary) and the brigadier generals heading different bureaus of the Directorate General of Forces Intelligence (DGFI).
It may be recalled that Bangladesh has been witnessing increasing activities of extremists and the Bangladeshi government usually blamed Pakistan for fanning extremism. Sheikh Hasina's coercive approach to opposition parties is unlikely to be supported by any democracy loving country. As the next parliamentary election in the country are scheduled to be held in Jan 2019, opposition parties and alliances are likely to increase their activities and finding a strangulating atmosphere, the country is expected to witness widespread unrest. It is thus advisable for champions of democracy to play their role in revival of real democracy in Bangladesh and persuade Sheikh Hasina to desist from persecution of opposition parties.  If democracy is to take stronger root, it needs a conducive political environment. The country's institutions must be kept free of political influence.
The Rise of Non-State Actors in Afghanistan: A Consequence of Political Vacuum
In recent years, Afghanistan has witnessed a surge in the influence of non-state actors such as the Taliban and Tehrik-i-Taliban Pakistan (TTP). These groups have exploited the political vacuum in the country to carry out acts of violence and terrorism, creating instability and insecurity for the Afghan people and neighboring countries.
Introduction:
The history of Afghanistan is marked by political instability and conflict. In the 1990s, the country was torn apart by a civil war between rival factions, which created a power vacuum that was eventually filled by the Taliban. The Taliban regime was eventually overthrown in 2001 with the help of international forces, but the country has since struggled to establish a stable and effective political administration.
The absence of a recognized political administration in Afghanistan has led to a power vacuum that has allowed non-state actors, such as the TTP, to exploit the situation and use Afghan soil to launch attacks against Pakistan, thereby threatening its security and stability.
The Political Vacuum in Afghanistan:
In the absence of a recognized political administration, non-state actors have been able to take advantage of the situation to establish themselves as power brokers in the country. The Taliban, for example, has been able to regain control over large swathes of territory and carry out acts of violence and terrorism against the Afghan government and international forces. The TTP, which operates primarily in Pakistan, has also taken advantage of the political vacuum in Afghanistan to use the country as a base for launching attacks against Pakistan.
The situation in Afghanistan highlights the importance of having a recognized political administration in place. A stable and effective political administration is essential for maintaining peace and security in the country and preventing the rise of non-state actors like TTP. It is also essential for preventing the country from being used as a base for launching attacks against neighboring countries.
Furthermore, the lack of a recognized political administration in Afghanistan has made it difficult for the international community to effectively address the challenges facing the country. The international community has been working to support the Afghan government in its efforts to establish a stable and effective political administration, but progress has been slow. The rise of non-state actors like TTP has only added to the challenges facing the international community and made it more difficult to find a solution to the conflict in Afghanistan.
To address the challenges facing Afghanistan, the international community needs to continue to support the Afghan government in its efforts to establish a stable and effective political administration. This can be achieved through providing financial, technical, and diplomatic support, as well as through helping to build the capacity of Afghan institutions and encouraging the development of civil society. The international community must also work to address the root causes of the conflict in Afghanistan, such as poverty, lack of access to education, and political instability.
The international community must take a firm stance against non-state actors like TTP, who seek to destabilize the region and carry out acts of violence and terrorism. This can be achieved through targeted sanctions, diplomatic pressure, and military operations if necessary. The international community must also work to disrupt the networks and financing mechanisms that these groups use to carry out their activities.
The Threat to Pakistan:
Pakistan, a country with a rich history and culture, is facing a serious threat from non-state actors operating within its borders. One such group is the Tehrik-i-Taliban Pakistan (TTP), which has been using the soil of Afghanistan to launch attacks against Pakistan. This has had a severe impact on the security and stability of the country, making it imperative for a coordinated effort to be made to address this issue.
The TTP, a militant group based in Afghanistan, has been using the country as a safe haven to launch attacks against Pakistan. From Afghanistan, TTP has been able to plan and coordinate attacks on Pakistan, causing death and destruction. The porous border between Afghanistan and Pakistan has made it easy for TTP to cross over and carry out these attacks. This has resulted in a serious threat to the security and stability of Pakistan, putting the lives of its citizens in danger.
The actions of TTP have had a profound impact on the security and stability of Pakistan. The group's attacks have resulted in the loss of innocent lives, causing grief and distress to families and communities. TTP's actions have also had an impact on the economy, as businesses and industries have been forced to shut down due to the insecurity. This has resulted in job losses and economic instability, putting a strain on the country's already fragile economy. The threat posed by TTP has also had a negative impact on the country's reputation, as it is seen as a country unable to control its own territory and protect its citizens.
The threat posed by non-state actors like TTP cannot be addressed by a single entity. A coordinated effort between the government, military, and other relevant organizations is necessary to address this issue. The government and military must work together to secure the border between Afghanistan and Pakistan to prevent TTP from crossing over. The government must also take steps to tackle the root causes of extremism, such as poverty and ignorance, to prevent the rise of such groups. International organizations must also play their part in addressing this issue, by providing support and resources to help combat the threat posed by TTP.
Conclusion:
In conclusion, the rise of non-state actors like TTP in Afghanistan is a direct result of the political vacuum in the country. The use of Afghan soil by TTP to launch attacks against Pakistan has had a severe impact on the security and stability of the country. The situation highlights the importance of having a recognized political administration in place to maintain peace and security and prevent the rise of these dangerous groups. The international community must continue to support the Afghan government in its efforts to establish a stable and effective political administration, and work together to prevent the country from becoming a breeding ground for non-state actors like TTP.
Kashmir – Beyond Solidarity
Kashmir, a region located in the northern part of India and southeastern part of Pakistan, has a long history of conflict and political disputes. One of the core issues in the region is denial of peoples Right of self-determination guaranteed by 13 UNSC resolution. The situation in Kashmir has further escalated in recent years,when India revoked the autonomous status Under Article 370 and Article 35-A of Constitution in August 2019 and initiated a demographic changes of Muslim majority region. After this unilateral and illegal annexation of occupied territory, India has doubled the war crime and crimes against humanity in the region.
The Islamic Republic of Pakistan- a party to the Kashmir dispute marks February 5th, the annual Kashmir Solidarity Day, to express support for the people of Kashmir and their Just struggle for self-determination. The right to self-determination is a principle enshrined in international law that recognizes the right of a person to freely determine their political status and pursue economic, social, and cultural development. To achieve this fundamental Right of Self-determination, the people of Kashmir have been struggling for more than seven decades and the Indian government has used excessive force and resorted to war crimes against the Kashmiri for suppression of this inalienable right.
In last 75 years and particularly since 1989 when Indian occupational authorities closed the peaceful and democratic means seeking UN guaranteed Right of self-determination for region. India started mass massacres and multiple abusive mechanization against the civilians and pro freedom politicians. Human rights organizations have documented the widespread use of torture, extrajudicial killings, and other forms of violence by Indian armed forces in Indian-occupied Kashmir. These actions have resulted in the death of thousands of Kashmiri civilians and the displacement of many others. The Indian occupying forces have also imposed strict restrictions on freedom of speech and assembly in the region, leading to the suppression of dissent and the stifling of Pro freedom political activism.
The new war strategy against the Kashmiris by Indian government is a massive demographic engineering by settling non-Kashmiri Indians in the territory, confiscating their land ,properties and the ongoing demolition to pave the way for outside industrialist with the aim to change the disputed status of Kashmir, which has been guaranteed Plebiscite by UN and then Indian parliament.
The situation in Kashmir remains a complex and volatile issue that requires the international community's attention and action. The people of Kashmir have the right to self-determination and must be protected from violence and human rights abuse perpetrated by 900,000 Indian armed forces occupying the territory . Moreover, the selective approach of international organization on Kashmir & Palestine questions the basic structure of UN Charter which pledges to safeguard the 'Humanity' from the wrath of aggressor. The international community has largely been silent on the issue of Kashmiri self-determination and violence committed by Indian armed forces in the region. Some international organizations and countries have called for an end to violence and for the protection of the human rights of the Kashmiri people, but these calls have been rhetoric which has been rejected by the Indian government.
The responsibility of Pakistan towards Kashmir must be beyond diplomacy and geo-economic interest. On this Kashmir Solidarity Day, we must come together to draw a new road map liberating the people of Kashmir from the Illegal occupation of India and also support their Just Struggle for justice, freedom, and self-determination.
The majority of Kashmirs in the IIOJK consider their struggle against India for the unfinished agenda of Partition and it is a moral responsibly of every Pakistani to become part of their legitimate struggle.
The U.S. raising Engagement in South Asia: New Battlefield of Sino-US rivalry
With the new year 2023, the visits of top American diplomats to South Asian countries have increased. These recent visits are concluded as the counter steps of the US against the Chinese influence in the region.
Recently, from the end of January to a few days in February, the American Under Secretary Victoria Newland visited three countries in South Asia and headed toward Gulf. Recently, Under Secretary of State for Political Affairs Victoria Nuland visited to three South Asian nations including Nepal, India, Sri Lanka, and the gulf nation Qatar for a week starting from Jan 28-Feb 3.
Before her, Assistant Secretary of State for South and Central Asian Affairs Donald Lu had traveled to India and Bangladesh from January 12-15. Within the span of a week, another senior official from the Biden Administration, Samantha Power, administrator of the USAID is scheduled to Visit Nepal.
Soon after Power's return, Afreen Akhter, Deputy Assistant Sectary in the Bureau of South and Central Asian Affairs (SCA) for Nepal, Sri Lanka, Bangladesh, Bhutan, and the Maldives, as well as the Office of Security and Transnational Affairs set to visit Nepal.
These engagements and activisms by the US in Nepal and South Asian Region are focused on Countering Chinese influence and encircling from the South.
Review of Recent Visits
Under Secretary of State for Political Affairs Victoria Nuland, the visit was centralized with US-Indo Pacific Strategy and its framework. It was the first visit of any senior US official after the formation of a Leftist dominated government led by Puspa Kamal Dahal 'Prachand', the Chair of CPN (Maoist Center). During her Stay in Nepal, she met with Prachanda, foreign minister Bimala Paudel Rai, former Prime Minister, Sher Bahadur Deuba, and KP Sharma Oli. During these meetings, she proposed a collaboration to fight against China and Russia.
Let me quote her from the meeting with the press in Kathmandu, "We can see authoritarians from all over the world trying to force them to enforce the rules around the world." Though she didn't mention China, her indication was toward China. "So we have to work together to protect democracy," she purposed to the leaders in Kathmandu. In the term "Urgent Global Issue" all her meeting was focused on China and obviously on Russia too.
In New Delhi, Under Secretary Victoria co-chaired the annual meeting of the India-US Foreign Office Association (FOC). Within the umbrella term "India-US Comprehensive Global Strategic Partnership" the meeting was focused on US's Indo-Pacific Strategy.
The statement by the Ministry of External Affairs mentioned that both sides have made their commitment to a free, open, and equitable Indo-Pacific region and discussed in the Quad, Indo-Pacific Economic Framework (IPEF), Indo-Pacific Maritime Domain Awareness Initiative (IPMDA). All these forums are led by the US against China.
The Quad is an informal security alliance comprising India, Japan, and Australia, led by the US. While The IPEF and IPMDA are the 'framework' unveiled by US President Joe Biden during his visit to Japan on May 23 last year. The White House's fact sheet states that the United States is an economic power in the Indo-Pacific region and aims to expand American leadership in the area. India, Japan, South Korea, Australia, New Zealand, and other countries are included in this framework.
China had strong opposition to such a framework. On the geopolitical strategy, these frameworks are designed as the new weapon by the US to counter China.
"The IPEF is designed to advance US geopolitical strategy. In the name of cooperation, the framework seeks to exclude certain countries, establish US-led trade rules, restructure the system of industrial chains, and decouple regional countries from the Chinese economy," Foreign Ministry Spokesperson Wang Wenbin's Regular Press Conference on May 25, 2022, had lamented the framework.
Mahathir Mohamad, Former Prime Minister of Malaysia, a member nation of the IPEF had criticized a new U.S.-led economic grouping, saying it is intended to isolate China, and won't benefit regional economic growth without Beijing. This show that the visit of Under Secretary Victoria was solely focused on US-IPS, and rheostat the Chinese influence in the region.
Colombo was the third and last stop of this visit in South Asia. It was the second visit of Under Secretary Victoria to Sri Lanka, which they called the victims of China's "Debt Trap". She with Assistant Secretary Donald Lu and Principal Deputy Assistant Secretary of Defense for Indo-Pacific Security Affairs Amanda Dory visited Colombo last year in March.
Sri Lank a member of BRI, had rejected the US assistance program MCC. The US used to accuse Chines investment in Sri Lank as a "Debt Trap". the cause of the "debt-trap diplomacy", Sri Lanka lost Control of a major port- read the report entitled "The Elements of the China Challenge" state. But, Sri Lank had rejected the western accusations of the "Debt Trap".
On January 12-15, the US Assistant Secretary of State Donald Lu had his visit to India and Bangladesh. This visit was also aimed at expanding bilateral relations and preventing Chinese influence from the relevant countries.
It is a controversial interview with an Indian Television, Lu directly accused China of being Aggressive towards Indian Border. "We have said that the border dispute between India and China Should be solved peacefully through negotiations directly between the two parties. Having said that we haven't seen PRC has taken good faith steps to resolve this border conflict," he stated.
His Next Stop was Dhaka, where the Newly appointed Chinese Foreign Minister Qin Gang was stepped in a week before. Though it was called "Technical Stopover" by China, it was his first foreign stop after holding the position. They stopped after a day, US Senior Director for South Asia, National Security Council Rear Admiral Eileen Laubacher landed for four days visit to Dhaka.
Bangladesh, with close ties with China holding an election next year. The United States has imposed sanctions on the Bangladesh Paramilitary Forces 'Rapid Action Battalion (RAB)' on charges of human rights violations since 2021. Previously, Bangladesh was not invited on the Summit for Democracy held by US President Joe Biden on December 9 and 2021. During this visit to Dhaka, US Assistant Secretary of State Lu praised the RAB and hinted to lift the ban.
He also held talks with Bangladesh to participate in the Indo-Pacific Strategy.
South Asia as New Battlefield of Sino-US rivalry
These high-ranking US officials' visits to South Asian countries are in line with the strategy to encircle China, while Taiwan Straits Crisis is ragging the Sino-US tension. The US has a clear interest in South Asia with its defense strategy of IPS. In this case, it seems that the small countries of South Asia will be in the strategic grip of the power centers. India is competing with China as a member of the IPS. The three-tier economy and the Power Centre are competing against south Asia.
The rise of China has challenged the US's hegemony in global affairs. China plans to overtake the position of the US by 2050. The US fears that Beijing could overtake the US's global leadership role. To stop China from achieving its goals of 2050, the US has deployed its IPS toward South Asia too.
The center stage of the global affair is shifting towards Asia. And, when the world is divided into two poles, it will have an adverse effect on the small countries of South Asia directly. The US is talking about peace and stability in the region, isolating China, with the largest population in the globe. China is also moving forward to expand its influence in the Asian region. India is an emerging economy in itself, which has supported the US to stop China. India wants to maintain its domination in South Asia by stopping China.
In the rivalry between the three-tier economy and the two polar power centers, underdeveloped South Asian countries have opportunities to gain economic and infrastructure development. Side by side the three are chances of losses of balance and risk of becoming the battlefield of Sino-US rivalry.