CPEC and Economic Woes of Pakistan
Pakistan's current economic meltdown is largely because of the impact of prolonged war against terrorism that started in 2001. Pakistan still is combating terrorism whereas the threat has not averted completely. According to National Counterterrorism Authority (NACTA) Pakistan suffered $106.98 billion of economic loss and more than 50,000 civilians lost their lives. Country had a moribund economy as investors fled to Bangladesh, Sri Lanka and Malaysia because of looming energy crises in Pakistan. After the commencement of China-Pakistan Economic Corridor (CPEC) despite all odds some optimistic political analysts termed it as 'game changer' whereas others declared it as 'fate changer' for Pakistan. There was another dissenting opinion that did not support CPEC fearing that some provinces will benefit more from others.
When anti-CPEC groups launched negative propaganda then Pakistan army became a stakeholder in the mega project to ensure timely completion and also provide safety and security to it. Pakistan's former Chief of Army Staff, General Raheel Sharif clarified upon opponents that CPEC will be built at every cost. He emphasized while visiting Gwadar port in July, 2015 "We are acutely aware of our rivals' campaign versus the corridor." In fact the greatest challenge that Pakistan faced to CPEC was from India. It was quite expected Indian reaction as Pakistan's economy was going to get $46 billion upthrust in the form of infrastructure & energy project couple with development and operationalization of Gwadar port. Kulbhushan Yadav, Indian spy who was captured in Pakistan also confessed that he was involved in sabotaging peace in Baluchistan. But because of the government commitment, CPEC projects continued and completed several energy and infrastructure projects.
After Imran Khan's ascendency to power as a Prime Minster in wake of July, 2018 general election there were rumors among people that CPEC may not continue. As the incumbent government in Islamabad initially was concerned over heavy loans under the CPEC, but later P.M Imran Khan reiterated to support CPEC as it serves Pakistan economic and social development. Chinese Foreign Ministry spokesperson Lu Kang's statement was relieving for some quarters in Pakistan that "There will be more projects under $60 billion CPEC project. The CPEC liabilities were low." The planning commission also put forth the similar stance and clarified that CPEC's benefits will outweigh debt related outflows. Pakistan's current economic crunch is pushing economy into mire where it will not be possible to achieve annual growth rate of GDP 6% without seeking assistance from International Monetary Fund (IMF).
It is in the larger interest of Pakistan to encourage Saudi Arabia's investment in Pakistan under the umbrella of CPEC. Saudi Arabia is under the cloud as the U.S President Donald Trump through a Tweet accused organization of the petroleum exporting countries exercising monopoly concerning price hike of the oil in international market. Another diplomatic jolt to Kingdom of Saudi Arabia (KSA) is the alleged killing of Saudi journalist Jamal Khashoggi at Istanbul consulate. These factors will push KSA to partner in CPEC projects as it will serve Pakistan's economic interest on one side also boost CPEC project. Chinese Ambassador to Pakistan Yao Jing while talking to Quetta journalists also stated that "We will welcome Saudi Arabia and other countries' investment in CPEC projects. China wants to expand CPEC up to central Asian states via Afghanistan." It is believed that after Saudi entrance, more countries from Persian Gulf are expected to follow suit. Pakistan's Baluchistan province is richest in natural resources and poorest in terms of socio-economic development. Completion of CPEC will transform this resource-rich province into an economic hub as the Gwadar will attract multi-million investments from overseas.
Pakistan and India have become the members of Shanghai Cooperation Organization (SCO) which has been a success story and that is that reason both have been struggling to get the membership of SCO. In short Pakistan is likely to reap plenty of economic benefits from CPEC but notables are as:
According to IMF study,$13billions will be added to Pakistan's GDP by 2025
Pakistan's GDP growth rate has already increased from 4.7% to 5.4% in 2016 but it is likely to further increase with the completion of projects (World Bank)
Pakistan's incumbent government chanted slogans of eliminating unemployment, under the CPEC early harvest projects, 30,000 jobs have been created as Ministry of Planning and Development estimated that it will be creating 800,000 jobs in the next 15 years.
Energy shortfall has been the gigantic challenge, a total of 12,230 megawatt of energy have been added in the national grid.
The CPEC will have far reaching impact than is expected. Pakistan-China culture confluence because of Chinese settlers in Pakistan will generate a mixed culture further promoting China-Pakistan ties to new heights. China-Pakistan friendship will trickle down to their respective citizens, creating a bond of unique friendship. Economic prosperity, employment, quality education, health facilities and revival of sports in Pakistan will help countering violent extremism in Pakistan and improve Pakistan's international stature. The CPEC is lynchpin of Pakistan's economy which will ensure Pakistan's economic stability in the years to come.
Is Nepal an Indian colony?
In yet another dictation, India has told Nepal that nationals of other countries will not be allowed to use the new 35-km rail link between Jaynagar in Bihar and Kurtha in Nepal, due to "security reasons" (The Print, November 25, 2021). The 34.9-km narrow gauge section was converted into broad gauge by India and handed over to Nepal in October this year. Nepal protested India's dictation resulting in operational delay. Ultimately India softened its "order" to the extent that "third country nationals can travel on the railway within Nepal, but they won't be allowed to cross over to India,"
Nepal is perhaps the only country where the head of India's premier intelligence, Research and Analysis wing is accorded a red carpet welcome as he calls on the Nepalese prime minister (amid popular protests). Not only the RAW's chief but also the external affairs minister and army chief often visit Nepal with a handy list of les choses a faire (things to be done). For instance when the Indian army chief visited Nepal, he reminded the PM that there are 136,000 pensioners in Nepal whose pension bill is disbursed by India. The army chief freely intermingled with pensioners as if Nepal was a colony and he was viceroy.
There are about 32,000 Nepalese Gorkhas currently serving in the Indian Army's seven Gorkha Rifle regiments (1st, 3rd, 4th, 5th, 8th, 9th and 11th), each of which has five to six battalions (around 800 soldiers each).
Nepal resents its image as a contributor of mercenary soldiers to India and Britain. So it wanted to stop sending Gurkhas for recruitment to the two countries by amending the tripartite In 1962, Sino Indian conflict, the Gorkhas stayed loyal to India though the Chinese used loudspeakers daily against the company of Major Dhan Singh Thapa, PVC, to withdraw as they were from Nepal. The Nepalese troops returning to their native villages were pooh-poohed on their journey back home.
The total pension bill for the 1, 27,000 pensioners (90,000 defence and 37,000 Central and State Government as well as paramilitary), and serving soldiers remitting home money is around Rs 4,600 crore. It works out to Nepalese Rs. 6400, which is larger than the NR 3601.80 crore defence budget of Nepal.
The Nepalese still resent India's hand in assassinating Nepal's king Birendra and his family ('Indian hand in Nepal massacre'. The Statesman January 11, 2010).
Nepal's predicament
Nepal is a landlocked country dependent on India in many ways. In the past India blocked supplies to Nepal at least four times forcing it to capitulate to India's diktat to stave off starvation.
Nepal is contiguous to Tibet. So it has to balance its relation with both India and China. As China has influence on Nepalese communists so India can't dare subdue Nepal fully. India always regarded Nepalese prime minister Oli a hard nut to crack. It was Oly who amended national map to re- exhibit areas annexed by India within Nepalese territory. India heaved a sigh of relief when Nepalese Supreme Court ousted Oli and appointed Sher Bahadur Deuba as the prime minister until the next general elections. Deuba remained listless to popular protests against the Supreme Court's decision.
Conspiracies to oust Oli
To topple Oli's government, the Indian embassy in Nepal had been bankrolling corrupt politicians and other members of Nepalese society. Aware of India's underhand machinations, Oli
debunked India's conspiracies during a ceremony to commemorate the sixty-ninth anniversary of the Party's popular leader Madan Bandari. Oli "accused India of trying to destabilize his government" and alleged "Indian embassy in Nepal was conspiring about the same" He claimed, `Conspiracies were being plotted against him since the constitutional Nepali map amendment'. He further added, `There is an open race to remove me from the post. No-one thought that a prime minister would be removed from office for printing a map'.
Be it observed that Nepal amended its map when its objections fell flat on India. India's defense minister Rajnath Singh, went ahead to inaugurate an 80-kilometer-long road connecting the Lipulekh Pass in Nepal with Darchula in Uttarkhand (India). The Indian army chief insinuated that Oli was being prodded by China against India.
India's ongoing annexation
Besides annexing the three new territories, India had already annexed 14000 hectares (140 km square) of territories in Susta, Tribeni Susta, Lumbini Zone, near Nichlaul (Uttar Pradesh).
Nepal being no match for India could not stop India by the use of force. But, to express its dissatisfaction, it printed 4000 copies of the updated version of the new map and distributed it to India, United Nations, and also Google. Additional 25,000 copies of the map were distributed throughout Nepal.
Concluding remarks
Gorkhas fought well in India's post-independence wars (Indo-Pak 1965, 1971 and 1999 Kargil War, besides 1962 Sino-Indian War and peace keeping mission in Sri Lanka. Their battle cry is jai maha kali, ayo gorkhali. Three Indian army chiefs (SHEJ Manekshaw, Dilbri Singh and Bipin Rawat) served with Gorkha Rifles.
Nepali citizens have a right to apply for recruitment in Indian armed forces or civil services. Yet, they hate India and find more comfort with China as an ally. Whenever India blockades transit trade to Nepal, the latter fall back upon China for its economic needs. India also forced Nepal to grant citizenship to Indians illegally residing in Nepal.
Despite its economic woes, Nepal is ferociously independent minded. When Oli enacted a new map of Nepal, he was vehemently supported by most politicians including the present prime minister. India is unlikely to compel Nepal to toe its dictates fully.
US and India in the Indo Pacific: Advancing a shared vision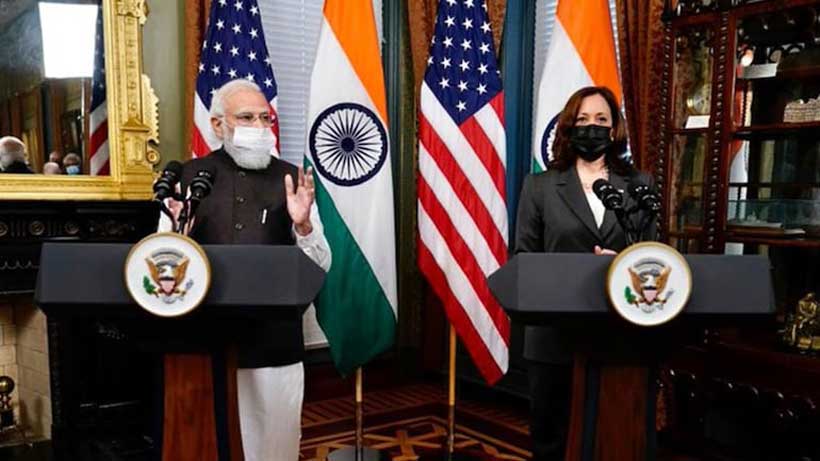 The changing geopolitical dynamics with China's emergence as a key player and the declining role of the US as a superpower have all shifted the focus towards the Asia Pacific region. This region has become home to numerous flashpoints as China is seeking to tilt the balance of power in its favor and the US being distrustful of Chinese intentions. Nevertheless, to mitigate this threat, the US under the Obama administration has already turned the foreign policy focus from the Middle Eastern region to the Asia Pacific with the policy of "Pivot to Asia".
Along with this, former president of the US, Donald Trump came with a newfangled strategy of "Free and Open Indo-Pacific" in 2017, thus having the Indian Ocean part of the great game. Yet, this has largely been subject to multiple interpretations. Especially, China is perceiving it as a strategy by the US to contain China's growing power in the region since the US has clearly stated in its National Security Strategy that China is a "strategic competitor", and the US won't let any single state dominate the whole region. Therefore, this policy is going to have multiple implications in terms of how the countries will approach and recce China's rise in the region.
Apparently, the US stated its vision for Indo Pacific is to ensure peace, prosperity, security, and stability, yet if we analyze deeply then US intentions primarily is to counter the influence of China and to increase its footings in the region. That is why it has focused on projecting the harder image of its competitor China in the region and worldwide, while convincing others for taking the US as their well-wisher whose intention is to constructively engage economically, politically, and socially with regional states. Nevertheless, in reality, the US is trying to achieve its underlying objectives in the region and that is to increase its presence and relevance in the region while using the sugar-coated approach of presenting itself as a marvel for the development of other regional states.
If we go a little back into history then the US has always shown great interest in the Indo-Pacific region. Secretary of the state, Hilary Clinton used the term while defining the "Asia pacific rebalancing strategy" and the relationship of the US with India. Even Obama during a historic visit to India in January 2015 endorsed this concept to show how the two states have been cooperating to promote peace, prosperity, stability, and security in the Asia-Pacific and Indian Ocean Region. Moreover, "Indo-Pacific Economic Corridor", an initiative by John Kerry was introduced for the first time at the US-India Strategic Dialogue in June 2013. However, it is only now that the term is officially part of the US defense paper and the National Security Strategy documents.
As with the changing geopolitical realities, the US has to look beyond the Middle Eastern region and must ensure its presence in the Indo-Pacific region which in future is going to define the world politics. Therefore, the US is engaging with regional powers and is trying to build them militarily and economically so that they can be used effectively as a "Threat multiplier" against China in the present and future. Besides, the Chinese actions including its extensive military modernization, the assertive pursuit of maritime territorial claims, artificial islands, and efforts to control international or disputed waters including the South China Sea, coercive diplomacy or economic measures, and its expanding global presence, including the military base at Djibouti, has all generated alarms for the US.
Apart from this, China is working on its far seas policy which is focused on extending Chinese naval capabilities and protection of its far Sea Lines of Communication (SLOC). Henceforth, China's presence in the Gulf of Aden, its investment in the Hambantota port, and the patrolling of its nuclear-powered submarines in the Indian Ocean in 2013, all shows China's intention to dominate the region. That is why India has started using its satellites, P-8I maritime surveillance aircraft and surface ships to eye the "unusual surge" in Chinese activity in the Indian Ocean,
Thus, keeping in view such dependence and importance of the Indo-pacific region for China and especially of the Indian Ocean. Trump came with the Indo pacific strategy which aims at regaining US lost hegemony and presence in the region. The department of defense also stated that the Indo-Pacific is "the single most consequential region for America's future". That is why the US is investing heavily in the region. Former secretary of the state, Mike Pompeo announced $113 million in funds allocation to expand economic engagement in the region and another $300 million for security cooperation. Former US president, Donald Trump signed the Better Utilization of Investment Leading to Development Act (BUILD Act), and Asia Reassurance Initiative Act (ARIA act) which doubles US development finance capacity to US$60 billion.
For trade, the US is investing around $1.9 trillion and is participating actively in regional platforms like ASEAN, QUAD, and APEC. It has lent $153 million to Mekong states and is working on 11 renewable projects. Moreover, it has given around $250 million for the security of sea lanes in the Indo-Pacific region. Today there are 375,000 U.S. military person in Indo-Pacific Command (USINDOPACOM). Henceforth, Indo-Pacific could be a game-changer for the US considering the potential region has in terms of the population, resources, top militaries, economic powers, and most importantly the 60% sea trade. For the US, unhindered access to the region means accomplishing its broader strategic goals.
Nevertheless, in all of this, the role of India is significant as both states are in an attempt to advance the same vision. The US military developments, Pacific involvement, the stationing of 200 aircraft in the region, etc. are all targeted at enhancing its power position in the region. Nonetheless, being geographically apart from the region, the whole strategic bedrock for the US are the partners that give it an advantage over competitors. As far as India is concerned, it is a key strategic partner of the US as both states have signed numerous defense agreements. Importantly, US is fully aligned with India's "Look East Policy" and as India is closer to the Indian Ocean that is why having stronger ties with India would help it gain control in the Indian Ocean which has 80% of trade passing through it.
For that reason, the US always calls India central to its Asian policy. Especially, with China's emergence as a competitor, its increasing influence in the Indian Ocean region, and the South China Sea, the US deems it's important to partner up with India which also looks at China as an aggressor state. The recent Ladakh incident which on one side has increased tensions between India and China has on the other side brought India and USA closer into the arms of each other. More importantly, India's ambition to become a leading power while providing security to the Indian Ocean Region is in line with the US Indo-Pacific strategy. This is why Trump too has renamed the pacific command to Indo-Pacific command which includes India with which the USA has a $16 billion defense agreement. Likewise, India is stepping for an increasing influence in the Strait of Malacca and has deployed eight warships in the Indian Ocean. Therefore, today the increasing US-India partnership, logistic exchange, 2+2 deal, $50 billion arms sale, intelligence sharing, etc. are all pointing towards the importance India has for the US in its Indo Pacific strategy.
To cape it all, the US has long called itself a pacific state, and all its policies and strategies vis-à-vis Indo-Pacific are fashioned seeing itself as a major balancer in the region. But even if the US today appears peaceful in its pursuit it could take a 360-degree shift tomorrow as its history speaks. And in all of this, India like always will hold a key position in the US strategy to accomplish all underlying objectives in the region as cooperation exist where interests syndicate.
India wanted to divert public attention from domestic issues by accusing Pakistan
India and Pakistan were former British colonies and got independence in 1947. The areas with a Muslim majority became Pakistan, and areas with a Hindu majority became India. Before the British colonialization, the sub-continent was ruled by Muslims for almost 800 years. Overall, Muslims were in minority and they have accepted the smaller areas as Pakistan, which is almost one-sixth of India. Being self-content, Pakistan was satisfied and had no ill-feeling against India.
But, India, since the beginning has not accepted the partition and was keeping ill feelings for Pakistan. Just after one year, in 1948, the Indian army entered into Kashmir and seized two-thirds of Kashmir, as occupied Kashmir. There have been four wars between the two rivals and outnumbered border clashes of various magnitudes. India planned several conspiracies to finish Pakistan but failed to do so for the last seven decades. But have not accepted the existence of Pakistan, from the core of heart and always trying to harm it.
India is using ugly media to defame Pakistan, and spreading fake news, fabricated narratives, and distorting Pakistan's image. India leadership is in habit of giving irresponsible statements against Pakistan.
In response to a recent statement by the Indian defense minister, Pakistan expressed that it is "fully prepared" to respond to Indian aggression, but will continue to act responsibly and work to promote peace. Pakistani leadership is visionary and understands the consequences. Genetically Pakistan is a peace-loving nation, but very vigilant to safeguard its national security.
"While fully prepared to respond to India's provocations and irresponsible behavior, Pakistan will continue to act responsibly and contribute to all efforts for promoting peace," read a statement issued by the Foreign Office.
It said that Pakistan "strongly rejects highly irresponsible, provocative and gratuitous remarks by the Indian Defense Minister threatening Pakistan". On Saturday Indian Defense Minister Rajnath Singh said: "Pakistan makes all efforts to destabilize peace in India but we have sent a clear message to them that we will hit back." "This is a new and powerful India," Singh added while addressing a public gathering in Uttarakhand's Pithoragarh.
The Foreign Office, in its statement, said that his unfounded remarks "are delusional on the one hand, and reflective of India's characteristic hostility towards its neighbors on the other".
"India's smear campaign against Pakistan has been exposed and discredited. It has no takers in the international community," said the statement.
The Foreign Office said that it is no secret that Indian leaders "engage in falsehoods and fantasies while pointing fingers at neighbors including Pakistan".
It is not the first time that India is giving such sarcastic remarks about Pakistan. In past, whenever India is facing internal pressures, they use similar tactics to divert the public attention. This time, India wants to divert the attention of the international community from the widespread violations of human rights and international humanitarian law committed by Indian occupation forces in Indian-controlled Jammu and Kashmir.
"Indian occupation forces have been committing egregious human rights violations and grave crimes against innocent Kashmiris in India-occupied Jammu Kashmir including extra-judicial killings, custodial deaths, torture, arbitrary detentions, using people including innocent children as a human shield, and collective punishment by demolishing homes," the statement underscored.
It went on to state that the Dossier presented by Pakistan to the international community in September 2021 "contains incontrovertible evidence of the gross and systematic human rights violations and crimes against humanity by Indian occupation forces in India-occupied Jammu and Kashmir".
The Foreign Office said that the Indian government's frustration is evident from the fact that despite its unabated state-terrorism in India-occupied Jammu and Kashmir, it has "utterly failed to silence the peaceful voices of Kashmiris" demanding their right to self-determination promised to them by the United Nations Security Council in its various resolutions.
Tellingly, tensions in Kashmir remained on a knife-edge Saturday after a shootout by the Indian authorities this week left four people dead, with families alleging the gunfight was staged and that police used innocent civilians as a "human shield".
Police initially described the incident, which took place last Monday when officers raided a shopping complex, as a counter-insurgency operation in which two 'militants' and their associates had been killed in a shootout.
The families of three of the men, however, have accused Indian forces of cold-blooded murder and the case has sent ripples of outrage across Kashmir, a region scarred by familiar allegations of extrajudicial killings. India's top regional official has called an inquiry into the deaths.
Thousands of people, including civilians, have been killed in the violence. Human rights groups have accused Indian forces, which operate with legal impunity, of abuses including rape, torture, and staging gunfights.
Citizens and rights activists have also decried an increasing denial of civil liberties in Kashmir since the region was stripped of its semi-autonomous status in August 2019, taken under the full control of the central government, and divided into federally controlled territories of India.
India regularly accuses Pakistan of sponsoring or facilitating armed groups operating on the other's soil. Such accusations have increased in frequency and tenor since 2014 when Indian Prime Minister Narendra Modi's right-wing Bharatiya Janata Party (BJP) was elected to power.