The Outlook for Lugansk People's Republic after 4 years of War with Ukraine
Leonid Pasichnik, the acting Head of Lugansk People's Republic (LNR) has been in office for almost one year. With the state of his reforms in LNR, you want to judge him against leaders of countries at peace, not as one that just formed in the middle of a war four years ago.
For the last thirty years, Donbass was neglected in Ukraine. The infrastructure across Ukraine was bad, but in Donbass it was notorious. Key infrastructure like the water supply has been neglected since 1983.
Political Leaders and oligarchs from what would become LNR historically were only interested in what they could take out of the region. Donbass coal and industry historically provided the basis of Ukrainian wealth. No other region contributed as much and no one including Victor Yanukovych had any interest in investing any of that money back in the region to build it up.
Pasechnik is providing a marked difference. During what is still considered nation building, his interim administration is taking the economic and social problems in the newly formed republic head-on.
In the spring of 2018, his administration introduced their five-year socio-economic development plan called "Our Choice." His administration included input from 70,000 LNR residents to make sure people's concerns about the future are addressed as reforms go forward.
LNR's Current Outlook
For the last four years, LNR has worked to build a lasting peace. Fulfilling their side of the Minsk Agreements LDNR (Lugansk &Donetsk People's Republics) negotiated with Poroshenko's regime has been a key part deciding what direction the republic is taking. Kiev hasn't attempted to fulfill any point agreed to and tries to use the agreement to beat Russia over the head within the US and the EU.
The often overlooked part of the Minsk agreement in the west is Ukraine is not negotiating with Russia. Russia is a guarantor for the agreement the same as the EU is, nothing more. If Poroshenko had any intention of reintegrating Donbass, Ukraine would negotiate in good faith and keep its word. This hasn't happened.
Because of this, Pasichnik's government recognizes the fact that until the government in Ukraine changes, real negotiation and progress remain impossible. For Ukraine to be taken seriously, decentralization in the form of federalization will have to take place. Ukraine will also have to start creating the conditions for building an economy in all its regions.
Even in view of this LNR has consistently fulfilled its part of the Minsk agreements.
The West's Shortsighted Spectacle
Unfortunately, even recent history shows there is no reason to take any offer Ukrainian nationalists make or are part of negotiating seriously. Poroshenko is only after sound bites and not substance. Pravy Sektor nationalist leader Dimka Yarosh has announced he is pulling his troops away from the front line to monitor Ukrainian elections. Ultra-nationalists monitoring elections? Yeah, this should go well.
In a recent interview with Ukrainian "Novoye Vremya," Condoleezza Rice commented it was "bad" that the world was starting to believe Russia's version of what was going on in Donbass.
At the end of the day, world leaders still have to believe somebody. After four years of looking at the diplomatic and economic train wreck, Ukraine has evolved into, they have no reason to believe Ukraine.
Instead of becoming the promised European model they could all look to, Ukraine has taken away every safety net even marginal civilizations provide for their people. Manufacturing is gone and instead of working through internal issues, the new government attacked its powerhouse region in Donbass. LNR and DNR provided a lion's share of wealth because of the coal industry and manufacturing. The nation's most important engineering universities are ensconced in the capitals because of this.
That isn't something the EU or the rest of the world can take lightly. With no possibility of recovery in the near to mid future, Ukraine's only hope is to find work in Europe. Ukrainians making it to Europe are finding low paying bottom tier work as well as the illegal sex trade.
Under Donald Trump, there is no reason to believe the US would be willing to take in violent nationalists from a country that tried to destroy his candidacy and his presidency.
All of this is the result of Poroshenko's Ukraine destroying every possible growth industry it had including rocket engines, weapons, and technologies, and traded that for giant corporate farms. Agribusiness giants and agro-holdings companies are the big growth areas but provide no jobs.
The outlook for Ukraine is very poor for the foreseeable future unless drastic policy changes are implemented.
When you contrast this to what LNR is accomplishing under Leonid Pasichnik, it's easy to see why Condi Rice is so upset.
Lugansk People's Republic's Reform Renaissance
It's easy to argue renaissance is too strong a term to use for the reforms going on in LNR because there is a war going on. The infrastructure and economy have taken serious hits over the past four years. Nineteen bridges have taken extensive damage or collapsed in LNR hampering transportation. Roads were also shelled and in many areas need to be rebuilt.
On top of this, starting at day one, Pasichnik's government had to fight the civil war as well as the systemic corruption that had not been touched by his predecessor. It's very difficult to imagine a government starting out with a weaker hand.
In the short time Pasichnik has been in office, his government not only formulated a five-year plan, but they also started implementing it in a grand way. It started with building an energy bridge to power the steel mill in Alchevsk. High voltage transmission lines were installed that not only allowed the plants to go into production, but they are also increasing production and hiring plant workers. Business is opening in other manufacturing sectors because the government has been able to negotiate its way around sanctions to a small degree. In the garment industry, this is creating jobs.
Large-scale road work and bridge work has commenced and the bridge connecting Lugansk to Donetsk is complete. Part of the 5-year plan is to restore the railways for large-scale transportation to service commerce and commuters. Pasechnik just announced fuel prices in LNR will be dropping to Russian levels. This is while a war is being fought.
Water has been an issue for the last four years and part of LNR's water supply is purchased from Ukraine. Pasichnik has ordered pipelines from LNR's own aquifers be rebuilt to solve this problem. Redundancy is a consideration for the design of the project. If one water main is down for repair or maintenance, a second water main will be put in use according to the building specifications.
The farming industry was in tatters because of the war. The current government is working to increase yields of high-quality grains like wheat. LNR has achieved food security for the republic. This by itself is an incredible feat given the fluidity of the situation with the civil war.
As part of the reforms, Pasichnik ordered the customs borders be taken down between LNR and DNR on April 1, 2018. DNR still needs to reciprocate but it is only logical considering how closely both republics need to cooperate.
Along with all these concrete reforms, LNR is also writing new equitable laws to replace the old corpus. More importantly, reformation of the judicial system is underway. Currently, the family courts are complete and work has begun on Supreme Court reform.
It is easy to see why Condoleezza Rice would be a little upset when little tiny upstart countries believe in federalized representative governance and can build a society even with all the stumbling blocks and chaff the US and Europe throw at it. While Ukraine, Rice's model of what a European country should be, looks anemic by comparison.
It's easy to have the support of the EU and the USA and make these reforms when they give you billions of dollars to do so. It's certainly easier to jumpstart an economy when the economic zones are in safe areas.
Pashichnik and his political party Peace for Lugansk (Мир Луганщине) have shown the world they can do it on their own. This is what former Secretary of State Condoleeza Rice is concerned Russia will tell the world.
We're going to start exploring the reforms listed above as well as others going on in depth. We'll also get to know his party and the other political parties in LNR. I like looking at concrete results and Pasichnik is providing that in a substantial way.
After being here from before the beginning of Kiev's Euromaidan coup, you get a little-jaded writing about politics and political leaders. From my perspective, it's a shame he and his party wasn't elected in the first place. I believe both republics would be in a better place.
After taking a real look at this overview, how do political leaders where you live measure up?
India and Visegrad Four: Meeting Each Other Halfway
Members of the Visegrad Group (Poland, Hungary, Czech Republic, Slovakia) are set on expanding cooperation with India. That such cooperation is of mutual interest was confirmed by Indian Foreign Minister Subramaniam Jaishankar's visit to Hungary and Poland in August. Hungary and Poland pursue the most active foreign policy within the Visegrad Four.
This trend is not new – it clearly manifests itself in the policies of the Visegrad Group after the 2008 economic crisis. The Indian economy demonstrates an impressively fast growth rate (more than 7% annually). As it became clear in wake of the visit, Poland, Slovakia and the Czech Republic want to cooperate with India in the transport, energy, agricultural and defense sectors, Hungary – in pharmaceuticals and biotechnology, and all together – in investment and research projects.
Significantly, unlike cooperation with China, cooperation with India does not present a political dilemma for these countries. For the West, India is a democratic state, while China is accused of violating democratic freedoms, and Sino-US economic negotiations are in limbo. In addition, a certain rapprochement between India and the USA against the background of the economic differences between China and the USA makes it more convenient for the Visegrad Four to expand cooperation with India.
Apparently, New Delhi and Beijing are becoming part of European competition. India, however, will have to work hard to strengthen its economic, political and cultural presence in Europe if it wants to catch up with Beijing, which began working with Europe earlier and has been doing it more successfully and dynamically.
India positions itself as a self-sufficient civilization striving to become a connecting link between Europe and Asia. In many ways, the EU has the same vision of India. Given the situation, fitting Indian-European relations into a wider geopolitical context is at odds with China's civilizational regionalism – the desire to keep Asian policy within the framework of the wider-context Chinese civilization and its sphere of influence. Therefore, the appearance of new, Asian players in Europe is not welcomed by Beijing, although it does not declare it openly.
The prospect of the UK's withdrawal from the EU deprives India of one of the most valuable allies in Europe. Hence the search for new partners within the EU. Countries of the Visegrad Group come handy and, to some extent, could compensate the loss. Poland is an ardent ally of the United States in the EU, the United States is India's ally in Asia. Slovakia and the Czech Republic are more pro-German and could somewhat contribute to New Delhi's cooperation with Berlin.
India is also guided by economic considerations. The Visegrad Four expands relations with Japan, South Korea, Brazil and other rapidly developing economies. The absence of India on this list seems illogical. The participants believe that the economic potential of the Visegrad Four is not used to maximum capacity: 95% of trade between India and the EU is provided by countries of "old" Europe.
Apart from all that, India needs diplomatic support for its desire to become a permanent member of the UN Security Council. Although a reform of this structure is still a matter of remote future and is hardly realistic, India continues to push for it. Poland performs the functions of a non-permanent member of the UN Security Council in 2018-2019. Both parties view diplomatic cooperation of Poland and the other four countries with India as mutually beneficial. The latest example of such cooperation is Poland's protest against Pakistan's intention to include the issue of Kashmir in the agenda of the UN Security Council.
What could present some obstacles to the rapid expansion of India's extensive partnership with the Visegrad Four is certain disagreements over the future of Europe, as well as the orientation of the two main "Visegradians" – Hungary and Poland – to various international partners.
Hungary opposes the presence of American NGOs, the financial and political dominance of Brussels and Washington, as well as the EU migration policy, but advocates constructive relations with Russia and China to the point of participation in the Chinese "One Belt, One Road" Project.
Poland favors building up the US military presence in Europe and is against improving relations with Russia, but, like Hungary, it opposes migration policy and the financial dictatorship of Brussels. Warsaw has a restrained attitude to the One Belt, One Road Project for fear of spoiling Washington's mood.
Slovakia and the Czech Republic speak for the development of trade and economic relations with Asian partners, but in a format that would not disrupt their interaction with the export-oriented German economy. Like Poland and Hungary, Slovakia and the Czech Republic do not support the EU migration policy.
Under the circumstances, India will adhere to a nuance-based approach in relations with the Visegrad Four. In 2020, after Warsaw takes over the presidency of the Visegrad Four, it can be assumed that this will be the time for Poland to pursue its plans in cooperation with India. The Indian-Hungarian dialogue and relations between Slovakia and the Czech Republic will follow separate scenarios.
From our partner International Affairs
Ukraine crisis through the prism of Armenian political discourse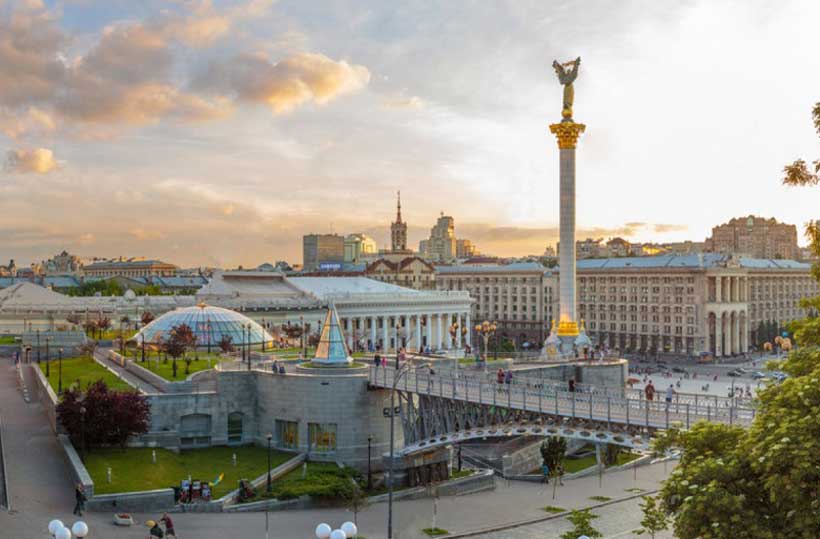 Armenia's perplexing decision to side with Russia on the Crimean and broader Ukrainian crisis – related issues has subjected the country to public and political backlash in Ukraine and beyond. Notably, pro-Russian narratives have been a salient feature of Armenian political discourse during the Ukrainian crisis. This reached a point, where the Armenian leadership hailed the annexation of Crimea as a model exercise of the right to self-determination. Yet, the 2018 "Velvet Revolution" engendered a glimmer of hope that along with other changes, the new Armenian government may revise its unequivocal support for Russia's controversial foreign policy choices and actions. This provokes an inquiry into dominant narratives about the Ukrainian crisis in Armenian political discourse.
Essentially, the escalation of Ukrainian crisis has reinforced Armenian political leadership's fears about the possible resumption of "Cold War" with ensuing consequences for small and war-torn Armenia. Former president Sargsyan even invoked the Ukrainian crisis as a justification for Armenia's decision to join the Russian-dominated Eurasian Economic Union (EAEU). By confirming its allegiance to Russia, Armenia would avoid angering the Kremlin and prompting into taking punitive measures against its possible "disobedience." A closer look at Armenian discourse, shows a tendency to treat Ukraine's "outright defiance" for Russia's strategic interests as the core rationale behind the devastating crisis. No wonder, the Armenian leadership would condemn the EU's "recklessness" and 'interference' in the sphere of Russia's privileged interests, which inevitably fuelled instability in the EU-Russia volatile neighbourhood. Sargsyan even attributed the setbacks of the EU-backed Eastern Partnership to its anti-Russian nature. It follows that by joining the EAEU, Armenia did not support the EU's destabilizing policy and thus refrained from adding fuel to the fire.
Another major fear is that the escalating Russia-USA confrontation over the Ukrainian crisis would adversely affect the Nagorno Karabakh conflict settlement. Both USA and Russia are the permanent Co-Chairs of the OSCE Minsk Group on the settlement of the Karabakh conflict. While their relations get steadily deteriorated, there is not much to ensure their all-out involvement in moving the needle on long-standing Nagorno Karabakh conflict. Rather, by putting all their weight behind the Ukrainian issue, both Washington and Moscow would not do much to challenge the status quo in Karabakh. Overall, there are concerns that all the negativity accumulated throughout the Ukrainian crisis between Russia and the USA would inevitably get projected onto their relations over Karabakh, thus making matters more complex.
Furthermore, a huge source of fears and concerns about the Ukrainian crisis, is the crippling effect of Western sanctions against Russia on the Armenian economy. As a result of heavy economic dependence on Russia, the latter's economic downturns significantly compound Armenia's economic crisis. Notably, as a single country, Russia is the main external trade partner of Armenia, being the destination for around 20 per cent of Armenian exports and source of 70 per cent of remittances. Russia also maintains lead in the realm of foreign investments in Armenia. There are more than 1,400 enterprises with Russian capital, which is over one fourth of all economic entities with involvement of foreign capital .Moreover, Russia is home to more than 2.5 million Armenian migrants, whose remittances account for around 10 percent of Armenia's GDP. Meanwhile, the depreciation of Russian ruble means that the remittances sent from Russia have decreased in value . Moreover, the ruble's devaluation, has led to the price increases in Armenian exported products to Russia thus affecting trade volumes.
According to various estimates, the sanctions against the Russian banking sector, which has profound involvement in the Armenian economy, have adversely affected the Armenian economy and even contributed to electricity price hikes in 2015.
Besides, the sanctions against Russia have resonated with Armenia, due to its heavy dependence on Russian military equipment. The Washington's intention of pressuring the foreign governments into relinquishing Russian defense acquisitions would put conflict-stricken Armenia between a rock and a hard place: while the country seeks to keep good ties to the USA, it is too crippled to cope without the Russian weaponry.
Beyond that, the Armenian political discourse has long revolved around the narrative of "Crimea precedent" – given that the "self determination" of Crimea would positively affect the resolution of Nagorno Karabakh conflict. Strikingly, former president Sargsyan went so far as to frame the referendum in Crimea as an exercise of peoples' right to self-determination via free expression of will. Clearly, Sargsyan's treatment of the Crimean "referendum" as a "model of self-determination" was bound to upset Armenian-Ukrainian ties. The situation came to a head in March 2014, when Armenia voted against the UN General Assembly resolution on the "territorial integrity of Ukraine" declaring Crimea's recent secession vote invalid. Thus, Armenia endorsed the legitimacy of an illegal and thoroughly rigged referendum.
Ukraine was quick to recall its ambassador to Armenia for consultation, and summoned the Armenian ambassador to Ukraine over Yerevan's shocking position on the annexation of Crimea.
Given former opposition leader Pashinyan's critical stances on Russian coercive policies, it would be easy to resort to speculations about possible foreign policy changes, including Armenia's on stance on the Ukrainian crisis. Yet from the outset of his prime minstership Pashinyan confirmed Armenia's unequivocal and unwavering support for Russian policies. Notably, at his very first meeting with Pashinyan, Putin stressed the necessity of keeping up the cooperation in the international arena, focusing particularly on UN, where the two nations "have always supported each other." No wonder, post-revolution Armenia voted against another UN resolution on the de-occupation of Crimea in December, 2018. The resolution expressed grave concerns over the Russian military buildup in Crimea and called on Russia to end its "temporary occupation" of the Ukrainian region.
Overall, consistent with his predecessor, Pashinyan keeps supporting even the most controversial Russian foreign policy actions, ranging from the Ukrainian crisis to that in Syria, etc.
There has been an ingrained belief among the Armenian leadership that Armenia only benefits from Russia's restoring greatness and its greater involvement in its "Near abroad." All these goes into Armenia's inferiority complex of a weak and small state, bound by neighboring Turkish-Azerbaijani hostilities. It is in this context that Russia is broadly perceived as a pivotal security ally in Armenian political thinking and in public consciousness. Overall, there is a broad consensus among the representatives of Armenian political elite that the acute threats posed to Armenia by Azerbaijan and Turkey prompt to put heavy reliance on Russia. Thus, despite some resentment that Russian policy may generate, Armenia has to abstain from 'provoking' Russia'. Otherwise, the latter would 'hit where it hurts', by arming Azerbaijan, increasing gas prices or even mistreating the Armenian community in Russia. That said, Armenia's solidarity with Russia on Ukrainian crisis comes as an unsurprising consequence of the enormously asymmetric nature of Russian-Armenian relations.
Lithuania's voice in NATO is getting stronger, Karoblis is happier
Lithuania's voice in NATO is getting stronger but pushy. It uses new arguments to attract NATO attention to fulfill its individual goals. And it should be admitted that Lithuania successfully exploited its military weakness to obtain military strength.
About 500 troops are deploying to new training facilities in the country and will stay through the winter in preparation for a massive divisional exercise in Europe that will see 20,000 U.S. troops in Europe known as Defender 2020.
The troops deploying to Lithuania this October are the 1st Armored Battalion of the 9th Regiment, 1st Division, along with 30 Abrams tanks, 25 Bradley Infantry Fighting Vehicles and 70 wheeled vehicles to the Gen. S.Žukauskas Training Area in Pabradė.
Defender, which will strain the beleaguered U.S. logistics system, will move thousands of U.S. troops from forts in the United States to sealift ships that will take them to Europe, testing investments in European security.
Lithuanian authorities do not hide their satisfaction with U.S. troops arriving. "The geopolitical situation in the region hasn't changed," Giedrimas Jeglinskas, Lithuania's vice minister of national defence, said in an interview with Defense News. "For us this is a great thing. We see that the U.S. is in the region, and U.S. presence is the biggest deterrent that we could ever hope for. We've said for a long time that we want U.S. soldiers on our soil — and we can argue about whether its permanent rotational forces or a permanent rotation — but the fact is that they are there."
But even such steps are not enough to Lithuania. Thus, Lithuania's Minister of National Defence Raimundas Karoblis calls for NATO to deploy air defences in the country. In order to achieve another aim – to have reliable air defence – Karoblis insists that that NATO should deploy air defence measures to Lithuania in order to protect the international battalion stationed in the country.
It is interesting that Lithuania has moved from requests to strong political recommendations.
"It was already agreed during the [2016] Warsaw Summit, and it is not implemented. This issue was also raised by several commanders of the battle group," Karoblis told journalists during a joint press conference with visiting German Defence Minister Annegret Kramp-Karrenbauer on October, 10.
Huge NATO is almost cornered by small Lithuania
Germany leads the international NATO battalion deployed in Lithuania since 2017, with around 600 German troops stationed in Lithuania as part of NATO's Enhanced Forward Presence (EFP).
Karoblis said air defence measures are primarily necessary to protect the foreign troops serving in the battalion, since Lithuania does not have necessary systems for that.
"It's about the security of the soldiers who are deployed here," the minister said.
So, NATO has no chance but provide necessary defence for their soldiers.
On the one hand, Lithuania shows its commitment in defending foreign troops properly. On the other hand, it defends its own troops and territory at the expense of others.
In this particular case Lithuania creatively developed the way how to attract the Alliance possibilities to strengthen Lithuania's own military capabilities. It is paradoxically, but in this case Lithuanian Military Independence is equal to Lithuanian Military Dependence on others.