Peace or War in Cyberspace?
Information and communication technology (ICT) plays an unprecedented role in today's world, but cyberspace is clearly lacking in security mechanisms that can guarantee stable and sustained world development. Insufficient information security is a barrier to investment in high-tech sectors. Digital technology with its artificial intelligence (AI), cloud computing, big data, the internet of things (IoT), electronic medicine, and electronic finance is a hostage to the absence of internationally accepted rules of behavior in cyberspace.
All countries without exception are increasingly vulnerable to cyber threats. The international community needs to join forces to build a reliable information security system, but instead individual states pursue policies that make cyberspace even less secure.
The United States is undoubtedly a global ICT leader. However, over the past few years it has increasingly demonstrated an open desire to use ICT for military purposes. It has been developing military ICTs and intensively militarizing cyberspace, thereby unleashing a cyber arms race. There is ample evidence of this.
It was the United States that developed the Stuxnet computer worm, and the American use of it against Iran in 2011 was, as it were, a cyber Hiroshima and an alarm signal to the entire international community because that cyberattack might have had irreversible consequences for Iran, and for its region as a whole for that matter. That attack was effectively the first instance in history of a state using a cyber weapon against another state. Thereby, the United States threw Iran's civilian nuclear program several years back.
In 2009, the Pentagon set up a body to direct cyberspace operations, the United States Cyber Command (USCYBERCOM), and put it in full-scale service the next year. Cyber Command is authorized to conduct both defensive and offensive operations. Its decisions are to be based on reports from the National Security Agency (NSA).
In August 2017, US President ordered Cyber Command to be elevated to the status of an independent unified combatant command. The order, which was implemented in May 2018, put Cyber Command on a par with the nine other unified combatant commands. Cyber Command is currently hiring hundreds of cyber operators to help carry out defensive and offensive cyber operations. The command is planned to eventually comprise nearly 6,200 personnel organized into 133 teams. According to media reports, these teams are due to achieve full operational capability by the end of  2018.
Lieutenant General Paul Nakasone, head of NSA and Cyber Command, has called for a more aggressive approach to opponents in cyberspace. For this reason, in March 2018 a road map was drawn up for Cyber Command that was entitled Achieve and Maintain Cyberspace Superiority. The new strategy requires that the U.S. military carry out practically daily raids on foreign networks and disable suspicious servers before they launch malicious software. The Pentagon is, besides, developing an advanced cyber weapon system to be called United Platform. Hardly any details about it have been disclosed but the facility is known to be planned as the basis for the defense of U.S. government agencies against hacker attacks and for offensive online operations.
The new cyber strategy is expected to force "strategic costs on our adversaries, compelling them to shift resources to defense and reduce [online] attacks." But, in order to avoid any of its moves being qualified as an act of military aggression against another country, Cyber Command would not cross the line into actual warfare. Cyber Command's initiatives are reflected in the 2018 National Defense Strategy, the year's chief military doctrinal document of the United States.
The New York Times has cited current and former U.S. officials as warning that U.S. attacks against foreign networks may provoke "retaliatory strikes against American banks, dams, financial markets or communications networks." Moreover, Cyber Command admits that its strategy poses diplomatic risks because, according to what it calls  "new vision" of Cyber Command, it is by no means terrorists, hackers or common criminals that are the United States' main adversaries but states – China, Russia, Iran and others.
Another aspect of the United States' new cyber policy is legislation. At the National Cybersecurity Summit in New York on July 31, 2018, which was hosted by the Department of Homeland Security (DHS), U.S. Vice President Mike Pence called on the U.S. Senate to enact legislation to create a specialized DHS body11. In order to fund the new body that should act as a centralized hub and encompass resources of the US national government, Mike Pence asked Congress for a record $15 billion.
The United States is going out of its way to monopolize cyberspace. It is an increasingly intensive enterprise, and what makes it particularly dangerous are Trump's initiatives to do away with the traditional system of White House control of U.S. offensive and defensive cyber activities while a system that is going to replace it is still essentially in embryo.
The Wall Street Journal said that, on August 16, 2018, Trump with a stroke of the pen scrapped Presidential Policy Directive 20, which had been issued by former president Barack Obama and laid down rules on the use of cyber weapons against adversaries of the United States. According to the Wall Street Journal, Trump's move aimed to lift restrictions on the offensive use of cyber weapons against foreign states because of alleged fears that some supposed hackers were plotting to meddle in U.S. congressional elections in November 2018.14
Hence, the United States is replacing the Obama-era cyber strategy of defense and deterrence with a strategy authorizing aggressive offensive action up to pre-emptive cyberattacks against sovereign countries.
Besides, the United States has for several decades been conducting global espionage via the Echelon electronic system that was based on a 1947 agreement between the United States and four allies. Today's sophisticated ICTs enrich the resources of U.S. intelligence services. One good example is the Program for Robotics, Intelligent Sensing and Mechatronics (PRISM), which has been running since 2007 and is a facility for the mass-scale secret collection of digital data without judicial approval. In 2013, former CIA employee Edward Snowden publicized documentary evidence that PRISM gave American intelligence services access to the central servers of nine key Internet companies – Microsoft, Yahoo!, Google, Facebook, Paltalk, YouTube, AOL, Skype, and Apple. This implies that the intelligence services are building a global database of audio and video files, photographs, emails, and personal data of social network users. Moreover, according to Snowden's revelations, NSA tapped the telephone conversations of 35 world leaders and some foreign diplomats, also via PRISM. Experts claim that U.S. intelligence services, in collaboration with Britain's Government Communications Headquarters (GCHQ), have been cracking practically all Internet cryptography standards by using supercomputers and the services of savvy hackers.
The United States' cyber weapons buildups and global cyber espionage threaten world security. The United States may accuse any country of a hacker attack without any substantial evidence and launch an aggression, even armed action, against it with the assistance of its allies. The range of actions prescribed by the 2015 version of the U.S. Defense Department's cyber strategy includes armed retaliation for cyberattacks. Recently, Western politicians, mainly the U.S. administration, have been showering Russia with accusations of cyber transgressions of all kinds. In tune with the established practice, no sustainable evidence has been provided of alleged Russian subversive cyber activities. Because of the fanning of the Russian hacking myth and fake news, it largely goes unnoticed that Russia itself has been a victim to large-scale cyberattacks – in 2017, for example, its critical state infrastructure came under more than 70 million attacks.
Nearly 20 years ago, Russia became the first country to sound the alarm at the United Nations about threats that were germinating in cyberspace. Moscow put forward a breakthrough initiative for a guarantee of international information security – a draft UN General Assembly resolution entitled Developments in the field of information and telecommunications in the context of international security. Since 1998, draft resolutions with the same title have been included in General Assembly session agendas every year. In 2017, to ensure the continuity of information security debates in the United Nations, Russia and more than 60 other countries proposed that the General Assembly put the cybersecurity issue on the agenda for its 73rd session. The proposal received unanimous approval.
Russia also initiated the creation of a UN negotiation mechanism on international information security – the Group of Governmental Experts on Developments in the Field of Information and Telecommunications in the Context of International Security (GGE). The GGE has reached agreement on many key points such as sources of cyber threats, the imperative of taking action against cyber terrorism and cybercrime, and the principle that international law applies to cyberspace. The GGE unanimously approved three detailed reports that recommended rules on the responsible behavior of states in cyberspace. In 2015, the member states of the Shanghai Cooperation Organization (SCO) put before the United Nations a proposed draft document that aimed to prevent conflicts in cyberspace and was entitled International Code of Conduct for Information Security.
The Russian position amounts to the principle that no military or political conflicts in cyberspace are acceptable and that therefore any policy that doctrine declaring the use of force in cyberspace a fair method must be rejected.
Russia stands for a digital world order that is based on equality and justice and guarantees the possibility of advancing national interests to all countries regardless of their level of technological development. State sovereignty, non-use of force, the non-interference of a country in the internal affairs of another country, the observance of the fundamental rights and freedoms of the individual, and the equal rights of all states in governing the Internet must be key principles.
The international community needs to develop universal rules on responsible behavior in cyberspace, rules that would be approved by all states. This is a fundamental condition for peace in cyberspace. Russia as the initiator of UN debates on international information security urges all countries to start full-scale work on such rules. Moscow plans to submit a draft resolution containing a basic set of rules to the General Assembly's First Committee during the Assembly's 73rd session this year. The planned resolution would include all of the GGE's recommendations of 2010, 2013 and 2015. It would propose 25 rules, including –
– purely peaceful use of ICT;
– international action to prevent conflicts in cyberspace;
– observance of the principles enshrined in the UN Charter, including the sovereign equality of states, refraining from the threat or use of force, and the non-interference of states in the internal affairs of other states;
– avoidance of groundless accusations of malicious use of ICT and provision of evidence to support any accusation;
– non-use of ICT by states for interfering in the internal affairs of other states;
– non-use of mediators for cyberattacks;
– measures to prevent the spread of malicious ICT instruments and harmful hidden functions.
Russia proposes that these 25 rules should be a basic set of guidelines that might be adjusted and enlarged afterward. This process could be carried out in 2019 by the renewed UN GGE on IIS, which will ensure continuity of IIS discussion within the UN through already tested format.
Cybercrime has been growing on an unprecedented scale, posing a serious international threat. UN Secretary General António Guterres has said that cybercrime yearly inflicts damages of about $1.5 trillion on the world.
Regional legal mechanisms such as the Council of Europe Convention on Cybercrime (Budapest Convention), which was signed in 2001, cannot defeat this evil, although the West literally tries to force the convention on the entire world, including Russia, as the only possible format for international anti-cybercrime action.
Russia's position on the Budapest Convention remains unchanged. Moscow has repeatedly pointed out that it cannot accept Article 32b of the convention, which, allegedly in the interests of criminal investigations, effectively allows a state to access information stored on any computer on the territory of another state without seeking the latter's permission for this and even without notifying that state.
Russia believes that it is imperative to develop a new, universal instrument for combating cybercrime. This idea is enshrined in the declaration of the BRICS summit of July 2018. Russia plans to initiate a full-scale debate on this matter in the UN General Assembly's Third Committee by submitting a draft resolution "Countering the use of ICTs for the criminal purposes" to that effect.
A draft universal convention on cooperation in combating cybercrime that was submitted by Russia to the United Nations was accepted by the General Assembly as one of its documents on December 28, 2017 and was meant to act as "food-for-thought". It becomes clear that a start for the relevant wide political discussion within the UN General Assembly in New York is needed.
Absolutely all states are obviously in the same boat as regards cybercrime. Some of them are safer against it than others but all are vulnerable to it, and the United States with all its numerous cybersecurity services is no exception either. In a world harassed by cyber gangs, international community should jointly deal with real and not fake threats and criminals.
There is an alternative to the cyber arms race – a cyberspace peace plan proposed by Russia and other countries standing for strengthening peace and security in information space. Future reactions in the United Nations to Russia's information security initiatives will make clear who really wants peace in cyberspace and who uses manipulation and fake concerns as a screen for plans to unleash a cyberwar.  Maintenance of peace in cyberspace is the responsibility of each sovereign member of the international community.
First published in our partner International Affairs
The Nuclear Dimension of Cyber Threats
The subject of the interrelation of threats in the fields of information and communication technologies and nuclear weapons is gradually becoming one of the dominant topics in current international security issues. In early summer 2019, a group of researchers working under the auspices of the Nuclear Threat Initiative (NTI) presented the Russian version of the "Nuclear Weapons in the New Cyber Age" report prepared by the Cyber-Nuclear Weapons Study Group (hereinafter referred to as the NTI Report). Russian assessments of the proposals put forward by American experts may contribute to finding constructive solutions that may be ultimately transferred to international communication platforms.
Understanding the Threats
The NTI Report is structured very logically and succinctly. The authors give specific examples using formalized scenarios and demonstrate the practical dimension of specific threats and their consequences. This is followed by concrete proposals. On the whole, this approach is conducive to understanding the essence of certain phenomena and is useful both for experts in the area under consideration and for the general public. Moreover, one would like to think that decision-makers in various countries will be interested in the problems considered.
The authors considered four "illustrative scenarios":
Scenario 1: Warning systems provide false indications of a nuclear attack during a crisis.
Scenario 2: A cyberattack disrupts communications between officials, operators and nuclear systems, and/or international counterparts in a potential crisis.
Scenario 3: An adversary introduces a flaw or malevolent code into nuclear weapons through the supply chain or otherwise in a way that could compromise the effectiveness of those weapons
Scenario 4: An adversary is able to achieve unauthorized control of a nuclear weapon through cyber-assisted theft and/or defeating of security devices.
These scenarios look quite realistic. We will not go into detailed descriptions (or, more precisely, retellings) of them. A brief summary is given in Figure 1.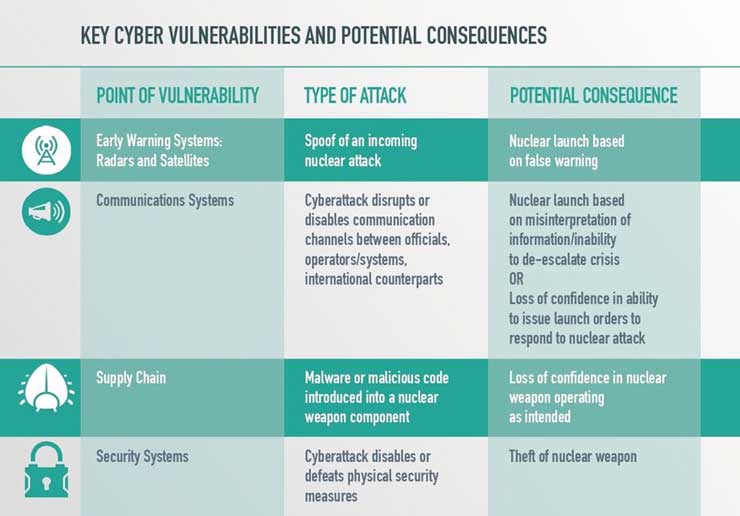 At the same time, we will note that each scenario has an element of simplification, which is generally justified from the point of view of the research objectives. An important clarification should be made, at least for the first scenario. An early warning system comprises many elements, and it is highly improbable that the decision to deliver a retaliatory strike will be made on the basis of a single sub-system. The probability of the "entire set" malfunctioning or being hacked and providing the exact same information appears to be very low. At the same time, when nuclear powers are in a crisis that has an obvious military aspect to it, the threat of a hastily made decision will also increase.
A Search for Solutions
The authors of the NTI Report propose the following three guiding principles that should be taken into account when developing approaches to minimizing the risk of cyber threats against nuclear weapons:
The United States will continue to require a safe, secure, and reliable nuclear deterrent as long as nuclear weapons remain a central element of its security strategy.
Technical measures alone are unable to completely eliminate the cyber threat to nuclear weapons.
The cyber challenge is global, and a unilateral approach is not sufficient.
These principles appear to be quite sound and constructive. Item 1 is certainly reasonable for Russia and for other nuclear powers.
Maybe such statements should be also reflected in bilateral (or even multilateral) declarations on international security issues and strategic stability. Naturally, conditions should emerge first for such declarations.
The experts make several very specific proposals, which are grouped as follows:
reducing the risk of launch as a result of miscalculation;
reducing risks to the nuclear deterrent;
reducing the risk of unauthorized use;
taking a global approach to the cyber threat to nuclear weapons systems.
On the whole, this approach seems logical, but the feasibility of these proposals is questionable.
Certainly, the key task shared by all nuclear powers is to guarantee the impossibility of accidentally interfering with nuclear weapons and related infrastructure through information and communication technologies. What is problematic is the attitude of various states to interference that is deliberate, i.e. intentionally carried out by government services against probable adversaries. This contradiction sharply limits the room for joint action to minimize threats.
In particular, the recommendation contained in the NTI Report on bilateral and multilateral steps towards developing certain new rules of behaviour in cyberspace are unlikely to be fully implemented. This is primarily due to one of the key features of cyber weapons: the impossibility of reliably ascertaining the adversary's target, even if the malware itself has been detected. Identical cyber weapons can be used to collect information and interfere with the systems into which the malware has been introduced.
Unilateral and Multilateral Approaches
At the same time, much can be done in the context of unilateral measures to minimize cyber threats.
It would seem that the most important task in this area is the training of qualified military personnel for the nuclear forces. Excellent knowledge of relevant weapons and military equipment, as well as the rules of operation in any situation and basic "digital hygiene" will evidently contribute to the overall reduction of threats.
Comprehensive rules and regulations for protecting equipment from external interference already exist. However, given that individual components are purchased from foreign manufacturers (this problem is relevant for both Russia and the United States), there is still danger of hardware implants. Let us hope that personnel of the relevant departments in the military and the special services have the necessary qualifications to detect such threats.
At the same time, certain national measures for enhancing the cyber protection of the nuclear weapons infrastructure should be compiled into some sort of "best practices" collection. Perhaps P5 countries (China, France, Russia, the United Kingdom, and the United States) could prepare some handbooks to be distributed, for instance, as part of a Non-Proliferation Treaty Review Conference. This would to some extent demonstrate the responsible approach of recognized nuclear powers to current issues related to nuclear weapons.
As we have mentioned before, developing a relevant section in the Glossary of the Key Nuclear Terms could be a useful step, as fine-tuning the Glossary is supposedly still on the agenda. A dialogue based on a uniform conceptual and categorial framework leads to negotiations being more effective. At the same time, forming a uniform terminology should not be viewed as a trivial task. The solution of this task requires both political will and a deep understanding of the subject of negotiations. And still, even if such procedures do not have a positive outcome, such communications promote an improved understanding of assessments, approaches and paradigms among partners.
We should remember the Joint Statement of the Russian Federation and the People's Republic of China on strengthening global strategic stability today, which envisages, among other things, a joint "analysis of the regulation of new strategic security dimensions" related to the "possible impact of achievements in science and technology." Moreover, Russia and China consider it appropriate to conduct a multilateral study of the relevant problems and their legal regulation on the basis of the United Nations.
Expanding the Context
As we have already mentioned, the crucial feature of cyber weapons (that kind of links it with "kinetic" weapons, primarily strategic weapons) is that the delivery vehicle and the payload are two different things: the same product can be used to introduce malware intended for monitoring and spying, as well as for control hacking and disabling.
Maybe classifying cyber weapons by hostile impact type can create conditions for searching for points of contact between various countries and international organizations. In general, the task of formalizing and coordinating definitions is one of the most complicated stages of any negotiation process, and a key stage that determines the success of the negotiations and the prospects for adapting the agreements to the rapidly changing reality against the backdrop of the scientific and technological progress.
As for deliberate cyberattacks that may be of interest to states that have the requisite capabilities, we should take note of the opinion of the UK-based Chatham House, which draws attention to the complex dynamics of military-political relations in the event of a further escalation in rhetoric concerning cyberattacks preventing combat missile launches as part of the so-called "left of launch" concept, which the General Staff of the Armed Forces of the Russian Federation calls "pre-start intercept." The problem is that the hypothetical "Party A," fearing an attack of such kindby "Party B," may decide to use weapons at the early stages of a conflict. And if "Party B" is bluffing, then calling its bluff may result in the "failure" of the deterrent tactic. If "Party B" is confident in its supreme cyber capabilities, then its actions can easily become overconfident and result in a "hot" conflict.
Strictly speaking, the problem of the "rules of the game" in cyberspace is important in and of itself, without being tied to nuclear weapons. For instance, attempts can be made to train "cyber soldiers" to follow the rules of international humanitarian law, as, for instance, Professor Götz Neuneck from the Institute for Peace Research and Security Policy at the University of Hamburg (IFSH) suggests. And the specific content of such concepts as "proportionality" and "military necessity" when applied to cyberspace requires additional research. Joint international exercises, including those related to nuclear systems, ideally with the participation of "probable adversaries," could be a useful event in this area. Thus, states could gain some experience of acting in a simulated combat situation and gain experience of interaction through emergency communication channels, which is of crucial importance.
Safe Communication Lines
For decades, information and communication technologies have been developing at breakneck speed, and the militarization of cyberspace accompanies these processes. In general, any technological changes result in new threats, and "Neo-Luddism" will hardly be a suitable cure for such threats. "Nuclear abolitionists" are unlikely to achieve their goals in the foreseeable future either: we are seeing a return to the international rivalry of great powers, and nuclear weapons are one of the principal elements confining death and destruction in the course of this rivalry within relatively moderate bounds.
The only way to preserve strategic stability and prevent catastrophic consequences from the incorrect use of nuclear weapons is to perform an in-depth analysis of the impact that new technologies have on the relevant systems. This analysis should be as open as possible and involve an element of international dialogue at both the state and expert levels. At the same time, it is necessary to "increase literacy" in information and communication technologies and nuclear weapons (and their control systems) both among military personnel and among civilian specialists and decision-makers. The NTI Report and the subsequent communication activities of its authors are a step in the right direction, especially since representatives of the Ministry of Defence of the Russian Federation attended the presentation of the report at the Institute for U.S. and Canadian Studies of the Russian Academy of Sciences.
From our partner RIAC
Omani national security and the kind of political and military cooperation with the United States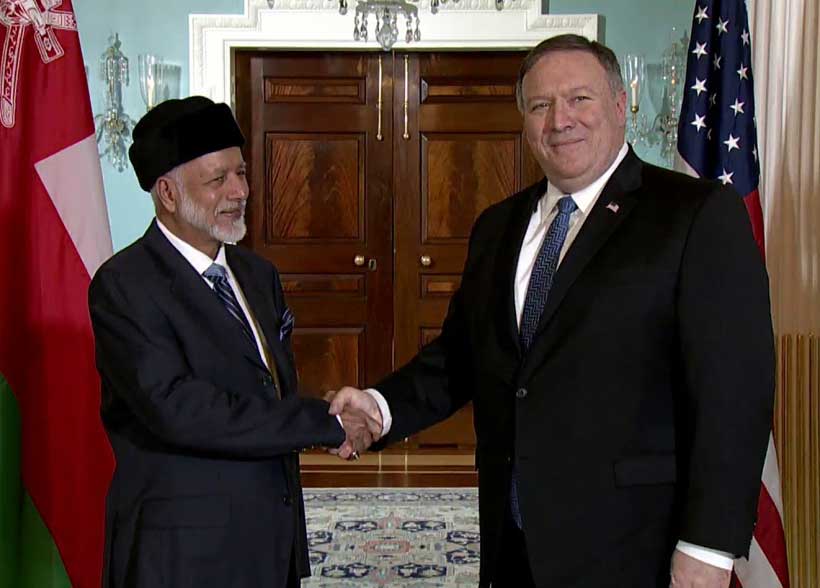 Historical documentary evidence suggests that the United States has always had a strategic partner in the region. Oman is undoubtedly the closest Iranian southern neighbor to the Persian Gulf, with its common cultural and religious roots with the land of Iran. But it should be noted that the effects of convergence between the United States and Oman have an impact on Iran's national security. Also, after the US Secretary of State Visits Oman and his visit to Sultan Qaboos and the Pompeo positions in Amman, the question is: How much is Oman to do with US sanctions against Iran?
Oman has a geographical isolation in the Arabian Peninsula. The country has only a frontier from its western region, and the three UAE, Saudi Arabia and Yemen are neighbors. On the other hand, the majority of the Abbasid religion of this country has led to its religious isolation in the Islamic world, and Wahhabism has entered into conflict with the followers of this religion several times since its inception, and still considers the abbots from the divergent difference of the Islamic world, And excuses.
Oman is relatively weak in the economic field, dependent on oil and the outside world. However, the Omani dealings with the United States are not high, and most of it is in the military arms sector. The demographic structure of this country, in particular the population of about 5% Shiite, who has a lot of strength and wealth, with the Baluchis, who have traveled to Oman many years before Iran, actually created a situation and the Omani government will not be in a relationship with Iran. If this issue is analyzed along with the influence of Wahhabism on the Omani population, it will be more important if it is to be analyzed.
It should be borne in mind that the Sunnis in Amman claim that they are the majority of the citizens of this country. Oman considers the Gulf Cooperation Council to be important in the framework of this cooperation, in addition to external problems, to prevent Arab aggression, the Omani are well aware of the history of Saudi Arabia's deployment to its neighboring countries, and therefore the balance Power will not be pleasing to Saudi Arabia. Oman, which seeks to reduce dependence on oil and economic diversification in its 2020 and 2040 prospects, avoids any kind of conflict and conflict in the region, because the arrival of capital, tourists and goods, and services and manpower require security in this country. And stability in the region. They are working to strengthen Qatar in the Gulf Cooperation Council and are working with the United States to provide their own resources in the region, and because strengthening Qatar and removing Saudi and Qatari hostilities are in the interest of the country and necessary to curb Saudi Arabia. Greetings from the United States.
But the question is whether Oman can adopt an independent policy at the level of engagement with global powers such as the United States?
In August 2010, Oman and Iran signed a security agreement; of course, it cannot be said that the relations between Tehran and Muscat are generally without problems and is a full-fledged relationship; for example, the Oman navy does not participate in Iranian military maneuvers while Which is in the military maneuvers of the Gulf states, the United States, India and Pakistan. Oman has given America's military partner its ports and bases. It has shown its willingness to participate in the US missile defense shield, which is aimed at creating security against Iran's threat to the countries of the region.
From the point of view of Oman, the military conflict between the United States and Iran has a huge geopolitical and economic risk. To reduce this danger, the Omani government has acted as a bridge between Tehran and the West; that is why the Oman kingdom, unlike Saudi Arabia and some countries of the Cooperation Council, Which wants Iran to lose its position in the region, does not want Iran to be attacked by the military and tries to increase the capacity of Iran in the region by means of a synergy.
The geographic proximity of Iran and Oman in the Strait of Hormuz, Oman's geographical remoteness from the Arab world, and the geopolitical and geopolitical importance of the Strait of Hormuz, Iran and Oman, have required good relations. Accordingly, and despite the fact that Oman has always had close ties with the United States, this has not had any effect on Iran's friendly relations with the country. In fact, the different Muscat approach to the Tehran Cooperation Council has had a dramatic impact and has effectively reduced the influence of Riyadh on the smaller member states of the Council for the purpose of convergence, and undermined West's efforts to isolate Tehran.
It should now be seen that in spite of important approaching variables such as geographic continuity, geopolitical situation in the region, oil, the need for stability in the region, and … the main causes of the security scene in the region.
In the past, in the context of security-related security with national power, there was a belief that with increasing military power security would increase, and with the number of military forces and equipment representing the power and security of each country, but now beliefs have changed and should be noted. National security is not a unilateral process that can only be increased by increasing its military power, but has a broad and comprehensive concept.
It is possible to maintain the national security of each political unit by increasing national power and balancing its constituent elements, and increasing one of these factors, if not accompanied by an increase in other factors, could threaten national security. In this regard, today, national security has taken a cross-border dimension; in other words, it is not just inside the border. Of course, security is not military power, so sometimes increased military strength reduces security and insecurity.
The Omanian kingdom has a different look at the position of the Gulf Cooperation Council on the issue of convergence; on the one hand, it contributes to economic issues within the framework of the Persian Gulf Cooperation Council, but on the other hand, in foreign policy and disputes between the Persian Gulf Cooperation Council Persian countries has not entered and has been trying to play a role in the Persian Gulf Cooperation Council by assuming the role of the Hammer of Equilibrium. However, now it seems that, despite the differences between Saudi Arabia and Qatar, it is not very willing to remain in the Gulf Cooperation Council. This approach may lead to a gap in the Gulf Cooperation Council, and will split countries into two different blocks. In this regard, Muscat tries to maintain its impartiality in the internal conflicts of this council as well as the differences between Iran and Arab countries, while playing a positive role.
Now the kingdom of Oman is not willing to pay for the rest of the world; therefore, in view of Muscat, Egypt's entry into the Gulf Cooperation Union is very dangerous. On the other hand, the Omani kingdom does not differ much with other countries, but it is not pleasing to Saudi policies (which are trying to dictate their policies to other Gulf States). The country has repeatedly objected to Saudi apparent interference in foreign policy of the Gulf Cooperation Council, and if the situation continues, it is foreseeable that the Gulf Cooperation Council will collapse in the future, and even Qatar, along with the Oman kingdom, will cooperate with the Co-operation Council Gulf exits and form an alliance with Lebanon, Iraq and Syria. In contrast, Bahrain, UAE, Egypt, Saudi Arabia and Kuwait are on the other.
In the future, Muscat tries to maintain its impartiality and, in its relations with the United States, the European Union, Saudi Arabia, and …, continues its policies and tries to play a positive role in resolving regional crises, as The meetings of Iran and the Western countries over the past years with Oman's administration show that the king wants to mediate Iran's relations with the West.
Tension in the Gulf: Not just maritime powder kegs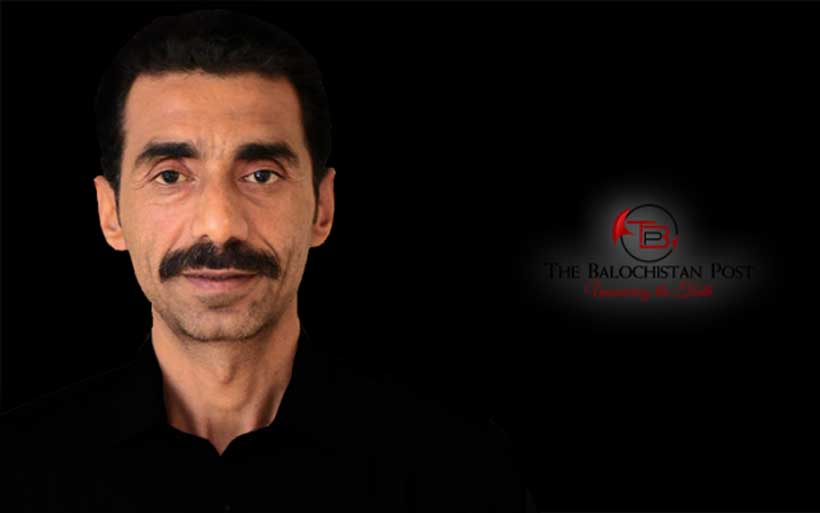 A recent interview in which Baloch National Movement chairman Khalil Baloch legitimized recent militant attacks on Iranian, Chinese and Pakistani targets is remarkable less for what he said and more for the fact that his remarks were published by a Saudi newspaper.
Speaking to Riyadh Daily, the English language sister of one of Saudi Arabia's foremost newspapers, Al Riyadh, Mr. Baloch's legitimization in the kingdom's tightly controlled media constituted one more suggestion that Saudi Arabia may be tacitly supporting militants in Balochistan, a troubled Pakistani province that borders on Iran and is a crown jewel of China's infrastructure and energy-driven Belt and Road initiative.
Riyadh Daily interviewed Mr. Baloch against the backdrop of heightened tensions between the United States and Iran that many fear could escalate into military conflict, past indications of Saudi support for religious militants in Balochistan, and suggestions that countries like the United States, Saudi Arabia and the United Arab Emirates are united in their opposition to Iran but differ on what outcome they want maximum pressure on the Islamic republic to produce.
The interview followed publication in 2017 by a Riyadh-based think tank with ties to Saudi crown prince Mohammed bin Salman of a call by a Baloch nationalist for support for an insurgency in the Baloch-populated Iranian province that borders Pakistan and is home to the crucial Indian-backed port of Chabahar on the Arabian Sea.
It also juxtaposes with Pakistani anti-Shiite, anti-Iranian militants who operate madrassahs along the Iranian-Pakistani border reporting stepped up Saudi funding. The monies are believed to come in part from Saudi nationals of Baloch descent, but the militants suggest the funding has at least tacit government approval.
Balochistan has witnessed multiple attacks on its Hazara Shiite minority as well as in May on a highly secured luxury hotel frequented by Chinese nationals in the Chinese-backed Baloch port city of Gwadar and a convoy of Chinese engineers as well as the Chinese consulate in Karachi. Militants killed 14 people in April in an assault on an Iranian revolutionary guards convoy and exploded in December a car bomb in Chabahar.
Saudi Arabia is also suspected of supporting the Mujahedeen-e-Khalq, a controversial Iranian exile group that seeks the fall of the Iranian regime and enjoys support of senior Western politicians and former officials as well as US national security advisor John Bolton prior to his appointment and ex-Saudi intelligence chief Prince Turki al-Faisal.
For now, tacit Saudi support for Baloch militants is likely to be more about putting potential building blocks in place rather than the result of a firm decision to wage a low-intensity proxy war.
"The recent escalation in militant attacks is a direct reaction to Pakistan army's growing atrocities in Balochistan and China's relentless plunder of Baloch resources," Mr. Baloch said.
Asserting that the Pakistani part of Balochistan has been occupied by Pakistan since 1948, Mr. Baloch insisted that the "Baloch nation is resisting against this forced accession. This insurgency is the continuation of that."
The alleged Saudi support coupled with plans for a US$10 billion Saudi investment in a refinery in Gwadar and a Baloch mine has sparked discussion in Beijing about the viability of China's US$45 billion plus stake in the region's security and stability.
Iranian officials see a pattern of foreign support for insurgents not only in Balochistan but also among Iran's Kurdish, Arab and Azeri minorities. Their suspicions are fuelled by statements by Mr. Bolton prior to his appointment calling for support of insurgencies and Prince Mohammed's vow that any battle between the Middle East's two major rivals would be fought in Iran rather than Saudi Arabia.
Complicating the situation along Iran's borders is the fact that like in the waters of the Gulf where naval assets are eyeing one another, it doesn't take much for the situation to escalate out of control. That is particularly the case with Iran having shifted tactics from strategic patience to responding to perceived escalation with an escalation of its own.
Iran moreover has been preparing for a potential covert war waged by Saudi Arabia and possibly US-backed ethnic insurgent groups as well as the possibility of a direct military confrontation with the United States by building a network of underground military facilities along its borders with Pakistan and Iraq, according to Seyed Mohammad Marandi, an Iranian academic who frequently argues the Tehran government's position in international media.
Iran recently released a video showcasing an underground bunker that houses its missile arsenal.
In a further heightening of tension, Iran's Revolutionary Guards attacked on Friday Iranian armed opposition groups in the Kurdistan region of Iraq with drones and missiles. Iranian artillery separately shelled villages in a region populated not only by armed anti-Iranian and anti-Turkish Kurdish groups but also smugglers.
The strikes followed the killing of three Iranian revolutionary guards. A spokesman for the Democratic Party of Iranian Kurdistan (PDKI) denied responsibility for their deaths.
The risk of escalation is enhanced by the fact that while the United States, Saudi Arabia, Iran and Israel agree on the principle of maximum pressure, they do not necessarily see eye to eye on what the end goal is.
While US President Donald J. Trump appears to want to force Iran back to the negotiating table, Israel and Mr. Bolton are believed to advocate gunning for regime change ignoring the risk that the effort could produce a government that is even less palatable to them.
That outcome would suit Saudi Arabia that does not want to see a regime emerge that would be embraced by Western nations and allowed to return to the international fold unfettered by sanctions.
A palatable government would turn Iran into a Middle Eastern powerhouse with a competitive edge vis a vis Saudi Arabia and complicate the kingdom's ambition to become a major natural gas player and sustain its regional leadership role.
Writing in the Pakistan Security Report 2018, journalist Muhammad Akbar Notezai warned: "The more Pakistan slips into the Saudi orbit, the more its relations with Iran will worsen… If their borders remain troubled, anyone can fish in the troubled water."