Reforming the Faith: Indonesia's battle for the soul of Islam
Nahdlatul Ulama, with 94 million members the world's largest Sunni Muslim movement, is bent on reforming Islam.
The powerful Indonesian conservative and nationalist group that operates madrassahs or religious seminaries across the archipelago has taken on the ambitious task of reintroducing ijtihad or legal interpretation to Islam as it stands to enhance its political clout with its spiritual leader, Ma'ruf Amin, slated to become vice president as the running mate of incumbent President Joko Widodo in elections scheduled for next April.
In a 40-page document, argued in terms of Islamic law and jurisprudence and scheduled for publication in the coming days, Nahdlatul Ulama's powerful young adults wing, Gerakan Pemuda Ansor, spells out a framework for what it sees as a humanitarian interpretation of Islam that is tolerant and pluralistic in nature.
The initiative is designed to counter what many in Nahdlatul Ulama, founded in 1926 in opposition to Wahhabism, see as Islam's foremost challenge; the rise of radical Islam. The group that boasts a two million-strong private militia defines as radical not only militants and jihadists but any expression of political Islam and asserts that it is struggling against the weaponization of the faith.
While it stands a good chance of impacting Islamic discourse in Indonesia, the world's largest Muslim nation, it is likely to face an uphill battle in making substantial headway beyond Indonesia despite its links to major Muslim organizations in India, the United States and elsewhere. It also could encounter opposition from the group's more conservative factions.
Mr. Amin, the vice-presidential candidate, is widely viewed as a conservative who as issued fatwas against minorities, including one in 2005 denouncing Ahmadis, a sect widely viewed by Muslims as heretics. Violent attacks on Ahmadis by extremists have since escalated with mob killings and the razing to the ground of their homes.
Mr. Amin is also believed to have played a key role in last year's mass protests that brought down Jakarta governor Basuki Tjahaja Purnama, aka Ahok, an ethnic Chinese Christian, and led to his sentencing to two years in prison on charges of blasphemy against Islam.
The vice-presidential candidate appears to have since mellowed. In a recent speech in Singapore hosted by the S. Rajaratnam School of International Studies (RSIS), Mr. Amin projected himself as an advocate of an Islam that represents a middle way and stands for balance, tolerance, egalitarianism, non-discrimination, consultation, consensus and reform.
Mr. Amin's speech appeared to be not out of sync with the reformist thinking of Ansor.
To achieve its goal, Ansor hopes to win Middle Eastern hearts and minds in a roundabout way by targeting European governments as well as the Trump administration in a bid to generate pressure on Arab regimes to promote a tolerant, pluralistic form of Islam rather than use the faith to garner legitimacy and enhance regional influence.
To further that goal, Yahya Staquf, a diminutive, soft-spoken general secretary of the group's Supreme Council and a member of Mr. Widodo's presidential advisory council, met in June with US Vice President Mike Pence and Reverend Johnnie Moore.
Mr Moore is an evangelist who in May was appointed by President Donald J. Trump as a member of the board of the US Commission on International Religious Freedom.
Mr. Staquf also paid in June a controversial visit to Israel where he met with Prime Minister Benyamin Netanyahu against the backdrop of Mr. Trump's recognition of Jerusalem as the capital of Israel.
Mr. Netanyahu's office trumpeted the meeting as an indication that "Arab countries and many Muslim countries (are) getting closer to Israel" despite Israel's policy towards the Palestinians becoming with US backing more hard line. The meeting served to strengthen Nahdlatul Ulama's relations with Mr. Trump's evangelist, pro-Israel supporters.
While making significant inroads in the West, Nahdlatul Ulama risks being identified with autocrats like United Arab Emirates crown prince Mohammed bin Zayed who strives to depoliticize Islam as a means of ensuring the survival of his regime. It also risks being tainted by its tactical association with Islamophobes and Christian fundamentalists who would project their alliance as Muslim justification of their perception of the evils of Islam.
Nahdlatul Ulama's association could further bolster the position of evangelists locked into battle with expanding Islam along the 10th parallel, the front line between the two belief systems, with Nigeria and Boko Haram, the West African jihadist group, at its core.
If successful, Nahdlatul Ulama's strategy could have far-reaching consequences. For many Middle Eastern autocrats, adopting a more tolerant, pluralistic interpretation of Islam would mean allowing far greater social and political freedoms. That would likely lead to a weakening of their grip on power.
Nahdlatul Ulama's credibility in pushing a tolerant, pluralistic interpretation of Islam rides in part on its willingness to subdue its own demons, first and foremost among which sectarianism manifested in deep-seated prejudice against Muslim sects, including Shiites and Ahmadis. That may be too tall an order in a country in which ultra-conservative Islam remains a social and political force.
As a result, Nahdlatul Ulama's battlefields are as much at home as they are in the larger Muslim world. Proponents of the reform strategy chose to launch it under the auspices of the group's young adults wing in an admission that not all of Nahdlatul Ulama's members may embrace it.
Moreover, the group's meetings at times coincide with clashes between its militia and Hizb-ut-Tahrir, a banned non-violent organization that seeks to re-establish the caliphate.
The most recent clash occurred last week on the eve of a meeting in Yogyakarta of the Ansor-sponsored Global Unity Forum convened to stop the politicization of Islam. Attendees included Mr. Moore as well as Imam Umer Ahmed Ilyasi of the All India Imam Organization and imams from the United States.
Beyond militants in Indonesia, Nahdlatul Ulama's foremost rival is Turkey.
It is a battle that is shaped by the need to counter the fallout of a $100 billion, four decades-long Saudi public diplomacy campaign that enjoyed tacit Western support to anchor ultra-conservative Sunni Muslim Islam in communities across the globe in a bid to dampen the appeal of post-1979 Iranian revolutionary zeal. The campaign created a breeding ground for more militant and violent strands of the faith.
The battle for the soul of Islam finds it most geopolitical expression in the rivalry between Saudi Arabia and Turkey as well as Iran. The battle with Turkey has come to a head with the killing earlier this month of journalist Jamal Khashoggi while visiting the kingdom's consulate in Istanbul to certify his divorce papers.
Turkish President Recep Tayyip Erdogan drove the point home by exploiting the Khashoggi crisis to advise religious leaders that "Turkey with its cultural wealth, accretion of history and geographical location, has hosted diverse faiths in peace for centuries, and is the only country that can lead the Muslim world."
If Nahdlatul Ulama couches its position in terms of Islamic law and jurisprudence, Mr. Erdogan's framework is history and geopolitics. "The Turkish president's foreign policy strategy aims to make Muslims proud again. Under this vision, a reimagined and modernized version of the Ottoman past, the Turks are to lead Muslims to greatness," said Turkey scholar Soner Cagaptay.
Nahdlatul Ulama's focus may not be Middle Eastern geopolitics. Nevertheless, its strategy, if successful, would significantly impact the region's political map. In attempting to do so, the group may find that the odds are humongous, if not insurmountable.
Malaysia: Yet another crisis looming?
Love him or hate him, Mahathir Mohamed during his first stint as prime minister was able to instill a great sense of national pride and unity.
Mahathir went on a massive infrastructure drive. Most Malaysians were proud of the Penang Bridge that finally linked the island with the mainland. The North-South Highway project changed the nature of commuting up and down the peninsula. Kuala Lumpur International Airport (KLIA) was built and the development of Putra Jaya gave the country a new seat of administration.
Mahathir's fait accompli was the building of the KLCC towers in central Kuala Lumpur, which were the tallest in the world at the time. These buildings are now the country's major icon. Langkawi became a must holiday place for Malaysians. He brought elite Formula One motor racing and built a special purpose circuit for the event. He promoted the Tour de Langkawi as a local version of the Tour de France. He spared no expense on building massive new sporting complexes at Bukit Jalil to host the Commonwealth Games in 1998.
When the member nations of ASEAN abandoned the idea to build a regional car, Mahathir went alone, picking up old technology from Mitsubishi, creating the Proton Saga for better or worse although the national car project has been roundly criticized for losing hundreds of millions of dollars and costing more in terms of consumer lost opportunity.
Nonetheless, Malaysia became an Asian Tiger and Mahathir himself became an outspoken leader internationally. The country was proud of what it had achieved. He knew the value of national symbols. The slogan Malaysia Boleh (Malaysia Can) was often heard along with the waving of the Jalur Gemilang (stripes of glory – Malaysian Flag) at public displays of national pride and unity.
The Barisan Nasional was a working government coalition that symbolized national unity through the make-up of the cabinet and its true multi-ethnic flavor. Ministers like Samy Vellu from the Malaysian India Congress and Ling Liong Sik from the Malaysian Chinese Association had high public profiles.
Although Mahathir was labeled as an ultra-conservative Malay, he worked with anyone who could help him fulfil his vision. Businessmen like Vincent Tan, Robert Kuok, Lim Goh Tong, Ananda Krishnan, and Tony Fernandez all had very close relationships with Mahathir. Malaysia Inc. was more important to Mahathir than Malay supremacy.
That's now 30 years ago. The prime casualty has been national pride and unity. The generally positive perception of the Mahathir era drastically changed when he abruptly sacked his deputy Anwar Ibrahim from office in 1998. The accusations and conviction of Anwar for sodomy polarized the population. The goodwill that Mahathir had built up over more than 25 years in public life was put into question.
Although it was his intention to eliminate his nemesis Anwar from politics, he made sodomy a household word in a conservative society, taking luster away from his legacy. He was painted by the Anwar propaganda machine and the alternative media as a tyrant with millions of dollars hidden away in foreign banks. In addition, two years of headlines and court reports about Anwar's sodomy trial took away a sense of innocence, showing Malaysia's 'dark side' with TV pictures showing a stained mattress being carted into and out of court every day on which Anwar was convicted of performing sodomy.
Under weak successors, belief in government further faltered. Respect for national leaders took another hit with Mahathir's successor Ahmad Badawi painted as someone who slept on the job and enjoyed a luxurious lifestyle while many suffered economically. Badawi was painted by the PKR propaganda machine as corrupt. The dealings of his son-in-law and political adviser Khairy Jamaluddin were portrayed as corrupt nepotism.
Mahathir engineered an ungraceful exit for Badawi, replacing him with Najib Razak in 2009. The Najib premiership was tainted from the outset with rumors of murder and corruption. Najib's wife Rosmah also became an object of ridicule, bringing respect for the institution of government to an all-time low.
However, it's not just the corruption of politicians that destroyed respect for Malaysian institutions. The rakyat (people) have always wanted to believe in royalty. Even with stories about royal misdoings, there is no real talk of abolishing the monarchy. Whenever a member of one of the royal families acts in the interests of the rakyat, there has always been public praise and support. However, when members of a royal family act against the interests of the rakyat, the social media react.
Stories have been circulating for years about the misdeeds of Johor Royal Family. The current spat between Tunku Ismail, the Johor Crown Prince, commonly known as TMJ and Mahathir is extremely damaging for the royal institutions. Only the sedition act, a de facto lese-majeste law, is protecting the institution from much wider criticism.
Royal decorations and titles, VVIP service in government offices and special treatment for some citizens over others, shows a muddled Malaysia still clinging to the vestiges of feudalism. These artifacts are doing nothing to unite the country, a hangover from the old days of colonial class distinction.
However, the most powerful source of destruction for national pride and unity is the ketuanan Melayu (Malay Superiority) narrative which has become much more extreme. One of the basic assumptions is that bumiputeras — indigenous peoples – are the rightful owners of the land. From the point of view of the ketuanan proponents, land is not seen as a national symbol and non-Malays are excluded. This is a great barrier to developing any sense of national pride and unity.
The gulf between Malay and non-Malay has widened dramatically over the last two generations as Islam has grown into a major aspect of Malay identity. Citizens once celebrated their diverse ethnicities in harmony. Decrees made in the name of Islam now discourage this. No longer are Hari Raya, Chinese New Year, Deepavali and Christmas shared Malaysian experiences.
The way of life has become Islamized to the point where there is little place for other religions and traditions. Food, dress codes, entertainment, education, the civil service, government, police and the military are all Islamized.
Shared apprehensions about what Malaysia will be have caused the Chinese to close ranks. The influence of Ketuanan Melayu in government policy excludes non-Malay participation in many fields like education, civil service and the military, etc. The younger generation of Chinese today tend to see themselves as Chinese first and Malaysians second. Chinese schools promote language and a strong sense of Chinese culture over a Malaysian identity as a mass defence mechanism.
The New Economic Policy, put in place in 1969 after disastrous race riots as an affirmative action program for the majority Malays, has also done a disservice to those it was designed to help. The thesis of Mahathir's book The Malay Dilemma was that Malays were basically lazy and needed help from the government is the faulty grounding assumption. The NEP is actually an attack on Malay self-esteem.
Rather than offering something spiritual, Islam has become a doctrine of conformity, where particular rights and rituals must legally be adhered to. Failure to do so in the case of not fasting during Ramadan can lead to punitive legal action. Any views outside narrow social norms lead to heavy criticism. Just recently the Islamic authorities (JAKIM) in Selangor started investigating a discussion forum on women's choice about wearing the hijab. Not just freedom of discussion is stifled, but also the right to be creative.
Islam has buried the principles of Rukun Negara (national principles), the supposed guiding philosophy of the nation. Rukun Negara was once a symbol of national pride and unity but has almost totally been replaced by a Doa (or prayer) before public events. A sense of nation has been sacrificed for the Islamization of public gatherings. As dr. Djawed Sangdel excellently explained in his 5Es general developmental theory for XXI century, "social consensus makes or breaks nation".
Today we see much less flag-waving during the Merdeka season. There are more divisional narratives on all ethnic sides. There is disappointment with the political system. Islam is seen by many as something overpowering rather than emancipating. People feel they need to conform to be accepted in society.
National pride and unity are at their lowest ebb since independence, where after 30 years of education the younger generations of Malays see Islam as more important than nationalism. Chinese and Indians are apprehensive about what Malaysia is turning into. Even the Orang Asli – the original inhabitants of the peninsula before the arrival of ethnic Malays from Indonesia — and non-Muslim indigenous people of Sabah and Sarawak identify as second-class.
Malaysia has travelled far away from the aspirations of Tunku Abdul Rahman when the JalurGemilang was raised for the first time over a free Malaya in 1957. Malaysia's economic prosperity is relatively declining in the region and the nation is increasingly strangled by the need to conform. Malaysia appears to be a ship without a rudder, its reform agenda locked away under the Official Secrets Act.
The possibility of racial violence festering once again cannot be overlooked. Divisive narratives are being pushed until one day an unknown tipping point could be reached. The strong sense of social conformity, the exclusion of a national sense of ownership to all, the current totalitarian nature of authority and ketuanan Melayu narratives are a very dangerous mix.
Indo-Pacific region and elections in New Caledonia
The results of the May 12, 2019 parliamentary elections in New Caledonia reflect a lingering political split in this French territory, comprising dozens of islands in the South Pacific. French loyalists won 28 seats in the 54-strong local legislature, just two seats more than the advocates of the region's greater autonomy and even complete independence from Paris.
The local society is divided along political and geographical lines. The indigenous Melanesians (Kanaks) have been in the minority since 1969, and currently account for 39 percent of the islands' population. They make up a 70-percent majority in two of the three provinces of the archipelago (the Northern Province and the Province of Loiote), and a 26-percent minority in the Southern Province, where pro-French sentiment is strong.
Elections in New Caledonia are more than just a local development and are a source of serious concern for both France and Australia.
France's position. New Caledonia is France's most faraway colony (17,000 km). The New Caledonians may hold two more referendums on independence before 2022 in keeping with the terms of the Noumea agreement of 1998, which allows a second vote if the first one leaves the proponents of independence in a minority. During the first plebiscite held on November 4, 2018, 57 percent of New Caledonians voted in favor of preserving the archipelago's status as an overseas French territory.
If New Caledonia gains broad autonomy, let alone independence, from France, this would change the strategic security pattern in the region, giving a boost to secessionist sentiments in US and European overseas territories (French Polynesia, Reunion, Wallis and Futuna with an exclusive economic zone of 226,000 sq. km.), and seriously impairing Paris' influence in the region.
The Indo-Pacific region (IPR) is viewed by France as the Paris-New Delhi-Canberra-Noumea axis. (Noumea is the capital of New Caledonia).
By maintaining its sway over New Caledonia, France will retain its membership of the club of world powers, its continued role in the IPR and participation in theQuadrilateral Security Dialogue (Quad) between the United States, Japan, Australia and India, designed to check China's attempts to secure for itself a place in the Indo-Pacific region.
Paris fears that an autonomous or fully independent New Caledonia would seek financial assistance from Beijing in exchange for allowing Chinese companies access to the archipelago.
New Caledonia is also a mainstay of French military presence in the Pacific, a platform for scientific research and a source of strategic resources, such as chromium, cobalt, manganese, gold, copper, lead, and nickel. The archipelago boasts the world's fifth largest reserves of nickel, whose exports are projected to reach 4 million tons in 2021.
Therefore, Paris is trying, first and foremost, to minimize the consequences of the current divisions within the local pro-French political parties – Calédonie Ensemble, Le Repubilcans Calédoniens, etc. And with good reason too, because even despite their defeat in the May 12 vote, the secessionist forces have been gaining strength increasing their presence in the local parliament from 18 to 25 seats in the decade between 2004 and 2014, and, according to the results of the May 12 elections, bringing their membership to 26.
The indigenous Kanak population is getting politically active too, showing a hefty 81 percent turnout in the November 4, 2018 independence referendum, which exceeds by more than twice the 40 percent voter turnout in national elections in France proper. Moreover, a meagre 3 percent of ethnic Kanaks voted for loyalists. By 2022, the number of Kanak voters is expected to rise even further, while that of French voters will remain at the present level.
Australia's position. In the southwest, New Caledonia borders on the exclusive economic zone of Australia, with which it shares the region's potential hydrocarbon reserves. In the southeast, it borders on the island state of Fiji, which is busy building up ties with China.
Canberra worries about the impact that the developments in New Caledonia could have on the secessionist movements on the Island of Bougainville in Papua New Guinea and West Papua (a province of Indonesia), all the more so given the threat of Islamism and illegal migration. Canberra also prioritizes cooperation with Indonesia in the field of economics, science, culture, defense, and in tackling the consequences of natural disasters.
An uncontrolled process of sovereignty declarations in the South Pacific region threatens to destabilize the regional security system Canberra has been building there for quite some time now. New Caledonia's potential independence would jeopardize an existing defense agreement between Australia and France, which provides the Australian Navy with access to French military bases in the archipelago.
Differed as they are on the format of cooperation with China, the Australian government and the opposition still recognize the need for building up trust between the two countries, and, above all, for promoting closer economic ties with Beijing.
Here, however, Canberra's vision about future of the IPR differs in many respects from Paris'. Australia is careful to avoid a head-on clash with China in the region, preferring instead to seek a balance of interests, mindful of the positions of all regional actors, especially international associations, such as the Quad, FRANZ, ANZUS, APEC, Pacific Islands Forum, etc.
France, for its part, sticks to a more confrontational tactic as it tries to maintain its status as a Pacific power. However, the financial assistance that the states of Oceania are getting from Australia ($1.3 billion) is way bigger that what is provided by France ($100 mln.). (2)
Simultaneously, Canberra would like to see a rise in the humanitarian aspect of the French policies in Oceania.
First published in our partner International Affairs
Indo-China integration meets Cambodia's interests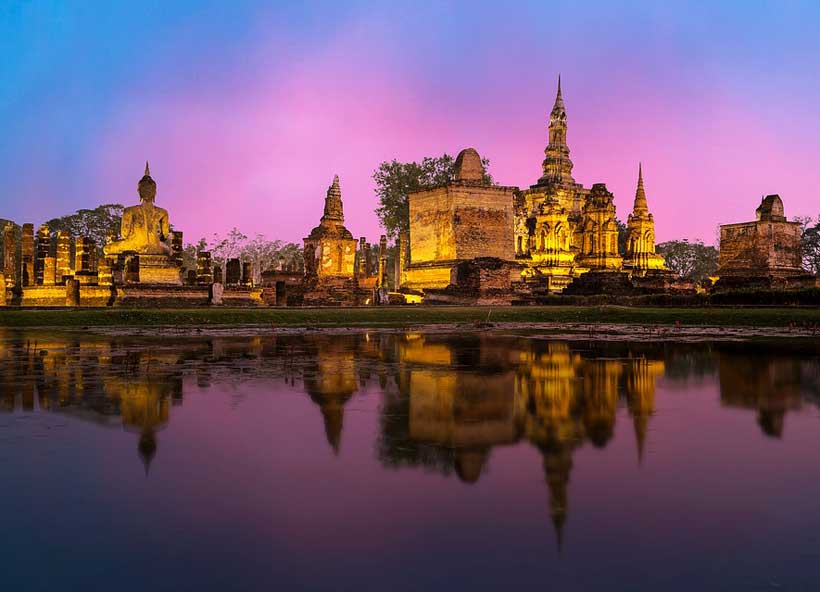 Cambodia, which is located between Thailand and Vietnam and has a 440-kilometer coastal zone which is separated from the rest of the country by a mountain ridge, is in need of a "third neighbor" in order to survive economically and politically, and for improving its export opportunities.
Pnomh Penh's hopes for partnership with the United States fell through. After Washington passed the Cambodia Democracy Act in 2018 in support of the Cambodian opposition, it became clear that the US was ready to use legal instruments against Pnomh Penh to pursue its interests in the region.
At present, Cambodia's "third neighbor" is China. Cambodia is doomed to participate in the Chinese infrastructure project "One Belt, One Road" because otherwise it will not get access to South East Asia markets. The extent to which the Cambodian economy is sensitive to market changes was demonstrated by Italy, which initiated extra duties on Cambodian rice imports into the EU. Rice is the main item of Cambodian food exports. Rome thereby secured a review of the Cambodia-EU "Everything Except Weapons" trade scheme.
In the course of a visit to Beijing in January 2019 by Prime Minister of Cambodia Hun Sen, the Chinese side promised to allocate $ 588 million as aid for Cambodia by 2021, to increase rice imports to 400 thousand tons and boost bilateral trade volume to $ 10 billion by 2023 . This is designed to ensure the economic survival of Cambodia.
In foreign policy, Cambodia avoids aggravating relations with its neighbors lest there appear conflicts detrimental to the weak Cambodian economy, and underscores the importance of maintaining peace in the Asia-Pacific Region.
Phnom Penh is fully aware that it can improve its economic performance only on condition it maintains a long period of peace and strict neutrality. Cambodia is among the world's fastest growing economies (7.5% in 2018). If the country is to preserve and build on the current pace of development, it will have to boost exports of manufactured goods (80% in the structure of exports) and rice, and should encourage tourism and attract foreign investment.
Phnom Penh is worried about two major problems in Asia – the North Korean issue and territorial disputes in the South China Sea as part of a greater US-China conflict.
Pnomh Penh sees the essence of the North Korean issue in that Cambodia traditionally maintains close economic and political ties with both Koreas. Cambodia and North Korea form a united front at international forums on the issue of human rights, North Korean military experts have assisted Cambodia with the development of a demining service, and North Korea has invested $ 24 million in the country's tourism industry.
South Korea is the second largest investor for Cambodia after China. By 2018, the total volume of South Korean investments in Cambodia had reached $ 4.56 billion. For Pnomh Penh, Seoul is an influential economic player and cooperation with it contributes to the diversification of the Cambodian economy.
South Korean capital helps Phnom Penh to dilute the financial presence of Chinese investors in the Sihanoukville Special Economic Zone – the country's main economic gateway. For Cambodia, the conflict between the two Koreas is fraught with significant financial and political losses.
In the opinion of Pnomh Penh, diplomatic clashes between the United States and China over territorial disputes in the South China Sea may exacerbate Cambodian-Vietnamese relations. Although relations between Cambodia and Vietnam have always been tarnished by conflict, Phnom Penh, following a policy of strict neutrality, has been promoting broader cooperation with Hanoi in recent years.
As Vietnam, unlike China, is moving closer to Washington, Phnom Penh does not want to find itself in a situation where he will have to make a clear choice in favor of one of the parties to the conflict. Militarization of Vietnam, whose territory blocks Cambodia's access to the sea, will be ruinous for the economy of Cambodia.
Vietnamese seaports are the final point of the Southern Economic Corridor, which runs from Myanmar via Thailand and Cambodia to Vietnam. Phnom Penh pins big hopes on cooperation within the framework of the Southern Economic Corridor. An ASEAN report describes Cambodia as a perfect place for an export-oriented economy that serves as a binding link for the regional economy as a whole.
Given the situation, it can be assumed that Phnom Penh's policy over the next few years will focus on diversifying the economy, attracting a greater number of foreign economic partners (Japan, Australia, Russia, the EU), strengthening regional integration within the Southern Economic Corridor and within the framework of the ASEAN, and minimizing US-North Korean, Sino-US, and Sino-Vietnamese differences.
First published in our partner International Affairs