Fighting ISIS in the Digital Space in Jordan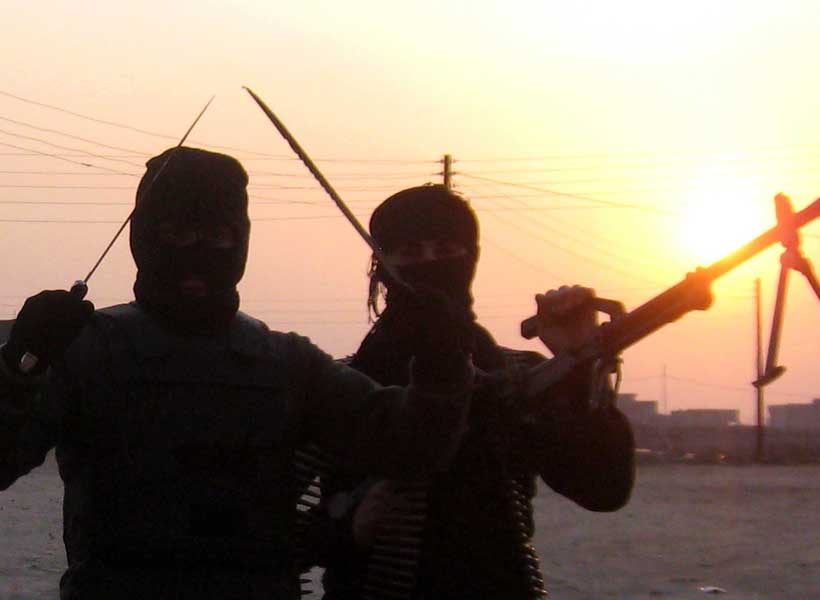 Authors: Anne Speckhard & Ardian Shajkovci
With estimates of 3000 foreign fighters traveling to Syria and Iraq, Jordan had the highest per capita number of foreign fighters. In addition to Abu Musab Zarqawi having been the leader of al Qaeda in Iraq, Jordanians also rose to leadership positions in ISIS. Given the continued online recruitment of Jordanians by ISIS, the International Center for the Study of Violent Extremism (ICSVE) ran two Facebook Awareness Campaigns in Jordan using ICSVE's Breaking the ISIS Brand Counter Narrative videos. Between the campaign and organic activities, one of the counter narrative videos received over 1.7 million views. 
Introduction –ISIS and Militant Jihadi Terrorist Recruitment in Jordan
Since the onset of the Syrian conflict in 2011, it is estimated that upwards of 40,000 foreign fighters joined Sunni militant groups such as ISIS and al Nusra in Iraq and Syria. Approximately 11,000 of the estimated 40, 000 are believed to be from the Middle East, with countries such as Jordan, Saudi Arabia, and Tunisia supplying the vast majority of foreign fighters. While estimates differ, Jordan has seen nearly 3,000 men and women join ISIS and other Sunni militant groups in Iraq and Syria over the past years, together with Tunisians and Saudis, rounding out the list of top sources of foreign fighters.[1]According to some estimates, Jordan is ranked as either the first or the second country in the world with the highest number of foreign fighters, on a per capita basis, in the Syrian and the Iraq conflict.[2]Jordanians who joined Jabhat al Nusra the local Syrian arm of al-Qaeda, and later ISIS, often held leadership positions in these groups, advocating for militant jihadi terrorism in the region.[3]In fact, in the first iteration of ISIS, Abu Musab Zarqawi, a Jordanian-born jihadist militant who led al-Qaeda in Iraq, hailed from Zarqa, Jordan.[4]
The drivers of radicalization to violent extremism in Jordan are many. Beginning with a decades-long history of violent extremist and terrorist movements operating in Jordan, and involving Jordanians, alongside the destabilizing and radicalizing factors occurring in the region and globally, once relatively peaceful Jordan has absorbed both its share of terrorist attacks and a growing hub of terrorist groups and their ideologies, with al-Nusra and ISIS operating in Syria and Iraq at its current center. Moreover, the repeated influx of refugees from neighboring conflicts, economic and governance challenges, and Salafi influences migrating into Jordan have all combined to create vulnerabilities and motivations on a psychosocial level that have ideological resonance to terrorist recruitment inside Jordan.[5]Despite the volatile conditions, Jordanian leadership has managed to maintain political stability in the country, and is one of the trusted U.S. and coalition partners against ISIS and the so-called Islamic State. Jordan, however, remains a country of 'easy recruits' for terrorist groups like ISIS and al-Qaeda,[6]especially when considering the proximity of the battlegrounds in Syria and Iraq.[7]
Recent Changes in ISIS since its Territorial Defeat
While ISIS has lost most of the territory it once held in Iraq, and much of Syria, some 11,000 ISIS cadres are still believed to be active and operating in Iraq and Syria, though recent research indicates that numbers may actually be upwards of 30, 000.[8]Likewise, ISIS remains a formidable terrorist organization with a brand and dream of creating an Islamic State Caliphate and has also proven itself capable of spreading itself beyond its original territory, namely with ISIS affiliates continuing to recruit for, and control, territories in countries such as Libya, Afghanistan, Egypt, and Algeria.[9]
In addition to kidnappings and insurgent and clandestine type activities in Iraq and Syria,[10]the group also remains focused on orchestrating, inspiring, and carrying out external attacks, which, in part, are carried out to demonstrate the group's resilience as well as debunk claims and predictions of the group's ultimate demise. ISIS has inspired or carried out attacks in more than 31 countries that have killed more than 2,000 people outside of Syria and Iraq.[11]For instance, in 2015, ISIS supporters and admirers, inspired by ISIS social media propaganda, were able to carry out one of the deadliest terrorist attacks in the history of modern Tunisia.[12]
Recent militant jihadi activities in Jordan have also given cause for serious concern. In 2016, ISIS terrorists attacked Karak Castle, a popular tourist destination in Jordan, killing 10 and injuring 34. [13]In January 2018, Jordan's General Intelligence Department (GID) reported to have prevented a major terrorist plot by ISIS involving 17 suspects. Potential targets included civilian, military, and religious facilities.[14]More recently, on August 10th, 2018, a police sergeant was killed in al-Fuheis when a police patrol car was blown up during a music festival in the town. The law enforcement managed to trace the attackers to a house in the city of Salt where they engaged in a shootout with police and ultimately exploded their bomb-rigged hideout rather than be arrested. The attackers were Jordanians. Their affiliation to any known terrorist group remains undisclosed,[15]though some experts in Jordan suggest they were either inspired or directed by ISIS. These represent only a short list of the many terrorist attacks involving Jordan.
Internet Recruiting & Terrorist Activity in Jordan
Compared to other militant jihadist groups, ISIS' strengths lie in its ability to maximize its reach by betting on innovation and exploiting social media platforms. Its mastery of modern digital tools has enabled it to support its war and state-building efforts during the time it held and controlled significant swaths of territories in Iraq and Syria. Today, given its significant territorial loses, it continues to rely on social media to enable, direct, and inspire terrorist attacks worldwide. The same is now also being used to encourage and facilitate travel to other territories it controls—even still successfully attracting upwards of 100 foreign fighters per month to come to Syria and Iraq while in territorial retreat.[16]ISIS' propaganda production arm is no longer as prolific, yet the group continues to successfully use the Internet to recruit and orchestrate terrorist attacks. In this regard, the military defeat of ISIS and the so-called Islamic State should not reduce the need and the urgency to counter the online appeal of ISIS and similar violent extremist groups.
In focus testing the International Center for the Study of Violent Extremism's (ICSVE) Breaking the ISIS Brand Counter Narrative videos in Zarqa and Irbid in 2016 and 2017, respectively, with high school and college-age youth (n=54), we found that ISIS still manages to reach out to youth and attempt to attract them into the group. In fact, in the absence of adequate support and resources, many among the youth we spoke to shared how they often turn to the Internet to find answers regarding the claims made by groups like ISIS.[17]For instance, some noted, "If I say I'm bored on Facebook, they [ISIS recruiters] contact me." Others pointed out how the ISIS recruiters know Islamic scriptures and hadithsbetter than those they are recruiting. Some commented how their parents, teachers, and imams were not open to discussing such topics, specifically, "No one wants to talk to us about these things.  They are all worried about the GID." As a result, the youth we spoke to were both vulnerable to ISIS recruitment due to their Internet activities and for searching answers on the Internet to refute their claims.
Fighting ISIS on Facebook in Jordan
In December of 2017 and July of 2018, respectively, the International Center for the Study of Violent Extremism (ICSVE) responded to such concerns in Jordan by promoting two ICSVE-produced counter narrative videos from its Breaking the ISIS Brand Counter Narrative Projectto learn if it was possible to raise public awareness in the vulnerable age group to ISIS recruitment in Jordan and also disrupt ISIS' online and face-to-face recruitment occurring in social media platforms like Facebook by using video clips produced from interviews of ISIS insiders denouncing the group. (While a full discussion of the ICSVE Breaking the ISIS Brand Counter Narrativevideos is not possible in this limited space, more information about the project can be found here.)
The two ICSVE counter narrative videos that were used in the campaign were Promises of ad-Dawlah to Womenand Rewards of Joining the Islamic State. The former features Laura Passoni, a Belgium woman who left Belgium with her son to join ISIS in Syria after being jilted by her partner. The latter features thirty-three-year old Abu Ghazwan, an Iraqi who, by joining ISIS, hoped to restore rights and dominance to Iraqi Sunnis. In the video, he discusses his involvement with ISIS, namely his role in placing bombs and attacking the enemies of the group. Both ISIS speakers denounce ISIS as un-Islamic, corrupt, and overly brutal, and express their deep regret over ever joining.
The two public safety awareness campaigns in Jordan were run by using Facebook ads. The month-long campaigns served to raise awareness about the dangers of joining violent extremist groups like ISIS as well as to drive online engagement among the citizens of Jordan over Facebook.  Facebook was the digital platform of choice as it remains a popular social media communication platform in Jordan. ICSVE research in Jordan also suggested the need to focus on Facebook, as many vulnerable youth have and continue to be contacted by ISIS via Facebook.
According to a 2016 study, around 93 % of Internet users in Jordan use social networks, with Facebook and WhatsApp representing the most used social media platforms. [18]
According to Arab Social Media Report, 89 % of the internet users in Jordan prefer Facebook (5,300, 000), 71 % WhatsApp, 66% YouTube, 34 % Instagram, and 33% Twitter (See below for a breakdown).
[20]
Middle East Internet Users, Population and Facebook Statistics
Country
Pop. (2018 Est.)
Users in Dec/2000
Internet Usage Dec-31-2017
% Pop. (Penetration)
Internet % users
Facebook

Dec-31-2017

Bahrain
1, 566, 993
40,000
1,535,653
98.0%
1.0 %
1,100,000
Iran
82, 011, 735
250,000
56,700,000
69.1 %
34.6 %
40,000,000
Iraq
39,339,753
12,500
19,000,000
48.3 %
11.6 %
17,000,000
Israel
8, 452, 841
1,270, 000
6, 740, 287
79.7 %
4.1 %
5, 800, 000
Jordan
9,903,802
127, 300
8,700, 000
87.8 %
5.3 %
5,300, 000
Kuwait
4, 197, 128
150,000
4, 104, 347
97.8 %
2.5 %
3, 100, 000
Lebanon
6, 093, 509
300, 000
5, 546, 494
91.0 %
3.4 %
3, 600, 000
Oman
4, 829, 946
90,000
3, 310, 260
68.5 %
2.0 %
2, 630, 000
Palestine
5, 052, 776
35,000
3, 055, 088
60.5 %
1.9 %
1, 700, 000
Qatar
2, 694, 849
30, 000
2, 644, 580
98.1 %
1.6 %
2, 300, 000
Saudi Arabia
33, 554, 343
200, 000
30, 257, 715
90.2 %
18.4%
18,000,000
Syria
18, 284, 407
30,000
6, 625, 631
33.0 %
3.7 %
4, 900,000
UAE
9, 541, 615
735,000
9, 385, 420
98.4 %
5.7 %
8, 700, 000
Yemen
28, 915, 284
15,000
7, 031, 784
24. 3 %
4.3 %
2, 352,942
Total
254,438,981
3, 284,800
164,037,259
64.5 %
100 %
116, 482,942
Source: Internet World Stats[21]
 Results of the Jordanian Facebook Public Awareness Campaigns
Video: Promises of ad-Dawlah to Women Campaign (Run Dec 7 to Dec 31, 2017)
Geographic and Demographic Reach:
In terms of geographic breakdown, our first campaign targeted the following areas in Jordan: Balqa Governorate, Ma'an Governorate, Mafraq Governorate, Zarqa Governorate, Irbid Governorate, Amman Governorate, Ajloun Governorate, Jerash Governorate, and Madaba Governorate. Our sample targeted some of the areas considered as hotbeds of radicalization in Jordan, namely Ma'an, Zarqa, and Irbid Governorates. Amman (538, 826), Irbid (117, 364), and Zarqa (46, 203) governorates achieved the highest reach. Seventy percent of the reached population is male and 30 percent female (See figure 1 for demographic and reach breakdown across two genders).
Table A contains a breakdown of video views by age group and the area targeted and serves to demonstrate reach in the relevant age categories in areas considered as the hotbeds of extremism, namely in Salt, Irbid and Zarqa.
Video Views:
Table B presents data on how much our video content was watched. The campaign generated a total reach of 797, 866, while also leading to 1, 456, 872 impressions and close to 869, 472 video views (See Table B).[1]
Table B presents data on how much our video content was watched. There is a total of 869, 472 video views at 3%, 10 %, 25% (89, 733), 50 % (74, 742), 75% (54,220), 95% (38, 545) and 100 % (8, 924) video watches. As the data indicate, there are a total of 266,164 clicked-to-play shared among 25%, 50%, 75 %, 95%, and 100 % recorded watches. Note, however, that the percentages include those who watched the full length of the video and those who skipped to the end of the video.
The video average watch time is 0:19, calculated as the video total watch time/total number of video plays (this includes replays). This number highlights the potential usefulness of making shortened versions of the videos for complementary ads, as some viewers will only watch very short videos. They may click through ashort version and, once hooked by it,  watch the longer version.[22]However, the fact that thousands did watch the entire video may indicate that some will be hooked by the content, while others less so.
The impression score in Table B indicates the total number of times our content was displayed, regardless of whether clicked or not. In other words, the score indicates the number of times our reached target base has been exposed to our video content. The higher the impression score, the more indicative that people are seeing our content, that they are becoming more exposed to our content, and that they are sharing our content.
The impression frequency of 1.83 (Impression/Reach) indicates the average number of times each individual has seen our ad over the period of thirty days. That said, because Facebook ad frequency indicates an average score, in practice, this means that some among our target audience might have been reached a number of times while others only once. Campaigns with high reach naturally have lower frequency rate. Moreover, the relatively low frequency rate of 1.83 suggests that we are not oversaturating out target audience with our content.
The campaign generated  a relevance score of  7, calculated on a 1-10 scale. The higher the relevance score, the better in terms of how our audience is responding to our ad. Facebook calculates the relevance score "based on the positive and negative feedback we expect an ad to receive from its target audience."[23]It is calculated based on a number of factors, such as the positive vs. negative feedback it is expected to receive. For instance, video views, shares, and likes represent positive indicators. Conversely, the number of times our ad is hidden, or when someone clicks " I don't want to see this" our ad, represent negative indicators. Five hundred impressions need to be received before a relevance score is generated. This Facebook ad metric is useful to better identify our target audiences and use it for our campaign optimization. That said, the relevance score is used to measure relevance of a campaign and not the quality of the campaign. Put differently,  it is generated based on interaction and interest in our campaign. The relatively high relevance score suggests that the ads are generating  audience engagement.
Post Reactions:
The Facebook ad also led to a total of 4, 398 post reactions (e.g. Like, love, haha, wow, sad, and angry), comments and shares. For instance, there are 3, 487 post likes, 261 love, and 147 sad reactions. In addition, there are a total of 168 comments and 169 post shares.
Video: Rewards of Islamic State Campaign (run from July 15 to August 15, 2018)
Geographic and Demographic Reach:
The July 2018 campaign  targeted the following areas in Jordan: Balqa Governorate, Ma'an Governorate, Karak Governorate, Mafraq Governorate, Tafilah Governorate, Zarqa Governorate, Irbid Governorate, Amman Governorate, Ajloun Governorate, Jerash Governorate, Aqaba Governorate, and Madaba Governorate. Our sample targeted some of the areas considered as hotbeds of radicalization in Jordan, namely Ma'an, Zarqa, and Irbid Governorates. Amman (35, 136), Irbid (5, 792), and Zarqa (2,496) governorates achieved the highest reach. Ninety-six percent of the reached population is male and four percent female (See figure 2 for demographic and reach breakdown across two genders).
Video Views:
This campaign generated a total reach of 48, 432, while also leading to 74, 875 impressions and close to 38, 584 video views. The video views are calculated at  3%, 10 %, 25%, 50 %, 75%, 95%, and 100 % video views (see Table C)
The Facebook ad led to a total of 214 post reactions, (e.g. Like, love, haha, wow, sad, and angry), 45 post comments, and 7 post shares (See Table C). The video average watch time is 0:57, calculated as the video total watch time/total number of video plays (this includes replays). The campaign generated a relevance score of 10, calculated on a 1-10 scale.
Comments for both Campaigns
As discussed above, the videos generated hundreds of comments related to ISIS, the message, and the messaging strategy applied to our counter-narratives. While there were many supportive comments, there were also those attempting to discredit ICSVE's videos, claiming they were fake, that the defectors were lying, and that they are used to distort Islam. Arguably, some such comments may have been made by innocent individuals who felt the need to defend their religion, which they may have perceived to be under attack in the video clips. Moreover, the comments might also have been from ISIS supporters and recruiters trying to discredit the anti-ISIS messaging contained in the videos.  See sample comments below.
 "Supportive Category"—comments in support of the video, its message against ISIS, the characters in the video, or the campaign in general. 
"It's called Daesh, not an Islamic State. It is a sect that does not provide the religion of Islam. Its purpose is to distort Islam, even if you look at Islam from the Holy Quran"—Promises of ad-Dawlah
"A really painful reality"—Promises of ad-Dawlah  "She was deceived by these scoundrels because of her bad mental state at the time. But the main reason behind what happened with her was to follow one person and believe what he says without comprehensive knowledge. She was also naive and believed that she will find paradise in the world…The terrorist organization called Daesh is only an extremist group that claims Islam and is in reality expanding geographically and militarily by using naïve ones like this woman…It is very painful to find such criminals who distort the image of Islam in the eyes of  people"—Promises of ad-Dawlah).  "The truest word Laura has said is that they are not Muslims" –Promises of ad-Dawlah.
" This isn't Islam"
"Excellent work for awareness"—Rewards of Joining IS
" It is necessary to slay, kill, explode and destroy until you win. What religion do you belong?"
" We really believe you, you are not ignorant[defector]. But you are the enemy of Islam"
Comments in defense of Islam and "Negative Category"—comments expressing dislike towards the video, characters featured in the video, or the campaign in general
" Those who distort images of Islam are wrong…but there is a big conspiracy against Islam that will be revealed by God"
"ISIS=GID"
"…she is really a lie"—Promises of ad-Dawlah  "This is all a lie…fabrication and distortion"—Promises of ad-Dawlah " (…an American industry distorting the minds of the Arab-Islamic generation to eliminate Islam gradually, there is no God but Allah, Muhammed is the messenger of Allah"—Promises of ad-Dawlah
"America is the godfather of terrorism"
" The video lies …to eliminate the Sunnis and Sunni cities…fabrication and distortion in a cancerous way"
Conclusion
Law enforcement, intelligence and CVE professionals around the world continue to assess the extent to which the collapse of so-called ISIS Caliphate will affect ISIS' propaganda machinery and online recruitment efforts. As evidence from the field suggests, violent extremist groups like ISIS continue to thrive online, and may even have stepped up their online recruitment efforts with vulnerable youth to try to demonstrate the group's continued virulence. In doing so, groups like ISIS attempt to persuade their online recruits to carry out homegrown terrorist attacks in their name. They also continue to "harass, recruit and incite violence" online,[24]and this may actually increase in the future.
In addition, some Jordanian security experts have noted that " the roots of Jordan's security problem lie in prevalence of extremist ideology in the country, which is in turn empowered by the frustrations of everyday life by many Jordanians."[25]As also evidenced during our research in Jordan, online ISIS recruiters are very adept at exploiting such issues.  ISIS recruiters "sell" one type of narrative, while ISIS insiders disillusioned with the group's ability to actually deliver what it is selling may be the most potent force to destroy their terrorist narrative.
Despite takedown policies instituted by social media companies, violent extremist groups continue to operate freely online. While important, once an account has been suspended, there is little that can be done to prevent a user from opening a new, or multiple new accounts. Moreover, the shutdown of extremist content online is heavily reliant on user reporting of extremist content online, which is equally problematic.  Likewise, in the case of YouTube, many experts following extremist content online remark that while takedown policies are rapid for English content, Arabic extremist content often remains present for much longer periods of time.
The purpose of this safety ad awareness campaign was to test if vulnerable audiences can be reached through a Facebook awareness campaign and to attempt to raise awareness about the realities of joining extremist groups like ISIS in order to protect potential vulnerable Jordanian recruits from considering joining.  Our campaign was successful  in driving engagement with our counter narrative materials. In combination, our ads generated a total reach of 808, 035 and close to 908, 056 video views. They also led to thousands of page engagements and hundreds of comments related to our video, ISIS in general, and other contentious socio-political issues that drive and affect violent extremism in Jordan.
While we were able to observe engagement with our counter-narratives, it is far more difficult to observe or report direct cognitive or behavioral changes among those who support violent extremist groups or ideologies. We hope that may in fact be occurring. As some researchers have observed," It is possible that some of the counter-narrative narrative videos have managed to dissuade individuals from joining or supporting extremist groups, but those users are simply not leaving comments like, 'Great, [this] video really changed my mind.'"[26]We have only engagement statistics to go by, and in that regard, we were able to observe that the videos can reach and engage the demographics in Jordan who are also vulnerable to being reached online by ISIS propaganda and recruitment efforts.
We will continue to expand our targeting campaigns, including in Jordan, and to drive further engagement on our newly created TheRealJihad.org website and seek support from those who may be willing to act as influencers and interact one- on- one with those who comment thereby magnifying the impact of our counter-narratives.[27]
Ardian Shajkovci, Ph.D.– is the Director of Research and a Senior Research Fellow at the International Center for the Study of Violent Extremism (ICSVE).  He has been collecting interviews with ISIS defectors and studying their trajectories into and out of terrorism as well as training key stakeholders in law enforcement, intelligence, educators, and other countering violent extremism professionals on the use of counter-narrative messaging materials produced by ICSVE both locally and internationally. He has also been studying the use of children as violent actors by groups such as ISIS and how to rehabilitate them. He has conducted fieldwork in Western Europe, the Balkans, Central Asia, Africa,  and the Middle East, mostly recently in Jordan and Iraq. He has presented at professional conferences and published on the topic of radicalization and terrorism. He holds a doctorate in Public Policy and Administration, with a focus on Homeland Security Policy, from Walden University. He obtained his M.A. degree in Public Policy and Administration from Northwestern University and a B.A. degree in International Relations and Diplomacy from Dominican University. He is also an adjunct professor teaching counterterrorism and CVE courses at Nichols College .
Endnotes:
[1]  Note that the actual metric of the organic and paid campaigns was recorded at 1.7 million views.
[1]Speckhard, A. (2017). " The jihad in Jordan: Drivers of radicalization into violent extremism in Jordan," International Center for the Study of Violent Extremism,available at http://www.icsve.org/research-reports/the-jihad-in-jordan-drivers-of-radicalization-into-violent-extremism-in-jordan/
[2]Lang, H., &  Al Wari, M. (2016). "The flow of foreign fighters to the Islamic State: Assessing the challenge and the response," Center for American Progress,  available at https://www.americanprogress.org/issues/security/reports/2016/03/17/133566/the-flow-of-foreign-fighters-to-the-islamic-state/; Speckhard, A. " The jihad in Jordan: Drivers of radicalization into violent extremism in Jordan."
[3]Huthaifa Azzam, former Free Syrian Army (FSA) fighter and Islamic ideologue, interviewed by Anne Speckhard, Amman, Jordan (November 3, 2016); Lister, C. (2016). " Profiling Jabhat al-Nusra," The Brookings, available at https://www.brookings.edu/wp-content/uploads/2016/07/iwr_20160728_profiling_nusra.pdf
[4]Weaver, A. M. (2016). " The short, violent life of Abu Musab al-Zarqawi," The Atlantic,available at https://www.theatlantic.com/magazine/archive/2006/07/the-short-violent-life-of-abu-musab-al-zarqawi/304983/
[5]Speckhard, A. " The jihad in Jordan: Drivers of radicalization into violent extremism in Jordan."
[6]Nakhleh, E. (2018). " Jordan: A kingdom of 'easy recruits" for ISIS and Al Qaeda," The Cipher Brief,available at https://www.thecipherbrief.com/column_article/jordan-kingdom-easy-recruits-isis-al-qaeda
[7]IRIS. (2016). " Jordan two-year scenario analysis (2016-2018): Deteriorating resilience & increasing vulnerabilities," available at http://www.iris-france.org/wp-content/uploads/2016/01/ENG-Observatoire-Prospective-Huma-JORDAN-01-2016.pdf
[8]McKernan, B. (2018). " Up to 30, 000 ISIS fighters remain in Iraq and Syria, says UN," Independent,available at https://www.independent.co.uk/news/world/middle-east/isis-fighters-iraq-syria-un-report-jihadis-raqqa-iraq-a8492736.html
[9]See also Thurston, A. (2018). " North Africa's jihadis," Wilson Center,available at https://www.wilsoncenter.org/article/north-africas-jihadis
[10]SANA. (2018). "Syria: ISIS holding children hostage," Human Rights Watch,available at https://www.hrw.org/news/2018/08/25/syria-isis-holding-children-hostage; Speckhard, A., & Shajkovci, A. (2018). " After a new massacre, charges that ISIS is operating with Assad and the Russians," Daily Beast,available at https://www.thedailybeast.com/how-assad-isis-and-the-russians-cooperated-to-carry-out-a-massacre?ref=author; Sly, L., & Salim, M. (2018). " ISIS is making a comeback in Iraq just months after Baghdad declared victory," Washington Post,available at https://www.washingtonpost.com/world/isis-is-making-a-comeback-in-iraq-less-than-a-year-after-baghdad-declared-victory/2018/07/17/9aac54a6-892c-11e8-9d59-dccc2c0cabcf_story.html?noredirect=on&utm_term=.f3e4b3d468be; Calamur, K. (2018). " ISIS never went away in Iraq," The Atlantic,available at  https://www.theatlantic.com/international/archive/2018/08/iraq-isis/569047/
[11]See Amal Clooney speech before UN member states on ISIS: https://www.independent.co.uk/news/world/americas/amal-clooney-speech-in-full-transcript-human-rights-lawyer-isis-iraq-speech-un-united-nations-a7622176.html
[12]Stephen, C. (2015). " Tourist desert Tunisia after June terror attack," The Guardian,available at https://www.theguardian.com/world/2015/sep/25/tourists-tunisia-june-terror-attack-economy-beach-hotel-sousse
[13]Sweis, R. R. (2016). " ISIS is said to claim responsibility for deadly attack in Jordan," New York Times, available at https://www.nytimes.com/2016/12/20/world/middleeast/jordan-attack-isis-karak.html
[14]The Jordan Times (2018). " Jordan foils major terror plot," available at http://jordantimes.com/news/local/jordan-foils-major-terror-plot
[15]Albawaba News. (2018)." After Al-Salt: Jordan Cannot fight terrorism with police and soldiers alone," available at https://www.albawaba.com/news/after-salt-jordan-cannot-fight-terrorism-police-and-soldiers-alone-1172954
[16]The Defense Post. (2018). " Foreign fighters continue to join ISIS in Syria, US joint Chiefs chair says," available at https://thedefensepost.com/2018/10/16/isis-foreign-fighters-travel-syria-dunford/
[17]Speckhard, A., & Shajkovci, Ardian (2018), "Focus group testing in Zarqa and Irbid." [Write up pending]. See also Fares, B., Speckhard, A., Shajkovci, A., & Sabaileh, A. (2017).
"Determining youth radicalization in Jordan," available at http://www.icsve.org/research-reports/determining-youth-radicalization-in-jordan/
[18]See for example, "Facebook most popular social media site in Jordan-report," available at http://www.jordantimes.com/news/local/facebook-most-popular-social-media-site-jordan-%E2%80%94-report
[20]Ghazal, M. (2016). " Facebook, WhatsApp overshadow Twitter in Jordan's social media sphere," available at http://www.jordantimes.com/news/local/facebook-whatsapp-overshadow-twitter-jordan%E2%80%99s-social-media-sphere
[21]See Internet World Stats, available at https://www.internetworldstats.com/stats5.htm
[22]In our research experience and consultations with DOD and other CVE entities engaged in counter-narrative production, we found that shorter videos tend to lead to more consumption and a higher retention rate among our target audience.
[23]Facebook Business. (2015). "Showing relevance scores for ads on Facebook," available at https://www.facebook.com/business/news/relevance-score
[24]Kilgore, A. (2018). " Fighting the terrorist threat online: New research can identify extremists online, even before they post dangerous content," INFORMS,available at https://www.informs.org/About-INFORMS/News-Room/Press-Releases/Fighting-the-terrorist-threat-online-New-research-can-identify-extremists-online-even-before-they-post-dangerous-content
[25]Albawaba News. (2018)." After Al-Salt: Jordan Cannot fight terrorism with police and soldiers alone."
[26]Woron, F. (2018). " Dubious claims of counter-narrative videos," Tech and Terrorism,available at https://www.counterextremism.com/blog/dubious-claims-counter-narrative-videos
first published in our partner ICSVE
Islamic Caliphate is dead, but its dangerous and infectious ideology is alive
The year 2019 witnessed the rout of the Islamic Caliphate – the pseudo-state entity created on the territories of Iraq and Syria by the terrorist organization Islamic State of Iraq and the Levant, a.k.a. the Islamic State or IG, ISIL, Daesh (Arabic), a terrorist group outlawed in the Russian Federation.
On March 1, 2019, just three or four years after the Islamic Caliphate terrorized the entire world, Kurdish units of the Syrian Democratic Forces in Syria launched an offensive to flush out 500 jihadist fighters holed up in the city of Baguz, ISIL's last stronghold in the country.
Does this mean that Islamist terrorism is now done for?
During the first decade of the 21st century, ISIL emerged as the biggest threat to international security and world order. On June 29, 2014 ISIL terrorists announced the creation of an Islamic Caliphate with claims to global domination.
As seen on the map , the Islamic Caliphate, comprising numerous provinces, was to extend from China to the Atlantic Ocean, and from Central Europe and Siberia all the way down to equatorial Africa. The Caliphate encompasses all Muslim states without exception, including Iran and non-Muslim Israel, the territories "occupied by infidels," as well as the whole of the Middle East and North Africa. Moreover, the Caliphate lays claims to Western Asia and Europe, including Spain, the Balkans, Romania and Austria.
The Islamic Caliphate went on to make the Syrian city of Raqqa its de-facto capital in 2014.
Although still far from achieving global dominion, the jihadists started building the basis of their future Islamic Caliphate by enslaving between 8 million and 10 million people in the occupied territories of Iraq and Syria, and virtually annihilating Syrian and Iraqi Christians, Yezidis, Shiites and Kurds.
In addition to Syria and Iraq, the Islamic State and its affiliates controlled parts of Afghanistan, Egypt, Yemen, Libya, Nigeria, Somalia and the Democratic Republic of Congo.
ISIL also used its substantial financial resources to increase the number of "sleeper" terrorist cells in Morocco, Algeria, Tunisia, Pakistan, Saudi Arabia, Lebanon, Indonesia, the Philippines, the North Caucasus and various European countries.
During its criminal heyday in 2014-2017, ISIL was one of the most numerous and well-armed terrorist groups in the Middle East, boasting over 100,000 fighters active mainly in Syria and Iraq.
Add to these 27,000 to 31,000 mercenaries from 86 countries who, according to the Soufan Group analytical center, fought in the ranks of this terrorist organization.
Equally noteworthy is the distribution of foreign ISIL militants by region and country (2016 – 2017):
| | |
| --- | --- |
| Former Soviet republics | 8,717 |
| Near and Middle East | 7,054 |
| Western Europe | 5,778 |
| Maghreb countries (North Africa) | 5,356 |
| South and Southeast Asia | 1,568 |
| Balkans | 845 |
| North America | 444 |
Countries –main suppliers of fighters for ISIL:
| | |
| --- | --- |
| Russia | 3,417 |
| Saudi Arabia | 3,244 |
| Jordan | 3,000 |
| Tunisia | 2,926 |
| Turkey | 1,910 |
Equally noteworthy is data pertaining to the number of ISIL mercenaries from former Soviet republics (2015)
| | |
| --- | --- |
| Azerbaijan | 216 |
| Georgia | 50 |
| Kazakhstan | 300 |
| Kyrgyzstan | 500 |
| Moldova | 1 |
| Tajikistan | 386 |
| Turkmenistan | 360 |
| Uzbekistan | 500 |
ISIL owes its temporary success in Iraq and Syria to these countries' weak militaries, the seizure of their arsenals of advanced US-supplied weapons, and to the considerable financial resources looted from Iraqi banks.
And also to its militants' religious fanaticism, the professional skills of former Iraqi and Syrian military officers who joined ISIL, to foreign mercenaries, the cruel and fear-instilling daily activities of this quasi-state, the ideological brainwashing of jihadist fighters and to professionally organized advocacy work.
ISIL's bloody and ruthless way of dealing with opponents and the medieval laws it imposed on its subjects shocked the world. Even the ill-famed al-Qaeda that ISIL spun off from has come out against its "daughter," with al-Qaeda leader Ayman al-Zawahiri officially announcing in February 2014 that he did not recognize ISIL as a member of his group.
In their effort to secure the locals' support, ISIL members tried, within the framework of their quasi-state, to restore the cities' economic life by rebuilding their war-ravaged infrastructure. Imitating state authority, they paid salaries and benefits to the unemployed, collected taxes and paid monthly salaries of $700 to their militants. At the same time, in their brutal imposition of Islamist medieval order, they surpassed even the Afghan Taliban.
Propaganda and PR feature prominently in the ISIL leaders' activity.
ISIL has "revolutionized" the field of online promotion of jihadist ideology by creating a powerful social movement and recruiting thousands of fighters from around the world, Russia included, through a web of social networks alone.
According to Yekaterina Sokiryanskaya, director of the Center for Analysis and Conflict Prevention, a leading expert on the North Caucasus, ISIL created a highly professional and ramified propaganda machine for recruiting online, consisting of "central" media organizations, such as Al-Furqan and al-Hayat, and "regional" ones. In addition, the AMAQ News agency provides coverage for the Caliphate's military operations and its everyday life even without having the status of its "official" media outlet.
Propagandists enjoy a privileged status in ISIL. According to the propaganda researcher IG Charles Winter, during the organization's halcyon days (2014–2015), spin doctors were paid seven times as much as regular fighters.
Since its outset, ISIL has put out over 41,000 media releases, with an additional 2.3 billion releases made by its supporters (The New York Times).
"The loss of territory, resources, the retreat and evacuation of fighters, compounded by problems with the Internet has significantly reduced the flow of jihadist propaganda," Yekaterina Sokiryanskaya writes.
"Daesh will not be able to maintain the previous level and quality of its propaganda materials any time soon. Realizing that with the loss of its ideological machine the whole project of the Islamic Caliphate will eventually be doomed, the ISIL leadership is adapting to new realities with affected references to a high mission now making way for more down-to-earth calls for one-off attacks with knives and axes on unarmed people. This change of tactic began in late-2015, after security agencies of various countries had seriously complicated the process of bringing in new fighters to Syria. ISIL initially advised its supporters to look for workarounds, and later – to move to other "provinces" of the Caliphate. Finally, last year, ISIL said that those who could not reach the Caliphate proper should stage attacks back at home," she continues.
This is an extremely important trend. Just as the Caliphate ceases to exist as a quasi-state, its subjects, who have survived the antiterrorist battles, remain. Islamist terrorism is taking a new shape.
The Islamic Caliphate created by ISIL is perhaps the highest organizational quasi-state form of modern-day Islamist terrorism. Terror ("Fear," "horror" in Latin) was used by ISIL as a primary method of warfare. Therefore, it could be compared (in function, if not in scale) with Nazi Germany or militaristic Japan, where international terrorism was part of official state policy.
Even though chances of a complete reincarnation of either ISIL or the Islamic Caliphate are pretty slim, dangerous options thereof can't be ruled out.
That terrorism is often used by non-state actors – whether left-wing, right-wing or nationalist – and religious groups, is well known. In the 19th and 20th centuries, hundreds of political parties and groups were known to have used terror in their work.Their activities covered virtually the whole world: from small settlements and countries to continents, and were often supervised and financed by individual states to achieve geostrategic ends.
It is highly probable that the routed ISIL will still be trying to preserve its remaining terrorist groups, rebrand old ones, and recruit new fighters. Moreover, what has remained of the Daesh forces will spread throughout the world.
As BBC columnist Frank Gardner writes, "At the recent Munich Security Conference, Alex Younger, the chief of Britain's secret intelligence service (MI6) said this: "The military defeat of the 'caliphate' does not represent the end of the terrorist threat. We see it therefore morphing, spreading out… within Syria but also externally… This is the traditional shape of a terrorist organization."
Speaking at the same event, German Defense Minister Ursula von der Leyen said that ISIL was going deeper underground and building networks with other terrorist groups.
General Joseph Votel, who runs US Central Command, also said that even though the ISIL network is dispersed, pressure must be maintained or its components will have "the capability of coming back together if we don't."
Indeed, much of the ISIL militant force has not been destroyed and is now breaking up into small terrorist groups, which is only natural since ISIL is a plethora of jihadist groups fully capable of acting autonomously. .
With the rout of the Caliphate now a hard fact, ISIL is desperately looking for a way out of the situation. There are several such "exists" to speak of.
The first is the dispersal of jihadist fighters among the local population in Syria and Iraq, and the creation of "sleeper cells" waiting for an order to resume the fight.
A second option would be to redeploy militants to remote areas of Syria and Iraq, and the formation of guerilla units there.
Thirdly, this could be gradual infiltration into other countries where ISIL already has a base, or at least has supporters necessary for the organization to function further, perhaps under a different name, but with similar ideology and military-political doctrine. Primarily into Libya, where ISIL controls the cities of Derna, Nofalia, Sirt, and the Al-Mabrouk oil field. Moreover, in Libya, ISIL could become a third party in the ongoing confrontation between Tripoli and Tobruk.
In Afghanistan, ISIL has already become a third party in the long-running standoff between Kabul and the Taliban. However, the ongoing negotiations between the international community, primarily Russia and the US, with the Afghan Taliban (though in a separate format) could eventually ease tensions in that country which, in turn, would seriously undercut ISIL's ability to influence the situation there.
In Egypt, local jihadists, taking orders from ISIL, control parts of the Sinai Peninsula.
Also, the Boko Haram group, which controls the north-east of Nigeria and is making inroads into neighboring Chad, Cameroon and Niger, has recently subordinated itself to ISIL.
There are certain opportunities now opening for ISIL also in Yemen, Somalia and the Democratic Republic of Congo.
Another "exit" option could be the return of the remaining jihadist fighters to their home countries, either individually or as part of small but closely-knit groups.
In the wake of the Islamic Caliphate's downfall, many militants have recently returned home. About 30 percent of the 5,000 ISIL fighters (1,500) happen to be EU citizens. Of these, 300 have returned to France, about 900 people – to the former Soviet republics (including 400 to Russia), 800 – to Tunisia, 760 – to Saudi Arabia, and 250 – to Jordan.
This process is characteristic of all 86 countries Islamist volunteers once set out from to defend the ideas of radical Islam.
Clearly, the presence of experienced and battle-hardened ISIL terrorists, sometimes even armed, in the countries of their current residence is dangerous, even disastrous for these and other countries' security. Small wonder, therefore, that the world is getting increasingly aware of the real threat posed by this jihadist-terrorist contagion.
Religious leaders are united in their denunciation of Islamist terror.
Saudi Arabia's Supreme Mufti Abdulaziz bin Abdullah Al-Sheikh has branded the al-Qaeda and Islamic State jihadists the main enemies of Islam. He also quoted a verse from the Koran, which calls to kill the perpetrators of acts that "have a disastrous effect on Islam." Any compromises with bloodthirsty fanatics are simply out of the question. They must be eliminated once and for all.
Pope Francis has approved the use of force against Islamist radicals. The Pontiff believes that coercive methods should be used to protect religious minorities from militants.
The World Jewish Congress (WJC) and the Russian Jewish Congress (RJC) has urged the entire world community to stand together against the "disgusting wave of violence" against Christians in the Middle East.
In Iraq, the Shiite leader Ayatollah Ali al-Sistani has reiterated his call for the Iraqi people to resist ISIL militants.
Important as religious leaders' rejection of terrorism and its perpetrators is, however, the same can hardly be said about the world community. Indeed, even in the midst of the fight against ISIL in Syria, the antiterrorist forces failed to present a shared understanding of the danger posed by their common enemy.
It is really unforgivable that a universally accepted definition of international terrorism has not yet been worked out. The term is often used as an instrument of political struggle, because each country actually decides for itself whether a certain group is "terrorists" or "freedom fighters." In Russia, 21 Islamist organizations are recognized as terrorist, and 33 in the United States . Moreover, actual definitions of "terrorism" often vary.
Coordinated fight is the only possible and effective way of ridding the planet of the scourge of terrorism. Unfortunately, there is no international legal basis for a collective solution of the problem. The experience of the past few years shows that a slow-moving and bureaucratic UN is not capable of providing quick and effective response to the threat posed by international terrorism. The world needs a fundamentally new and mobile international mechanism, structured to counter the terrorists' extensive and diverse criminal activities.
The proposed idea of creating a supranational system uniting antiterrorist forces that would include administrative, information, analytical, intelligence, financial, counter-propaganda and power structures – well-equipped counter-terrorist units ready for quick deployment to troubled regions looks pretty viable. However, this international antiterrorist system must be established under the auspices of the United Nations, with its blessing, and rest on a solid legal foundation.
First published in our partner International Affairs
Cyber Warfare: Competing National Perspectives
The threat of cyberwarfare is a growing fear among all intelligence communities. "In June 2009 the U.S. Cyber Command was created and in July of 2011 Deputy Secretary of Defense William J. Lynn III announced that as a matter of doctrine, cyberspace will be treated as an operational domain similar to land, air, sea, and space" (Colarik & Janczewski, 2012, 35). Cyber warfare is conducted by infiltrating the country's computer networks to cause damage and/or disruption to various infrastructures. This could be as minimal as spying on another nation or as in-depth as implementing acts of sabotage directed towards specific targets such as military operations or the power grid. The threat of cyber warfare is not specific to one country. This is a potential threat that effects each country across the globe.
China is a dominant power within the global arena and is consistently evolving with potential threats especially cyber technology. Chinese colonels Liang and Xiangsui claimed advanced technology gave the country's adversaries a significant advantage, and proposed that China 'build the weapons to fit the fight. Recently, the Chinese People's Liberation Army (PLA) confirmed the existence of its Online Blue Army (Colarik, &Janczewski, 2012, 35). China's fear of the impact and devastation that can be caused by the internet has forced them to implement strict policies governing the freedom and use of the internet within the country and creating strong security measures against infiltration by outside sources.
In 2014, China implemented the Central Internet Security and Informatization Leading Group to oversee all internet security. "This leading group is to deepen reform, protect national security, safeguard national interests, and promote the development of information technology. The group will have complete authority over online activities, including economic, political, cultural, social, and military" (Iasiello, 2017, 5). This group disseminates and monitors all information found on the web to ensure that there are no security breaches and the people are not in violation of the law.
In 2015, China drafted a national cybersecurity law."The chief goals of its 2015 draft national cybersecurity law are (1) ensure cybersecurity, (2) safeguard cyberspace sovereignty, national security, and the public interest, (3) protect the legitimate rights and interests of citizens, legal persons and other organizations, and (4) promote the healthy development of economic and social information" (Kolton, 2017, 126). Whereas the United States promotes a free internet, China's main focus is on establishing an internet that is secure from all potential threats both external and internal.
In 2016, China passed the "Cyber Security Law" that focused on the security of the internet and information systems and extended the ability of the government to oversee the information that was being shared to determine if it was done within accordance of their strict cyber security laws. This law helps the government to monitor any potential breaches of security by outside or internal sources. By implementing a stronger grasp of control over the internet, the government is able to reduce the potential of an attack or intrusion. Within this law, government agencies would be able to implement more guidelines for network security within industries to include energy, transport, military, defense, and many more (Iasiello, 2017, 6).These restrictions increase the control of the government over cybersecurity but also limits the freedoms of its citizens to explore the internet.
China has created new training for its military to be prepared against potential cyber warfare attacks. It has "developed detailed procedures for internet warfare, including software for network scanning, obtaining passwords and breaking codes, and stealing data; information-paralyzing software, information-blocking software, information-deception software, and other malware; and software for effecting counter-measures" (Ball, 2011, 84). It has also increased its number of training facilities to focus only on network attacks on cyber infrastructure and defense operations. The amount of money China is investing in facilities and training of military personal increases its ability to remain secure within this global threat of cyber warfare. One fear for China is its dependence on Western technology. "China's capabilities in cyber operations and emerging technologies such as artificial intelligence are becoming more sophisticated, the country still depends largely on Western technology. Beijing is hoping to break that dependency through the Made in China 2025 plan" (Bey, 2018, 33). This is a mutual fear for both the US and China as they both rely on each other's manufacturers with the fear that they will implement a trojan horse to intervene.
Like China, Russia has increased its abilities in combating the potential threat of cyber warfare. However, Russia has taken a different approach to this threat by going on the offensive. Russia has focused on non-linear warfare within the cyber world, which is defined as "the collection of plans and policies that comprise the state's deliberate effort to harness political, military, diplomatic, and economic tools together to advance that state's national interest. Grand strategy is the art of reconciling ends and means" (Schnauffer, 2017, 22). To assert its dominance in the global arena, Russia has been utilizing its own forms of cyber attacks to collect information and become a dominant cyber power.
Russia began its experiments with cyber warfare in 2007 in the clash with Estonia. This was done to determine its cyber capabilities as well as create a stronger resilience against future attacks. "Russia's cyber experiment effectively shut down day-to-day online operations in Estonia's cyber infrastructure for weeks, from news outlets to government institutions" (Shuya, 2018, 4). After this successful movement, Russia began to expand its focus to Georgia and Ukraine in 2008 and then in 2015, to offset local initiatives there which it considered to be against Russian national security interests. Russia has "developed multiple capabilities for information warfare, such as computer network operations, electronic warfare, psychological operations, deception activities, and the weaponization of social media, to enhance its influence campaigns" (Ajir& Valliant, 2018, 75). Russia has had a strong focus on using the tool of propaganda to disseminate key information to its citizens with the hope that they will abide by it as the real truth.
Russia's investment into technology and the freedom of speech allotted by the West has made the West not only extremely vulnerable to Russia, but also has expanded the reach of the Russia globally. Ajir and Valliant (2018) highlight several key points of the Russian strategy:
Direct lies for the purpose of disinformation both of the domestic population and foreign societies; Concealing critically important information; Burying valuable information in a mass of information dross; Simplification, confirmation, and repetition (inculcation); Terminological substitution: use of concepts and terms whose meaning is unclear or has undergone qualitative change, which makes it harder to form a true picture of events, Introducing taboos on specific forms of information or categories of news; Image recognition: known politicians or celebrities can take part in political actions to order, thus exerting influence on the worldview of their followers; Providing negative information, which is more readily accepted by the audience than positive.
This approach allows the Russian government to remain in control of information that is filtered to its citizens. The restriction of freedom reduces the capability of deciphering fact from fiction.
Russia has also taken a defensive approach to cyber warfare by implementing strict laws that govern the use of the internet. The agency Roskomnadzor scans the internet for activity that is deemed illegal and detrimental to the Russian government. It has also implemented new laws to regulate internet activity. "The laws which came into force in November 2012 provided provisions for criminalizing slander, requiring nonprofits receiving funding from abroad to declare themselves "foreign agents," and provide additional financial information and a final law sanctioning the blocking of websites featuring content that "could threaten children's lives, health, and development" (Cross, 2013, 14). Many have deemed these laws as means to censor the internet, but the Russian government argues it is for the protection of its citizens.
An opposite example of failing to employ measures to protect the country from a potential cyber warfare attack is Mexico. The main focus for Mexico has been on drug cartels and eliminating internal threats within their own government. Mexico has begun to implement its own version of cybersecurity due to its substantial growth in cyber-attacks over the years. However, its overall success has been limited due to a lack of understanding and outdated systems. "Incidents in cyberspace pose a challenge to Mexico due to a lack of institutional structures and there is a need to strengthen capabilities since it does not have any specialized government or public sector agencies certified under internationally recognized standard" (Kobek, 2017, 8). Without the establishment of a specific agency dedicated to cybersecurity, Mexico will continue to struggle against cyber warfare threats. Mexico must implement new security measures that are applicable to all main threats beyond the drug cartels.
Currently, the government presence in Mexico is focused solely on actionable and tangible threats. There must be a reform to its current laws for "the armed forces require a law that reframes and modernizes the concepts of public safety, internal security, and national defense; clarifies the role, conditions, terms, and limits of the armed forces' engagement; and establishes mechanisms to hold them accountable" (Payan& Correa-Cabrera, 2016, 3). The lack of accountability and oversight by the government to control key aspects, such as the military, and impose a stronger presence in the more demanding field of cybersecurity opens up the potential for a catastrophic event to occur within Mexico.
China and Russia are prime examples of how strict policy governance of the internet will help to reduce the potential threat of an attack. They are micromanaging every aspect of the internet from restricting specific websites (social media) or establishing specific agencies to monitor and analyze all information that is being viewed from all sources. "With the United States and European democracies at one end and China and Russia at another, states disagree sharply over such issues as whether international laws of war and self-defense should apply to cyber-attacks, the right to block information from citizens, and the roles that private or quasi-private actors should play in Internet governance" (Forsyth, 2013, 94). The failure of this policy is the restriction of freedoms to citizens. As stated above, one of Russia's main focuses is promoting propaganda that is anti-west and pro-Russia. The control over the internet does not allow their citizens to research the truth or have global interaction. This increases the risk of upheavals among the people, especially as technology continues to improve and loopholes are found to circumvent existing policies and hidden content is exposed.
Another approach to cybersecurity is seen with the actions of NATO. It is focusing on improving its relationships with private security companies and "developing a Cyber Rapid Reaction Team (RRT)19 to protect its critical infrastructure, much like U.S. Cyber Command's Cyber Protection Teams (CPTs)" (Ilves et al, 2016, 130). One downside to this approach is NATO is only able to apply defensive measures. It does not have the ability to implement an offensive attack. Creating a partnership with private companies provides it greater access and resources to potential cyber threats. Private companies have more funds available to pursue a stronger cyber security defense. A recommendation would be to create a joint European Union, United States, and NATO partnership against cyber warfare. Each has its own strengths that can be applied to a joint force against one common threat. A stronger partnership among key global powers will help to create a multifaceted approach to the threat of cyber warfare. The end goal of cyber warfare is the same for each country targeted. There is no specific adversary, but rather the substantial disruption or sabotage of key infrastructure.
Although facing intense criticism and skepticism, it would be beneficial for the US, China, and Russia to form a partnership against cyber warfare. As each country is already connected via their technology companies, they are each a global power that encompasses a vast majority of the world. A collaboration of information and resources would provide a stronger protection amongst common non-state threats. However, the chief obstacle is the ability to trust each country to act within the realm of security, instead of using it as an opportunity to gain substantial access to an inside look of the country. Since the US often accuses China and Russia of being the biggest state perpetrators of cyber actions, this criticism may be near impossible to overcome, despite the possible advantages. According to the World Economic Forum, the table below lists the top countries best prepared against cyber-attacks.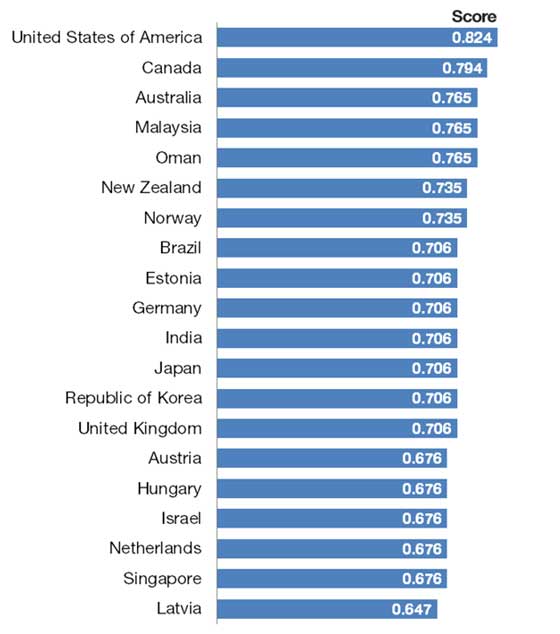 The United States is ranked number one with a significant margin above Canada. China and Russia who have implemented a very strict cyber security policy are not listed within the top 20. This is determined by the Global Cybersecurity Index, a partnership between private industries and international organizations that analyze all aspects of cybersecurity. This argues that the approach by countries such as China and Russia is geared more to the control over its citizens rather than executing a strong cybersecurity policy focused on legitimate external threats. Although, the table above does show that the United States is ranked number one in being able to protect the nation from potential cyber threats, it is only ranked at 82.4% effective. Russia and China have employed a different approach to cyber security that could be utilized to increase the overall effectiveness globally if each side was able to work together towards common threats. Ideally, such partnership would not only create new channels of connection and collaboration between adversaries, but would also set the stage for the more heavy-handed and restrictive policies of China and Russia to be loosened to the benefit of its citizens' virtual freedom.
Cybersecurity between Enemies and Allies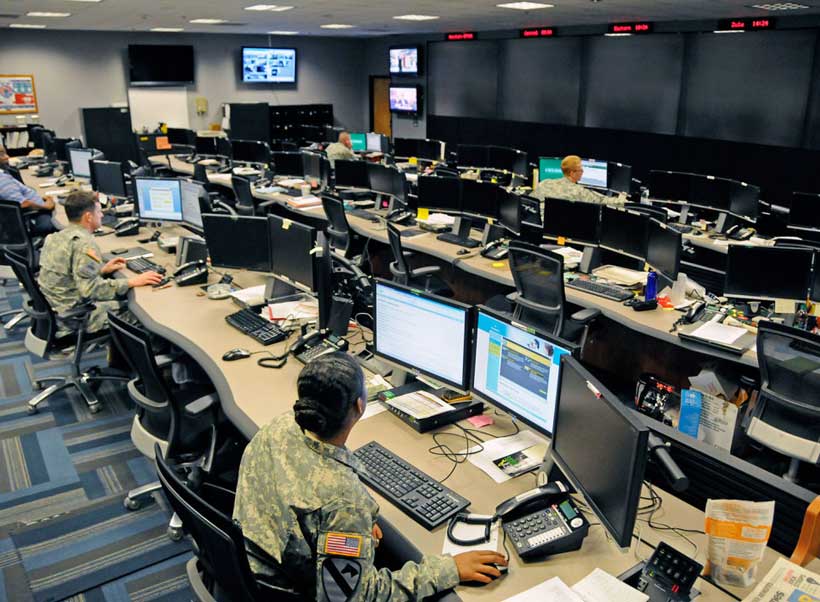 Operational success, whether state or non-state, begins with a solid strategic plan that encompasses key objectives or targets. In today's globally connected world, cybersecurity is holding the forefront space of challenges, vulnerabilities, and growth (Barrinha 2018). Success, in a globally connected environment, requires an understanding of the environmental systems and connections to appropriately identify the gaps in security and potential points of entry from adversarial actors (Barrinha 2018). Understanding the connected nature and networked capability of potential adversaries' drives a need to analyze social networks as they relate to the interrelated environmental systems (Tsvetovat and Kouznetsov2011). Therefore, the ability to effectively engage within an interconnected and globalized operational environment is to understand the cybersecurity policies, trends, and vulnerabilities across western and non-western states like Russia, United Kingdom, China, and Israel.
Internationally, states are viewing cyber as the fifth domain of operations, added to air, space, land, and sea. In 2013, fifteen countries agreed with a need for international law for the elaboration of measures, norms, rules, or principles over the cyber domain. Today, military cyber capabilities exist in more than 40 states and of those 12 have explicitly offensive cyber capabilities. Despite the growing application of cybersecurity strategies and advancements in the development of international laws, a standard definition of cybersecurity does not exist (Greiman 2015).
Regardless of the state's abilities or interest in cybersecurity, the intent is to create an ability to protect domestic networks against domestic or foreign intrusion and attack (Fischer 2016). Cyber-attacks come in many forms. Though attacks vary widely, they generally have a geopolitical, diplomatic, or economic interest, causing business and economic organizations to get involved with political structures to consider policy-setting and strategic capabilities (Jaquire et al. 2018). The difference is that instead of defending against states physically, the defense efforts are against actions exclusively housed within the cyber arena (Duvenage et al. 2018).
National cybersecurity strategies in general tend to possess three main components: strategies with intelligence and counterintelligence capabilities, personal security on information held in databases, and corporate security (Vancouver 2018). As Adamsky (2017) described Israel's cybersecurity plan, the three interrelated vectors work together to provide robustness, resilience, and defense. The overall intent of national cybersecurity strategies is to provide a means by which the state can protect local networks from adversary threats.
The criticality and concern coming from the international community when dealing with increasing threat potential and vulnerabilities within the cyber domain is reflected by the more than 40 countries working to establish cyber policies. The United States and the United Kingdom both view "terrorism and cyber-attacks as the two greatest threats to national security" (Greiman 2015). As states look at the threat posed by the cyber domain, they must consider non-traditional ways in which foreign non-state actors are leveraging networks to spread their messages — to incite fear, spread support for their anti-state ideologies, or the ability to use virtual space as a meeting location to create extremist support (Cross 2013).
In efforts to standardize, Russia, China, Tajikistan, and Uzbekistan joined forces to submit an international code for information assurance (Grieman 2015). Australia, Canada, New Zealand, United Kingdom, and the United States banded together to create a stronger shared level of intelligence, known as the "Five Eyes" Community (Walsh 2015). However, Israel is still leading the way in the cyber policy, strategy, and successful operations (Adamsky 2017). Though all countries possess a mix of security interests and priorities, there is not a single consensus on how to internationally address threat conditions (Crosston 2016). In an attempt to address those conditions, countries must seek innovative and creative means to establish operations and policies to protect against globalized threats (Cross 2013).
Israel has the lead in leveraging innovation and creativity to develop tangible results and an example for other countries to emulate. In 2002, Israel established the goals and means by which it intended to secure its portion of the cyber domain. Seeking to find a balance between commercial and private needs with a need for national security, Israel established policies to "protect vital computerized systems of selected public and private civilian organizations." Not wanting to fall short on future threats, Israel included concepts of "education, R&D, security, economic development, and international cooperation" into their policy design (Adamsky 2017). In 2015, the government established a concept of operations (CONOP) to regulate cyber mechanisms and operations focusing on cyber defense, capacity building,and structure. Using an interrelated framework of robustness, resilience, and defense, Israel can operate, sustain, and defend their local cyber domain from intrusion and attack better than most (Adamsky 2017).
Russia and China have similar approaches and practices. In their efforts to collect intelligence, neither country relies solely on confidential sources or methods, nor does collection tie singularly to state-sanctioned collection requests. More importantly, collection in Russia and China does not focus on collection against foreign agencies alone (Crosston 2016). As part of the policy process in Russia and China, the government opts to control exposure and risk by limiting the availability of sites that threaten the influence their control over the population (Cross 2013). While similar in their approaches, Russia and China developed individual strategies to protect their networks (Fei 2010).
China opted for a strategy with a longer-term outlook and sought to respect other nation's objectives while fostering mutually beneficial cooperation. China's strategy emphasizes multilateral ties and dealing with both traditional and non-traditional threats. China's strategic approach consists of four prongs: the inclusion of complex, non-traditional aspects; issue-orientation over country interests; economic development to be independent of foreign technologies; and, a supposed practice of good governance and transparency.
United Kingdom announced, in 2010, a plan to spend $1 billion US dollars over a four-year period to launch a "transformative national cybersecurity program" focused on closing the expanding gaps between current capabilities and emerging technological advancements. The UK outlined its plan with the intention of leveraging private-public partnerships to create a single point-of-contact for cyber-crimes and security issues. The strategy also outlined a plan to develop international cooperation with like-minded nations (Hammond 2010). Not unlike Israel, the United Kingdom is focusing on policy development to protect privacy and reduce crime, while establishing a resilience capability. Through private-public partnerships, the UK aims for capacity building and to implement a risk-based approach to defending against cyberattacks (Greiman 2015).
Private-public partnerships, coupled with dynamic state policies, contribute to the state's ability for capacity building. This is particularly important with the understanding that the private sector mainly owns and operates activities within the cyber domain for most states (Grieman 2015). While Russia and China understand this phenomenon, they opt to block sites and access as a means of controlling the internet. The efforts of Russia are generally politically inclined, focused on the interest of making the president appear stronger. In China, the state leverages cyber abilities for economic maneuvering. Israel selects a more comprehensive and holistic approach to managing the cyber environment.
Tsvetovat and Kouznetsov (2011) explained the connected nature and networked capability of potential adversaries as driving social connections and purposes. Within the cyber domain, states are able to leverage the connections and networks to shape policy, offensive operations, and international relationship development. As Russia and China continue to work through their controlled approaches to cybersecurity, there is a need for international consensus towards cybersecurity. In an effort to standardize an approach to cybersecurity, the international community should seek to follow in the steps of Israel (Adamsky 2017).As a soft power instrument, Israel is leveraging opportunities and threats to harness the potential of cybersecurity. Over the last decade Russia, China, and many others have reached out to Israel. Additionally, the more success Israel has in leveraging cybersecurity to promote international ties, the greater likelihood it will lead an effort to normalize cyber across the globe (Adamsky 2017).
As academics and practitioners continue to work toward a standard definition and understanding of cybersecurity, there is a distinct need for various states to come together in an effort to establish international norms and standards for the execution of cybersecurity. This effort should be much the same as joint operations govern telling time or tracking targets. It is crucial that the United States continues to find ways to lead the effort to establish agreements that focus on commonalities that can benefit the reduction of cyber dangers between China, Russia, and Israel.
The effort to understand the cyber environment and its various network of connections is vital in working through concerns faced by countries emerging as a new power (i.e.,Brazil, India, Argentina, and Australia among others). The importance of this understanding links back to Brafman and Beckstrom's (2012) starfish and spider concepts, demonstrating the capability of groups to operate from geographically dispersed locations without a centralized leader. Improved security within the cyber domain will assist in mitigating political, economic, and criminal activities that are counter to a state's security strategies. Perhaps most importantly, he ability to increase cybersecurity and cooperation in the cyber domain internationally creates a possible platform to work against other threat issues such as transnational organized crime, terrorism, human trafficking, and migration from failing states. Understanding critical elements and the approach other countries use to navigate through their domestics and external threat will continue to prove to be as crucial for the United States and the interaction with other countries in the future.