"Gas War": Europe as a Battleground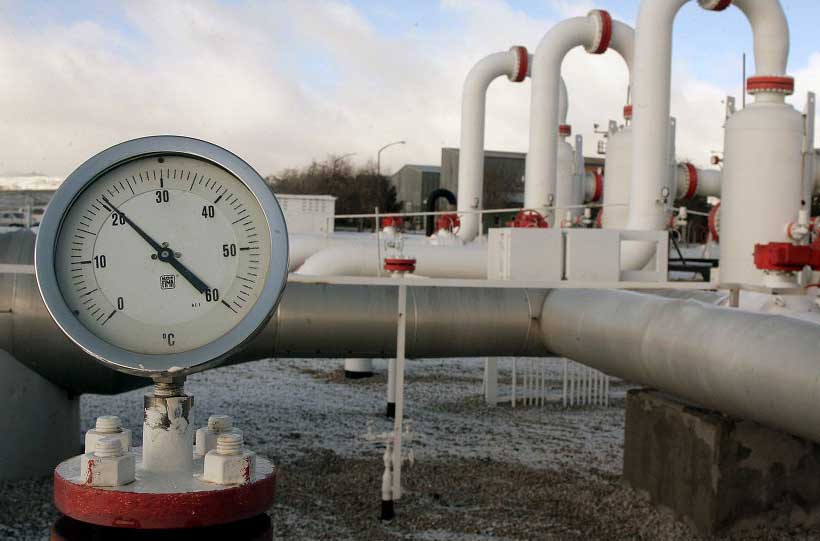 On October 11, the US Congress presented a bill aimed at reducing Russian gas supplies to EU (!). According to TASS, the document envisages the allocation of $1 billion to finance projects on the use of new sources of energy in the EU, as well as the provision of diplomatic and technical assistance to the European Union between 2019 and 2023. The bill envisages measures for a number of US government agencies to support private US investment in strategically important energy projects in Central and Eastern Europe.
It also proposes to allocate an annual $5 million for project evaluation and technical seminars for early stage project support. The State Department is advised to ramp up political and diplomatic assistance to certain countries in the development of their energy markets. The draft of the European Energy Security and Diversification Act was submitted by the chairman of the Senate subcommittee on European and regional security cooperation, Ron Johnson, and a fellow subcommittee member, Senator Chris Murphy.
On October 17, Russia's Deputy Energy Minister Anatoly Yanovsky said that Russia is the only country capable of offering Europe such great volumes of natural gas so cheap, therefore there is no real alternative to pipeline gas coming to Europe from Russia. How realistic are US plans to phase Russia out of the European gas market?
Prerequisites for redrawing the European gas market arose in 2009 with the adoption of the EU's Third Energy Package. Capitalizing on the fact that the policy of developing alternative sources of energy has led to stagnation or a bigger drop in hydrocarbon imports than expected, the European Union has switched to a strategy of diversifying supplies and, in general, imposing new rules of doing business with supplier countries. Comprehensive measures were later taken to develop a new gas import infrastructure. The past years have seen the integration of individual states' pipelines via the construction of numerous interconnectors as part of the EU's effort to make sure that the consumer, not the supplier, dictates the rules in the energy market. As a result, a conflict of interest between the consumer and the supplier has moved from the sphere of purely commercial disputes to the area of political confrontation between countries.
It is no secret that the United States had both geopolitical and economic reasons to encourage the Europeans' policy, with experts still undecided which of these two reasons was actually prevalent. A more traditional standpoint explains this by the current tendency for the US to return to the world energy market as a potentially significant exporter. The energy boom that started in the US in the mid-2000s, caused by the wide-scale use of hydraulic fracturing (fracking), made the country much less dependent on foreign exports. This simultaneously revived Washington's claim to be the main regulator (arbiter) of global hydrocarbon markets.
The United States accuses Moscow for its alleged attempts to exert political pressure against the EU and Ukraine as a pretext for its desire to limit Russia's presence on the European energy market. When meeting with EU leaders in March 2014, US President Barack Obama demanded (!) measures from Brussels that would reduce its energy dependence on Russia. The very same desire is at the core of Washington's rejection of the Nord Stream 2 project [1]. Last year, the US adopted the Countering America's Adversaries Through Sanctions Act (CAATSA) that allows Washington to impose sanctions on companies participating in the construction of any new gas pipeline.  As an alternative to Russian gas, Washington is offering Europeans to buy liquid natural gas (LNG) from the United States. In summer 2017, President Donald Trump unveiled an ambitious plan to make the US the world's number one gas supplier.
The White House hopes to make America a net exporter to the LNG market by 2020.
Well, these hopes are not entirely ungrounded though. In line with the strategy of increased gas production initiated by President George W. Bush, the US Department of Energy reported in the spring of 2018 that United States had (for the first time in 60 years) reached the net gas export. The growth of shale production allowed the United States to produce 733 billion cubic meters by the end of 2017. Now, according to lenta.ru, America accounts for 21 percent of global gas production, and Russia, for 16 percent.
That being said, there are quite a few hurdles on the way of expanded US gas supplies to Europe. There is a notable energy shortage in the US domestic market. Therefore, it is hard to imagine an effective strategy for seizing foreign energy markets based on increased export of resources that are not in sufficient supply at home. What is the point of selling what you do not have enough yourself, the business weekly Expert wonders. Storms and severe frosts that hit the US in the early 2018 led to increased consumption of natural gas in the country, effectively dashing hopes for exports abroad.
As a result, 2017 gas deliveries to Europe did not exceed 3 billion cubic meters, while Europeans' gas consumption in 2017 had reached 500 billion cubic meters. Moreover, within the next two or three years the currently high prices in the European gas market may drop due to growing LNG supplies, Reuters reported early this month, citing Norway's draft budget for 2019. 
Any further diversification of sources of gas supply, much talked about in the EU in recent years, will only reinforce this trend. How, in this case, US authorities will manage to convince their energy producers to continue supplies to Europe, where they will have to compete with possibly cheaper Russian or Iranian oil is a big question.
Despite a notable increase in political and sanctions pressure since 2014, in late 2017, Russia accounted for 35 percent of the European gas market. Still, it has had to pay a price for this by making concessions in terms of price and terms of supply. Anticipating a further sanctions squeeze, in late December 2017, Vladimir Putin ordered corrections to the country's energy security doctrine, the transport strategy for the period until 2030, and also the energy strategy until 2035. He also ordered new projects in the field of LNG where Russia currently occupies a rather modest niche. Russian forecast an over 40 percent increase in global demand for gas by the year 2040. The largest uptick – up to 70 percent – is projected exactly in the LNG trade where competition will obviously heat up.
At the same time, Moscow will need to work out measures to prevent competition between Russian LNG and pipeline gas, Expert believes. This would call for urgent development of technologies and infrastructure in big- and medium-scale gas liquefaction and transportation.
The turn of 2019-2020 could become a turning point for the European gas market.  By the end of 2019, the ten-year Russian-Ukrainian gas transit agreement expires. To bolster its position, in 2018-2019, Gazprom plans to complete two gas transportation megaprojects – Nord Stream 2 and Turkish Stream. President Trump's announcement of entering the market exactly in 2020 may have also factored in the assessment of Gazprom's future plans and the EU's next steps to "liberalize" the gas market.
Meanwhile, pragmatically-minded politicians in Europe, primarily in Germany, have consistently been supporting the idea of the entirely economic nature of the second leg of Nord Stream – Nord Stream 2.
On October 12, the Prime Minister of the German Federal State of Mecklenburg-Vorpommern, Manuela Schwezig, posted an article on the website of the weekly Wirtschaftswoche about a steady increase in energy demand in Germany, adding that natural gas is the most efficient way of meeting this demand. She refutes the notion that a new gas pipeline will allegedly make Germany more dependent on Russia. Berlin and Moscow are equally interested in ensuring reliable energy supplies, Schwezig noted. Despite some lingering disagreements between the two, they have shared interests too, including the possibility of an early return to a "close partnership." She believes that a gradual lifting of sanctions from Russia could also speed up the normalization of relations.
There is one more geostrategic view on what is going on. Many Russian analysts believe that a long-term US strategy is not about a struggle for the gas market (European or even global) as such, but for its transformation by analogy with the current oil market. Washington's goal is to block as many existing gas pipelines and those still under construction so that the lion's share of gas is transported by sea in the form of LNG.
This will help ''unpeg'' gas prices from oil and transform the international gas market into a single whole – global and spot [2] – where transactions are short-term  and made in US dollars to minimize costs and risks. Such reformatting of the market will eventually make it possible to dictate terms to sellers and buyers through exchange rules and Fed policy. This means that the main purpose of the hype that has been going on about the "shale revolution" and "snapping up the world gas market" is to keep the world's traditional energy market pegged to the US dollar.
Both the aforementioned scenarios are fraught with serious problems for Europe. If Russia halts gas transit via Ukraine from 2020, and all attempts to avoid the blocking of Nord Stream 2 fail, Europe will have to urgently look for alternative suppliers, and US LNG will be the first thing it will have to go for. However, in this case Germany's economic leadership will be thrown in doubt, and, consequently, the prospects of strengthening the unity of the EU.
If the European Union is to fight for real energy independence, then it will have, among other things, to look for ways to bring down the share of international commodity trade made in US in dollars. In September 2018, the European Commission President, Jean-Claude Juncker, described as "absurd" a situation where 80 percent of the EU's its energy imports (300 billion Euros a year) are paid for in dollars. Meanwhile, a mere 2 percent Europe's energy imports come from the United States. Juncker said that the euro should become "an instrument of a new, more sovereign Europe" and promised to "present initiatives to strengthen the international role of the euro."
German Foreign Minister Heiko Maas later came up with a proposal for the EU to have its own system of international payments. To make this happen, European financial authorities will need a greater deal of financial centralization of the EU and  a political partner for the European Central Bank in the form of a pan-European Finance Ministry.
In this largely unpredictable and controversial situation, it is necessary to prepare for different scenarios. However, this task per se could further stoke up conflicts  between EU members.
Faced with this largely unpredictable and controversial situation, countries need to get ready for different scenarios.
According to one such scenario, by increasing its LNG production and export capacity, the United States can toughen its sanctions on Russia. If and when Washington is ready to replace Russian gas with its LNG, the EU could once again consider restrictions on Russian gas supplies to Europe. According to expert estimates, shale gas liquefaction plants currently under construction in the US, will not be able to produce necessary volumes before 2020 and even 2022. In spite of all sticking points currently existing between the EU and the US, after meeting with President Trump in Washington in July 2018, Jean-Claude Juncker announced the EU's intention to build "more terminals for importing LNG from the US."
Another option could be a possible US attempt to impose a price war on Russia. If Washington shows readiness to sell its LNG to Europe at dumping prices, Gazprom would have to engage in an even tougher political and price struggle to keep the European gas market.
First published in our partner International Affairs
[1] Nord Stream 2 project envisages the construction of two legs of a gas pipeline to annually deliver 55 billion cubic meters of Russian natural gas to Germany under the Baltic Sea. The construction's estimated cost is 9.6 billion Euros. Nord Stream 2 AG acts as the project operator, while Gazprom is the only shareholder. Due to be wrapped up before the end of 2019, Nord Stream 2 is a joint project of Russia's Gazprom with France's Engie, Austria's OMV AG, UK-Dutch Royal Dutch Shell, and Germany's Uniper and Wintershall, which will finance 50 percent of the construction costs (Deutsche Welle)
[2] Spot (business deal) a contract of buying or selling a commodity, security or currency for immediate settlement (payment and delivery) on the spot date, which is normally two business days after the trade date.
Time to Tackle the Stigma Behind Wartime Rape
The youngest capital city in Europe, Pristina, is the ultimate hybrid of old and new: Ottoman-era architecture stands amongst communist paraphernalia, while Kosovars who lived through the bloodshed of the 20th century share family dinners with a generation of young people with their sights set on EU accession.
This month, the capital's Kosovo Museum welcomed a new force for change; Colours of Our Soul, an exhibition of artwork from women who survived the sexual violence of the Yugoslav Wars, showcases the world as these women "wished it to be."
Colours of Our Soul isn't the first art installation to shine a light on the brutal sexual violence thousands of Kosovar victims suffered throughout the turmoil of the conflict which raged from 1988 to 1999. In 2015, Kosovo-born conceptual artist Alketa Xhafa-Mripa transformed a local football pitch into a giant installation, draping 5,000 dresses over washing lines to commemorate survivors of sexual violence whose voices otherwise tend to go unheard. "I started questioning the silence, how we could not hear their voices during and after the war and thought about how to portray the women in contemporary art," said Xhafa-Mripa at the time.
Victims, and their children, pressed into silence
The silence Xhafa-Mripa speaks of is the very real social stigma faced by survivors of sexual violence in the wake of brutal conflict. "I would go to communities, but everyone would say, 'Nobody was raped here – why are you talking about it?'", remarked Feride Rushiti, founder of the Kosovo Rehabilitation Centre for Torture Victims (KRCT).
Today, KRCT has more than 400 clients— barely a scratch on the surface given that rape was used in Kosovo as an "instrument of war" as recently as two decades ago. Some 20,000 women and girls are thought to have been assaulted during the bloody conflict; the fact that the artists whose work is featured in the Colours of our Soul exhibition did not sign their work or openly attend the installation's grand opening is a sign of how pervasive the stigma is which haunts Kosovar society to this day.
As acute as this stigma is for the women who were assaulted, it is far worse for the children born from rape, who have thus far been excluded from reparation measures and instead dismissed as "the enemy's children." In 2014, the Kosovar parliament passed a law recognising the victim status of survivors, entitling them to a pension of up to 220 euros per month. Their children, however, many of whom were murdered or abandoned in the face of community pressure, are barely acknowledged in Kosovar society and have become a generation of young adults who have inherited the bulk of their country's dark burden.
A global problem
It's a brutal stigma which affects children born of wartime rape all over the world. The Lai Dai Han, born to Vietnamese mothers raped by South Korean soldiers, have struggled for years to find acceptance in the face of a society that views them as dirty reminders of a war it would rather forget. The South Korean government has yet to heed any calls for formal recognition of sexual violence at the hands of Korean troops, let alone issue a public— and long-awaited— apology to the Lai Dai Han or their mothers.
In many cases, as in the case of Bangladesh's struggle for independence, the very existence of children born from rape has often been used as a brutal weapon by government forces and militants alike. Official estimates indicate that a mammoth 200,000 to 400,000 women were raped by the Pakistani military and the supporting Bihari, Bengali Razakar and al-Badr militias in the early 1970s. The children fathered, at gunpoint, by Pakistani men were intended to help eliminate Bengali nationhood.
Their surviving mothers are now known as "Birangana", or "brave female soldier," though the accolade means little in the face of a lifetime of ostracization and alienation. "I was married when the soldiers took me to their tents to rape me for several days and would drop me back home. This happened several times," one so-called Birangana explained, "So, my husband left me with my son and we just managed to exist."
No end in sight
Unfortunately, this barbaric tactic of rape and forced impregnation is one that is still being used in genocides to this day. The subjugation of the Rohingya people, for example, which culminated in a murderous crackdown last year by Myanmar's military, means an estimated 48,000 women will give birth in refugee camps this year alone. Barring a major societal shift, the children they bear will suffer ostracization similar to that seen in Kosovo, Vietnam and Bangladesh.
Initiatives like the Colours of Our Soul installation in Pristina are not only central in helping wartime rape survivors to heal, but also play a vital role in cutting through the destructive stigma for violated women and their children. Even so, if the number of women who submitted their paintings anonymously is anything to go by, true rehabilitation is a long way ahead.
EU–South Africa Summit: Strengthening the strategic partnership
At the 7th European Union–South Africa Summit held in Brussels Leaders agreed on a number of steps to reinforce bilateral and regional relations, focusing on the implementation of the EU-South Africa Strategic Partnership. This includes economic and trade cooperation and pursuing the improvement of business climate and opportunities for investment and job creation which are of mutual interest.
Leaders also discussed common global challenges, such as climate change, migration, human rights, committing to pursue close cooperation both at bilateral level and on the global stage. A number of foreign and security policy issues, including building and consolidating peace, security and democracy in the African continent and at multilateral level were also raised. Leaders finally committed to work towards a prompt resolution of trade impediments affecting smooth trade flows.
Jean-Claude Juncker, President of the European Commission and Donald Tusk, President of the European Council, represented the European Union at the Summit. South Africa was represented by its President, Cyril Ramaphosa. EU High Representative for Foreign Affairs and Security Policy/Vice-President of the European Commission, Federica Mogherini, Vice-President for Jobs, Growth, Investment and Competitiveness Jyrki Katainen and Commissioner for trade Cecilia Malmström also participated, alongside several Ministers from South Africa.
President Juncker said: "The European Union, for the South African nation, is a very important trade partner. We are convinced that as a result of today's meeting we will find a common understanding on the open trade issues. South Africa and Africa are very important partners for the European Union when it comes to climate change, when it comes to multilateralism. It is in the interest of the two parties – South Africa and the European Union – to invest more. It will be done." A Joint Summit Statement issued by the Leaders outlines amongst others commitment to:
Advance multilateralism and rules based governance
Leaders recommitted to work together to support multilateralism, democracy and the rules-based global order, in particular at the United Nations and global trade fora. South Africa's upcoming term as an elected member of the United Nations Security Council in 2019-2020 was recognised as an opportunity to enhance cooperation on peace and security. As part of their commitment to stronger global governance, Leaders stressed their support to the process of UN reform, including efforts on the comprehensive reform of the UN Security Council and the revitalisation of the work of the General Assembly. Leaders reiterated their determination to promote free, fair and inclusive trade and the rules-based multilateral trading system with the World Trade Organisation at its core and serving the interest of all its Members.
Bilateral cooperation
Leaders agreed to step up collaboration in key areas such as climate change, natural resources, science and technology, research and innovation, employment, education and training including digital skills, health, energy, macro-economic policies, human rights and peace and security. The EU and South Africa will, amongst others, explore the opportunities provided by the External Investment Plan. Linked to this, Leaders committed to exploring opportunities for investment, technical assistance including project preparation, and the improvement of business and investment climates to promote sustainable development. Leaders welcomed the conclusion and provisional implementation in 2016 of the EU-Southern African Development Community (SADC) – Economic Partnership Agreement (EPA).
Leaders also committed to find mutually acceptable solutions to impediments to trade in agriculture, agri-food and manufactured goods. They agreed to work towards a prompt resolution of these impediments.
Regional cooperation
Leaders welcomed the new Africa-Europe Alliance for Sustainable Investment and Jobs put forward by the European Commission. They exchanged views on foreign and security policy issues, addressed a number of pressing situations in the neighbourhoods of both the EU and South Africa, and welcomed each other's contribution to fostering peace and security in their respective regions. Leaders agreed to explore opportunities to enhance cooperation on peace and security, conflict prevention and mediation.
Leaders confirmed common resolve to reform the future relationship between the EU and the countries of the African, Caribbean and Pacific Group of States. To this end they are looking forward to the successful conclusion of negotiations for a post-Cotonou Partnership Agreement, that will contribute to attaining the goals of both the United Nations 2030 Agenda on Sustainable Development and the long-term vision for African continent – Agenda 2063.
Macron so far has augmented French isolation
French President Emmanuel Macron has recently criticized the unilateral pullout of the US from the Joint Comprehensive Plan of Action (JCPOA) but at the same time expressed pleasure that Washington has allowed France and the other JCPOA signatories to stay in the Iran nuclear deal.
In an exclusive interview with the CNN, Macron said that he has "a very direct relationship" with Trump. "Trump is a person who has tried to fulfill his electoral promises, as I also try to fulfill my promises, and I respect the action that Trump made in this regard. But I think we can follow things better, due to our personal relationship and talks. For instance, Trump has decided to withdraw from the Iran pact, but at the end, he showed respect for the signatories' decision to remain in the JCPOA."
There are some key points in Macron's remarks:
First, in 2017, the French were the first of the European signatories to try to change the JCPOA. They tried to force Iran to accept the following conditions: Inspection of military sites, application of the overtime limitation on nuclear activities, limiting regional activities, including missile capabilities within the framework of the JCPOA.
Macron had already made commitments to President Trump and Israel's Prime Minister Benjamin Netanyahu to push Iran to accept the additional protocols to the deal, and he pushed to make it happen before Trump left the JCPOA.
Second, after the US withdrawal from the Iran nuclear deal, although France expressed regret, they had secret negotiations with US Secretary of State Mike Pompeo over the JCPOA.
The result of the undisclosed talks was deliberate delay on the part of the European authorities in providing a final package to keep the Iran deal alive. In other words, after the US unilaterally left the JCPOA, the French have been sloppy and maybe somewhat insincere about making the practical moves to ensure it would be saved.
Third, France has emphasized the need to strengthen their multilateralism in the international system and has become one of the pieces of the puzzle that completes the strategic posture of the Trump Administration in the West Asia region.
Obviously, French double standards have irritated European politicians, many of whom have disagreed with the contradictory games of French authorities towards the US and issues of multilateralism in the international community. Also, France's isolation and its strategic leverage in the political arena has grown since the days of Sarkozy and Hollande. Some analysts thought that Macron and fresh policies would stop this trend, but it has not occurred.
First published in our partner MNA