Under the guise of friendship, China is looting Pakistan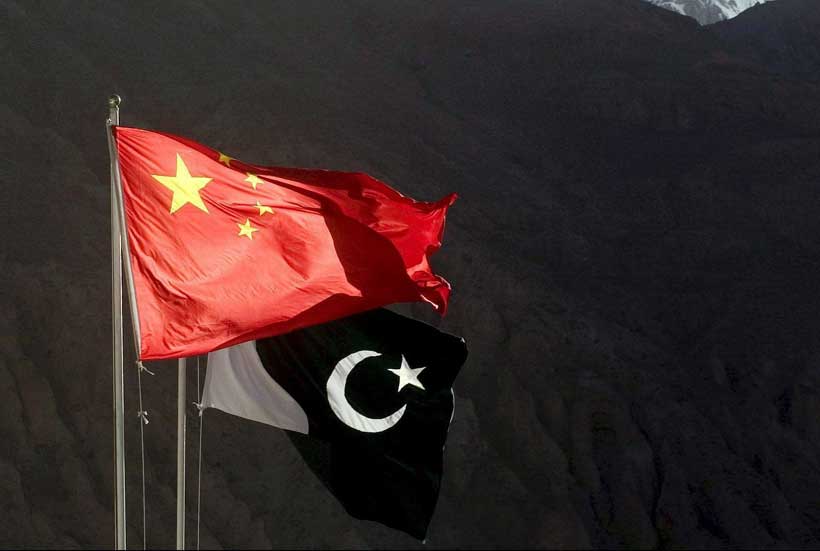 Pakistan and China define their friendship as "higher than the heights of the Himalayas and deeper than the depths of the Arabian Sea." To make it even stronger, President Xi Jinping of China visited Pakistan in April 2015, with a multibillion-dollar investment plan — the China-Pakistan Economic Corridor (CPEC), the main plank of Xi's Belt and Road Initiative (BRI).
China has always defined the BRI as a win-win situation, implying that both China and host countries would enjoy the resultant economic prosperity. The truth, however, is completely different.
Basically, "win-win" probably meant that China would "win twice." Unfortunately, the CPEC has burdened Pakistan's economy with a lot of debt and trade deficits, and pushed the country on to the brink of bankruptcy. As well, China did not provide Pakistan with industrial technology to help it boost exports, nor did it create many jobs in the country — because the project has mostly hired Chinese laborers.
Basically, 'win-win' probably meant that China would 'win twice'
It was the burden of Chinese debt that forced Sri Lanka to hand over its Hambantota Port to China and a massive piece of land in Colombo to Chinese multinational corporations, in return for debt relief. The fear of a debt trap pushed Malaysian Prime Minister Mahathir Mohamad (pictured below) to halt the contract for China Communications Construction Company to build the East Coast Rail Link, thought to have cost the government around US$20 billion, along with a $2.5 billion agreement for an arm of a Chinese energy giant to construct gas pipelines. He had earlier suspended the projects, leading some analysts to believe that he wanted to renegotiate the terms during his China trip.
Story of a so-called friend
Honestly, you can't call a country your friend when it forces you to buy its equipment and material to be used in its projects — a port, coal-fired power plants, roads and railways (the CPEC). And when this exercise severely shreds your dollar reserves and piles up government expenses, this so-called friend offers a helping hand in the form of billion-dollar debts — so that you can keep importing from it.
Ultimately, you find yourself in the middle of nowhere. Your people suffer; you arrange a funeral ceremony of your economy with just enough foreign reserves that you can barely afford imports of two months. Then the so-called friend offers you some more debt, so that you can buy necessary goods (or otherwise, your citizens will starve).
You say thanks to your so-called friend and move on in your life. Suddenly, you see your economy standing on the brink of an ultimate collapse. You knock your so-called friend's door for help, but this time, you face a blatant "no." Why? Because your so-called friend wants to improve its image in the eyes of the world powers — as they think that your so-called friend is using you like a tissue paper.
Hopelessly, you approach an international lender (the International Monetary Fund), which offers you some help on condition that you will have to make the economic deals with your so-called friend public. When that so-called friend becomes aware of the bank's (IMF) conditions, it warns you, saying that the loan from the bank (IMF) should not affect our "so-called friendship."
The curse of Xi Jinping's 'debt-trap diplomacy'
China has been accused by the West of leveraging huge loans it holds over less developed economies across the world in order to snatch their key assets and increase its military intervention.
From Pakistan to Montenegro, from Laos to Kyrgyzstan, many nations owe huge debts to China. Let us take the example of Sri Lanka. It owed more than $1 billion to China and unfortunately wasn't able to service the debt; China reportedly forced it to hand over Hambantota Port on lease for 99 years.
In April this year, China approached Vanuatu to set up a military base, which owed Beijing about $250 million. Tonga also carries some big debts and is facing difficulties in servicing them. The prime minister of Tonga, Akilisi Pohiva, in August showed his concerns over China's debt-trap diplomacy, saying Beijing was preparing to seize assets from his country.
China forces Pakistan to buy Chinese equipment for use in Chinese projects, shredding its reserves; then it extends Pakistan loans to cover the purchases, which increases the burden of debt on Pakistan's economy
For Pakistan, the situation seems alarming. China forces it to buy Chinese equipment for use in Chinese projects, shredding its reserves; then it extends Pakistan loans to cover the purchases, which increases the burden of debt on Pakistan's economy. Machinery imports alone from China in the first two years of the CPEC raised Pakistan's current-account deficit by 50%.
Now Pakistan is facing a severe foreign-currency shortfall, especially the US dollar holdings of its central bank, which have dropped to $8.4 billion, barely enough to pay for two months of imports. The trade deficit is skyrocketing; in the fiscal year ending last June, exports were $23.22 billion while imports exceeded $60 billion. Indeed, its public-sector debt stands at $75.3 billion — 27% of Pakistan's gross domestic product.
Islamabad needed an urgent cash injection for its suffering economy, for imports and clearing debts. It is not that Pakistan didn't ask China or Saudi Arabia to bail it out. Even Saudi Arabia agreed to invest in the CPEC in the form of an oil refinery in Gwadar, but China had concerns, as Saudi Arabia is a major non-NATO ally of the United States and any involvement of the Saudis in CPEC would indirectly mean allowing US intervention. Economic deals between Beijing and Islamabad related to the multibillion-dollar "debt trap" that is CPEC have been kept behind an opaque sheet of "we trust each other" from Day 1.
The United States, on every occasion, has accused China of predatory lending practices and ruining small economies. In my opinion, China had to portray itself as "sincere and unselfish" and therefore, it was a blatant "no" from Xi for another bailout for Pakistan. Or, it may also be that Pakistani Prime Minister Imran Khan's government is aware of the dark realities of China's Belt and Road Initiative.
Coming out of a fool's paradise
As The News reported on October 1, Pakistani Railway Minister Sheikh Rashid Ahmad (pictured above) said the estimated cost of expansion and reconstruction of ML-1 (Main Line-1 that runs from Peshawar to Karachi) under the CPEC had been brought down to $6.2 billion from $8.2 billion. "Pakistan is a poor country that cannot afford [the] huge burden of the loans," Rashid told a news conference in Lahore. "Therefore, we have reduced the loan from China under CPEC for rail projects from $8.2 billion to $6.2 billion."
Remember that Financial Times report?
"The previous government did a bad job negotiating with China on CPEC — they didn't do their homework correctly and didn't negotiate correctly, so they gave away a lot," Abdul Razak Dawood, the Pakistani cabinet member responsible for commerce, textiles, industry and investment, told the FT.
"I think we should put everything on hold for a year so we can get our act together," he added. "Chinese companies received tax breaks, many breaks, and have an undue advantage in Pakistan; this is one of the things we're looking at because it's not fair that Pakistani companies should be disadvantaged."
What Dawood said clearly shows that Imran Khan's government is skeptical about China's intentions behind pouring billions of dollars into Pakistan.
Between China's warning and IMF's conditions
Imran Khan is known for the slogans he raised during his election campaign, that if Pakistanis would give him a chance to form the government, he would break the country's addiction to begging the West for dollars whenever it finds itself in a financial crisis. On October 8, Khan forgot his lofty claims and allowed Finance Minister Asad Umar to announce that Pakistan would seek a hefty loan from the IMF. It will be the country's 13th bailout from the IMF since the 1980s.
And for sure, it will face strict conditions imposed by the Fund. It may force the Khan-led government to privatize steel mills and Pakistan International Airlines. And this would result in tens of thousands of jobs being lost, which will come with countrywide protests against Khan's party, Pakistan Tehreek-e-Insaf. Before the announcement, the dollar in Pakistan was trading at 125 rupees to $1 — after that, the rupee has been devalued to 135 per US dollar.
The rupee's depreciation has increased Pakistan's debt by $6.75 billion, thus contributing to some more economic woes for the nation. Just after Asad Umar announced the government's decision to seek a bailout package from the IMF on the night of October 8 came a substantial single-day stock-market loss by more than 1,300 points — losing almost 270 billion rupees ($2 billion) of its capitalization.
The government has failed to restore investor confidence, and thus the selling spree has continued.
As a result, the index dropped below 37,000 points. The IMF's projection that the inflation rate might hit 14% by June 2019 further intensified the situation.
And there is yet another huge burden on the shoulders of Imran Khan and his cabinet — to disclose the nature, size and terms of the debt that Pakistan is bearing. Christine Lagarde, managing director of the IMF (pictured below), clearly said the Fund would expect "absolute transparency about the nature, size, and terms of the debt that is bearing on a particular country," and although she did not explicitly mention China in her remarks, they were given directly in response to a question about Pakistan's stockpile of Chinese debt.
The transparency must extend to "the extent and composition of that debt," she added, regarding whether it was government-owned or by state-owned enterprises "or the like of it," which presumably means it also includes private-sector debt.
If Pakistan gives access to all the hidden information related to CPEC deals to the IMF, it will end up hurting its fair-weather friend China. The State Bank of Pakistan is not aware of the details of the CPEC deals and therefore, it compiles its own debt-sustainability forecasts on the basis of the incomplete information available.
No one knows what China and Pakistan have possibly agreed on.
If Pakistan gives access to all the hidden information related to CPEC deals to the IMF, it will end up hurting its fair-weather friend China
What Chinese Foreign Ministry spokesman Lu Kang said at his press briefing in Beijing was shocking. On one hand, he endorsed Pakistan's request to the IMF for financial assistance, but cautioned that the facility should not affect economic cooperation between Islamabad and Beijing, as Dawn reported.
Like a good friend of Pakistan, Lu could have endorsed the help that the IMF is offering to Pakistan — but the so-called "friend" cautioned Islamabad that the facility should not affect economic cooperation between the two countries. Already Pakistan's stock exchange is suffering, and this statement will contribute to investor confidence being lost, as it would make investors more skeptical about the possible consequences of Pakistan disclosing the hidden deals of CPEC.
Friends don't threaten each other, and China needs to understand that.
China should at least offer a helping hand to Pakistan in its truest sense. Rather than enmeshing it in a debt trap, it should invest in Pakistan's magnificent renewable-energy potential, such as financing solar-power plants in Balochistan and Sindh provinces, so that the country can cut down expensive crude-oil import for electricity generation. And it should help the country boost its exports by providing it with advanced industrial machinery and technology, so that the country can obtain comparative advantage in the production of some high-valued items.
There is nothing wrong in taking help from a "friendly" nation for the sake of energy and transport sector development, but as the world works on the theory of realism and capitalism, there is nothing like a free lunch.
China is securing its interests in the multibillion-dollar CPEC — and currently even enjoying Pakistan's piece of the cake.
Only after Pakistan begins to export more will it be able to acquire sufficient dollar reserves to fulfill its demands of energy and infrastructure on its own. Substantial macroeconomic changes have to be made so that it can produce, consume, save, expand and export efficiently.
Investment on research and development is needed. Barriers to enter and exit markets must be reduced. It will have to ask other countries (and not just friends) to make investments in its market. If the country properly explores its renewable-energy potential, it won't need coal, gas or petroleum to fuel its power plants.
Author's note: This article first appeared at DailyO (India Today)
Unleashing India's True Potential
As India strives to unleash its true potential to rise as a global powerhouse, it is tasked with a series of challenges that stunt its aspirations. To put this ambition into perspective, Dr. Aparna Pande discusses the various internal issues that have hampered its global aspirations and plagued the socio-cultural, economic, political and military dimensions, in her recent book Making India Great: The promise of a reluctant Global Power.
The book is structured in five chapters besides the introduction and the conclusion. The fundamental argument of the book sets out to delineate India's ambition of becoming a world power in the 21st century. The author discusses the contradiction that exists within Indian society that is 'although India aspires to become a global power, it lacks the ability to draw long term strategic plans that are necessary to achieve and realise its ambitions'. To attain this vision, India must overhaul its attitude and mindset to prescribe a course of action that is deemed fit to bridge the gap between India's potential and its policy outcomes. Dr. Pande rationally deconstructs the reasons behind India's economic slowdown and sheds light on the country's pursuit towards realising its true potential.
In the introductory chapter, the author revisits India's ancient heritage and modern history and spells out various historical accounts to depict the immature, parochial and tactless decisions and judgments made by the Indian political elite that have repeatedly toyed with India's ambitions. These vested interests have hindered the country's progress and fractured its strategic disposition in spite of possessing a robust ethical foundation, a secular religious society, a rich linguistic and cultural diversity. Furthermore, the author elaborates on India's achievements since its independence while knitting history with contemporary international politics.
By 2024, India will be the most populous country globally (p.X) and will be the world's third largest economy by 2050 (p.53). The author raises key arguments that address India's trajectory to become a major global power. She advocates for the need to focus on its important national subjects such as enhancing the country's defence capabilities, upgrading its military industry and expanding its diplomatic outreach globally, instead of focusing on the traditional problems related to religious vigilantism, caste and ethnic prejudice, and cultural divisions.
In the first chapter, "Ancient Culture, Modern Times", the author illustrates India's ancient culture and the faith in Indian exceptionalism. She beautifully explains the ancient history starting with the idea of renaissance and enlightenment and journeys through the social changes brought over time by various reformist movements namely the Arya Samaj and the Brahmo Samaj. The idea of Indianness as conceived by Jawaharlal Nehru, Mahatma Gandhi and Rabindranath Tagore indicates that modern India was built on its rich and ancient heritage. The two different traditions are highlighted within the Indian social order: one discussing India as a vibrant, inclusive and open society, while the other views India as an obscurantist society due to the existence of social practices of patriarchy, feudalism and chauvinist behaviour by Indian society. The country's progress is impeded by society's myopic vision and bigoted fabric.
The author opines that legislative decisions and political events in India are scrutinised by the public from the religious and cultural lens that hampers the growth and progress of the country. Rather than investing in strategic planning for defence and education, the Union Government has been spending more resources to protect cows with the intent to safe guard the religious sentiments of its people. Subsequently, these provisions adversely affect beef production countrywide and weakens the leather industry, affecting the Indian economy at large. As alluded by the author, such a comparison of the religious practices with the economic benefits could hurt the sentiments of the public, leading to undermine the majoritarian faith. In the larger context, among the many prevailing social and national issues there are far greater problems that need immediate redress to which the author has failed to shed adequate light on, such as gender inequality, patriarchy, the promotion of women empowerment, improvements to the national literacy rate and addressing the issue of poverty.
The second chapter discusses human capital, which acts as a pre-requisite driver for the modern Indian economy. In the ancient times, the country's potential for human resource can be viewed through an archaeological lens and has also laid the foundation of the world's oldest civilisation, the Indus Valley. In addition to the Indus valley, the subcontinent has witnessed the establishment of the well-engineered twin cities of Harappa and Mohenjo-Daro. Dr. Pande supports her argument on the country's human capital by supplementing the reader with a similar view from Gurcharan Das' book, where the author conveys that India's biggest failure has been in building human capabilities. Further, he states that to build human potential and capabilities, there is a need for an investment of human capital particularly in education and the health sector.[i] In concurrence with Mr. Das, Dr. Pande explicates that the failure of building human capabilities is due to misgovernance. Hence, she suggests that the Government should take pragmatic steps for policy formulation and skill development.
The third chapter elucidates about 'Economic Potential' of the Indian state. She discusses the success and failures of the Indian economy. Jawaharlal Nehru and Mahatma Gandhi accentuated on economic independence and self-sufficiency. The Indian economy has been growing since independence but is insufficient to cater to the needs of its growing population. Despite being a developing economy, there are millions of people in India living below the poverty line. The 1991 reforms were a shot in the arm for the Indian economy through the process of liberalisation and privatisation. As India is on its way to becoming one of the three largest economies by 2050, New Delhi is required to bring more reforms to its land, labour and financial policies. It needs to give up its paternalistic approach which hinders its economic growth. Dr. Pande also highlights India's obsession with producing everything within the country which leads to hyper-nationalism and proves to be one of the major drawbacks for the Indian economy only weakening its rise as a global power.
In the following chapter, the author analyses the country's foreign policy and geopolitics. While debating the geopolitical nature of the country, Dr. Pande enlightens the reader about some of the inevitable features of the Indian state. As one of the oldest standing civilisations, its geographic position is strategic and its vast population is an asset for the country's growth. The ancient sages have ascribed India as Vishwa Guru (world teacher) and have adopted the philosophy of Vasudhaiva Kutumbakkam (the world is one family). Prime Minister, Narendra Modi in his historic speech at the United Nations General Assembly in 2014 underscored the driving force of India's philosophy, reminding the world community about India's ancient history since the Vedic era, with the intent to bring reforms to the United Nations (UN), making it more democratic and participatory.
The author presents a case to underline the existence of India's strategic disposition through an adaptation of the Non-Alignment Movement. To establish and maintain its clout in the world order, India is associated with various organisations like the UN, the International Financial Institutions (IFIs) and several other multilateral institutions. The author presents a strong case for the need to introduce new reforms into the UN Security Council (UNSC) but also into the international economic order, including various multilateral economic institutions such as the International Monetary Fund and World Bank. More importantly, she advocates the need to promote India as a permanent member in the UNSC with the backdrop of India's rise in contemporary international relations given the country's growing economic, political and military prowess.
Talking about its foreign policy, India is considered a geographical, socio-cultural and economic centre for South Asia and plays the role of a 'Big Brother' within the South Asian region. India has always followed the 'Neighbourhood First' policy to maintain strategic relations with its immediate neighbours. Apart from South Asia, the chapter presents a stark contrast regarding India's relations with China and its economic and military rise which pose a threat to India and South Asia.
The last chapter examines India's "Military and Grand Strategy" and what India actually requires in order to become a global power. She illustrates the features of great powers as described by Hedley Bull. According to Bull, great powers are identified by 'comparability of status', 'rank in military strength', and the ability and recognition to 'play a part in determining issues that affect the peace and security of the international system as whole'.[ii] To incorporate these factors in its foreign policy, India needs a grand strategy in place which could be formulated through four major strands: Imperial Legacy, Messianic Idealism, Realism and Isolationism, as discussed by the author in her previous work.[iii] To achieve these goals, India can exercise the Kautilyan principles of Saam, Daam, Dand and Bhed (persuasion, temptation, punishment and exploitation respectively) as a means to achieve an end.
To this end, Making India Great is a well-researched handbook with various mesmerising facts but with a contested title which questions the greatness of the country. It allows readers to comprehend various reasons for India's reluctance and flawed progress on the global stage. The author suggests that the Government of India should introduce new reforms that would enable it, to take pragmatic measures in the economic, military, political and social spheres, which would provide greater impetus to its growing aspirations as a global power. Lastly, Dr. Pande fails to identify and analyse the loopholes existing in both, the decision-making apparatus and implementation process of various policies at the economic, political and military levels. Nevertheless, this work is of immense relevance to understand India's position as an emerging global power, in the context of the contemporary state of global affairs.
---
[i] Gurcharan Das, India Unbounded: The Social and Economic revolution from Independence to the Global Information Age, New York: Anchor Books, 2002, p. xviii.
[ii] Hedley Bull, The Anarchial Society: A Study of Order in World Politics, New York: Columbia University Press, 1977, pp. 200-03.
[iii]Aparna Pandey, From Chanakya to Modi: Evolution of India's Foreign Policy, Noida: HarperCollins India, 2017.
Application of Galtung's ABC Model on the Naxalite Insurgency of India
The conflict analysis model proposed by Johan Galtung in 1969 includes both symmetric and asymmetric conflicts. In the author's opinion, a conflict can be viewed as a triangle whose sides are represented by A (attitude), B (behaviors) and C (contradictions.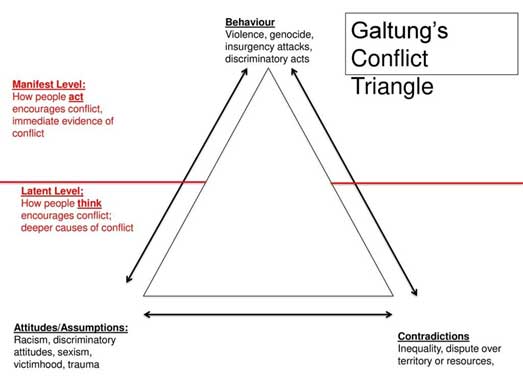 The Naxalite Insurgency
The Naxalite revolt which developed in the 1960's is the most seasoned of all. The Naxalite revolt gets its underlying foundations from a remote town called Naxalbari in West Bengal. They are the progressive communists bunches resulting from Sino-soviet split in Indian Communist Movement. The Naxalite uprising is a low-level war of Maoists against the Indian government. The insurrection began as a labor resistance in the eastern Indian town of Naxalbari in 1967 and has now spread to an extensive swath in the southern and eastern parts of the nation. In 2004 the Maoist dissident association People's War Group and the Maoist Communist Center of India converged to shape the Communist Party of India (Maoist). The Movement was driven by Charu Mazumdar, Kanu Sanyal and Jangal Santhal.
Contradictions
The main conflict includes real or perceived "incompatibility of goals" between the conflicting parties. In symmetrical conflicts, the contradiction is defined by the parties, their interests and conflicts of interests. In asymmetric conflicts, the contradiction is defined by the parties, the relationship between them and the conflict within this relationship.
Before continuing with Galtung's model analysis, it is necessary to highlight the differences between symmetric and asymmetric conflicts. When A and B have a relatively similar or equal position and they enter into a conflict due to diverging interests; we are talking about a symmetrical conflict. When in the relationship between A and B one of the parties has a clearly superior standing compared to the other (i.e. a clear situation of inequality between the two sides); we are referring to asymmetric conflict. This type of conflict occurs between the majority and a minority, between a government and a rebel group, between an employer and his employees, or between a master and his servants ("Transforming Civil Conflicts", The Network University. The University of Amsterdam, June 2000).
A conflict in Galtung's view = attitude + behavior + contradiction, where contradiction (C) is the root of the conflict, and attitude (A) and behavior (B) are meta-conflicts after (C). CAB is a possible example of a conflict sequence starting objectively with an attitude of inner life that is expressed externally through violent or not verbal and / or physical behavior. This definition helps us to talk about the CAB as a guiding conflict theory, as a dynamic phase of the conflict, or as an approach to solutions (Galtung, 2007, 22).
The contradiction here in this conflict is inequality and dispute over political rights and resources. The Naxalites get most help from Dalits and Adivasis. Together they sum for one fourth of India's population; a large portion of them live in rural India. Their bases for supporting the insurgency includes unemployment, new timberland provisions with confinement for their jobs, cultural degradation, feeble access to social education, confined and constrained access to regular assets, social abominations, relocation, political underestimation and suppression of rebellions. The affected areas have rich mineral resources but the inapproachability and negligence of the government is another which has kept the insurgency alive.
The demands of the insurgents are not of succession rather they demand their democratic rights. They want the government to implement improvements in the farming sector, give accommodations and full authority to the farmers, and abandon all private finances taken by the agricultural community to stop suicides by farmers, prepare a lasting and unified plan for tackling the scarcity situation and to be given equal opportunities, jobs, education, acceptance from the upper caste people.
Attitudes
Includes the perception of the parties; It can be positive or negative, strongly negative especially in violent conflicts when the parties develop humiliating stereotypes about each other. Attitude consists of emotive and affective components (I like or I do not like X), cognitive components (favorable or unfavorable information about X) and cognitive/ behavioral components (desire, will).
Attitudes or we say perception of conflicting parties, i.e., Government of India and Naxal rebel's groups are entirely negative. Indian government thinks of it as a national security threat and wants to counter it one way or the other. In 2006, the Ex-Prime Minister of India Manmohan Singh called the Naxalites "The single greatest inward security challenge." As the insurgency is not in just one part of the country but it is expanding in many regions which is a serious threat to the state's internal security. While the rebel groups being untouchables, think of the government as racist and discriminatory and want equal rights and opportunities as any other Indian.
Behavior
Involves cooperation or coercion / conciliation or hostility regarding the behavior, in case of violent conflict we talk about threats, coercion or destructive attacks.
The Indian National Congress is India's oldest party. Hence has seen a number of conflicts and insurgencies. The INC government sought after a double pronged approach depended on military and cruel police activities.
SalwaJudum was launched as part of counterinsurgency strategy by the Indian government. The Naxals and SalwaJudum used to assault each other with much greater savagery; numerous individuals were killed by Naxals and SalwaJudum. The SalwaJudum was at long last prohibited by the Supreme Court in 2011 for damaging human rights and the Constitution itself. The government then presented "Operation Green Hunt", an organized activity over a few states (Orissa, Madhya Pradesh, Chhattisgarh, Andhra Pradesh and West Bengal among others), to handle Naxalism. But the operation was also a failure.
The government then realized that using the military on their own people is not the solution to the problem hence, they made some developments in the affected regions but it did not give long lasting results; it resulted in the failure of the policies of Indian National Congress.
Andhra Pradesh has the best strategies to counter the Naxalite insurgents among all affected states. It perceived the Naxalite insurrection as a genuine risk. It has put resources into the Greyhounds; a unit arranged for a counterinsurgency reaction and has given extensive recovery bundles to repatriate the previous Naxalites.
They likewise made a few projects to help police faculty and their families if executed in the line of duty. Andhra Pradesh's counterinsurgency approach is unmatched in the whole country.
The Naxalite rebellion entered in these states later. They are the most badly influenced states because of their topography and demography. Because of a crackdown by police and military against the naxalites, the movement spread into many states. Since these states have a huge population and forested territory, they were the ideal areas for the guerillas to develop. None of these states has a solid counterinsurgency approach. Chhattisgarh has connected comparable guerrilla strategies and many operations like Operation Shikhar, Operation X, Operation Thunder and Operation Hill Top but neither of these operations have been able to purge the insurgency in the state. Jharkhand has led a few hostile activities, Odhisa uptil now have no strategies that can manage the uprisings. Every one of the three states is rich with mineral resources but none of them have powerful counterinsurgency technique. West Bengal is relatively successful in countering insurgency. The state government additionally got assistance from the central government.
The BJP government counterinsurgency strategy against the Naxalites combines a twofold unit approach; one approach is to utilize safety powers to create security whereas the other is winning hearts and minds of the overall public. Past governments utilized the relative systems, yet in light of a nonappearance of coordination and uneven execution between influenced states, it didn't give incredible results.
Social and economic inequity is seen as the main drivers of the Naxalite insurrection. Accordingly, the BJP government has reported sweeping policy, which incorporates improvement measures to manage social and economic degradation. The government has invested in the expansion of infrastructure which includes the creation of communication linkage and rail and road accessibility also in educating and providing basic services to the people. The number of violence decreased during BJP's time period, the credit is not alone to BJP government but also to previous governments.
Is Peace possible in Afghanistan without a clear vision?
Peace is the absence of war, while war is the absence of peace! A negotiated peace in Afghanistan presents a number of challenges. The duration of the war over several decades has created a number of situations, that requires an in-depth examination in light of the peace negotiations that took place between the United States and the Taliban leading to the signing of an agreement without inputs from the Afghan government in spite of their being a strategic partner of the United States.
The war has been a very costly undertaking both in financial and human terms.
On the human side, there has been a large number of civilian casualties and a flow of both internal refugees and those that have fled to neighbouring countries, Iran, and Pakistan in particular. Will the conditions of peace allow their return and what employment possibilities will they find? In particular will the professionals and corporate managers of the diaspora return?
On the financial side, the income of the Government of Afghanistan is too meagre to finance the rebuilding of the country. Will the United States and other major donors such as the World Bank contribute in a significant way to assist in this momentous effort?
Afghanistan's geographic position has attracted major powers in the past. How will the country still be viewed as a masterpiece in the Great Game and will it continue to be subject to constant instability? Corruption may well prove to be one of the most important barriers to development. What policies can be put in place to reduce, or eliminate, corruption? What process will be put in place to disarm both the Taliban and the other armed groups to prevent a civil war?
Why do powerful countries always easily achieve their goals in Afghanistan? The answer is simple, because some leaders are ready to do anything to gain power by asking for the support of these countries. In order to be able to bring political stability to Afghanistan, it is essential and indispensable that the Afghan leaders come to an understanding among themselves in order to have internal stability. As soon as they manage to put this in place, they will have moral authority over powerful countries with a specific, clear, and lasting purpose for Afghanistan. Presently its political leaders are ready to negotiate in an aggressive, competitive, egocentric, and defensive manner to have the power in order to remain in their current positions without worrying about the interests of the country or the people.
Often, we hear that Afghanistan is a strategically positioned country. Of course, Afghanistan is well placed, but our analysis is different: we believe that something else is more important than that situation. Afghanistan is a weaker country in the region with leaders who are only interested in political power, with a lack of global vision for the development of the nation: this is the reason why every powerful country achieves its goals very easily across Afghanistan, according to its wishes. At any time, they may abandon Afghanistan. At the same time, Afghanistan faces major economic and development challenges. Although the country is rich in natural resources, gas, minerals, and oil (estimated at over a trillion dollars), insecurity, war, lack of infrastructure, weak leaders, have limited the possibilities of finding and extracting these resources and Afghanistan is still among the poorest countries in the world.
Each country has its advantages and disadvantages, but Afghanistan has two major drawbacks that need to be addressed:
1) Very weak leaders or leaders by accident, who think only of their personal interests and who settle in power for life.
2) As mentioned above, Afghanistan is the weakest country in the region.
Every leader, when he comes to power, forgets his real job, which is to create enduring systems and values ​​for today, tomorrow and the day after, and at least reduce existing problems and use their power to serve the people and the country, instead of monopolizing this power for personal interests.
On the contrary, unfortunately, when a leader comes to power, he increases the problem because he thinks traditionally, and above all he puts his relatives in the most important positions, without looking at their qualifications, because competence is less important than relational confidence.
Although there are very qualified people, but since they do not belong to the ethnicity of the political leaders, and share their point of view, thinking more for the country than their private interests, such kind of people have very little place in the mind of these leaders.
Today, politics in Afghanistan is becoming like a business, and everyone is doing politics … However, the real job is still abandoned, because the vast majority of the People no longer trust the Politicians, and even the real ones, those Politicians who want to change something for their country.
Before having to manage peace, they must understand why we are at war. The war in Afghanistan has five dimensions:
1. A leadership crisis, meaning that the Afghan leaders do not agree with each other and look at power sharing.
2. Certain countries of the region, and more particularly Pakistan, are very involved in Afghanistan, which they destabilise.
3. Major powers, too, have their own agendas on the region.
4. Certain countries support terrorism and extremist groups.
5. The negotiation process must be led not by politicians, but by neutral Afghan experts.
Therefore, we make the following recommendations:
1.Encourage the leaders to have a government in which no single ethnic group monopolizes power. There should be one president and four vice-presidents. Each two years a rotation of the president would be put in place. The entire mandate would be limited to ten years. This would allow power sharing that would prevent having one ethnic group monopolising power through a rotation system of two years as President.
This proposal would definitely solve the power problem while also allowing for government savings of time and money.
2.The United States should intervene in Pakistan to force a peace process between Pakistan and Afghanistan. Pakistan has been a major destabiliser in the region by harbouring terrorists and using them as their second army as indicated by several international sources. Should this problem not be solved, it would become, sooner or later, a global threat for democracy and humanity. It would not be a good inheritance for the future world leaders.
President Joe Biden, mentioned that the United States would again lead the world, we strongly believe that the above issue should be a priority, failing what, it may be too late to bring peace to the region and worldwide. The United States should avoid countries that back terrorism and, particularly, those actions that kill children and humanitarian workers.
3.As a major power, the presence of the United States in Afghanistan could develop a strong relationship, instead of a partnership, just as the United States has done in other countries, providing its presence in the area is of interest. This would be a break from the present situation in which the Afghan population lacks a clear understanding of its position. Should the United States develop a mutually beneficial relationship, the Afghan population would strongly support it. A complete departure before peace puts in danger democracy, women, and children not only in Afghanistan but also worldwide.
4.The United States, as a powerful country, should sanction all countries, or groups and persons, that support terrorism, wherever the terrorists may wish to strike. As an example, economic sanctions banning the purchase of military material should be implemented. Doing so in Pakistan would be a good starting point.
5.The negotiation process cannot be done by people that are thirsty for power and have no vested interest in peace as they hold power. We would suggest that the negotiation process be led by neutral experts with politicians and the civil society backing-up them.
We are certain, if the United States takes into consideration the five points mentioned above, the peace process will be successful and lead to stability in the area. If there is no peace in Afghanistan, there will be a major threat in the area in the region and in the world. Afghanistan is the first line of defence against terrorism not only for themselves, but also for the entire world.