Half the population of Yemen at risk of famine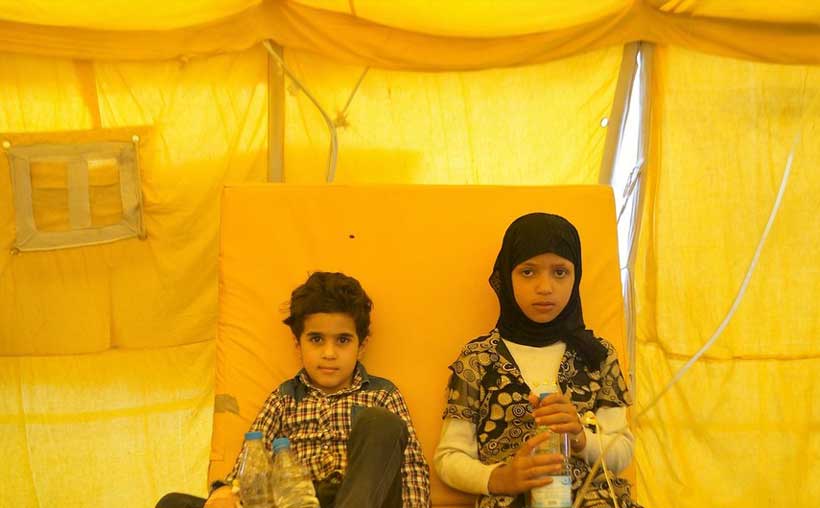 Around 14 million people in Yemen, or half the total population of the country, are facing "pre-famine conditions," said the UN Under-Secretary-General for Humanitarian Affairs, in a briefing to the Security Council on Tuesday.
Mark Lowcock, who is also Emergency Relief Coordinator, said that the UN assessment, which revises September's estimate of 11 million at risk, is based on recent survey work and analysis, and categorizes "pre-famine conditions," as meaning those who are entirely reliant on external aid for survival.
Famines, said Mr. Lowcock, are a rarity in the modern world, and whilst this is a positive sign of progress, it is also what makes the Yemen situation so shocking.
Although it is difficult to confirm how many are dying from starvation, or starvation-related disease, the relief chief said that health workers are pointing to a rising number of deaths linked to food-related factors, with one aid agency estimating at the end of 2017 that 130 children were dying every day from extreme hunger and disease: nearly 50,000 during the course of a year.
However, many deaths are hidden: "Only half of health facilities are functioning, and many Yemenis are too poor to access the ones that are open. Unable to reach care, people often die at home. Very few families report these deaths; their stories go unrecorded."
Mr. Lowcock said the situation in Yemen is now far more serious than in 2017, when warnings of famine led to a dramatic scaling up of the UN coordinated relief effort, because of the large number of people at risk.
Beyond those at risk of famine, the emergency food assistance on which many millions have been reliant for years is only enough to survive, Mr. Lowcock said, adding that their immune systems were literally collapsing, making them – especially children and the elderly – more likely to succumb to malnutrition, cholera and other diseases.
Hudaydah, collapsing economy, exacerbate crisis
The Special Envoy reported little progress on two key issues exacerbating the crisis: fighting around the town of Hudaydah, which is choking aid and commercial operations, and the collapse of the economy.
On the first point, intense fighting, shelling and air strikes have continued to hit Hudaydah in recent days, leading to more than half a million having to leave their homes. Over 5,000 separate violations of international humanitarian law by all parties to the conflict have been recorded since May, including mass civilian casualties.
Humanitarian aid is being severely hampered by delays in issuing visas, restrictions on imports of equipment and cargo and other obstructions, and Mr. Lowcock warned that the relief effort will simply be overwhelmed if the fighting does not cease.
The economic situation is dire, with gross domestic product cut by half since 2015, over 600,000 jobs lost, and more than 80 per cent of the population living below the poverty line. Mr. Lowcock called for an urgent and substantial injection of foreign exchange, and for payments to pensioners and key public sector workers to resume.
Mr Lowcock called for urgent action in five areas: a cessation of hostilities in and around all the infrastructure and facilities on which the aid operation and commercial importers rely, protection of the supply of food and essential goods across the country, a larger and faster injection of foreign exchange into the economy, increased funding and support for the humanitarian operation, and finally for all belligerents to engage fully with the UN to end the conflict.
Another 170 migrants disappear in shipwrecks: UN call for an end to Mediterranean tragedy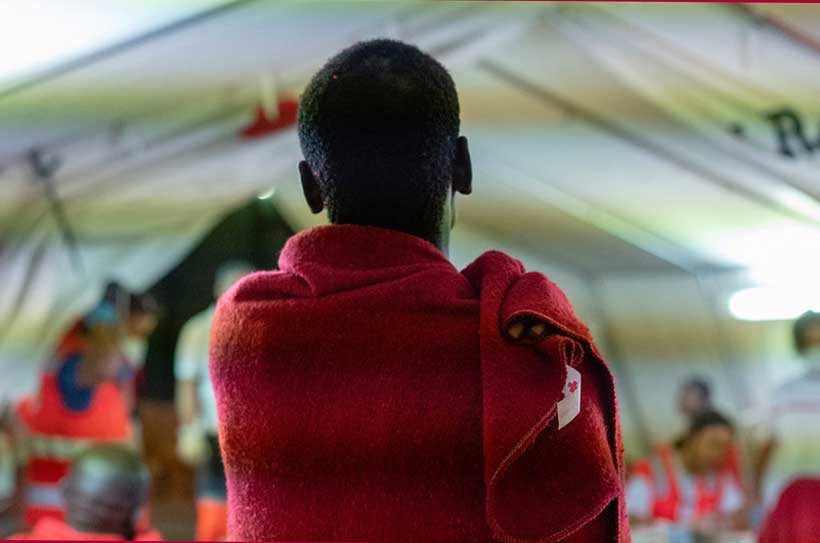 The United Nations refugee agency, UNHCR, stated on Saturday that "no effort should be spared" in saving lives at sea, following reports of two new shipwrecks on the Mediterranean Sea, in which some 170 people either died or went missing.
"The tragedy of the Mediterranean cannot be allowed to continue," said Filippo Grandi, the UN High Commissioner for Refugees.
According to various NGOs, about 53 people died on the Alborán Sea, in the western part of the Mediterranean. One survivor is understood to have been rescued by a passing fishing boat after being stranded for more than 24 hours at sea and is receiving medical treatment in Morocco.
According to UNHCR, Moroccan and Spanish rescue vessels have been searching for the boat and survivors for several days to no avail.
The Italian Navy are also reporting another shipwreck on the central Mediterranean. Three survivors, who were taken for treatment on the island of Lampedusa, reported that another 117 people, currently dead or missing, had boarded the ship with them in Libya.
UNHCR has been unable to independently verify the death tolls for these two shipwrecks, but in 2018, 2,262 people lost their lives attempting to reach Europe via the Mediterranean Sea.
Canada grants asylum for Rahaf Mohammed al-Qunun
Rahaf Mohammed al-Qunun's desperate and ultimately successful bid for asylum in the face of alleged death-threats from her own family, provides a "glimpse into the precarious situation of millions of refugees worldwide" said the UN High Commissioner for Refugees on Friday.
In a statement, the UN Refugee Agency, UNHCR, said Canada had agreed to give asylum to the 18-year-old Saudi national who fled her family in Kuwait before her passport was taken away at the Bangkok airport on Sunday.
She was offered protection by UNHCR, and taken to a place of safety, while her claim was assessed by the UN agency, which decided that her claim was valid. Thai officials blocked Saudi requests for her to be sent back to Kuwait.
The agency welcomed the decision of the Canadian Government to provide international protection and a new home for the Saudi national there as a resettled refugee.
UNCHR chief Filippo Grandi said in his statement that "refugee protection today is often under threat and cannot always be assured, but in this instance international refugee law and overriding values of humanity have prevailed."
UNHCR consistently advocates for the principle of non-refoulment, which states that anyone confirmed, or claiming to be in need of international protection, cannot be returned to a territory where their life or freedom are threatened. This principle is recognized as customary international law and is also enshrined in Thailand's treaty obligations, according to UNHCR, although it is not a party to the 1951 UN Refugee Convention or its 1967 Protocol, defining the status of refugees.
With political sentiment and public attitudes towards refugees having hardened in some countries in recent years, formal resettlement – the mechanism by which Ms al-Qunun has been accepted by Canada – is available only to a fraction of the world's 25.4 million refugees, typically those at greatest risk, many of whom are women.
The case was dealt with on a fast-track 'emergency' basis in light of the urgency of her situation. Ms al-qunun said that she would be killed if sent back home.
International co-operation vital to improve integration of refugees
Countries should increase their co-operation and information sharing to enable them to deal more effectively and quickly with inflows of humanitarian migrants, according to a new OECD report.
Ready to Help? Improving Resilience of Integration Systems for Refugees and other Vulnerable Migrants finds that the increase in the refugee population in OECD countries – from about 2 million in mid-2013 to about 6 million today – has had a highly concentrated impact, in geographical and demographic terms – but also in terms of the type of services placed under pressure.
While recent refugees are expected to increase the working-age population of European countries by 0.3% by the end of 2020, they face higher hurdles than other immigrant groups in integrating into the labour market, due to lower education levels and slow transition to employment. In some countries, the effect of the refugee inflow will be more apparent: in Austria, Greece and Sweden, recent refugees will increase the labour force by 0.5% and in Germany, by 0.8%. In Turkey, Syrian refugees already represent about 3% of the working-age population.
"Integration is as great a challenge if not greater than the challenges linked to initial reception of refugees and other vulnerable migrants," said Ulrik Vestergaard Knudsen, OECD Deputy Secretary-General, launching the report in Paris at the Policy Dialogue on the Integration of Refugees and other Vulnerable Migrants. "Ensuring better integration requires an up-front investment."
Building on the recommendations of the Global Compact on Refugees and OECD work, the report identifies a number of policies to improve integration. These include:
Increasing international co-operation and collaboration. Countries were caught off-guard by the recent humanitarian refugee crisis, without an effective framework for sharing and using information to capture early signals of impending surges in demand, but also without an agreed mechanism for collaboration and mutual aid. Co-ordination with humanitarian, development and peace actors in developing countries hosting refugees – 85% of the world's refugees are in developing countries – is also essential.
Stepping up efforts to help refugees and vulnerable migrants find and stay in work. This includes improving transparency and simplicity in pathways to access the labour market; mainstream employment support; skills recognition; and language support.
Working more closely with a wide variety of stakeholders involved in the integration of migrants, including civil society, the private sector, social partners, and government bodies at the sub-national level. In particular, employers have a key role to play, while coordination of national and local governments is necessary to improve buy-in, especially when people requesting protection are dispersed by central authorities to sub-national regions.
Putting in place a clear long-term integration strategy, including provisions for return to origin countries when warranted.
A crisis plan is also needed to identify partners, channels of communication and responsibilities in the face of large inflows of people seeking protection.
Ready to Help? Improving Resilience of Integration Systems for Refugees and other Vulnerable Migrants addresses 22 key policy questions regarding how OECD countries can be better prepared. It is the result of joint work across different parts of the Organisation and examines recent experience, lays out areas of focus for policy-makers, points to concrete evidence and examples, and summarises the latest research.