Half the population of Yemen at risk of famine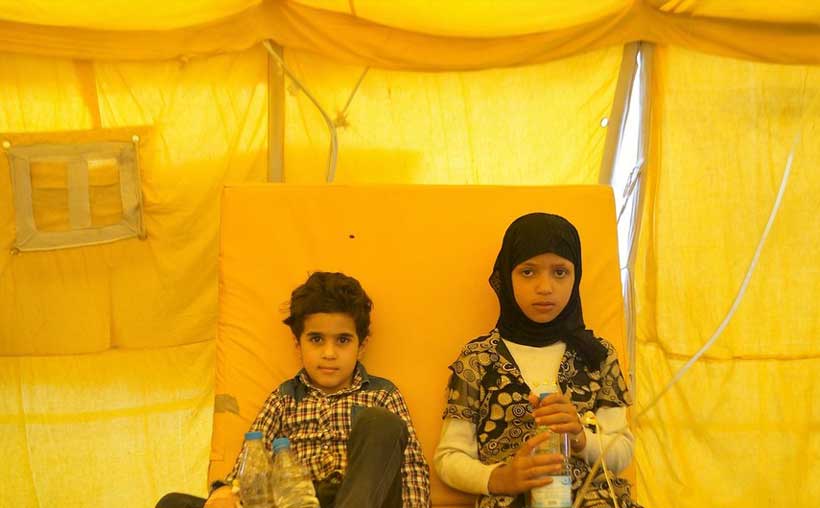 Around 14 million people in Yemen, or half the total population of the country, are facing "pre-famine conditions," said the UN Under-Secretary-General for Humanitarian Affairs, in a briefing to the Security Council on Tuesday.
Mark Lowcock, who is also Emergency Relief Coordinator, said that the UN assessment, which revises September's estimate of 11 million at risk, is based on recent survey work and analysis, and categorizes "pre-famine conditions," as meaning those who are entirely reliant on external aid for survival.
Famines, said Mr. Lowcock, are a rarity in the modern world, and whilst this is a positive sign of progress, it is also what makes the Yemen situation so shocking.
Although it is difficult to confirm how many are dying from starvation, or starvation-related disease, the relief chief said that health workers are pointing to a rising number of deaths linked to food-related factors, with one aid agency estimating at the end of 2017 that 130 children were dying every day from extreme hunger and disease: nearly 50,000 during the course of a year.
However, many deaths are hidden: "Only half of health facilities are functioning, and many Yemenis are too poor to access the ones that are open. Unable to reach care, people often die at home. Very few families report these deaths; their stories go unrecorded."
Mr. Lowcock said the situation in Yemen is now far more serious than in 2017, when warnings of famine led to a dramatic scaling up of the UN coordinated relief effort, because of the large number of people at risk.
Beyond those at risk of famine, the emergency food assistance on which many millions have been reliant for years is only enough to survive, Mr. Lowcock said, adding that their immune systems were literally collapsing, making them – especially children and the elderly – more likely to succumb to malnutrition, cholera and other diseases.
Hudaydah, collapsing economy, exacerbate crisis
The Special Envoy reported little progress on two key issues exacerbating the crisis: fighting around the town of Hudaydah, which is choking aid and commercial operations, and the collapse of the economy.
On the first point, intense fighting, shelling and air strikes have continued to hit Hudaydah in recent days, leading to more than half a million having to leave their homes. Over 5,000 separate violations of international humanitarian law by all parties to the conflict have been recorded since May, including mass civilian casualties.
Humanitarian aid is being severely hampered by delays in issuing visas, restrictions on imports of equipment and cargo and other obstructions, and Mr. Lowcock warned that the relief effort will simply be overwhelmed if the fighting does not cease.
The economic situation is dire, with gross domestic product cut by half since 2015, over 600,000 jobs lost, and more than 80 per cent of the population living below the poverty line. Mr. Lowcock called for an urgent and substantial injection of foreign exchange, and for payments to pensioners and key public sector workers to resume.
Mr Lowcock called for urgent action in five areas: a cessation of hostilities in and around all the infrastructure and facilities on which the aid operation and commercial importers rely, protection of the supply of food and essential goods across the country, a larger and faster injection of foreign exchange into the economy, increased funding and support for the humanitarian operation, and finally for all belligerents to engage fully with the UN to end the conflict.
UN officials fear US terrorist designation will hasten famine in Yemen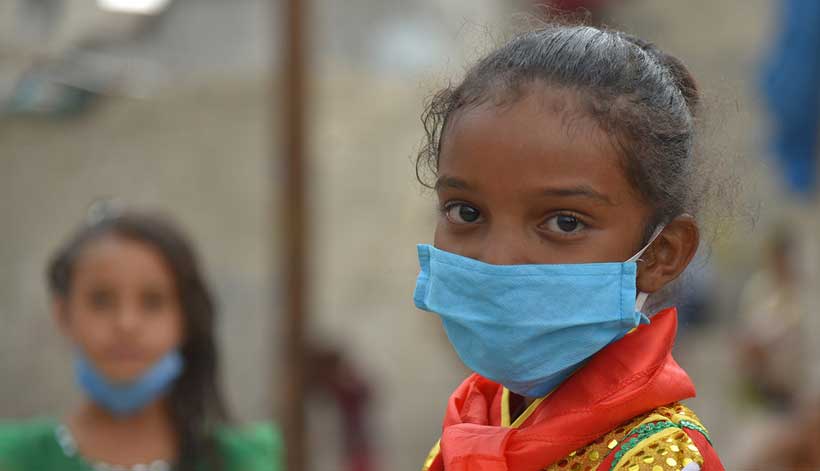 Senior UN officials have expressed concern over the potential impact of the decision by the United States to designate Yemen's Ansar Allah, more commonly known as the Houthi movement, a terrorist group, the Security Council heard on Thursday.
Briefing the online meeting, UN Special Envoy Martin Griffiths said Yemen was going through dark times following a deadly attack last month on its newly-formed Cabinet, and with millions facing potential famine, but emphasized that peace is still possible.
Mr. Griffiths condemned the 30 December attack at the airport in Aden, which targeted the Government officials who had just arrived from Saudi Arabia. Dozens of civilians, aid workers and a journalist were also killed.
"The attack cast a dark shadow over what should have been a moment of hope in the efforts to achieve peace in Yemen. The formation of the Cabinet and its return to Aden was a major milestone for the Riyadh Agreement and for the stability of state institutions, the economy, and the peace process", he said.
"The Government has launched an investigation into the Aden attack and has made its conclusions public earlier today that Ansar Allah was behind the attack."
'Chilling effect' on peace efforts
For more than five years, Yemen has been mired in conflict between the internationally-recognized Government, which is backed by a Saudi-led coalition, and Houthi rebels.
On Sunday, the United States announced it will designate the group a Foreign Terrorist Organization (FTO) under domestic law. Mr. Griffiths expressed serious concern over this prospect.
"We fear in my mission that there will be inevitably a chilling effect on my efforts to bring the parties together. We all hope to have absolute clarity on far-reaching exemptions to be able to carry out our duties", he said.
Yemen remains the world's worst humanitarian crisis. Some 16 million people will go hungry this year, and 50,000 are already essentially starving to death, amid a shortfall in aid. Preventing a massive famine is the most urgent priority, the UN Humanitarian Affairs chief and Emergency Coordinator told ambassadors.
Yemenis stockpiling food
Mark Lowcock called for the FTO designation to be reversed, which Mr. Griffiths also supported, outlining its potential impact on aid relief in a country that overwhelmingly relies on food imports.
He explained that humanitarian agencies provide food vouchers or cash to needy Yemenis so they can shop at markets.
"Aid agencies cannot, they simply cannot, replace the commercial import system," he stressed. "What this means is that what the commercial importers do is the single biggest determinant of life and death in Yemen."
Mr. Lowcock reported that Yemenis are already rushing to markets to stockpile food, while commercial traders fear the designation will affect their operations.
"Some suppliers, banks, insurers and shippers are ringing up their Yemeni partners and saying they now plan to walk away from Yemen altogether", he said. "They say the risks are too high. They fear being accidentally or otherwise caught up in US regulatory action which would put them out of business or into jail."
Although the US plans to introduce licences so that some aid and imports can continue, the relief chief said further details will not be available until 19 January, the day the designation takes force.
Reverse designation, or face catastrophe
The head of the World Food Programme (WFP), David Beasley, gave a blunt assessment of the prospects, putting aside his prepared remarks to speak "heart-to-heart".
"We are struggling now without the designation. With the designation, it's going to be catastrophic. It literally is going to be a death sentence to hundreds of thousands, if not millions, of innocent people in Yemen," he said.
Mr. Beasley, an American, also removed his "UN hat" for a moment, to speak about his engagement with Washington, which allocated $3.75 billion to WFP last year.
"I'm very grateful for that", he said. "But this designation, it needs to be re-assessed, it needs to be re-evaluated, and, quite frankly, it needs to be reversed."
Mr. Beasley added that Yemen is among several countries facing famine, and the COVID-19 pandemic has only exacerbated these crises.
The WFP chief called for Gulf States "to pick up the humanitarian financial tab for this problem in Yemen", and urged the Council and world leaders to apply pressure on the warring parties to end their fighting.
"I can assure you that Mark Lowcock and I will be before you pretty soon talking about other countries," he said. "And if we can't solve this one – this is man-made completely – shame on us."
UNICEF: Closing schools should be 'measure of last resort'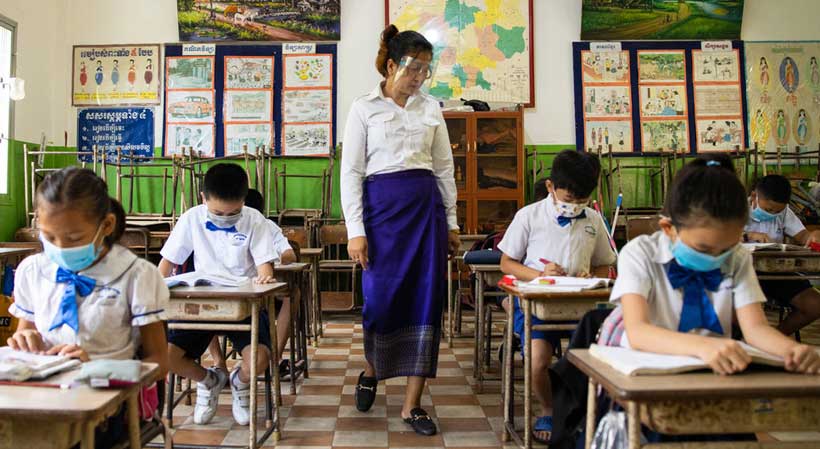 The head of the UN Children's Fund (UNICEF) underscored on Tuesday that "no effort should be spared" to keep children in school, as the coronavirus pandemic continues into a second year.
"Despite overwhelming evidence of the impact of school closures on children, and despite increasing evidence that schools are not drivers of the pandemic, too many countries have opted to keep schools closed, some for nearly a year", Henrietta Fore said in a statement.
A high cost
The UNICEF chief highlighted that the cost of closing schools has been devastating, with 90 per cent of students globally facing shutdowns at the peak of the COVID disruptions last year, leaving more than a third of schoolchildren with no access to remote education.
"The number of out-of-school children is set to increase by 24 million, to a level we have not seen in years and have fought so hard to overcome", she said.
"Children's ability to read, write and do basic math has suffered, and the skills they need to thrive in the 21st century economy have diminished", Ms. Fore added.
Closure a 'last resort'
Keeping children at home puts their health, development, safety and well-being at risk – with the most vulnerable bearing the heaviest brunt, she said.
She pointed out that without school meals, children are "left hungry and their nutrition is worsening"; without daily peer interactions and less mobility, they are "losing physical fitness and showing signs of mental distress"; and without the safety net that school often provides, they are "more vulnerable to abuse, child marriage and child labour".
"That's why closing schools must be a measure of last resort, after all other options have been considered", stressed the top UNICEF official.
Evaluating local transmission
Assessing transmission risks at the local level should be "a key determinant" in decisions on school operations, Ms. Fore said.
She also flagged that nationwide school closures be avoided, whenever possible.
"Where there are high levels of community transmission, where health systems are under extreme pressure and where closing schools is deemed inevitable, safeguarding measures must be put in place", maintained the UNICEF chief.
Moreover, it is important that children who are at risk of violence in their homes, who are reliant upon school meals and whose parents are essential workers, continue their education in classrooms.
After lockdown restrictions are lifted, she said that schools must be among the first to reopen and catch-up classes should be prioritized to keep children who were unable to learn remotely from being left behind.
"If children are faced with another year of school closures, the effects will be felt for generations to come", said Ms. Fore.
Humanitarians seek $1.3 billion to help millions in war-weary Afghanistan
The UN and humanitarian partners in Afghanistan are seeking $1.3 billion to assist almost 16 million people in need of life-saving assistance as a result of decades of conflict, recurrent natural disasters, and the added impact of the continuing COVID-19 pandemic.
The number of people targeted for assistance is over a six-fold increase compared to four years ago, when 2.3 million people were targeted for assistance, according to Stéphane Dujarric, spokesperson for the UN Secretary-General.
The situation of children is particularly worrying.
"It is projected that nearly one in two children under the age of five will face acute malnutrition this year," Mr. Dujarric said on Monday.
Hunger is "soaring" as people have lost their livelihoods, he added, noting that in 2021, nearly half of Afghanistan's population will need humanitarian assistance to survive.
People 'increasingly desperate'
According to the UN Office for Coordination of Humanitarian Affairs (OCHA), across Afghanistan, about 18.4 million people are in need of assistance, a number that rose sharply last year with the outbreak of the coronavirus pandemic.
"While enduringly resilient, people are increasingly desperate, resorting to debt and other more dangerous coping mechanisms to survive including marrying off their young daughters and sending their children to work," Parvathy Ramaswami, Humanitarian Coordinator a.i. for Afghanistan, said in the foreword to a humanitarian response plan.
The survival of the 15.7 million most vulnerable depends on humanitarians operating there receiving sufficient financial resources to deliver a response, she noted, adding that "the consequences of late or inadequate funding are very real."
The outlook for 2021 has worsened further due to significant unmet needs last year due to funding shortfalls and the acute focus on COVID-19, as well as the slow rollout of complementary development assistance, the response plan noted.
'Exhausted and hungry for peace'
Ms. Ramaswami went on to note that in spite of the bleak situation, there is "still cause for hope" with the start of the intra-Afghan negotiations.
"After enduring decades of war, people are mentally exhausted and hungry for peace, yearning for an end to civilian deaths and suffering."
She also highlighted the need for a permanent ceasefire or a persistent reduction in violence, to allow humanitarians to assess the situation, especially in the hard to reach areas.
"Until this much hoped for peace becomes a reality, the humanitarian community stands beside the people of Afghanistan during what surely must be one of the country's difficult periods," the UN official added, stressing "we all must do more, stretch higher, and do better to deliver life-saving assistance to those who need it most."