Time to Reset Foreign Relations between South African and South Asian Countries
Southern African and South Asian countries have realized that one of the most important means of achieving greater economic independence is through regional integration of economies. Fostering economic diplomacy between the eight member nation South Asian Association for Regional Cooperation (SAARC) and  fifteen member nation  Southern African Development Community (SADC)     is  one of  the key   foreign  policy  objectives  both  regional blocs can work together at least in the  next decade .  South Africa and India can thus exercise quite a influential foreign policy focus in linking these two regions from the government's side the basic questions revolve around the effectiveness of its current strategies. Whatever the nature and scope of Southern African and South Asian economic difficulties and whatever the degree of success may be expected in coping with them, certain factors stand out. The fact that South Asian Association for Regional Cooperation (SAARC ) has articulated   a common  economic policy objective is a step towards  more effective  regional  and continental  interaction First and foremost, the Southern African   region is a rich mixture of 15 sovereign nations.
South Asia accounts to be one of the largest consumer markets with over 1.5 billion people living in eight nations covering a wide range of  products in the  eight member nation South Asian Association for Regional Cooperation (SAARC)   regional bloc. Like South Africa is now a model for other African nations, similarly. India has helped South  Asian  nations  to turn  their  attention  in ward to the African and  Asian continent. South Africa's strategic   position at the Southern end of Africa makes it unique, overlooking the route around cape to the Far East and thus adjacent to one of the world's busiest trade routes, especially for   oil trade. This  is also the case with  its almost un-parelled mineral wealth  and advanced  industrial commercial  and financial economy  which has tremendous American and European vested interests .  Although    South Africa   is generally   regarded   as an industrialised state its modern sector   remains   limited. South Africa's position has further strengthened with Southern African Development Community (SADC), which is the formation of 15 member nations. In that context the   Intra-regional trade among the SAARC countries, namely India, Pakistan, Sri Lanka, Bangladesh, Afghanistan, Nepal, Bhutan and the Maldives is about 5 percent and is  far below  its potential.
For this reason, the SARRC has taken a more neutral approach in its regional initiatives and the national interests and policies have influenced the external policies of the member states. Therefore, the responsibility of SAARC regional grouping is to facilitate a conducive political environment among member nations to deepen trade ties with key economic partners. Since the member states launched its Agreement on South Asian Free Trade (SAFTA) in 2006 the region has witnessed many dramatic changes in trade and economic cooperation at various levels. The road map for implementation of SAFTA was both politically and economically ill adopted to fully operate within member states   and scholars were beginning to question some fundamental aspects of the regional trade agreement framework.   The fact that the SAARC has articulated common economic policy objectives is a step towards more effective regional continental integration.
Over the past few years India's foreign policy initiatives have strengthened its focus on   Southern Africa's geopolitics. The other Fifteen South African countries, particularly South Africa, have been one of the top priorities of India. In the past four years, bilateral trade between India and South Africa   has crossed the  USD 10 billion. This has had a direct impact on the domestic markets of Southern Africa and South Asia.The African countries have been able to use this window of opportunity in their favour due to South Africa's leading role in the continent. South Africa has had a strong interest in maintaining a more stable balance of power within the continent. The underlying fact of transformation was due to the solid political and economic achievements that the nation underwent. South Africa has maintained good relations with the Indian Ocean Rim Association (IORA), South African Development Cooperation (SADC), and Brazil Russia India China and South Africa (BRICS) member states on a number of key issues. The integration agenda of SADC has also been strengthened through the Regional Indicative Strategic Development Plan which is a comprehensive 15-year strategic roadmap. This plan not only boosts regional economic integration but also leads to the addressing of the socio-economic issues in this region. South Africa, as chair, provides policy direction and suitable programmes to the other member states of SADC with the aim of boosting regional trade, creating jobs and enhancing skills among the member states.
South Asia offers unique travel   products that cannot be found anywhere else in the world. When travelling to India, Sri Lanka or the Maldives it is important    to find trusted high quality travel agents that provide personalized services to the clients visiting these countries among the newly emerging markets. Since India's economy is growing swiftly, with around 300 million middle class, the tourism sector of South Africa is seeing improved prospects with an increasing number of Indian tourists. India still continues to be as one of the  top tourist spot for South Africans with about 60,000 South Africans visiting India in 2017. South Africa is popular among Indian travelers. South Africa has enjoyed double-digit growth from the Indian market for the last five years with the numbers increasing substantially each year. Port and shipping are other areas, which benefit both nations mutually. Durban, Colombo and Mumbai have some of the busiest handling ports in Asia. Hence, a surge in the Indian and South African economy will lead to an increase in the volume of cargo cash transactions and services related to it between these regions thereby creating more jobs for the locals and expatriates of these countries.
In the sphere of transportation, vehicles imported from India are comparatively more affordable for African middle class consumers than importing them from elsewhere. Ashok Leyland, Tata and Mahindra vehicles are widely used in Sri Lanka, especially in rural areas. Setting up vehicle assembly plants in Africa or joint venture enterprises could further reduce the cost of the vehicles. Over the past few years, Indian and Sri Lankan companies have established various business ventures together to promote prosperity and to create sustainability. Indians have set up factories in Southern Africa, providing jobs in both countries. Change by nature comes from the past as well as moving towards the future.   Never the less many countries of South Africa know that they must begin to make sacrifices now for their long run survival.  Different    analysts    have interpreted    the two regions development in different ways.  Numerous countries in South Asia and in Southern Africa have grappled with economic dilemmas of how best to deal with debts left behind by previous governments. One of the most visible and most powerful trends in Southern Africa and South Asia today is the thriving Small and Medium Businesses.
As these two regions    look to the future of these member nations .It is clear that everything depends on how thoroughly the Southern African and the South Asian nations learn from the mistakes. This is a daunting task but the SADC and  SAARC  nations  must find satisfactory solutions. They must establish a mutually beneficial relationship between the two sovereign partners or continents.  This will go a long way in opening up the doors of a bright new future for South African and South Asian nations. The crucial question is how to secure such integration.  SAARC and SADC   nations have a powerful  influence on the way forward.  India    and South Africa might   take on   the future   architecture   of SAARC and SADC   in the wake of an free trade agreements (FTAs) . India or South Africa   is thus    an unlikely   saviour   of   regional   Free   trade. The South Asian Free Trade Area (SAFTA) is a crucial   entry point for   Southern African   nations into economically   dynamic    area of the world    that has   been integrating   among them. .There is this further question of India's   influence in SAARC itself?  SAARC and the South African Development Cooperation (SADC), nations have a powerful influence on the way forward. It is clear from these discussions that there is consensus among   the main players here on the need to pin down trade and cooperation. Being among the closest   prosperous economies, it is time for South Asian and South African policy makers to think beyond and make trade transactions smoother and more business friendly for both these regions.
Sirimavo of Sri Lanka: Refocusing on World's first Women Prime Minister
Authors: Srimal Fernando and Pooja Singh*
In 1970s, there was a time when Sirimavo Bandaranaike caught the global attention and her premiership was one of the most momentous times in Sri Lanka's political history. On 21 July, 1960, she became the first ever woman Prime Minister of Sri Lanka (formally known as Ceylon) and the world. Even today nearly half a century later, Sirimavo's name is remembered among the thousands of Sri Lankans and among the Sri Lanka Freedom Party (SLFP) supporters. Thus the Sri Lankan voters expectations about Sirimavo rose within no time after the unfortunate assassination of her husband S.W.R.D. Bandaranaike in 1959.
In the summer of 1970, the Sri Lanka Freedom Party (SLFP) , the Lanka Sama Samaja Party (LSSP) and also the Communist Party (CP) was sweeping electorates in a general election by winning 115 seats out of 151. In essence, Sirimavo's administration presented far-reaching constitutional and socio-economic reforms that were suitable for a small island nation.  In fact Mrs. Bandaranaike handled the transfer of island nation becoming a republic under a new constitution tactfully. In this context, Dr. N.M. Perera, Felix Dias Bandaranaike, Philip Gunawardena was some of the primary shapers of her administration. At that time, unlike her predecessors, the former premier showed great interest in developing cement, paper, steel and chemical industries. Despite promising signs under her leadership, uneven inequalities from 1948 to 1970 and economic stagnation created tensions within rural masses. Surprisingly, a coup in 1971 by the southern insurgents headed by Rohana Wijeweera, the leader of the Janatha Vimukthi Peramuna (JVP) shattered the hopes of Bandaranaike government for a short time. Although coup was unsuccessful because of Sri Lanka's military support to premier's rule.
It is noteworthy to mention Sirimavo era solidified Sri Lanka's foreign policy in the coming decades, which set the stage for the island to increase bilateral ties with India and China. In fact, Indian Prime Minister Indira Gandhi was a trustworthy friend of Mrs. Bandaranaike. This period also saw the closest bilateral relations between the neighbouring countries. Especially, Mrs. Bandaranaike was a giant among Non-Alignment leaders. In the summer of 1976 at the fifth Non Aligned Movement (NAM) summit held at the Bandaranaike Memorial International Conference Hall(BMICH) in Colombo, Mrs. Bandaranaike stated, "The non-aligned countries should fight against injustice, intolerance, inequality, old concept of empire and intervention."
On the domestic political scenario, the opposition leader J.R. Jayewardene and his deputy Ranasinghe Premadasa had been outspoken critics of Sirimavo Bandaranaike policies. When she lost 1977 general elections, it was extremely a difficult situation for Mrs. Bandaranaike and for the Sri Lanka Freedom Party (SLFP) coalition partners who had developed a remarkable sense for socialist political culture within the multicultural society in  Sri Lanka. Seven years later Mrs. Bandaranaike had lost her civic rights, the party hierarchy nominated veteran SLFP stalwart Hector Kobbekaduwa for the forthcoming referendum. The Referendum results did not reflect the true situation. Then while the    atmosphere began to change in the island country after the eruption of ethnic conflict and signing of the Indo-Lanka accord. This scenario caused strong anti-United National Party (UNP) regime change feeling.  In a closely fought presidential election in 1988, the SLFP leader Mrs. Bandaranaike lost to UNP presidential candidate Mr. Premadasa. There were no immediate solutions to the crisis in Sri Lanka under Premadasa's presidency.  Hence  in  the South, due to the JVP uprising and the Tamil tiger (LTTE) attacks in Northern and Eastern provinces, conditions inside the Island nation was going from bad to worse.
At the same time, the crisis in the Sri Lanka Freedom Party (SLFP)  came to surface and the party was divided into several wings.  Thus, the time had come for SLFP party unity for doing away with the seventeen years United National Party (UNP) rule. Mrs. Bandaranaike was convinced that it was time for a new generation of party leadership. She opened the corridors of political power to Chandrika Bandaranaike Kumaratunga, Mahinda Rajapaksa, and Maithripala Sirisena who later became presidents of Sri Lanka. In late years, Mrs. Bandaranaike was a prime minister for a short time from when her daughter Mrs. Kumaratunga was president. On the Foreign Policy front she reworked strong bilateral ties with India and China and her policies remained important for Non Aligned Movement (NAM) nations and for India  and China ties with Sri Lanka. After more than fifty years of service to the Sri Lanka Freedom Party (SLFP), to the nation many of the Sri Lankan's were finding it hard to come to terms with Sirimavo's sudden death on 10th October, 2000.Late premier Sirimavo Bandaranaike's pragmatic policies mattered very much for the South Asian island nation, the region and to the world at large.
* Pooja Singh, a scholar of Masters in Diplomacy, Law, Business at Jindal School of International Affairs, India.
Indian Human Rights violation in Kashmir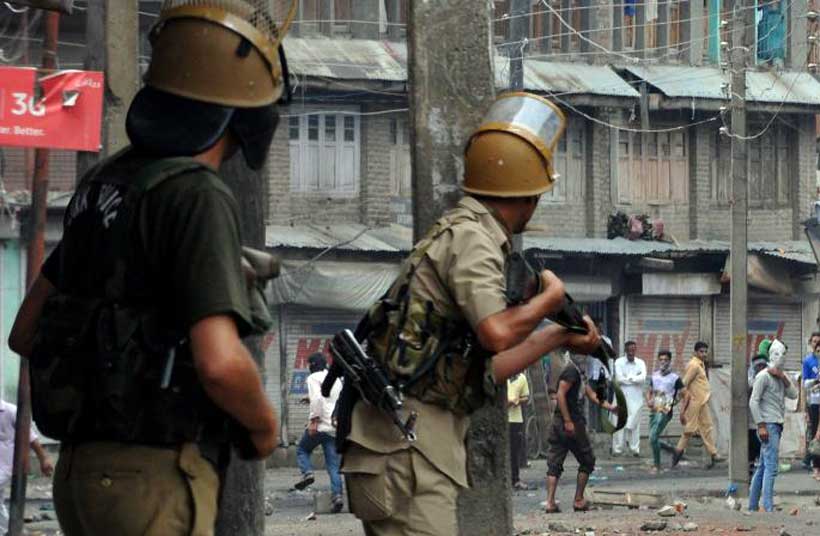 In International conflict management, the models and approaches to solve the deep-rooted issue are vital and applicable but these models became fragile if any one of the belligerent states lacks the intent to solve any tangible solution. India rigid stance of avoiding any Peace Talks on Kashmir issue is the main irritant between rivalries which derails the conflict resolution. It is far important for rivalries to elucidate the dispute to move ahead.  Because it is ultimate truth that all the conflict and crises have an alternate way of tenacity.
In South Asian framework, Indian strategic ambitions are the main stumbling block in the way of Kashmir Resolution. While in the Global framework, major powers like Russia and USA military and then ideological interests compels states not to play any significant role for the resolution of Kashmir conflict.
Kashmiri Freedom Movement started from 1931 and still in 2018 it is constantly being exploited in the hands of Indian aggressive leaders. From 87 years, Indian barbarism is not a top-secret. Indian wanted to sideline and suppress the Kashmir issue in the prism of their national interests but the issue will remain alive with determined efforts of the Kashmiri and Pakistani people, human right activists, political and military leaders. The issue of Jammu and Kashmir must be resolved as per aspirations of Kashmiris.
Pakistanis and Kashmiris across the world chronicled their protest against Indian brutality and illegitimate occupation in Kashmir. Struggle for freedom of Kashmiri people will one day succeed by the grace of Almighty Allah.  Each day is like a black day until the resolution of Jammu and Kashmir with the consent of Kashmiri people.
There are many pragmatic choices for the resolution of Kashmir issue but the real dilemma is that India is not ready to come on Table for Peace talks due to their hegemonic ambitions. Recent Talks at UNGA 73rd session was also negated by Indian. As a rational nuclear state, they should realize that Kashmir is a nuclear flashpoint. Both the nuclear states should talk constructively and negotiations are the only way forward in which mutual national interests must be considered.
In 1948, it was India who went to United Nations and then it was decided unanimously a plebiscite in Kashmir. It is the right of every Kashmiri to decide his destiny indigenously. As there are no law enforcement agencies of international organizations to implement its resolution but the role of P-5 states can facilitate for resolution. Till now no such role is played by them but the importance of UN forum cannot be negated as states like Pakistan can raise their voices at international level against Human Rights violations.
The Indian occupational forces under the cover of Armed Forces Special Protection Act (AFSPA) and other black laws frequently involve in religious cleansing of Muslims. After the martyrdom of Burhan Wani in 2016 Indian forces started using most dangerous weapons of pellet firing shotgun. Where are Human Rights Law against the killing of innocent Kashmiris? The lives of Kashmiris are as important the people killed in 9/11, London attacks, in Mumbai attack or a single Indian soldier. The US fought the war on terror and still engage in most complex war but What about Terror of India in Kashmir. Kashmir needs not to be forgotten at all. US Secretary of State Michael Pompeo asked Pakistan to abandon terrorist attacks into India but from Where Kashmiri demand Freedom. The US needs to let her interest go, at least for once, to settle the Kashmir issue. For Pakistan, it is not just a matter of territorial importance but relates to the lives of Kashmiri people who are suffering at the hands of India's state terrorism.
Modi government is supporting to have Direct Talks with the Taliban, but when it is about Kashmir, they became silent. There is a dire need for the Indian government to review their mindless Kashmir policy. Kashmiri people must be given the right of plebiscite to decide them their destiny. Pakistan's foreign policy is on right direction that the tools of diplomacy need to be improved for better results and peace process is the only way forward.
13th G-20 Summit: India's Diplomacy Finest Hour
The week leading up to the 13th G-20 Summit 2018 was one filled with chaos for the world's mightiest economic and military superpowers. Great Britain was at loggerheads with the rest of EU and with its own Parliament over the Brexit deal. France was on the boil with protests over rising fuel and commodity prices. The United States of America and China had locked horns on who would cede ground in the ongoing trade war. Russia was again caught in conflict with Ukraine. Germany was in a fix on whether or not to impose sanctions on Russia over the Kerch Strait incident. Finally, Saudi Arabia was entering the summit knowing it would face diplomatic isolation over the ongoing yet to settle incident brutal murder of journalist Jamal Kashoggi.
At the summit, there was no success between the abovementioned countries to break the palpable tensions amongst them. The only diplomatic breakthrough and yet not a success was drawn between China and the United States wherein they decided to halt the tariff war for now. However, there no details are out on this halt and the devil is the details which is yet to be revealed. On the bilateral front, POTUS Trump did not meet Crown Prince MBS of Saudi Arabia or with Vladimir Putin.
While the above two paragraphs seem to portray a gloomy summit, one country made diplomatic strides in balancing and holding all the powers present at Buenos Aires together and achieved in bringing forth a very progressive Buenos Aires G-20 Leaders' Declaration. I'm referring to the Republic of India. In a matter of 48 hours at the summit, under the stewardship of Prime Minister Narendra Damodardas Modi, India left a significant foot print. India was able to hold bilateral and trilateral meetings with very contrasting and contradicting groups without either of the groups gaining more prominence over the other.
India held the first ever Japan-America-India (JAI) trilateral meeting. The meeting of the three democracies discussed their converging interests to ensure security and stability in the Indo-Pacific region. Despite being a part of this group, India has made it clear that it sees Indo-Pacific as a geographic and not a strategic construct. While James Mattis proclaimed recently that the Indo-Pacific for the United States is from Hollywood to Bollywood, Mr. Modi long before this meeting had stated that for India, it stretches all the way from the East African Coast to the Western Coast of America. India stands by this firm position in order to maintain a friendly relationship with China which it has rebuilt since the Doklam stand off last year. India has now held 4 bilateral meetings between Xi Jinping and Modi. Even the Chinese side has acknowledged that there has been perceptible improvement in the Indo-China relations post the informal Wuhan summit between the two leaders. The JAI meeting can be termed as a victory for India as it did not receive any negative press from the prominent Chinese press.
Also, there was no signs of the QUAD group holding any meeting despite Australia's presence at the meeting because China has always viewed this group suspiciously and believes that this groups interest is to contain them. India showed respect to China by not bringing this group together at Buenos Aires.
Next, India participated in the RIC meeting with Russia and China. This was the 2nd time that this group met in 12 years. This showed the seamless balance India has achieved in interacting with America in JAI and the Eurasian giants in the RIC meeting. Modi comfortably raised the issues of rising volatility in fuel prices in this meeting without any derailing voices it usually faces from Pakistan in the SCO meetings where theses three countries usually meet on such issues. The RIC meeting was necessary because unlike at JAI, over here Modi was able to highlight the necessity to reform multilateral institutions which have been unable to meet the expectations of the international community.
There was a BRICS meeting held on the sidelines of the summit too which was attended by heads of the four governments. They exchanged views on continued terrorist attacks and urged all nations to take a comprehensive approach on tackling terrorism including all the elements identified in the Johannesburg Declaration.
The G-20 declaration echoed a lot of pressing issues that were reiterated by Mr. Modi throughout the two days at various fora. His points on tackling international economic offenders; countering terrorism; tackling climate change; reformation of multilateral institutions; benefits of digitization; need for technological innovation in finance; sustainable food future; gender empowerment found its way in some form or the other into the declaration.
The Indian Diplomacy was at one of its finest hours and also its high points that it has never exhibited so far. In a matter of those 2 days, India showed that it has gained global salience. Whether it is the world's most advanced democracies; world's most progressive economies or world's most powerful militaries—everyone today wants great relations with India. Modi was able to show that NAM is a relic in the Indian diplomatic archives and that we are able to work in contradicting and contrasting groups and yet maintain seamless balance in achieving our strategic interests and promote peaceful relations with all nations alike.
India is now gearing up for the G-20 summit in 2022 which it will host in the 75th year of its independence. India owes its gratitude to Italy which has forfeited its opportunity to host in 2022. Mr. Modi has sounded the bugle that we will be a New India in 2022. Although India may not have the indigenous military prowess or economic dominance like China or the United States, it has always used the good will it has achieved through its soft power to bring the world together. Mr. Modi and his diplomatic entourage deserve a salute for keeping this G-20 summit together.