Regional Cooperation Can Help Asia Tackle Rising Cross-Border Challenges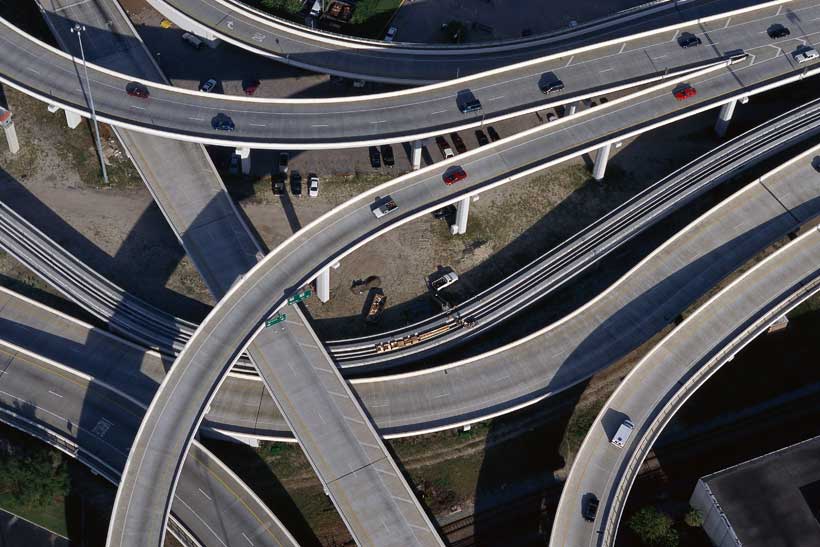 Regional cooperation is increasingly necessary to tackle a rising number of cross-border challenges in Asia and the Pacific, including infrastructure gaps, trade connectivity, financial contagion, and climate and disaster-resilience, according to a new report from the Asian Development Bank (ADB).
The Asian Economic Integration Report 2018 (AEIR) says collective action to build regional public goods brings greater benefits than if countries work alone to address issues that also affect their neighbors. Regional public goods are goods, services, and systems of policies or rules that have shared benefits across countries, such as cross-border infrastructure, communicable disease control, and disaster risk management.
"Enhanced regional cooperation and coordination can help countries manage regional issues, particularly if they complement national and global actions," said ADB Chief Economist Mr. Yasuyuki Sawada. "Multilateral development banks can help increase regional public goods by reducing knowledge and financing gaps as well as promoting regular policy dialogue for long-term cooperation among countries."
The report points to several efforts in Asia to establish and strengthen regional public goods. For example, the 2014 pledge by 18 Asian leaders to eliminate malaria by 2030 has spurred countries to work together to achieve the goal to the benefit of the entire region. ADB's Greater Mekong Subregion Health Security Project to help control communicable diseases in the Mekong region border areas is part of such efforts. Trade facilitation programs between countries in the Central Asia Regional Economic Cooperation region have boosted intraregional trade, supporting economic growth.
Asia's intraregional trade—measured by value—rose to 57.8% of its total global trade in 2017 from 57.2% in 2016. The recovery in regional trade can be attributed to the expansion of global value chains after a slowdown since 2012. Intraregional foreign direct investment also increased slightly to $260.0 billion in 2017 from $254.7 billion in 2016.
Growing trade and investment linkages in Asia and the Pacific can be a buffer for the region against uncertainties in the global economy, the report says. However, it warns that uncertainty about trade policy could dampen the recovery in regional and global trade and damage consumer sentiment and business confidence in capital spending and investment.
The report notes that regional integration in Asia and the Pacific, as measured by ADB's Asia-Pacific Regional Cooperation and Integration Index, or ARCII, increased modestly from 0.525 in 2015 to 0.530 in 2016, with a positive impact on economic growth and poverty reduction. The index incorporates six sub-indexes that measure trade and investment, money and finance, the regional value chain, infrastructure and connectivity, movement of people, and institutional and social integration.
Iceland's slowdown underlines the need to fix structural issues
Sound macroeconomic policies and favourable external conditions have enabled Iceland's economy to emerge stronger from a decade of post-crisis management. Yet the impact on growth from a drop in tourist arrivals and seafood exports underlines the need for reforms to open up and diversify the economy and improve its resiliency to sectoral shocks, according to the latest OECD Economic Survey of Iceland.
The Survey, presented in Reykjavik by OECD Secretary-General Angel Gurría alongside Finance Minister Bjarni Benediktsson and Minister of Education, Science and Culture Lilja Dogg Alfredsdottir, takes stock of Iceland's progress on improving fiscal and monetary policy, reducing debt and building up financial buffers. Today Iceland enjoys sustainable public finances, high employment and one of the lowest levels of income inequality of OECD countries.
A lack of structural reform has left Iceland heavily dependent on volatile sectors however. Tourism ballooned over the past decade, overtaking aluminium and fishing to account for 40% of export income and 10% of GDP, but has stalled since the insolvency of a low-cost Icelandic airline. Seafood exports are also down. After several years above 3%, the OECD projects Iceland's GDP growth will drop to 0.2% in 2019 before rebounding to 2.2% in 2020.
"Iceland's resurgence since the financial crisis to reach some of the highest living standards of OECD countries has been remarkable. It is a beautiful example of how a robust economy can co-exist with an egalitarian society," said Mr Gurría. "However this slowdown shows that now is the time to go structural and to further open up the economy. Iceland should focus on reducing regulatory red tape and restrictions on foreign investment."
Among Iceland's structural challenges, competitiveness is declining as wages rise faster than productivity. The competitive edge gained after the 2008 crisis has vanished. Foreign direct investment is low, due in part to a high regulatory burden.
The Survey recommends reducing over-regulation, especially in services and for foreign investment, where restrictions are among the highest in the OECD, and lightening the administrative burden for start-ups. Iceland is already working with the OECD to improve its competition policy. Wage settlements across the economy should be in line with productivity growth, and fiscal prudence should be exercised through the current slowdown in order to further reduce the public debt.
In the tourism sector, the Survey suggests considering measures to improve sustainability given that – whether the downturn proves to be temporary or longer lasting – Iceland is already at six foreign tourists a year for each resident and may already have reached a point where the negative social and environmental impacts exceed the economic benefits.
On public finances, the Survey notes that the contribution of public spending to growth has declined since the 2008 crisis. It recommends extending spending reviews to core policy areas like education and health care, and applying more rigorous cost-benefit analysis to spending plans as two ways to improve the effectiveness of public investment.
The Survey also discusses the need to address a decline in high-school student performance and better match adult skills to the labour market. Iceland has a highly equitable education system and a large share of its workforce educated to tertiary level, but it could increase vocational training and make the education system more responsive to the labour market to avoid having people overqualified or possessing the wrong skills for jobs.
Agricultural Innovation & Technology Hold Key to Poverty Reduction in Developing Countries
Developing countries need to dramatically increase agricultural innovation and the use of technology by farmers, to eliminate poverty, meet the rising demand for food, and cope with the adverse effects of climate change, says a new World Bank report released today.
The relative stagnation in agricultural productivity in recent decades, particularly in South Asia and Africa where the vast majority of the poor live, underscores the need for new ideas to improve rural livelihoods. Renewed investment to increase new knowledge and ensure its adoption can help harness the large potential gains to be made in agricultural productivity and, hence, income, says the Harvesting Prosperity: Technology and Productivity Growth in Agriculture report.
It notes that nearly 80 percent of the world's extreme poor live in rural areas, with most relying on farming for their livelihood. Poverty reduction efforts, thus, need an intensive focus on raising agricultural productivity, which has the largest impact of any sector on poverty reduction, roughly twice that of manufacturing.
"Boosting productivity in the agriculture sector can lead to more and better jobs while enabling more people to move off-farm to cities to pursue other opportunities. This requires comprehensive reform of domestic agricultural innovation systems, more effective public spending and the cultivation of inclusive agricultural value chains with an increased role for the private sector," said World Bank Group Vice President for Equitable Growth, Finance and Institutions, Ceyla Pazarbasioglu. "New technologies are improving access to and costs of information, finance and insurance in all sectors, including agriculture. This can help raise the productivity of low skilled farmers, but only with the right incentives and capabilities to develop and scale these technologies," she added.
The report examines the drivers and constraints to agricultural productivity and provides pragmatic policy advice. It notes that while in East Asia, crop yields have increased six-fold in the past four decades, contributing to the dramatic reduction in poverty in China and other East Asian countries, it has only doubled in Sub-Saharan Africa and parts of South Asia, with corresponding disappointing reductions in poverty.
In addition, climate change, together with a deteriorating natural resource base, will hit agriculture hard, impacting the poor and vulnerable, precisely in Africa and South Asia.
The key driver for increasing agricultural productivity and rising incomes is the adoption of innovative technologies and practices by farmers. This will enable farmers to raise yields, manage inputs more efficiently, adopt new crops and production systems, improve the quality of their products, conserve natural resources, and adapt to climate challenges.
However, the world is facing a widening research and development (R&D) spending gap, even as government funding for agriculture is reaching new heights. In developed countries, investment in agricultural R&D was equivalent to 3.25 percent of agricultural GDP in 2011, compared with 0.52 percent in developing counties. Among the latter group, Brazil and China invested relatively high amounts into agricultural R&D, while Africa and South Asia had the lowest spending relative to agricultural GDP. In fact, in half of African countries, R&D spending is actually declining.
Governments need to consider both public and private research and technology transfer in strengthening their overall innovation system. Repurposing the current public support for agriculture offers a significant opportunity to revitalize public agricultural research systems, invest in agricultural higher education, and create the enabling conditions to leverage private sector R&D. The private sector, in turn, can stimulate more rapid access to new technologies for farmers. In developed countries, private companies contribute about half the total R&D spending targeting the needs of farmers, and as much as one-quarter in large emerging economies, such as China, India, and Brazil. Policy tools to encourage more private R&D in agriculture include reducing restrictions on market participation, encouraging competition, removing onerous regulations, and strengthening intellectual property rights.
"Agriculture in Africa and South Asia faces an innovation paradox. While the economic returns to and growth effects of R&D and knowledge diffusion are documented to be very high, research spending is decreasing in critical areas of the world and local universities and think tanks are not keeping up. Policy makers in developing countries need to give careful attention to reversing these trends and improving the broader enabling environment to encourage private sector contribution as well," said World Bank Chief Economist for Equitable Growth, Finance and Institutions, William Maloney, who is the lead author of the report.
While new communication technologies make improving access to information, finance and insurance more feasible than before, small farmers face major barriers to adopting the new technologies that such research efforts yield.
"Poor information about new technologies, absence of insurance and capital markets, high market transaction costs, land tenure insecurities and lack of transportation infrastructure are inhibiting adoption and diffusion of new technologies among farmers. Together with increased R&D spending, sustained efforts are needed to remove these barriers," said World Bank Global Director for Agriculture and Food, Martien Van Nieuwkoop.
Harvesting Prosperity: Technology and Productivity in Agriculture is the fourth volume in the World Bank's Productivity Project series, which examines the 'productivity paradox' of a persistent slowdown in productivity growth despite technological advancements. To access Harvesting Prosperity: Technology and Productivity in Agriculture report and related products:
Digital Technologies Can Facilitate Access to Trade Finance in Asia-Pacific Region
Financial technologies, such as blockchain and artificial intelligence, can enhance the efficiency and availability of trade finance, especially for small and medium-sized enterprises (SMEs) in the Asia and Pacific region, according to a report launched today by the Asian Development Bank (ADB) and the United Nations Economic and Social Commission for Asia and the Pacific (ESCAP).
The Asia-Pacific Trade Facilitation Report 2019, highlights the need to address the largely unmet demand for trade finance globally, estimated at $1.5 trillion, of which 40% is from the region. SMEs are the most affected as they tend to have higher rejection rates for trade finance applications, compared with larger firms. SMEs account for 45% of rejected trade finance transactions as their applications tend to incur relatively high costs for banks to comply with anti-money laundering and know-your-customer requirements. Low credit ratings of counterparty banks and companies are other barriers restricting access to trade finance.
"There is an enormous untapped potential in the rapidly evolving digital technologies. Emerging new technologies can help address long-standing issues of high transaction and processing costs, while mitigating the huge trade finance gap," ADB Vice-President for Knowledge Management and Sustainable Development Mr. Bambang Susantono said at the report launch during the Asia-Pacific Trade Facilitation Forum in New Delhi.
Technologies can help cut costs, eliminate manual documentation, and enable accumulated digital information on SME profiles for lenders to assess risks. E-commerce platforms and cloud-based invoicing can allow direct transactions between buyers and sellers, and blockchain technology and artificial intelligence can facilitate due diligence and payments for SMEs. These technologies offer solutions to improve efficiencies at various stages of international trade.
The report notes the digitalization process is far from complete. Challenges include the high cost of adopting some new technologies and the lack of international rules and standards covering digital trade. Fragmented digital technologies also make it difficult for all parties to be compatible and interoperable. Blockchain technology is not free of risks related to incorrect information input, cyber security, and operations.
The report supports three initiatives that can enable widespread technology adoption: Digital Standards for Trade initiative to develop trade ecosystem standards; Global Legal Entity Identifier system to issue unique identifiers for both large and small firms at low cost and help enhance transparency; and model laws on electronic transferable records, electronic commerce, and e-signatures under a UN system to help countries implement legislation in a concerted fashion towards digital trade.
It also calls for governments to collaborate with private sector and other partners to expand technology adoption to enable cross-border trade financing. It highlights the importance of reducing the knowledge gap by improving awareness of trade finance products as well as building more databases to help SMEs tap trade finance.
The report features the findings of a global survey by ESCAP on digital and sustainable trade facilitation that tracks the implementation progress on various trade facilitation measures related to the World Trade Organization's Trade Facilitation Agreement and ESCAP's UN treaty on enabling paperless trade in Asia and the Pacific. Very few countries have customized trade facilitation measures to support SMEs and women, with implementation rates of 36% and 23%, respectively.
"Cross-border trade digitalization will help all firms in the Asia-Pacific region, particularly SMEs, which are the most vulnerable to trade uncertainty. It could cut trade costs by 16%, but this will be difficult to achieve without closer regional cooperation," said UN Under-Secretary-General and Executive Secretary of ESCAP Ms. Armida Salsiah Alisjahbana.