Finland shows how bioenergy and nuclear can drive the energy transition
Thanks to the strong role of nuclear, hydro and bioenergy – which alone accounts for 29% of energy supply – Finland has one of the lowest share of fossil fuels in total energy supply among IEA member countries. Yet in its latest review of energy policies in Finland, the IEA finds that the government will nonetheless need to focus on cost-effective measures to achieve its ambitious climate goals of halving oil demand and phasing out coal use by 2030, among others.
For instance, Finland targets 30% of transport fuels from renewable sources by 2030. As a leader in advanced biofuels, Finland needs to ensure that its new biofuels obligation can be met with sustainable feedstocks, encourage investments in novel biofuels production, and ensure the use of biofuels in long-distance transport, such as freight, shipping and aviation.
Finland also aims to reduce car ownership by fostering a shift from personal transport towards transport services. The report notes that while this is commendable, it should not come at the expense of an increase of total transport emissions. "Taking a holistic approach to the decarbonisation of the transport sector will require higher efficiency both in terms of vehicles and the transport system as a whole," said IEA Deputy Executive Director Paul Simons as he presented the report at the Energy Fair in Tampere today.
In terms of heating, industrial heat demand is largely met by biofuels and electricity. At the same time,  Finland's energy sector is investing in new nuclear, based on long-term industry contracts. However, coal and peat still play a large role in combined generation of heat and power (CHP) and related district heating and cooling (DHC), placing Finland 7th in terms of IEA carbon intensity of electricity supply.
As the government aims to phase out coal under the Powering Past Coal Alliance, the heat sector needs to shift to biomass-based CHP with technologies to support heat flexibility, including heat storage and smart meters, while fostering energy efficiency in buildings. By aligning energy taxation to a fuel's carbon content, Finland can encourage the shift to low-carbon fuels in district heating and cooling.
Looking at energy security, Finland is strengthening its integration in the Nordic and Baltic electricity market with new interconnections and is also working on a common gas market with the Baltic States. In this context, regional alignment of policies is vital, as Nordic countries embark on ambitious national decarbonisation paths, all relying on electrification and biofuels. As a net electricity importer, regular adequacy assessments are critical for Finland in order to maintain electricity, as the Nordic market is set to see a rise in variable wind energy and retirements of existing capacity.
Finally, while Finland's leadership in energy research and development is notable, public funding has declined in recent years. Maintaining strong R&D performance is a critical factor for reaching clean energy goals. For businesses to take investment decisions in innovative transport, energy and climate solutions, a low carbon strategy for 2050 is needed, as well as robust private and public funding to boost clean energy technology innovation.
Mini Grids Have Potential to Bring Electricity to Half a Billion People
Mini grids, previously viewed as a niche solution, can provide electricity to as many as 500 million people by 2030, helping close the energy access gap, according to a new World Bank report. The combination of falling costs, dramatic increase in quality of service, and enabling policies has made mini grids a scalable option to complement grid extension and solar home systems.
Mini Grids for Half a Billion People: Market Outlook and Handbook for Decision Makers is the most comprehensive study on mini grids to date. It provides policy makers, investors, and developers with insights on how mini grids can be scaled up. It takes stock of the global market and industry, analyses costs and technological innovations, and shows the importance of microfinance and income-generating uses of electricity.
Compared with main grid and solar home systems, mini grids are a more viable solution for areas with high population density and medium electricity demand. Extending main grid to serve remote communities is often prohibitively expensive. Globally, at least 19,000 mini grids are already installed in 134 countries, representing a total investment of $28 billion and providing electricity to around 47 million people. Most are deployed in Asia, while Africa has the largest share of planned mini grids.
At present the total mini grid investment in countries with low levels of electricity access in Africa and Asia totals $5 billion. It is estimated that $220 billion is needed to connect 500 million people to 210,000 mini grids in these regions by 2030. Across the globe, countries need to actively mobilize private sector investment. This can be achieved by setting up policies that support comprehensive electrification programs, promoting viable business models, and providing public funding, for example through performance-based grants.
"Mini grids are now one of the core solutions for closing the energy access gap. We see great potential for mini grid development at scale and are working with countries to actively mobilize public and private investment," said Riccardo Puliti, Senior Director of Energy and Extractives at the World Bank. "The World Bank has been scaling up its support to mini grids while helping countries develop comprehensive electrification programs. Our commitments to mini grids represent about one-quarter of total investment by the public and private sector in our client countries. The Bank's portfolio spans 37 mini grids projects in 33 countries, with a total commitment of more than $660 million. This investment is expected to leverage an additional $1.1 billion in cofinancing."
In addition to being cost-efficient, mini grids have many other benefits. They have positive environmental impacts: 210,000 mini grids powered by solar energy would help avoid 1.5 billion tons of CO2 emissions globally. They also offer national utilities a win-win solution in the electricity sector by paving the way for more financially viable future grid expansion.
By the time the main grid arrives, significant demand for electricity would already exist and customers would have greater ability to pay through the generation of productive uses made possible by mini grids.
Funding for the report was provided by the World Bank's Energy Sector Management Assistance Program (ESMAP).
UNIDO advocates for sustainable energy at EUSEW
For the second consecutive year, the United Nations Industrial Development Organization (UNIDO) took an active part in the European Union's Sustainable Energy Week (EUSEW) in Brussels, which focused on 'Shaping Europe's Energy Future'. "Ongoing research and collaborative actions between the European Union and Africa are crucial to renew the partnership", said UNIDO Climate Change Expert Cassandra Pillay. "The aim of this event is to facilitate policy debates and strengthen partnerships between the two continents across private and public sectors".
Pillay participated in the session "EU-AFRICA Long term Partnership on Sustainable Energy: The Role of Research & Innovation", with UNIDO also contributing to the "Transport, Energy and Digitalisation – City and Industry Views" session, which was jointly organized by ERTICO-ITS Europe, EUROCITIES, ORGALIM and UNIDO. The session addressed the synergies between the transport, energy and digital sectors to achieve sustainable energy policy goals and aimed at enhancing the value of actions and cross-sectoral work programmes.
The EUSEW is a flagship event organized by the European Commission to bring awareness about renewable and efficient energy use across Europe, which brings together public authorities, private companies, NGOs and consumers to promote initiatives to save energy and move towards renewables for clean, secure and efficient power. More than 4,000 registered participants attended.
IEA Technology Collaboration Programme holds its third universal meeting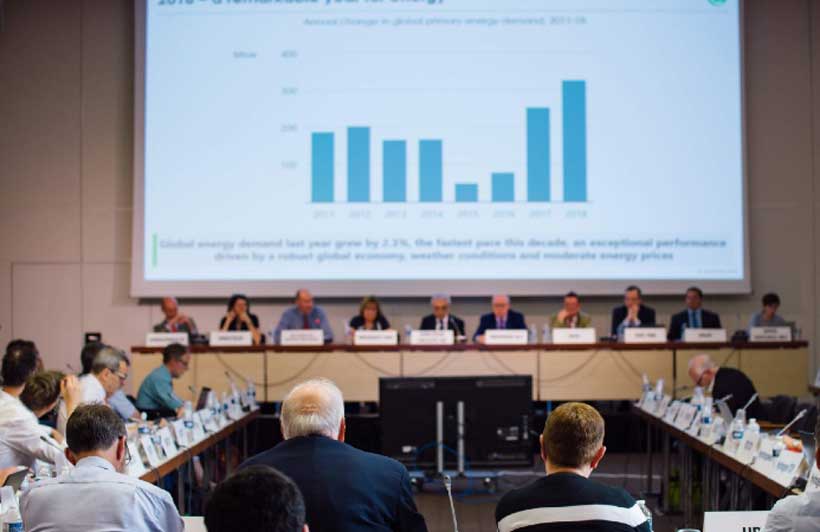 Leading energy experts from the public and private sector gathered in Paris on 18 and 19 June for the third universal meeting under the International Energy Agency's Technology Collaboration Programme (TCP).
Innovation is an essential underpinning of energy sector transitions worldwide. Given the growing complexity and interconnection of energy systems, cooperation and networking can increase effectiveness and maximise the impact of innovation efforts.
"2019 is a key year for innovation at the IEA," said Dr Fatih Birol, the IEA's Executive Director. "A more integrated and holistic approach to energy technology innovation is required to reach a sustainable energy future, which means even more partnerships among those in this room."
For more than 40 years, the vast amount of research and technology analysis carried out under the TCP network has provided a vital contribution to advancing clean energy technologies worldwide. The TCP currently has some 6,000 participants representing 300 government and industry entities from 54 countries, demonstrating the reach of the TCP's global innovation network. This body of knowledge supports high-level debates and real-world actions.
The first day of this week's event was jointly hosted by the IEA Committee on Energy Research and Technology and the IEA Standing Group on Long-Term Co-operation. It brought together policy and decision makers to share experiences on disruptive innovation, technology trends, and partnerships between governments, the private sector and other energy stakeholders.
The meeting provided an opportunity for innovators and strategic thinkers to discuss key trends, which will help to inform future IEA activities related to energy technology, research and innovation. That includes the preparations for the 2019 IEA Ministerial and the 2020 edition of Energy Technology Perspectives, one of the IEA's major publications.
At the meeting, the IEA unveiled new tools and online resources available under its energy innovation web portal, including a study mapping international partnerships relevant to energy technology innovation in order to identify synergies and foster strategic engagement across initiatives. The IEA Secretariat also outlined plans for a major effort to modernise the TCP legal mechanism, further explore how the IEA can make better use of TCP work and improve communication across the TCP network.