Finland shows how bioenergy and nuclear can drive the energy transition
Thanks to the strong role of nuclear, hydro and bioenergy – which alone accounts for 29% of energy supply – Finland has one of the lowest share of fossil fuels in total energy supply among IEA member countries. Yet in its latest review of energy policies in Finland, the IEA finds that the government will nonetheless need to focus on cost-effective measures to achieve its ambitious climate goals of halving oil demand and phasing out coal use by 2030, among others.
For instance, Finland targets 30% of transport fuels from renewable sources by 2030. As a leader in advanced biofuels, Finland needs to ensure that its new biofuels obligation can be met with sustainable feedstocks, encourage investments in novel biofuels production, and ensure the use of biofuels in long-distance transport, such as freight, shipping and aviation.
Finland also aims to reduce car ownership by fostering a shift from personal transport towards transport services. The report notes that while this is commendable, it should not come at the expense of an increase of total transport emissions. "Taking a holistic approach to the decarbonisation of the transport sector will require higher efficiency both in terms of vehicles and the transport system as a whole," said IEA Deputy Executive Director Paul Simons as he presented the report at the Energy Fair in Tampere today.
In terms of heating, industrial heat demand is largely met by biofuels and electricity. At the same time,  Finland's energy sector is investing in new nuclear, based on long-term industry contracts. However, coal and peat still play a large role in combined generation of heat and power (CHP) and related district heating and cooling (DHC), placing Finland 7th in terms of IEA carbon intensity of electricity supply.
As the government aims to phase out coal under the Powering Past Coal Alliance, the heat sector needs to shift to biomass-based CHP with technologies to support heat flexibility, including heat storage and smart meters, while fostering energy efficiency in buildings. By aligning energy taxation to a fuel's carbon content, Finland can encourage the shift to low-carbon fuels in district heating and cooling.
Looking at energy security, Finland is strengthening its integration in the Nordic and Baltic electricity market with new interconnections and is also working on a common gas market with the Baltic States. In this context, regional alignment of policies is vital, as Nordic countries embark on ambitious national decarbonisation paths, all relying on electrification and biofuels. As a net electricity importer, regular adequacy assessments are critical for Finland in order to maintain electricity, as the Nordic market is set to see a rise in variable wind energy and retirements of existing capacity.
Finally, while Finland's leadership in energy research and development is notable, public funding has declined in recent years. Maintaining strong R&D performance is a critical factor for reaching clean energy goals. For businesses to take investment decisions in innovative transport, energy and climate solutions, a low carbon strategy for 2050 is needed, as well as robust private and public funding to boost clean energy technology innovation.
IEA launches World Energy Outlook in China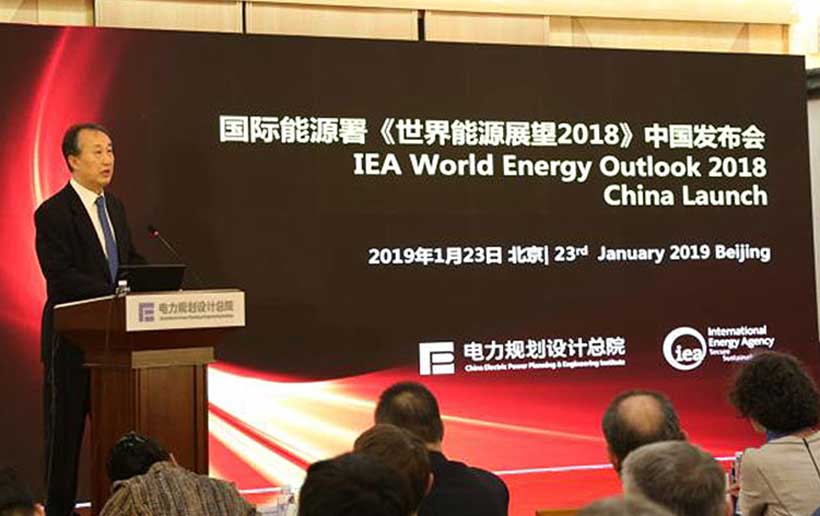 IEA Chief Modeller Laura Cozzi launched the latest World Energy Outlook in Beijing on 23 January. The China launch brought together over 120 officials and experts drawn from government, academia and the power industry to discuss the latest global energy trends, and the outlook for the electricity.
During his opening remarks, Li Ye, Executive Director General of China's National Energy Agency noted the strong IEA-China relationship that has delivered key results across a range of important areas of reform for China including: power market reform, distributed energy, renewables and gas market design.
At the IEA Ministerial meeting in 2015, China became one of the first countries to activate Association status with the Agency. Since then the IEA and China have been working closely together to achieve energy reform in China. In 2017, the IEA and China agreed a Three Year Work programme to boost energy policy analysis, promote clean energy systems, build capacity on energy regulation, and improve exchange of data on renewable energy and other resources.  The launch in Beijing was organised by the China Electricity Power Planning and Engineering Institute, which hosts IEA's China Liaison Office.
The IEA's work with China includes collaboration to draw upon best international practice in carbon emissions trading, and power market reforms that enables renewable energy to make a greater contribution to electricity supply. Work is ongoing with Chinese counterparts as the new Five Year Plan, and longer-term plans, are put in place to accelerate China's clean energy transition.  The IEA will launch its latest work on China's Power System Reform in Beijing on 25 February.
ADB Joins Partnership to Promote Women in South Asia Energy Industry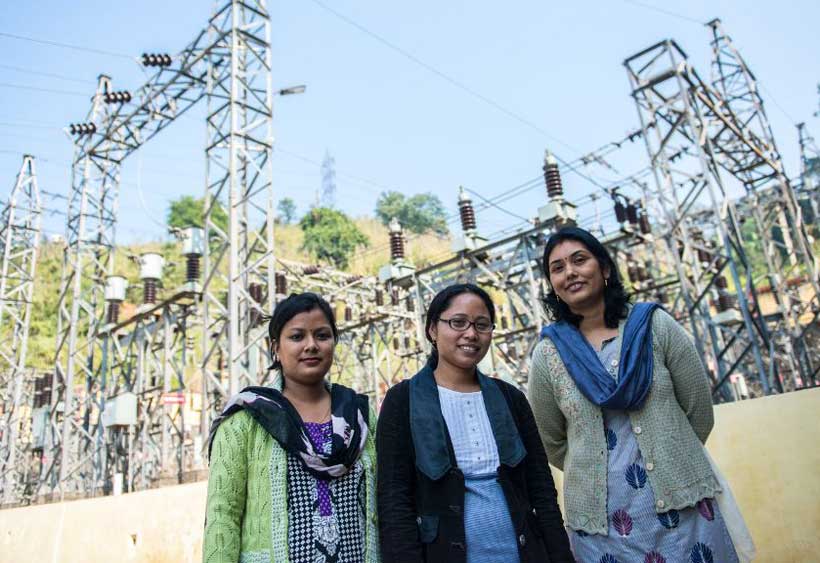 The Asian Development Bank (ADB) is partnering in a new professional network launched today in Kathmandu to promote more female practitioners in South Asia's energy and power sector.
The Women in Power Sector Professional Network in South Asia (WePOWER) aims to support participation of women in energy projects and institutions, as well as promote more women in science, technology, engineering, and mathematics education.
The first Regional Conference of WePOWER opened today with 150 attendees, including representatives of energy sector utilities and public agencies involved in projects, technical universities, women engineers, and students. The 2-day event is co-hosted by the World Bank Group and ADB.
"WePOWER is closely aligned with ADB's broader long-term commitment embodied in its long-term Strategy 2030 to remove constraints that women face in finding more and better jobs," said ADB Principal Social Development Specialist Mr. Francesco Tornieri. "Although this applies to all sectors, we see the energy sector as one of the most challenging."
Energy access and infrastructure development are critical elements in South Asia's development. An ADB series of Gender Equality Diagnostic studies on the energy industry in South Asian countries has found that women's skills and perspectives account for a small part of job and decision-making by energy sector agencies. Gender diversity in technical and senior managerial positions is also visibly lacking.
Moreover, an assessment conducted by the World Bank in 8 South Asian countries found very low female enrollment rates in engineering programs (ranging from 0.5% to 31%), low female staff representation in utilities (2% to 17%), and an even lower percentage of women in technical roles in utilities (0.5% to 6%). The studies identified the need for role models and family support, absence of basic facilities and transport, and presence of various forms of discrimination and harassment.
WePOWER is envisaged to become a vibrant and self-sustaining professional network backed by strategic partners that can provide technical and financial support. Its work program will focus on five strategic areas—education, recruitment, development, retention, and policy and analysis. WePOWER will provide capacity building support, networking, and mentorship for women engineers for career advancement, research to reform policies and practices, exposure to technology, recruiting opportunities, and access to information and conferences.
The World Bank Group has agreed to host the WePOWER Secretariat for an initial four years. A second Steering Committee meeting is planned to be held at ADB headquarters in November.
IEA holds high-level workshop on hydrogen
On 11 February, the IEA held a high-level workshop on hydrogen, bringing together 140 key experts and decision-makers from all parts of the hydrogen value chain. Participants included government representatives, potential hydrogen suppliers, equipment providers, transporters, users of hydrogen and its derivative products, financers and researchers.
The results of the workshop will inform a major new IEA study that will assess the state of play for hydrogen, its economics and future potential. The analysis will cover the entire technology chain for hydrogen from production, transport and storage to its various uses. It will also discuss near-term opportunities for hydrogen deployment as well as practical steps for implementation. The report will be a key input to the 2019 G20 Presidency of Japan.
"Hydrogen can address multiple energy policy goals at the same time: the transition to a cleaner energy system, diversifying the fuel mix and improving energy security," said IEA Executive Director Dr Fatih Birol in his opening address. "We will bring the IEA's 'all-of-energy approach' to situate hydrogen among the various options for meeting governments' policy objectives."
At the workshop, Dr Birol also announced the creation of a High-level Advisory Panel for IEA's work on hydrogen, consisting of the following officials and experts from around the world:
Mr Noe van Hulst (Chair) – Hydrogen Envoy, Ministry of Economic Affairs & Climate Policy, Netherlands; former Chair of the IEA Governing Board
The Honourable Elisabeth Köstinger – Minister of Sustainability and Tourism, Austria
Mr Ahmad O. Al-Khowaiter – Chief Technology Officer, Saudi Aramco
Dr Alan Finkel – Australia's Chief Scientist, Office of the Chief Scientist
Mr Mikio Kizaki – Chief Professional Engineer, Toyota Motor Corporation, Japan
Dr Rebecca Maserumule – Chief Director of Hydrogen and Energy, Department of Science and Technology, South Africa
Dr Ajay Mathur – Director General, TERI (The Energy and Resources Institute), India
Mr Dominique Ristori – Director General Energy, European Commission
Dr Sunita Satyapal – Director Fuel Cell Technologies Office, US Department of Energy, United States
Dr Adnan Shihab-Eldin – Director General of the Kuwait Foundation for the Advancement of Sciences; former Secretary-General of OPEC, Kuwait