Top Afghan commander's killing raises questions
The formidable, flamboyant, maverick police chief of southern Afghan province of Kandahar General Abdul Raziq Achakzai was gunned down in a shootout inside the provincial governor's office on Thursday, along with the governor and intelligence chief. The 'insider attack', which wiped out the provincial leadership, was carried out by the governor's bodyguard and claimed by the Taliban, which shows Taliban infiltration of police and army in the war-ravaged country.
Gen. Raziq, 39, a bulwark against the Taliban in southern Afghanistan had a larger-than-life persona. To his credit, he had almost wiped off the terrorist group from its traditional stronghold – Kandahar, and was always seen in the thick of things. As the Taliban mounted gruesome attacks to seize other parts of the country, Gen. Raziq's presence in Kandahar ensured peace and stability there.
A fierce commander, who was seen as an American ally, was often accused by human rights watchdogs like Human Rights Watch of 'torture, extra-judicial killings and other human rights abuses'. But, his presence was so powerful and domineering in a country where U.S. war has stretched into its 18th year that the government struggled to sideline or ignore him.
The social media was inundated with poignant posts on Thursday, with netizens terming his death an "irreparable loss", which could have "far-reaching consequences" for peace and security in southern Afghanistan, where he was a "pillar of stability". Many of them blamed Pakistan while many blamed the U.S. for his violent end.
On Friday afternoon, the fallen commander was given a tearful adieu in Kandahar city by the border police he commanded for years. The bustling city was remarkably quiet as his coffin was paraded to the burial ground. The invincible man had met his inevitable death.
The enormity of the tragedy can be gauged from the fact that the Afghan government decided to delay the parliamentary elections that were scheduled for October 20.
Not the one to mince his words, Gen. Raziq was fiercely critical of Pakistan for providing sanctuary to the militant groups attacking Afghanistan. Over the years, he had survived many bids on his life, including a deadly suicide bombing last year. In an interview once, he said he had lost the count of times when the Taliban tried to exterminate him. A brave young commander and a smart war strategist, he always prevailed because he always had an upper hand and better luck.
However, on Thursday, his luck ran out. The incident took place following a meeting between Afghan and American officials at Kandahar governor's compound in the afternoon. In a statement, Taliban claimed responsibility for the attack and said it was aimed at Gen. Raziq and Gen. Austin Miller, the newly-appointed top U.S. commander in Afghanistan. Miller escaped unhurt.
News reports, quoting eyewitnesses, said the shooting took place when Gen. Raziq was escorting the U.S. officials, including Miller, to their helicopters. How Miller survived the attack, which killed Gen. Raziq, governor Zalmai Wesa and intelligence chief Gen. Abdul Momim, is a great mystery. If the attack was indeed aimed at Gen. Raziq and Miller, then how did latter escape unhurt. Did the Taliban actually not want to kill the top U.S. official in Afghanistan?
There are many questions that may never be answered. Many believe Gen. Raziq, who was not in favor of peace talks with the Taliban, had become a stumbling block in the U.S.-led so-called 'peace efforts'. Notably, the U.S. and Taliban officials had recently held secret parleys in Doha, in which the U.S. delegation had even proposed a political role for the Taliban leadership in Afghanistan, thereby giving legitimacy to the group they have been claiming to fight for the past 17 years.
Although Gen. Raziq was seen as a staunch U.S. ally in southern Afghanistan, many observers believe he had become a liability because of his dogged opposition to peace talks with the Taliban. For Americans, there can be no permanent friends or foes, and we have examples of Saddam Hussain and Muammar Gaddafi before us. This could well have been an attack orchestrated and executed jointly by the U.S. and Taliban to get rid of the formidable anti-Taliban commander.
In a statement, the U.S. military said the target of the Thursday attack was Gen. Raziq, not Miller. It is interesting how sure they can be that the attack was not aimed at Miller. As eyewitnesses said, Gen. Raziq was walking alongside Miller and other U.S. officials when the assailant opened fire. Gen. Raziq received four bullets – two in legs, one in abdomen and one in chest. The top U.S. commander safely walked to his helicopter and left the spot.
If the Taliban insurgency is all about the U.S. war crimes in Afghanistan and if all they want is the withdrawal of U.S. troops from the war-torn country, it defies logic why the Taliban fighter masquerading as an Afghan policeman would open fire at Afghan officials and not the U.S. official. There is definitely more to it than meets the eye. The attack proves yet again the duplicitous policies of the U.S. in Afghanistan and its covert support to groups that seek to destabilize the country.
The 'peace talks' between the U.S. and Taliban officials is hogwash. Otherwise how does it make sense that the 'peace talks' would be followed by deadly suicide bombings and targeted attacks. The engagement between the U.S. and its former-allies is basically to prevent any chance for real 'peace'. The idea is to keep the pot boiling so that the U.S. can justify its presence in Afghanistan.
In the process, both friends and foes will have to pay the price; like Gen. Raziq did today and many others did before him. Everything is fair in a dirty war.
First published in our partner Tehran Times
Three Groups of Threats from Lethal Autonomous Weapons Systems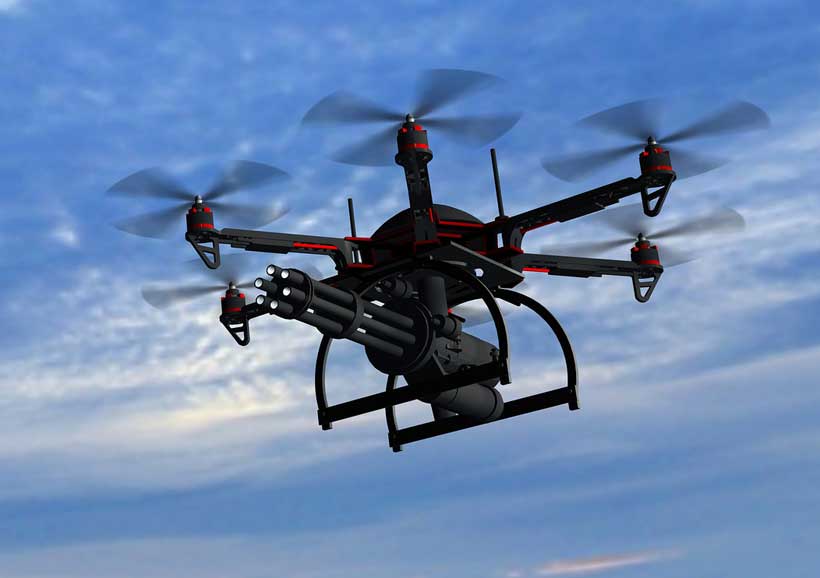 Using autonomous technologies, artificial intelligence and machine learning in the military sphere leads to the emergence of new threats, and it is crucial that we identify them in time.
Over the last decade, the development of technologies that can provide conventional weapons with unique capabilities typical of "killer robots" has been accelerating. The UN has given these types of weapon the designation of lethal autonomous weapons systems (LAWS). This is the name for weapons that are capable of hitting land, air and water targets without human participation.
AI-based LAWS create threats that can be divided into three groups:
1.The first group comprises risks associated with removing human agents from the decision to use weapons, the so-called "meaningful human control problem." The global public (NGOs such as Stop Killer Robots, Article 36, the International Committee for Robot Arms Control, businesspersons and scientists, in particular, Steven Hawking, Elon Musk and Steve Wozniak) believe it highly probable that fully autonomous weapons will not be able to comply with international humanitarian law and human rights and will create a problem of identifying the persons to be held liable in case of illegal acts by autonomous units. "Killer robots" are accused of being incapable of sympathy, i.e. a human feeling that often acts as deterrent to the use of weapons. Another argument against LAWS is that their use contradicts the principle of humaneness and the demands of public conscience.
2.The second group of threats is related to breaches of strategic stability. Elements of autonomy and AI are appearing in all areas of military confrontation. In the nuclear sphere, high-precision tactical nuclear bombs and hypersonic devices with new nuclear warheads are now appearing. In outer space, it is unmanned space drones, low-orbit surveillance and satellite communications systems. In the area of missile defence, there are new surveillance and tracking systems linked with communications and control systems. And in the cyber sphere, cyber weapons and automated hacking-back cyber systems are emerging. Some of these weapons, for instance, hypersonic missiles and cyberattacks, could serve as instruments of tactical deterrence along with nuclear weapons. That is, even non-nuclear countries now have the capability of sharply increasing their deterrence and attack potential. These trends entail a series of risks:
— the risk of one country establishing technological and military global superiority;
— a new arms race;
— increased regional and international tensions;
— reduced transparency of military programmes;
— a disregard for international law;
— the spread of dangerous technologies among non-state actors.
Based on the experience of using military and commercial drones, researchers conclude that the manufacturing technologies of LAWS, as well as their components and software, will proliferate abundantly, which will give rise to another arms race resulting in instability and escalation of various risks.
Some experts believe that maintaining strategic stability in the coming decades will require a revision of the foundations of the deterrence theory in the multipolar world.
3.The third group of threats stems from the drastically reduced time allocated for making strategic decisions within the Intelligence, Surveillance & Reconnaissance (ISR) and military Communications, Command and Control (C3) systems. The principal drawback of a human compared to a machine is that the human mind requires too much time to assess the situation and make the right decision. An entire series of military programmes in the leading states (in particular, the Pentagon's Maven, COMPASS, Diamond Shield) aims to have supercomputers take over the work of analysing various data and developing scenarios for the political and military leadership.
That entails, as a minimum, the following risks:
— The shortage of time to make meaningful decisions.
— Insufficient human control over the situation.
— Making strategic decisions on the basis of mathematical algorithms and machine learning systems, not human logic.
— The lack of mutual understanding between the machine and the human. Neural networks are thus far incapable of explaining the regularities of their work in a human language.
To be fair, it should be noted that globalization and the development of cross-border projects, social networks, transnational corporations, international cooperation, surveillance satellites and radio-electronic surveillance equipment have made the world more transparent. The world now has a huge number of sensors that report new threats before they even materialize.
Let us consider these three groups of threats in more detail.
The Meaningful Human Control Problem
In December 2016, the Fifth Review Conference Fifth Review Conference of the Convention on Conventional Weapons (CCW) weapons adopted the decision to create a Group of Governmental Experts authorized to "explore and agree on possible recommendations on options related to emerging technologies in the area of LAWS." Commentators believe that, despite various obvious terminological discrepancies, those who attended the conference agreed that the use of force should always take place under "meaningful human control."
Some experts see four components in the problem:
The risks that LAWS carry for civilians.
The risks of human rights and human dignity violations.
The inability of LAWS to comply with the laws of war.
The uncertainty concerning legal liability for intentional and unintentional consequences of using LAWS.
It would be a mistake to think that the emergence of LAWS laid bare certain gaps in international law that need to be filled immediately. States and their citizens must comply with the norms and principles of international law in effect, and these norms and principles contain an exhaustive list of rules and restrictions in warfare.
International humanitarian law (IHL) was designed to protect human values, and a number of experts believe that some of its documents have direct bearing on the LAWS problem:
— The Martens Clause: the rule formulated by the Russian lawyer and diplomat Friedrich Martens in 1899 stating that even if a given provision is not included directly in the articles of the current law, in situations of military hostilities, the parties will be guided by the principles of laws of humanity and the dictates of public conscience.
— The "Laws of humanity" stemming from the 1948 Universal Declaration of Human Rights and the 1966 International Covenant on Civil and Political Rights.
— Article 36 of the 1977 Protocol Additional I to the 1949 Geneva Conventions on new weapons.
— Various documents constituting the law of armed conflict with its basic principles:
The distinction between civilians and combatants.
The principle of proportionality (commensurability) of the use of force.
The principle of military expediency.
Restricting the means and methods of warfare (prohibition of excessive destruction or causing excessive suffering).
Since the international instruments that are currently in effect place give national governments the responsibility to interpret their obligations, international experts fear that the latter will interpret them in their own favour while neglecting moral concepts and human dignity. From this, they conclude that there is a need for a more detailed elaboration of the IHL norms as applied to LAWS.
Whatever the case may be, the latest consultations on the future of LAWS held on August 27–31, 2018 in Geneva at the Convention on Certain Conventional Weapons (CCW) resulted in the approval of ten potential principles that could serve as a future foundation for the international community's approach to LAWS. The key principle is that all work in military AI should be conducted in compliance with international humanitarian law, and liability for the use of such systems will always lie with a human. The final decision on the future of the Group of Governmental Experts will most likely be made on November 23, 2018 at the conference of CCW signatory countries.
LAWS and Strategic Stability
At the Washington Summit held between the Soviet Union and the United States in June 1990, the parties made a joint declaration on nuclear and space weapons. In it, they outlined the theoretical foundations of strategic stability, which was defined as a state of strategic relations between two powers when neither has the incentive to deliver the first strike. The parties distinguished two notions within strategic stability: crisis stability and arms race stability. Crisis stability was taken to mean a situation in which even in a crisis neither party had serious opportunities or incentives to deliver the first nuclear strike. Arms race stability was determined with regard to the presence of incentives to increase a country's own strategic potential.
The principles of strategic stability enshrined in the 1990 Declaration were considered the guidelines for weapons control. Later, the notions of "first strike stability" and even "cross-domain strategic stability" emerged.
Military AI has the potential to breach stability within any concept. Some high-ranking Pentagon strategists have already made statements that autonomous robots could ensure global military dominance. They believe that combat drones will replace nuclear weapons and high-precision munitions and will make it possible to implement the so-called "third offset strategy."
Obviously, machine learning and autonomy technologies open new opportunities for using nuclear munitions (for instance, a high-precision reduced-capacity B61-12 nuclear bomb) for tactical missions and vice versa. Strategic tasks can be handled using non-strategic weapons.
For instance, the development of hypersonic vehicles with high defence-penetration capabilities leads to a lower nuclear conflict threshold.
The Boeing X-37B Orbital Test Vehicle and XS-1 Spaceplane space drones or the X-43A Hypersonic Experimental Vehicle hypersonic drone will change the model of confrontations in space. Combining the Space Tracking and Surveillance System (STSS) with the Command and Control, Battle Management, and Communications (C2BMC) system demonstrates entirely new strike capabilities of ballistic missiles. The strategy of neutralizing missile systems at launchers by using cyber and radio-electronic Left-of-Launch devices opens up a new roadmap for missile defence. The QUANTUM programme and the automated hacking-back cyber weapon can set destructive software into "fire" mode.
The rapid spread of drone technologies throughout the world and the budding competition for the global market between major manufacturers of strike drones are causes for alarm. Today, the United States has over 20,000 unmanned vehicles, including several hundreds of combat strike drones. Small strike drones that in the future may deliver strikes as an autonomous swarm distributing functions without an operator's input are now in development in future. China is not officially disclosing the number of drones in service of the People's Liberation Army; however, some experts believe that it is roughly equal to the number in service of the Pentagon. China both manufactures and actively exports strategic drones capable of both intelligence and strike missions. Following the United States with its MQ-25 Stingray programme, China is developing ship-based drones and unmanned vehicles capable of interacting with manned aircraft.
The United Kingdom, Israel, Turkey, Iran and Japan also lay the claim to a place among the world's leading drone manufacturers. Military strategists of small and large states believe that, in future, unmanned vehicles will form the backbone of their air force. Back in 2015, United States Md. Secretary of the Navy Ray Mabus said that the F-35 will likely be the last manned strike fighter, and unmanned systems will be "the new normal in ever-increasing areas."
C3ISR Outsourcing and Strategic Time Pressure
Using artificial intelligence (AI) in the military area is gaining momentum. As a rule, a programme of automatic data collection and analysis opens up possibilities for new projects in related areas. The use of the so-called artificial intelligence in the military sphere will probably increase exponentially moving forwards.
AI will also be a reason for the emergence of new weapons and related army units in the near future, such as cyber command, missile defence, AI-based intelligence, information warfare, electronic warfare (EW) systems, laser weapons, autonomous transportation, robotics units, drones, anti-drone weapons, hypersonic aircraft, unmanned underwater drones and aquanaut teams.
In future, conventional army service branches will change shape, forming different combinations to use the advantages of new AI-based systems. Studies have demonstrated a twofold increase in the effectiveness of air and missile defence working in conjunction with EW systems.
Using AI in the military sphere will result in the gradual introduction of robotics and automation in every possible sphere, in materials and logistics in the first place. Logistics of the future is capable of seriously affecting strategic stability through the high automation of logistical processes up to the autonomous delivery of munitions to the battlefield.
Information exchange between service branches will develop both vertically and horizontally, from aircraft pilots in the air to platoon leaders on the ground and vice versa, and AI will filter information so that each party will only receive data that is useful to them, with information noise being removed. That is the idea behind the Diamond Shield air and missile defence that is currently being developed by Lockheed Martin. Data collected on land, in the air and in space, including through the Pentagon's MAVEN programme, will be processed by neural networks and distributed in real time to commanding officers of all levels. AI will conduct the actions of military units, creating so-called algorithmic warfare.
AI will track clandestine action in times of peace, too. The COMPASS (Collection and Monitoring via Planning for Active Situational Scenarios) programme is one such example. The goal of COMPASS is to analyse a situation and its participants' behaviour in a "grey" zone, which is understood as a limited conflict on the border between "regular" competition among states and what is traditionally deemed to be war. Strategic time pressure will lead to assessments of national threats and the use of weapons also being automated and outsourced to AI-based command and analytical systems.
The symbiosis of analytical and command programmes on the basis of neural networks increases the risk of the Human-Machine Interaction model, leaving little room for humans, who will have just one button to press to approve decisions made by machines.
The configurations of AI-based analytical and control systems will be highly classified, thereby causing additional concerns to the public.
Allegorically speaking, human civilization is standing in front of the door into a world where the military handles its objectives using AI and autonomous "killer robots." Thus far, we do not know for sure how dangerous that is. Maybe our worst expectations will not come true. However, in the worst-case scenario, that world will open Pandora's box, letting out fears and suffering. Preventing such a scenario in advance is the proper course of action.
First published in our partner RIAC
The China/Russia Space Threat: Is Star Wars Far Away or On the Horizon?
In world politics, using force, blatantly offensive force in particular, rarely comes without costs.–Gil Merom
Space – The Final Frontier?
The space race from the 1950s until the end of the Cold War between the Soviet Union and the United States eventually ended in a tie.  Maybe not totally a tie, but the advent of the International Space Station (ISS) and the amount of training performed at Star City just outside of Moscow by both Russians and Americans in preparation for their missions give the appearance that the former rivalry is now a cooperative event.  Over the last few years, space is becoming the focus of many nations from a security perspective.  Merom's succinct summation of the cost of using offensive force is a driving reason for the new focus on space either from the standpoint of dominance or of countering other nations' use of it.This time, instead of claiming dominance by planting a flag on the moon, the idea of controlling a domain that is still not truly understood provides a level of security impacting many areas, like the Global Positioning System (GPS), Positioning, Navigating, and Timing (PNT), and Satellite Communication (SATCOM) (Harrison et al. 2018; Weeden and Sampson 2018).  And it is China and Russia that are currently leading the charge of attempting to operationalize and weaponize space to project power.
Power Projection
Countering the threat of the United States is a purpose both China and Russia cite as a reason to develop space and counterspace capabilities, but that is almost the default/de facto motive for any action they take.  Achieving space superiority is not on par with becoming a nuclear power in terms of international recognition, but China and Russia both see gaining the upper hand in space as a way to set their nations apart from the rest of the international community.  China recently declared space as a military domain. That allows China to expand its military doctrine "that the goal of space warfare and operations is to achieve space superiority using offensive and defensive means in connection with their broader strategic focus on asymmetric cost imposition, access denial, and information dominance."( Weeden and Sampson 2018, xi). Based off of this statement, the Chinese view space as another avenue to project military power. And space, like cyberspace, is much harder to counter due to the difficulty in attribution.
Russia's efforts to regain counterspace capability also provides a method for projecting power and is another area to show that they are back as players on the world stage.  President Putin laid out four ideas for a 21st century Russia, "(1) the strong, functioning state; (2) the state-guided market economy; (3) the welfare state with attendant safety net; and (4) the state-safeguarded foreign and security policy position that provides Russia a Eurasian – and even global – leadership position." (Willerton 2017, 211) Pursuing a program of space and counterspace options ties directly into the first and fourth idea presented by the President and could tie into the second and third if Russia is able to export technology or intellectual capital to assist other nations.  The Russian perspective sees "modern warfare as a struggle over information dominance and net centric operations that can often take place in domains without clear boundaries and contiguous operating areas." (Weeden and Sampson 2018, xii) Space falls within this definition so, if by leveraging space to conduct cyberspace or space-enabled information operations, then that provides an even larger platform that Russian targets must defend. After all, Russia has "extensive operational experience from decades of spaces operations." (Harrison et al. 2018, 13) Although some areas of the Russian space program have atrophied since the end of the Cold War, Russia and the U.S. have maintained a partnership with civil space missions to the ISS. (Harrison et al. 2018, 13)
GPS, PNT, and SATCOM
Most nations widely use GPS and PNT for navigation and the geo-tagging of locations for official and unofficial uses.  For China, GPS is how Japan maintains situational awareness in the East China Sea. (Horowitz et al. 2016, 30) If China were able to achieve control over GPS satellites, the advantage it would have over other nations would be hard to quantify.  Aside from blinding or manipulating what the Japanese see in the East China Sea, commercial and military pilots rely on GPS, as do many other peoples for navigation via ships, cars or phones.  Unmanned Aerial Systems, or drones, are also dependent on GPS, and many military operations use drones for communication relays.  If China or Russia manipulated or jammed the link between a ground control station and the drone, then the drone could pose a threat to any airplanes or helicopters in the area. If a weaponized drone, then that capability could be used against unauthorized targets (a rogue drone) or cause chaos due to the lack of communications.
A vast majority of communications today are done by SATCOM.  To control or have the ability to deny, degrade, disrupt, destroy, or manipulate any combination of GPS, PNT, and SATCOM gives a nation a huge benefit and should be cause for concern by all.  Most systems were built and launched into orbit before cybersecurity became an issue.  The distance from Earth to the satellites' respective orbits provided an inherent level of assumed security, so many measures that are standard on systems today are not on satellites currently in use.  Knowing the exact amount of cyber-attacks on satellites or their ground stations is unlikely as the number is either classified or nations and companies are unwilling to admit they were victims publicly.  What is known is that both China and Russia are capable, competent cyber and signals intelligence(SIGINT) actors and attacks of this nature are not beyond their abilities.
A 2014 Crowd strike report linked the "People's Liberation Army General Staff Department Third Department 12th Bureau Unit 61486 – that subset of what is 'generally acknowledged to be China's premiere SIGINT collection and analysis agency' dedicated specifically to 'supporting China's space surveillance network.'" (Weeden and Sampson 2018, 7-7) That level of attribution is impressive in such a nebulous environment.  Although not an official attribution by the United States Government, Crowd strike and other commercial threat intelligence providers' identification and designation of threat actors are generally universally accepted as accurate.
A Russian Criminal syndicate, known as Turla, exploited satellite links to hack other targets according to Kaspersky Labs. (Weeden and Sampson 2018, 7-7) The Russian Government can claim Turla was a criminal act and not supported by Russia, but in 1998 Russian hijackers gained "control of a U.S. – German ROSAT deep-space monitoring satellite, then issued commands for it to rotate toward the sun, frying its optics and rendering it useless."(Weeden and Sampson 2018, 7-8) These few examples demonstrate China and Russia maintain both the intent and capability to conduct operations in space.
Weaponization
Both China and Russia are "developing the ability to interdict satellites both from the ground standpoint and from the space standpoint" according to the Director of the Defense Intelligence Agency. (Tucker 2018) The idea of weaponizing space is enticing and terrorizing.  For those nations that are able to develop and deploy technology to disrupt other satellites, a huge advantage exists. Iran, India, and Israel are among other nations seeking to develop a space or counterspace program.  (Harrison et al. 2018; Weeden and Sampson 2018) None of these nations, however, is at the level of the space/counterspace programs of China, Russia, or the United States. Nor are they likely to refocus the bulk of their economies and militaries to concentrate solely on space. Much like the alliances developed as nuclear powers emerged, nations that desire space superiority or, simply wishing that the United States not be the dominant space power, may put their efforts toward aligning with a power they feel they can benefit from, even if other strategic objectives do not necessarily align.  The threat presented by space does not produce the mass panic that nuclear war does, but when considering that space is the domain where missiles and communications could be jammed or re-directed resulting in an inadvertent nuclear crisis, the legitimacy and severity of threats from space become apparent.
China and Russia launched a 200 million dollar venture in 2015 whose purpose was to innovate technologies. (Harrison et al. 2018, 6) In July 2018, China sent a delegation to Russia to explore potentially building a jointly-run station based on Russian knowledge in an area China is deficient. (Russia, China 2018) Interestingly, in 2013, the European Space Agency considered making China its primary space partner, instead of the United States, "as China's global 'rising power' status now extends to space." (Johnson-Freese 2015, 91)
China's messaging that it is serious about becoming a space power resonates with other nations and they appear ready to broker the relationships needed to achieve the goal.  Russia has the technical knowledge and perhaps the upper hand in that it is a key partner on the ISS with several other nations, including the United States.  If Russia and China continue with either joint ventures or Russia supplying China with expertise, it is unknown how the United States will react, since it vehemently opposes China's inclusion on the ISS. (Johnson-Freese 2015, 95) In February 2018, the United States Director of National Intelligence identified "Russia and China as continuing to launch 'experimental' satellites that conduct sophisticated on-orbit activities, at least some of which are intended to advance counterspace capabilities …some technologies with peaceful applications—such as satellite inspection, refueling, and repair—can also be used against adversary spacecraft." (Tucker 2018) The issue is on the United States radar at a high enough level that the threats presented by China and Russia were included in the 2018 Worldwide Threat Assessment of the US Intelligence Community from the Director of National Intelligence. (Coats 2018, 13) To what extent the United States will go to deter either China or Russia in space is still unknown at this time, however.
Space Law
The United Nations maintains an Office for Outer Space Affairs that, among other roles, assists with space law "associated with the rules, principles, and standards of international law appearing in the five international treaties and five sets of principles governing outer space, which have been developed under the auspices of the United Nations." (United Nations 2018) In addition to the space laws adjudicated by the United Nations, individual states have their own laws regarding the use of space.  China and Russia are among those that develop national space laws.  China's 2015 National Security Law made China's defense of interests in space legally binding and a white paper in that same year stated, "threats from such new security domains as outer space and cyberspace will be dealt with to maintain the common security of the world community." (Weeden and Sampson 2018, 1-20).  Russian National space laws listed on the United Nations website include areas covering space activity, management structure, licensing space operations, Russian Space Agency regulations, and an agreement between the Russian Federation and Cabinet Ministers of Ukraine about technical safeguards on the use of outer space. (United Nations 2018) The bulk of the Russian laws listed were written in the 1990s, with the exception of the Ukrainian agreement which is dated 2009. So, the possibility exists that these laws do not represent what the Russian Federation follows today as a national space law.
One area under that is a potential loophole for any nation is the dual-use nature of most satellites.  Unless a country scrutinizes a satellite before launching it into orbit, determining the use is strictly for a defensive or offensive purpose is difficult to prove.  Again, the tyranny of distance comes into play trying to establish the true nature of space-related activities.  Intelligence collection methods possibly can gather the required information to identify a weapons system or counter-weapons system on a satellite schematic, but for a communications, GPS, or PNT satellite, proving its ultimate use for something more than just supporting commercial or regular military communications and navigation services is not so easy.
What's Next?
International and national laws are in place to ensure the freedom and safety of space for all nations. But those laws only help nations that can afford to operate in space to a certain extent.  As China and Russia expand their independent efforts at becoming dominant nations in space, where Chinese-Russian joint ventures go is worth watching. How far these two nations are willing to collaborate and even become true partners in space will have lasting consequences on how other countries will or can react. The space threat is real even if it is difficult to quantify based on it being mostly an amorphous threat today.  That does not mean nations are not trying to exploit seemingly ambiguous space as a domain for their own national advantages.  Thus, there is no excuse for international organizations like the United Nations to be caught unaware if sometime in the near future a major power shows it has successfully turned space into a domain for waging war or projecting power.
Latin Intelligence Broadly Defined: Security and Corruption in South America
Many Central and South American countries currently experience serious threats to their internal and external security. Three, in particular, Honduras, Venezuela and Colombia, are infected with two specific threats that cut across the division between domestic and foreign: 1)Transnational organized crime to include drug, weapon and human trafficking and 2) Terrorism. Each of the three countries in question have slightly different political structures which affect how their military and intelligence services are organized and operate. The actual political leanings within each state government ranges from Honduras' rightwing and center-right Liberals, to Venezuela's move towards socialism, to Colombia's evolution to social liberalism. The political leanings are important because they go to the heart of policy and decision-making within the country and affect how both the military and intelligence communities deal with threats and issues. The two threats identified have the potential to create political instability within each of the three countries. How each country deals with the threats has a lot to do with the utility and effectiveness and their respective intelligence organizations.
Honduras
This Central American state, "long one of the poorest countries in Latin America, is now also among the most violent and crime-ridden."  The violence emanates from organized criminal enterprises using street gangs, transnational syndicates, and even corrupt security forces. Over the last twenty years Honduras has become a strategic transit hub for the exportation of drugs, weapons, and humans to the United States and elsewhere. Since the 2009 coup that ousted President Manuel Zelaya, the situation has only gotten worse. From a law enforcement perspective, a lack of capacity, transparency, and corruption cripple the judiciary from acting in the best interests of the state. The Honduran policing system is known throughout Latin America as one of the more corrupt. Even the military has not completely evaded the label of corruption, but this is the one organization that the central government has turned to time and again as it attempts to deal with the growing problems associated with organized crime and gangs like the MS13 and Barrio 18. The recent Presidential election turmoil has only added to the problem since critical monetary aid from Western nations, especially the United States, has been coopted in lieu of a resolution. Much of the anticipated funding was targeted at fighting crime.
At first blush, of all the problems and threats that Honduras is exposed to, it would seem terrorism is not one of them. But if the internal violence perpetrated by street gangs is relabeled, then the threat of domestic terrorism begins to skyrocket. These gangs have an agenda that supports organized crime, promotes violence against specific and non-specific random targets for both political and non-political reasons. Putting too many filters on the labeling can easily reduce this problem to a policing issue and, in the process, overlook the damage being done to the political, economic, and social structures of the state. If this is not terrorism, then terrorism has been lost to political analysis.
To deal with the corruption, "in early 2016, Honduras created a police purge commission following revelations that high-ranking members of the police had participated in the 2009 murder of a Honduras' anti-drug czar."  After careful records review, hundreds of high-ranking officials and thousands of police were removed. The Honduran intelligence agency is embedded and comes under the direct control of the military, so they are routinely called upon to provide real-time intelligence on the activities of crime families and the movements of street gangs. Since the coup of 2009, the Honduran intelligence service has been both militarized and politicized. The state has continued to militarize the battle against organized crime and terrorism granting the military policing powers, including arrest. In 2013, the state created and deployed an elite military police unit for the purpose of dealing directly with such threats and preserving the internal security of the state. These decisions have not been without controversy.
When the military essentially controls policing and the intelligence community operates essentially unchecked, there are going to be serious issues that arise concerning civil liberties and human rights. Because the military and intelligence services operate in lock step, abuses perpetrated by the military are often the result of intelligence initiatives designed to contain, isolate, or eliminate not only threats to the state but threats to their power bases. With a weakened justice system, the intelligence community supports activities that result in the arrest and detainment of political opposition and dissidents as well as primary targets within organized crime and street gangs. The implied threat to political enemies is not lost in translation. The intelligence community was seriously involved in the extrajudicial execution of organized crime leadership and heads of violent gangs after the 2009 coup. This was a way of short-circuiting the judicial process and sending a clear political message to adversaries about internal control.
Venezuela
"Venezuela is a key transit country for drug shipments leaving Colombia for the United States and Europe."  The country's poor rule of law and internal corruption have acted as a magnet for foreign entities, primarily Colombians, to control a lucrative drug trade. Since 2005, there is a growing body of evidence that elements of the Venezuelan security forces, including the intelligence community, are getting in on the action. The Cartel de los Soles is a loose network of police, military, and intelligence officials cashing in their influence for a healthy cut of the drug profits.
Not unlike Honduras, the threats of organized crime and terrorism are tearing at the fabric of social order and political control in Venezuela. Additionally, many Venezuelan cities are overrun with street crime and urban gang warfare that terrorizes the general population, creates an insecure and hostile living environment, and seeks through intimidation and murder to control local political power structures. But another element of domestic terrorism exists in Venezuela: violent actions carried out by political opposition against the ruling elites and government. Over the last decade, hundreds of people have been killed, property destroyed, and internal security threatened. Venezuela has one of the highest murder rates on the planet. This form of domestic terrorism creates major policing issues that drive the federal government to take extraordinary measures, including the use of military forces to maintain order and localized control. The Venezuelan intelligence service is key to these military and paramilitary operations.
The Bolivarian National Intelligence Service (SEBIN) is the premier intelligence agency in Venezuela. "Created primarily as an internal security force, it reports directly to the Vice President of Venezuela."  The Organization of American States has described SEBIN as the politically-controlled police force of the Bolivarian government. SEBIN has long been compared to Israel's Mossad in terms of tactics and operational effectiveness. Unlike Mossad, SEBIN can also be a force that utilizes its power for self-aggrandizement and corruption. When carrying out its primary function of providing for state security, "SEBIN has an extensive record of human rights violations that include torture against 'enemies of the state,' whether they be domestic or foreign."  SEBIN even acted as a base of operations for the American CIA in its own efforts against a post-revolutionary Cuba. Working closely with the CIA, SEBIN is accused of doing their dirty work including the torture and murder of political opponents. Thus, SEBIN is an effective political tool to deal with organized crime and domestic terrorism, including continuous sweeps for possible threats to the regime. To accomplish this mission, SEBIN has erected one of the most extensive surveillance programs in the world.
Former SEBIN operatives and other internal security experts have gone on record to say that the Venezuelan government has spared no expense in putting together a formidable domestic surveillance system using Russian and Italian technology. The information collected by SEBIN is used to build a huge database in which profiles of "people of interest" are created either for immediate action, continued monitoring, or "watch listing". The tools are especially useful against organized crime that uses modern communications and computer-based technologies to foster their own illicit business operations. In short, SEBIN is the militarized, politicized arm of the federal government. The agency has been weaponized to deal directly with organized crime and terrorist-related activities within the country, unfortunately including political opposition.
Colombia
"After more than half a century of civil war and the rise and fall of drug trafficking empires, Colombia has made huge strides in improving its security situation in recent years."  But, not unlike its neighbors, Honduras and Venezuela, Colombia is also beset by organized crime and forms of domestic terrorism fomented by guerrilla rebels. The Colombian underworld is a strange mixture of old crime organizations that espouse their own political ideologies along with newer criminal enterprises that have openly declared war on the federal government. The scope of criminal activity is common to the entire region and includes drugs, weapons, money laundering, human trafficking, extortion, and even illicit mining operations. Combating these threats is the job of the Colombian intelligence agency, which can be divided into a pre- and post-2011 history. The roles, missions, authority, and powers of the agency are linked to these two periods of time.Again, not unlike Honduras and Venezuela, Colombia's intelligence service had its darker days in terms of corruption and close ties to organized crime.
"The Administrative Department of Security (Spanish: Departamento Administrativo de Seguridad, DAS) was the Security Service agency of Colombia, which was also responsible for border and immigration services. It was dissolved on 31 October 2011 as part of a wider Executive Reform andthe leadership was replaced by the Dirección Nacional de Inteligencia (DNI)."  DAS was initially chartered to work internal security issues for state and local governments. It was the largest civil secret service in Colombia. With an annual budget of over $100M and more than 5,000 field agents, DAS produced strategic and operational intelligence for federal decision-makers. Additional duties included providing judiciary police investigative services, as well as acting as the nation's premier counterintelligence service responsible for both domestic and foreign threats to national security. DAS was even responsible for the control of immigration, including handling visas. Interested in stronger relations with the United States, DAS worked with the Drug Enforcement Agency to corroborate many of its policy positions. But what now seems to be a common element for Latin intelligence agencies, elements of DAS were double-dealing and lining their own pockets in the process.
"In late 2011, President Juan Manuel Santos announced that DAS was to be replaced by a new agency," the national intelligence agency (ANIC, in Spanish). This time around, the sole purpose of ANIC was simply to gather intelligence on domestic and foreign threats. Interface of ANIC with the military was designed to be a rare occurrence, except in extreme situations where national security was directly threatened, as determined by the federal government. The terrorism associated with guerrilla rebels apparently rises to that level. Political supporters of those FARC guerrillas are considered legitimate targets. ANIC has supported police and military operations aimed at eliminating these political opponents.
"Colombia distinguishes itself from the majority of the rest of the countries of the region because it has not suffered prolonged military governments or democracy interruptions."  Lacking this string of transition periods, the government has been able to keep a close hold on its intelligence agency and the data collected and analyzed. The government has been successful at keeping the intelligence community focused on government-required intelligence issues, lessening the chance that the agency will begin to chart its own course and drift towards graft and corruption in the process. ANIC does its work and there have been few scandals associated with the agency. In short, it "respects democracy and the rule of law" and thus stands out compared to the previous two cases.
Honduras, Venezuela and Colombia: A Comparative Intelligence Snapshot
The intelligence agencies of Honduras, Venezuela and Colombia are non-Western in design and function. Because of the historical, social, and political unrest evident in each, the intelligence services were established to provide internal security primarily in support of government preservation and continuity. Human rights and civil liberties came at a premium and were not a top priority given the threats supposedly posed by organized crime and domestic terrorism imposed by violent street gangs and political opposition entities. This aspect separates them from Western counterparts, as these three Latin ICs do not really distinguish between internal and external security threats. In many ways they see them as an integrated and holistic threat picture, since many of the internal threats have financial and material support beyond national borders, such is the nature of transnational organized crime. Of the three, the Colombian intelligence agency is more normalized in terms of its recognition and approval by Western powers, most especially the United States. Venezuela finds itself on the other side of that political-intelligence approval spectrum. Recently, the United States has lent more credence and support to government opposition in Venezuela than to the recognized elected government. Senator Robert Menendez, Chairman of the U.S. Senate Foreign Relations Committee, in hearings designed to impose sanctions against Venezuela, tended to "minimize the seriousness of the widespread violence carried out by the opposition."  He went on to blame the Maduro government for the continued unrest.
The current policies of all three states and their intelligence agencies are similar in execution, though Honduras and Venezuela seem more brutal and less concerned with collateral damage. Consequently, they have not been as successful because the intelligence agencies have acted in a bipolar way, often collaborating with criminal elements and terrorists while also gathering intelligence for their ultimate demise. Western liberal democracies have stronger, more executable laws that prevent such intrusive and systemic levels of corruption and are thus able to more successfully deal with organizational threats.
Given their common Latin heritage and geopolitical concerns, all three countries should be acting in concert and sharing intelligence. With state-of-the-art technologies and closer ties with the West, the ability to share intelligence and create a regional security zone is certainly within the realm of possibility. Recent reforms in Colombia have gone a long way to clean up governmental agency corruption, especially within its intelligence organization, making its IC less prone to militarization and politicization. Honduras and Venezuela comparatively have a long way to go but they could learn a lot from their near peer. Only time will tell how seriously they consider the opportunity.