Suzhou Forum Calls for Faster Energy Transformation for Better Lives and Prosperity
Senior government officials, business leaders and key players in the global energy sector met today at the Third International Forum on Energy Transitions (IFET) in Suzhou, China. The international gathering, co-organized by the National Energy Administration of China, the International Renewable Energy Agency (IRENA), and the Jiangsu Provincial People's Government of China, is an important platform for dialogue and collaborative action on how to transform energy systems towards a sustainable, low-carbon and resilient energy future.
Over the last decade, renewables have brought disruptive change to the global energy landscape. Driven by rapid technological advances, enabling policy frameworks and plummeting costs, renewables have created unprecedented opportunities to rethink the way our energy systems operate. IFET aims to identify solutions to scale up the latest renewable energy innovations, particularly in end-use sectors, accelerate power sector transformation, increase renewable energy financing, and transform urban energy systems.
In his keynote remarks, IRENA Director-General Adnan Z. Amin stressed the need to take the global energy transformation to the next level by strengthening innovation, mobilizing investments and modernizing gird infrastructure. Accelerating renewables deployment is essential to tackle challenges such as climate change, sustainable development and meeting growing energy demand. The Director-General underlined that the energy transformation offers us vast socio-economic benefits in terms of powering sustainable growth, creating jobs and creating local value-added.
Leading the way on the energy transformation are those frontrunner countries, like China who, early on, recognised the potential opportunities in and are developing the policies, market mechanisms, and systems necessary to reorient their economies towards the high-tech industry and workforce of the future. As highlighted in IRENA's Corporate Sourcing Report, it is not only countries that are leading the way: companies in 75 countries actively sourced 465 terawatt hours of renewable energy in 2017, enough to power a country the size of France.
In his speech at the Sub-Forum on International Cooperation on Renewable Energy Industry Development, the Director-General also highlighted that international cooperation is needed to share lessons and experiences to overcoming challenges in transforming existing energy structures to low-carbon sustainable systems based on renewables and energy.
During his remarks at the Energy Future session, the Director-General identified five priority action areas to advance the energy transformation. These include: fostering a power sector that integrates higher shares of variable renewables and decarbonising end-use sectors, strengthening system-wide innovation, scaling up investment, ensuring equitable costs and benefits of the transition, and furthering international cooperation.
The previous conferences in 2015 and 2016 adopted the Suzhou Declaration and Consensus, respectively, which called for higher levels of ambition and decisive action to accelerate the energy transition.
IRENA also participated in the Belt and Road Energy Ministerial Conference taking place in Suzhou at the same time. Renewable energy has been identified as central to one of the initiative's key pillars as a means to build a sustainable energy future.
ADB Inaugurates Project to Replace Diesel Systems with Solar Hybrid Across Maldives
The Asian Development Bank (ADB) and the Environment Ministry of the Maldives have inaugurated the implementation of a solar–battery–diesel hybrid system in 48 islands under the flagship Preparing Outer Islands for Sustainable Energy Development (POISED) Project to help the country tap solar power and reduce reliance on costly, polluting diesel.
The POISED Project aims to transform existing diesel-based energy minigrids into hybrid renewable energy systems in 160 inhabited islands of the atoll nation, out of which installations on 48 islands spread across 8 atolls have been commissioned. The project has been achieving this by investing in solar photovoltaic (PV) power plants, battery energy storage systems, energy management systems, and efficient diesel generators, as well as distribution grid upgrades to allow future renewable energy penetration.
"The POISED project—one of the largest energy sector interventions in the Maldives—will introduce sustainable energy in the outer islands as well as help reduce the cost of energy, minimize CO2 emissions, achieve considerable fuel savings, and reduce the burden on the government budget," said the Director of ADB's Energy Division for South Asia Mr. Priyantha Wijayatunga.
Mr. Wijayatunga, Minister of Environment Mr. Hussain Rasheed Hassan, and Minister of National Planning and Infrastructure Mr. Mohamed Aslam were among those taking part in a ceremony to inaugurate the project in Malé.
The Maldives is the first country in South Asia to achieve 100% access to electricity. Each inhabited island was electrified with its own diesel-powered grid system that was old and inefficient, resulting in expensive and sometimes unreliable electricity supply. Diesel power is also costly and requires government subsidies in excess of $40 million a year. The 100% diesel dependence of the Maldives makes it completely reliant on oil imports and also makes its carbon emissions per unit of electricity among the highest in the region. Project installations were able to prove that the optimally designed solar–battery–diesel hybrid systems could significantly lower the power generation cost compared to existing options.
The project already installed approximately 7.5 megawatt peak (MWp) of solar PV facilities, 5.6 megawatt-hour (MWh) of battery energy storage systems and 11.6 megawatts of energy-efficient diesel gensets, while also upgrading distribution grids in 48 islands. The overall project will target a minimum of 21 MWp of solar PV installations. This will cater for an annual demand of 27,600 MWh, accounting for a reduction of 19,623 tons of CO2 emissions annually.
The POISED Project, approved in September 2014, is supported by $55 million in grants from ADB—$38 million from the Asian Development Fund, $12 million from the Strategic Climate Fund (SCF), and $5 million from the Japan Fund for the Joint Crediting Mechanism (JFJCM)—and $50 million loan from the European Investment Bank (EIB). All the contracts under ADB for SCF have completed installations, while installation under JFJCM is currently in progress. Disbursements under EIB funding have commenced and EIB funds would be used for most of the remaining smaller islands.
IRENA and UAE Ministry of Energy and Industry Sign MoU to Cooperate on Renewable Energy
The International Renewable Energy Agency (IRENA) today signed a memorandum of understanding (MoU) with the United Arab Emirates (UAE) Ministry of Energy and Industry, to cooperate in the field of renewable energy and drive an accelerated shift to low-carbon energy sources.
The MoU was signed in by IRENA Director-General Francesco La Camera and Undersecretary of the UAE Ministry of Energy His Excellency Dr. Matar Hamed Al Neyadi in the presence of UAE Energy Minister His Excellency Suhail Al Mazrouei, during Abu Dhabi Sustainability Week
H.E. Suhail bin Mohammed Al Mazrouei, Minister of Energy and Industry, said that signing of the MoU with IRENA comes in line with UAE's vision and the direction of the UAE's wise leadership aimed at promoting sustainable development in the UAE, enhancing the use of renewable energy, as well as supporting and developing relevant policies and organisational frameworks.
H.E. Minister Mazrouei added that the MoU is aimed at promoting the exchange of open data and allowing the UAE to learn new ideas and benefit from best practices in the field of renewable energy. He said these efforts are aimed at achieving the UAE Vision 2021 objective of creating a sustainable environment in the UAE.
IRENA Director-General Francesco La Camera said: "The case for renewable energy in the UAE and across the Gulf is unquestionable. Today, solar and wind are the country's most cost-effective sources of new power generation – contributing to growth, economic diversification and sustainable development in the Emirates."
"This agreement marks a further strengthening of the Agency's close relationship with the UAE government as it charts a new course of energy leadership into the 21st century," continued Mr. La Camera. "Together with the Ministry of Energy, IRENA will work to explore the full potential of the UAE's vast and diversified energy resources."
For his part, H.E. Dr. Matar Hamed Al-Neyadi, Undersecretary of the Ministry, said that the aim of this MoU is to organize and maximize cooperation between the Ministry and IRENA's general secretariat in order to deliver benefits to both parties.
The agreement aims to strengthen and enhance cooperation and the existing business relationship between the UAE Ministry of Energy and Industry and IRENA to develop knowledge products, conduct analysis, exchange information and organize workshops on renewable energy.
Cooperation between the two parties includes the following:
The development of a UAE renewable energy road map, taking into account UAE's characteristic demand for air-conditioning and associated technology
Support with renewable energy dissemination policies, both current and planned, intended to support deployment of renewables
Electrical interconnection and energy exchange plans and procedures intended to enhance integration of variable and renewable energy, as well as the impact of renewable energy on the stability of transmission networks together with possible technical and operational solutions in this regard.
Under the MoU the two partners will exchange quantitative information on data, statistics, costs, benefits and analytical information related to renewable energy technologies and policies. Best practice in financial instruments and regulatory measures including energy efficiency, market design, system flexibility and long-term planning for a high shares of renewable energy will also feature.
Double the Share of Renewables in the 'Decade of Action' to Achieve Energy Transition Objectives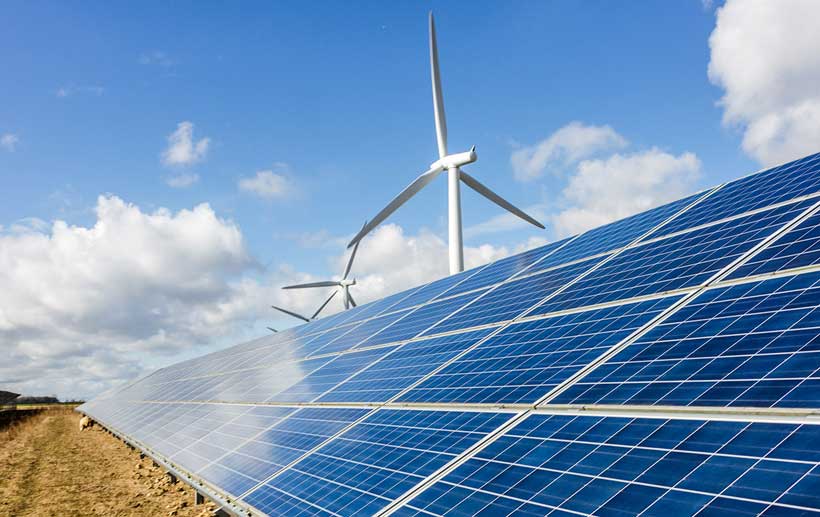 The share of renewables in global power should more than double by 2030 to advance the global energy transformation, achieve sustainable development goals and a pathway to climate safety, according to the International Renewable Energy Agency (IRENA). Renewable electricity should supply 57 per cent of global power by the end of the decade, up from 26 per cent today.
A new booklet 10 Years: Progress to Action, published for the 10th annual Assembly of IRENA, charts recent global advances and outlines the measures still needed to scale up renewables. The Agency's data shows that annual renewable energy investment needs to double from around USD 330 billion today, to close to USD 750 billion to deploy renewable energy at the speed required. Much of the needed investment can be met by redirecting planned fossil fuel investment. Close to USD 10 trillion of non-renewables related energy investments are planned to 2030, risking stranded assets and increasing the likelihood of exceeding the world's 1.5 degree carbon budget this decade.
"We have entered the decade of renewable energy action, a period in which the energy system will transform at unparalleled speed," said IRENA Director-General Francesco La Camera. "To ensure this happens, we must urgently address the need for stronger enabling policies and a significant increase in investment over the next 10 years. Renewables hold the key to sustainable development and should be central to energy and economic planning all over the world."
"Renewable energy solutions are affordable, readily available and deployable at scale," continued Mr. La Camera. "To advance a low-carbon future, IRENA will further promote knowledge exchange, strengthen partnerships and work with all stakeholders, from private sector leaders to policy makers, to catalyse action on the ground. We know it is possible," he concluded, "but we must all move faster."
Additional investments bring significant external cost savings, including minimising significant losses caused by climate change as a result of inaction. Savings could amount to between USD 1.6 trillion and USD 3.7 trillion annually by 2030, three to seven times higher than investment costs for the energy transformation.
Falling technology costs continue to strengthen the case for renewable energy. IRENA points out that solar PV costs have fallen by almost 90 per cent over the last 10 years and onshore wind turbine prices have fallen by up half in that period. By the end of this decade, solar PV and wind costs may consistently outcompete traditional energy. The two technologies could cover over a third of global power needs.
Renewables can become a vital tool in closing the energy access gap, a key sustainable development goal. Off-grid renewables have emerged as a key solution to expand energy access and now deliver access to around 150 million people. IRENA data shows that 60 per cent of new electricity access can be met by renewables in the next decade with stand-alone and mini-grid systems providing the means for almost half of new access.