Suzhou Forum Calls for Faster Energy Transformation for Better Lives and Prosperity
Senior government officials, business leaders and key players in the global energy sector met today at the Third International Forum on Energy Transitions (IFET) in Suzhou, China. The international gathering, co-organized by the National Energy Administration of China, the International Renewable Energy Agency (IRENA), and the Jiangsu Provincial People's Government of China, is an important platform for dialogue and collaborative action on how to transform energy systems towards a sustainable, low-carbon and resilient energy future.
Over the last decade, renewables have brought disruptive change to the global energy landscape. Driven by rapid technological advances, enabling policy frameworks and plummeting costs, renewables have created unprecedented opportunities to rethink the way our energy systems operate. IFET aims to identify solutions to scale up the latest renewable energy innovations, particularly in end-use sectors, accelerate power sector transformation, increase renewable energy financing, and transform urban energy systems.
In his keynote remarks, IRENA Director-General Adnan Z. Amin stressed the need to take the global energy transformation to the next level by strengthening innovation, mobilizing investments and modernizing gird infrastructure. Accelerating renewables deployment is essential to tackle challenges such as climate change, sustainable development and meeting growing energy demand. The Director-General underlined that the energy transformation offers us vast socio-economic benefits in terms of powering sustainable growth, creating jobs and creating local value-added.
Leading the way on the energy transformation are those frontrunner countries, like China who, early on, recognised the potential opportunities in and are developing the policies, market mechanisms, and systems necessary to reorient their economies towards the high-tech industry and workforce of the future. As highlighted in IRENA's Corporate Sourcing Report, it is not only countries that are leading the way: companies in 75 countries actively sourced 465 terawatt hours of renewable energy in 2017, enough to power a country the size of France.
In his speech at the Sub-Forum on International Cooperation on Renewable Energy Industry Development, the Director-General also highlighted that international cooperation is needed to share lessons and experiences to overcoming challenges in transforming existing energy structures to low-carbon sustainable systems based on renewables and energy.
During his remarks at the Energy Future session, the Director-General identified five priority action areas to advance the energy transformation. These include: fostering a power sector that integrates higher shares of variable renewables and decarbonising end-use sectors, strengthening system-wide innovation, scaling up investment, ensuring equitable costs and benefits of the transition, and furthering international cooperation.
The previous conferences in 2015 and 2016 adopted the Suzhou Declaration and Consensus, respectively, which called for higher levels of ambition and decisive action to accelerate the energy transition.
IRENA also participated in the Belt and Road Energy Ministerial Conference taking place in Suzhou at the same time. Renewable energy has been identified as central to one of the initiative's key pillars as a means to build a sustainable energy future.
Q&A: 'People have to be at the centre of the energy transformation'
In June 2021, the EU's Group of chief Scientific Advisors (GCSA) published the Scientific Opinion entitled "A systemic approach to the energy transition in Europe", arguing that the clean energy transition in the European Green Deal must keep people at its centre. In light of tomorrow's RePowerEU announcement that is critical to the future of energy supply in Europe, we invite GCSA Vice-Chair Nebojsa Nakicenovic to comment on the centrality of a just transition and the importance on staying focused on a clean energy future even at times of intensifying pressure.
Tell us why the European Commission even needs a scientific opinion at all. Does not the evidence speak for itself?
This publication (A Systemic Approach to energy Transition in Europe) is part of the Science Advice Mechanism (SAM) of the European Commission. From my perspective, this is a very unique way of providing scientific advice to the decision makers. Many governments have chief scientific advisors with that function. What is unique about SAM in the European Commission is that it has three independent parts.
First, there is the Group of Chief Scientific Advisors who provide the scientific opinion. There are very clear process rules about how that happens. The other independent part is the so-called SAPEA (Scientific Advice for Policy of the European Academies). This is a consortium of over 100 European academies. They provide a scientific evidence review, similar to the climate change assessment of the IPCC (Intergovernmental Panel on Climate Change).
The assessment is a scientific analysis of what we know about a particular topic. They (SAPEA) do not provide a scientific opinion or scientific advice, importantly they look into the possible options. We, the group of seven chief scientific advisors, based on this evidence review — evidence, so factual scientific knowledge — provide a scientific opinion to the European Commission.
There is also a unit in the Commission that catalyses this process. The three groups work closely together but we are independent. That explains the context. Why would we provide a scientific opinion? It is because the topic is considered really crucial and central to multiple crisis facing Europe and the world.
Does a just transition require a transformation of the economic model of energy services? People own the problem, should they not own the solution too?
That is precisely what we have tried to address in our scientific opinion – based on the scientific evidence. We didn't go beyond the scientific evidence.
Energy cannot be seen as a silo. We – people – have to be at the centre. That means it has to be an inclusive process involving everybody and, importantly, not leaving anyone behind. Because there is a great danger that any transformation, unfortunately, leads to winners and hopefully there will be many, many winners but also – I wouldn't say "losers" – but there are people who fall through the cracks who might be left behind and do not have an escape hatch. This is what was a high priority – to identify how to do that.
In our scientific opinion – and in fact we say explicitly, it is essential that sustainable energy, lifestyles, and behaviours become the preferred choice for the people – become a natural choice. For that, we have to create an environment that allows that. This is clearly very, very complex, I don't think anybody has a silver bullet on that question.
The world has changed since the paper was published in June 2021. In particular war, inflation and recent dire warnings from the IPCC about rising temperatures. How does that affect your opinion on a just transition?
I have to be very careful to distinguish what is in our scientific opinion based on the evidence and what is my personal view. It's important not to mix the two or I would not be reflecting the scientific advice mechanism which I think is very unique – I just want to make that clear. Here is my private opinion based on our scientific opinion but not in it.
Geo-politics are changing. There is no doubt that we are in a crucial moment in history. And this is why we argued before – again, my view – that we shouldn't lose sight of the long term objectives .
We are likely to exceed 1.5 degrees – it is almost certain that by 2040 we will be above (the limit prescribed), perhaps even earlier. From the scientific point of view, this is not new.
From the policy point of view and behavioural point of view, this is something one needs to somehow internalise. We will exceed that goal and we will bear the dangerous consequences. But, we should not lose the perspective of doing our utmost to reach 1.5 degrees in the future – and for that we need to act now.
This is another dimension of justice – intergenerational justice. We have to make sure that we leave the planet to the future generations (hopefully) in better condition than what will occur over the next decade or two.
Is it even possible for the EGD to achieve 'a clean, circular economy, a modern, resource-efficient and competitive economy' by 2050?
Again, we are in the realm of opinion. Nobody can tell what the future will be like.
I was very enthusiastic when in 2015 all of the world adopted the UN's Sustainable Development Goals (SDGs) and when there was the Paris Agreement on climate change. I think those were the two really important visionary steps towards this aspirational transformation that we were talking about.
I would also argue that the European Green Deal, Fit for 55 and New European Bauhaus initiatives are even more actionable in some sense. They provide a clearer agenda for how the world and life might and should look in 2050.
I don't want to sound too pessimistic and again let me add, this is my personal perspective – you know, 30 years is a long enough time to achieve this transformation.
We have done that before. The most recent example is of mobile phones. It all started in 1990 and today, everybody in the world has a phone. Even the poorest people have a phone because it has enabled new economic activities, because it's beneficial for many (despite the nuisance of always being reachable!)
Another example just to show in principle this is doable, is the replacement of horses by motor vehicles. That also took 30 years in most of the countries. We have 30 years to replace our vehicle fleet by hydrogen and electric. We have just enough time for the transformation if we act immediately.
The research in this article was funded by the EU. This article was originally published in Horizon, the EU Research and Innovation Magazine. 
New plan to accelerate clean energy access for millions globally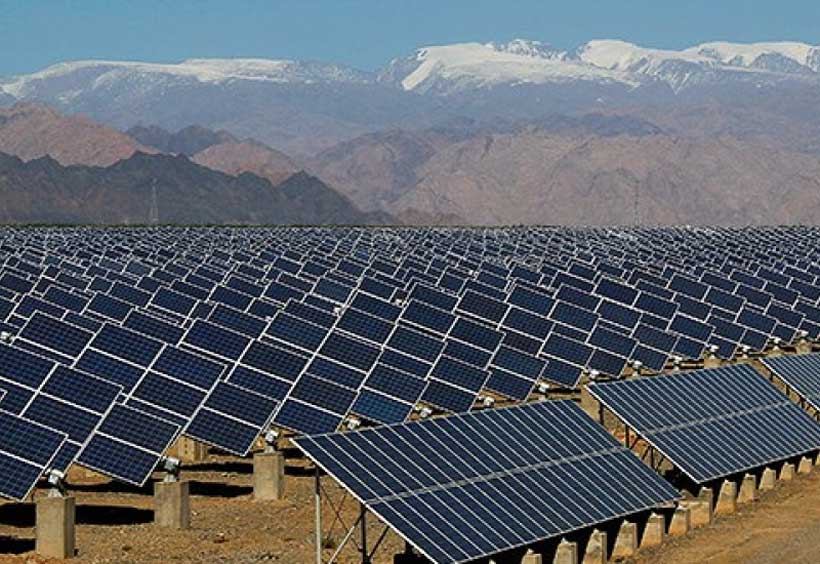 Amid the global energy crisis and worsening climate emergency, the United Nations and partners on Wednesday launched two new initiatives to accelerate action towards achieving clean, affordable energy for all, and the ambitious goal of net-zero carbon emissions.
The UN-Energy Plan of Action Towards 2025 delivers on commitments made at a high-level meeting in September that laid out a global roadmap for energy access and transition by the end of the decade, while also contributing to net zero emissions by 2050.
The UN-Energy partnership brings together some 30 organizations working on all aspects of energy and sustainable development.
An Energy Compact Action Network was also launched to match governments seeking support for their clean energy goals with governments and businesses that have already pledged over $600 billion in assistance.
Coalitions to support energy access and transition in Nigeria and in Santiago, Chile, were also announced, thus showcasing the Network's potential.
Sustaining the momentum
The commitments will drive forward achievement of a just, inclusive energy transition, aimed at ensuring all people have access to clean and affordable energy, in line with the Sustainable Development Goals (SDGs).
Their announcement comes as the world faces what the UN has described as the interlinked triple crises of energy, food and finance arising from the war in Ukraine.
Liu Zhenmin, head of the UN Department of Economic and Social Affairs (DESA) and Secretary-General of the 2021 High-level Dialogue on Energy, has welcomed the launch.
"This will help us sustain the momentum by generating concrete action towards clean and affordable energy and net-zero emissions," he said.
Scaling up action
The UN-Energy Plan of Action sets out a framework for collective action that includes doubling annual clean energy investment globally, and facilitating electricity access for 500 million people, as well as clean cooking solutions for one billion.
It identifies seven areas for work, ranging from scaling up efforts to close the energy access gap, to leveraging the power of data, digitalisation and visualisation for strengthening monitoring, tracking, accountability and communication of results.
The plan could not have come at a more critical time, according to Achim Steiner, Administrator of the UN Development Programme (UNDP) and the UN-Energy co-chair.
"The current context has led to a wider understanding of how energy underpins the entire 2030 Agenda. It is paramount that the commitments taken at the 2021 High-Level Dialogue on Energy and COP26 are translated into actions on the ground – especially in support of the most vulnerable," he said.
Collaborating for transformation
UN-Energy will support the Energy Compact Action Network, which brings together nearly 200 governments, businesses, and other civil society partners, to mobilize voluntary commitments made at the high-level dialogue.
Damilola Ogunbiyi, the Secretary-General's Special Representative for Sustainable Energy for All (SEforALL) and UN-Energy co-chair, highlighted the platform's important role.
"By creating opportunities for collaboration, the Network will transform the billions of dollars in finance and investment committed in the Energy Compacts into on-the-ground action towards the sustainable energy future that we urgently need," she said.
Powering the future
The launch also featured announcements by several new or expanded coalitions, demonstrating how countries, cities, businesses, foundations, and other partners, can join forces through the Network.
For example, SEforALL, UNDP and Husk Power Systems, are among partners that will support Nigeria's commitment to provide electricity to 25 million people by 2023, through using solar home systems and mini-grids to power five million homes, schools, hospitals and other public utilities. The move will also generate some 250,000 new jobs.
In Chile, the government of the Santiago Metropolitan Region will work with the multinational energy company Enel, and the Universidad de Desarollo, to increase the end-use of electricity for transport and heating, including to raise the share of the city's electric buses to 100 per cent by 2030.
The Network will also advance or expand coalitions supporting green hydrogen and a stronger role for women in leading and benefiting from the energy transition.
In this regard, a work plan to strengthen the role of women in the energy transition was launched by partners who include the Governments of Canada and Kenya, as well as the global youth-led organization Student Energy, coordinated by the UN Industrial Development Organization (UNIDO).
As oil prices spike, new investments in fossil fuels could be disastrous
Energy security is in the spotlight as many countries seek to reduce their reliance on foreign fossil fuels due to rising fuel prices spiked by the war in Ukraine, and the resulting geopolitical uncertainty.
Yet, as the recent Intergovernmental Panel on Climate Change (IPCC) report shows, existing and planned fossil fuel projects will push the world beyond 1.5 °C, so producing more fossil fuels could be a recipe for disaster.
With oil prices at their highest in nearly a decade, several oil-producing countries have increased fossil fuel production, which United Nations Secretary-General Antonio Guterres says, will only make matters worse in the long run.
The use of strategic stockpiles and additional reserves could help to ease the energy crisis in the short term. But experts say countries must push for transformational change, progressively phasing-out coal and other fossil fuels and accelerating the deployment of renewable energy.
We spoke to Mark Radka, head of the UN Environment Programme's (UNEP's) Energy and Climate Branch to find out more about the rise in renewable energy and what can be done to move away from fossil fuels.
Are you surprised that we are seeing pushback from energy companies and oil producers regarding reducing fossil fuel production?
Mark Radka (MR): It's not surprising, but it is important to distinguish among companies because neither companies nor countries are monolithic. There will be some opportunism, and it would be surprising if there wasn't. But the more thoughtful companies are committed to an energy transition, and I think they are going to stay the course, even if there are short-term fluctuations.
It takes time before money put into a new oil or gas field produces hydrocarbons, so these are long-term investments. It's not something that occurs overnight; they require a lot of money, a lot of engineering, and a lot of infrastructure to be designed and built. Companies don't make those kinds of decisions based on the politics of the moment.
Are we seeing a decrease in the appetite for climate action when it hits the public in the pocket?
MR: That is a false narrative. Renewables to date have largely provided energy in the power sector, while coal use in electricity production has declined. There is a welcome rise in the production and acceptance of electric vehicles (EV), although the EV market is still small but growing rapidly.
There is a distinction between oil and gas and renewables. There is more and more convergence in the energy system. But it has not occurred to the extent that you could say "it's the pro-climate renewable energy policies that are responsible for high gasoline prices." That's a falsehood.
Some oil-producing nations have said that without energy security, countries will lose the means to tackle climate change – what would you say to that?
MR: The premise that if you move too quickly away from fossil fuels, you will reduce your economic means of combating climate change is an odd logic. The costs of the energy transition will not be small. But the costs of inaction far exceed the costs of taking action. We need energy, but we also need a healthy climate for the planet to function: we need an energy transition that is climate compatible.
The technology exists – not in all sectors yet – but we shouldn't use that as an excuse for not moving aggressively in other areas. This transition is already underway. We just need to accelerate it, which definitely can be done. I would be surprised if any hydrocarbon producing government claimed they should stop producing hydrocarbons, but I think market forces will dictate that these producers find a shrinking market.
Are renewables inherently more geopolitically stable than fossil fuels?
MR: It's clearly much easier for some countries to be self-sufficient [when it comes to renewables] than others. If you are in a very sunny location, the cost of solar energy is attractive, whereas other countries might have better wind resources. The vast majority of countries have some good renewable energy sources. If the wind is blowing somewhere and it's overcast elsewhere, you can export the energy. Logically, you would like there to be sharing of resources, allowing for a balancing of supply.
This sort of energy sharing is possible in Nordic countries because their electricity grids are largely interconnected. There's also a proposed high voltage line between Scotland and Norway that will allow trading of Scottish wind energy and Norwegian hydropower. This type of project is good as it reduces overall costs and increases reliability. The world is getting more and more electrified – but electricity is not like oil; you can't store it in large amounts, so more interconnection is important.
Given the stark warnings in the most recent IPCC report, are we in danger of moving backwards this year?
MR: There's enough momentum to keep moving forward when it comes to decarbonization, but there might be short term reversals. I use the analogy of the temperature in spring. There may be some reversals, but ultimately, you know that the temperature is only going one way, and it will be on average hotter in July than it is in April, at least in the northern hemisphere.
What possibilities exist to maximize energy efficiency and thus consume less energy to reduce dependence on fossil fuel imports?
MR: The major frustration of people who worry about energy and climate change is the huge untapped potential for reducing energy needs through energy efficiency. Half of the near-term reductions in emissions in the energy sector can be achieved through energy efficiency, for example, by using more energy-efficient appliances and lighting and more efficient motors.
These are all out there, but they are just not adopted widely enough. Largely, it's government policies that drive more efficiency. For example, in the European Union, you can't buy a refrigerator today that would have been considered top of the market in 1990. So, those technologies have advanced, driven by regulations that spur innovation. People pay a little more for a better appliance, but they save money through their energy bills, often enough to pay off the increased cost quickly.
What would you say to those looking to expand fossil fuel production?
MR: We need to point out that this would be a false economy. It could lead to investment that needs to be retired early, as the definite trend is towards decarbonization in the energy sector. We need arguments to combat the idea that the climate is no longer such a priority with facts. We don't need to panic, but we should not be complacent either.