SADC-Russia's economic cooperation: Strategies, challenges and future perspectives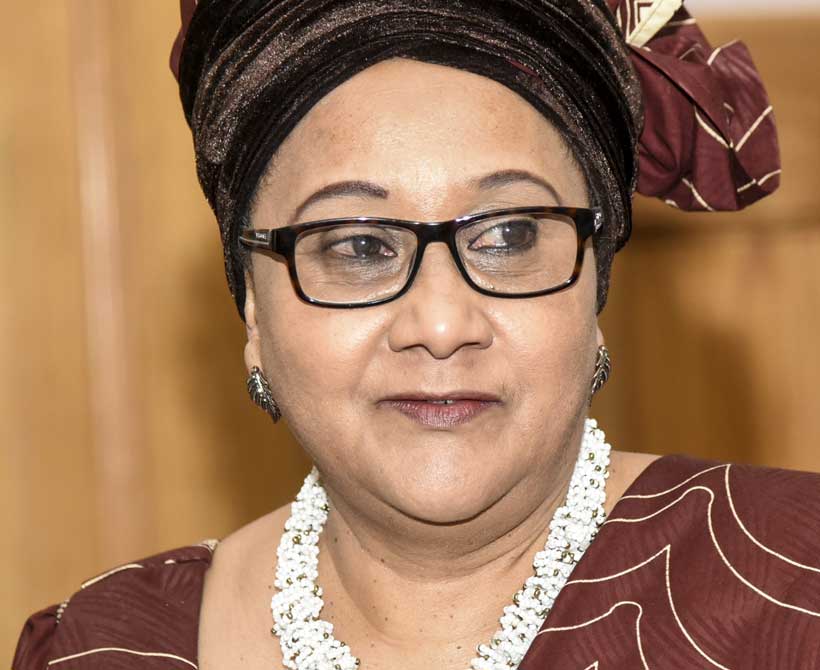 In 1991, the globally recognized anti-western Soviet propaganda machine collapsed and disappeared. Russia and SADC Member States have had long-standing and time-tested bilateral partnerships for nearly 30 years after the Soviet collapse. In this long-ranging interview, the Executive Secretary of the Southern African Development Community, Stergomena Lawrence Tax, discusses various aspects of SADC-Russia's economic cooperation, some strategies, challenges and future perspectives with Kester Kenn Klomegah from Moscow.
Russia and Africa mark nearly 30 years of bilateral relations after the Soviet collapse. What does this mean from the African perspectives?
Russia has a long history of bilateral engagements with the Southern African countries, which constitute the Southern African Development Community, a Regional Economic Community (REC). Russia, as part of the then Union of Soviet Socialist Republics (USSR), supported the concerted efforts of the Frontline States and the Liberation Movements to fight against apartheid and the existential threats posed by it.
The USSR, in this regard, provided technical and military support to most of the countries that were a part of the Frontline States in order to achieve total liberation in the region. Even after the break-up of the USSR, Russia has continued to play an important role in technical assistance, economics and military support to African countries, including SADC Member States – our relationship with Russia is therefore not new, it is very valuable, and need to be sustained.
The most recent visit (2018) of the Russian Foreign Minister H.E. Sergey Lavrov, to the Republics of Angola, Ethiopia, Namibia and Zimbabwe, (as we understand it) was largely focused on signing of economic cooperation agreements to attract Russian investments in key areas such as mining, aviation and energy sectors, as well as fostering military technical cooperation.
Southern African leaders are looking for investment in infrastructure, industry and trade. How would you characterize Russia's role in Southern Africa, comparing it among BRICS?
Investment in infrastructure, industry and trade is seen as a catalyst for regional integration, economic growth, and sustainable development. In this regard, SADC welcomes investors from all over the world.  It is worth noting that one of the BRICS countries, South Africa, is a SADC Member State. Any comparison will therefore be limited to the other BRICS countries – namely Brazil, India and China.
While Russia as part of the then Union of Soviet Socialist Republics (USSR) supported SADC Frontline States and the Liberation Movements, a few years ago, it has not been that visible in the region as compared to China, India or Brazil. It is encouraging that, of recent, Russia has positioned herself to be a major partner with Southern Africa and being part of the BRICS promotes her engagement with the region, particularly in investment in minerals, aviation, defense and energy sectors.
Russia has also launched an Africa business forum, aimed at improving direct trade with the continent/region beyond the traditional sectors like mining, seeking to invest in areas like agriculture, industrial production, high technology and transport. The upcoming Russia and SADC Investment Forum that is to take place on 23 October 2018 in Russia, also seeks to provide an opportunity for businesses and partnerships.
Foreign Minister Sergey Lavrov has reiterated during his last African tour that Russia's preferred focus is on Russia-SADC in its diplomacy in Africa. Why is SADC region considered a strategic region for Russia?
We cannot obviously speak for Russia, but we could give you a general overview of why international partners and investors would consider SADC an attractive or strategic investment partner.
There are a number of inter-related factors for this, the first being peace and stability: The SADC region is peaceful and stable. A peaceful and stable environment is attractive to investors as it fosters confidence by assurance of longevity, property rights and fundamental freedoms, which underpin economic rights. Peace in SADC is sustained through cooperation between the 16 Member States of SADC as espoused in the SADC Treaty, and in particular, the Protocol on Politics, Defense and Security Cooperation whose general objective is to promote peace and security in the Region.
The Founding Fathers of SADC had long recognized that the region could remain stable by fostering common political values, building legitimate democratic institutions and mechanisms to sustain peace as a pre-requisite for regional integration and prosperity.
Secondly, is the integrated market resulting from a combined population of approximately 327 million people, and a collective GDP of US$ 600 billion (2016), which is supported by generally favorable weather conditions in most parts of the region.
Thirdly, the region has abundant natural resources ranging from vast energy resources, arable land and forestry; to precious minerals such as diamonds, gold, platinum, copper, cobalt, oil, and natural gas to mention but a few. These are vital for the global economy and strategic partnership.
Notwithstanding, the above mentioned comparative advantages, the region has relatively under-developed human capabilities and infrastructure, which are essential for bolstering the region's efforts to exploit and maximize benefits from these natural resources. Hence, the need for the region to cooperate with external partners, such as Russia, which has advanced technologies and capacities that could be transferred to the region. A peaceful and stable environment surely presents a 'strategic' imperative as well.
Russian Federation's priorities are also in line with SADC priorities as evidenced by the priorities of the Foreign Economic Strategy in the region as indicated below:
Prospecting, mining, oil, construction and mining, purchasing gas, oil, uranium, and bauxite assets (Angola, Namibia and South Africa);
Construction of power facilities—hydroelectric power plants on the River Congo (Angola, Namibia and Zambia,) and nuclear power plants (South Africa);
Creating a floating nuclear power plant, and South African participation in the international project to build a nuclear enrichment centre in Russia;
Railway Construction (Angola);
Creation of Russian trade houses for the promotion and maintenance of Russian engineering products (South Africa).
Participation of Russian companies in the privatization of industrial assets, including those created with technical assistance from the former Soviet Union (Angola).
In your estimation, what is the level of Russia's engagement with SADC region?
Russia and SADC Member States have had long-standing bilateral partnership for development for decades, providing substantial results in the priority areas of cooperation. Through such significant historical ties, the peoples of SADC and of Russia have strengthened friendship and mutual understanding for developing comprehensive, equitable and fruitful cooperation.
The ten (10) SADC Member States represented in the Russian Federation, namely: Angola, Democratic Republic of Congo, Madagascar, Mauritius, Mozambique, Namibia, South Africa, Tanzania, Zambia and Zimbabwe provide an extensive representation for engagement.
At the regional level, SADC and Russia are expected to sign a Memorandum of Understanding (MOU) on Basic Principles of Relations and Cooperation on 23rd October 2018, in the following areas, among others, Technical Cooperation and Assistance; Capacity Building; Peace, Security, Conflict Prevention and Resolution; Preventive Diplomacy; Trade, Industry, Finance and Investment; Infrastructure Development, and Energy; Information Communication Technology (ICT); Transport, Communications and Meteorology; Water, Agriculture, Ocean Economy, Food Security; Minerals, Natural Resources and Protection of the Environment; Education and Science; Healthcare; Technology and Innovation; and Culture, Tourism and Information Exchange. In addition, a Memorandum of Understanding (MOU) in the area of Military – Technical Cooperation, with the aim of promoting cooperation between the Parties in regional and international peace and security was signed in July, 2018.
Outcomes of Russian Foreign Minister's March 2018 visit to some SADC Member States
In March 2018, the Russian Foreign Minister, Sergey Lavrov, visited the Southern Africa region where he held talks with the Presidents of Angola, Namibia, Mozambique and Zimbabwe. In his statement, the Minister noted that Russia together with Africa wanted to elevate trade, economic and investment relations to a level that would meet political and trust-based relations.
It is our considered view that the bilateral engagements served to strengthen the already existing ties, coming up with win–win bilateral cooperation between Russia and these Member States. This will be augmented by the two Memorandum of Understanding: MOU in the area of Military–Technical Cooperation, that is to promote cooperation between the Parties that was signed in July, 2018, and MoU on Basic Principles of Relations and Cooperation to be signed on 23rd October 2018.
What challenges and setbacks, in your view, still remain to get both parties (Russia and Southern Africa) towards result-oriented and effectively closer in their post-Soviet economic cooperation?
SADC works closely with the International Cooperating Partners (ICPs) in achieving its developmental results. As such, SADC's cooperation with the ICPs is guided by the principles of partnership and commitments. Both SADC and Russia value their adherence to the aims and principles of the United Nations Charter, seeking to contribute to the establishment of a democratic and just world order and to strengthen regional and inter-regional ties to ensure peace, stability, socio-economic development, and mutual confidence.
In view of the above, the thrust for SADC-Russia Cooperation shall be aligned with global, continental, regional, and national policies. By so doing, both sides will be able to contribute and create favourable conditions for socio-economic development, cooperation, and mutual confidence.
Soft power and public diplomacy are largely or significantly not in Russia's engagement with Southern Africa. What are your objective views on these issues?
If you follow the history of Russia's engagement with Africa, and Southern Africa in particular, from the days of the USSR to the present, one is likely to find that Public Diplomacy by Russia has encompassed many forms. These have included, educational programs, cultural exchanges, scholarly visitor programs, and of course, the use of media to cover and project issues on Africa from a Russian perspective. These are all instruments and forms of public diplomacy, which would ordinarily have the effect of reaching audiences on our continent and beyond, and impacting positively on what Russia has to offer the world. In the same vein, this can be seen as a form of "soft power" as its aim is to appeal and attract partners rather than coerce them into a relationship of one form or the other.
Arguably, do you think intermediaries will be required, for example, the private equity and commodity trading communities to play a supportive role in forging business links between Russia and Southern Africa?
Like most of the developing countries, Southern African countries have, over the years, largely relied on multilateral and regional development financial institutions to fund their development projects. However, given the huge demand for resources, policy makers have realised that these cannot be met solely from these traditional sources, and therefore, the need to explore alternative and innovative sources of funding. Private equity and commodity trading exchanges can play a critical role in mobilising resources mostly from the private sector to fund projects in the Southern African countries.
For the region to realise its enormous potential, it needs the support of the next generation of financial instruments and intermediaries to capitalise on opportunities, navigate challenges, and build the businesses and economies, that will enable the continent to thrive. Private equity could become a major force for accelerating growth in African countries. While regional penetration is low, smaller markets and modest penetration create significant potential for high risk-adjusted returns. Major growth sectors are: natural resources, transportation, energy, real estate, fintech, healthcare and hospitality. Many private equity funds are nurturing the requisite skills and experience to invest, grow and add value to portfolio/innovative companies.
Similarly, the establishment of commodity trading exchanges can play a critical role in boosting the region's economic development. Successful securities exchanges all over the world are key to the economic development, providing the most efficient channel for savers (domestic and foreign) to channel funds into long-term productive enterprises, creating growth and increased prosperity. Since the region has a comparative advantage in the vast natural resources sector, and in line with SADC objective of developing and adding value and beneficiation concept, the setting of the commodities trading exchanges present attractive growth opportunities.
In this context, SADC has already undertaken initiatives to develop the interconnectivity project whereby the aim is to link the SADC stock exchanges, and to encourage cross border trading of shares/stocks. Efforts are also being made to improve the operational, regulatory and technical requirement underpinnings and capabilities of the region's exchanges to make the securities markets more attractive to both regional and international investors.
The region remains a top destination for investment as its attractiveness to investment has risen dramatically over the last several years, and this should continue to present attractive growth opportunities for private equity for the foreseeable future. Private equity represents a new source of capital, complementing traditional sources and project finance, with private equity investors offering more than just funds, but also the needed skills. All said, there are positive directions in the relationship, we look for a bright future.
South Africa: Returning tostatism?
The South African state of disaster has been evolving since its declaration on March 15th. Following local and global acclaim for its responsive, science-based approach, the government has come under increased scrutiny for its turn towards command and control. Following the extended 35-day lockdown, President Ramaphosa announced a staged relaxation which paradoxically included strict limitations which were not part of the preceding 'hard' lockdown. For the first time in its democratic history, South Africa is under a nightly curfew. While the global health pandemic associated with COVID-19 may be novel, the government's response appears awfully familiar. Different as the situations may be, to understand the present one should turn to past.
Since 1994, South Africa has abided the post-Cold War international order to pave its path along Western liberal norms. The newly elected liberation party assumed the power of government at a time when it had little choice but to accede to these prevailing internationalist truths. It could either stand secure inside a global arrangement of states which ensured wealth and privilege along mandated rules and lines of thought or it could perilously go at it alone.
Based on hegemonic international practices and due on the injustices and vagaries of country's brutalized past, the ANC sought to salvage the state it inherited in accordance with the international system; it gave up an element of sovereign independence, chose to reconfigure its revolutionary strategy and became a casualty of its time by acquiescing to fantastical end of history persuasions. South Africa chose indirect governance over direct government.
This approach to power is captured in the dogma of good governance, the conformity to a set of prescribed indicators of administrative best practice; a managerial approach to political authority. Good governance does not interrogate peculiarities, nor is it based on the lay of the land. Instead, it accedes to specific standards. Having never executed power, the ANC alliance assumed leadership by following.
Through efforts to advance the rights-based democratic ideals which gave expression to the Constitution, it pursued development along international governance norms. The constitutive initial phase of democracy, characterized by consultation, policy formulation and institutional consolidation adhered to this dogma. Government's aspirational approach aligned to the aspirational character of the new Constitution. The modalities of good governance were, however, as foreign to the ANC as they were to South Africa. In according international norms, the history of the state was suppressed.
When Nelson Mandela assented to the presidency, a new nation was not birthed. The South African state remained; it was given another life. This is the reason the Economic Freedom Fighters (EFF) rebuffed Fw de Klerk's presence at the SONA earlier this year. This was no argumentum ad hominem.It was a politically astute move to delegitimate the government. It charged the ANC with ruling over the state of De Klerk. By rejecting the government's legitimacy, its authority over law and order, the EFF seeks to bring down the edifice upon which government rests. Potentially portending a move toward coup d'etat, it presciently recalls the architecture and history of the state. While the ANC government prefers to limit the debate about the history of the state, the EFF critically reminds South Africans of their history. It invokes an awakening to the history of the state.
To accurately perceive the frenzied national condition, South Africa needs to shed the veil of ignorance that conceals the history of the state.
The late 1970s saw the introduction of a total national strategy that was legitimised by what the state labelled a total onslaught; today benignly referred to as the 'struggle'. These analogous approaches shaped the national order which emerged in 1994. The total national strategy as laid out in the 1977 White Paper on Defence called for a "comprehensive plan to utilize all the means available to a state… A total national strategy is, therefore, not confined to a particular sphere, but applicable at all levels and to all functions of the state structure".
As was the case under the total strategy, today's concern is security. Security oriented government by decree is being justified in the fight against the nebulous COVID-19.
The ominous rise of the ambiguous National Coronavirus Command Council begs serious questions. It reminds of how under the total national strategy, power moved from cabinet to be concentrated into the State Security Council and later the National Security Management System. Vigilance must persist against decreed rule by selective committees.
Whereas the pragmatic Prime Minister PW Botha essentially portrayed the role of a crisis manager, today the similarly astute administrator Nkosazana Dlamini Zuma, regarded by some as a sort of Prime Minister, rules by regulation. Botha was obsessed with security; to maintain law and order Botha insisted upon an expanded militarisation despite the government recognition that there was no military solution. Today command and control again reign supreme. Reminiscent of the 1980s, the defence force is again (mainly) wielding sjamboks in townships. With more than 70 000 troops deployed to maintain law and order, South Africa is clearly no longer in the domain of governance, it has returned to statist government. The state is again seeing a total strategy whereby the resources of war are mobilised at political and economic levels. What really is the perceived threat upon which government's strategy is based? Is the defence force called upon because the state is fearful of its ability to maintain trust and legitimacy? Is it facing a potential loss in law and order? Though the virus is new, South Africa has been here before.
The ongoing state of exception presents a Manichean situation whereby claiming one's rights, one necessarily stands outside the law. The threat of a normalised state of exception isthe temporary if not permanent loss of freedom. In the words of famed American whistle-blower, Edward Snowden: "a virus is harmful, but the destruction of rights is fatal".
South Africa's bewilderment has largely been based on the perception that there is no precedent to demonstrable state control. COVID19 may be novel, but limitation, South African government by regulation, is not. There is an urgent need to wake up to history, to view the past in order to discern the present. While the ANC government has consulted widely and the state of exception is administered under the relevant Act, any limitation of rights and privileges must be challenged. Learning from the past, South Africans must be cautious of securocrats' use of security as a central means of government.
Despite Criticisms, Madagascar Moves Ahead With COVID-Organics
While Western and Europeans and Asians race to find vaccines for coronavirus, Africa can no longer wait for that scientific discovery that experts have said it would, most probably, be ready in a year or two. Some experts have argued that coronavirus would never disappear, but rather becomes endemic.
Indeed, the crisis has put the global science to practical test. Every individual country is busy fighting the pandemic in its own way, trying to make sure that it gains from the crisis. As the virus persistently sweeps across the world, southern African island of Madagascar seems desirous with an initiative to tap into its local herbal science to produce COVID-Organics to save human lives.
Madagascar, a southern African island in the Indian Ocean, has found an alternative to fight the fast spreading coronavirus, beginning on experimental basis and with a rudimentary approach at home. With increasing number of coronavirus, Madagascar is steadily depending on its natural resources to help Africa. As a result of the island's isolation, Madagascar is home to various unexploited plants found nowhere else on Earth. Many native plant species are used as herbal remedies for a variety of afflictions.
On April 21, the President of Madagascar Andry Rajoelina officially launched a local herbal remedy claimed to prevent and cure the novel coronavirus. The drink is simply called COVID-Organics and is derived from Artemisia – a plant with proven efficacy in malaria treatment.
During an African Union meeting late last month, he stressed the importance of the herbal cure – a variant of which prevents the virus, while another cures it. Speaking to colleague heads of state with a bottle of COVID-Organics on his table, he reiterated the viability of the herbal cure.

"There are two treatment protocols (curative and preventive). The state of health of COVID-19 patients who took Tambavy CVO CovidOrganics improved after 7 days and fully recovered after 10 days. These patients have taken no other product than COVID-Organics," Rajoelina said.
In an exclusive interview with FRANCE 24 and RFI, Rajoelina defended his promotion of a controversial homegrown remedy for COVID-19, stressing that COVID-Organics works really well. He further claimed that if a European country had discovered the remedy, people would not be so skeptical. "What if this remedy had been discovered by a European country, instead of Madagascar? Would people doubt it so much? I don't think so," the president told FRANCE 24's Marc Perelman and RFI's Christophe Boisbouvier.
"What is the problem with COVID-Organics, really? Could it be that this product comes from Africa? Could it be that it's not OK for a country like Madagascar, which is the 63rd poorest country in the world… to have come up with (this formula) that can help save the world?" asked Rajoelina, who claims the infusion cures patients within ten days.
"No one will stop us from moving forward – not a country, not an organization," Rajoelina said in response to the WHO's concerns, and added the proof of the tonic's efficacy was in the "healing" of "our patients", calling it a "preventive and curative remedy," according to the report.
In a similar argument, Dr. Charles Andrianjara, Malagasy Institute of Applied Research (IMRA) Director General pointed out straight "COVID-Organics will be used as prophylaxis that is for prevention, but clinical observations have shown a trend towards its effectiveness in curative treatment."
In a response to an email media query, an official at the presidency wrote: "We are committed to taking the traditional therapies through the same clinical trials as other medication. It's about time to participate and not only observe. As the opportunity emerges, we have the resources to use as a remedy against coronavirus, and to save lives. We need to think how to use it productively and profitably now."
The global scientific community has become curious. Scientists at Germany's Max Planck Institute in Potsdam are among a group of researchers from Germany and Denmark collaborating with the United States company, ArtemiLife, to explore whether the Artemisia plant can really be used against the coronavirus.
"It is the first study in which scientists are investigating the function of these plant substances in connection with COVID-19," the Head of the Study Group, Peter Seeberger, said in an interview with DW.
On April 28, while in a video conference with Foreign Ministers from Brazil, China, Russia and South Africa, the Indian Foreign Affairs Minister, Dr. Subrahmanyam Jaishankar noted that the pandemic not only poses a great risk to the health and well-being of humanity but also severely impacts on the global economy.
According to Jaishankar, India is providing pharma assistance to nearly 85 countries, including many countries in Africa, to support their response to the pandemic, and emphasized the need to provide support to businesses, especially small and medium scale enterprises, and the efficacy of traditional medicine systems.
Chinese are highly sensitive to opportunities, leverage indiscriminately to almost all sectors in Africa. Now China is showing interest in adopting and collaborating with Madagascar's herbal initiative. China has already promised to scale up its assistance to Africa by creating a health care initiative that allow African countries to access funds to address challenges in the healthcare delivery. It plans to build the headquarters of the African Center for Disease Control and Prevention.
One area that presents the world with opportunity, and has be explored in the search for treatment is the field of herbal medicine. So far, many countries are adopting supportive care and non-specific treatment options to relieve patient symptoms. Chinese traditional medical practices in China and herbal preparation from Madagascar raise hopes for COVID-19. The potential here gives credence for consideration as traditional and herbal remedy for COVID- 19, argued Justice Ray Prah from the Kwame Nkrumah University of Science and Technology (KNUST).
Madagascar's scientific initiative has drawn wide criticisms, instead of encouragement and support. The World Health Organization (WHO), established to monitor and tackle global health problems, research for innovative ways to ensure health of people, was rather the first to punch Madagascar. The officials have explained that the local African brew safety and effectiveness have not been assessed internationally, nor has any data from trials been published in peer-reviewed studies. Mainstream scientists have warned of the potential risk from consumption of untested herbal brews.
The African Union (AU), Southern African Development Community (SADC) and the Economic Community of West African States (ECOWAS) have made similar claims and said they would only support and endorse products that proved effective through scientific study.
But, the African Union, all African Governments and Regional Organizations have to get committed to taking "traditional therapies" through the same clinical trials as any other medication. It is worth to say that it is necessary to make collective or continental efforts toward finding a remedy against coronavirus.
African leaders have to understand that an effective COVID-19 vaccine, if it ever arrives, has to be treated as a public good for the whole of the global society, but at a cost not as a humanitarian aid. The combination of national self-interest and pressure for the pharmaceutical industry to make a profit is already triggering a geopolitical bust up over who actually gets access to the vaccine first.
Several media reports said an increasing number of African countries are opting for the COVID-Organics. About 10 African leaders have, already ordered for it since its launch in April. The countries include Chad, Comoros Islands, Democratic Republic of Congo (DRC), Equatorial Guinea, Guinea-Bissau, Niger and United Republic of Tanzania.
With COVID-19, Africa has to explore its own resources. African countries and the African Union (AU) have to reinforce scientific cooperation among its member states so that the continent can be ready for quick and concerted efforts to deal with unexpected health crises such as coronavirus, recently argued Dr Aminata Touré, former Prime Minister of Senegal and currently President of the Economic, Social and Environmental Council in Dakar, Senegal.
It is certainly too soon to draw some lessons on the effects of the Covid-19 pandemic since it continues to dramatically affect significant segments of the world population and still remains a puzzle, an enigma for the world scientific community. Some African governments, at different levels, have mobilized their resources and expertise, elaborated innovative strategies and carried out bold and strategies to contain the spread of the coronavirus, she explained.
"The African Union has to reinforce the scientific cooperation among its member states in order to ensure our common health sovereignty. This is urgent today, to put in place a genuine scientific partnership between our African universities so that we can identify anticipatory and preventive therapeutic and pharmaceutical solutions to human suffering. We must actively encourage the African scientific diaspora to build solid cooperation, exchange network systems with our counterparts from the continent in order to build African centers of research and laboratory excellence," suggested Touré.
Touré explicitly concluded that only these would be capable of helping to inspire widely recognized African initiatives on the cutting edge of research and development for medicinal and vaccine cures. This is the true path to health sovereignty.
Nearly a quarter of a billion people across Africa will catch coronavirus during the first year of the pandemic, the World Health Organization has said in a new study published in the British Medical Journal. The study further warns that 190,000 Africans could die of COVID-19 in the first 12 months of the pandemic unless urgent action is taken.
According to the latest figures from the WHO, Africa has more than 60,000 cases of COVID-19, which implies that Africa has been spared the worst of the pandemic. Experts say that the low number of tests in Africa is certainly hiding the true scale of the crisis. The African countries most affected by the pandemic included South Africa and Maghreb countries of Algeria, Egypt, and Morocco. Ghana and Nigeria have disturbing infected numbers in West Africa.
Thirty-five (35) African countries have each recorded less than a thousand cases. Eritrea is among a handful of African countries that have not recorded deaths as of May 15, others are Madagascar, Central Africa Republic, Mozambique, Namibia, Seychelles, Lesotho, Rwanda and Uganda. Mauritius declared total recoveries (332) from coronavirus infections (332) as of May 11.
Madagascar reported no deaths. Out 238 cases, it claimed 126 active and 112 have recovered. Madagascar's natural resources include a variety of agricultural and mineral products. Its major health infrastructure, in poor conditions, similar to many African countries. Madagascar, located in southern Africa, has 26.3 million population and belongs to the group of least developed countries, according to the United Nations. It is a member of the Southern African Development Community (SADC) and African Union (AU).
In the Era of COVID-19, Russia's Strategic Politics of Aid Takes the Stage in Africa
With coronavirus rapidly spreading among the population of 148 million, Russia took the third position in the world. According to the official data provided on May 11, Russia had an aggregate total of 221,344 COVID-19 cases. The United Kingdom and Italy earlier reported 219,183 and 219,070 cases, respectively. Spain comes in second with 224,390 coronavirus cases, and the United States ranked first with nearly 1.4 million cases.
That is a huge gap compared to over 50,000 cases among 1.3 billion population of Africa, at a first glance, and readily offered an understandable story. South Africa and Maghreb region are the hardest hit and worse affected with the coronavirus in Africa. As expected, the pandemic places diverse impact on the global economies and the society, recommended measures have been taken in a bid to prevent the coronavirus spread.
According to the United Nations Economic Commission for Africa (UNECA) report, Africa still behind European countries when it comes to the COVID-19 outbreak and is far from seeing its peak. While Africa has only reported more than 50,000 confirmed cases of the novel coronavirus early May, the UNECA-released report "COVID-19 in Africa: Protecting Lives and Economies" said "anywhere between 300,000 and 3.3 million African people could lose their lives as a direct result of COVID-19, depending on the intervention measures taken to stop the spread."
According to the Regional Office for Africa of the World Health Organization (WHO), the hardest hit are South Africa and mostly Maghreb countries of Algeria, Egypt, Morocco and Tunisia. These Maghreb countries have strengthened information controls, instead of upholding transparency during the health crisis, but generally reported to have more than 5,000 infections, while in Tunisia, there are 1,018 patients and 43 people have died. In sub-Saharan West Africa, Ghana and Nigeria are also among the top ten African countries affected the pandemic.
While Russia, for a time, appeared to escape a serious coronavirus outbreak, the situation there has changed drastically during these two months of April and May, – passing Germany and France to become the third most-infected country in the world, according to The Moscow Times. Russia now has the fastest rate of new cases in Europe, and second-fastest rate of new cases in the world behind the United States.
In an important part, Russian health workers are still reporting a shortage on protective equipment. With the picture getting highly scary, Russian President Vladimir Putin worries about any slightest missteps when, in one of his live television speeches, he warned: "We cannot jump ahead of ourselves. Any carelessness or haste may cause a setback."
Despite its internal difficulties, Russia has been offering coronavirus assistance to a number of Africa countries. Russia is using it bilateral and multilateral mechanisms in addressing these requests filed by African countries since March after the coronavirus pandemic had spread to the continent that consists of 54 countries. However, Lesotho and Comoros are free from the coronavirus.
Russian Foreign Ministry said a number of African countries have requested Moscow's assistance in combating the coronavirus. "A number of countries on the African continent have requested Russia's assistance in combating COVID-19. African nations need a wide range of medical equipment, including ventilators, as well as testing systems, individual protective gear, disinfectants and consumables. These requests are carefully studied and the situation in a particular country is taken into account," it reported, adding that coronavirus spread rates were relatively low in African countries, with the exception of Algeria, Egypt, Morocco and South Africa.
"However, this issue is causing serious concern to many countries on the continent. The social and economic situations in many of these countries are complicated, while high population density, poor healthcare systems, various crises and conflicts, transparent borders and uncontrolled migration can lead to a sharp rise in cases and unpredictable consequences," the statement said.
According to the Russian Foreign Ministry, the pandemic may negatively affect African countries' ability to carry out major tasks to overcome poverty, ensure sustainable development and implement integration projects. Russia had been assisting African countries in responding to natural disasters and the spread of infectious diseases, including the Ebola fever. "We will do what we can to help the continent combat the coronavirus pandemic, using bilateral mechanisms and those of international organizations," the ministry said, noting that "when making decisions, we will take a whole set of factors into account, including Russia's coronavirus spread rate."
Understandably, wholesale provision of coronavirus assistance is, absolutely and practically, impossible to Africa. Therefore, in the shadow of COVID-19, Russia is strategically choosing for its coronavirus aid destinations inside Africa, experts argued. Historically, Russia has had a high preference for the Maghreb region and southern African countries. Thus, in the months of April and May, aid was delivered to Algeria, Egypt, Morocco and Tunisia in North Africa. Ethiopia and Djibouti in eastern Africa. In southern Africa, the beneficiaries included Mozambique, South Africa and Zimbabwe, according to various media reports inside Africa.
On May 11, at the National Institute of Biomedical Research (NIBI) of the Democratic Republic of Congo (DRC), more than 28 thousand units of laboratory supplies and 8 thousand units of personal protective equipment including protective clothing, respirators, reusable full-face masks with a set of filters and gloves were delivered. According to the Ministry of Foreign Affairs media report, the cargo was sent by Russia's Rospotrebnadzor.

The delivery event was attended by the DRC Minister of Health, Dr Eteni Longondo, Advisers to the President, P. Muanda Congo and S. SialSial, as well as the Director of the National Institute of Biomedical Research (NIBI), Professor J.M. Muyembe Tampam and Russian Ambassador Aleksey L. Sentebov.
According to WHO, Congo confirmed its first case of coronavirus mid-March, and as of May 5, there were only 264 confirmed cases and 11 deaths in a country of some 80 million people. Therefore, the Russia's assistance provided is extremely timely, since epidemics of coronavirus, Ebola, Cholera and Measles broke out, at the same time, in the country. In difficult sanitary and epidemiological conditions, DR Congo is experiencing a sharp shortage of equipment, tests, medicines, vaccines, and there are not enough masks, gloves, and disinfectants.
In this regard, the Congolese are looking forward to the arrival of two mobile laboratories at the end of May this year, which, due to their versatility, can be used to combat the spread of a number of especially dangerous infections, including COVID-19. Russia plans to train Congolese personnel in these microbiological complexes.

In addition, as part of the provision of gratuitous anti-epidemic assistance, Rospotrebnadzor plans to send modern laboratory equipment, diagnostic preparations, vaccines against BVE, cholera, plague and measles, test systems for the detection of Ebola, dengue fever, malaria, cholera and coronavirus to Kinshasa.

Russian-Congolese health contacts are quite extensive and are backed by an agreement signed between the Federal Service for Supervision of Consumer Rights Protection and Humanitarian Affairs and the DRC on the sidelines of the Russia-Africa summit in October 2019 in Sochi. Over the course of several years, Russian virologists have repeatedly visited this country in order to identify its urgent needs, held meetings with local specialists and, in the most difficult period of the global spread of coronavirus in the Republic of Congo.
Russia's Sputnik News, under the headline, "Tunisia Asks Russia for Respirators, Masks, Medical Equipment Amid Pandemic" quoted the Tunisian Ambassador to the Russian Federation, Tarak ben Salem who said: "This request for assistance is a part of friendly relations between Tunisia and Russia. Tunisia, like many other countries, is facing an unprecedented health and economic crisis. We need respirators, masks and medical equipment that will help provide services in public hospitals."
"Tunisia, a country close to Italy, appreciated the assistance provided by Russia to this neighboring friendly country," Salem explained and added "Tunisia hopes for a step forward from Russia, which has promised to consider our request. This can only confirm the quality of friendly and fraternal relations between our countries and our peoples."
Nevertheless, Russia is also exploring the opportunities in Tunisia, and as part of its geopolitical expansion and influence in Maghreb region. According to the ambassador, Russia has pledged to look into Tunisia's request.
The United States had granted $500,000 in health assistance to address the coronavirus outbreak in Djibouti. Shortly thereafter, the Russian Foreign Ministry also posted to its official website that Russia had delivered humanitarian assistance to Djibouti in East Africa. Late April, Russian humanitarian aid to the Ministry of Health of the Republic of Djibouti was delivered and was described as part of a joint project with the World Health Organization. It was financed by the Russian Government to enhance Djibouti's potential in the field of medical emergency readiness and response.
"This humanitarian action comes in response to an official request from the Djiboutian authorities in view of the serious deterioration in the sanitary and epidemiological situation in the country caused by heavy floods and the spread of the novel COVID-19 infection. A consignment of humanitarian aid weighing a total of 13.5 tons and consisting of more than 20 multi-purpose medical modules to fight dangerous infectious diseases was delivered to Djibouti's seaport. The shipment included tents and components to build two medical units for rendering skilled assistance to over 200,000 people," according to report of the Russian Ministry of Foreign Affairs.
The report indicated that "the ceremony was attended by Russian Ambassador to Djibouti Mikhail Golovanov, WHO Representative Dr Ahmed Zouiten and Djiboutian Minister of Health Mohamed Warsama Dirieh. The Djiboutian leadership expressed its sincere appreciation to the Russian side for the assistance amid such a complicated epidemiological situation."
Djibouti has seen a rapid spike in coronavirus cases with the Horn of Africa nation, as the population largely ignores measures imposed by authorities. As a tiny country, it shares borders with Somalia in the south, Ethiopia in the south and west, Eritrea in the north and the Red Sea. Djibouti is a multi-ethnic, with a population about one million, but strategically important country that hosts the United States and French military bases, has recorded 1,116 positive coronavirus cases — small on a global scale. Only two (2) people have died to date, according to the report from the Ministry of Health.
With its burgeoning commercial hub, it serves strategically as the site for various foreign military bases. The hosting of foreign military bases is an important part of Djibouti's economy. The United States pays $63 million a year to rent Camp Lemonnier, France and Japan each pay about $30 million a year and China pays $20 million a year. The lease payments added up to more than 5% of Djibouti's GDP of $2.3 billion in 2018.
China has, in recent times, stepped up its military presence in Africa, with ongoing plans to secure an even greater military presence in Djibouti specifically. China's presence in Djibouti is tied to strategic ports to ensure the security of Chinese assets. Djibouti's strategic location makes the country prime for an increased military presence.
Undoubtedly, Russia has shown interest in strengthening its ties with the country. Russians believe it could take steps to overcome the impasses in the disputes between Ethiopia and Eritrea, between Ethiopia and Djibouti, as well as international support for Somalia's efforts to restore its statehood in the Horn of Africa. It has proposed an elaborate plan from maintaining peace and security to promoting socioeconomic development in the Horn of Africa and that includes Djibouti.
Over the past few years, Foreign Minister Sergey Lavrov has had extensive discussions on investment in high technology and transport logistics in Djibouti and Eritrea, both neighboring countries in the region.
It is worth to note that Russia and Algeria has friendly sustainable relations. A Russian cargo aircraft has delivered personal protective equipment to help tackle the novel coronavirus pandemic in Algeria. Algeria's Minister of Health, Population and Hospital Reform Abderrahmane Benbouzid and Russian Ambassador Igor Belyaev were at the air base of Boufarik, Blida (50-km south of Algiers), to take delivery of the cargo, Algeria Press Service reported April 30.
According to the information made available, the Russia's humanitarian aid, consists of medical protective equipment was purchased by the Rosoboronexport, the State Arms Exporter, it was done upon the Russian government's instructions in order to fight the coronavirus pandemic. "Among the medical items delivered to Algeria are infrared thermometers, suits, medical masks and other goods, needed by the friendly nation of Algeria and its healthcare sector," the media said. Cooperation in fighting COVID-19 strengthens the humanitarian aspect of Russian-Algerian relations.
Given this global scenario of COVID-19, it becomes a conduit to play some game cards. For instance, Russia's pursuit of playing a bigger role in global political realm is grounded on the consequences Russia faced in the aftermath of the collapse of USSR. That was followed by a huge political chaos and instability of its socio-economic space. However, Russia cling to it as the new game changer and now plays the catch-up. Russia seems to have neglected the potential opportunities in Africa, according to PunsaraAmarasinghe, a former research fellow at the Faculty of Law, Higher School of Economics in Moscow, and now a PhD candidate in international law from the Sant'Anna School of Advanced Studies in Pisa, Italy.
"Perhaps, Russia needs a lot more of efforts to revive old ties in African countries, to engage in a large scale investments and energy. Humanitarian assistance could be a strategic mechanism, the lack of Russian soft power in African states is another main trouble that continues to hinder Russia's realization of its policy projects," Amarasinghe wrote in his emailed discussion.
He further compares how Britain, France and even India are performing with the use of their soft power in African space, added finally that "Russia still has the opportunities, Moscow only needs to address more on African states beyond arms trade and offering assistance, but covering much important issues such as education, energy politics and investment. These have to be taken in practical terms, not just mere rhetoric."
On April 29, Russian International Affairs Council (RIAC), a powerful autonomous Russian NGO that focuses on foreign policy, held an online conference under theme "The Future of Africa in the Context of Energy Crisis and COVID-19 Pandemic" – with participation of foreign policy experts on Africa. Chairing the online discussions, Igor Ivanov, former Russian Foreign Affairs Minister and now RIAC President, made an opening speech. He pointed out that Russia's task in Africa following the pandemic is to present a strategy and define priorities with the countries of the continent, built on the decisions of the first Russia-Africa Summit, held in Sochi in October 2019.
On the development of cooperation between Russia and African countries, Igor Ivanov strongly reminded that "Russia's task is to prevent a rollback in relations with African countries. It is necessary to use the momentum set by the first Russia-Africa Summit. First of all, it is necessary for Russia to define explicitly its priorities: why are we returning to Africa? Just to make money, strengthen our international presence, help African countries or to participate in the formation of the new world order together with the African countries? Some general statements of a fundamental nature were made at the first Summit, now it is necessary to move from general statements to specificity."
The speakers presented scenarios of the development of the COVID-19 coronavirus pandemic on the continent, the impact of the coronavirus on various industries, the economic and social development of African countries. Experts discussed the role of integration associations on the continent, the existing and the expected problems in the work of humanitarian missions and programs supervised by international organizations.
For many African countries, it is the time to reflect on African countries' responses to COVID-19. It is time to take the opportunity it offers to catalyze action on structural deficits. The current predicament triggers long-term shifts toward universal access to health and education. It is time to think of improving communities with the necessary infrastructure. Although it has abundant natural resources, Africa remains the world's poorest and least developed continent, the result of a variety of causes include corrupt governments, and worse with poor development policies. It is time to prioritize and focus on sustainable development.
With its 1.3 billion people, Africa accounts for about 16% of the world's human population. Africa, comprising 54 countries, is the world's second largest and second-most populous continent after Asia. As the coronavirus spreads around the world, many foreign eyes, such as the United States and Canada, Europe, China, Russia and the Gulf States, are still on Africa.
Significantly, the global pandemic has exposed the weaknesses in Africa's health system, adversely affected its economic sectors, it is therefore necessary for African leaders, the African Union (AU), Regional organization and African partners be reminded of issues relating to sustainable economic development and subsequent integration. It sets further as a reminder to highlight and prioritize the significance of these in the context of tasks set out by the UN 2030 Agenda for Sustainable Development and the African Union's Agenda 2063.