How Genetics and Pollution Are Threatening Wild Dolphins
Dolphins are beautiful, highly intelligent and uncannily human in their interactions. Yet, they also have a language we humans cannot fully hear, and a culture that is in some ways similar to our own, and in others, a complete mystery.
Like us, they have circles of friends and acquaintances, with different greetings for different individuals, as if by name. They travel swiftly within a home range of about 100-square kilometers but can go further when they want to. They have the sleek design of a jet plane fuselage and the intelligence that comes with a 1,600-gram complexly structured brain. (The human brain is 1,300 grams.)
Found in almost all the world's oceans, they communicate with friends and family through clicks and whistles, and echolocation allows them to view the world around them. They pass on knowledge of culture and tools through the generations from mother to daughter, a matrilineal line that preserves and protects their heritage.
Approximately 40 species of dolphins exist. Many belong to the Delphinidae (ocean dolphin) family, including the orca; others live in rivers. Collectively, there are approximately 90 species of cetaceans, the order comprising whales, dolphins and porpoises.
Scientists analyzing the dolphin brain have determined that, like us, they possess a very complex neocortex — a region of the brain linked to awareness, emotions, problem-solving and other human-like abilities. Further, the limbic (emotional) system in some species is even more complex than humans.
These sensitive creatures have made the headlines in the past few months. An endangered orca known as Tahlequah mourned the tragic loss of her baby, carrying her dead calf for a record 17 days and 1,000 miles on what some have deemed a "tour of grief."
Shortly following Tahlequah's tragedy, the Center for Biological Diversity filed a lawsuit against the National Marine Fisheries Service regarding the species of orca on the West coast of the US that has become critically endangered. The suit alleged that the agency has neglected to establish habitat protection for the orcas. With only 75 of these orcas left, the population is the lowest it has been in 30 years.
Meanwhile, a combination of factors is threatening the very survival of these animals.
Genetics and Pollution
A recent study published in the journal Science delivers a serious warning as to the likelihood that dolphins and other marine mammals could be extirpated by pollutants. The discovery concerns an evolutionary change to DNA approximately 53 million years ago, which makes cetaceans particularly sensitive and therefore vulnerable.
Their bodies underwent various gradual changes during this evolutionary period. One of these changes was the alteration of DNA that codes for a particular enzyme known as PON1. Scientists believe the enzyme's metabolic processes were no longer needed for a life underwater. Terrestrial mammals, by contrast, maintained the intact DNA and its enzyme, which humans have to this day.
But 53 million years later, the genetic change has become marine mammals' Achilles' heel, thanks to human invention. The enzyme has a second function — an ability to defend against neurotoxins found in pesticides. Without PON1, these animals are unable to break down the neurotoxin and can be poisoned.
Dolphins and other sea creatures with the PON1 problem are thus defenseless against agricultural runoff containing pesticides. Part of the reason the endangered infant orcas off the coast of California are having trouble is this kind of pollution. Marine mammals by the Florida coast are at risk as well, as scientists sampling waterways have found significant levels of chlorpyrifos pesticide contamination.
Dolphins have also been disappearing from areas around the globe they once inhabited, such as off the coast of Argentina. There, where dolphins were once common, only "a single resident population" is believed to be left. Heavy metal contamination and overfishing are likely contributors the decline. Elevated levels of lead, zinc, copper and cadmium have been found in mollusks, crustaceans and sea lions, as well as elevated levels of mercury, cadmium, zinc and copper in bottlenose dolphins. Metals pass from mother's milk to the baby, resulting in the newborn dolphin having a weakened immune system and a lower probability of survival. The bottlenose dolphin is believed to be a common species globally and consequently people are less concerned about it than they should be; in certain localities these dolphins are quietly disappearing, as along the Argentinian coast. Scientists warn that the Argentina study "provides an example of how the failure to recognize local population declines can threaten the national (and eventually the international) status of a once common marine species."
To be sure, dolphins are facing similar toxic threats around the world. While metal pollution off the coast of Argentina is assumed to have resulted from decades-old mine waste, it is by no means unique to South America. Scientists examining the waters of Lake Geneva, Switzerland, discovered high levels of toxic metals including bromine, lead, mercury and cadmium. The toxins came from plastics, some of which had been banned or restricted decades ago, indicating the toxins remain in the environment for years. Plastic pollution is especially pervasive in oceans that dolphins inhabit – estimated at 150 million metric tons, with 8 million more tons added annually. Tellingly, a Malaysian dolphin was found dead after digesting nine pounds of plastic bags.
Chemicals can have a lasting and sometimes irreversible impact on the environment. Without containment, poisons that were banned years ago seep out of landfills, into streams and oceans, permanently contaminating water. For some species, a death sentence has already been passed. Change has come too late for the orca variety of dolphin, also known as the killer whale. This is the sad revelation recently published in the journal Science regarding polychlorinated biphenyls (PCBs) and orcas. PCBs banned more than 30 years ago have leached into the oceans, and killer whales as apex predators are "the most PCB contaminated mammals in the world," say the researchers, who found some of the killer whales had 1,300 milligrams per kilo of PCBs in their blubber – 50 milligrams per kilo has been shown in previous research to be sufficient to cause infertility and serious immune system problems. As with metals, mothers pass the PCBs on to their babies through milk. The researchers predict that "PCB-mediated effects on reproduction and immune function threaten the long-term viability of [more than] 50% of the world's killer whale populations." They forecast a population collapse of orcas near industrialized regions, as well as in regions where orcas feed on larger prey. In short, half of the world's orcas will be gone in just a few decades.
Some dolphin species are already very close to extinction. The Yangtze River dolphin, also known as "baiji," has lived in the river for 20 million years. There were thousands in the 1950s, but in the year 2000, there were a mere 13. By 2006, scientists pronounced the species extinct after an unsuccessful six-week hunt by conservationists. Its current status is either extinct or near extinction — in 2016, some amateurs believe they may have seen a baiji, although they are not certain. The baiji would be the first dolphin made extinct by humans, in this case through pollution, dam-building, overfishing and boat traffic.
Dolphins face threats from climate change as well. Twelve dolphins were washed ashore in one week this summer in Florida, as a result of a red tide disaster, due in part to rising temperatures, with six killed in 24 hours. Such numbers have usually been an annual loss in the past.
Dolphins face a particular and cruel peril in Japan. The town of Taiji holds an annual dolphin "drive hunt" in which more than 1,000 dolphins are massacred each year. Hunters find a pod of dolphins and first create a clamor to disrupt the dolphins' sonar, upsetting the dolphins and driving them into a cove, where they are then killed one by one, as the water in the cove turns red.
Even when dolphins are captured and kept in captivity, they react to their surroundings.
Dolphin Intelligence and the Future of the Animal Population
That dolphins are highly emotional is well-known. Peter — a dolphin kept in captivity after being moved to a smaller facility and permanently separated from the regular keeper he loved — fell into depression. Dolphins do not breathe air automatically the way humans do; each breath must be made consciously. A dolphin who has lost the will to live does not swim to the surface for his next breath. This was the fate of Peter; imprisoned and friendless at the new facility, he did not swim up for air and was found lifeless on the tank floor.
The emotional intelligence of dolphins reveals that trauma and separation will hurt dolphin families for years to come. The bloody waters of Taiji might hold the carcasses but not all the casualties. The many Peters of the world, having lost loved ones forever, can also lose the will to live.
At the 2010 annual meeting of the American Association for the Advancement of Science, scientists pondered the ethical and policy implications of dolphin intelligence. Neurobiologist Lori Marino argued that they may be Earth's second-smartest creature. One can only agree.
A philosopher at the meeting proposed that dolphins perhaps ought to be considered "nonhuman persons." He marvels at how, in addition to emotions and self-awareness, dolphins have personalities, exhibit self-control and even treat others ethically.
If a dolphin species becomes extinct, we lose not only a beautiful animal but a society and its culture. Dolphin habitat often spans the seas of many countries. Preserving them at home only to have them slaughtered on another shore is heart-wrenching. Preserving them abroad only to see them poisoned by pollution here is equally tragic. Countries must work together to ensure the survival of dolphins who swim beyond our borders, particularly as risks are compounded by climate change and pollution. The killing of whales for commercial purposes has been banned for many years. At the very least, this can be extended to their cousins now that we know they are under threat.
Pesticide use has to be regulated, particularly along the coasts to minimize PON1-related neurotoxic poisoning. Allowing a 53-million-year-old Achilles' heel to be shot with the dart of human invention would be a tragedy. Minimizing plastic pollution is essential to dolphins as well. Preventing further PCB leakage into the oceans must also be a priority to save the orca populations, half of which are already facing collapse due to PCB-poisoning.
We have already witnessed the long-lasting effects of chemical runoff, from the decades-old plastic-derived toxins in Lake Geneva, to the 30-year-old PCBs seeping into oceans around the world. Once waters are contaminated, no one can go back. It is already too late for some orcas. Consequently, while we still can, we must prevent further contamination.
If nations can work together to minimize ocean pollution and affect laws to prevent chemical runoff, perhaps then Tahlequah and her fellow orcas will have greater success with the next generation of calves, and our children and grandchildren will continue to know the pleasure of seeing an orca or a bottlenose dolphin leap magnificently from the ocean.
Author's note: this article first appeared in Truthout.org.
Green Politics: The hope for a better tomorrow
Authors: Anurag Mishra and Aaditya Vikram Sharma
Green Political Parties in India
To pick from the last instalment, the culture of Indian environmentalism is indeed ancient and quite veritably primitive. For the record, India has various Green parties. The prominent one is of course is the India Greens Party which runs as an offshoot of the Global Greens and is a full member of the Asia Pacific Greens Federation. To take a measure of how green politics fares in the Indian context would only require us to take a quick visit to the Indian Green Party's website. The events calendar for the IGP is blank for the month of July as well as the previous month. The last press release made by the IGP was in the month of March. A google search doesn't even yield a Wikipedia page for the IGP because there isn't one.
The Coronavirus pandemic poses a grave danger to humanity but also throws open an opportunity for laying the path which the posterity will tread. It is however disheartening that the response to the pandemic has more or less remained limited to desperate search for a vaccine. A vaccine nevertheless is the acute need of the hour but what is of no less importance is a future plan for humanity which is closer to nature and yet at a safe distance.
Global Green Political Parties
Here, we look at the contemporary Green parties around the world. We primarily focus on North America and the Asia Pacific. In North America, Canada got its first Green parties starting 1983. Being a federal country, Canada has such parties present on provincial as well as the national level. The provincial parties include the Green Party of Ontario, the Green Party of Prince Edward Island, the Green Party of British Columbia and the Green Party of New Brunswick. The parliamentarians who get elected are colloquially known as "Green MLAs." In the United States of America, the Green Party of the United States happens to be the primary such entity. It should be noted that as of April 2018, 156 Greens held elective office across the US in 19 states. The states with the largest numbers of Green elected officials are California (68), Connecticut (15), and Pennsylvania (15). Titles of offices held include: Alderman, Auditor, Board of Appeals, Board of Finance, Board of Selectmen, Borough Council, Budget Committee, Circuit Court Judge, City Council and so on. The Green Party has contested six U.S.A. presidential elections: in 1996 and 2000 with Ralph Nader for president and Winona LaDuke as vice president, in 2004 with David Cobb for president and Pat LaMarche for vice president, and in 2008 with Cynthia McKinney for president and Rosa Clemente for vice president. In 2000, Nader received more votes for president than any Green Party candidate before or since. Jill Stein ran for president on the Green ticket in 2012 and 2016; the vice-presidential candidates were Cheri Honkala in 2012 and Ajamu Baraka in 2016. Stein, who received over one million votes in the 2016 race, led unsuccessful attempts toward 2016 election recounts in three states: Michigan, Pennsylvania, and Wisconsin.
On the other side of the planet, the Asia Pacific Greens Federation is of prominence. It is a federation of national Green parties, social and environmental organizations in countries in the Pacific Ocean and Asia, and is one of the four federations that constitute the Global Greens. 32 Parties from 30 nations got together in February 2005 in Kyoto, Japan, to found the network. There they elected a Membership Panel, and delegates to the Global Greens Coordination (GGC). The federation has a presence in countries such as Australia, India, Mongolia, New Zealand, Pakistan, South Korea etc.
A Common Agenda?
The Agenda of these parties overall can be derived through their principles and policies- a list of such guidelines available on some websites of the Green parties. Overall these can be divided into the following headers- Ecological Wisdom, Social Justice, Participatory Democracy, Non-violence, Sustainability and Respect for Diversity. Overall, the idea seems to be in conformity with international treaties and upcoming practices for environmental governance. The agendas also seem to comply with global requirements for climate commitments, such as that of the Paris Agreement.
However, environmental policies are just one part of international relations. Thus, it is not clear what the other policies of green parties would be. Thus, their agenda needs to more well defined and encompassing.
Conclusion
Netflix released the second season of its popular school drama The Politician last month. Where the first season of the series had focused almost entirely upon the protagonist's political ambition and his run to the office of school president, the second season centred around his political campaign based entirely upon environmentalism. A strong movement requires novel instruments of mass mobilization and symbols which people can relate to and take to. The Global Green Movement needs to make itself 'catchy' to generate mass participation without which it is bound to remain a fringe movement even after fifty years since the United Tasmania Group coming into being. What seems to be the only way forward is mainstreaming of the Green agenda and making it "cool" and part of the popular culture.
However, it is not just awareness that would suffice and thus the scientific developments in the areas of energy, agriculture and food among other things need unprecedented attention and investment. In the food industry, the way Veganism has caught people from diverse range of countries is an example how an idea can travel far and wide and can bring about even the most difficult and unimaginable lifestyle changes. The technology has tried keeping pace with companies like Impossible Foods and Green Meat Co. coming up with vegetable based meat etc. The growing popularity of EVs and renewable sources of energy have steadily moved in the direction of creating a global ecosystem based on the idea of sustainability and environmentalism. All we need is a huge push and unrelenting spirit.
Chinese Manjha, Bird's Right To Fly And Indian Judiciary
Authors: Dr. Partha Pratim Mitra and Dr. Prakash Sharma*
Recently in the backdrop of Indo-China border tension and boycott of Chinese product, a writ petitioner approached the Calcutta High Court by filing a Public Interest Litigation. The grievance was that kites were being flown with Chinese and nylon manjha which pose threat to both the pedestrians and motorcyclists particularly who used flyovers for commuting. Here, the High Court has reiterated the earlier order of the National Green Tribunal.
Chinese Manjha and Ecology
The traditional manjha is used in the entire country since ancient times. It is believed that kites and kite flying have been introduced in India by the Chinese traveller Fa Hein and Huein Tsang who had visited this country in 5thcentury BC and 7thcentury AD, respectively. The royals of Lucknow are famed for flying kites with a golden thread attached, as an incen­tive for people to cut them. With its growing popularity, manjha was industrially manufactured and is normally made of nylon, plastic and synthetic substances. In present times, it is used during festivals, across the length and breadth of the country.
In a petition filed by PETA India, the National Green Tribunal, Principal Bench, New Delhi took active step and directed all the State Governments to prohibit the manufac­ture, sale, store, purchase and use of synthetic manjha or nylon thread (known as Chinese manjha) and all other similar synthetic threads, used for kite flying and also directed to the respondents to ban import of any synthetic manjha or nylon thread in any part of the country. The Tribunal took note of the fact that thousands of birds have been frequently injured or killed by use of manjha, including rare endangered birds, like the Indian White Rumped Vulture, Great Indian Bustard, Amur Falcon,etc.
Bird's Right to Fly in Indian Constitution
In People for Animals v. Mohazzim, the High Court of Delhi held that running the trade of birds is in violation of the rights of the birds. Expressing their anguish, the Court was worried as to why no one is caring about inflicting cruelty on birds, despite settled law that birds have a fundamental right to fly and cannot be caged and have to be set free in the sky. The horrific conditions under which birds are captured and exported illegally in foreign countries without availability of proper food, water, medical aid and other basic amenities required as per law depicts sad state of affairs.
Birds have fundamental rights including the right to live with dignity and they cannot be subjected to cruelty by anyone. Therefore, all the birds have fundamental rights to fly in the sky and all human beings have no right to keep them in small cages for the purposes of their business or otherwise. In this regard, the Gujarat High Court in Muhammadbhai Jalalbhai Serasiyav. State of Gujarat, held that to keep birds in cages would tantamount to illegal confinement of the birds which is in violation of right of the birds to live in free air and sky and directed to release illegally confined birds in the open sky.
In Narahari Jagadish Kumar v. State of Andhra Pradesh, the Andhra Pradesh High Court issued directions to State Government as well as authorities to prevent organizing cock-fights with betting during festival of sankranthi. The Court further gave stringent steps to stop such bloody and gruesome sports throughout the year. Similarly, the Madras High Court in S. Kannan v. Commissioner of Police,held that protection shall be granted to all kind of birds including poultry against cruelty of any manner. The Court observed that the birds and animals are entitled to coexist along with human beings. The Court also issued orders prohibiting cock fight and any other bird or animal fight for the sake of enjoyment of spectators.
Eco-centric Role of the Indian Courts
The present trend of Indian judiciary is to widen the scope of the Constitution and to extend right to life beyond citizens. The impetus behind such observation comes from the judgment of the Animal Welfare Board of India v.A. Nagaraja , where in the Supreme Court observed that animals have a right not to be tortured by human beings, and from being inflicted with unnecessary pain or suffering. Earlier, in Ramlila Maidan case, the Supreme Court held that the Constitution also speaks of preservation and protection of man, animals, and includes other creatures, like plants, rivers, hills etc.—all collectively forming part of the environment. In addition, the Supreme Court has also applied the eco-centric principles and rejected the earlier notion of anthropocentric approach. In T.N. Godavarman Thirumulpadv. Union of India the Court argues how humans as part of nature must also accept the intrinsic value attached with the non-humans. In Centre for Environment Law, WWF-I v. Union of India, the Courtheld that human interest does not take automatic prec­edence and humans have obligations to non-humans independently of human interest. The need of hour is restructuring of efforts at multiple levels and a desire that human-beings must collectively act to prevent destruction of environment. This would demand creation of laws, measures and policies from an eco-centric perspective.
* Prakash Sharma, Assistant Professor of Law, Vivekananda Institute of Professional Studies.
Tiger Conservation in South and Southeast Asia and The Indian Experience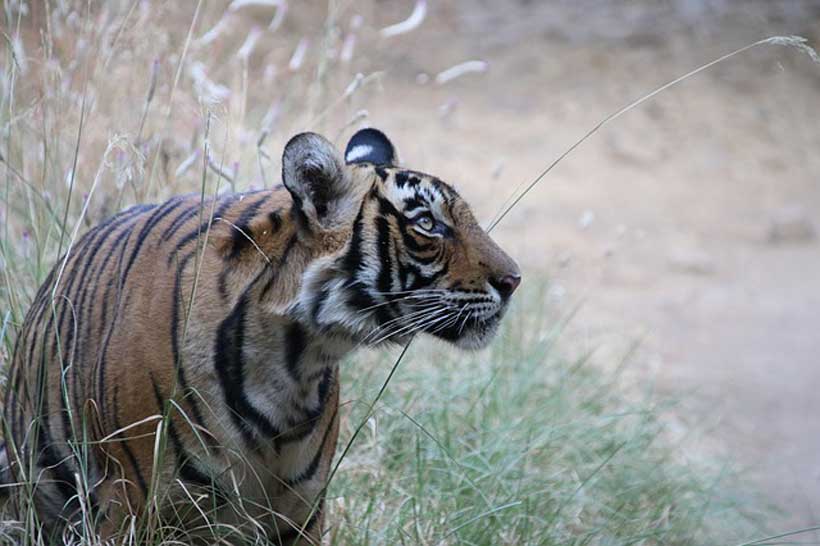 Every year 29th July is being celebrated as Tiger Day since 2010 when thirteen tiger range countries, Bangladesh, Bhutan, Cambodia, China, India, Indonesia, Laos, Malaysia, Myanmar, Nepal, Russia, Thailand and Vietnam adopted the Global Tiger Recovery Program  in St. Petersburg, Russia in November 2010 to double the number of wild tigers from about 3,200 to more than 7,000 by 2022. Earlier in the same year Governments from across Asia's tiger range countries took initiatives to save wild tigers from extinction and total protection of critical tiger habitats on January in 1st Asian Ministerial Conference on Tiger Conservation at Hua Hin, Thailand.
Degradation in Tiger Population in Southeast Asia
Maximum tigers were roaming on those areas of Asia where human beings are now densely populated. Presently over one-third of tiger conservation sites in the world are still under the risk and the majority of those areas are located in Southeast Asia. Bhutan is the home to the highest altitude tigers in the world and Indonesian island of Sumatra is one of the last places on earth where tigers, elephants and orangutans coexist in the wild. Sunderban mangrove area of India and Bangladesh is the habitat of largest number of wild Royal Bengal tigers. One hundred years ago, there were 100,000 wild tigers in the nature but in 2010 as few as only 3,200 wild tigers remained. The sole cause of declination in tiger population is human activity and nearly 97% has been extinct due to rampant poaching and habitat loss. The borders of India-Nepal, Indonesia-China and Russia-China are very well known hot spots for trans-boundary smuggling of tiger body parts.
Indian Tiger Protection Laws and National Tiger Conservation Authority
The main legislative action was undertaken by then Indian government through the insertion of the Wildlife (Protection) Amendment Act, 2006 which was also known as 'Tiger Amendment'. This Amendment of 2006 introduced some important statutory and administrative steps including National Tiger Conservation Authority (Section 38L), Tiger and Other Endangered Species Crime Control Bureau (Section 38Y), Tiger Conservation Plan (Section 38V) and Tiger Conservation Foundation (Section 38 X). This Amendment was made on the recommendation of Tiger Task Force (TTF) consisting of biologists, social scientists, activists and forest officers across the country constituted by then Prime Minister in July 2005 on the backdrop of vanishing of tigers by rampant killing and poaching. Since its inception in 2006, National Tiger Conservation Authority has worked tremendously and till now declared nearly 50 protected areas as Tiger Reserves having critical tiger habitats with the consultation of State Governments. Though few Tiger Reserves were established earlier after launching of Project Tiger during 1973 but those reserves have got the statutory status (Section 38V) after this Amendment. Central Government notified many bye laws for better functioning of National Tiger Conservation Authority and those are The National Tiger Conservation Authority (Qualifications and Experience of Experts or Professional Members) Rules, 2006; The National Tiger Conservation Authority (Salaries, Allowances and other Conditions of Appointment) Rules, 2006; The Tiger Conservation Authority Fund (Regulation) Guidelines, 2007; The National Tiger Conservation Authority (Tiger Conservation Foundation) Guidelines, 2007; The National Tiger Conservation Authority (Annual Reports and Annual Statement of Accounts) Rules, 2007; The National Tiger Conservation Authority (Recruitment and Conditions of Service of Officers and Other Employees) Rules, 2007 and The National Tiger Conservation Authority (Normative Standard for Tourism activities and Project Tiger) Guidelines, 2012. The Act has played nicely the federal features of Indian government as 'wild animals' are subject of State as well as Union.
Indian legal framework for wild animal protection
There is an elaborated interpretation of Indian Constitution after 42nd Amendment in 1976 through which protection of wild animals came under the Directive Principles of State Policies (Article 48A) and Fundamental Duties (Article 51A(g)) of citizen. This Amendment also brought the subject protection of wild animals within the legislative approach of States as well as Centre. In 1992, the 73rd and 74th Constitutional Amendments widened the legislative power on forestry and ecological aspects to local governments of panchayats and municipalities. The Wildlife (Protection) Act, 1972 instituted office of Director of Wildlife Preservation [Section 3(a)], Asst. Director of wildlife preservation [Section 3(b)] and Wildlife Advisory Board [Section 6] at central level and Chief Wildlife Wardens [Section 4 (a)] and Wildlife Wardens [Section 4 (b)] at State level. After the Amendment of 1991, Central Zoo Authority [Section 38A] came into force to regulate all zoos in the country and National Board for Wildlife [Section 5A] at State level. The Amendment of 2003 introduced National Board for Wildlife [Section 5A] and a Standing Committee of the National Board [Section 5B] and for state level Honorary Wildlife Wardens [Section 4 (bb)], State Board Wildlife [Section 6], Advisory Committee [Section 33 B], Conservation Reserve Management Committee [Section 36 B] and Community Reserve Management Committee [Section 36 D]. There are several other administrative authorities constituted for protection of tigers and wild animals directly or indirectly. In 1962 the Animal Welfare Board of India was established under Ministry of Environment and Forests as per provisions of the Prevention of Cruelty to Animals Act, 1960 and National Biodiversity Authority was established through the provision of the Biological Diversity Act, 2002 to regulate, transfer and use of diversified biological resources at the national level. The National Afforestation and Eco-Development Board, was set up in 1992 for promoting afforestation, tree plantation, ecological restoration and eco-development activities.
Collective Initiatives by Member Countries
Countries like India, Nepal and Russia have shown that tiger recovery is possible but other governments in Southeast Asia are facing the challenges in poaching and man-tiger conflicts. In November 2009, representatives from the Convention on International Trade in Endangered Species of Wild Fauna and Flora (CITES) Secretariat, the International Criminal Police Organization (INTERPOL), the United Nations Office on Drugs and Crime (UNODC), the World Customs Organization (WCO) and the World Bank (IBRD) decided in Vienna to form the International Consortium on Combating Wildlife Crime (ICCWC) to jointly move forward in a coordinated manner with mandates in law enforcement and criminal justice to prevent and combat illegal trade in wild animals and plants. Finally the Consortium was launched by Prime Minister Vladimir Putin in November 2010 during the International Tiger Forum held in St. Petersburg, Russian Federation. ICCWC is the first initiative where these five international agencies cooperate together towards crimes against animals, birds and fish, as well as timber and non-timber forest products to achieve a common goal of delivering multi-agency support to affected countries. In 2014, Nepal became the first country to achieve a full year of zero poaching for three of the world's most iconic species –tiger, rhino and elephant. Last year Indian Prime Minister on the event of global tiger day declared that India is the safest habitat for tigers in the world and having largest numbers of wild tigers in the nature. India along with other participant countries decided to double their tiger population within 2020 at the St. Petersburg Tiger Summit, Russia in 2010 and as per recent press release of National Tiger Conservation Authority, since 2006, the 33% rise in tiger numbers is the highest ever recorded between cycles which stood at 21% between 2006 to 2010 and 30% between 2010 and 2014.