Can India Balance Between Beijing and Washington?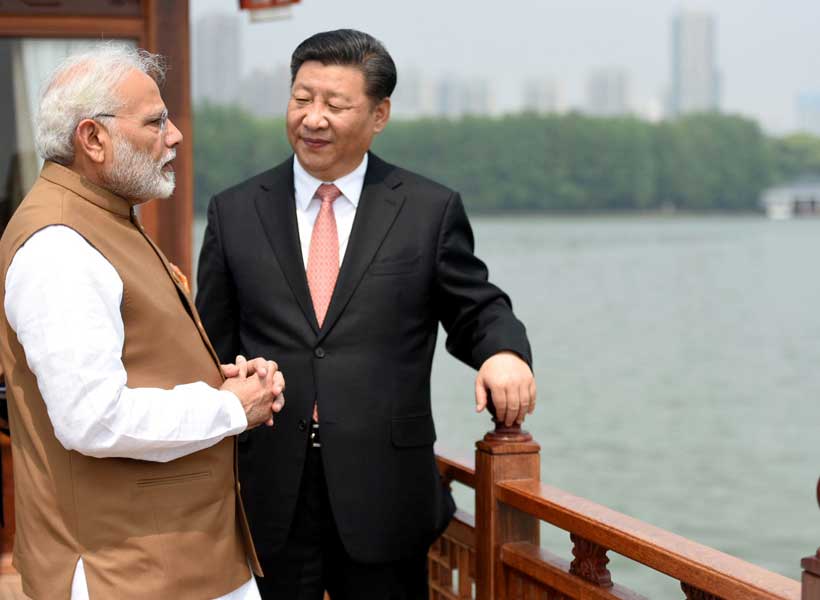 On October 10, 2018, a Senior Chinese Diplomat in India underscored the need for New Delhi and Beijing to work jointly, in order to counter the policy of trade protectionism, being promoted by US President, Donald Trump.
It would be pertinent to point out, that US  had imposed tariffs estimated at 200 Billion USD in September 2018, Beijing imposed tariffs on 60 Billion USD of US imports as a retaliatory measure, and US threatened to impose further tariffs. Interestingly, US trade deficit vis-à-vis China reached 34.1 Billion USD for the month of September (in August 2018, it was 31 Billion USD). Critics of Trump point to this increasing trade deficit vis-à-vis China as a reiteration of the fact, that Trump's economic policies are not working.
Ji Rong, Spokesperson of the Chinese Embassy in India said that tariffs will be detrimental for both India and China and given the fact that both are engines of economic growth it is important for both to work together.
The Chinese diplomat's statement came at an interesting time. US President, Donald Trump on October 2, also referred to India as 'tariff king'. Even though the India-US strategic relationship has witnessed a significant upswing, yet the US President has repeatedly referred to India imposing high tariffs on US exports to India (specifically Harley Davidson motorcyles).
It also came days after, after India signed a deal with Russia (October 5, 2018) for the purchase of 5 S-400 Air Defence system, during the visit of Russian President Vladimir Putin. The Chinese envoy's statement also came days before India attended the China dominated Shanghai Cooperation Organization (SCO). Significantly, India and China also began a joint training programme for Afghan Diplomats on October 15, 2018 (which would last till October 26, 2018).
Trilateral cooperation between India, China and Afghanistan was one of the main thrust areas of the Wuhan Summit, between Chinese President, Xi Jinping, and Indian PM, Narendra Modi, and this is one of the key initiatives in this direction.
There are a number of factors, which have resulted in New Delhi and Beijing seeking to reset their relationship. The first is difference between New Delhi and Washington on economic ties between the former and Iran and Russia. Washington has given mixed signals with regard to granting India exemptions from Countering America Through Sanctions Act (CAATSA).
US ambiguity on providing waivers to India
While sections of the US establishment, especially Jim Mattis, Defence Secretary and Secretary of State, Michael Pompeo have been fervently backing a waiver to India, there are those who oppose any sort of waiver even to India. NSA John Bolton has been warning US allies like India, that there will be no exemption or waiver from US sanctions targeting Iran's oil sector. On October 4th, Bolton while briefing the press said:
"This is not the Obama administration … is my message to them (the importers),
Trump himself has not been clear on providing India a waiver, when asked about this issue, he said India would  know soon about the US decision (Trump has the authority to provide a Presidential waiver to India from the deal with Russia). A State Department Spokesperson also stated, that the US was carefully watching S-400 agreement with Russia, as well as India's decision to import oil from Iran, and such steps were 'not helpful'. With the US President being excessively transactionalist, it is tough to predict his final decision, and with growing differences between him and Mattis, one of the ardent advocates of waivers for India, it remains to be seen as to which camp will prevail.
US protectionism and New Delhi's discomfort
Differences between Washington and New Delhi don't end on the latter's economic ties with Tehran and Moscow. India has on numerous occasions stated, that while strengthening strategic ties with the US, it was concerned about the Trump administration's economic policies. This was clearly evident from the Indian Foreign Minister Sushma Swaraj's speech at the SCO Meet (October 12, 2018) held at Dushanbe, Tajikistan where she pitched for an open global trading order. Said Swaraj:
"We have all benefited from globalization. We must further develop our trade and investment cooperation. We support an open, stable international trade regime based on centrality of the World Trade Organization,"
Even if one to look beyond Trump's unpredictability, there is scope for synergies between New Delhi and Beijing in terms of economic sphere and some crucial connectivity projects.
Economic Opportunities
For long, trade has been skewed in favour of China, and this is a growing concern for India. Trade deficit between India and China has risen from 51.1 Billion USD in 2016-2017 to 62.9 Billion in 2017-2018 (a rise of over 20 percent).
The imposition of US tariffs has opened up opportunities for China importing certain commodities from India. This includes commodities like soybeans and rapeseed meal. In a seminar held at the Indian embassy in Beijing in September 2018, this issue was discussed and one on one meetings between potential importers (China) and sellers (India) was held. India urged China to remove the ban which had imposed on the import of rape meal seeds in 2011.
Connectivity and Afghanistan
Another area where there is immense scope for cooperation between India and China is big ticket connectivity projects. During his India visit, Uzbekistan President, Shavkat Mirziyoyev invited India to participate in a rail project connecting Uzbekistan and Afghanistan.
Afghanistan has welcomed this proposal, saying that this would strengthen cooperation between China and India in Afghanistan. India-China cooperation on this project is very much in sync with the China-India Plus Model proposed by China at the BRICS Summit in July 2018.
India and China can also work jointly for capacity building in Afghanistan. New Delhi has already been involved in providing assistance to Afghanistan in institution building and disaster management, and if Beijing and New Delhi join hands this could make for a fruitful partnership. The India-China joint training program for Afghan diplomats is a significant move in this direction. India and China can also look at joint scholarships to Afghan students where they can spend part of their time in China and the remaining time in India.
Both India and New Delhi for any meaningful cooperation in Afghanistan can not be risk averse, and will have to shed their hesitation. Beijing for instance has opted for a very limited 'capacity building' , where it will work with India in Afghanistan. While Kabul had expected that both sides will invest in a significant infrastructure project, Beijing with an eye on its ally Islamabad's sensitivities opted for a low profile project.
Conclusion
New Delhi should not be too predictable in it's dealings with Washington DC, and has to do a fine balancing act between Beijing and Washington DC. While on certain strategic issues are synergies between India and the US, on crucial economic and geo-political issues, there are serious differences, and India's ties with Beijing are crucial in this context. New Delhi and Beijing should seek to expand economic ties, and the latter should give more market access to Indian goods. Apart from this, both countries should work closely on connectivity projects. If both sides build trust, the sky is the limit but it will require pragmatism from both sides. Beijing should not allow the Pakistani deep state to dictate it's links with India (especially in the context of cooperation in Afghanistan). New Delhi on its part, should not make any one issue a sticking point in its complex but very important relationship with Beijing.
New Government in Bangladesh: Implications for China-Bangladesh Relations
The People's Republic of China is one of the earliest countries to congratulate Prime Minister Sheikh Hasina for her landslide victory by securing two-third majority in the 11th National Parliamentary Election in Bangladesh, held on December 30, 2018. Chinese Ambassador in Dhaka, Zhang Zuo, and his team paid an official visit to the Prime Minister's Office, Ganabhaban, on December 31, 2018, to hand over the congratulatory messages to the newly elected Prime Minister from Chinese President Xi Jinping and Premier Li Keqiang. This official message denotes China's continuous support to Bangladesh as well as the potency of their bilateral strategic partnership at the dawn of the twenty-first century.
Over the years, especially since 1990s, China has emerged as a cooperative and reliable partner for Bangladesh in the economic development and national security build-up of the latter. Under the constant rule of Sheikh Hasina and her party, Bangladesh Awami League, in Bangladesh since 2009, the relationship has turned into a comprehensive strategic partnership.
In terms of trade, China, at this moment, stands as the largest trading partner for Bangladesh with more than $10 billion of bilateral trade volume. According to the reports provided by the Export Promotion Bureau of Bangladesh, the amount of country's total export to China was $808.14 million in the fiscal year 2015-16, compared to the amount of $319.66 million in 2010-11. At the same time, China's export to Bangladesh in 2015-16 was worth about $9.8 billion, compared to the amount of $5.9 billion in 2010-11. Economists have predicted that, if the current rate continues like this, the bilateral trade volume would reach up to $18 billion in 2021, when Bangladesh will be celebrating its 50th anniversary.
Throughout the last decade, Bangladesh has developed an outstanding political relationship with China as well. For example, when Chinese President Xi Jinping's paid an official visit to Dhaka in October 2016, Bangladesh received him with the highest official greetings ever. It was the first visit by any Chinese head of the state to Bangladesh in 30 years, which is considered as the biggest diplomatic milestone to their bilateral relationship.
During this visit, both countries signed 27 deals and memorandum of understanding (MoUs) worth an amount of $13.6 billion in trade and investment sectors. President Xi has also offered $23 billion loan to Bangladesh for supporting some large-scale infrastructure projects. Prior to that, in May 2014, the China Major Bridge Engineering Company (CMBEC) was awarded for the construction of Padma Bridge, the biggest ever infrastructural project in Bangladesh.
Bangladesh has been an official partner of China-led Belt and Road Initiative (BRI) since 2016. The country is one of the founding members of the Asian Infrastructure and Investment Bank (AIIB) as well. Geographically, Bangladesh is a part of both overland and maritime routes of BRI. It is a member of Bangladesh-China-India-Myanmar Economic Corridor (BCIM-EC) initiative, which focuses on the revival of the Southern Silk Road under BRI by physically connecting the landlocked provinces of Southern China to the Bay of Bengal. On the other hand, the Chattogram sea-port and its adjacent maritime area of Bangladesh have been an integral part of the 21st Century Maritime Silk Road. The country has, in fact, received the second highest amount of funding from BRI project in South Asian region, after Pakistan.
Apart from these developments, China has also emerged as a strategic security partner for Bangladesh in South Asia over the last decade. In the period of 2011-2015, for example, Bangladesh became the second highest importer of military equipments from China. In order to strengthen the capacity of Bangladesh Navy under the current regime of PM Sheikh Hasian, Bangladesh purchased two submarines from China, named BNS Nabajatra and Joyjatra, both delivered in 2016. Bangladesh also purchased six surface ships from China in between 2009 and 2015, which include two patrol boats with modest anti-surface and anti-submarine capabilities. These technological supports and upgraded equipments from China have enabled Bangladesh Navy to be emerged as a "blue-water" defense force for protecting country's maritime area.
In terms of education and cultural exchanges, both China and Bangladesh have further developed their cooperation during this period. Several Chinese language institutes have been established, by far, in both public and private universities of Bangladesh. The number of Bangladeshi students studying in China has also been increased significantly with the help of growing number of scholarships from the Chinese government.
Hence, as per the expectations from both sides, the extension of Sheikh Hasina's government for the third time will contribute to further boost up this bilateral cooperation. China believes that, under the leadership of Prime Minister Sheikh Hasina, Bangladesh will be able to fulfill its "Vision 2021" and, thereby, to become a middle income country by 2021, which would create further opportunities for the promotion of China-Bangladesh friendship in the upcoming days.
Will Pakistan go to IMF finally?
International Monetary Fund (IMF) was created just after World War II (WWII) in 1945. It was the time of re-organization of the world order after massive destruction of WWII. UN and its organizations were establishing and whole world was passing through reforms. The IMF is an organization of 189 countries, working to foster global monetary cooperation, secure financial stability, facilitate international trade, promote high employment and sustainable economic growth, and reduce poverty around the world.
The beneficiary of WWII was US, and emerged as leader of World. IMF and World Bank like other UN and International organizations were depending on US funding to some extend and US has been utilizing in expand its economic, political and military influence around the world, frequently. US was involved in appointing head of such organizations directly or indirectly.  I leave it to my readers to judge that if IMF and other organizations have achieved its objectives or not?
Pakistan have been knocking doors of IMF since 1958, and it has been 21 agreement with IMF. Generally, IMF provides loans at very low interest rates, and provides programmes of better governance and monitoring too. But for last 6 decades, Pakistan has suffered a lot, in term of good governance. Especially last 2 decades, corruption, nepotism, poor planning, bribery, weakening of institution, de-moralization of society, etc were witnessed. We may not blame IMF for all such evils, but must complain that IMF failed to deliver, what was expected. Of course, it is our country, we are responsible for all evils, and wrong doings happened to us. We have to act smartly and should have made right decision and on right times.
In fact, beneficiary of corruption, is west, and in some of the cases, west has inspired or protected the corrupt politicians and bureaucrats in the developing nation and Pakistan is no exception to it. At least, IMF failed to monitor the utilization of funds provided.
IMF also dictates its terms and condition or programmes like: devaluation of local currencies, which causes inflation and hike in prices, cut or draw-back of subsidies on basic utilities like fuel, gas, electricity etc, which causes cost of life rather higher for local people, cut on development expenditures like education, health, infrastructure, and social development etc, which pushes the country backward.
Pakistan was no exception to it in the history of our relations with IMF. Last couple of decades, we could not develop our infrastructure, as a result we are back ward and could not take off economically, could not built Dams and suffering from Power shortage and water crisis, Education, health and social sector was ignored and pushed us rather backward.
In past, whenever we approached IMF, US administration was favoring us, but this time, it was witnessed that US may create hurdles or resistance in the form of additional conditions etc.
Based on experience of 6 decades, Government of Pakistan (GoP) have to make decision, weather to go to IMF or not? It is very serious issue and very sensitive decision. GoP is very serious and in close consultations with various experts from within the government and out side the government. There is a group in Pakistan, lobbying for IMF, as it is cheapest and more structured. Pro-IMF lobbies are more close to PM Imran Khan. While, there are experts who are against IMF and feels in past, if IMF was not helpful for Pakistan, then why to go again for the same tested organization. It is worth mentioning that, Pakistan is a diversified nation, and freedom of expression is ensured by constitution of Pakistan, so many controversial opinions are expected – we enjoy the highest degree of freedom. .
In past, politicians were rather easy to coerce and IMF was successful in their missions. But, today, Pakistan is in safe hands and current leadership is honest, loyal and sincere with Pakistan. The PM Imran Khan is a strong man and will take decision based on principles in the best interest of nation.  Sources close to him, feels that till date he is not convince yet, but will take a firm decision soon. His decision will be based on expert advice, national interest and purely merit-based.
However, all other option may be explored and taped, like friendly nations have already extended a hand of financial assistance. Like Saudi Arabia, Arab Emirates, Qatar, Turkey, Malaysia and China. Which has lessen the need of going to IMF to a great extent. It will provide an edge to Pakistan, while negotiating with IMF.
Whatever will be his decision, people of Pakistan trust him and will stand behind him. His decision will be considered the decision of 220 million of Pakistan. Pakistan has a history of "No Default" in last 7 decades to any one of our international obligation or agreement. Pakistan is a civilized, disciplined and matured & resilient nation. We have passed many harsh tests, in last 4 decades and learnt many lessons.
Pakistan Securing Its Maritime Interest and CPEC
The IOR is a major sea route that unites the Middle East, Africa, and East Asia with Europe and America. The excessive economic growth of littoral states of Indian Ocean obliges them to protect their energy needs and interests in order to endure their purchasing power. This has great security implications for the sea line of communication of the littoral states of IOR like Pakistan.
Continuing to Pakistan's interests in IOR the China-Pakistan Economic Corridor has great potential to transmute Pakistan into a central trade platform, which would undeniably gushed the enemies, particularly India, to halt it. The development of Gwadar sea-ports as part of BRI in general  and that of CPEC in particular has amplified India's concerns' and aimed for more sophisticated and advanced naval build-up. Furthermore, India perceives the Gawadar port (that is considered as crown jewel of CPEC) as a hazard to its contesting interests in Central Asia countries.  The reason being, India can access Afghanistan, Iran and Central Asian Republics (CARs) only through Cahabahar by passing Pakistan and Gawadar  a deep water sea port that is easily accessible to these land locked states then Chahabahr. A couple of days back on 24th December 2018 India has formally over taken the operational control of Iran's Cahabahar port – only (0 Km away from Gawadar port. India's aspirations to become blue water navy in the IOR raise serious concerns among Pakistan's maritime security. CPEC would lead toward increased maritime politics and contestations not only between Pakistan and India but would also involve China and US.
In such turbulent circumstances Pakistan is required to prepare its sea based defense to secure its sea lines.   Islamabad needs to carefully evaluate its options and develop its strategic response accordingly, involving but not limited to continuous development of its naval capability and an even closer maritime cooperation with China. In view of the prevailing power dynamics in Indian Ocean Pakistan Navyin order to secure its interest in IOR inked a contract with China's State Shipbuilding Corporation (CSSC)in June 2018 for two, Type 054AP frigates. The agreement is an extension of a previously signed agreement in 2017. Recently on December 19, 2018 steel-cutting ceremony for the second Type 054A frigate for the Pakistan Navy was held at the Hudong-Zhonghua shipyard in Shanghai. The type 054 AP warship frigates will be equipped with modern detection-state of art sensor and Guided Missiles weapon systems; capable of anti-ship, anti-submarine and air-defense operations. According to the report of China Daily report added that the "Type 054A is the best frigate in service with the PLAN".
It is pertinent to mention here that maritime security is linked with the Economic security and vice versa. Gawader port is one of the most important projects of the CPEC where Pakistan and China are very hopeful that in future this shipping port will generate the revenue for Pakistan's economy.  There is a big chunk of fishery industry through which Pakistan can earn a lot. It will stimulate business and trade activities at state level and across the region.  The 054 AP frigates ""Will be one of the largest and most technologically advanced platforms of the Pakistani Navy and strengthen the country's capability to respond to future challenges, maintain peace and stability and the balance of power in the Indian Ocean region" a report on 2nd January 2019 released by  Chinese state owned media said.
In some, to deal with all these existing defies Pakistan Navy (PN) has espoused to a multi divided line of action for safeguarding the port in more effective manners. It conducts security patrolling h and coastal exercises from time to time. Furthermore, previously in 2013 it has inaugurated its Joint Maritime Information Coordination Center (JMICC) in Karachi to provide with an effective mechanism of Maritime Domain Awareness (MDA).  After receiving these 054 AP frigates warship Pakistan will definitely in far more better position to counter India's vested interests in Indian Ocean region. It will also help secure the Gwadar port which is the chief component of Pakistan maritime trade activities. China has always been an al weather strategic partner of Pakistan. Although India always tries to propagate that CPEC is military agreement instead of an economic one however, securing the economic interests with an advanced mechanism does not mean at all that it's planning something militarily. Pakistan has always adopted a defensive policy and it is the right of every sovereign state to secure its interests even if they are economic as there is no morality in international politics, still CPEC is an economic project which welcomes every state of the region for economic cooperation  even if it is India as well.