Can India Balance Between Beijing and Washington?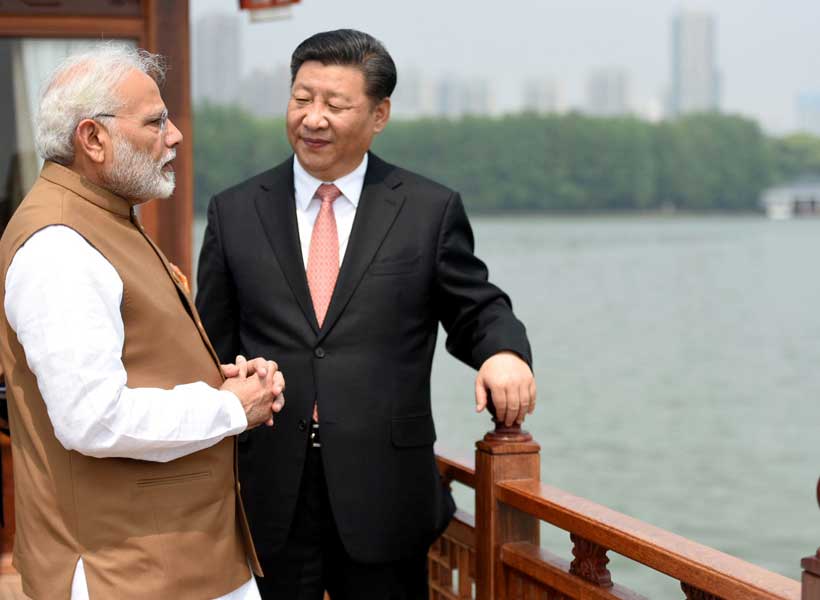 On October 10, 2018, a Senior Chinese Diplomat in India underscored the need for New Delhi and Beijing to work jointly, in order to counter the policy of trade protectionism, being promoted by US President, Donald Trump.
It would be pertinent to point out, that US  had imposed tariffs estimated at 200 Billion USD in September 2018, Beijing imposed tariffs on 60 Billion USD of US imports as a retaliatory measure, and US threatened to impose further tariffs. Interestingly, US trade deficit vis-à-vis China reached 34.1 Billion USD for the month of September (in August 2018, it was 31 Billion USD). Critics of Trump point to this increasing trade deficit vis-à-vis China as a reiteration of the fact, that Trump's economic policies are not working.
Ji Rong, Spokesperson of the Chinese Embassy in India said that tariffs will be detrimental for both India and China and given the fact that both are engines of economic growth it is important for both to work together.
The Chinese diplomat's statement came at an interesting time. US President, Donald Trump on October 2, also referred to India as 'tariff king'. Even though the India-US strategic relationship has witnessed a significant upswing, yet the US President has repeatedly referred to India imposing high tariffs on US exports to India (specifically Harley Davidson motorcyles).
It also came days after, after India signed a deal with Russia (October 5, 2018) for the purchase of 5 S-400 Air Defence system, during the visit of Russian President Vladimir Putin. The Chinese envoy's statement also came days before India attended the China dominated Shanghai Cooperation Organization (SCO). Significantly, India and China also began a joint training programme for Afghan Diplomats on October 15, 2018 (which would last till October 26, 2018).
Trilateral cooperation between India, China and Afghanistan was one of the main thrust areas of the Wuhan Summit, between Chinese President, Xi Jinping, and Indian PM, Narendra Modi, and this is one of the key initiatives in this direction.
There are a number of factors, which have resulted in New Delhi and Beijing seeking to reset their relationship. The first is difference between New Delhi and Washington on economic ties between the former and Iran and Russia. Washington has given mixed signals with regard to granting India exemptions from Countering America Through Sanctions Act (CAATSA).
US ambiguity on providing waivers to India
While sections of the US establishment, especially Jim Mattis, Defence Secretary and Secretary of State, Michael Pompeo have been fervently backing a waiver to India, there are those who oppose any sort of waiver even to India. NSA John Bolton has been warning US allies like India, that there will be no exemption or waiver from US sanctions targeting Iran's oil sector. On October 4th, Bolton while briefing the press said:
"This is not the Obama administration … is my message to them (the importers),
Trump himself has not been clear on providing India a waiver, when asked about this issue, he said India would  know soon about the US decision (Trump has the authority to provide a Presidential waiver to India from the deal with Russia). A State Department Spokesperson also stated, that the US was carefully watching S-400 agreement with Russia, as well as India's decision to import oil from Iran, and such steps were 'not helpful'. With the US President being excessively transactionalist, it is tough to predict his final decision, and with growing differences between him and Mattis, one of the ardent advocates of waivers for India, it remains to be seen as to which camp will prevail.
US protectionism and New Delhi's discomfort
Differences between Washington and New Delhi don't end on the latter's economic ties with Tehran and Moscow. India has on numerous occasions stated, that while strengthening strategic ties with the US, it was concerned about the Trump administration's economic policies. This was clearly evident from the Indian Foreign Minister Sushma Swaraj's speech at the SCO Meet (October 12, 2018) held at Dushanbe, Tajikistan where she pitched for an open global trading order. Said Swaraj:
"We have all benefited from globalization. We must further develop our trade and investment cooperation. We support an open, stable international trade regime based on centrality of the World Trade Organization,"
Even if one to look beyond Trump's unpredictability, there is scope for synergies between New Delhi and Beijing in terms of economic sphere and some crucial connectivity projects.
Economic Opportunities
For long, trade has been skewed in favour of China, and this is a growing concern for India. Trade deficit between India and China has risen from 51.1 Billion USD in 2016-2017 to 62.9 Billion in 2017-2018 (a rise of over 20 percent).
The imposition of US tariffs has opened up opportunities for China importing certain commodities from India. This includes commodities like soybeans and rapeseed meal. In a seminar held at the Indian embassy in Beijing in September 2018, this issue was discussed and one on one meetings between potential importers (China) and sellers (India) was held. India urged China to remove the ban which had imposed on the import of rape meal seeds in 2011.
Connectivity and Afghanistan
Another area where there is immense scope for cooperation between India and China is big ticket connectivity projects. During his India visit, Uzbekistan President, Shavkat Mirziyoyev invited India to participate in a rail project connecting Uzbekistan and Afghanistan.
Afghanistan has welcomed this proposal, saying that this would strengthen cooperation between China and India in Afghanistan. India-China cooperation on this project is very much in sync with the China-India Plus Model proposed by China at the BRICS Summit in July 2018.
India and China can also work jointly for capacity building in Afghanistan. New Delhi has already been involved in providing assistance to Afghanistan in institution building and disaster management, and if Beijing and New Delhi join hands this could make for a fruitful partnership. The India-China joint training program for Afghan diplomats is a significant move in this direction. India and China can also look at joint scholarships to Afghan students where they can spend part of their time in China and the remaining time in India.
Both India and New Delhi for any meaningful cooperation in Afghanistan can not be risk averse, and will have to shed their hesitation. Beijing for instance has opted for a very limited 'capacity building' , where it will work with India in Afghanistan. While Kabul had expected that both sides will invest in a significant infrastructure project, Beijing with an eye on its ally Islamabad's sensitivities opted for a low profile project.
Conclusion
New Delhi should not be too predictable in it's dealings with Washington DC, and has to do a fine balancing act between Beijing and Washington DC. While on certain strategic issues are synergies between India and the US, on crucial economic and geo-political issues, there are serious differences, and India's ties with Beijing are crucial in this context. New Delhi and Beijing should seek to expand economic ties, and the latter should give more market access to Indian goods. Apart from this, both countries should work closely on connectivity projects. If both sides build trust, the sky is the limit but it will require pragmatism from both sides. Beijing should not allow the Pakistani deep state to dictate it's links with India (especially in the context of cooperation in Afghanistan). New Delhi on its part, should not make any one issue a sticking point in its complex but very important relationship with Beijing.
Pointless Colonial Massacres and Post-Colonial Wars and Killings on the Indian Subcontinent
Two colonial mass killings from the twentieth century are always remembered: The Qissa Khwani Bazaar massacre on April 23, 1930 in Peshawar (then India, now in Pakistan) was the result of peaceful demonstrations protesting the arrest of Khan Abdul Ghaffar Khan who had called for a nonviolent movement of 'patience and righteousness.' Authorities nervous at the size of the crowds called in the military. The local Garhwal Rifles refused an order to fire. A special city disturbance column and four armored cars were sent for; they did not. The number of dead vary with the source ranging from 20 to 400. Whatever the figures, the incident legitimized the protest movement and creating a new Gandhi of the northwest in Ghaffar Khan.
Pakistan since independence has had insurgencies — in the Northwest where Peshawar is located,in Baluchistan (ongoing) and, the worst of all in its eastern half in 1971 that led to the birth of Bangladesh. Estimates of casualties range from 300,000 to 3 million.
This year is the centenary of the notorious Jallianwalla Bagh massacre in Amritsar. April 13, 1919 was the day of Baisakhi, a major Sikh festival, so people had come to the holy city from surrounding Punjab villages and gathered to listen to speakers. They were also unhappy with the deportation of independence leaders Dr. Saifuddinn Kitchlew and Dr. Satya Pal out of state to Dharamsala. The protesters were mostly Sikh, the leaders being deported a Muslim and a Hindu, and India then secular in the minds of the people.
Brig-General Reginald Dyer the local commander had banned all meetings. To him the crowd gathering in the Bagh was a challenge to authority. He took a contingent of Gurkha troops and proceeded forthwith to disperse what to him was an illegal assembly. It is worth noting that Nepali Gurkhas are alien to the area, speak a different language, and look more like Tibetans. The force took up positions on a raised bank at the main entrance and were ordered to fire on the unarmed crowd. People tried to flee toward the other exits and in the stampede some were trampled. Yet the firing continued for an incomprehensible ten whole minutes using up 1650 rounds and leaving hundreds dead and over a thousand wounded.
No respite for the Sikhs despite their anti-Muslim stance during the 1947 partition. In 1984 following Indira Gandhi's assassination by a Sikh bodyguard — itself a result of her military response killing Sikh religious zealots occupying the Amritsar Golden Temple — riots broke out. An estimated 8000-17,000 Sikhs were killed in Delhi and Haryana. The connivance of the Delhi police and the Congress party has long been suspected, and Human Rights Watch has complained of no prosecution for the killings. Ditto for the perpetrators of the Muslim pogrom in Gujarat during Narendra Modi's rule.
While the callousness of the Qissa Khwani Bazaar and Jallianwalla Bagh incidents horrifies, the number killed pales in comparison to what has happened since independence. Within months of freedom, India invaded the independent principality of Hyderabad, allied to the British since the 18th century. An estimated 200,000 people were killed and many fled to Pakistan.
It also invaded, occupied (1973) and then annexed Sikkim in 1975, a Himalayan foothill monarchy since 1642. The suppressed independence movement in neighboring Assam and the Northeast and other ongoing insurgencies across at least a quarter of India continue.
In Kashmir, a decades long struggle for some kind of autonomy has cost tens of thousands of lives. Estimates vary from 40 to 80 thousand. Some Indians have a conscience: Long critical of India's stance, the Booker Prize winning novelist and peace activist Arundhati Roy has called the Modi government 'reckless' in its policy there.
The Muslim minority in India appears to be intimidated and abused. A recent feature story on Chamanganj, a Muslim neighborhood in Kanpur, illuminates the distress and discrimination experienced by Muslims. The Congress candidate never visits; the BJP candidate shows up hoping to capture some votes but his party's policy is notoriously anti-Muslim.
The violence against Christians is also on the rise. Opendoorsusa.org reports over 12,000 incidents last year, while the number of churches attacked rose dramatically from 34 to 98. It has now become the 10th most dangerous country in the world for Christians on the 2019 World Watch List.
A secular India, the pride of Indian independence leader and its first prime minister Jawaharlal Nehru, is under threat. In its place, a muscular Hindu nationalist agenda enforced by goons from nationalist organizations has been labeled "saffron terror". The Hudson Institute called these attacks "not inchoate mob violence, triggered by … insult; rather they involved careful planning by organized Hindu extremists …"
The record is surprising yet evident: Independent India has killed hundreds of times more people than the Dyer atrocity, and the present-day Indian subcontinent is becoming a noticeable contrast to the relatively secular country of 1919. In India itself, the Modi government and its affiliates by encouraging Hindu nationalism must shoulder the blame.
The Durand Line is a 2,200-kilometre debated border between Pakistan and Afghanistan. It was set up in 1893 between Sir Mortimer Durand, a British negotiator and respectful hireling of the British Raj, and Abdur Rahman Khan, the Afghan Amir, to settle the constrain of their individual circles of impact and make stride discretionary relations and exchange between the two nations. Afghanistan was considered by the British as a free state at the time, in spite of the fact that the British controlled its remote issues and discretionary relations. The single-page assertion, dated 12 November 1893, contains seven brief articles, counting a commitment not to work out obstructions past the Durand Line.
A joint British-Afghan boundary overview took put beginning from 1894, covering a few 1,300 km of the border. Built up towards the near of the British-Russian "Great Game", the coming about line set up Afghanistan as a buffer zone between British and Russian interface within the locale.
The line, as somewhat adjusted by the Anglo-Afghan Settlement of 1919, was acquired by Pakistan in 1947, taking after its independence. The forced Durand Line cuts through the Pashtun tribal ranges and assist south through the Balochistan locale, politically partitioning ethnic Pashtuns, as well as the Baloch and other ethnic bunches, who live on both sides of the border. It demarcates Khyber Pakhtunkhwa, Balochistan and Gilgit-Baltistan of northern and western Pakistan from the northeastern and southern areas of Afghanistan.
From a geopolitical and geostrategic viewpoint, it has been depicted as one of the foremost unsafe borders within the world. Although Pakistan recognized the Durand Line as an international border, it remains to a great extent unrecognized by Afghanistan. In 2017, in the midst of cross-border pressures, previous Afghan President Hamid Karzai said that Afghanistan will "never perceive" the Durand Line as the international border between the two countries.
The Durand line remains a bone of contention between the two nations and a primary reason why Afghanistan and Pakistan have yet failed to establish cordial relations. Afghanistan claims a chunk of the KPK and Balochistan provinces of Pakistan on the basis that it was acceded to Pakistan, though it was originally a part of Afghanistan, with people dwelling on each sides having the same culture, language and way of life etc.
What is very clear is that relations between the two states have been tinged with hostility ever since Pakistan became an independent state in 1947. There are mainly two interrelated, historical reasons for this: the problem of the "Durand Line" — the shared but disputed border of the two countries; and Afghan support for the "Pakhtoonistan" movement in Pakistan's North West Frontier Province (NWFP)
The questions is answered by both nations with a bias towards their respective national interest in mind, both Pakistan and Afghanistan claiming areas divided by the Durand line as their legitimate part.
Major accusations of Afghanistan over the Durand line are: its legitimacy period has terminated; it was in the original agreement between the British and the Afghans claimed its validity only for 100 years, which has expired. Nevertheless, neither Afghan government, nor the foremost dynamic advocates of this see have ever displayed any plain instrument demonstrating their claim. Nor do we discover, upon looking at the pertinent archives, i.e. the Durand Line assertion and the rest of the records confirmed until 1896 by the individual committees for assurance and boundary of the British-Afghan border, any arrangement confining the term of the understanding to 100 year time. It is undoubtedly a riddle how this supposition might spread over the nation without being addressed at all.
Another claim of Afghanistan in the de-legitimizing the boarded is that the assertions relating to it collapsed when the British exchanged powers to Pakistan. The agreement was done with British India and not with Pakistan. This was a main reason that Afghanistan was one of the very few countries that opposed the addition of Pakistan in the UN- since it alleged it of illegally annexing Afghanistan's territory.
One more accusation to not accept the boarder comes as the understandings were persuasively forced upon Afghanistan-it is ethically unmerited- is certainly an issue worth encourage talk and contention. In any case, whereas one may concede the dispute to be fair and genuine, it remains deficiently to refute the status of the Durand Line as an international border between Afghanistan and Pakistan. The Durand Line understanding of 1893 isn't the sole point of reference in border assessment. At slightest other four assertions (of 1905, 1919, 1921 and 1930), which had the assent of both sides, must be counseled. Clearly, Afghanistan cannot claim that all of the afterward four assertions were concluded in a coercive environment, particularly the Kabul 1921 understanding for foundation of neighborly commercial relations, which not as it were marked but approved in 1922, and beneath which disobedience was traded by the agents of both states in Kabul.
The boarder is not rejected by any other party of the world except Afghanistan itself, making the Afghan case further weakened.
No matter how much Afghanistan retaliates over this matter, the Durand line is widely accepted as an international boarder and the afghan claim will likely not bear fruit. The Afghans should rather hold the British accountable for the "so said" unfair distribution and not Pakistan, since Pakistan did not decide into this matter at all but was a decision purely made between the Afghans and the British- rather battle the British towards their claim and not make this a political issue more than a legitimate claim.
Indian Nuclear Explosions of May 98 and Befitting Response
India started nuclear program soon after independence. The Atomic Energy Act was passed on 15 April 1948, leading to the establishment of the Indian Atomic Energy Commission (IAEC). The Prime Minister (PM), Jawaharlal Nehru declared: "We must develop this atomic energy quite apart from war indeed;I think we must develop it for the purpose of using it for peaceful purposes. … Of course, if we are compelled as a nation to use it for other purposes, possibly no pious sentiments of any of us will stop the nation from using it that way." Indian intentions to develop a nuclear device for military use under the garb of ambivalence were there since independence. Dr. Homi Bhabha was the first secretary who is considered the founder of this program.
The IAEC established a new facility in January 1954, the Atomic Energy Establishment, Trombay (AEET); later in August 1954 the Department of Atomic Energy (DAE) was created with Dr. Bhabha as Director to function directly under PM. The AEET facility was renamed asBhabha Atomic Research Centre (BARC) in January 1967 after the death of Homi Bhabha. On May 18, 1974, India conducted an underground nuclear test at Pokharan in the Rajasthan desert, codenamed "Smiling Buddha." The government of India claimed it a peaceful test, but it was actually part of an accelerated weapons program. The world reaction was not strong as expected. United stated and Canada criticized the test as they had provided aid to India for nuclear project which was supposed to be for peaceful purposes. Later on due to violation of understanding between two countries, Canada withdrew assistance to India. Chinese stance was that it would affect the stability in South Asia. After this event, Nuclear Suppliers Group (NSG) was established which gives guidelines to regulate the transfer of sensitive nuclear material. However, India continued pursuing vigorously its nuclear program to develop weapons of mass destruction.
During election campaign in February 1998, the Bhartia Janata Party (BJP) had announced in its manifesto that if elected it would seek to "exercise option to induct nuclear weapons". The PM, Atal Bihari Vajpayee of BJP, gave orders to conduct nuclear tests on 11 and 13 May 1998. A total 5 nuclear devices were exploded. The Indian PM, very proudly claimed that India has become sixth nuclear weapon state and should be treated by the world. Indian stance towards Pakistan drastically changed. The senior Indian hierarchy started giving provocative statements against Pakistan. The Indian home Minister L.K Advani said, "Islamabad should realize the change in the geo- strategic situation in the region and the world. It must roll back its anti- India policy especially with regard to Kashmir." The Corps Commander in Indian occupied Kashmir held an unprecedented news conference and advocated his plans to attack Azad Kashmir across the LOC. The world reaction to Indian nuclear explosion was not as strong as envisioned. Extracts from the President Clinton speech from CNN broad cast of 12 May 1998, are,"I am deeply disturbed by the nuclear tests which India has conducted and I do not believe it contributes to a safer 21st century. The action by India not only threatens the stability of the region, it directly challenges the firm, international consensus to stop the proliferation of weapons of mass destruction."The other major world powers also showed reluctance in penalizing India.
2.The Pakistan atomic energy program was started much later as compared to India. The Atomic Energy Commission (PAEC) was established in 1956 to participate in Atoms for Peace Program announced by the US administration. The program continued at slow pace for peaceful use till detonation by India in 1974. This strategic development was perhaps the first that pushed Pakistan in the direction of nuclear tests in May 1998. Dr A Q khan joined the program in 1976and founded the Engineering Research Laboratories (ERL) later renamed Khan Research Laborites ( KRL) at Kahuta near Islamabad, with the exclusive task of indigenous development of Uranium Enrichment Plant. According to Carey Sublette, "Pakistan's Nuclear Weapons Program Development," Nuclear Weapons Archive, January 2, 2002, the nuclear program of Pakistan developed speedily in 1980s and it had conducted the first cold tests of its nuclear device in 1983. According to Presseler amendment of 1985, Pakistan was required to get a certificate from the President of USA that it did not possess nuclear device for getting economic and military aid from USA, which was not signed by the President in 1990. Hence the aid to Pakistan was stopped. It happened soon after former USSR left Afghanistan.
3.On 11 may 1998 when India conducted first 3 nuclear tests, the PM of Pakistan, Nawaz Sharif, was on official visit to Kazakhstan. The Defense Committee of the Cabinet(DCC) convened on 13 May was chaired by PM, attended by the federal ministers and three services chiefs (Gen Jahangir Karamat was CJCSC as well). Dr. Samar Mubarakmand represented PAEC in place of Dr. Ishfaq, the chairman who was abroad, and Dr A Q Khan, the KRL. At closing of the meeting it was informed that India has conducted another nuclear test. The political, military, economic and technical considerations were obviously discussed thread bare. The political and military leadership was on the same page in the decision making process. Gohar Ayub the foreign minister present in the meeting writes in book, "Testing Times", page 35, that when Raja Zafar ul Haq asked General Jahangir Karamat for his views, he said "we could match India, but the decision to do so would have to be a political one". Dr. Samar Mubarakm and gave ten days' time for preparations to conduct the tests. The site and tunnel had already been selected.
On 18 May, after a lot of deliberations with different segments of the society and the opposition parties, the PM gave go ahead to Chairman PAEC to test nuclear bombs on 28 May 98. This was a unanimous decision of national importance. The government and military leadership, opposition parties, and general public were firmly on the same page. The PAEC team headed by Dr. Samar under the supervision of Army Corps of Engineers sealed the tunnels on 25 May. On the evening of 27 May the site was made ready for tests and conveyed to PM. Seventeen days starting from 11 May when India conducted first test till Pakistan responded on 28 May were very critical for the PM, Foreign office and GHQ. They were mulling over ways and means to allay the international pressure in the form of sanctions, and attimes lucrative offers for economic aid in lieu. The President of USA called, PM several times to convince him not to go nuclear.
On 27 May a day before nuclear detonation he called our PM several times. A presentation by the participants of War and National Defence Courses,(1997-98), was scheduled on 28 May at 1000 in National Defence College (NDC) now NDU for the PM which was attended by the ministers and services chiefs. The writer of this article was undergoing war course and present in the auditorium. The topic words to affect was "Should Pakistan Conduct Nuclear Explosions or Exercise Restraints". Points against the detonation were, weak economic conditions, will further worsen after slapping of economic sanctions. Points given by the panel to conduct explosions were much stronger. The panel concluded presentation saying, "Now or Never". There was a big applause. The environments prevalent in the auditorium, and smiling faces of the senior hierarchy indicated that Pakistan will carry out nuclear tests very soon. The same evening at 3:15pm, Pakistan gave befitting response to 5 Indian nuclear explosions conducted on 11 and 13 May 98, by exploding 5 nuclear bombs and sixth on 30 May at 11:55am. After successful explosions the PM claimed that Pakistan has become seventh nuclear state.