Can India Balance Between Beijing and Washington?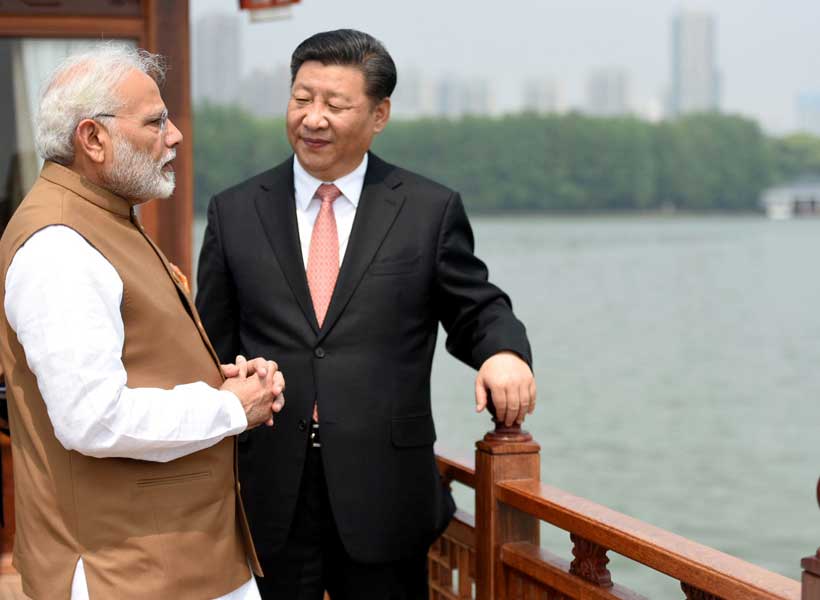 On October 10, 2018, a Senior Chinese Diplomat in India underscored the need for New Delhi and Beijing to work jointly, in order to counter the policy of trade protectionism, being promoted by US President, Donald Trump.
It would be pertinent to point out, that US  had imposed tariffs estimated at 200 Billion USD in September 2018, Beijing imposed tariffs on 60 Billion USD of US imports as a retaliatory measure, and US threatened to impose further tariffs. Interestingly, US trade deficit vis-à-vis China reached 34.1 Billion USD for the month of September (in August 2018, it was 31 Billion USD). Critics of Trump point to this increasing trade deficit vis-à-vis China as a reiteration of the fact, that Trump's economic policies are not working.
Ji Rong, Spokesperson of the Chinese Embassy in India said that tariffs will be detrimental for both India and China and given the fact that both are engines of economic growth it is important for both to work together.
The Chinese diplomat's statement came at an interesting time. US President, Donald Trump on October 2, also referred to India as 'tariff king'. Even though the India-US strategic relationship has witnessed a significant upswing, yet the US President has repeatedly referred to India imposing high tariffs on US exports to India (specifically Harley Davidson motorcyles).
It also came days after, after India signed a deal with Russia (October 5, 2018) for the purchase of 5 S-400 Air Defence system, during the visit of Russian President Vladimir Putin. The Chinese envoy's statement also came days before India attended the China dominated Shanghai Cooperation Organization (SCO). Significantly, India and China also began a joint training programme for Afghan Diplomats on October 15, 2018 (which would last till October 26, 2018).
Trilateral cooperation between India, China and Afghanistan was one of the main thrust areas of the Wuhan Summit, between Chinese President, Xi Jinping, and Indian PM, Narendra Modi, and this is one of the key initiatives in this direction.
There are a number of factors, which have resulted in New Delhi and Beijing seeking to reset their relationship. The first is difference between New Delhi and Washington on economic ties between the former and Iran and Russia. Washington has given mixed signals with regard to granting India exemptions from Countering America Through Sanctions Act (CAATSA).
US ambiguity on providing waivers to India
While sections of the US establishment, especially Jim Mattis, Defence Secretary and Secretary of State, Michael Pompeo have been fervently backing a waiver to India, there are those who oppose any sort of waiver even to India. NSA John Bolton has been warning US allies like India, that there will be no exemption or waiver from US sanctions targeting Iran's oil sector. On October 4th, Bolton while briefing the press said:
"This is not the Obama administration … is my message to them (the importers),
Trump himself has not been clear on providing India a waiver, when asked about this issue, he said India would  know soon about the US decision (Trump has the authority to provide a Presidential waiver to India from the deal with Russia). A State Department Spokesperson also stated, that the US was carefully watching S-400 agreement with Russia, as well as India's decision to import oil from Iran, and such steps were 'not helpful'. With the US President being excessively transactionalist, it is tough to predict his final decision, and with growing differences between him and Mattis, one of the ardent advocates of waivers for India, it remains to be seen as to which camp will prevail.
US protectionism and New Delhi's discomfort
Differences between Washington and New Delhi don't end on the latter's economic ties with Tehran and Moscow. India has on numerous occasions stated, that while strengthening strategic ties with the US, it was concerned about the Trump administration's economic policies. This was clearly evident from the Indian Foreign Minister Sushma Swaraj's speech at the SCO Meet (October 12, 2018) held at Dushanbe, Tajikistan where she pitched for an open global trading order. Said Swaraj:
"We have all benefited from globalization. We must further develop our trade and investment cooperation. We support an open, stable international trade regime based on centrality of the World Trade Organization,"
Even if one to look beyond Trump's unpredictability, there is scope for synergies between New Delhi and Beijing in terms of economic sphere and some crucial connectivity projects.
Economic Opportunities
For long, trade has been skewed in favour of China, and this is a growing concern for India. Trade deficit between India and China has risen from 51.1 Billion USD in 2016-2017 to 62.9 Billion in 2017-2018 (a rise of over 20 percent).
The imposition of US tariffs has opened up opportunities for China importing certain commodities from India. This includes commodities like soybeans and rapeseed meal. In a seminar held at the Indian embassy in Beijing in September 2018, this issue was discussed and one on one meetings between potential importers (China) and sellers (India) was held. India urged China to remove the ban which had imposed on the import of rape meal seeds in 2011.
Connectivity and Afghanistan
Another area where there is immense scope for cooperation between India and China is big ticket connectivity projects. During his India visit, Uzbekistan President, Shavkat Mirziyoyev invited India to participate in a rail project connecting Uzbekistan and Afghanistan.
Afghanistan has welcomed this proposal, saying that this would strengthen cooperation between China and India in Afghanistan. India-China cooperation on this project is very much in sync with the China-India Plus Model proposed by China at the BRICS Summit in July 2018.
India and China can also work jointly for capacity building in Afghanistan. New Delhi has already been involved in providing assistance to Afghanistan in institution building and disaster management, and if Beijing and New Delhi join hands this could make for a fruitful partnership. The India-China joint training program for Afghan diplomats is a significant move in this direction. India and China can also look at joint scholarships to Afghan students where they can spend part of their time in China and the remaining time in India.
Both India and New Delhi for any meaningful cooperation in Afghanistan can not be risk averse, and will have to shed their hesitation. Beijing for instance has opted for a very limited 'capacity building' , where it will work with India in Afghanistan. While Kabul had expected that both sides will invest in a significant infrastructure project, Beijing with an eye on its ally Islamabad's sensitivities opted for a low profile project.
Conclusion
New Delhi should not be too predictable in it's dealings with Washington DC, and has to do a fine balancing act between Beijing and Washington DC. While on certain strategic issues are synergies between India and the US, on crucial economic and geo-political issues, there are serious differences, and India's ties with Beijing are crucial in this context. New Delhi and Beijing should seek to expand economic ties, and the latter should give more market access to Indian goods. Apart from this, both countries should work closely on connectivity projects. If both sides build trust, the sky is the limit but it will require pragmatism from both sides. Beijing should not allow the Pakistani deep state to dictate it's links with India (especially in the context of cooperation in Afghanistan). New Delhi on its part, should not make any one issue a sticking point in its complex but very important relationship with Beijing.
Will the President Trump's India-Visit be fruitful?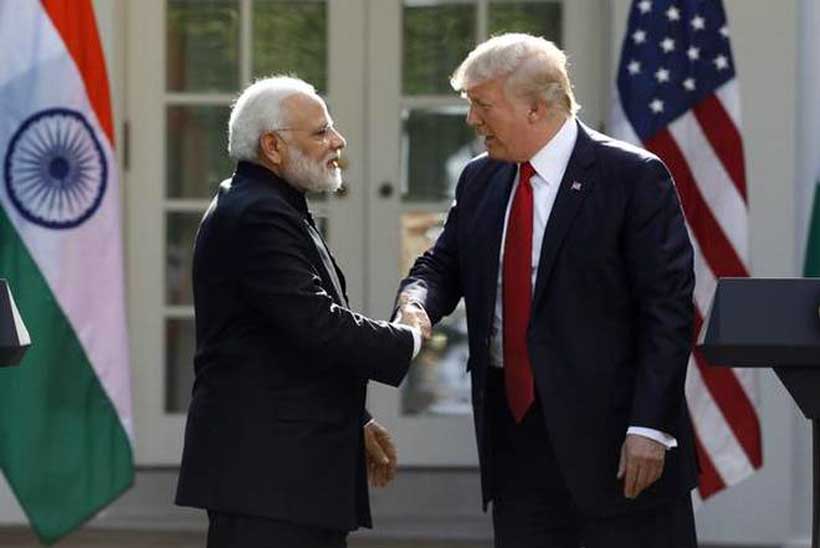 Will President Trump's visit to India on 24-25 February be fruitful? Will the US achieve its goals? Will it be beneficial for India? Will it be merely a personal visit to please Modi or a pleasure trip? There are so many similar questions in many minds.
I think there might be two objectives of this visit: One may be, President Trump has his own agenda on this trip to India, as he is just at a launching stage of his presidential campaign for presidential elections to be held in November this year. He needed political support from his friend Modi, as the Indian-American has a certain vote-bank in the US. He might be seeking his support in Presidential-Elections. The second may be a long term US policy since President George W. Bush administrations and continuing under Barack Obama's tenure, that the US needs India as a strategic partner to help "Counter Russia and Contain China".
Regarding the first objective, Modi is losing his popularity inside India as well as globally. His extremist policies have bounced back already. Kashmir is burning, a civil war in ongoing almost in 20 states against discriminatory Citizenship Act-2019. Law and order situation has drastically deteriorated. Investors are leaving, foreign tourists are advised not to travel to India. The industry is being closed. The routine business has been affected adversely. The economy is almost collapsing, and the country is bleeding. Social unrest and political instability have damaged Modi's popularity in India. Not only the Minorities but moderate Hindus, Intellectuals and neutrals are opposing Modi's policies. His policies are also not welcome by the International Community either. Anti-India protests, agitations, rallies around the world have been witnessed. Human Rights Organizations, International Institutions, and all Peace-Loving nations and individuals are criticizing his policies. India is passing through the worst crisis of its 7 decades-history, under Modi's leadership.
Under this scenario, President Trump's any association with Modi may become counter-productive and Presidential Elections may bring results contrary to his expectations.
Regarding the second objective, the US was seeking strategic cooperation with India to "Counter Russia and Contain China". As the US is losing its influence in this region and facing failure one after another. The US is left with no option except withdrawing its troops from Syria and Afghanistan. The US could not face Iran in the Middle-East and may leave Iraq too. Philippine is out of American Influence. Practically, the US cannot face Russia in the Baltic Ocean, Cannot face China in the Pacific Ocean, and cannot face Iran in Middle-East.
With this background, the US-supported India, projected India, up-lifted India, "to Counter Russia and Contain China". The US has signed with India the "Major Defense Partner" agreement and Indo-Pacific Alliance agreement. The US supplied India with the latest lethal weapons and hi-tech advanced technologies. Extended financial assistance, trade concessions, market access on priority. Extended political and diplomatic support at International platforms like UN, WTO, UNSC, IMF, FATF, EU, World Bank, NSG, etc.
The US has been helping India out of the way, sometimes directly, and sometimes through Israel or through its allies indirectly. As a result, India has become the biggest beneficiary of US assistance after Israel.
Will India meet the expectation of the US? In case of need, do India have a will or capacity to deliver according to American's expectations? While India is collapsing and Modi-Initiated civil war leading India toward disintegration, keeping any expectation from India, maybe just a dream only.
It is worth mentioning that for the last 7 decades, Pakistan was a close ally with the US during the cold war era and front line state during the war on terror. Pakistan's role was vital in achieving the strategic goals for the US in this region and globally. Pakistan's role was appreciated and acknowledged on several occasions. The US leadership knows the capabilities and potential of Pakistan very well, especially the Military leadership is much more aware. Pakistan is a Peace-Loving Nations and well matured. We are a responsible state and understand the consequences of war, especially when the two countries are nuclear states. Pakistan is always willing to be a partner of any peace process anywhere in the world. We are against any armed-conflict or use of force. We wish, all differences around the world, maybe resolved under UN Charter diplomatically, including long pending Kashmir issues.
Minority Abuse: A Slice Of Life In Modi's India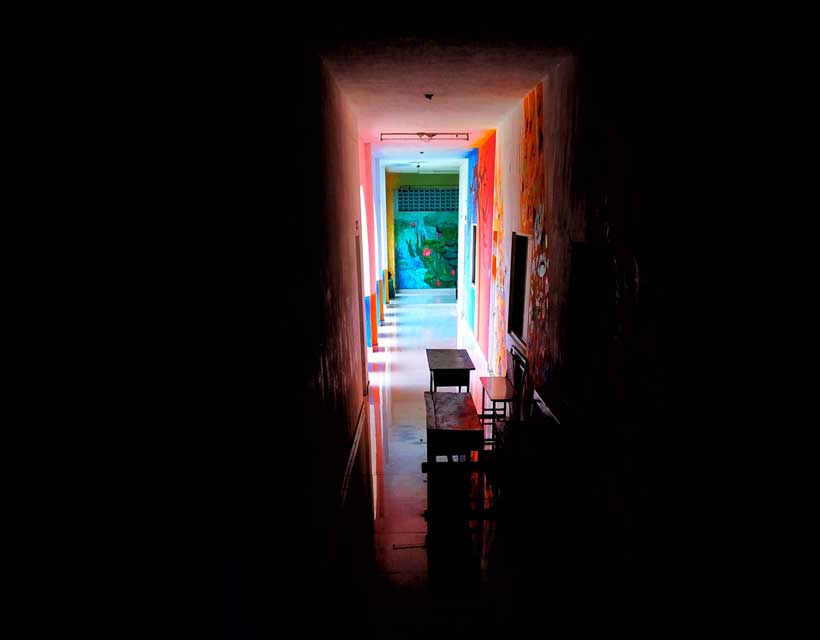 It is not uncommon for colonial governments to enact sedition laws with the purpose of stifling dissent; it is, following independence, for democratic governments to be enforcing them to quell critics. It is also exactly what the Modi government and party encourages in India.
And it is what landed a 26-year old mother and her daughter's teacher in jail in Karnataka (a state now notorious for conservative politicians viewing porn at work). All for a play critical of the new Citizenship Amendment Act and the government's plans for a National Register of Citizens, the NRC on which Mr. Modi has been caught modifying the truth. These have stoked fear among India's Muslims in that they may be required to produce documents to prove citizenship — an impossible task in a poor country where few register births, or have any other documents like passports or drivers licenses.
What did the play do? Not much. An elderly woman is told that Narendra Modi wants Muslims to produce documents to prove citizenship. The woman responds that her family has been in India for generations, and she would have to dig up the graves of her ancestors to produce those documents, adding that a boy who used to sell tea (reference to Modi) is now demanding them. "I will ask him for his documents," she continues, "and if he can't show them to me, I'll beat him with my sandal."
The play was streamed on Facebook by a parent and quickly went viral. One of Mr. Modi's ardent supporters, a certain Neelesh Rakshal, chanced upon it and promptly registered a complaint with the police "for abusing the prime minister and also for spreading hatred," To most citizens of western democracies, the charge would appear ludicrous. For example, President Trump is lampooned much more severely and fairly regularly on ofthisandthat.org in the Porcupine's Quill satire column.
But then it was just before Valentine's Day and Mr. Rakshal, the greatly offended self-proclaimed social activist, expected garlands of marigolds for his idol.
Nazbunnisa, the 26-year old mother is not sure how she came to be jailed. She said, she simply heard her daughter rehearse her part at home. She also says she never even went to the play. A domestic worker, she has few resources at her disposal.
Farida Begum the 52-year old teacher suffers from high blood pressure, and fears what the future holds for her family. Her husband, Mirza Baig, is also greatly concerned about how his wife's time in jail will affect the marriage prospects of their daughter. He says what has been been done "is not right."
The complaint also named the school management and the president of the school, who the police have not been able to find. So they told the court at the preliminary hearing.
Dr. Thouseef Madikeri, the school's CEO, says, "We do not know for what reason sedition charges have been invoked against the school. It is beyond the imagination of any reasonable person. We will fight it in court."
India is full of travesty these days, but should the courts dismiss the complaint, Mr. Neelesh Rakshal could face a lawsuit for defamation, at the very least. He would most certainly in the US, where he could also be liable for damages and legal fees running into six figures.
Karnataka is not the only state where Muslims are being abused. The city of Kanpur in India's most populous state, Uttar Pradesh, has a large community of Muslims that is under constant abuse by police, but this year has seen the brutality having fatal consequences. Earlier Human Rights Watch reported (Feb 2019) killings of Muslims across twelve states.
Such is life for poor minorities in Modi's India.
Author's Note: An earlier version of this article appeared earlier on Counterpunch.org
Pakistan puts press freedom at the core of struggle for new world order
Sweeping new regulations restricting social media in Pakistan put freedom of expression and the media at the heart of the struggle to counter both civilizationalist and authoritarian aspects of an emerging new world order.
The regulations, adopted without public debate, position US social media companies like Facebook and Twitter at the forefront of the struggle and raise the spectre of China's walled off Internet with its own state-controlled social media platforms becoming the model for a host of illiberals, authoritarians and autocrats.
The regulations, that take effect immediately, embrace aspects of a civilizational state that defines its legal reach, if not its borders, in terms of a civilization rather than a nation state with clearly outlined, internationally recognized borders that determine the reach of its law and that is defined by its population and language.
The regulations could force social media companies to globally suppress criticism of the more onerous aspects of Pakistani law, including constitutionally enshrined discrimination of some minorities like Ahmadis, a sect widely viewed as heretic by mainstream Islam, and imposition of a mandatory death sentence for blasphemy.
The new rules force social media companies to "remove, suspend or disable access" to content posted in Pakistan or by Pakistani nationals abroad that the government deems as failing to "take due cognizance of the religious, cultural, ethnic and national security sensitivities of Pakistan." The government can also demand removal of encryption.
Social media companies are required to establish offices in Pakistan in the next three months and install data servers by February 2021.
The government justified the rules with the need to combat hate speech, blasphemy, alleged fake news and online harassment of women.
The Asia Internet Coalition, a technology and internet industry association that includes Facebook and Twitter, warned that the regulations "jeopardize the personal safety and privacy of citizens and undermine free expression" and would be "detrimental to Pakistan's ambitions for a digital economy."
The introduction of the regulations reflects frustration in government as well as Pakistan's powerful military with social media companies' frequent refusal to honour requests to take down content. Pakistan ranked among the top countries requesting Facebook and Twitter to remove postings.
On the assumption that Facebook, Twitter and others, which are already banned in China, will risk being debarred in Pakistan by refusing to comply with the new regulations, Pakistan could become a prime country that adopts not only aspects of China's 21st century, Orwellian surveillance state but also its tightly controlled media.
The basis for potential Pakistani adoption of the Chinese system was created in 2017 in plans for the China Pakistan Economic Corridor (CPEC), a US$60 billion plus crown jewel of the Belt and Road, an infrastructure, telecommunications and energy-driven initiative to tie Eurasia to China.
The 2017 plan identifies as risks to CPEC "Pakistani politics, such as competing parties, religion, tribes, terrorists, and Western intervention" as well as security. The plan appears to question the vibrancy of a system in which competition between parties and interest groups is the name of the game.
It envisions a full system of monitoring and surveillance to ensure law and order in Pakistani cities. The system would involve deployment of explosive detectors and scanners to "cover major roads, case-prone areas and crowded places…in urban areas to conduct real-time monitoring and 24-hour video recording."
A national fibre optic backbone would be built for internet traffic as well as the terrestrial distribution of broadcast media that would cooperate with their Chinese counterparts in the "dissemination of Chinese culture." The plan described the backbone as a "cultural transmission carrier" that would serve to "further enhance mutual understanding between the two peoples and the traditional friendship between the two countries."
Critics in China and elsewhere assert that repression of freedom of expression contributed to China's delayed response to the Coronavirus. China rejects the criticism with President Xi Jingping calling for even greater control.
Pakistan's newly promulgated regulations echo Mr. Xi's assertion during the Communist party's January 7 Politburo Standing Committee meeting that "we must strengthen public opinion tracking and judgment, take the initiative to voice, provide positive guidance, strengthen integration, communication and interaction, so that positive energy will always fill the Internet space… We must control the overall public opinion and strive to create a good public opinion environment. It is necessary to strengthen the management and control of online media."