The Islamic State's reviving scheme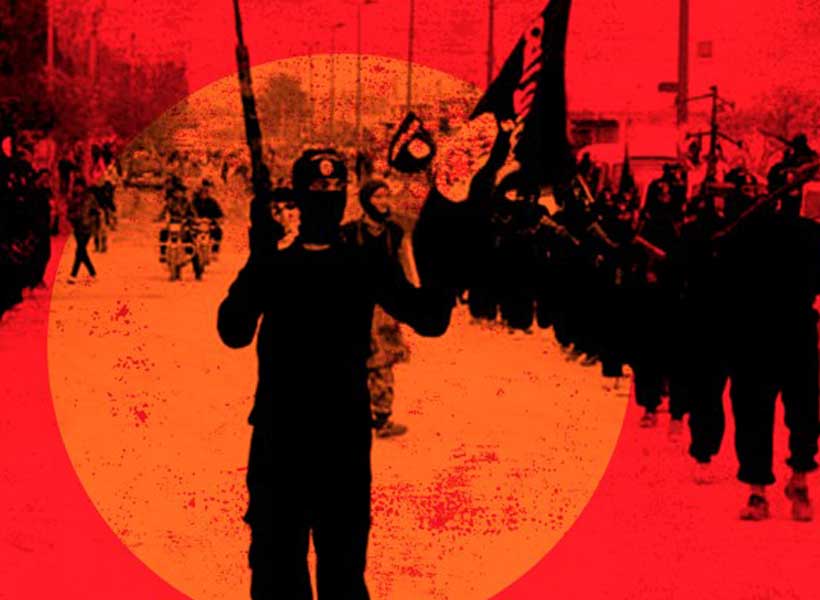 Despite the fact that ISIS lost 98 percent of its controlled territory, it is aiming for a reforming and coming back in the Sunni populated areas in Syria and Iraq. Due to the current war situation and its developed financial resource. ISIS used to relay on the territory under its control to collect billions of dollars through criminal activities such as taxation, extortion, robbery and the illegal sale of the curd oil. Now the group has shown its ability to collect money regardless of controlling large areas.
After the rise of ISIS in 2015 and the takeover of vast areas in Syria and Iraq, its budget estimation reached $6 billion, as a result, the Islamic State is considered as the wealthiest terrorist entity in the history. The question posed is how such a terrorist group budget could become equivalent to a state-nation budget? In 2015 the Islamic State main financial resources were; oil and gaze which gathered about 500$ million in 2015; taxation that generated approximately $360 million in the same year and finally; about $500 million robbed from bank vaults in Mosul.
Today the situation is different, the Islamic State has lost the majority of its territory. The global coalition had destroyed ISIS infrastructures in the Middle East as well as its communication routes and had killed the idea of the hegemonic Islamic caliphate in the region. Meanwhile, the Islamic State is struggling to control the last 2 percent of its territory. Therefore, its revenue stream from the main resources has been rapidly shrinking out.
As a result, ISIS no longer relies on the controlled territory for its financial survival. For example, ISIS leadership may have smuggled around $400 million out of Syria and Iraq. Laundering this money through fake entity is likely to occur especially in Turkey. Some other cash could be converted into valuable items and stockpiled to be used in the future.
The stockpile cash will provide the group with more than enough fund to continue as a clandestine terrorist movement with the ability to conduct campaigns of guerrilla warfare in the region. On the other hand, ISIS has supported its financial situation with a variety of funding portfolio. It has developed a range of criminal activities that do not require controlling territories such as kidnapping for ransom, drug smuggling and trafficking in antiquities.
Over the next years, the international community seeks to provide help for Syria and Iraq to recover. The reconstruction aid could provide an attractive target for the Islamic State and a possible financial boost to its comeback. It is possible that the Islamic State begins skimming off reconstruction contracts, the only way is to establish connections with the local officials which is not difficult for a terrorist entity with a huge amount of cash. Finally, the rise of the Iranian threats in the region reflects in many stakeholder's fears from an Iranian's control through Hezbollah over ISIS past territories. Therefore, a continuing support from regional states to the terrorist group is possible if ISIS adopts a suitable strategy to the supporters interests in the region.
The combination of the criminal activities, the reconstruction plan and the regional states financial support in the future will encourage the Islamic State to regroup and reorganize. For instance, in Kirkuk, the militants created a fake checkpoint to attack security forces earlier this year. Moreover, in Diyala and Saladin, sleeper cells activity began to hit back. The U.S. policy in the Middle East tends to view the war on terror as separate phases while jihadis consider it as one long war. Until the West recognize this, ISIS is likely to come over to repeat its strategy and to reviving the Islamic caliphate project in the future.
Covid-19 and Threat of Bio-War
"In 1879, General William Sherman of the American Civil War Union Army uttered the immortal words, "War is hell." However true that may be, one thing is clear: war is good for business, and weapons are amongst the most lucrative products known to man"
World has been spending huge amount of money over new and innovative technologies with regard to hard power which emphasizes over military might and destructive weapons since long. Those states which are spending more money on acquiring new technology in weapons and arms remain much influential and powerful nations of the world. For instance, United States of America remains at the top of the list of the countries which spend lot of money for their defense and arms technology. According to the Stockholm International Peace Research Institute (SIPRI), the world military expenditure rose to US $1822 billion in 2018 which shows an increase of 2.6 percent as compared to previous year. In the year 2018, the top five countries which spent huge amount of money on military expenditure are the United States, China, Saudi Arabia, India and France. In 2019, global defence spending rose by 4.0 percent as compared to year 2018. Along with this the international arms transfer has increased by 5.5 percent in five years from 2015 to 2019 as compared to years 2010 to 2014. In which the United States of America remains at the top and other nations such as Russia, France, Germany and China respectively come after it.
The changing dynamics of world also effect the moods of war, transitioning from traditional to other forms such as Bio-War, Hybrid war, and Cyber war etc. As far as the Bio-War is concerned, it could be more destructive than any other form of wars. The possibility of current pandemic COVID-19 caused by Coronavirus, being a bio-weapon cannot be ruled out. The world scientists and virologists are closely monitoring its causes and spread however, so far have largely remained unsuccessful. Nonetheless, in addition to causing wide scale deaths across continents, this has spread acute fear across the nations of the world for now, it is highly embroiled in various conspiracy theories. These term Coronavirus as a bio-weapon created either by China or the US. In 1981, Dean Koontz an American fiction author in his work titled "The Eyes of Darkness" described a virus which would emerge from a Chinese city of Wuhan and spread throughout the world. He further identified it as the most important and dangerous biological weapon known as the Wuhan-400 by the Chinese.
Furthermore, Dany Shoham, a former Israeli military intelligence officer, who has studied Chinese biological warfare said the Wuhan Virology Institute is linked to Beijing's covert bio-weapon program. Explaining to Washington Time he stated that "certain laboratories in the institute have probably been engaged, in terms of research and development, in Chinese biological weapons at collaterally yet not as principal facility of the Chinese BW alignment". He further explained that "the Wuhan Virology Institute is under the Chinese Academy of Sciences, but certain laboratories within it have linkages with the Peoples Liberation Army (PLA) or BW-related elements within the Chinese defense establishment". Another theory regarding this was published in CBC News that "Dr. Xiangguo, her husband Keding Cheng and an unknown number of her students from China were removed from Canada's only level-4 Infectious Disease Facility laboratory. Therefore, it is said that two Chinese spies stole this particular virus and brought it to Wuhan lab that's how this Coronavirus outbreak took place. Third theory originally floated by a YouTuber and conspiracy theorist Jordan Sather which entertains that the patent for Coronavirus was applied in 2015 and granted in 2018 to Pirbright Institute UK.
As far as the Chinese point of view regarding Coronavirus outbreak is concerned, the Chinese foreign ministry spokesman Zhao Lijian's tweets claim that the US military brought Coronavirus to Wuhan. In addition, "Zhao urged his more than 287,000 followers in two tweets to widely share an allegation from a Canada-based conspiracy website that the coronavirus originated in United States rather than the Wuhan. The allegation was apparently linked to the US Army's participation in the international Military World Games held in Wuhan in October, 2019".However, there is no substantial proof or credibility behind these conspiracy theories about Coronavirus' outbreak but it has wrapped the whole world in fear because of its fast spread all over the world. This clearly shows that the threat of covert Biological Warfare among the nations is real which has affected the whole financial, political, social and economic structure of the world.
There are various writers and scholar who have informed the world about the new forms of war and threats such as Bill Gates, during its TedTalks, explained that the disaster we worried about most was a nuclear war. "Today the greatest risk of global catastrophe is not nuclear weapons instead it is Bio-War or Bio-Terrorism in the form of virus. If anything kills over 10 million people in the next few decades, it's most likely to be a highly infectious virus rather than a war, not missiles, but microbes. We have invested a huge amount in nuclear deterrents and invested little in a system to stop epidemic". Moreover, the current pandemic has exposed how ill prepared the nations are to deal with a virus. Therefore, it is high time that robust measures and parallel efforts are invested in finding defence, cure and vaccines against new and emerging threats in the form of Coronavirus. In this regard, nations have to be rational when it comes to policy making. Therefore, world needs to prepare a group of epidemiologist, medical team, volunteers, treatment approaches, health workers, good response system, make drugs and vaccines fit for that pathogen, strong global health system, to set up advanced research and development and to allocate a moderate budget.
Authors: Anne Speckhard and Molly Ellenberg*
ICSVE is proud to announce our newest publication in the Journal of Strategic Security
ISIS in Their Own Words: Recruitment History, Motivations for Joining, Travel, Experiences in ISIS, and Disillusionment over Time – Analysis of 220 In-depth Interviews of ISIS Returnees, Defectors and Prisoners
From 2015 to 2019, Dr. Anne Speckhard interviewed 220 Islamic State of Iraq and Syria [ISIS] defectors, returnees and imprisoned cadres in Turkey, Iraq, Syria, the Balkans, Europe and Central Asia. During these in-depth interviews, Dr. Speckhard examined the demographics, psycho-social vulnerabilities and motivations for joining ISIS, in addition to the influences and recruitment patterns that drew them to the group. Moreover, Dr. Speckhard inquired as to the interviewees' roles, experiences and relationships within ISIS, variance in their will to fight and support violence, disillusionment and attempts to leave.
This study's sample of the first 220 (out of 239 to date) consisted of 182 men of 41 ethnicities, representing 35 different countries, and 38 females of 22 ethnicities, representing 18 countries. 51.1% of the men and 76.3% of the women were foreign members of ISIS, some who traveled to live under ISIS, and a few who engaged in ISIS recruitment or other activities, including planning attacks, in their home countries. The participants were primarily young and middle class. Most were raised Sunni Muslim, whereas others reverted or converted before joining ISIS. The participants had vast variation in their educational levels and socioeconomic statuses, thus representing the broad range of people from all over the world who have joined ISIS.
The most common vulnerabilities to ISIS recruitment for the entire sample were poverty, unemployment and underemployment. Breaking it out by gender, the most common vulnerabilities were a criminal history for men and poverty, family conflict, and prior trauma for women. Poverty and unemployment tended to be much more influential for Iraqi and Syrian ISIS members, who joined the group after it took over their villages, whereas foreign participants had more complex vulnerabilities, such as the combination between a criminal history and substance abuse, and viewing un-and under-employment as a consequence of discrimination over being Muslim and/or from an immigrant background.
For men, the most common influences to joining ISIS were friends, face-to-face recruiters, and passive viewing of videos on the Internet and social media. The majority of participants were influenced in some way online, and a significant minority reported that all of their recruitment occurred online. For women, the most common influences were spouses, Internet recruiters, and parents. This can be expected due to the greater tendency for women to make decisions based on the preservation of relationships, particularly with their parents and spouses. While many women followed their husbands to ISIS out of fear of emotional or financial abandonment, only three women credibly claimed that they did not know where they were going when they left their home countries for ISIS territory—although many men and women had no idea it would be as bad as it was.
Motivations for joining ISIS differed drastically by location. Foreign males tended to be motivated by a "helping" purpose to provide humanitarian and defensive militant aid to the Syrian people, whereas foreign women tended to be motivated by the desire to pursue an Islamic identity, which many felt was not possible in their home countries due to harassment and discrimination. European women were also motivated by family ties, meaning that they followed their parents or husbands. Local men and women were motivated less by ideology and higher goals and more by employment, fulfilling basic needs and personal and familial safety.
Men's roles in ISIS were extremely varied. 51.6% of the men admitted to serving as fighters, ribat (border patrol), or both, during their time in ISIS. It is likely that many more of the men were fighters but did not want to incriminate themselves by admitting it. Other commonly reported jobs were engineers, mechanics, and medical personnel. 97.4% of the women claimed to have acted as wives and mothers. The roles of suicide terrorist, face-to-face recruiter, and medical personnel were endorsed by one woman each in the sample. Additionally, two women reported being members of the hisbah, ISIS's brutal morality police.
The most commonly endorsed sources of disillusionment among men were mistreatment of civilians, lack of food, and mistreatment of women, although ISIS's mistreatment of women was not reported to be as powerful as a disillusioning influence as mistreatment of ISIS members. For women, the most common sources of disillusionment were mistreatment of women, lack of food, and the acts of ISIS attacking outside their territory—particularly back home.
The participants reported experiencing, witnessing, and committing atrocities during their time in ISIS. Men most commonly reported experiencing bombings, being imprisoned by ISIS and being tortured, while women most commonly reported experiencing bombings, being widowed by ISIS-related violence, and being forced into marriage. The men most commonly reported witnessing executions, executed corpses, and torture, and hearing about the killing of a family member, while women most commonly reported witnessing executed corpses, torture and the death of a family member, as well as hearing about a family member being killed in battle or in bombings. Despite Dr. Speckhard's warning not to self-incriminate, some men admitted to killing on the battlefield, performing beheadings, other executions, and torture. One man admitted to owning a slave. One woman admitted beating, flogging, and biting as a member of the ISIS hisbah.
The will to fight describes the motivation cited by ISIS fighters for why they went to battle for ISIS, oftentimes after they were already disillusioned. Commonly reported wills to fight included fighting the Syrian regime, being a "true believer" in ISIS's ideology and hope to build the Caliphate, and fear of the brutal punishments meted out by ISIS if they refused to fight.
The results of this study demonstrate the utility and validity of qualitative interview-based research with terrorists. From the stories of the participants' experiences in ISIS, it is clear that most FTFs living far from ISIS territory are motivated more so by a desire to solidify their identities and help the greater Muslim community than for economic purposes, although some were attracted by the ISIS promises of free housing, jobs, marriage, etc. FTFs were also responding to push factors at home including marginalization and discrimination. In contrast, these existential motivations are less important for those living in conflict, who felt pressure to join ISIS in order to secure food and some semblance of safety for themselves and their families. Thus, the risk of former ISIS members rejoining the group if they are released or escape from SDF detention where many are held, even if they have been disillusioned with much of ISIS's ideology and methodology, should be a serious concern for military and intelligence personnel. Moreover, the threat of FTFs returning to their home countries should be countered through deradicalization and rehabilitation programs that address the vulnerabilities, influences, and motivations that drove them toward ISIS in the first place, as well as the traumas that they experienced while living under ISIS.
The complete report of ISIS in their Own Words is published in the Journal of Strategic Security and can be viewed here.
*Molly Ellenberg is a Research Fellow at ICSVE, working on coding data from qualitative interviews, developing trainings for use with the Breaking the ISIS Brand Counter Narrative Project videos, and assisting with the creation and analysis of the Facebook campaigns
Pakistan committed to curbing Money Laundering and Terror Financing
Financial Action Task Force (FATF) is the global money laundering and terrorist financing watchdog. It has nine associate members and Asia Pacific Group is one of them. Pakistan is the member of APG because of this membership it is bound to comply with the recommendations. Pakistan was placed in the grey list for the first time in 2012 and remained there till 2015. Since June 2018, Pakistan has once again been put in the grey list. In this regard, FATF gave 27 points agenda to Pakistan for countering money laundering and terrorist financing to avoid being blacklisted. The basic theme of this 27 points agenda revolves around high level political commitment from Pakistan to work with the FATF and AGP. While working with them it has to strengthen its Anti-Money Laundering (AML) and Countering Financing of Terrorism (CFT) regime and address its strategic counter-terrorist financing-deficiencies within various fields. With regard to commitment and progress over the recommendations given by FATF, the government of Pakistan, as a result of restless efforts and struggle, has been successful in fulfilling the fourteen points out of 27 point agenda.
There are ten points where FATF has shown fully satisfaction over the efforts of government of Pakistan which include; "activation of NACTA website to place proscribed persons; real time access to all and continuous update, precautions in State Bank of Pakistan regarding Know Your Customers KYC; biometric verification of accounts, dissemination of reverse feedback and intelligence reports by law enforcement agencies to SBP and Financial Monitoring Unit, risk assessment of cash smugglers particularly with special reference to terrorist financing, integration of Customs controls at all entry and exit points of land, air and sea, effective utilization of domestic agencies against terrorist financing, regulation of private banking system by the regulatory framework of SBP, investigation mechanism on risk-based approach against terror financing and Awareness campaign to all stakeholders regarding terror financing".
Therefore, FATF in its meeting held in February 2020 has given the positive response over the measures taken by the government of Pakistan for countering terrorism and terror financing. It has praised Pakistan's efforts and recognized seriously taken actions by Islamabad against the money laundering and terror financing throughout the country FATF conducts three plenary meetings in a year consecutively in the months of February, June and October. The first tri-annual plenary meeting of year 2020 was held from 19-21 February 2020 in Paris chaired by FATF President Xiangmin Liu of the People's Republic of China. By looking over the progress made by Pakistan, it was decided to keep it in the grey list till June 2020.Simultaneously, the FATF instructed the Federal Board of Revenue (FBR) to regularize and keep the record of three sectors namely real estate, gems and jewelry to ensure that they are not misused by any terrorist organization or individual. What could be the implications or benefits of the recommendations by FATF for Pakistan if government becomes successful in bringing the change in the rules and laws of these three sectors?
Pakistan needed 3 votes out of 39 member states of FATF to remain on the grey list and to avoid the "Black list". In the FATF meeting held in the month of February 2020, Turkey, Malaysia and China voted in favor of Pakistan. This resulted in FATF providing more time to Pakistan to work over recommendations regarding AML and CFT. There is a strong hope within Pakistan particularly at the governmental level that it will get itself out of grey list and will try to put itself in white list. Moreover, Pakistan requires at least 12 votes out of 39 votes to be able to remove itself from the grey list and secure position into white list. These will open doors for various kinds of local and foreign investment by states, MNCs, IGOs, INGOs and business community. Moreover, Pakistan will continue to receive the funds and loans from World Bank (WB), International Monetary Fund (IMF) and Asian Development Bank (ADB) along with support in the economic, social and political sectors. Keeping these prospective benefits in mind, the present government tries to fulfill new demands given by FATF. If it fails to work efficiently, there is a probability to be put into the black list.
Unfortunately, Pakistan has been going through various internal problems which cause hurdles in the peaceful and smooth running of affairs ultimately impacting the stability and progress of state. As a matter of fact the government has been fighting to control the money laundering and terror financing within the country since long, even before the demands made from FATF. It conducted various operations to eliminate the 'safe heavens' of terrorists for instance Zarb-e-Azband Rad-ul-Fasad. This had been instrumental in reduction of terrorist incidents across the country. Pakistan needs to continue putting in efforts otherwise "black listing" will harm the country's political, economic, social and business affairs. It can face multiple sanctions in which the international forums and institutes such as WB, IMF and ADB will stop their financial support to Pakistan. Along with this it can also face other restrictions such as avoidance of investment by states, big companies and corporations. In addition, any misadventure created within country could be harmful for the incumbent government, national interest and common people of country. So, it is the responsibility of the government to handle all these internal and external problems very keenly through understanding the basics and current domestic as well as global circumstances to avoid being black listed.