Poverty should be our history, not present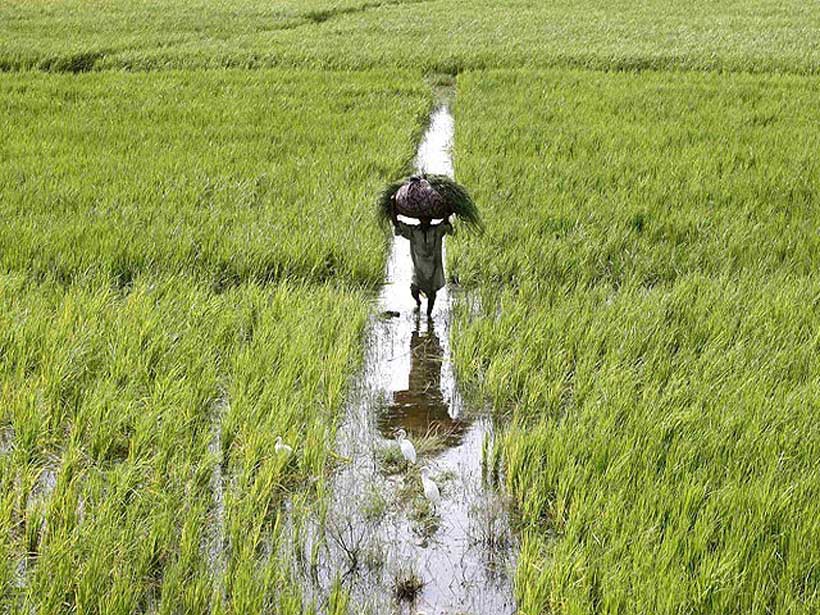 17th October presents an opportunity to not only acknowledge the struggle of our fellow humans suffering from poverty but also gives us a chance to examine what we in our capacity have done and plan to help them in their struggles. Martin Luther King once said "Our lives begin to end the day we become silent about things that matter". Going by that, there should come a time in every person's life when they break the shackles of silence and talk about things which matter on a larger scale. When UN General Assembly adopted the Vision 2030 agenda with 17 SDGs, the first goal out of the these 17 was to eradicate poverty. I have had the distinct opportunity of leading Pakistan's only countrywide rural development programme i.e. National Rural Support Programme (NRSP) for more than two decades. NRSP (combined with NRSP Bank) is the largest microfinance provider in the country focusing on rural areas. A key principle in our strategy for combating poverty is to harness people's potential, enabling them to participate in local development activities.
One of the worst manifestations of poverty is exclusion from participation in decision making process whether at local or national level. Having said that, it is important that we realize that no one intervention is sufficient against poverty. If the challenges are multi-dimensional, the response needs to be the same. From my personal experience, I can state with some certainty that for an effective strategy on poverty eradication, a people-centered approach is the key. A policy that combines infrastructure development and livelihood strategies, with the assurance that the target community is capacitated enough to participate and make their own decisions whether political, economic or about their social life.
NRSP social mobilisation model follows an established three tiered people centric mobilization strategy to organize local communities into sustainable community institutions (CIs). The lowest tier is called community organization (CO). With an 80% representation of local households, a CO is federated into a village level organization called Village Organization (VO). Members from both CO and VO after going through capacity building trainings are federated into Local Support Organization (LSO). Village Development Plan (VDP) and Union Council Development Plan (UCDP) are two important outcomes from these CIs. Because this model ensures participation from the grassroot level, one can be sure that needs and problem identification follows a bottom to top order. Currently NRSP has formed 209,860 COs, 7,574 VOs and 820 LSOs with a total of 3,351,687 community members. 56% of these members are women.
At every CI level, members are requested, trained and facilitated to identify what are the opportunities in their lives which would help them to come out of extreme poverty. Every household makes a Micro Investment Plan (MIP) for their own house. What makes this model unique; are the four qualities that become the guiding principle of these CIs, inclusion, transparency, accountability and good governance. For any CI, to be eligible for development support, it has to meet a stringent criteria. Adherence to these principles makes these CIs sustainable, brings a sense of ownership and empowers them to address their issues themselves.
Based on the plans proposed by these CIs, the activities could be categorized in two different categories, Individual/household activities (Income generating grants, asset transfer for the destitute Access to loans capital e.g. CIF, micro credit, savings, Skills enhancement trainings leading to employment generation) and Community/Village level activities (Access to technical and financial services to accomplish the identified plans, Support for project design, resource mobilization and development of linkages with local government and other development organizations). Individual activities lead to 'private goods' which once sold to the consumer bring financial capital to the seller. Community/Village level activities lead to 'public goods' thus enhancing the functioning of the particular community. Reports on poverty in Pakistan show that as much as 40% of the population, almost half of us suffer from some form of poverty. Poverty in urban areas stands around 10% as compared to 54 % in rural areas. FATA with 73% and Balochistan with 71% poverty rate are the most affected provinces due to poverty. In 2016, Pakistan was declared of having the lowest Human Development Index (HDI) in South Asia. We have a bulging youth population and continuously increasing unemployment rate. These statistics and facts paint a grim picture.
Humans are always willing to improve their lives irrespective of their ethnicity, education, social, education or religious backgrounds.This assertion has to be the key ingredient in the policy making process for poverty eradication. NRSP is currently implementing two large scale five year projects based on the same philosophy in Sindh and Balochistan. Sindh Union Council and Community Economic Strengthening Support Programme (SUCCESS) and Balochistan Rural Development and Community Empowerment (BRACE) with support from European Union (EU) and Local Governments. Especially SUCCESS in Sindh is focused on inclusion of women in the development process and all community institutions formed are women only. Women are leading the change in rural Sindh. BRACE in Balochistan also ensures that 50% of the total beneficiaries and participants of the programme are women.
These are interesting times for Pakistan. The world is changing and so is Pakistan. ICT for development in shape of digital innovation offers a new intervention for poverty alleviation. Improved access of services and products, sharing of information and ideas can open new avenues of positive change (E-Kissan is an example). Whether its health, education, agriculture or capacity building, ICT offers many tools to its users. In terms of accessibility and training, established Rural Support Programmes (RSPs) can play a lending hand. Public-private partnership can act as a catalyst in this digital transformation process. As large as the menace of poverty is in Pakistan, our response needs to be equally larger. A joint platform of all involved stakeholders can be the first step towards policy reforms that safeguard these marginalized communities against threats arising from poverty. We are not short of resources or manpower needed to do the work, what is needed is the will and effort to point us in the right policy direction.
The 'Beauty Premium' and other forms of stereotyping are real, and they're a workplace problem
People say "seeing is believing", but that's wrong. The truth is, "I will see it when I believe it".
As an academic psychologist I have spent years, and run dozens of experiments, looking at unconscious or implicit bias and its consequences. I consider factors such as looks, ethnicity, age and gender, to see if they influence world-of-work decisions such as hiring, promotion, salary. 
The short answer is that all these factors make a difference, even though they play no real role in the evaluated person's performance. Beliefs guide the facts we see. They shouldn't, it's unfair. But they do. The so-called 'Beauty Premium' is real, as are a host of other biases.
Taking decisions this way is not unnatural.  Evolution has fashioned us to infer, to fill in knowledge gaps. Is that rustle in the grass the wind, or a snake? Assume, infer, and take the conservative decision. That's how we survive.
But using inference or stereotypes to guide staffing decisions is not effective because the right candidate may be overlooked and the 'right-looking' but wrong candidate selected.
The point is we are very quick to size people up – age, sex, appearance, even height. We fill in the blanks and give them a price tag in a stereotypically consistent way. The problem is that once we decide about something we try to justify it because we don't like to admit we were wrong.
One study I know asked people to vote on the basis of photos, as if they showed candidates running for public office. Afterwards, the voters were given information about the 'candidates' (e.g., political preferences, values, etc.) and then asked to vote again. Despite now having relevant information the voters hardly changed their opinions.
I thought this might be due to past experience – perhaps people have a learned stereotype of what a 'Leader' should look like? So I repeated the experiment with small children, too young to have learned bias, showing them pairs of photos and asking who would make the best captain of a boat (a position of responsibility they could understand). I asked some adults to do the same test. The children and the adults chose the same photos. No experiential factor could explain the choices, it had to be nature.
But, perhaps the motivation or education level of the testers played a role? So I did a similar experiment with kids using photos of candidates for elected positions at the Association of Psychological Science (APS). All the voters and candidates were scientific psychologists. But results were the same. When no photo was available in the original ballot material the APS members voted on the basis of publication record (a reasonably good proxy for the knowledge, status, and success of the candidates). However, when there had been photos included in the ballot materials nothing mattered but the face.
Maybe business people would take decisions in a more rational way? So, we asked experimental subjects to look at photos of managers in a large multinational company, and then asked them to judge the mangers for competence and personality. We accounted statistically for everything possible – age, qualifications, and so forth. Those managers who rated higher on looks earned more.
Implicit bias is even worse for women. Factors such as being overweight count against women even more than they do for men. And it's not just appearance. I worked with a Swiss multinational looking at the transcripts of their internal performance evaluations, and statistically controlled for everything possible.  Men had a much higher likelihood of being described in a positive way; for example, "he really knows how to put his foot down" compared to a similar woman, who "really knows how to use her elbows".
Age discrimination was also rife across the board, even though for high-level, cognitively complex jobs there is zero correlation between performance and age. In short, age and being male predicted future job and salary levels.
So women (and anyone else who does not fit role expectations) are walking on eggs. It's a double bind. They must demonstrate exceptional competence to be seen as equal in ability to men, but must also avoid threatening them with competence and apparent lack of warmth, or behaviour that violates social stereotypes.
An experiment run by a professor at Yale University demonstrated the penalty for violating these social norms. One male and one female actor were each asked to record two versions of the same interview, one where they were calm and one showing some anger. Their answers were the same so rationally, the man and woman should have been ranked the same in the same condition. But it turns out that if a man shows anger it is interpreted completely differently. Men can show their "guts." Women are not allowed to show anger because they are supposed to be nice, nurturing and kind. When subjects were asked to rank the two actors, the man was seen as higher status and more competent, and offered 50 per cent higher salary. The woman was seen as out of control.
There are ways to reduce bias in the workplace. The first is to be aware of your own biases. Then you can take steps to eliminate them and so reduce discrimination.
Second is accountability.  Decisions need to be justified, with objective indicators. Be aware that every piece of information can introduce bias. How the call for applications is made – certain words will attract or discourage women. What information applicants are asked for, including photos, can matter. Who does the initial screening, and is it objective or just personal opinion?  Are the screeners different from the interview panel?  Are the same interview questions asked of all candidates and is the information aggregated independently? Are validated psychometric tests used (e.g., the most used test in the business world, the MBTI, is actually useless; it has no predictive validity).
Data is also key, it allows us to track what is happening, reveals unconscious bias and creates awareness.
Finally – men. We are part of the problem but also part of the solution. If we champion the cause we can reduce these biases. This is our problem too, not just a problem for women or minorities. Taking decisions correctly is not only the ethical thing to do, in the long run it is the economical and rational thing to do.
Source: ILO
Rising human trafficking takes on 'horrific dimensions'
A new UN report published on Monday shows that human trafficking is on the rise and taking on "horrific dimensions", with sexual exploitation of victims the main driver. Children now account for 30 per cent of those being trafficked, and far more girls are detected than boys.
The study from the United Nations Office on Drugs and Crime (UNODC, draws on information from 142 countries, examining trafficking trends and patterns. Yury Fedotov, Executive Director of UNODC, said that "human trafficking has taken on horrific dimensions as armed groups and terrorists use it to spread fear and gain victims to offer as incentives to recruit new fighters," citing child soldiers, forced labour and sexual slavery as examples.
While the average numbers of reported victims had fluctuated during the earlier years for which UNODC had collected data, the global trend has shown a steady increase since 2010. Asia and the Americas are the regions which have seen the largest increase in the numbers of victims detected, which may be explained by improved methods of detecting, recording and reporting data on trafficking – or a real increase in the number of victims.
Most victims of trafficking detected outside their region of origin are from East Asia, followed by sub-Saharan Africa: whilst there has been an increase in the number of convictions for trafficking in these regions, the study concluding that large areas of impunity still exist in many Asian and African countries, and conviction rates for trafficking remain very low.
Trafficking for sexual exploitation is the most prevalent form in European countries, whilst in sub-Saharan Africa and the Middle East, forced labour is the main factor driving the illicit trade. Women and girls make up most trafficking victims worldwide: almost three-quarters of them are trafficked for sexual exploitation, and 35 per cent (women and girls) are trafficked for forced labour.
Armed conflict the focus
The main focus of the report is on the impact of armed conflict on trafficking. In conflict zones, where the rule of law is weak, and civilians have little protection from crime, armed groups and criminals may take the opportunity to traffic them. One example given in the study is the phenomenon of girls and young women in refugee camps in the Middle East being "married off" without their consent and subjected to sexual exploitation in neighbouring countries.
Addressing human trafficking is a key part of the UN Sustainable Development Agenda, requiring Member States to monitor progress in tackling the problem, and report the number of victims by sex, age and form of exploitation.
However, significant gaps in knowledge remain, with many countries in sub-Saharan Africa, South Asia and some parts of East Asia still lacking sufficient capacity to record and share data on trafficking in persons. "This report shows that we need to step up technical assistance and strengthen cooperation, to support all countries to protect victims and bring criminals to justice, and achieve the Sustainable Development Goals," said Mr. Fedotov.
Human Trafficking: An ordeal to reckon
Our globe is prey to the multiple ordeals – terrorism, surging poverty, soaring unemployment, global warming, conflicts among the countries, and refugee crisis are the names to few. Every individual is mindful of such calamities. However, amongst most appealing tribulations that our planet is confronting, which is mostly depreciated, or even obscure to many is of human trafficking. In the contemporary world, human trafficking is tantamount to modern slavery. Slavery is forced labor under a threat of brutality that traces its lineage from the era of colonialism and imperialism. Racism, which was the subliminal base of slavery, is still very much active in the present times and strengthens the ethnic perplexity.
Human trafficking usually refers to a process under which individuals are placed or maintained in an exploitative condition for economic upkeep and violation of human rights. Every country in the world is vulnerable to human trafficking. Millions of kids, adult females, and men remain to be trafficked every year in all regions and in many countries of the world. Victims may be trafficked within the country or across a border for various uses. It includes forced and manipulative labor in agricultural fields, farms and private homes; forced marriage; sexual exploitation, and organ dismemberment. Around 40 million people are shackled in the chain of modern slavery worldwide, in which the Asia-Pacific region has almost 56% of trafficked persons. Women and girls are the prime victims of the market for human trafficking. According to 2018 report of Global Slavery Index, the countries which are home to the modern slaves are North Korea with 10% of its population, Eritrea (9.3%), Burundi (4%), Central African Republic (2.2%), Afghanistan (2.2%), Mauritania (2.1%), South Sudan (2%), Pakistan (1.7%), Cambodia (1.7%), and Islamic Republic of Iran (1.6%) respectively. These countries suffer from income inequality, discrimination in class, sects, and entrenched corruption.
So, one's mind must be curious that why this menace has clutched the world with such an immense extent. The answer has multiple driving factors behind it, as human trafficking is a highly lucrative crime and produces $150 billion per year. Human trafficking takes place on many purposes, such as demand for cheap labor including the child or forced labor, demand for sexual exploitation, and demand for organs removal to name few.
The United Nation Office on Drugs and Crime (UNODC) report identifies that the most vulgar strain of human trafficking is sexual exploitation. Sex trafficking prey is maneuvered or forced against its consent to absorb in the sex exploit or to be prostituted for the money. Sex traffickers often use threats, violence, and the promise of love and affection to lure the victims. Such exercises frequently transpire at motels, rest areas, individual halls, street corners, and truck stops. Out of $150 billion, sex trafficking within the prostitution industry yields $99 billion.
Forced or cheap labor occurs in many forms, like the application of coercion or deception or force. The victims are induced to work for mere less or no money as their earnings. Labor traffickers often make hollow commitments of a high-paying job or impressive education or travel possibilities to entice people into awful working conditions. These victims can be found in manufacturing plants, farms, brick kilns, and building sites.
Multiple factors lead to human trafficking and vary from country to country according to the conditions and affairs of the state. Though, on common ground; privation of human rights, poverty, disequilibrium in social and economic affairs, political upheaval, natural disasters, and, civil unrest attribute to human trafficking. Wars, conflicts between countries, civil strife commence displacements of masses making children orphans and leaving them susceptible to human trafficking. Most of the times, parents contribute to human trafficking too. On the score of impending poverty, parents merchandise their children with this notion that their children might access the bright future.
The menace of human trafficking accommodates devastating repercussions economically and socially. On societal fronts, it undermines family ties and child neglect, and the victims who manage to escape from the trafficking often plague stigmatization. From the economic aspect, the countries which are reeling under the vicious cycle of human trafficking they lose the human resource. According to the US Department of State, child labor negatively influences their future productivity which would otherwise be put into good use.
Human trafficking affects not only the social and economic specters but also affects the health of individuals which undergo it. Adult females and children trafficked for the intentions of Sexual exploitation are at the risk of HIV/AIDS; with this when they are exposed to violence and barbarism, they sustain severe injuries which impede their mental and physical development.
To curb human trafficking the UN and the world countries have taken multiple steps. The Global Action to Prevent and Address Trafficking in Persons (GLO.ACT) and the smuggling of migrants is a four-year (2015-2019) joint initiative by the European Union (EU) and the United Nations Office on Drugs and Crime (UNODC). It is implemented with a conglomeration of the International Organization for Migration (IOM) and the United Nations Children's Fund (UNICEF). The UNICEF accepts donations and provides training manuals on the subject of human trafficking.
Along with it, there are several functioning organizations worldwide that help citizens fight against human trafficking. However, despite the active roles of numerous organization of the world, the menace of human trafficking persists. To eradicate this menace, individuals and their government must cooperate with each other, so that future generations can be saved.