Armenia's Role in South Caucasus Policy of Russia
The Caucasus has long been one of the most important regions in the world. Many states had the desire and plan to rule this region from time to time. For centuries Russia has a great influence in the Caucasus and the main reason for the importance of the Caucasus region for Russia is its geostrategic location on important trade routes. Because by passing through this region Russia can reach the Balkans, the Black Sea and the White Sea, the Persian Gulf, as well as the Indian Ocean. The other important reason is the Caucasus is a great source of raw materials for the Russian economy. North Caucasus regions, such as Chechnya, Dagestan and Tatarstan, cover almost half of Russia's energy needs. Also, the Caucasus region has significant strategic importance in terms of the routes that aimed to bring the Caspian Sea resources to the West and controlling these routes.
After the dissolution of the USSR, relations between Russia and Armenia intensified since 1992. There are numerous agreements have been signed between Russia and Armenia in various fields. The most important agreement was signed in Moscow a Treaty of Friendship, Cooperation, and Mutual Assistance by Presidents Boris Yeltsin of Russia and Levon Ter-Petrosian of Armenia. The treaty also envisages consultations and mutual military support if either side is attacked or considers itself threatened by a third party. Despite Russian and Armenian officials denied this, it was one of Russia's interference in the South Caucasus through Armenia. This agreement has made Russia's presence stronger in the region. Russia has military bases in Armenia and the main purpose of these bases is to protect Russia's interests and Armenia's national security. After the recent crisis in Georgia and the withdrawal of Russian military bases, Armenia became a more important actor for Russia.
Russia has a significant impact on the processes in the region by using the Nagorno-Karabakh conflict. The conflict started with Armenian occupation of Azerbaijani lands and as a result of Russia's efforts, a ceasefire was declared and negotiations started. The Kremlin supports the peaceful settlement of the conflict within the OSCE Minsk Group, as well as in bilateral meetings. Consequently, Russia provides political and military support to Armenia as an important ally in the region, as well as prevents Azerbaijan moving away from it by being as a guarantor of the peaceful settlement of the conflict. Time to time Russia uses this conflict to make political pressure on both countries which makes it another most important factor for Russia. Georgia's attack on North Ossetia and later on Russian intervention in Georgia and recognition of North Ossetia and Abkhazia, have led to thinking whether there will be a change in the status of Nagorno-Karabakh. Also, Russian intervention in Georgia has shown that the problems in the CIS region cannot be solved without Russia. Therefore, it is possible to say that resolving the Nagorno-Karabakh dispute is highly dependent on Russian presence. However, the growing interest of the West in this region and proposing new solutions to the conflict, make Azerbaijan and Armenia use this dispute card against Russia. The possibility of Western-South Caucasus rapprochement in the future may lead to not only a political, but even a serious economic impact on Russia. Russia's economy is heavily dependent on energy resources and the European energy market is the most important, profitable, and stable market for Russia. At the same time, the EU tries to diversify its energy routes and to reduce its dependency on Russian energy exports. The South Caucasus, especially the Caspian region has rich oil and gas sources. Hence, in the light of the Western-Caucasus relations, the role of Azerbaijan becomes more significant and strategic. In addition, strengthening and developing relations between Armenia and the EU is important in terms of ensuring the security of supply. Such a significant reduction of the EU's dependence on Russia will have a great impact on Russia's economy. Considering the fact that there are numerous sanctions on Russia, the weakening of the Russian economy may hamper its regional power. Even more likely, this may lead to domestic riots in Russia, and Russia may face the threat of a division of the country.
The Kremlin and Moscow have a special control over the region to prevent this scenario and creates barriers to the South Caucasian countries' integration into the European Union. For instance, abandoning the Nabucco project, Russia's military intervention in Georgia, and being a shareholder in projects in this region (excluding TAP and TANAP) are some examples of these barriers.
Diasporas also play an important role in Russia's Caucasus policy. They are most influential tools in key areas of government and are closely involved in political activities. Moreover, the existence of many Russian citizens in Armenia, the wider use of Russian language in the country, and the broadcasting of Russian radio and television channels are the core elements of Russian presence in Armenia. Some Russians living in Armenia also have the opportunity to participate actively political and cultural relations due to their Armenian language knowledge.
Conclusion
After the collapse of the USSR, Armenia became Russia's main ally in the South Caucasus. Integration of Georgia into West, conflicts and problems with Turkey and Azerbaijan, threats to national security urge Armenia to be closer to Russia. At the same time, large-scale projects implemented by Azerbaijan and Georgia with Turkey and Western countries, integration into the Western markets, and problems with Armenia hinder Armenia's regional, political and economic development. To ensure this development, Armenia sees Russia as its biggest ally and closely cooperates with Russia.
The basis for the national security of Armenia relies on military cooperation between Russia and Armenia, however, the dependence on Russia in the economic sphere and the fact that all the strategic enterprises are controlled by the Russians is contrary to Armenia's interests. Therefore, Armenia is in search for ways to integrate into the West without undermining its relations with Russia. However, Armenia's political and economic dependence on Russia and tensions with Azerbaijan and Turkey make difficult to integrate into the West. in order to get rid of isolation, it is important for Armenia to step back in disputes with Turkey and Azerbaijan and mitigate relations.
In the near future, it is impossible for Armenia to completely break the dependency on Russia and integrate into the EU and the West. The grounds for this integration, which depend on Russia's foreign policy strategies, have not yet been established. Today, the Armenian authorities understand that it is impossible for Armenia without Russia to exist in these conditions. While the integration into the West is on the agenda, the isolation of Armenia in the region prevents the achievement of political and economic prosperity. Russia's active involvement in the region is important for Armenia, both for internal and external stability. Armenia's integration to the West will continue in the frame of Russia's interests, but from now on the Armenian government will pursue a more discreet policy towards Russia. Russia, on the other hand, can take two actions; to take a step which can lead to the end of the Nagorno-Karabakh conflict and Armenia's defeat, or to control Armenia without military intervention by making some concessions to current or future authorities. The first option is dangerous for Russia in terms of losing Armenia and reputation in South Caucasus, however, in the second variant, Russia can maintain its influence in the region by ensuring its long-term interests.
A turning moment in Ukraine Crisis
Germany's decision to send tanks to Ukraine is a major moment in the Ukraine Crisis. It will have a far-reaching impact and may turn it into World War III. It is a tradition of the US to gang up to counter its adversaries. Iraq war, Libyan attacks, Syrian aggression, and the Occupation of Afghanistan, all were the result of allied forces, the US has the skills to make allies in addition to NATO and achieve its political objectives.
The US lobbies against its adversaries, and use all dirty tricks including media to malign its adversaries. They mislead the public and level the ground for the next stage – armed intervention. Looking at US interventions in any part of the world, you may conclude a similar approach.
Ukraine is also no exception. The US was preparing grounds for this crisis for a long and dragged Russia into it. Including Ukraine in NATO, was a red line for Russia, but, deliberately, this path was chosen to spoil global peace.
After failing all negotiations, Russia was left with no option except launch a special military operation on the same line as the 2014 Crimea operation. It was just a limited operation and should have been over after securing Russian borders only.
Unfortunately, the US had different intentions and trapped Russia in Ukraine and a full-scale war started. It was purely American war against Russia, but, as usual, America ganged up with NATO and also sought assistance and support from friendly countries.
German Chancellor Olaf Scholz announced the move on Wednesday, bowing to intensifying international pressure – led by the United States, Poland, and a bloc of other European nations, which called on Berlin to step up its military support and commit to sending their sought-after vehicles. The influx of Western tanks into the conflict has the potential to change the shape of the war. The shipments are a breakthrough in the West's military support for Kyiv, signaling a bullish view around the world about Ukraine's ability to reclaim occupied territory. Crucially, they may allow Ukraine to take the fighting to Moscow's forces and re-capture more occupied land, rather than focusing primarily on beating back Russian attacks.
The US has increased its defense budget and military aid to Ukraine. It is aimed to attack Russia, not limited to liberating Ukraine only. It will prolong the war and let Russia bleed for longer.
Participation of Europe in conflict may worsen the situation and may harm Europe more. Although there are public rallies, protests, and agitations in major cities in Europe to end the Ukraine war or at least oppose Europe's active participation. Some were chanting slogans to leave NATO. It seems the public understands the consequences but the rulers are blindly following US policies. It might create a rift between the public and rulers.
Blunders made by rulers, but, the price is being paid by the public, in the form of inflation, hikes in the price of fuel, energy, food, etc., are a common phenomenon all over Europe. The danger of spreading the war is at high risk.
Imagine, if Russia also seeks assistance from its allies and gangs up to conform to NATO aggression, it will be certainly a Word War III. Today, the World is obviously polarized and blocks are emerging rapidly.
It also can turn into nuclear war too. The 8 declared nuclear states have enough piles of nuclear weapons to destroy the whole world completely. It is scaring scenario.
But despite knowing the consequences, no one is taking any initiative to end the war and seek political solutions to the crisis. The US is not interested in the peaceful resolution of the disputes and Europe is blindly following America.
It is urged that the UN may intervene proactively and initiate a dialogue to reach an acceptable solution for all stakeholders. Unbiased, non-partisan nations may come forward to initiate peace dialogues. All peace-loving countries and individuals may act proactively and struggle to end the Ukraine crisis. Satisfying all concerned parties may achieve sustainable peace and avert any big disaster.
Humankind is the most precious thing in this universe and must be respected. Value human lives, save human lives, and without any discrimination protects human lives across the board all over the globe.
Lithuanian society is left shaken by plans to raise retirement age
This month Lithuanian society is left shaken after spreading the news about the increasing of the retirement age. In Lithuania, the retirement age has increased every year since 2012 and by 2026 it will be 65 years. Previously, discussion surfaced on whether raising the retirement age to 72 would help offset Lithuania's ageing population issues.
As Lithuania's demographic situation continues to worsen, the European Commission estimates that the number of working-age people capable of supporting pensioners will go down in the future. Brussels says that increasing the retirement age could be a solution.
The existing average in Lithuania is now 57.5 years. It should be said that Lithuania expects to reach a life expectancy of 65 years only in 2030.
In some years there will be 50 retirees per 100 working people and it will have crucial implications for public finances and may require raising taxes. At the moment, 35% of the country's population are aged over 55.
Before prolonging its working age, Lithuania should address the relatively poor health and low life expectancy of its population. Before they even reach retirement age, many people in Lithuania are unable to work due to high prevalence of chronic, non-infectious conditions.
It's necessary to focus on increasing healthy life expectancy in Lithuania, instead of weighing up the idea of increasing the retirement age, Irena Segalovičienė, presidential adviser has said.
Taking into account the fact that men in Lithuania live an average of 14 more years from the age of 65, and women an 18 more years, Vilnius residents are not impressed with such an idea.
The officials are afraid of possible protests which could lead even to the government resignation.
Thus, late Thursday afternoon millions of French workers were still on the streets protesting against President Emmanuel Macron's planned pension reforms.
Lithuanian officials were quick to announce that it's inadequate to consider a 7-year increase in the retirement age at this stage. Most likely, the news was deliberately disseminated in order to study public opinion on this issue.
Discussion is most toxic now, and will continue in Lithuania because wasting money on defence, government puts aging population at risk of poverty and death.
At the same time, the government calls for more defense spending. Together with Poland and the UK, Lithuania is leading a push within the NATO to agree to higher spending goals. In 2023, the country's national defense budget will reach 2.52% of its gross domestic product (GDP). According to Zilvinas Tomkus, Lithuania's vice minister of defence, Lithuania is ready to spend even more on the modernization of its armed forces and military infrastructure. The more so, spending money on defence procurement today will not improve Lithuania defence today. The modernized weapons, vehicles and equipment will be available only in some years while old Lithuanians need money right now just to survive.
Thus, chosen political priorities do not reflect the current social and economic situation in the country and even worsen it.
Why there is New Escalation in Ukraine War?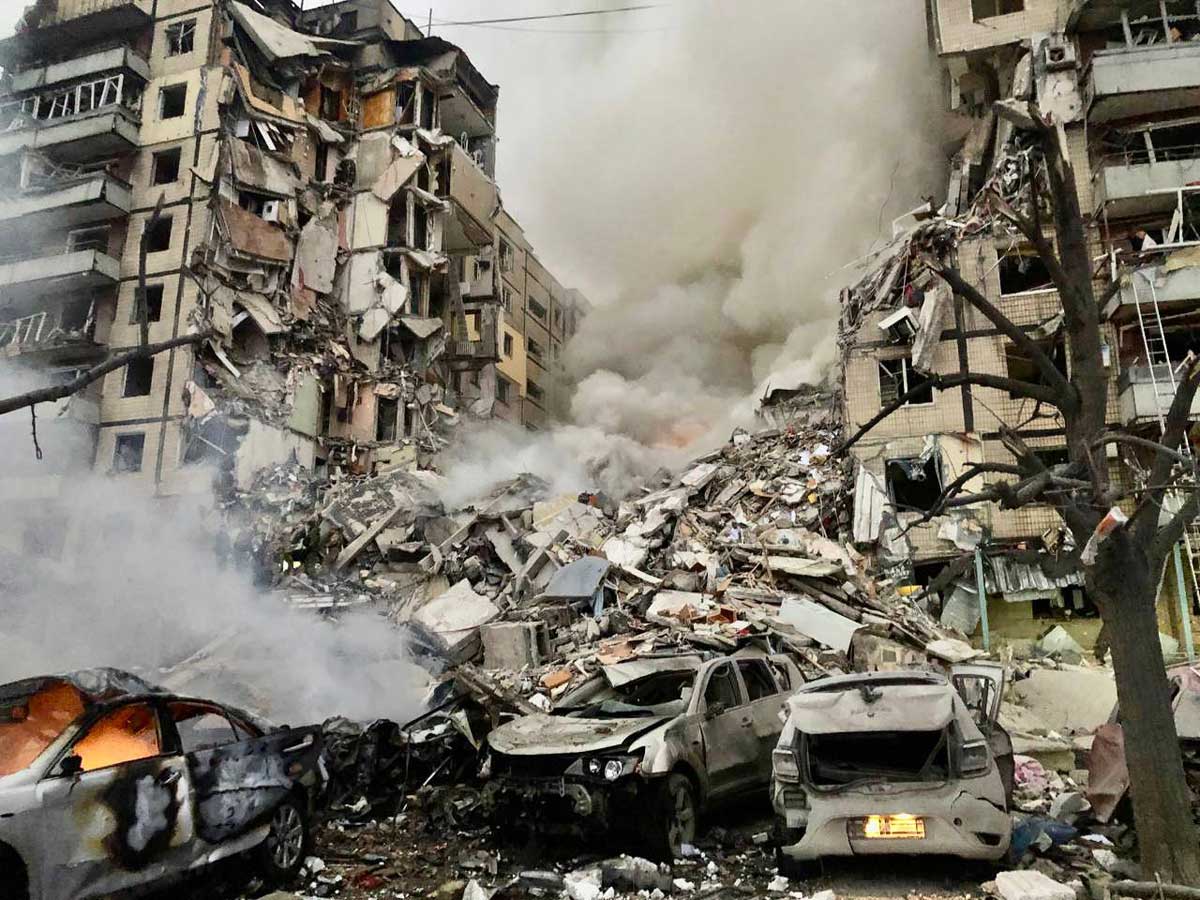 Russia and Ukraine war has entered its second phase where violence and destruction become more prevalent with less possibility of negotiation between the conflicting parties. Russia claimed to have conquered a hotly disputed salt mining town, a rare win for the Kremlin after a string of losses in its invasion of Ukraine. Moscow chose Donetsk and the adjoining Luhansk province as objectives from the start, and in September proclaimed them part of Russia along with two other territories. Taking control of the town would allow Russian forces "to sever supply lines for the Ukrainian soldiers in Bakhmut and then block and encircle the Ukrainian battalions. Russia sees Bakhmut as a stepping stone toward total control of Donbas, the industrial region that encompasses Donetsk Province.
Moreover, Russia has opened multiple fronts encircling Ukraine from all sides. Russian missiles blasted a military camp in western Ukraine, killing 35 people in an attack on a site that served as a vital hub for collaboration between Ukraine and the NATO countries that assist its defense. The attack's proximity to a NATO member country heightened the prospect of the alliance becoming involved in the war, which has reignited old Cold War rivalries and threatens to alter the present global security system. Poland also serves as a transit point for Western military supplies to Ukraine, and the bombings came in response to Moscow's threats to target those shipments.
However, despite significant casualties in the Ukrainian military forces over the last 11 months, Kyiv believes it is in a good position. It would be considerably more powerful if more contemporary weaponry were available, and there have already been some significant breakthroughs in this area, such as the supply of a variety of flexible light armored vehicles from Germany, France, and the United States that can move troops around quickly. Against a backdrop, Russia would reject any peace agreement that does not include the retention of all seized Ukrainian territory. On the flip side, Ukraine has been pleading with Western nations for months to equip it with more modern armaments, such as the Patriot air defense system.
Ukraine War and the Remilitarization of Europe
Kyiv has shifted its focus toward Western Europe and the United States and the NATO alliance has been galvanized in a way not seen since the Cold War. Ukrainian President Volodymyr Zelenskyy addressed Congress in a historic speech on his foreign tours after the Russia attack in February. "Against all odds and doom and gloom scenarios, Ukraine didn't fall'. Throughout the war, Kyiv has relied significantly on Western military help, and Zelenskyy continues to want more. Zelenskyy's visit coincided with the announcement of $1.85 billion in further military support to Ukraine, which includes a Patriot missile battery for the first time.
The United Kingdom has announced that it will equip Ukraine with British tanks, putting pressure on Germany and other nations to offer additional military assistance to Kyiv in its conflict with Russia. It would send Challenger 2 tanks as well as additional artillery systems to Kyiv. Zelensky tweeted that British help "would not only boost us on the battlefield but will also send the proper signal to other partners. The decision by the United Kingdom to send the tanks would be important if other Western countries followed suit. Poland intends to send 14 Leopard tanks produced in Germany to Ukraine as part of a bigger multinational aid alliance. French President Emmanuel Macron confirmed intentions for France to supply the Ukrainian military with AMX-10 RC light tanks. The Ukrainian armed forces will get Western-designed tanks for the first time. It represents a considerable increase in French engagement in the Ukraine war. Moreover, European Union foreign ministers have agreed to top up a fund for arms deliveries to Ukraine by a further two billion euros ($2.11bn) and discuss the 9th Round of sanctions on Russia which will escalate the skyrocketing food and oil prices further.
The Tanks are unlikely to change the game of the war but it triggers the remilitarization of Europe on the widest scale since that war, escalating military combat in the Pacific, and high levels of international instability produced by the war in Ukraine and tensions over Taiwan. Besides, it reflects that at the beginning of the war, the NATO members were divided regarding their response to the Ukraine war, and their responses were confined to the gamut of sanctions against Russia. However, as the war becomes complex, the European countries enhanced their support to billions of dollars in military aid and small weapons to Ukraine. Now, the whole of Europe can witness an increase in defense budget which drags them more in the dangerous trajectory of war resulting in more escalation and mayhem.
Putin's Shadow War: New Front in Belarus
Belarus is being engaged in launching a new front in Ukraine's war, which might compel Kyiv to shift resources and focus away from its counteroffensives in the country's east and south. Belarus's President, Alexander Lukashenko, announced on Monday that his soldiers will join Russian forces along the Ukrainian border, accusing Kyiv and its western backers of planning an attack on Belarus. Two days after visiting Russian President Vladimir Putin in St Petersburg, Lukashenko announced the deployment. Kyiv, according to Zelenskiy, has no intentions to strike Belarus. Russia exploited Belarus as a staging area for its February 24th war, moving hundreds of troops across the border to attack Kyiv and firing missiles from Belarusian air bases into Ukrainian targets. Ukraine's borders were allegedly under attack from Russian forces in Belarus to the north and Crimea to the south, near various Ukrainian cities including Kyiv, Kharkiv's second biggest city, Odesa, and distant shooting from Zaporizhzhya. Engaging Belarus in the war will certainly open a new front in the Ukraine war.
Russian New General and Plausible New Escalation
Russia intends to deploy 500,000 extra troops beginning in mid-January, much more than the 300,000 soldiers it recruited in September. So far, Russia claims that 150,000 of those troops have been delivered to Ukraine.Besides, Russia named a new general in command of the Ukraine conflict, replacing its predecessor after only three months. This might indicate that Russia is preparing to intensify its conflict. Russia's new commander in Ukraine has inherited a poisoned chalice, making him likely to deepen the conflict as Russia attempts to recover from a run of military failures. The ministry portrayed Gerasimov as taking on a new role with even more authority over Russia's conflict in Ukraine.
His appointment, coming after months of Russian defeats, might indicate that Russia is about to step up its attempts to wrest triumph from defeat. Gerasimov has greater access, power, and resources at his disposal than any other subsidiary commander. This might entail increasing levels of violence, more cooperation, and a full-scale, all-out war on all fronts. Gerasimov is said to have been one of the military officers who devised Russia's original invasion strategy. The November missile strikes against Kyiv and other Ukrainian cities as well as orchestrated gas and oil leaks on European pipelines have been deeply painful for Ukraine but the winter doesn't go as harshly as Putin expected. Ukraine has survived the first phase of the war better than both supporters and detractors expected. Russia has failed to realize its military aspirations, and the tide has begun to turn in Ukraine's favor in recent months. he needs a win or his career will end in shame. As the conflict drags on with no apparent conclusion in sight, fierce fighting is likely to restart in early spring. Putin has previously used a variety of escalators tactics to destroy Ukrainian resilience and hope.
It is largely unlikely that Russia will fully retreat from the war as Vladimir Putin has grown so involved in the Ukraine conflict that he is making operational and tactical choices. He, on the other hand, is personally engaged in the battle and cannot afford to lose. Even if Russia pulls out from Ukraine, there is no chance for Russian disintegration which the West is silencing as part of its war strategy. Meanwhile, Ukraine is now well-equipped to hold its current leverage in the war but is not yet in a position to conclusively win the war. Besides, if the opposite happens or the war prolongs for years, then how would Ukraine and the transatlantic onslaught survive? Europe is already undergoing a cost-of-living crisis. The skyrocketing energy crisis, global inflation on the flip side, and increasing military expenditure left the west between the devil and the deep sea. In that regard, both are destined to pay heavy prices if the stalemate isn't over. Thus, the fate of the Ukraine war this winter and the spring offensives will be critical in determining the course of the conflict in 2023.