US Conducting Biological Experiments Near Russia's Borders
Two statements, almost simultaneously released by the Russia's Foreign and Defense Ministries, once again raised the issue which, although rarely mentioned, is considered a "silent threat."
On September 25, Vladimir Yermakov, director of the Foreign Ministry's Department of Non-Proliferation and Arms Control, told the media that Russia will not allow biological experiments to be carried out on its borders by the Americans. He was commenting on a statement earlier made by Georgia's former State Security Minister Igor Giorgadze about biological experiments on people allegedly carried out by the US.
Giorgadze has long been in opposition to Georgian authorities and is a well informed man too. Speaking at a news conference in Moscow, he appealed to none other than US President Donald Trump with a personal request to investigate the activities of the Richard Lugar laboratory outside Tbilisi, where he said they are conducting experiments to study the effects of biological weapons on people. Giorgadze said that he has documents confirming the conduct of such experiments. He also provided data confirming the death of dozens of people as a result of those experiments.
The Richard Lugar Research Center for Public Health opened in 2011 as part of a US government program. According to experts familiar with the matter, the center is openly studying biological threats with the help of military program being implemented by biologists of the US Army Medical Research Unit – Georgia (USAMRU-G) and private contractors. These private companies are not accountable (sic!) to the US Congress and can circumvent US laws due to … the lack of direct control.
Only US citizens with security clearance and diplomatic immunity have access to this biological laboratory.
Commenting on the Lugar Center's activities, the Russian Defense Ministry said in a statement that it had learned about "scandalous facts and documents pointing to serious violations by the American side of the Convention on the Prohibition of the Development, Production and Stockpiling of Bacteriological (Biological) and Toxin Weapons and on Their Destruction, ratified by the United States in 1972."
The Ministry's statement also noted that during experiments on Georgian citizens of a drug produced by the company owned by former US Defense Secretary Donald Rumsfeld, 24 people died in December 2015, and later 49 more. It noted that so many deaths are not recorded even during large-scale epidemics in infectious diseases hospitals.
Our statements did not go unnoticed in Washington. The Pentagon denied these accusations outright. But how?! A Pentagon spokesman, Eric Pahon, dismissed them as "an invention of the imaginative and false Russian disinformation campaign against the West" and "obvious attempts to divert attention from Russia's bad behavior on many fronts."
"The United States does not develop biological weapons at the Lugar Center," he added, confusing the old name of the Center with the new one.
"Does not develop…" Well, Then why are dozens of people in Georgia dying at this very Center? Maybe the Yankees are not really developing biological weapons there, just bringing biological weapons there and testing them? If so, then we should talk about "development," not "testing."
How could Pentagon counter that?
Their logic is really strange too. They argue that Russia cannot be trusted because it is "misbehaving" – the ultimate example of Anglo-Saxon egotism used since the colonial times where anything that is not coming from them is "not good."
The Defense Threat Reduction Agency (DTRA), which is in charge of US military programs at the Lugar Center in Georgia, conducted field tests with an unknown substance near the Russian border. In the spring of 2017, local residents complained about some "white powder" being sprayed by an UAV near the Georgian border.
According to the author of this news, the DTRA has access to the border between Russia and Georgia under a military program called "Georgian Land Border Security Project." All work pertaining to this project was entrusted to a private company, Parsons Government Services International. DTRA has contracts with Parsons for similar "border security" projects in Lebanon, Jordan, Libya and Syria – an impressive geography… As for the Russian-Georgian border, the Parsons' contract with the Pentagon is believed to be worth $9.2 million.
During last year's meeting of the Presidential Council for the Development of Civil Society and Human Rights, President Vladimir Putin said that "biological material is collected throughout Russia from people of different ethnic groups living in different parts of the Russian Federation. This is being done purposefully and professionally. Why are they doing they do this? We are an object of a great deal of interest…"
Caught red-handed, the Americans had nothing else to do than admit this with  a representative of the Air Force Training Command, Bo Downey, telling RIA Novosti that they were collecting Russians' biological material to "study the musculoskeletal system" and that this work " was not intentional.. He acknowledged that the Center for Molecular Studies of the 59th Medical Air Group is engaged in this research to "identify various trauma-related biomarkers.".
"Not intentional"? They are telling these tall tales just as the US Air Force has announced an open tender for the supply of 12 samples of RNA molecules and synovial tissue of Russians! According to the terms of the tender, "donors must be citizens of the Russian Federation, Caucasians, without injuries of the musculoskeletal system and have tested negatively for HIV, hepatitis B, hepatitis C and syphilis."
And why are they collecting these samples in Russia? They could have been conducting such experiments at home, in the US. Or maybe Americans all suffer from HIV, hepatitis B, hepatitis C and syphilis?
Do they realize how stupid they look when they deny all this even when caught red-handed and confronted with hard facts?
Looks like the Yanks are testing our genotype to determine the kind of injuries that would be most critical for people living in different parts of Russia. Otherwise, why show so much care about the population of a country which has been unequivocally declared by the Trump administration as America's "military adversary"?
This "silent" danger has taken the form of a network of such laboratories the US has set up along the entire length of the Russian border. No one can defeat Russia with military force even though many people have tried this over the past centuries. Therefore, they have created a system of undermining this country from the inside with the help of information war, by provoking internal conflicts and now with the threat of epidemics and pandemics.
According to the official website of the DTRA'a regional Eurasian office in Georgia (headquarters), they have already established their "footholds" in Armenia, Azerbaijan, Kazakhstan, Moldova, Ukraine and Uzbekistan. (The DTRA Eurasia office of the United States of Georgia has a number of countries. The budget of this Eurasian network is estimated at over $2 billion. And, of course, the Pentagon is justifying its biological expansion in Eurasia by "noble goals" – purportedly "to assist national scientific personnel in protecting the population from diseases, identifying deadly viruses and neutralizing them.".
Faced with all these hard facts, the Americans have been forced to make excuses.
Responding to media accusations, including in the US, Blake Bekstein, a program manager for Insect Allies, which is part of general bio-weapon development, said that he "does not agree with the conclusions," although in an interview with The Washington Post he admitted that a number of technologies developed as part of the program may have a "dual purpose" and can be used both for defense and attack.
Meanwhile, by so doing, the West is preparing a new large-scale provocation against Russia. In the pipeline is a new mechanism of "sanctions for the proliferation and use of chemical weapons." They are also going to blame Russia for "illegal use" of such weapons by removing sanctions for such "use" from UN jurisdiction and actually "privatizing" them.
First published in our partner International Affairs
Future of U.S.-Russia Relations After The Bounty Reports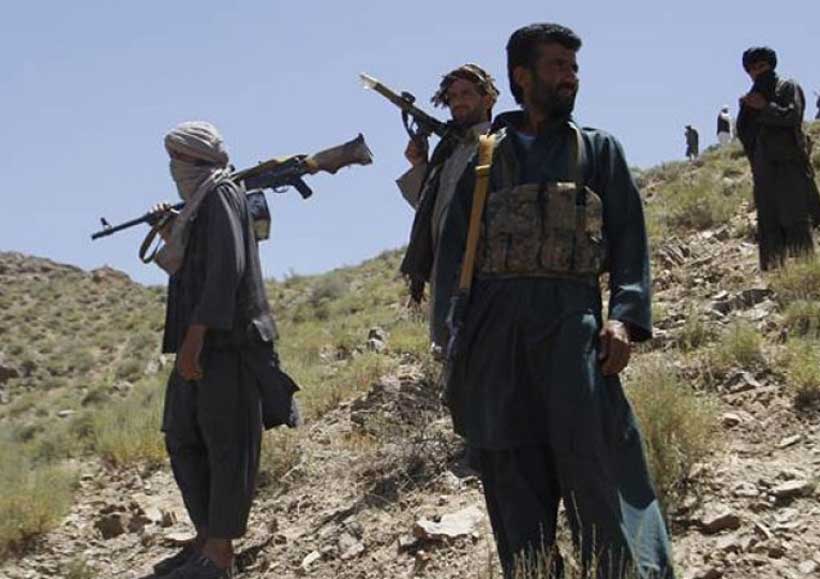 A jaw-dropping intelligence story surfaced on 26th June, 2020, in the New York Times, telling that a specialized branch of the Russian Federation's military intelligence agency GRU, Unit 29155, secretly offered bounties to affiliates of the Taliban inside Afghanistan for carrying out successful deadly attacks on the outgoing U.S. and allied forces there.
Unsurprisingly, Mr. Trump took to Twitter and called it a hoax and an effort aimed at damaging his reputation and that of the Republican Party especially at a time when the presidential election is just a few months away. Dmitry Peskov, Vladimir Putin's press secretary, told NBC News in a video call that the story is a hundred per cent bullshi*– denying any such role played by Moscow. And the third, last, and most important party to rebuff these reports was the Taliban, who said they do adhere to the terms and conditions of the agreement signed in Doha, Qatar, in February 2020.
After Donald Trump's dismissal of the story as "fake," other top officials of his administration such as Secretary of State Mike Pompeo and National Security Adviser Robert O' Brian rushed to the defense of the president, calling the leaked intelligence assessment as "important and serious" but "unverified," and thus not of the level to be shared with the president, at least verbally so.
Robert O' Brian, especially, went so far, and perhaps inadvertently so, as to confess that they have actually been deliberating for months to prepare a list of potential responses to Moscow if they reached to the bottom of such reports, while refusing to answer when exactly did they first learn of such reports- further complicating things for the Trump administration in their denial of truth in the leaked intelligence assessment and their apparent unresponsiveness.
On the other hand, top democrats such as Senate Democratic Leader Chuck Schumer and House Speaker Nancy Pelosi have accused Mr. Trump of "being soft on Vladimir Putin," in the broader context though, and have further stressed that the particular reports be pursued relentlessly to ensure the safety of the U.S. troops in Afghanistan. Joe Biden, a strong democratic candidate in the US presidential race, called the revelation "shocking and horrifying" and, went so far, as to label President Trump's entire existence in the Oval Office as a gift to Vladimir Putin.
It is pertinent to mention here that following the late February 2020 U.S.-Taliban peace deal in Doha, Qatar, the number of U.S. troops has just been reduced to around 8,600 from then 12,000. They are expected to witness a full withdrawal from the war ravaged country by mid-2021 if the Taliban shows a wholehearted adherence to the agreement on the ground.
So far the U.S. alone has lost as much as 28 soldiers in various violent attacks in Afghanistan since 2019. Given the complex multiplicity of militant groups on the Afghan soil, it remains unclear as to which of these attacks were actually orchestrated under the influence and patronage of Moscow.
If the reports turn out to be true, it will have far reaching implications, irrespective of who wins the November 3, 2020 U.S. presidential election: Would it mean that Vladimir Putin wants the U.S. and allied forces to remain trapped in an unending war in Afghanistan, so that he could more aggressively pursue his country's foreign policy in the Middle East, Europe and even North Africa and South America? Would it mean that Putin wants the U.S. and their partners to stay in the war torn country to actually continue doing his country a big favor- neutralizing and pre-empting the radical jihadist elements from proliferation and intrusion into the central Asian republics that has the potential of ultimately threatening Russia herself? Or, and finally, would it mean that Mr. Putin wants to settle his country's score with the U.S. from the Soviet times and force the latter into a hasty and embarrassing pull out by unleashing paid mercenaries and Taliban affiliates onto her and her NATO allies?
The above questions do not have easy and quick answers, at least for now, owing to the lack of political stability and the greater number of warring factions and peace spoilers in Afghanistan, the capricious nature of the U.S.-Russia relations, and more importantly, the apparent inability, on part of both academic researchers and policy makers in the U.S. and Europe, in effectively and timely deciphering and predicting the foreign policy overtures of Russia due to Vladimir Putin's apparently spectacular strategizing and policy-making prowess.
More important, if the reports are corroborated, will be to see how the U.S. will respond, or not respond at all. In the latter case, the U.S. as a superpower will be embarrassed globally and will likely lose the confidence of its allies and partners in terms of security guarantees. In the former case, Russia will more likely be slapped with some more biting targeted economic sanctions. Such a move, nonetheless, will have the potential to nudge Russia, often dubbed as a rogue state in the West, into further collaboration with other anti-America roguish states and violent non-state actors in the world, and creating further chaos and instability that no one can really afford. Then, the million dollar question that the Trump administration should try answering is, how to engage with the powerful bear?
According to a top U.S. based retired Professor Emeritus of Russian Studies, who preferred to remain anonymous, "The only real means that the U.S. really has is sanctions, since anything more is likely to lead to real conflict. However, given the nature and orientation of the current president in Washington and the multiple levels of domestic chaos in the U.S. at the present time, I doubt that anything will occur in the near future."
Alienating Russia seems to be more disastrous than accommodating her and perhaps this is why Mr. Trump appears not to be too tough on Vladimir Putin. He has said at multiple times that "If we could all get along, that would be great." The question is, at the cost of what?
Thus, Sir Winston Churchill stands vindicated once again when he called Russia "a riddle, wrapped in a mystery, inside an enigma."
Having said all of the above, it is believed that the ball really is in Russia's court. If she avoids pursuing a belligerent foreign policy especially one vis-à-vis the U.S. in conflict ridden countries such as Afghanistan, Syria, Libya, Argentina and Venezuela, none other than Russia herself and the Russian people would be the ones to reap the benefits of such a move as it will further her trade ties with the rich West. It is really up to Putin's Russia now as to which course of action it is going to pursue, which one not to pursue, and why.
Was gory Galwan scuffle just about 800 metres of land, Or it has deeper roots?
After bloody scuffle on Sino Indian Line of Actual Control at Ladakh, China and India have agreed to create a buffer zone, with both sides receding 1.8 kilometers. The joint statement stressed both sides would not violate the status quo.
But why did the Galwan scuffle take place? Galwan shot into prominence because the melee was violent. Similar scuffles continue to take place at various points on Sino-Indian border.
Indian media portrays the gory brawl as a storm in a tea cup. It says that China stakes claim to territory up to 800 metres into the Indian side from Patrol Point 14 at Galwan. But, Murphy's Law says `nothing is as simple as it seems'.
Real cause: US military strategist Edward Luttwak rightly pointed out casus belli of friction in an interview. He said, `In the last few months, the BRO [border roads organisation] has taken pro-active steps to develop connectivity over the bordering areas by building roads. The development has triggered the neighbour China, eventually leading to the army standoff at Galwan Valley' (The Statesman dated July 6, 2020).
The truth is that India had been building roads and bridges all along Sino-Indian borders to improve connectivity between hinterland and the LAC. China repeatedly warned India against changing status quo, but in vain. Both countries have differing perceptions of the LAC. To meet Indian threat in the Tibetan Autonomous Region, China built 51,000 km road network. There are five airfields on the Plateau and one a little off to the East towards Chengdu. A railway line of nearly 1,150 km from Golmo (in the north in Qinghai) to Lhasa was completed in July 2006. Its highest elevation is across the Tanggu La (Pass) at 5072 metres (16,640 feet). It has been further extended 253 km south to Shigatse (Xigaze) on the banks of Tsang Po (Brahmaputra River). There are plans to further extend it another 700 km from Shigatse up to the Nepal border.
Recently China manufactured a light tank, ZQT 15 and tested it extensively in Tibet. It has also inducted the CZ-10 medium attack helicopter for operations in the mountains. It has also inducted the Y-20 heavy-lift transport aircraft which will facilitate troop mobilization in Tibet.
Still China was alarmed by India's project for developing the Ladakh region through the Galwan valley into Shyok . The stand-off was triggered by China moving in troops to obstruct road construction activity by India. Last year, India completed the Darbuk-Shyok-Daulet Beg Oldi (DBO) road which connects Leh to the Karakoram Pass. India also maintains a key landing strip at DBO at 16,000 feet. The broader context for the tensions is the changing dynamic along the LAC.
Why and where face-offs occur? They occur because of overlapping territorial claims in around two dozen spots across the Western (Ladakh), Middle (Himachal Pradesh and Uttarakhand), Sikkim, and Eastern (Arunachal Pradesh) sectors of the India-China border. The boundary in the Sikkim sector is broadly agreed, but has not been delineated.
Face-offs occur when patrols encounter each other in the contested zones between overlapping claim lines. Protocols agreed to in 2005 and 2013 are seldom adhered to.
An overview of India's road network: There are 61 to 73 strategic or defence roads along the India-China border totalling 3,346 km. Of these, 36 roads (1,260 km) have been constructed, while links have been established in 20 others (2,035 km) which are being tested. Work on the remaining five roads has begun and will be completed soon.
Some of the finished roads include the stretch connecting Sasoma and Saseria in the Ladakh sector, the Ghatibagarh-Lipulekh road in the Mansarovar sector, Gunji-Kutti-Jollingkong road in the Uttarakhand sector, Dokala in the Sikkim sector, the Balipara-Charduar-Tawang road in the Tawang sector and the Damping-Yangtze in the Arunachal sector.
Project cost of over Rs 3,000 crore is concealed under budgets of civil ministries.
According to a source in Ministry of Home Affairs, the government has spent Rs 3,728 crore on the project. This includes Rs 781 crore spent in 2016-17, Rs 745 crore in 2017-18 and Rs 890 crore in 2018-19. The proposed cost for the current fiscal is Rs 1,312 crore.The estimated cost to complete the very first phase was Rs 4,700 crore.
Inference: Lest Kashmir dispute be internationalized, India wants to keep cool with China. China too is under stress because of USA's hostility. Besides Galwan, rival troops repeatedly collided with each other in north Sikkim, particularly Naku La across May and June . However, both countries can't afford one to mount a full-fledged offensive. To attack a company's strength of 120 Chinese soldiers, India will require nine companies or 1000 soldiers.
Contours of India's economic and cyber-warfare against China
In his book The Age of the Economist, Daniel R. Fusfeld tells how economics governs our life today. In today's market or quasi-market economies, no country can live in economic isolation (sakoku). India is quite adept in using its economic clout, including defence purchases, as a tool of coercive diplomacy.
Amid Ladakh border standoff, India's defence ministry approved purchase proposals amounting to an estimated Rs 38,900 crores. They include procurement of 21 MiG-29s, upgrading Indian Air Force's existing MiG-29 aircraft, procurement of 12 Su-30 MKI aircraft. The MiG-29 procurement and up gradation from Russia will cost Rs 7418 crores. The Su-30 MKI will however be procured from Hindustan Aeronautics Limited (HAL) at an estimated cost of Rs 10,730 crores. The Indian Railways on Thursday terminated its dedicated freight corridor contract with the Chinese firm ostensibly due to "poor progress" on the signalling and
telecommunication work on the Eastern Dedicated Freight Corridor's 417-km section between Kanpur and Mughalsarai (India Today, July 2, 2020). Action is underway to replace "Chinese giants" with Indian firms in the construction of the Delhi-Meerut road-transport project. India has directed all companies to label the origin of import. Custom duties on all Chinese imports, particularly power sector's.
By way of a cyber attack, India took down 59 Chinese applications on Google Play Store. The removed apps include UC Browser, SHAREit, WeChat, CamScanner, and Mi Community, and TikTok.Indian government announced the applications are engaged in activities "prejudicial to sovereignty and integrity of India, defence of India, security of state and public order."
The ban has been imposed under Section 69A of the Information Technology Act read with relevant provisions of the Information Technology (Procedure and Safeguards for Blocking of Access of Information by Public) Rules 2009, it said. The govt. also cited complaints about data on Indian users being transferred abroad without authorisation.
The move is intended to serve as a blow to China's Digital Silk Route ambitions, eroding the valuation of the companies. The USA has lauded India's draconian initiative.
How India economic clout serves its coercive diplomacy: The world should shun India because of its human-rights violations in Kashmir. But, it isn't so because of its economic clout. Through aid to or trade, India influences not only internal but also external policies of client states: Rafale deal with France, US$3 billion Raytheon/Lockheed helicopter and air defence deal with USA, and trade relations with Saudi Arabia and the United Arab Emirates.
In Sri Lanka, India brokered to remove Mahinda Rajapaksa from office 2015. Rajapakse had given China strategic entry into Sri Lanka, by leasing out Hambantota port to China and allowing it to build Colombo port and dock its submarines in Sri Lanka. Now Sri Lanka has handed over control of Humbantota to India. India gave $45.27 million aid to develop KKS harbour in Sri Lanka (Jan 12, 2018).
India extended 2.1-billion Nepalese Rupee (NR) aid to Nepal as reimbursement of the first tranche of housing support to 42,086 governments of India- supported beneficiaries in Nuwakot and Gorkha districts. It pledged Nepal US $1 billion aid and soft loan (25%) for Nepal's post-earthquake. Recently, India occupied some Nepalese territories including Kala Pani.
She pledged to contribute Rs 4,500 crore to Bhutan's twelfth five-year plan (2018 to 2023). It completed Mangdhechu Hydroelectric project and Ground Earth Station for South Asia Satellite and launch of RuPay card in Bhutan. Besides, it committed assistance of Rs 4,500 Crore for implementation of development projects and Rs 400 Crore for transitional Trade Support Facility during Bhutan's 12th Five Year Plan (2018 – 2023). Under the 12th 5-Year Plan, 51 large and intermediate projects and 359 Small Development Projects (SDPs)/High Impact Community Development Projects (HICPDs) are being carried out. India's commitment to the 12th Plan constitutes about 14.5 per cent of the Plan outlay which is around 38.75 per cent of the capital outlay and 71 per cent of the total external assistance.
Bhutan asked India to stop Chinese road construction at Doklam. India did so as a `super-power'.
To Bangladesh, India extended three $8 billion loans. A total of 1.16 Gigawatts of power is now being supplied by India to Bangladesh. The increase, in the reckoning of the Prime Minister, signifies a "quantum jump from megawatts to Gigawatts and is symbolic of a golden era" in bilateral ties. Markedly, Mamata Banerjee has pledged to raise the power supply to Bangladesh to 1,000 MW. Though electricity will not be a substitute for Teesta water, the plan to boost power supply is on anvil.
Launching the 'Act Far East' policy, India's Prime Minister Narendra Modi announced (September 5, 2019) that India will give a line of credit worth US$ 1 billion to Russia for the development of the Far East.
India has provided Lines of Credit worth $ 96.54 million to Niger for projects in transport, electrification, solar energy and potable drinking water. It granted $15 million to Niger for organising African Union Summit
India and Japan have launched their own joint initiative in the shape of Asia-Africa Growth Corridor (AAGC) vis-a-vis China's Belt-Road Initiative for undertaking development and cooperation projects in the African continent.
China's boycott: There are shrill calls for boycott of Chinese imports. However, it is easier said than done. Imports from China to India are close to five times more than exports from India to China. The figures for 2019-20 are $74 billion and $18 billion respectively. A majority of the imports are in crucial sectors such as antibiotics and pharmaceutical ingredients, telecom equipment and semiconductor devices.
In each of these sectors, the imports are to the tune of above 70 per cent of India's requirements. Chinese investments have also seen a whopping increase over the past five years. The figures for the 2014-17 period show that investments rose from $1.6 billion in 2014 to $8 billion in 2017.
These investments are in sectors as broad-based as automobiles, electronics and pharmaceuticals and are across the country. One of the top destinations in Gujarat, a State that the BJP has ruled for 19 years at a stretch.
States such as Haryana, Karnataka and Maharashtra have also welcomed huge Chinese investments in infrastructure projects over the past decade. Bilateral trade between India and China increased from $38 billion in 2007-08 to $89.6 billion in 2017-18, and of this, the rise in imports from China was to the tune of $50 billion, while Indian exports increased only by $2.5 billion. Trade with China constituted more than 40 per cent of India's total trade deficit. Chinese trade was galloping in pharmaceuticals, solar power and textiles. India's dependence on China for life-saving drugs was to the tune of 90 per cent, and in solar energy China's penetration was up to 84 per cent.
India's knee jerks to Malaysia and Turkey: Malaysian prime minister Mahathir Mohammad had said in September that India had "invaded and occupied" Kashmir. He was joined by Turkey's President Recep Tayyip Erdogan, who said that India had virtually imposed "a blockade" on Kashmiris.Their views on Kashmir and the Citizenship (Amendment) Act (CAA) irked India.India lodged a formal protest stating that it went against the accepted diplomatic practice of "non-interference in each other's internal affairs".
Already, India was angry as Malaysia refused to hand over Indian Islamic tele-evangelist Zakir Naik. He was given asylum in Malaysia in 2018 despite the Indian allegations of money laundering and "hate speech". Zakir disclosed India punished him for his views about Kashmir. Pakistan's friend Mahathir Mohammad is no longer at helm of affairs in Malaysia.
The Indian government also sought to penalise Turkey by not allowing it to bid for construction contracts. During his February 2020 visitto Pakistan, he desired Turkey to be a partner in CPEC construction projects. India's frantic effort to get Pakistan blacklisted is well known.
Nascent resistance to Indian coercion: Offended at occupation of its territories including Kala Pani, Nepal took legislative steps to show Kala Pani as its territory. It reportedly allowed China to occupy Rui village, and 11 other strategic locations (China occupies Nepal village, Tribune India, June 24, 2020). India activated its stooges to pass a no-confidence motion against prime minister Oli (who averted the move by getting parliament prorogued). Bhutan stopped a river flow to India. Bangladesh, Maldives, Sri Lanka, and Myanmar also have expressed ennui on some Indian policies.
Labelling China 'a pariah state': India and the USA want to portray or declare China as a pariah state. Economic sanctions, aid or trade embargo or `terror' labels are extensively used to punish weak states by powerful states. See how the USA uses a flexible format to dub or delete a country as axis of evil, money-laundering conduit, sponsor of terrorism or pariah (Tamil paraiyar, outcastes), or rogue (Iran, Sudan, North Korea, Cuba, Venezuela). Ottoman Empire was persecuted as an outcast by European States since the Treaty of Westphalia in 1648 until the nineteenth century on a religious basis'.
Deon Geldenhuys. points out criteria for declaring a state pariah_ having 'artificial borders' (Iraq), siege mentality, anti-West sentiments and desire to subvert the international status quo (Pakistan?), or not being a considerable `world power'("Pariah States in the Post-Cold War World: A Conceptual Exploration, March 5, 1997). China being a `world power' is not pariah despite human-rights complaints in Xinjiang.
Inference: Indian prime minister Modi himself told an all-party conference, "Neither have they [Chinese] intruded into our border, nor has any post been taken over by them (China)". Even former defence minister AK Antony and former foreign secretary Shyam Saran denied China had taken over 640 sq km of Ladakh territory. Even, "The Indian army denied that Ladakh had shrunk. Change in the river course was cited as a reason for the loss of 500-1,500 meters of land annually". Then, why the storm in a teacup.
Obviously, India is exerting diplomatic, economic and military pressure on its neighbours, including China to accept India's `annexation' of the disputed Kashmir state as a fait accompli.