Kazakh court case tests Chinese power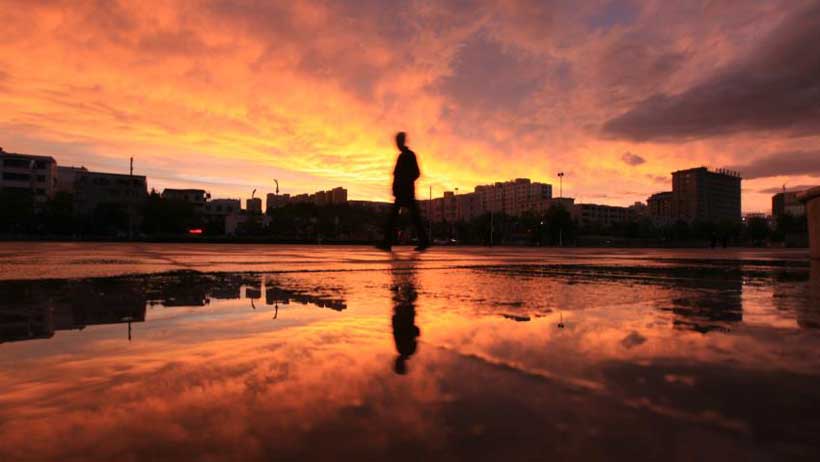 A Kazakh court is set to put to the test China's ability to impose its will and strongarm Muslim nations into remaining silent about its brutal crackdown on Turkic Muslims in the north-western province of Xinjiang.
The court will hear an appeal by a former worker in one of Xinjiang's multiple re-education camps against the rejection of her request for asylum. The appeal illustrates the political quagmire faced by Central Asian nations and Turkey given their ethnic, cultural and linguistic ties to China's estimated 11 million Turkic Muslims that include 1.5 million people of Kazakh descent.
It also highlights China's risky bet on being able to leverage its economic power to ensure the Muslim world's silence about what amounts to the most concerted effort in recent history to reshape Muslim religious practice.
Up to one million Turkic Muslims have, according to the United Nations, been detained in a network of re-education camps in which they are being forced to accept the superiority of Chinese Communist Party beliefs and the leadership of President Xi Jinping above the precepts of Islam.
Beyond the camps, Turkic Muslims in Xinjiang, a strategic minerals-rich province bordering on eight Central and South Asian nations that China has turned into a 21st century Orwellian surveillance state, are forced to refrain from religious practice and custom in public.
After denying the existing of the camps for the longest period of time, China last month felt obliged to acknowledge them and give them legal cover.
Authorities in Xinjiang amended their anti-extremism regulations "to allow local governments to set up institutions to provide people affected by extremist thoughts with vocational skills training and psychological counselling." China asserts that the crackdown is intended to counter extremism, separatism and terrorism.
China's acknowledgement was designed to counter the UN report, threats of US sanctions against officials and companies involved in the Xinjiang crackdown, and revelations by 41-year-old Sayragul Sauytbay, a Chinese national of Kazakh descent.
Ms. Sauytbay testified in an open Kazakh court that she had been employed in a Chinese re-education camp for Kazakhs only that had 2,500 inmates. She said she was aware of two more such camps reserved for Kazakhs.
Ms. Sauytbay was standing trial for entering Kazakhstan illegally after having been detained at China's request.
She told the court that she had escaped to Kazakhstan after being advised by Chinese authorities that she would never be allowed to join her family because of her knowledge of the camps. Ms. Sauytbay was given a six-month suspended sentence and released from prison to join her recently naturalized husband and children.
Since then, Ms. Sauytbay's application for asylum has been rejected and she has until the end of October to leave Kazakhstan. She hopes that an appeal court will reverse the rejection.
Ms. Sauytbay's case puts the Kazakh government between a rock and a hard place and is but one of a string of recent cracks in the Muslim wall of silence.
Kazakh authorities have to balance a desire to kowtow to Chinese demands with a growing anti-Chinese sentiment that demands that the government stand up for its nationals as well as Chinese nationals of Kazakh descent.
Ms. Sauytbay's revelations that ethnic Kazakhs were also targeted in the Chinese crackdown sparked angry denunciations in Kazakhstan's parliament.
"There should be talks taking place with the Chinese delegates. Every delegation that goes there should be bringing this topic up… The key issue is that of the human rights of ethnic Kazakhs in any country of the world being respected," said Kunaysh Sultanov, a member of parliament and former deputy prime minister and ambassador to China.
In a further crack, Malaysia this week released 11 Uyghurs who were detained after having escaped detention in Thailand.
The Uyghurs were allowed to leave the country for Turkey. The move, coming in the wake of a decision by Germany and Sweden to suspend deportations of Uyghurs to China, puts on the spot countries like Turkey and the United Arab Emirates, where Uyghurs risk extradition.
Malaysia's release of the Uyghurs occurred days before Anwar Ibrahim took the first hurdle in becoming the country's next prime minister by this weekend winning a parliamentary by election.
Mr. Ibrahim last month became the Muslim world's most prominent politician to speak out about the crackdown in Xinjiang.
Earlier, Rais Hussin, a supreme council member of Malaysian prime minister Mahathir Mohamad's Parti Pribumi Bersatu Malaysia (Bersatu) party and head of its Policy and Strategy Bureau, cautioned that "that geographical proximity cannot be taken advantage by China to ride roughshod over everything that Malaysia holds dear, such as Islam, democracy, freedom of worship and deep respect for every country's sovereignty… On its mistreatment of Muslims in Xinjiang almost en masse, Malaysia must speak up, and defend the most basic human rights of all."
Pakistan's Religious Affairs and Interfaith Harmony minister, Noorul Haq Qadri, was forced to raise the issue of Turkic Muslims with Chinese ambassador Yao Xing under pressure from Pakistanis whose spouses and relatives had been detained in the Xinjiang crackdown.
Ms. Sauytbay's appeal for asylum is likely to refocus public opinion in Kazakhstan and other Central Asian nations on the plight of their Turkic brethren.
"She will not be deported, we will not allow it," said Ms. Sauytbay's lawyer, Abzal Kuspanov.
Mr. Kuspanov's defense of Ms. Sauytbay is about far more than the fate of a former Chinese re-education camp employee. It will serve as a barometer of China's ability to impose its will. If China succeeds, it will raise the question at what price. The answer to that is likely to only become apparent over time.
Greater Eurasia: New Great Game formulate abundant possibilities for Central Asia
The title "New Great Game" became the most conversed topic in the contemporary realm of global politics. The heart of the Eurasian continent, the Central Asian region, already witnessed a colonial battle between Russian and Britain. The position of Geopolitical status more fueled up the conflict. The Great Game furnished an unpleasant impact on the entire Central Asian region; it grasps by the Russian empire. Russia's century-long predominance over the Central Asia region concluded with the collapse of the Soviet Union in 1991. However, it nevertheless has a massive impact over the countries of Central Asian states Kazakhstan, Uzbekistan, Kyrgyzstan, Tajikistan and Turkmenistan. Following centuries, they were preceding reappeared different New Grete Game, where the foremost global power countries have engaged. The internal scenario of central Asian states is struggling over hegemonic power. Subsequently, the central Asian nations are well equipped with natural resources like oil, gas like Kazakhstan's largest uranium producer, that attracts all major countries to penetrate in Central Asia.
The New Great Game impacted both as constraint and opportunity in Central Asia. The central Asian states are adopted the multi-vector approach to the foreign policy due to landlocked country. So, the developed countries are offered various development schemes in the region. Currently, three major powers are Russia, US and China compete with each other to become a prominent player in Central Asia. Every nation is looking for their interest through the region. Nowadays, Washington mostly engaged in the New Great Game, after the US entered in Afghanistan, and it required Central Asian states cooperation to expand the authority of NATO in Eurasian land. Although, following the attack on 9/11, the US mostly keep eyes on terrorism activities and central Asian states are becoming significant for security purpose. Moscow always indeed to the presence in Central Asian internal politics and seems to maintain its status quo. Russia always considered the Central Asian states as his campaign, with the significant military, economic and political influence. Moscow consistently rated Central Asian nations as "soft underbelly". Russian culture, music, food highly incorporated with Central Asian states, but Moscow seems fallen the economic competition with Beijing. China is somewhat successful in pushing Russian influence in Central Asia.
China expands its control over in the pecuniary sector, Dragon becoming larger trade partner and investor in that region. China's visionary project 'Belt and Road initiative' and China's strategy to influence and grow its economic power over the Eurasian continent required Central Asian states linear involvement. China shared more than 3000 k.m of the direct border with CA, this is an opportunity for China to enhance its strength and became more dominant rather than other countries. Central Asia is a crucial component in the Geopolitical puzzle. The abundant of natural resource in CA is the primary purpose behind for more intense of New Great Game. The Caspian Sea contains a large amount of natural resource. The superpower countries followed up the pathway of the dependency model, and they create opportunity with precisely inside their acquisition. The new Great Game change the notion of Geopolitics on a broader level. China is steadily expanding its influence over the Eurasian mainland with hegemonic expansion over the south china sea. There is an appearance of another cold war (economic domain) between China and the US; both countries headed for intense competition for global supremacy. That's why central Asia states played an essential function to determine immense superiority over the Eurasian landmass. All these countries participated in New Great Game implemented the soft power and made an effort to pull Central Asian nations through proffering opportunities. The central Asian States compensated relishes the possibility, although faced reluctance from significant players. The potential development of the Central Asian Region endures the growth of the Eurasian continent.
Territorial Disputes in Central Asia: Myths and Reality
One of the focal points of any state foreign policy is the issue of territorial disputes, irrespective of its geographical size, economic opportunities or geopolitical ambitions. At the same time, in the modern world, the scenario of the use of force as a possible option for China to resolve territorial disputes in Central Asia is hardly probable. None of the parties, including neighboring countries, are interested in intensifying territorial claims and initiating a real conflict. Despite the apparent advantages, a guaranteed response from the international community jeopardizes all benefits for the potential aggressor (for example, Beijing) from possible territorial acquisitions. In addition, the system of control and monitoring has been formed in the region with the direct participation of Russia. The guarantors of the system are, in particular, the SCO and the CSTO; the latter one has a sufficiently deterrent effect on the capacity of regional players to demonstrate invasive intentions.
Meanwhile, the international community developed a civilized way to resolve territorial disputes through diplomatic means such as long-term leasing of land, the creation of joint jurisdictions, etc. China has experience of transferring territories, for example, the 99-year lease of Hong Kong by the United Kingdom or the recognition of Macao as "Chinese territory under Portuguese administration" followed by the signing of the joint Declaration on the question of Macao. Since China became a successful economic power, Beijing has preferred to resolve territorial disputes through diplomatic instruments, rather than from a position of strength.
It should be pointed out that implementing its Belt and Road Initiative, China has never presented it as a charity project. Moreover, the initial goal was the development of the Central and Western regions of China. All foreign countries participating in the initiative expressed their desire to join it on the terms of mutually beneficial development. By accepting China's offers and agreeing to its loans and investment projects, any of the countries had the opportunity to assess the risks and not participate in them, or to make a choice and develop their own economy on the terms of other financial institutions, such as Western ones. In this case, China acts in the Central Asian region like most major powers interested in strengthening their positions and promoting their political, economic and humanitarian agenda.
Possible allegations of Beijing concluding economic contracts on bonded terms should also be addressed to officials of the "affected" countries who agreed to these proposals from the Chinese side. At the same time, if it appears that one of the parties has not acted in its national interests, this is more a problem of the internal state structure of a particular country and its attitude to the work of its own officials, and to a much lesser extent – a claim to the development of bilateral relations with China.
It is also necessary to distinguish the official position of the state from the statements of individuals who often act in their own interests. For example, an article with the title "Why Kazakhstan seeks to return to China," which is given as an example in the publication "Land leases and territorial claims of China in Central Asia and the South Caucasus," was written by an anonymous blogger with just over 80 thousand subscribers (insignificant number according to the Chinese standards). An analysis of how the news was spread geographically by international media, as well as the contents of official statements, confirms the opinion of experts-sinologists that it was an attempt to gain popularity and "collect likes," and has nothing in common with the official position of Beijing.
Another example of using the foreign policy agenda in the internal political struggle is the statement of the leader of the opposition party of Tajikistan, R. Zoirov, who accused China of moving the borderline 20 kilometers deeper into the territory of Tajikistan.
On the eve of the presidential elections in 2013, Tajikistan's opposition once again tried to "accuse authorities of surrendering land to China" in the framework of the 2002 border demarcation agreement. China claimed 28 thousand square kilometers of Tajikistan's territory, but as a result of the negotiations, it received just over 1 thousand square kilometers of high-altitude land unsuitable for life, without proven volumes of large deposits. The results of negotiations can be evaluated in different ways, but each country has the right to seek convenient forms of dispute resolution and debt repayment. In addition, this agreement was ratified by the government of Tajikistan only in 2011. The official representative of the Ministry of Foreign Affairs of Tajikistan described the statement of the opposition as a provocation, due to the fact that the author acts in his own interest. Later, it was revealed that Zoirov's statement refers to 2011 and was "made two years ago and published just now." According to R. Zoirov, he determined the distance to the border based on the statements of local residents. The official authorities of Tajikistan, China, Russia and other regional powers ignored information about China's occupation of Tajikistan's territory as unreliable.
Recognizing the high public sensitivity of transferring land from one state to repay credit obligations to another, it is necessary to proceed from the analysis of the contents of specific international agreements, the motives for signing them by current authorities, and the national interests of the parties involved. Otherwise, one is likely to discover a distorted interpretation of key events in line with the populist rhetoric of an unknown blogger or to be the recipient of information propaganda carried out by major powers competing for regional influence.
From our partner RIAC
From Central Asia to the Black Sea
In early June, China unveiled a new transportation corridor when a rail cargo of 230 tons of electrical appliances worth some $2,6 million arrived in the Uzbek capital of Tashkent. Though distant from the South Caucasus, the development nevertheless has a direct impact on the geopolitics of the South Caucasus energy and transport corridor.
For centuries, Central Asia has been notorious for the lack of connectivity. Highways, railroads and pipelines were solely directed northwards towards Russian heartland. Geography also constrained the development of alternatives, but the problem is that other routes were also purposefully neglected during the Soviet times. Therefore, nowadays breaking these geographical boundaries equals to decreasing Russian influence in Central Asia.
Indeed, over the past 30 years, crucial changes have taken place where newly developed east-west transport links (from China to Central Asia, then South Caucasus) allow the region to be more integrated with the outside world. The primary motivator for this is China. The country strives to involve itself into the region's economics and politics and, specifically, build ties with arguably the region's most important geopolitical player – Uzbekistan. Beijing has already taken several important steps. For instance, China has become Uzbekistan's top economic partner through growing trade and direct investment. Take the most recent example, Beijing-backed Asian Infrastructure Investment Bank (AIIB) will lend $100 million to Uzbekistan to help deal with the coronavirus pandemic and future public health disasters.
The new China-Uzbekistan corridor is some 295 km shorter and cuts five days off the standard 15 days-corridor which goes through Kazakhstan and Russia to reach Europe. As different forecasts indicate, the Kazakhstan-Russia corridor could lose some 10-15% of Chinese freight per year to the new China-Uzbekistan route – a significant number considering the massive amount of goods that move between between Europe and China.
What is crucial here is that the only viable route to ship freight to Europe from Uzbekistan is across the Caspian to Azerbaijan, Georgia and the Black Sea. Another possibility would be sending goods via the Turkmenistan and Afghanistan, then Iran and Turkey. However general insecurity along this route makes the Caspian option more promising.
These infrastructure changes in distant Central Asia as well as steady growth of shipments from China will further boost the fragile South Caucasus transport and energy corridor, which struggles to compete with enormous trade routes which go through Russia and elsewhere.
What makes the Caspian routes more interesting is the progress made in port development in Azerbaijan and Georgia. The ports of Baku and a small city of Alat have notably improved their infrastructure over the past several years. Located to the south of Baku, Alat is particularly promising as an estimated transshipment of the new port complex is potentially up to 25 million tons of cargo and 1 million TEU per year.
Similar trends of improving infrastructure take place along the rest of the South Caucasus corridor. In March, the Georgian government granted the APM Terminals a permit to start the expansion of Potin port. Essentially the project, which will add more than 1000 local jobs, involves the construction of a separate new deep-water multifunctional port (officially still a part of Poti port).
The project consists of two major phases: first stage of $250 million will take nearly 2-2,5 years to complete and will involve the development of a 1 700-meter-long breakwater and a quay with a depth of 13.5 meters. A 400-meter-long multifunctional quay for processing dry bulk cargo and further 150 000 TEUs will be added; the second stage envisages a 300-meter-long container quay. If all goes as planned, 1 million TEU yearly container capacity could be expected. What is more important for the infrastructure of the eastern Black Sea region and the geopolitics of transcontinental transshipment, the expanded Poti port would have the capacity to receive Panamax vessels.
Expansion of Poti will have regional implications. The port already enjoys the role of the largest gateway in the country and a major outlet for Azerbaijan's and Armenia's trade with Europe. For instance, liquids, passenger ferries, dry bulk and container traffic go through Poti. Moreover, Poti port also serves as an alternative route for exporting wheat from Central Asia to the Black Sea and elsewhere.
As the work on the Poti expansion speeds up similar developments are taking place in Batumi. In 2019 Wondernet Express, Trammo and the government of Georgia announced plans to build a new terminal with total investment cap of 17,5 million euros. More importantly, the new facility will store up to 60 000 tons of mineral fertilizers coming from Central Asia through Azerbaijan.
From a wider geopolitical perspective, both port expansions enjoy US government support as American business interests are deeply intertwined. PACE terminals, a company which operates in the port of Poti for almost 30 years, is partially owned by a US-based company. This connection raises a possible longer-term vision of Poti's and Batumi's development as gateways not only for Georgia, but generally for the South Caucasus and Central Asia.
Overall, these connectivity trends will reinvigorate Trans-Caspian shipping. Moreover, though considered by many as unrealistic, the dormant Trans-Caspian Pipeline (TCP), could gain traction. There is more to the story. I have mentioned the US support for the Georgian ports. Europe and Turkey share an identical position. All parties are interested in breaking Russia's grip on gas export routes from Central Asia. Support for the east-west corridor across the South Caucasus has been present since the break-up of the Soviet Union, but rarely there have been such promising trends as there are now: steadily increasing China-Europe shipping; Chinese Belt and Road Initiative's expansion into Central Asia; gradually improving rail-road and ports infrastructure in Georgia and Azerbaijan.
On a negative side, much still remains to be done. For instance, in Kyrgyzstan, through which the new China-Uzbekistan route goes, Chinese cargo has to be shipped by road which complicates shipment operations. Nearly the entire 400 km of the Kyrgyz section of the railway still needs to be built. So far, no solution is in sight as difficult mountainous landscape and Russian opposition complicate the issue. But the overall picture, nevertheless, is clear. Central Asia is gradually opening up, shipment across the Caspian increases and the expansion of the Georgian ports takes place creating a line of connectivity.
Author's note: first published in Caucasuswatch