The Bali Fintech Agenda: A Blueprint for Successfully Harnessing Fintech's Opportunities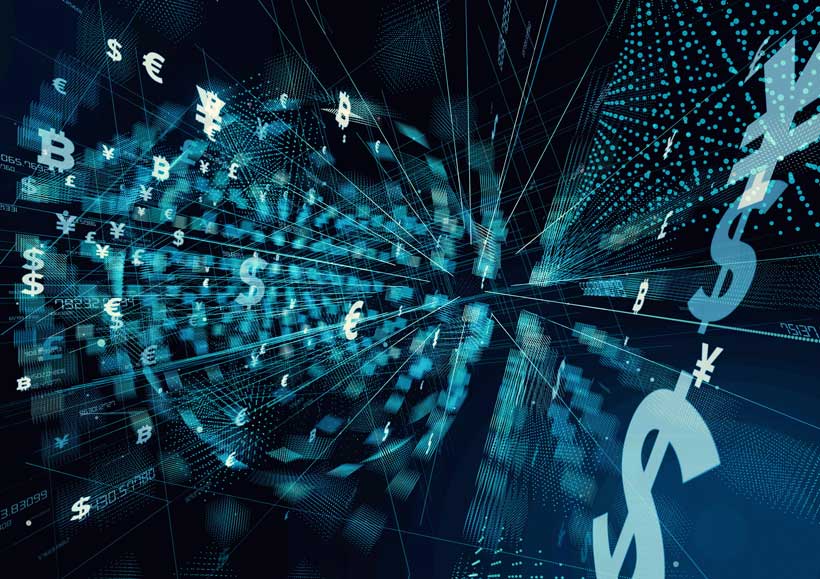 The International Monetary Fund and the World Bank Group today launched the Bali Fintech Agenda, a set of 12 policy elements aimed at helping member countries to harness the benefits and opportunities of rapid advances in financial technology that are transforming the provision of banking services, while at the same time managing the inherent risks.
The Agenda proposes a framework of high-level issues that countries should consider in their own domestic policy discussions and aims to guide staff from the two institutions in their own work and dialogue with national authorities. The 12 elements (see table) were distilled from members' own experiences and cover topics relating broadly to enabling fintech; ensuring financial sector resilience; addressing risks; and promoting international cooperation.
"There are an estimated 1.7 billion adults in the world without access to financial services," said IMF Managing Director Christine Lagarde. "Fintech can have a major social and economic impact for them and across the membership in general. All countries are trying to reap these benefits, while also mitigating the risks. We need greater international cooperation to achieve that, and to make sure the fintech revolution benefits the many and not just the few. This Agenda provides a useful framework for countries to assess their policy options and adapt them to their own circumstances and priorities."
"The Bali Fintech Agenda provides a framework to support the Sustainable Development Goals, particularly in low-income countries, where access to financial services is low," World Bank Group President Jim Yong Kim said. "Countries are demanding deeper access to financial markets, and the World Bank Group will focus on delivering fintech solutions that enhance financial services, mitigate risks, and achieve stable, inclusive economic growth."
Mrs. Lagarde and Dr. Kim presented the Agenda in a panel discussion today during the Annual Meetings in Bali. They were joined by Sri Mulyani Indrawati, Minister of Finance of Indonesia; Lesetja Kganyago, Governor of the South African Reserve Bank; and Mark Carney, Governor of the Bank of England and Chair of the Financial Stability Board.
With their near universal membership, the Fund and the Bank, are well positioned to gather information from all countries and to reflect on their respective needs and objectives at various levels of economic and technological development. They both also offer a forum for sharing the experience of countries that are not members of international standard-setting bodies on issues such as combating money laundering and terrorism financing, market integrity, and consumer protection. The Financial Stability Board and several other international standard-setters have been reviewing the implications of fintech developments and have indicated regulation and supervision priorities.
The IMF and World Bank will start developing specific work programs on fintech, as the nature and scope of their members' needs become clearer, in response to the Bali Fintech Agenda. The IMF's initial focus will be on the implications for national and global monetary and financial stability; and the evolution of the International Monetary System and global financial safety net.
In response to the Bali Fintech Agenda, the World Bank will focus on using fintech to deepen financial markets, enhance responsible access to financial services, and improve cross-border payments and remittance transfer systems. The Bank will draw on the International Finance Corporation's growing experience in this area. The Agenda contributes to building the foundations of the digital economy that is a key pillar in the World Bank Group's larger disruptive technologies engagement.
The Bali Fintech Agenda:
Embrace the promise of fintech.
Enable new technologies to enhance financial service provision.
Reinforce competition and commitment to open, free, and contestable markets.
Foster fintech to promote financial inclusion and develop financial markets.
Monitor developments closely to deepen understanding of evolving financial systems.
Adapt regulatory framework and supervisory practices for orderly development and stability of the financial system.
Safeguard the integrity of financial systems.
Modernize legal frameworks to provide an enabling legal landscape.
Ensure the stability of domestic monetary and financial systems.
Develop robust financial and data infrastructure to sustain fintech benefits.
Encourage international cooperation and information-sharing.
Enhance collective surveillance of the international monetary and financial system.
The Bali Fintech Agenda
Embrace the Promise of Fintech with its far-reaching social and economic impact, particularly in low-income countries, small states, and for the underserved, and prepare to capture its possible wide-ranging benefits, including: increasing access to financial services and financial inclusion; deepening financial markets; and improving cross-border payments and remittance transfer systems. Reaping these benefits requires preparation, strengthening of institutional capacity, expanding outreach to stakeholders, and adopting a cross-agency approach involving relevant ministries and agencies.
Enable New Technologies to Enhance Financial Service Provision by facilitating foundational infrastructures, fostering their open and affordable access, and ensuring a conducive policy environment. Foundational infrastructures include telecommunications, along with digital and financial infrastructures (such as broadband internet, mobile data services, data repositories, and payment and settlement services). The infrastructures should enable efficient data collection, processing, and transmission, which are central in fintech advances.
Reinforce Competition and Commitment to Open, Free, and Contestable Markets to ensure a level playing field and to promote innovation, consumer choice, and access to high-quality financial services. The successful and large-scale adoption of technology would be facilitated by an enabling policy framework regardless of the market participant, underlying technology, or method by which the service is provided. Policymakers should address the risks of market concentration, and should foster standardization, interoperability, and fair-and-transparent access to key infrastructures.
Foster Fintech to Promote Financial Inclusion and Develop Financial Markets by overcoming challenges related to reach, customer information, and commercial viability, and by improving infrastructure. The evolving digital economy together with effective supervision are essential in overcoming long-standing barriers to financial inclusion across a broad range of financial services and in enabling developing countries to leverage promising new pathways for economic and financial development to support growth and alleviate poverty. Examples include expanding access to finance while reducing costs, providing new ways to raise funding, enabling new information services to assess risks, and spurring new businesses. To achieve these goals, fintech issues should be part of a national inclusion and financial and digital literacy strategies, while fostering knowledge-sharing between public- and private-sector players, civil society, and other stakeholders.
Monitor Developments Closely to Deepen Understanding of Evolving Financial Systems to support the formulation of policies that foster the benefits of fintech and mitigate potential risks. The rapid pace of fintech will necessitate improvements and possible extensions in the reach of monitoring frameworks to support public-policy goals and to avoid disruptions to the financial system. Information-sharing and exchange would support improved monitoring. Achieving these objectives brings out the importance of continuous monitoring—including by maintaining an ongoing dialogue with the industry, both innovators and incumbents—to identify emerging opportunities and risks, and to facilitate the timely formation of policy responses.
Adapt Regulatory Framework and Supervisory Practices for Orderly Development and Stability of the Financial System and facilitate the safe entry of new products, activities, and intermediaries; sustain trust and confidence; and respond to risks. Many fintech risks might be addressed by existing regulatory frameworks. However, new issues may arise from new firms, products, and activities that lie outside the current regulatory perimeter. This may require the modification and adaptation of regulatory frameworks to contain risks of arbitrage, while recognizing that regulation should remain proportionate to the risks. Holistic policy responses may be needed at the national level, building on guidance provided by standard-setting bodies.
Safeguard the Integrity of Financial Systems by identifying, understanding, assessing, and mitigating the risks of criminal misuse of fintech, and by using technologies that strengthen compliance with anti-money laundering and combating the financing of terrorism (AML/CFT) measures. While fintech innovation generally supports legitimate goals, some innovations may enable users to evade current controls for criminal ends, thus posing a threat to financial integrity. Country responses have varied considerably; but, in all cases, it is important to strengthen AML/CFT compliance and monitoring, including by using technology (Regtech and Suptech solutions) to support regulatory compliance and supervision.
Modernize Legal Frameworks to Provide an Enabling Legal Landscape with greater legal clarity and certainty regarding key aspects of fintech activities. Sound legal frameworks support trust and reliability in financial products and services. This is undermined, however, where legal frameworks fail to keep pace with fintech innovation and evolving global financial markets. An enabling legal framework can be fashioned by having clear and predictable legal rules that accommodate technological change, tailored to national circumstances, particularly in areas such as contracts, data ownership, insolvency, resolution, and payments.
Ensure the Stability of Domestic Monetary and Financial Systems by considering the implications of fintech innovations to central banking services and market structure, while: safeguarding financial stability; expanding, if needed, safety nets; and ensuring effective monetary policy transmission. Fintech could transform the financial markets through which monetary policy actions are transmitted and could challenge the conduct of monetary policy as well as redefine central banks' role as lenders of last resort. On the other hand, fintech could help central banks improve their services, including potentially issuing digital currency, and expanding access to and improving the resilience of payments services.
Develop Robust Financial and Data Infrastructure to Sustain Fintech Benefits that are resilient to disruptions––including from cyber-attacks––and that support trust and confidence in the financial system by protecting the integrity of data and financial services. Developing such robust infrastructure raises a broad spectrum of issues that are relevant not only to the financial sector but also to the digital economy at large, including data ownership, protection, and privacy, cybersecurity, operational and concentration risks, and consumer protection.
Encourage International Cooperation and Information-Sharing across the global regulatory community to share knowledge, experience, and best practices to support an effective regulatory framework. As new technologies increasingly operate across borders, international cooperation is essential to ensure effective policy responses to foster opportunities and to limit risks that could arise from divergence in regulatory frameworks. Sharing experiences and best practices with the private sector and with the public at large would help catalyze discussion on the most effective regulatory response, considering country circumstances, and to build a global consensus. The IMF and World Bank can help in facilitating the global dialogue and information-sharing.
Enhance Collective Surveillance of the International Monetary and Financial System and the adaptation and development of policies to support inclusive global growth, poverty alleviation, and international financial stability in an environment of rapid change. Fintech is blurring financial boundaries—both institutionally and geographically—potentially amplifying interconnectedness, spillovers, and capital flow volatility. These developments could lead to increased multipolarity and interconnectedness of the global financial system, potentially affecting the balance of risks for global financial stability. The IMF and World Bank could help in improving collective surveillance and assist member countries via capacity building, in collaboration with other international bodies.
Rebalancing Act: China's 2022 Outlook
Authors: Ibrahim Chowdhury, Ekaterine T. Vashakmadze and Li Yusha
After a strong rebound last year, the world economy is entering a challenging 2022. The advanced economies have recovered rapidly thanks to big stimulus packages and rapid progress with vaccination, but many developing countries continue to struggle.
The spread of new variants amid large inequalities in vaccination rates, elevated food and commodity prices, volatile asset markets, the prospect of policy tightening in the United States and other advanced economies, and continued geopolitical tensions provide a challenging backdrop for developing countries, as the World Bank's Global Economic Prospects report published today highlights.
The global context will also weigh on China's outlook in 2022, by dampening export performance, a key growth driver last year. Following a strong 8 percent cyclical rebound in 2021, the World Bank expects growth in China to slow to 5.1 percent in 2022, closer to its potential — the sustainable growth rate of output at full capacity.
Indeed, growth in the second half of 2021 was below this level, and so our forecast assumes a modest amount of policy loosening. Although we expect momentum to pick up, our outlook is subject to domestic in addition to global downside risks. Renewed domestic COVID-19 outbreaks, including the new Omicron variant and other highly transmittable variants, could require more broad-based and longer-lasting restrictions, leading to larger disruptions in economic activity. A severe and prolonged downturn in the real estate sector could have significant economy-wide reverberations.
In the face of these headwinds, China's policymakers should nonetheless keep a steady hand. Our latest China Economic Update argues that the old playbook of boosting domestic demand through investment-led stimulus will merely exacerbate risks in the real estate sector and reap increasingly lower returns as China's stock of public infrastructure approaches its saturation point.
Instead, to achieve sustained growth, China needs to stick to the challenging path of rebalancing its economy along three dimensions: first, the shift from external demand to domestic demand and from investment and industry-led growth to greater reliance on consumption and services; second, a greater role for markets and the private sector in driving innovation and the allocation of capital and talent; and third, the transition from a high to a low-carbon economy.
None of these rebalancing acts are easy. However, as the China Economic Update points out, structural reforms could help reduce the trade-offs involved in transitioning to a new path of high-quality growth.
First, fiscal reforms could aim to create a more progressive tax system while boosting social safety nets and spending on health and education. This would help lower precautionary household savings and thereby support the rebalancing toward domestic consumption, while also reducing income inequality among households.
Second, following tightening anti-monopoly provisions aimed at digital platforms, and a range of restrictions imposed on online consumer services, the authorities could consider shifting their attention to remaining barriers to market competition more broadly to spur innovation and productivity growth.
A further opening-up of the protected services sector, for example, could improve access to high-quality services and support the rebalancing toward high-value service jobs (a special focus of the World Bank report). Eliminating remaining restrictions on labor mobility by abolishing the hukou, China's system of household registration, for all urban areas would equally support the growth of vibrant service economies in China's largest cities.
Third, the wider use of carbon pricing, for example, through an expansion of the scope and tightening of the emissions trading system rules, as well power sector reforms to encourage the penetration and nationwide trade and dispatch of renewables, would not only generate environmental benefits but also contribute to China's economic transformation to a more sustainable and innovation-based growth model.
In addition, a more robust corporate and bank resolution framework would contribute to mitigating moral hazards, thereby reducing the trade-offs between monetary policy easing and financial risk management. Addressing distortions in the access to credit — reflected in persistent spreads between private and State borrowers — could support the shift to more innovation-driven, private sector-led growth.
Productivity growth in China during the past four decades of reform and opening-up has been private-sector led. The scope for future productivity gains through the diffusion of modern technologies and practices among smaller private companies remains large. Realizing these gains will require a level playing field with State-owned enterprises.
While the latter have played an instrumental role during the pandemic to stabilize employment, deliver key services and, in some cases, close local government budget gaps, their ability to drive the next phase of growth is questionable given lower profits and productivity growth rates in the past.
In 2022, the authorities will face a significantly more challenging policy environment. They will need to remain vigilant and ready to recalibrate financial and monetary policies to ensure the difficulties in the real estate sector don't spill over into broader economic distress. Recent policy loosening suggests the policymakers are well aware of these risks.
However, in aiming to keep growth on a steady path close to potential, they will need to be similarly alert to the risk of accumulating ever greater levels of corporate and local government debt. The transition to high-quality growth will require economic rebalancing toward consumption, services, and green investments. If the past is any guide to the future, the reliance on markets and private sector initiative is China's best bet to achieve the required structural change swiftly and at minimum cost.
First published on China Daily, via World Bank
The US Economic Uncertainty: Bitcoin Faces a Test of Resilience?
Is inflation harmful? Is inflation here to stay? And are people really at a loss? These and countless other questions along the same lines dominated the first half of 2021. Many looked for alternative investments in the national bourse, while others adopted unorthodox streams. Yes, I'm talking about bitcoin. The crypto giant hit records after records since the pandemic made us question the fundamentals of our conventional economic policies. And while inflation was never far behind in registering its own mark in history, the volatility in the crypto stream was hard to deny: swiping billions of dollars in mere days in April 2021. The surge came again, however. And it will keep on coming; I have no doubt. But whether it is the end of the pandemic or the early hues of a new shade, the tumultuous relationship between traditional economic metrics and the championed cryptocurrency is about to get more interesting.
The job market is at the most confusing crossroads in recent times. The hiring rate in the US has slowed down in the past two months, with employers adding only 199,000 jobs in December. The numbers reveal that this is the second month of depressing job additions compared to an average of more than 500,000 jobs added each month throughout 2021. More concerning is that economists had predicted an estimated 400,000 jobs additions last month. Nonetheless, according to the US Bureau of Labour Statistics, the unemployment rate has ticked down to 3.9% – the first time since the pre-pandemic level of 3.5% reported in February 2020. Analytically speaking, US employment has returned to pre-pandemic levels, yet businesses are still looking for more employees. The leverage, therefore, lies with the labor: reportedly (on average) every two employees have three positions available.
The 'Great Resignation,' a coinage for the new phenomenon, underscores this unique leverage of job selection. Sectors with low-wage positions like retail and hospitality face a labor shortage as people are better-positioned to bargain for higher wages. Thus, while wages are rising, quitting rates are record high simultaneously. According to recent job reports, an estimated 4.5 million workers quit their jobs in November alone. Given that this data got collected before the surge of the Omicron variant, the picture is about to worsen.
While wages are rising, employment is no longer in the dumps. People are quitting but not to invest stimulus cheques. Instead, they are resigning to negotiate better-paying jobs: forcing the businesses to hike prices and fueling inflation. Thus, despite high earnings, the budget for consumption [represented by the Consumer Price Index (CPI)] is rising at a rate of 6.8% (reported in November 2021). Naturally, bitcoin investment is not likely to bloom at levels rivaling the last two years. However, a downfall is imminent if inflation persists.
The US Federal Reserve sweats caution about searing gains in prices and soaring wage figures. And it appears that the fed is weighing its options to wind up its asset purchase program and hike interest rates. In March 2020, the fed started buying $40 billion worth of Mortgage-backed securities and $80 billion worth of government bonds (T-bills). However, a 19% increase in average house prices and a four-decade-high level of inflation is more than they bargained. Thus, the fed officials have been rooting for an expedited normalization of the monetary policy: further bolstered by the job reports indicating falling unemployment and rising wages. In recent months, the fed purview has dramatically shifted from its dovish sentiments: expecting no rate hike till 2023 to taper talks alongside three rate hikes in 2022.
Bitcoin now faces a volatile passage in the forthcoming months. While the disappointing job data and Omicron concerns could nudge the ball in its favor, the chances are that a depressive phase is yet to ensue. According to crypto-analysts, the bitcoin is technically oversold i.e. mostly devoid of impulsive investors and dominated by long-term holders. Since November, the bitcoin has dropped from the record high of $69,000 by almost 40%: moving in the $40,000-$41,000 range. Analysts believe that since bitcoin acts as a proxy for liquidity, any liquidity shortage could push the market into a mass sellout. Mr. Alex Krüger, the founder of Aike Capital, a New York-based asset management firm, stated: "Crypto assets are at the furthest end of the risk curve." He further added: "[Therefore] since they had benefited from the Fed's "extraordinarily lax monetary policy," it should suffice to say that they would [also] suffer as an "unexpectedly tighter" policy shifts money into safer asset classes." In simpler terms, a loose monetary policy and a deluge of stimulus payments cushioned the meteoric rise in bitcoin valuation as a hedge against inflation. That mechanism would also plummet the market with a sudden hawkish shift.
The situation is dire for most industries. Job participation levels are still low as workers are on the sidelines either because of the Omicron concern or lack of child support. In case of a rate hike, businesses would be forced to push against the wages to accommodate affordability in consumer prices. For bitcoin, the investment would stay dormant. However, any inflationary surprises could bring about an early tightening of the policy: spelling doom for the crypto market. The market now expects the job data to worsen while inflation to rise at 7.1% through December in the US inflation data (to be reported on Wednesday). Any higher than the forecasted figure alongside uncertainty imbued by the new variant could spark a downward spiral in bitcoin – probably pushing the asset below the $25000 mark.
Platform Modernisation: What the US Treasury Sanctions Review Is All About
The US Treasury has released an overview of its sanctions policy. It outlines key principles for making the restrictive US measures more effective. The revision of the sanctions policy was announced at the beginning of Joe Biden's presidential term. The new review can be considered one of the results of this work. At the same time, it is difficult to find signs of qualitative changes in the US administration's approach to sanctions in the document. Rather, it is about upgrading an existing platform.
Sanctions are understood as economic and financial restrictions that make it possible to harm the enemies of the United States, prevent or hinder their actions, and send them a clear political signal. The text reproduces the usual "behavioural" understanding of sanctions. They are viewed as a means of influencing the behaviour of foreign players whose actions threaten the security or contradict the national interests of the United States. The review also defines the institutional structure of the sanctions policy. According to the document, it includes the Treasury, the State Department, and the National Security Council. The Treasury plays the role of the leading executor of the sanctions policy, and the State Department and the NSS determine the political direction of their application, despite the fact that the State Department itself is also responsible for the implementation of a number of sanctions programmes. This line also includes the Department of Justice, which uses coercive measures against violators of the US sanctions regime.
Interestingly, the Department of Commerce is not mentioned among the institutions. The review focuses only on a specific segment of the sanctions policy that is implemented by the Treasury. However, it is the Treasury that is currently at the forefront of the application of restrictive measures. A significant part of the executive orders of the President of the United States and sanctions laws imply blocking financial sanctions in the form of an asset freeze and a ban on transactions with individuals and organisations. Decrees and laws assign the application of such measures to the Treasury in cooperation with the Department of State and the Attorney General. Therefore, the institutional link mentioned in the review reflects the spirit and letter of a significant array of US regulations concerning sanctions. The Department of Commerce and its Bureau of Industry and Security are responsible for a different segment of the sanctions policy, which does not diminish its importance. Export controls can cause a lot of trouble for individual countries and companies.
Another notable part of the review concerns possible obstacles to the effective implementation of US sanctions. These include, among other things, the efforts of the opponents of the United States to change the global financial architecture, reducing the share of the dollar in the national settlements of both opponents and some allies of the United States.
Indeed, such major powers as Russia and China have seriously considered the risks of being involved in a global American-centric financial system.
The course towards the sovereignty of national financial systems and settlements with foreign countries is largely justified by the risk of sanctions.
Russia, for example, is vigorously pursuing the development of a National Payment System, as well as a Financial Messaging System. There has been a cautious but consistent policy of reducing the share of the dollar in external settlements. China, which has much greater economic potential, is building systems of "internal and external circulation". Even the European Union has embarked on an increase in the role of the euro, taking into account the risk of secondary sanctions from "third countries", which are often understood between the lines as the United States.
Digital currencies and new payment technologies also pose a threat to the effectiveness of sanctions. Moreover, here the players can be both large powers and many other states and non-state structures. It is interesting that digital currencies at a certain stage may present a common challenge to the United States, Russia, China, the EU and a number of other countries. After all, they can be used not only to circumvent sanctions, but also, for example, to finance terrorism or in money laundering. However, the review does not mention such common interests.
The text does propose measures to modernise the sanctions policy. The first one is to build sanctions into the broader context of US foreign policy. Sanctions are not important in and of themselves, but as part of a broader palette of policy instruments. The second measure is to strengthen interdepartmental coordination in the application of sanctions in parallel with increased coordination of US sanctions with the actions of American allies. The third measure is a more accurate calibration of sanctions in order to avoid humanitarian damage, as well as damage to American business. The fourth measure is to improve the enforceability and clarity of the sanctions policy. Here we can talk about both the legal uncertainty of some decrees and laws, and about an adequate understanding of the sanctions programmes on the part of business. Finally, fifth is the improvement and development of the Treasury-based sanctions apparatus, including investments in technology, staff training and infrastructure.
All these measures can hardly be called new. Experts have long recommended the use of sanctions in combination with other instruments, as well as improved inter-agency coordination. The coordination of sanctions with allies has escalated due to a number of unilateral steps taken by the Trump Administration, including withdrawal from the Iranian nuclear deal or sanctions against Nord Stream 2. However, the very importance of such coordination has not been questioned in the past and has even been reflected in American legislation (Iran). The need for a clearer understanding of sanctions policy has also been long overdue. Its relevance is illustrated, among other things, by the large number of unintentional violations of the US sanctions regime by American and foreign businesses. The problem of overcompliance is also relevant, when companies refuse transactions even when they are allowed. The reason is the fear of possible coercive measures by the US authorities. Finally, improving the sanctioning apparatus is also a long-standing topic. In particular, expanding the resources of the Administration in the application of sanctions was recommended by the US Audit Office in a 2019 report.
The US Treasury review suggests that no signs of an easing are foreseen for the key targets of US sanctions. At the same time, American business and its many foreign counterparties can benefit from the modernisation of the US sanctions policy. Legal certainty can reduce excess compliance as well as help avoid associated losses.
From our partner RIAC